When you discover that Shaquille O'Neal is over 7 feet tall, your first question is probably, "what size shoes does he wear?".
It's one of the most popular questions about the former professional basketball player. Whenever he appears on television, social media goes wild for his giant feet.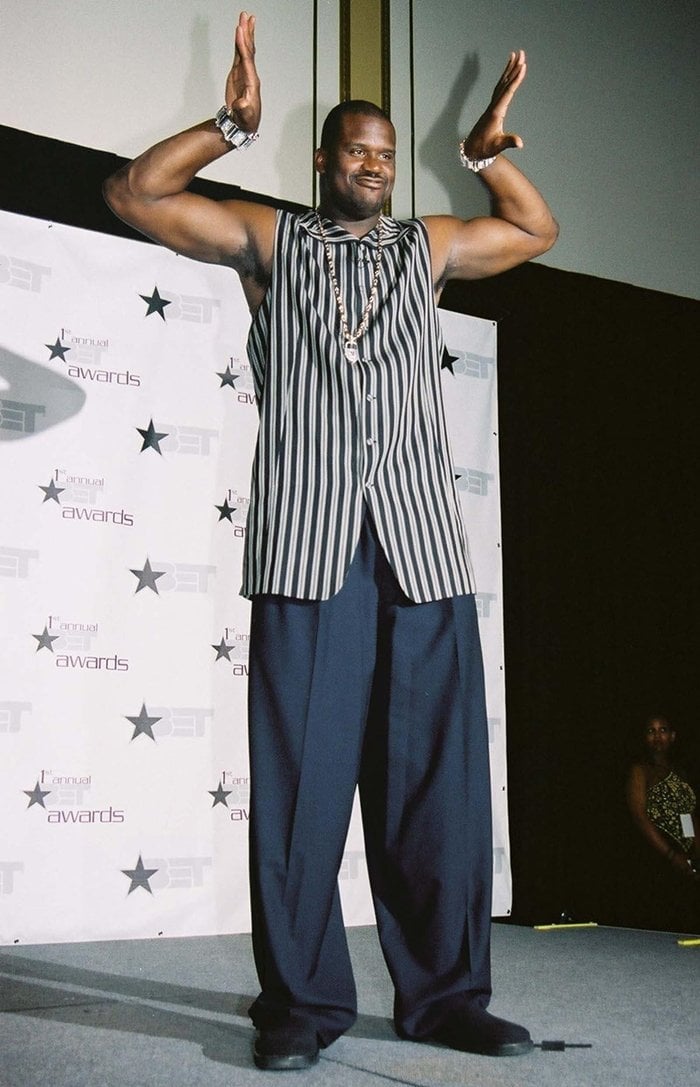 Shaquille O'Neal poses during the 1st Annual BET Awards at the Paris Hotel in Las Vegas, Nevada on June 19, 2001 (Credit: WENN / Harrison)
We will tell you everything you need to know about Shaquille O'Neal, his infamous size 22 and 23 shoes, and the shoe ventures that came around due to the fascination with his shoe size.
Who is Shaquille O'Neal?
Shaquille O'Neal grew up in New Jersey and attended Louisiana State University before he was drafted to Orlando Magic in the 1992 NBA draft.
He was infamous for his success as a center player and won Rookie of the Year for 1992-93. As one of the largest players on the team, it is no surprise that he quickly caught the attention of commentators and began to make a name for himself within the sport.
The then 27-year-old Shaquille O'Neal pictured in Columbus, Ohio, on June 26, 1999 (Credit: Mike Elicson / WENN)
With O'Neal on the team, Orlando Magic got to the NBA Finals in 1995. After four years of success at Orlando Magic, O'Neal moved to the Los Angeles Lakers, who won three consecutive championships between 2000-2002.
After a difficult relationship with Kobe Bryant, O'Neal was moved to the Miami Heat and then to the Phoenix Suns mid-way through the 2007-2008 season.
He moved once again to the Cleveland Cavaliers for a season before spending one season at the Boston Celtics. After the 2010-11 season, O'Neal retired from professional basketball.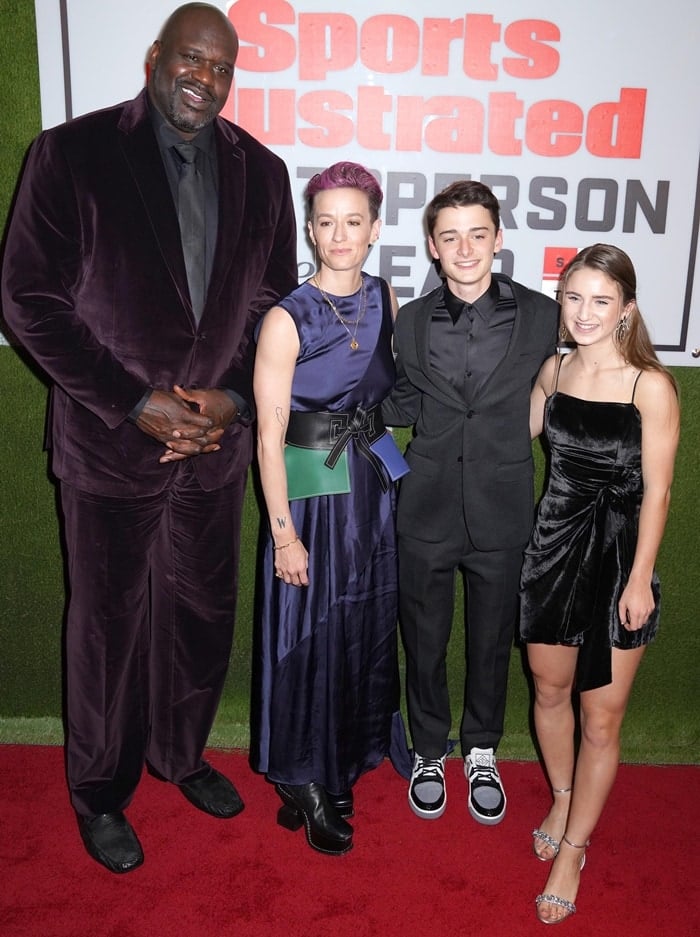 Shaquille O'Neal, professional soccer player Megan Rapinoe, Sports Illustrated Kids SportsKid of the Year, Ally Sentnor, and actor Noah Schnapp attend the 2019 Sports Illustrated Sportsperson Of The Year at The Ziegfeld Ballroom on December 9, 2019, in New York City (Credit: WENN / INSTAR)
He was one of the most successful professional basketball players of recent time, collecting an array of awards in recognition of his talents.
Shaquille O'Neal is one of three NBA players who has won NBA VPA, All-Star game MVP, and Finals MVP awards within the same season.
His other awards include the 1992-93 NBA Rookie of the Year Award and 15 All-Star game selections. In 2017, he was elected to the FIBA Hall of Fame.
Shaquille O'Neal debuts ShaqBLACKJack, a hybrid slot-table game, at Parx Casino in Las Vegas on October 5, 2015 (Credit: Hugh Dillon / WENN)
Since retiring from the NBA, Shaquille O'Neal has been keeping himself busy with several business ventures. During his basketball days, he had a successful career as a rap artist, with his first album 'Shaq Diesel' going platinum after its release in 1993.
O'Neal has toured as a DJ under the name 'Diesel' and has appeared in several films and tv shows. He's also had his own reality television shows, Shaq's Big Challenge (2007) and Shaq Vs (2009-2010).
Shaquille O'Neal with his five children Shareef, Me'arah, Shaqir, Amirah, and Taahirah O'Neal at the premiere of his latest film Uncle Drew held in New York City on June 26, 2018 (Credit: Derrick Salters / WENN)
O'Neal is now working as a sports analyst on 'Inside the NBA' on TNT, appearing on the show to share his unique insight into the game. He became a minority owner of the Sacramento Kings, a rival from his days at the Los Angeles Lakers, in 2013.
With an entrepreneurial spirit, O'Neal made several investments in companies such as Apple, General Electric, and PepsiCo.
As well as making investments into the stock market, he also has a real estate business and has been investing in tech start-ups.
In 2016, he turned his focus to the world of food franchise when he bought a Krispy Kreme store, a brand for which he is a global ambassador. He joined the board of directors for Papa John in 2019 and invested in nine Papa John stores in Atlanta.
How Tall Is Shaquille O'Neal and What Is His Shoe Size?
When Shaquille O'Neal was a freshman, he already stood at 6 feet and 6 inches, which would jump to 7 feet and 1 inch by the time that he joined the NBA.
As well as being one of the tallest men to ever play in the sport, Shaquille O'Neal is also one of the heaviest, weighing over 325 pounds.
While most NBA players have a shoe size of 13 or 14, Shaquille O'Neal wears a size 22 or 23 shoe.
All NBA players have larger than average feet, to begin with, coming in well above the average sizes of between 9 and 12, but O'Neal is infamous for his shoe size.
Former NBA player Shaquille O'Neal towers over actor Jack Nicholson during his jersey retirement ceremony at Staples Center on April 2, 2013, in Los Angeles, California (Credit: WENN)
When Shaquille first began playing in the NBA, his shoe size was 20 before it ballooned up to a 22 and 23. For comparison, Kobe Bryant wore a size 14 while Michael Jordan wore a 13. Tacko Fall, a current NBA player, is taller than Shaquille at an impressive 7 feet 6 inches.
Every time he appears on television, audiences are amazed by the sheer size of his feet. As O'Neal stands at over 7 feet tall, it's no surprise that his partners have spent most of their relationships looking up at the NBA legend.
He was married to Shaunie Nelson from December 2002 to November 2009, who is 5 feet 7 inches. Their son Shareef plays college basketball for the LSU Tigers of the Southeastern Conference and already stands at 6 feet and 11 inches.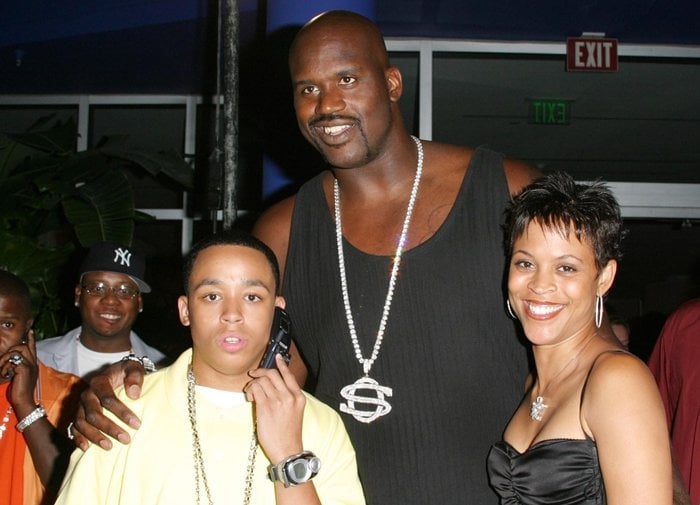 Shaquille O'Neal and his wife Va'Shaundya Karlette "Shaunie" O'Neal and their son Shareef Rashaun O'Neal at the Usher Motorola afterparty for the MTV VMA's held at Shore Hotel Miami, Florida, on August 29, 2004 (Credit: WENN)
O'Neal also has another son from a previous relationship, Myles, who is a model with a height of 6 feet and 2 inches.
Since his divorce from Shaunie, O'Neal has had two high-profile relationships. From 2010 to 2012, he dated Nicole Alexander, a reality show contestant who won 'Flavor of Love' and 'I Love Money' on VH1.
Their height difference was even more noticeable than Shaunie's as Nicole is a petite 5 feet and one inch, meaning he was two feet taller than her.
Shaquille O'Neal and his girlfriend Nicole "Hoopz" Alexander host his retirement party at Moon nightclub at the Palms Casino Resort on June 25, 2011, in Las Vegas, Nevada (Credit: Judy Eddy / WENN)
O'Neal has been dating Laticia Rolle since 2014, who is five feet and 6 inches tall, barely coming close to her partner's shoulders.
While Laticia is taller than the average woman, she looks petite in comparison to her former NBA star partner.
Shaquille O'Neal and Laticia Rolle attend the 2017 NBA Awards at Basketball City – Pier 36 – South Street on June 26, 2017, in New York City (Credit: Derrick Salters / WENN)
Shaquille O'Neal's Shoes Ventures
The buzz around Shaquille O'Neal's shoe size even resulted in Rebook releasing a pair of shoes called the 'Shaq Attaq' – the first of his signature shoes – when he was playing with the Orland Magic.
The original 'Shaq Attaq' shoes included 'the pump' technology and were designed as an oversized shoe. Rebook released a series of sneakers to the 'Shaq Attaq' line between 1992 and 1998.
As brands look back into their archives for inspiration, Rebook re-released the Shaq Attaq IV in 2013 as part of their 'Rebook Classic' collection.
In 2004, O'Neal partnered with Payless ShoeSource to create a range of Dunkman athletic sneakers that retailed for less than $40.
This collaboration would fuel his focus on putting affordable footwear ahead of the grandeur that often surrounds basketball collaboration.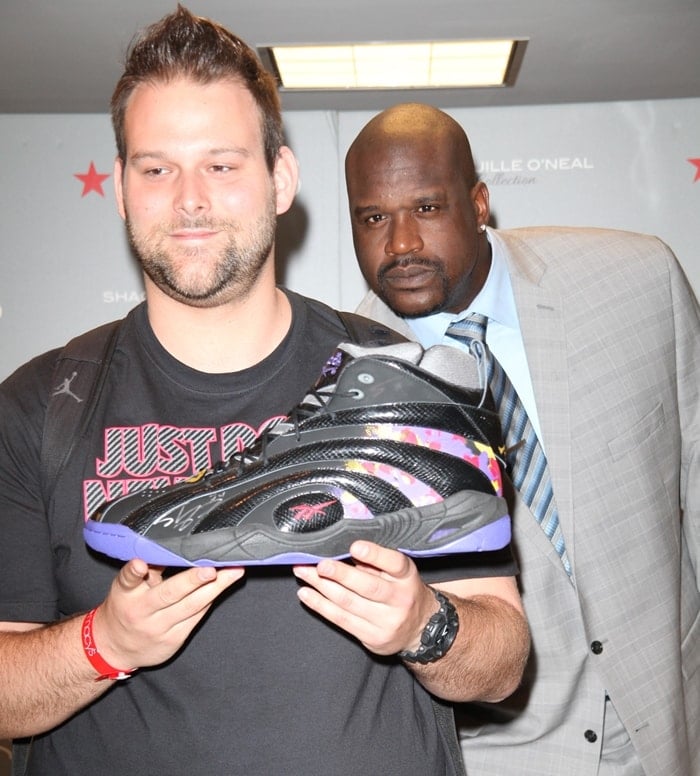 Yann Herrmann helps launch Shaquille O'Neal's menswear collection at Macy's Herald Square in New York City on April 12, 2004 (Credit: PNP / WENN)
His post-NBA ventures include a budget sneaker line – 'Shaq Sneakers' – that replicates some of his most iconic sneakers for under $100, with a focus on children's shoes.
While the world of NBA often focuses on the most coveted sneakers that cost several hundred dollars, O'Neal has struck out and created an affordable sneakers line that lets the average person experience a little of the NBA sneakers world.
O'Neal's focus on affordable sneakers has paid off. In 2016, the former NBA start posted on social media to say that his shoe brand had sold over 120 million pairs of shoes at Walmart.
While the Nike Air Jordan shoes cost upwards of $200, O'Neal's range of kid's shoes starts from as low as $12.70 at Walmart.
His shoe ranges capitalize on the idea of taking inspiration from some of the most coveted sneakers, including Nike Airs and Nike Jordans.
Some models are practically exact replicas, offering the latest trends to the masses without the high price tag. His business model is the polar opposite of fellow NBA legends such as Michael Jordan.
Taahirah O'Neal, host Shaquille O'Neal, Shareef O'Neal, Shaqir O'Neal, Me'arah O'Neal, and Myles O'Neal attend the Third Annual Hall of Game Awards hosted by Cartoon Network at Barker Hangar on February 9, 2013, in Santa Monica, California (Credit: Brian To / WENN)
The Shaq shoe lines focus on replicating designs, instead of prioritizing a luxury price tag.
In 2019, O'Neal collaborated with Skechers to release the 'Shaq by Skechers' collection for kids. The Skechers collaboration used the iconic Shaq logo of O'Neal dunking and is the first time that the iconic American brand has created a specific basketball shoe.
SHAQ by Skechers Powershot red and black mid-top athletic basketball sneaker (Credit: Skechers)
The 'Shaq by Skechers' collection offers two models – the Durafusion and the Powershot – which stay true to O'Neal's philosophy of affordable footwear. Each style retails for $52
Why Does O'Neal Focus on Affordable Shoes?
As no stranger to the struggles of finding shoes that are big enough to accommodate his feet, O'Neal famously helped out a teenager who was experiencing the same problem.
Shaquille O'Neal and Jay-Z attend Michael Rubin's Fanatics Super Bowl Party at Loews Miami Beach Hotel on February 1, 2020, in Miami Beach, Florida (Credit: WENN / Instar)
After hearing the story of how Brittany Keith struggled to find shoes to fit her 13-year-old son's size 18 feet, O'Neal came to the rescue.
He purchased ten pairs of shoes for the teenager, recalling how he had gone through the same difficulties as a teenager.
Shaquille O'Neal said that he was inspired to start looking into the prospect of creating affordable shoes after an encounter with a woman before an NBA game.
She rejected his offer of $1,000 before asking why no one tried to make shoes that ordinary people could afford. It was this chance meeting that caused him to turn his back on the world of lucrative brand collaborations and to instead focus on his Walmart line.
He also disclosed on social media that his father was a source of inspiration after the man reminded him that a basketball career could not last forever and that he needed a separate business.
What The Future Holds
Thanks to his shoe lines and other investments, O'Neal now makes more than he did at the height of his NBA career. His business empire includes restaurant franchises, a partnership with Papa John, and fitness gyms.
View this post on Instagram
He is a business partner in 'Authentic Brands Group' to which he sold the rights to his future business deals that use his name, such as merchandise.
O'Neal disclosed to Business Insider in 2018 that he now makes more from his endorsements and advertising deals than he did during his NBA career.
With his empire behind him, O'Neal has said that one of his ambitions is to buy Reebok from Adidas. Reebok has been owned by Adidas since 2005.
In O'Neal's opinion, Adidas has strayed from its days as a brand that focused on basketball and that was a fitness brand rather than an athleisure one. He argued that the brand is struggling to compete with Under Armour, Adidas, and Nike as they have a much stronger brand identity.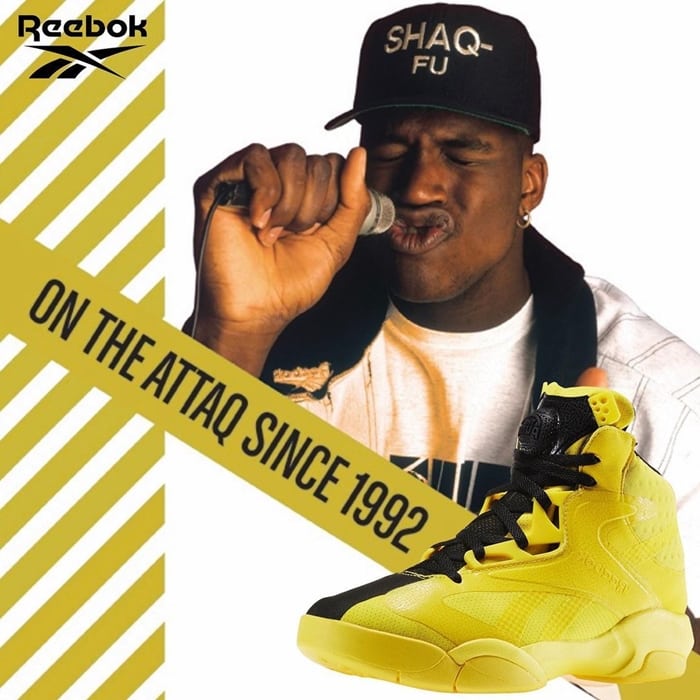 Reebok's 2017 Shaq Attaq "Modern" was inspired by Shaquille O'Neal's affinity for martial arts (Credit: Reebok)
O'Neal was estimated to be worth around $400 million in 2016 by Forbes magazine, which makes the likelihood of another shoe line or venture extremely high.
His wealth has come in part from his investments. He started as a bond investor in the 1990s before shifting his focus to the stock market.
With his strong history of investing in brands that speak to his ideals, it wouldn't be surprising to see the former NBA star take a step to acquire part ownership of a more established shoe brand.
The Shaq sneakers range for kids continues to be a best-seller at Walmart, with all of the current offerings on the store's website coming in at under $20.
His partnership with the retailer shows no sign of stopping, especially as O'Neal shops there himself.
The business mogul once spent $70,000 – the largest single transaction for the store – during a visit to Walmart to furnish his apartment after an NBA move.
The NBA Star Turned Shoe Mogul
While most NBA stars retire to the sport and take up lucrative deals with luxury companies, O'Neal is unique in the field.
His NBA career was dominated by conversations around his height and build, which has followed him into the world of sports commentating. Every time he appears on our television screens, social media goes crazy over his shoe size.
There's no doubt that the conversation around his famously big feet played a part in his journey into the world of sneakers. What began with collaborations with Reebok would eventually shift to a focus on affordable shoes.
Shaquille O'Neal wears size 22 and 23 (US) shoes (Credit: Judy Eddy / WENN)
As a man with many investments, O'Neal prioritizes the aesthetics and accessibility of his sneakers over his profit margin. His shoe ventures are entirely different than his NBA contemporaries, and it's making him a pretty penny in the process.
O'Neal has gone from an NBA star known for his impressive height to a business mogul with an investment portfolio and multiple ranges of affordable basketball shoes for kids.