Not the tallest dude in your circle? Don't worry, we get it. These days, it takes a lot to make a good impression on men and women alike, and height plays a large factor in that big first impression, hence the popularity of elevator shoes that make you look taller.
Unfortunately, not everybody's born with that sort of advantage and ends up with the short (no pun intended) end of the stick.
The average height of a U.S. male is around 5 feet and 9 inches (or 1.7 meters for you international readers). To reach this height, many men take growth supplements, exercise, and even follow special diets in an effort to gain even just a few extra inches.
Jack Black, Dave Franco, and Jonah Hill all measure 5 feet 7 inches and are among the shortest actors in Hollywood (Credit: Avalon / FayesVision / WENN / Instar)
Fortunately, you don't have to strictly follow diets or exercise routines to gain some inches. In fact, you can look taller almost immediately with the help of one thing – elevator shoes.
As the name suggests, they are designed to elevate you to a greater height with the help of a hidden layer within the shoe's sole. It's discrete, too, so you don't have to worry about your friends making fun of you for trying to look tall, either.
There's only one problem – what kind of height-increasing shoes should you pick? With so many types, designs, and brands available in the market today, it can be overwhelming and difficult to pick one that suits you.
That's where we come in – we help you get rid of the guesswork by giving you some of our best elevator shoe picks, so you don't have to.
Height-increasing insoles and elevator shoes are popular among men who want to look taller (Credit: Red Umbrella and Donkey / Shutterstock)
With that said, read on to find out which pair of elevator shoes could be your next go-to footwear whenever you want to feel a little bit taller.
1. Chamaripa Elevator Shoes
If you've ever looked up elevator shoes before, chances are that you've come across Chamaripa Shoes at least once.
Also available on Amazon, they're relatively well-known among elevator shoe users, and for good reason – the brand boasts a large collection of height-increasing boots, sneakers, sandals, and dress shoes that suit almost any situation.
That means you could potentially have an entire wardrobe full of Chamaripa shoes if you want to have that increased height no matter what pair you use.
Chamaripa focuses on men's height increasing shoes and high heel shoes for men
With elevator shoes as high as 14 cm, you'll be looking like a completely different person with their shoes on. Of course, there are shorter alternatives available so that you can be a bit more discrete about your height, should you choose to do so.
Chamaripa Shoes come in various categories, ranging from formal dress shoes and boots to more casual boat shoes and sneakers. They've also got extra-large options for our big-footed friends.
2. Locaka Elevator Shoes
Another well-known elevator shoe brand is Locaka. While Chamaripa can be considered one of the industry's frontrunners, Locaka serves as a more budget-oriented alternative, with just about as extensive of a shoe collection as Chamaripa.
They're your best bet if you've been struggling with cash or if you just want to save up.
Locaka has been making elevator shoes for men and women since 2008
Locaka claims that their formal shoes, sneakers, and boots can increase your height by up to 9 cm, which is a lot considering that these shoes are meant to discretely make you taller.
Whether it be for weddings, dates, or formal meetings, you can dress to impress with the added confidence boost thanks to their shoes.
It also helps that Locaka elevator shoes are pretty affordable for their quality. With free worldwide shipping, a 30-day free return policy, and regular promos and deals, you can save a hefty penny should you plan on ordering a pair from them.
3. Cerythrina Elevator Shoes
Cerythrina doesn't have as extensive of a collection as Locaka or Chamaripa. They're more of a general shoe brand, with a special line of elevator shoes that you can buy on Amazon.
If you're a fan of leather shoes, though, then you're in luck because that's exactly the type of footwear they have available.
A combination of elevator shoes that offer both lifts inside and slightly higher heel height for a more natural look that also makes you look taller
What makes Cerythrina shoes special are their designs. They've got that stylish look that blends modern and classic themes, all with that unique suede aesthetic.
They look great, feel great, and come in many colors for you to match with almost anything.
What to Avoid When Buying Elevator Shoes
While elevator shoes are great and all, here are a few things to be wary of when looking for your ideal pair:
Uncomfortable Shoes
One of the biggest mistakes you can make when buying a pair of elevator shoes is not trying them beforehand.
Even with the same foot size, elevator shoes have a completely different feel compared to conventional shoes, thanks to their heightened inner soles.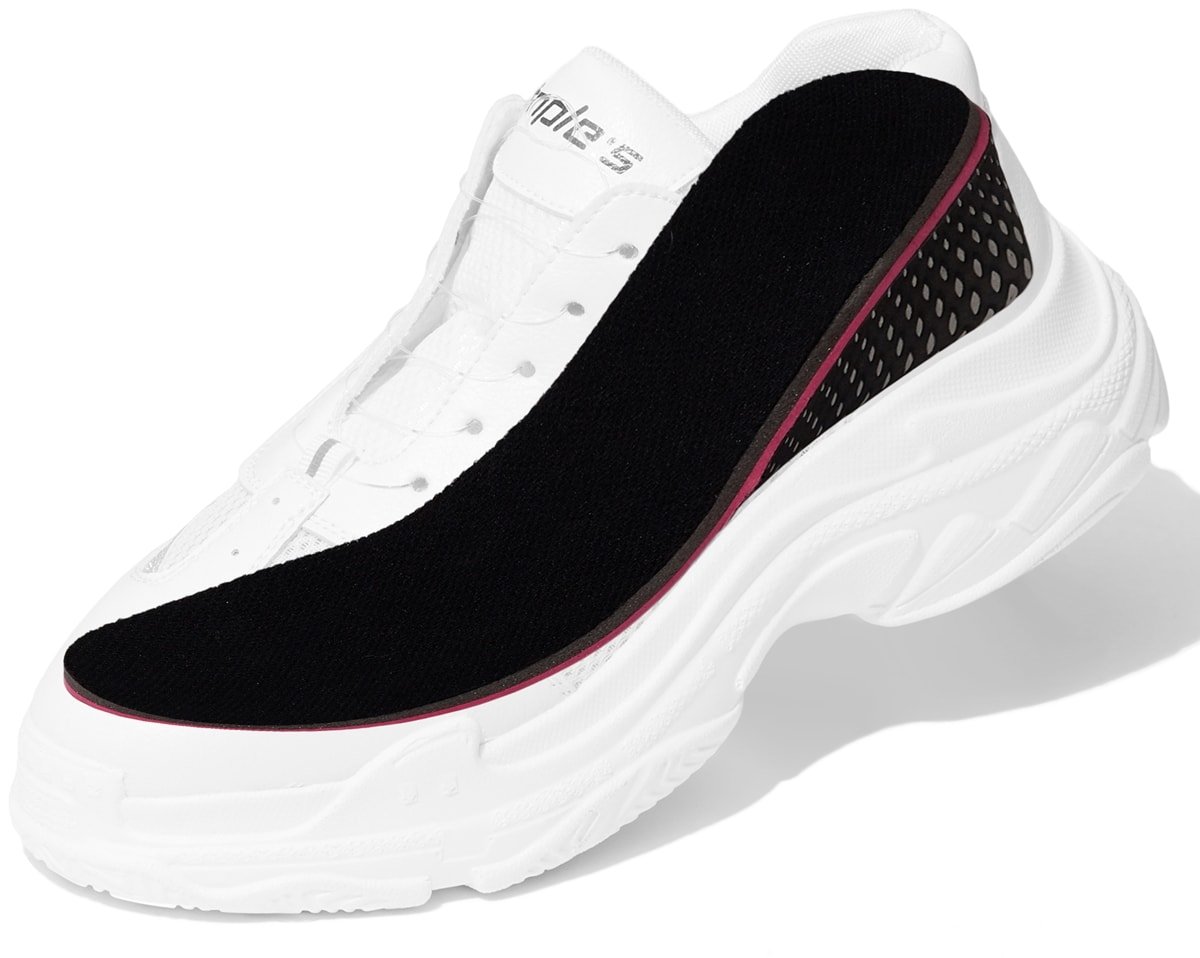 Elevator shoes feature height-increasing insoles that make you look taller (Credit: Red Umbrella and Donkey / Shutterstock)
Elevator shoes are basically the male equivalent of high heels, which are known for being uncomfortable to wear.
As a general tip, try going for a pair of elevator shoes with decent height before moving to taller options, all while getting a feel for each. You should be able to find a pair that strikes a balance between height increase and comfortability sooner or later.
Shoes That Make You Look Too Tall
Sometimes, being too tall with elevator shoes can be a bad thing. If you, for example, join a party with a pair of 9 cm elevator shoes, people who know your real height will notice it.
And, in the worst-case scenario, they'll tell others about it, which will lead to a terrible evening. Elevator shoes were made to be discrete, so don't try to force yourself to look as tall as possible unless you're certain no one will be able to notice the height change.
Conclusion
Elevator shoes give men who're not confident about their height the means to look taller. They're a cheaper, easier alternative to other height-increasing methods such as limb-extending surgery. When worn correctly, elevator shoes are so discrete that other people won't notice anything different about your shoes.
So whether you're looking for elevator shoes that go with just about any outfit or cheaper, budget-oriented alternatives, you can count on them to give you a hand (or a foot, in this case) whenever you need them. Just don't take them off until you get home, okay?