No pain, no gain? It doesn't always have to be that way when it comes to wearing irresistibly cute but painful heels.
A fellow shoe addict, Cassandra Bankson, aka DiamondsAndHeels14 on YouTube, has put up this video guide on how to make high heels more comfortable.
Shoe lovers, let this be the end of having to choose between style and comfort. We can have both. We can have our heels and walk in them, too!
Listed here are Cassandra Bankson's favorite tips and tricks on making sure that your killer heels are as comfortable as they can be:
1. Make sure your heels fit you right
Even if you buy the correct size, some shoes are just too loose or too tight in certain areas.
If they are too loose:
Shove newspaper or toilet paper inside them.
Place cushions, heel grips, or pads like Foot Petals Heavenly Heelz (available on Amazon) on the loose areas.
Use cushion strips like the Foot Petals cushions pads (available on Amazon) for strappy sandals.
Make sure your heels fit you right
If they are too tight:
Stretch them out with ice (watch the video on how to stretch shoes using ice and your freezer).
Use shoe trees or if they don't fit, be creative and stuff your shoes with door knobs, golf balls, rocks — anything to stretch them out.
Apply a chemical shoe stretcher (Cassandra is holding up the Railyn liquid shoe stretch from Amazon in the picture below).
Wear three to four layers of thick socks, put on the tight shoes, and wear them around the house to stretch them out.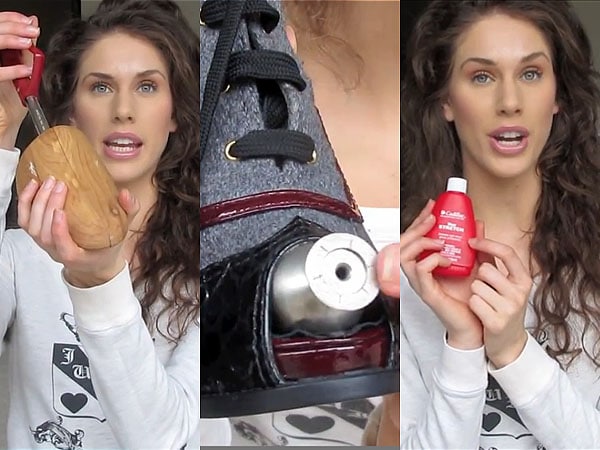 There are many ways that you can stretch your shoes
2. Cushion your heels
Do your heels have very little padding? Cause blisters? Have no arch support? Don't stay in place? We live in modern times, and there's now a solution for all of that.
Pedag has these great little grips that keep a heel snugly in place, Dr. Scholl's hidden arch supports can be used even on sandals, and Foot Petals' ball-of-foot cushions alleviate toe scrunch and eliminate that dreaded toe overhang.
Don't forget to cushion your shoes to make them more comfortable
3. Pack a pair of roll-up shoes
If all else fails, keep a pair of roll-up flats in your purse, and only switch to wearing your heels when you have to. This way, not only do you keep the pain from wearing heels to a minimum, but you also have an excuse to shop for cute flats!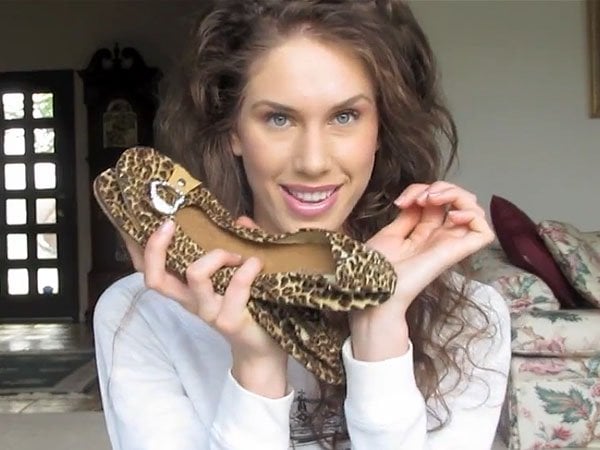 Cassandra Bankson keeps a pair of roll-up flats in her handbag
Got your own tips and tricks to making heels more comfortable? We would love to know!