High heels are footwear, that, exactly as the name suggests, have raised heels to lift the back of the foot off the ground.
They come in a wide range of styles, from wedges to pumps and stilettos, and a range of heel heights- they can be anywhere from 1 to 8 inches (though the latter height should only be worn by a seasoned pro).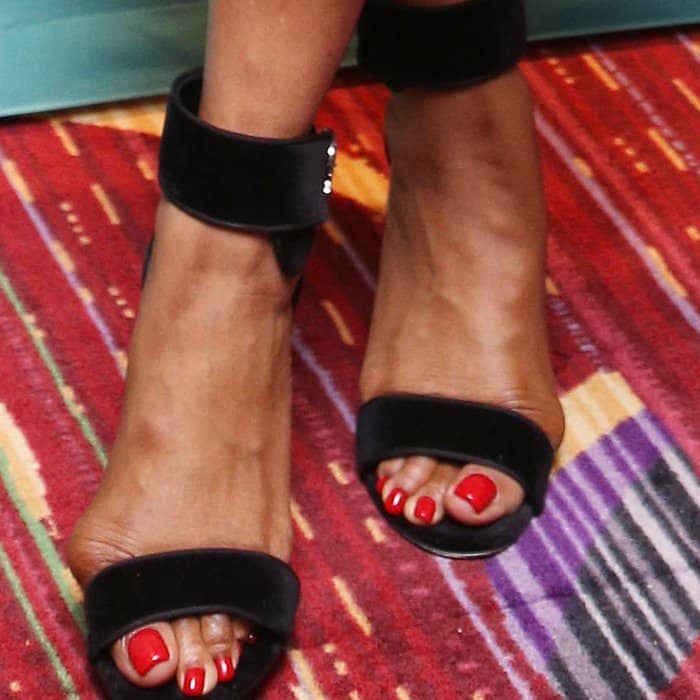 Naomi Campbell's foot bunions in black sandals (Credit: WENN)
Overall, the average heel height lands at around 3 inches. High heels are a common fashion choice for women, especially for special occasions.
However, some women end up wearing them far more often than that- here's what happens if you wear them on a regular basis.
6 Real Reasons Women Wear Heels
High heels are a fun fashion choice that come with a host of benefits for the wearer- here are some of the things you can expect to enjoy when wearing heels.
1. Make yourself taller
High heels can make you significantly taller. They can easily add on a couple of extra inches to your height corresponding with the heel height, which is a short woman's best friend – though that's not to say tall women can't also enjoy heels.
2. Improve your posture
Beyond just the additional height, high heels also have a tendency to push your torso forward, which automatically encourages your shoulders and upper back down, thereby improving your posture.
Proper posture is an excellent way to appear taller and more confident to everyone you meet.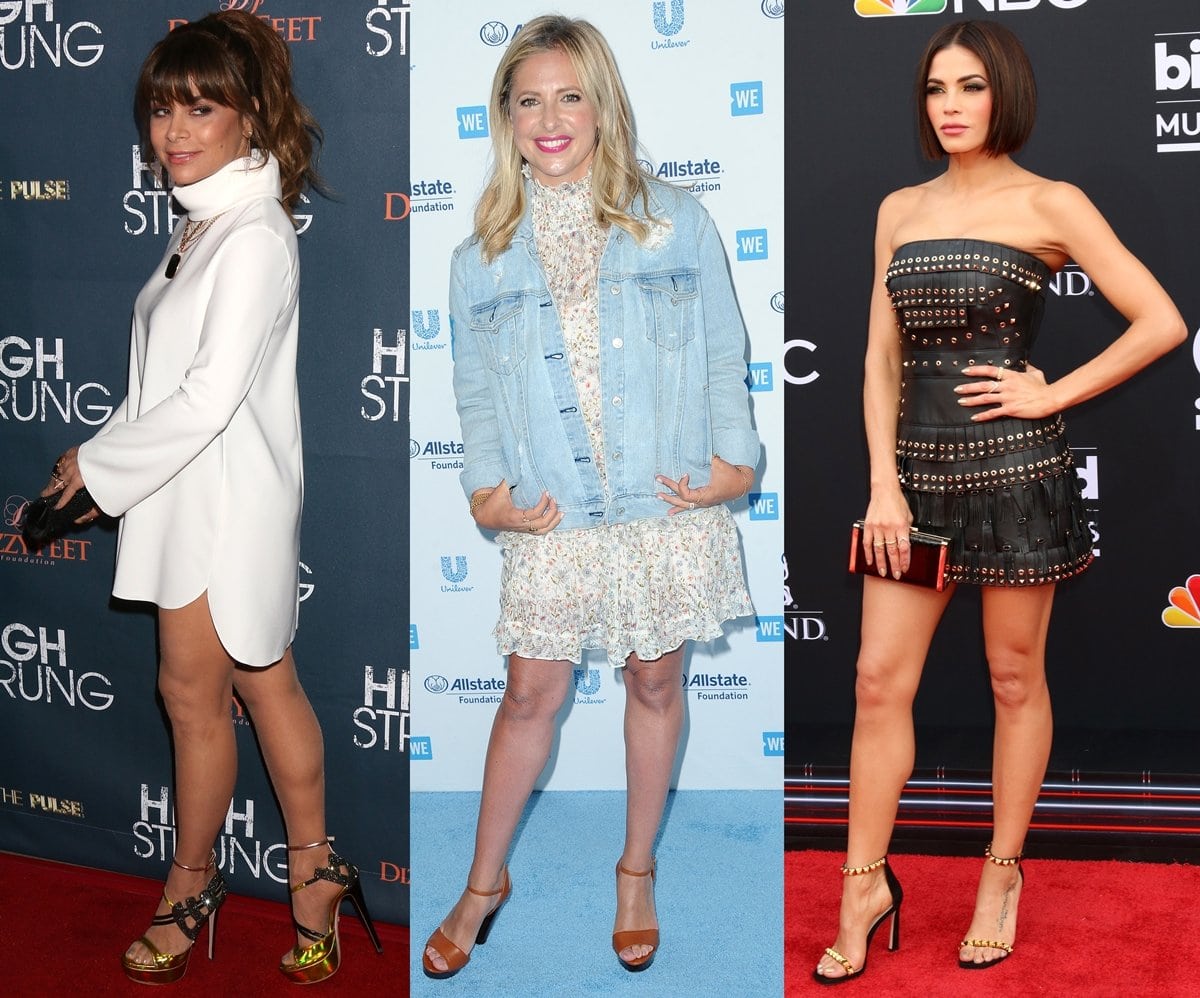 Short women like Paula Abdul, Sarah Michelle Gellar, and Jenna Dewan wear high heels to look taller and to improve their posture (Credit: Shutterstock / Joe Seer / Kathy Hutchins / Tinseltown)
3. Arch your back
As your torso leans forward, high heels can create a larger arch in your back than usual.
If you're wanting to meet someone new at the bar or club, arching your back may be a good bet- studies have shown that an arched back is more attractive to men.
4. Look attractive
When wearing heels, men are more likely to notice your arched back in the first place.
Tyra Banks shows off her feet in high heels on the blue carpet (Credit: Kathy Hutchins / Shutterstock)
High heels have been marketed for many years as a seductive fashion choice, and research has discovered that men do indeed pay more attention to women that are wearing high heels compared to other shoe choices.
5. Be fashionable
While high heels do often attract men, that isn't the only reason to wear them. Many women wear heels to be fashionable and trendy, either to fit in with other women or simply for themselves.
Whether you're going to an intimate dinner party or a bustling club, high heels will rarely – if ever- be frowned upon.
6. Fit in at work
Beyond just social inclusion, high heels can often be viewed as mandatory and/or heavily encouraged by certain workplaces.
For example, the restaurant industry often encourages female hosts, servers, and/or bartenders to wear high heels while on the clock.
Kelly Rowland displays her feet in high heel sandals (Credit: Featureflash Photo Agency / Shutterstock)
However, it is important to note that there has been significant pushback against mandatory heels for women in recent years – if you truly don't want to wear heels at work, it's very unlikely that they'll be able to force you.
8 Reasons Not to Wear High Heels
While wearing high heels can be enjoyable, there are also definite risks.
Although most of these risks only come into play for those who wear heels on a regular basis (such as to work every day), even occasional high heel wearers should be aware of what they may be getting themselves into.
Woman's feet diagnosed with Hallux valgus, a common foot deformity associated with wearing high heels (Credit: Aslysun / Shutterstock)
To preface, almost the entirety of your lower body can be subject to issues caused by high heels.
1. Back problems
While high heels can temporarily improve posture and increase your back arch, this forced position can cause significant back problems over time. Eventually, this can even contribute to arthritis and/or misaligned spinal joints.
2. Foot pain
To state the obvious, forcing your foot into an unnaturally elevated position isn't comfortable. Any woman who's ever worn heels knows that these effects can be felt after just a few short hours, or even a few minutes if your heels are particularly cruel.
Julianne Moore showed off her crazy feet on the red carpet in Cannes (Credit: Featureflash Photo Agency / Shutterstock)
Not only can heels cause pain during wear, but that pain can be compounded through regular wear, and stay even after you take the heels off.
3. Knee problems
High heels increase the distance between the floor and your knees and cause your knees to remain flexed for longer than usual. Both of these things put unnecessary pressure on your knees, which can lead to long-term injury and arthritis.
4. Foot and toe problems
While high heels can make your feet look beautiful in shoes, they can wreak havoc on the look of your bare feet.
Not only can heels cause ingrown toenails and significantly damage your pinky toe, but they can also cause bunions and curled toes due to the squeezing and pressure your toes face in heels.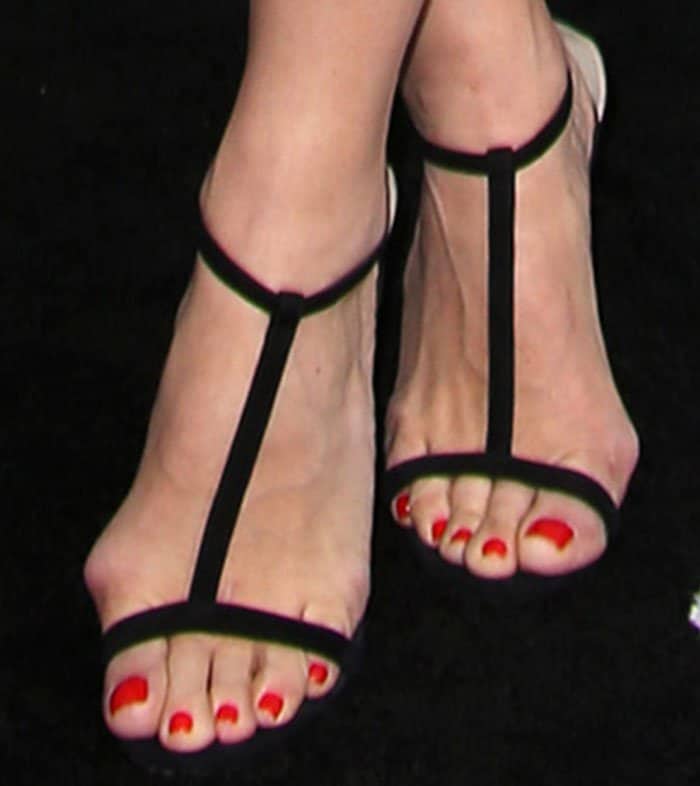 Molly Sims shows off her feet in Jimmy Choo sandals (Credit: WENN)
5. Prone to ankle injury
Wearing heels lifts your ankles farther off the ground than they naturally are, which also puts you at an increased risk for tripping and twisting your ankle while wearing them.
The higher the heel, the bigger the risk. Over time, they can also limit your foot and ankle mobility, making you even more susceptible to injury.
6. Shortened Achilles tendon
When wearing heels on a regular basis, your Achilles tendon is forced into a shortened position for an extended period of time. Because our bodies are experts at adapting, the Achilles tendon learns to remain in this shortened position.
A person holding ankle on Achilles tendon, suffering from pain in the red spot area (Credit: SrideeStudio / Shutterstock)
This can eventually cause pain for heel wearers when they aren't wearing heels since the Achilles tendon then feels too tight in bare feet or regular footwear.
7. Loss of flexibility
When wearing heels, you have to adjust your style of walking- your steps are shorter, and your foot doesn't move as much.
This can lead to a significant loss of flexibility over time, which will eventually affect your flexibility even when you take off the heels.
8. Reduced physical activity
Because of the pain and loss of flexibility that wearing heels can cause (even in the short-term and with infrequent use) while wearing heels, you're less likely to engage in physical activity.
Brie Larson displays her feet in high heels on the red carpet (Credit: Trina Stewart / Shutterstock)
Even a short walk to the grocery store can seem like a daunting task when every step hurts. Over time, this can affect your overall fitness level, which brings on a host of other health issues.
How to Manage Wearing Heels?
Despite the issues that come with heels, they are still a very popular shoe choice. If you're going to partake, here's how you can minimize the risks and enjoy wearing any shoe you please.
1. Walk properly
When walking in heels, you have to adjust your method- walking the same way you do in sneakers is going to be painful and plain awkward.
Make sure you take shorter strides and walk heel-to-toe, not the other way around. Ensuring your heel is the first thing to hit the ground will make you much more graceful, and much less likely to fall.
Zoe Saldana shows off her feet and foot tattoo in high heels (Credit: Kathy Hutchins / Shutterstock)
2. Stretch beforehand
To combat the shortened stride and lack of mobility that comes along with heels, stretch before you wear heels to make sure your muscles are warmed up. This will also make you less likely to trip and twist your ankle.
3. Exercise regularly
If you're a regular wearer of heels, you need to exercise regularly (in normal shoes, of course) to strengthen your core in particular.
Having a strong core and engaging those muscles while walking will help minimize the impact on your back over time.
4. Choose comfier heels
You don't have to wear six-inch stilettos to enjoy wearing high heels. Thicker heels such as wedges, platforms, or pumps will help stabilize you and make it easier to walk.
Lower heels, such as those between 1-3 inches from comfortable shoe brands will have the same effect.
5. Minimize wear throughout the day
Even if you have to wear heels on a regular basis, you can still try to minimize the amount of time you wear them throughout the day.
After a few hours in high heels, switching to a more comfortable pair of shoes can be good for your feet and body (Credit: Reshetnikov_art / Shutterstock)
For example, wear a regular pair of sneakers or flats on your walk to and from work, and simply slip your heels on right before you head into the office.
This will help you wear all the stylish heels you want while minimizing the long-term impacts they create.
Amy Adams displays her foot bunions in Tom Ford sandals (Credit: WENN)
In the season finale of the American satirical television sitcom '30 Rock', Jack Donaghy (Alec Baldwin) says that his girlfriend Avery Jessup always wears high heels because according to her, "flats are for quitters".
Women have varying reasons for wearing and not wearing heels, but the well-known fact remains that high heels not only make you taller but also make your legs look longer and the way you walk a little sexier.
Some women (and even some men) take advantage of these benefits on a daily basis, but do they outweigh the consequences of wearing high heels every day?
An article in The Economist reports on the results of a study conducted by Marco Narici of Manchester Metropolitan University in Britain on what happens to the legs and feet of people who wear high heels all the time:
1. Shorter Calf Muscles
Your calf muscles get shorter and become permanently contracted from being held in a shortened position for a long time.
2. Changes to Muscles
Although they do get shorter, your calf muscles do NOT become necessarily smaller because your Achilles' heel compensates for the loss in force.
3. Pressure on the Achilles Tendon
This in turn makes your Achilles' heel, the tendon which connects the calf to the heel, become significantly thicker and stiffer than non-heel wearers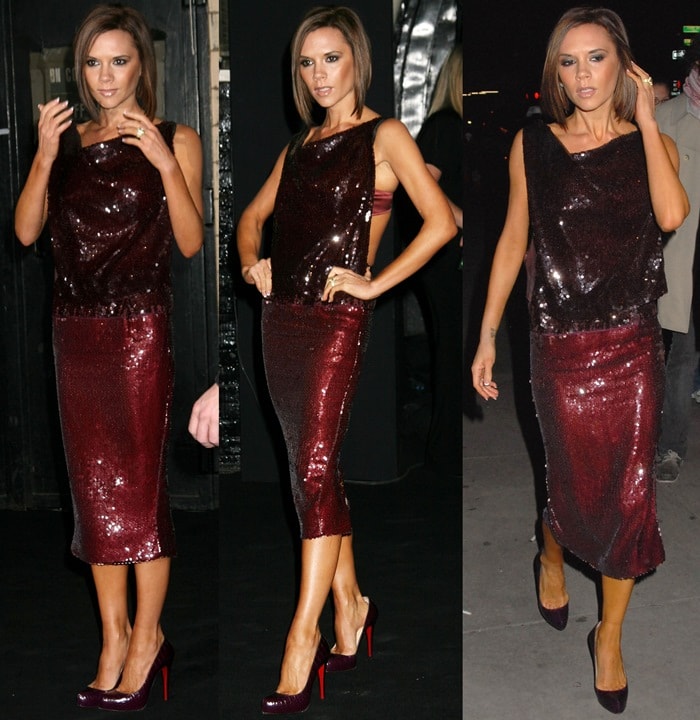 Victoria Beckham in snakeskin Christian Louboutin pumps at the Marc Jacobs Fall 2008 Fashion Show during Mercedes-Benz Fashion Week in New York City on February 8, 2008 (Credit: WENN)
So what are people who love wearing high heels to do? Try regular stretching exercises, wear corrective insoles, and trade in the high heels for flat shoes from time to time.
Victoria Beckham wearing snakeskin Christian Louboutin pumps (Credit: WENN)

If not, the repercussions are terrible: Victoria Beckham, who has gone on record saying that she hates and cannot walk in flats.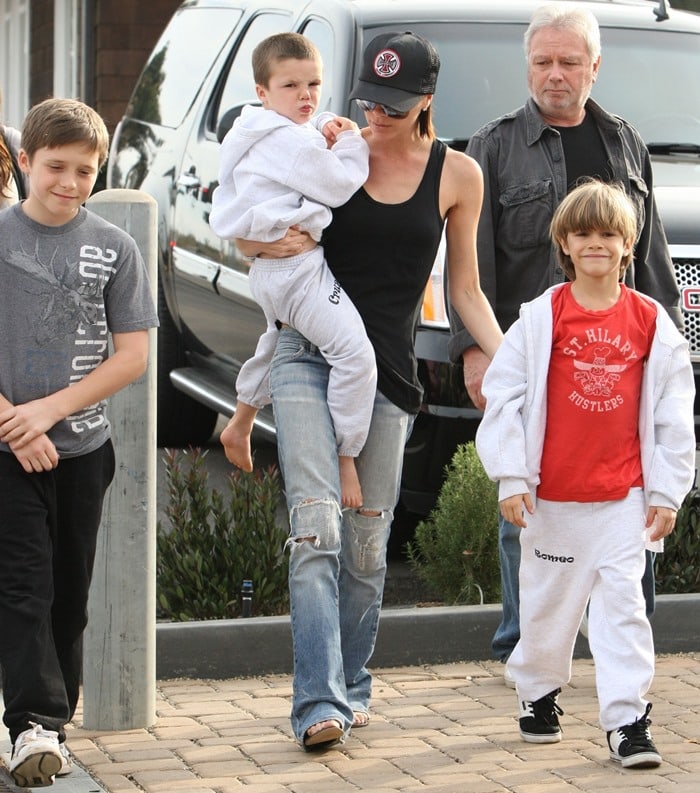 Victoria Beckham with her father, Tony Adams, and her sons Cruz Beckham, Romeo Beckham, and Brooklyn Beckham leaving Tra Di Noi restaurant in Malibu on January 31, 2010 (Credit: WENN)
According to some reports, Victoria has undergone foot surgery to remove bunions that have grown on her feet as a result of wearing heels all the time.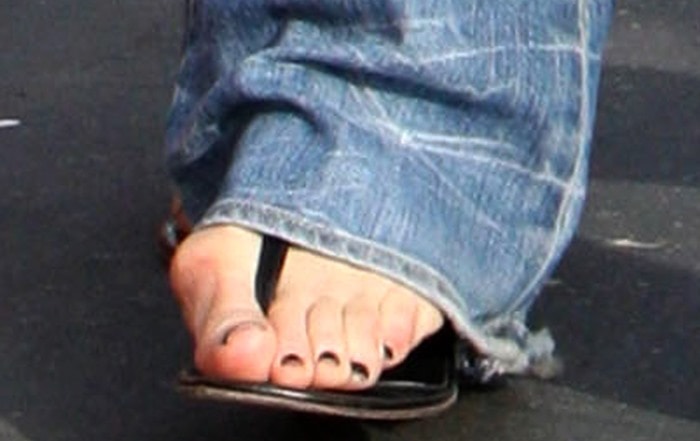 Victoria Beckham has made it clear that she doesn't like wearing flats (Credit: WENN)
However, she is far from the only celebrity known to suffer from foot bunions.
Victoria Beckham has undergone foot surgery to remove bunions that have grown on her feet (Credit: WENN)
Which do you find more hurtful: wearing heels or wearing flats (which is equal to ugly shoes for some people!)?