Christian Louboutin once famously said that wearing high heels was finding "pleasure in pain" – but are your high heels damaging your health?
You don't have to wear high heels daily to start feeling the consequences. There are serious health risks that you should consider when wearing high heels, especially if they are a staple in your everyday closet.
While high heels can make you look attractive, they can also be harmful to your feet and health
Wearing high heels can lead to everything from bad posture to chronic back pain and knee issues. You can take steps to make wearing high heels more comfortable, but even a few minutes in them can cause injury.
6 Ways High Heels Cause Health Risks
Incorporating high heels into your regular closet rotation can lead to many health risks.
Mayo Clinic orthopedic surgeon, Dr. Glenn Shi, advises that shoes that are too tight, too small, or lack support can cause discomfort and problems. Opting for style over fit can result in foot issues, such as aching arches, bunions, hammertoes, or neuromas.
Those who regularly wear high heels can experience issues with their Achilles tendon, have their calf muscles shortened, and suffer from ankle issues. The health risks stem from how high heels change your center of gravity.
Wearing high heels has a negative impact on your hip, knee, and back as a result. You'll especially feel the consequences of your high heels if you have existing problems or are a runner. High heels can lead to arch pain that decreases your flexibility and reduces your stamina.
1. Posture
One of the main health risks of wearing high heels is the consequences for your posture. High heels put your feet in a downward extended position, increasing the pressure that you feel on the balls of your feet. This leads to your body adjusting itself to compensate for the balance shift.
Your upper body is left having to do the work to offset your lower body leaning forward. It causes your posture to lose its natural alignment, leading to a stiff and unnatural feeling in your back and shoulders. Posture issues can lead to even more health problems down the road.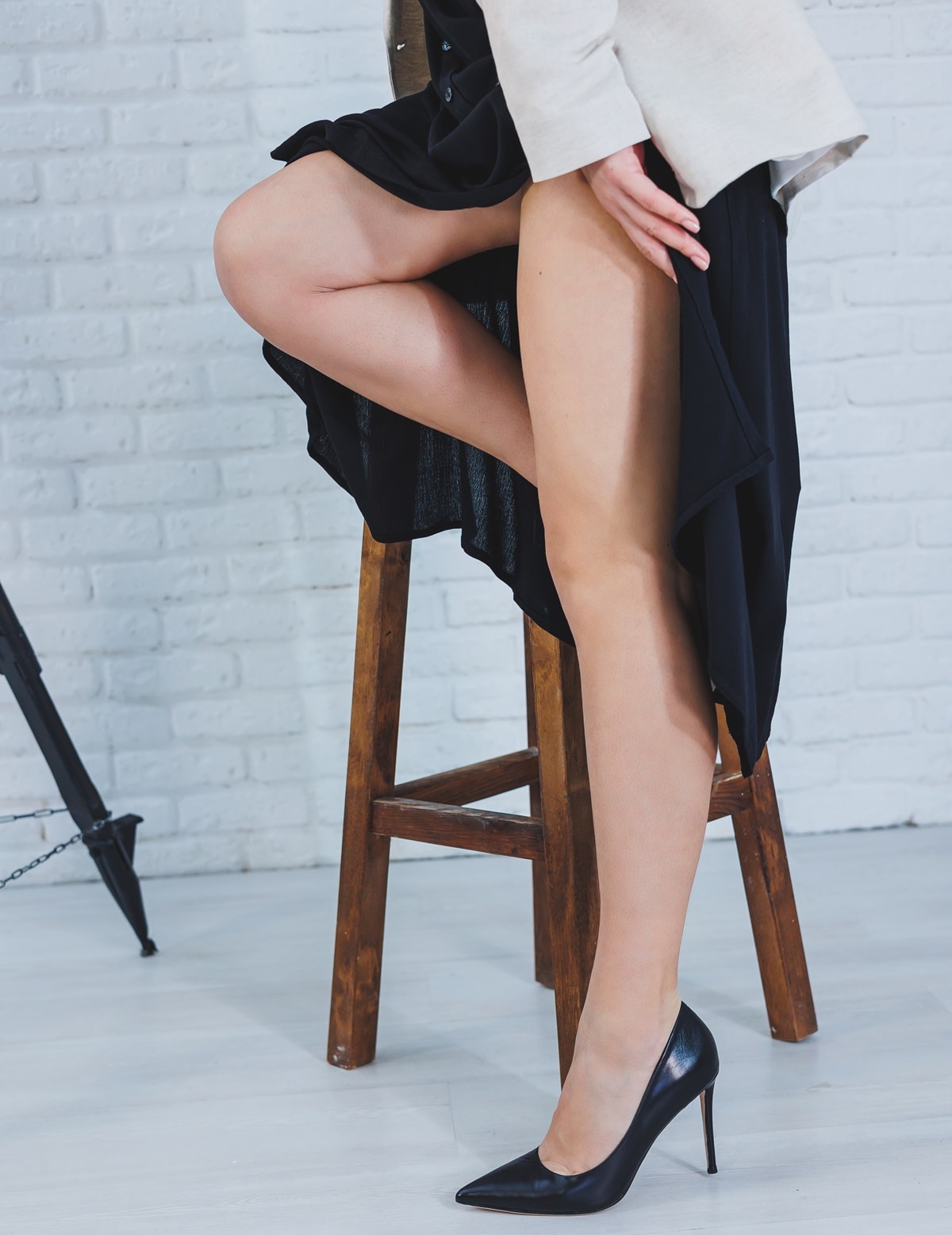 While wearing high heels can make your legs appear longer, they can have long-term implications on your posture (Credit: Dmitry Tkachuk / Shutterstock)
The impact on your posture increases as your heels get higher. Every inch increases the pressure on the front of your feet by 25%. It means that you'll experience 75% more pressure than normal while wearing a pair of three-inch heels.
Even people who wear high heels every day will still experience these problems and see them manifest more severely as it creates a bad curvature in your lower back.
2. Chronic Back Pain
Chronic back pain is one of the most common health risks associated with wearing high heels.
The c-curve shape your back naturally assumes is designed to act as a shock absorber, limiting the weight on your pelvis and vertebrae. Wearing high heels negatively impacts this curve by causing the lower part of your back to flatten, while curving the mid-back.
Wearing high heels can affect the natural curve of the spine, which can result in chronic back pain (Credit: Andrey_Popov / Shutterstock)
When the c-curve of your back starts to change, your body will compensate by leaning forward to release some of the build-up of pressure on your back. This poor alignment caused by wearing high heels overuses your back muscles and can result in chronic back pain.
3. Knee Injuries
Knee injuries caused by wearing high heels fall into the category known as 'wear-and-tear arthritis. Wearing high heels increases the distance of your knee from the floor, causing compression and excessive knee rotation.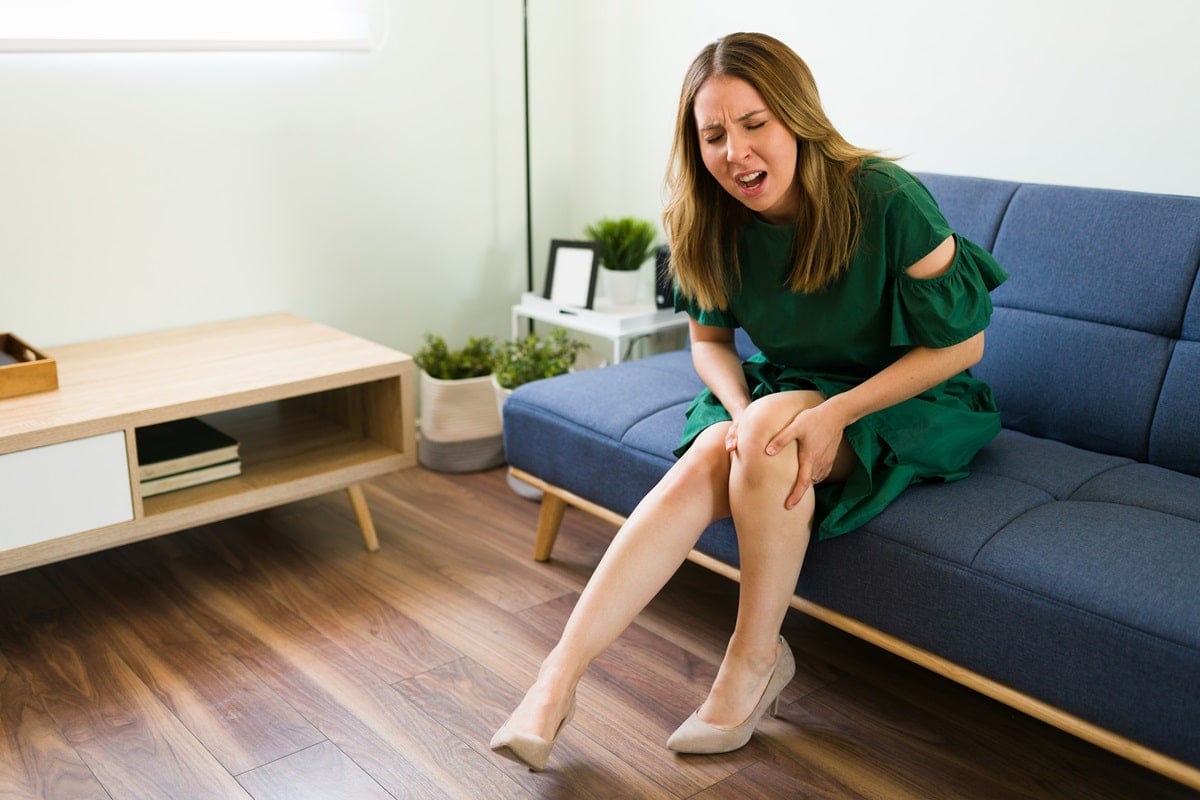 High heels cause strain on the shin muscles and feet, which could lead to knee pain (Credit: antoniodiaz / Shutterstock)
You'll feel the effects of wearing high heels on your shin bone as it turns inward to maintain your balance. It leads to compression of the inner knee, a common spot for osteoarthritis.
Doctors typically recommend that those suffering from osteoarthritis avoid wearing high heels to prevent further joint damage or malformation.
According to orthopedic surgeon Carol Frey, MD, wearing shoes with pointy toes can cause foot deformities, such as hammertoes and pinched nerves, even if they have lower heels. Dr. Frey explains that feet can take on the shape of the shoe, and if a shoe is causing discomfort, it's damaging your foot. To avoid foot problems, experts suggest wearing low heels with rubber soles, wedge heels, and roomy toe boxes, as these styles are slip-proof, absorb shock, provide stability, and reduce stress on pressure points.
4. Exacerbate Existing Problems
High heels aren't for everyone. If you have pre-existing concerns like ingrown toenails, bunions, or hammer toes, you'll want to limit the time you spend wearing high heels.
High heels are known for putting the majority of the pressure on the balls of your feet and toes, causing structural concerns like bunions as seen on the feet of Jennifer Aniston (L) and Danielle Staub (R) (Credit: Nick Sadler / John Nacion / startraksphoto)
Bunions are a commonly known consequence of wearing high heels and they can be exacerbated by continuing to wear them.
As a result, they can become larger and more painful in a quicker time frame. You can avoid making these problems worse by swapping your high heels for comfortable flats.
bunion is a painful bony bump that forms on the inside of the foot around the joint of your big toe (Credit: Pepermpron / Shutterstock)
5. Impact on Your Toenails
Not only can your feet and back be negatively impacted by wearing heels – but your toenails are also at risk.
If you want to keep the perfect pedicure, avoid high heels. They can leave your toenails looking traumatized from the friction caused by wearing high heels.
Wearing high heels can affect the appearance of your nails and cause ingrown toenails (Credit: Devan / INFGoff)
Your high heels can change how your nails look and grow. Wearing high heels as part of your everyday closet can cause ingrown toenails, especially if you're a fan of wearing pointy-toe shoes.
6. Hip Pain
You'll also feel the consequences of wearing high heels on your hip. The constant flexing and engaging of your hip flexor muscles can cause them to shorten and contract, leading to persistent pain.
High heels cause your pelvis to tilt forward as your center of gravity shifts.
Wearing heels can cause the hip flexor muscles to engage and flex on a regular basis, resulting in hip pain and injury (Credit: 9nong / Shutterstock)
The muscle imbalances that can occur elsewhere in your legs, such as your knees, can also exacerbate hip pain from wearing high heels.
These shoes will push your lower back outwards, resulting in your spine and hips moving out of alignment.
How to Prevent Health Risks from High Heels
You can continue to wear high heels, but you must consider their health risks. You can take active steps to make wearing heels more comfortable and mitigate negative consequences.
Here are four tips to reduce the risk of injury and damage from wearing heels:
1. Incorporate exercises that are low impact on your joints into your routine, such as swimming and using elliptical machines.
Incorporate low-impact exercises into your daily routine (Credit: APChanel / Shutterstock)
2. Stretch your Achilles tendon twice daily for 15 minutes before and after wearing your heels. This exercise is crucial for those who wear heels as part of their everyday style.
Stretching the Achilles tendon can help in the recovery of tendon damage as it relaxes the heel cord and enhances mobility (Credit: Peakstock / Shutterstock)
3. Keep your heel wearing to a minimum. If you wear heels for work, switch to flats or sneakers when you're off the clock.

Switch out to comfy flats or sneakers when you're off the clock to reduce the health risks of wearing heels
4. Switch to a shorter heel. Don't forget that every inch adds 25% extra pressure on the balls of your feet. Try to keep your heels to a maximum of 3 inches.
Wear kitten heels or short block heels to reduce pressure on the balls of your feet