Earlier this month we featured Mollie King with a bad case of toes hanging over sandals at the 2015 British Fashion Awards. However, she did not have the worst toe overhang of all time. There are luckily many ways to keep heels and toes from slipping out of shoes.
The best way to prevent overhanging toes in open-toed shoes is to buy the right shoe size. While the celebrities below are wearing expensive designer shoes from retailers such as Neiman Marcus and Saks Fifth Avenue, there are cheaper alternatives available.
Right now you can buy 2 pairs of shoes at ShoeDazzle for just $29.95. A professional stylist from Trunk Club and Stitch Fix can also help you find the perfect pair of shoes.
Many women who have given birth will often discover that their feet no longer fit into their old summer sandals. You're also more likely to experience toe overhang when wearing high heeled sandals as they are more likely to cause slippage.
Some women swear to halter pads (inserts that fit under the ball of the foot) and arch support that helps keep the foot back and adds support. These are just some of the products that can keep your shoes from slipping off your feet when you walk.
The undisputed queen of toe overhangs is undoubtedly Julianne Moore. Her shoe disaster was named "toemageddon" and gives her the number one spot on our list!
1. Julianne Moore in Charlotte Olympia 'Tokyo' Sandals
The American actress donned a strapless Christian Dior Couture organza gown with a pair of 'Tokyo' platform sandals from Charlotte Olympia's Resort 2012 collection.
Julianne Moore wearing a strapless Christian Dior Couture organza gown at the Opening Ceremony of the 66th Cannes Film Festival in Cannes, France on May 15, 2013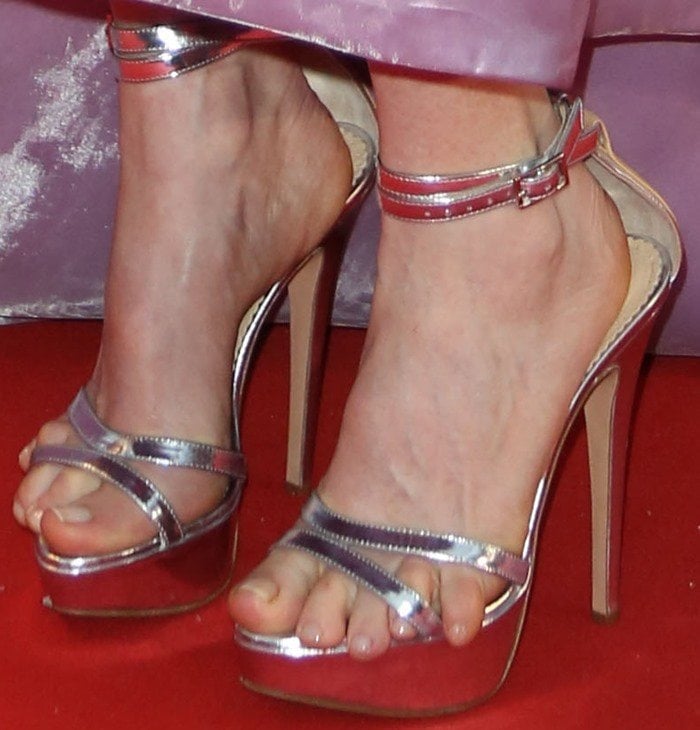 Julianne Moore with overhanging toes in open-toed shoes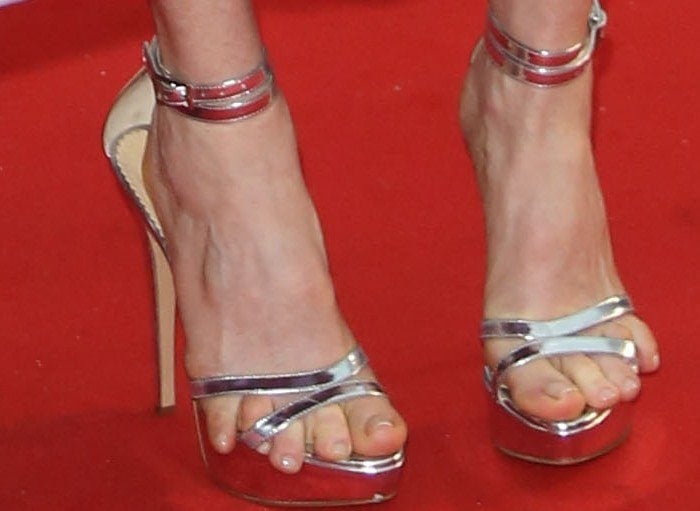 Julianne Moore with crazy toe overhang in Charlotte Olympia 'Tokyo' platform sandals

2. Kate Moss in Christian Louboutin Heels
The English model looked like she was in dire need of a pedicure as she made her way to a Marie Curie fundraiser alongside her husband Jamie Hince. What do you think caused her feet to look like this?
Kate Moss and Jamie Hince leaving Claridges in London on May 15, 2012
Kate Moss looking in dire need of a salon pedicure

3. Kate Beckinsale in Stuart Weitzman 'Nudist' Heels
The English actress wore a pair of Stuart Weitzman "Nudist" sandals that were at least one number too small. What was she thinking?
Kate Beckinsale wearing a floral strapless mini dress from Rubin Singer at Warner Music Group's annual Grammy celebration at Sunset Tower Hotel in Los Angeles on January 26, 2014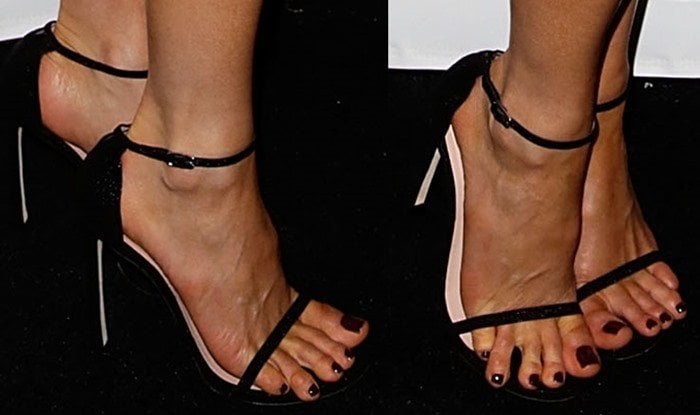 Kate Beckinsale showing off her feet in Stuart Weitzman 'Nudist' sandals

4. Kendall Jenner in Sparkling Silver Sandals
While famous for her spider toes, the American fashion model and television personality has a talented crew of stylists to assist her. That's why we don't know what went wrong during New York Fashion Week last year.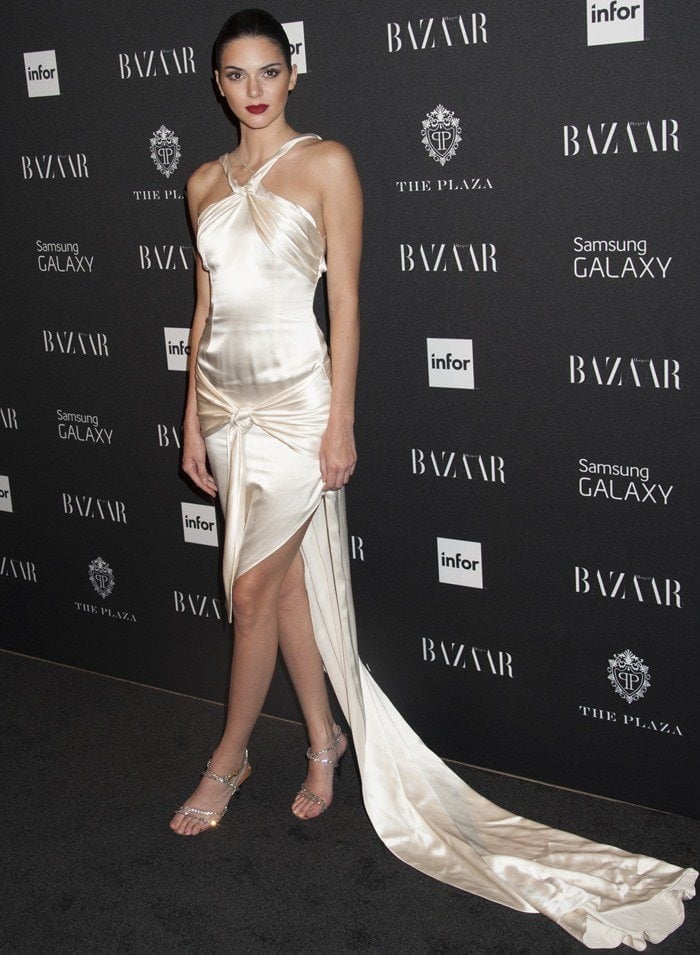 Kendall Jenner a slinky white halter gown by Octavio Carlin at the Harper's Bazaar Celebrates Icons by Carine Roitfeld event at The Plaza Hotel in New York City on September 5, 2014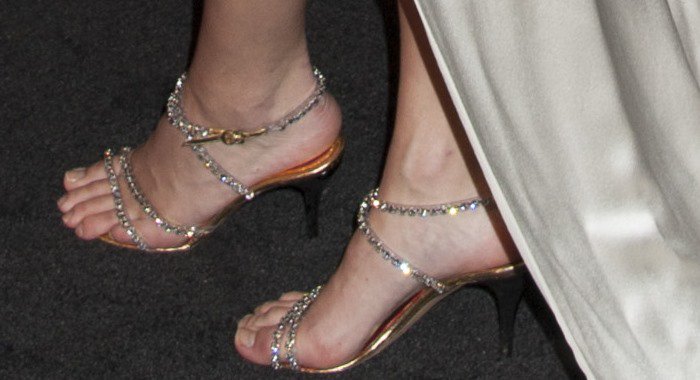 Kendall Jenner showing off her feet in sparkling silver sandals

5. Amber Rose in Tom Ford Shoes
The American rapper, model, fashion designer, and actress did her best to destroy the red carpet with a pair of Tom Ford sandals at the BET Awards earlier this year.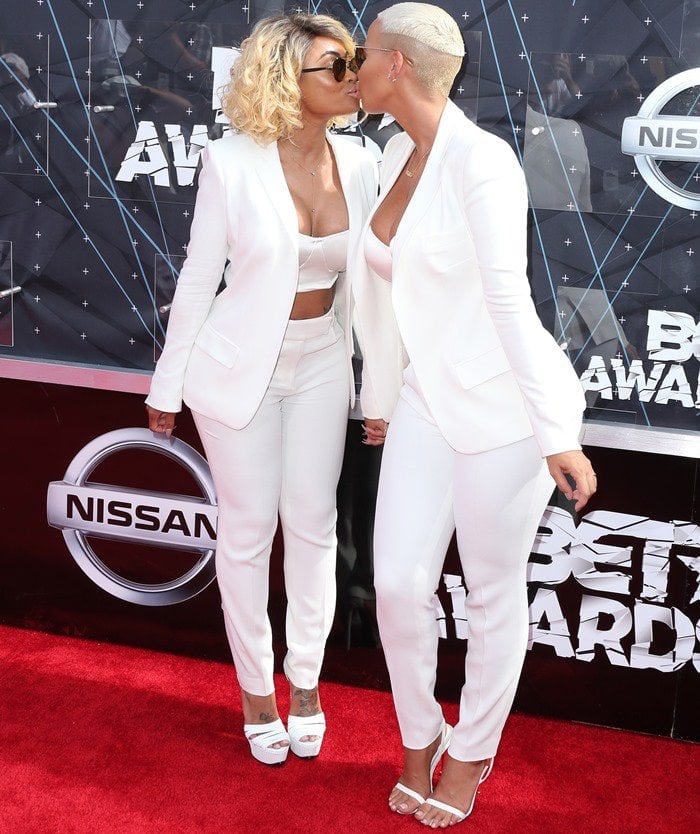 Amber Rose and Blac Chyna kiss on the red carpet at the 2015 BET Awards at the Microsoft Theater in Los Angeles on June 28, 2015
Amber Rose with extreme toe overhang in ankle-strap stilettos from Tom Ford

6. Jennifer Lawrence in Manolo Blahnik Heels
For good measure, the same day she suffered her infamous nipple slip.
Jennifer Lawrence donned a Dior diamond shaped quilted dress at the world premiere of The Hunger Games: Mockingjay — Part 1 in London, England, on November 10, 2014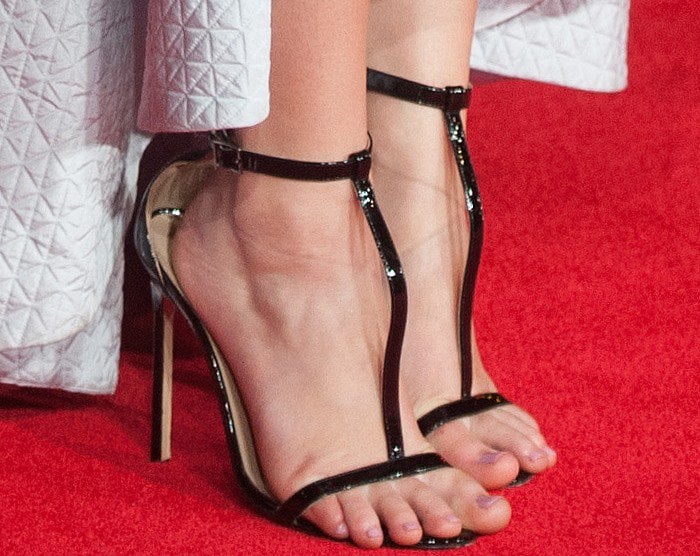 Jennifer Lawrence showing off her feet in Manolo Blahnik t-strap sandals

7. Jennifer Garner in Jimmy Choo Heels
We wonder if the American actress and film producer noticed that something weird was going on down there?
Jennifer Garner wearing a blush-colored Valentino dress at the 29th American Cinematheque Awards to honor Reese Witherspoon in Los Angeles on October 31, 2015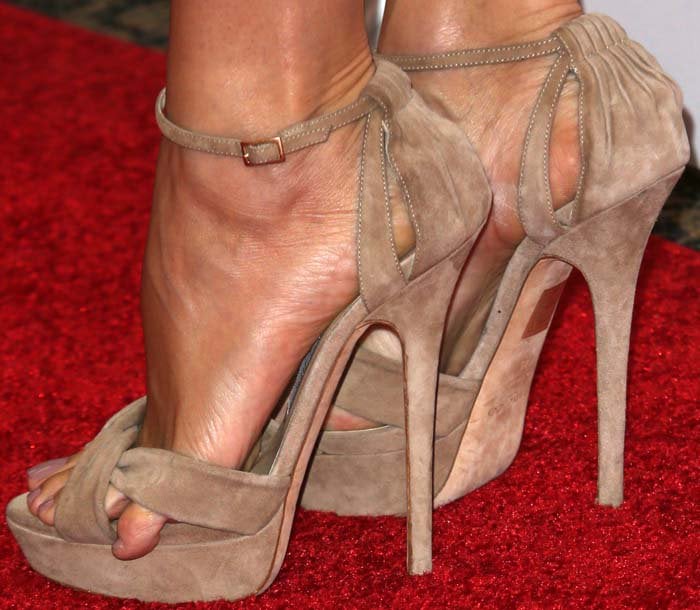 Jennifer Garner with toe overhang in beige suede Jimmy Choo "Greta" heels

8. Rashida Jones in Rupert Sanderson Sandals
It's quite possible that the American actress, comic book author, film producer, and screenwriter had a good time at the Independent Spirit Brunch. However, her toes wanted to leave.
She styled a Dolce & Gabbana dress with a pair of Rupert Sanderson "Teoni" sandals that you'll soon see also caused problems for Emmy Rossum.
Rashida Jones wearing a Dolce & Gabbana lily print dress at the 2013 Independent Spirit Brunch held at BOA Steakhouse in West Hollywood on January 12, 2013
Rashida Jones with her toes slipping out of her Rupert Sanderson sandals
9. Emmy Rossum in Rupert Sanderson Heels
No, we definitely did not have to see that. While both Rashida Jones and Emmy Rossum had problems wearing these sandals, Katie Aselton did a good job at the 2013 Film Independent Spirit Awards.
Emmy Rossum wearing a beaded Naeem Khan Resort 2013 dress at Jeffrey Fashion Cares 10th Anniversary Celebration at The Intrepid on April 2, 2013
Emmy Rossum shows off her pedicure in Rupert Sanderson 'Teoni' sandals

10. Mollie King in Sexy Heeled Sandals
Considering the above shoe disasters, the English singer-songwriter should not feel too bad about her toe overhang at the 2015 British Fashion Awards.
Mollie King and David Gandy at the 2015 British Fashion Awards held at the London Coliseum in London on November 23, 2015
Mollie King shows off her pedicure in sexy heeled sandals

Credit: Brian To / WENN / Dennis Van Tine / Future Image / FayesVision / Mario Mitsis
Credit: Lia Toby / Daniel Deme / Apega / C.Smith / Joe Alvarez