Daughter of Brazilian model Andréa de Magalhães Vieira and British property developer Guy Dellal, Charlotte Olympia Dellal was born in 1981 in Cape Town, South Africa.
She lives in London with her husband, private equity investor Maxim Crewe, and their four boys.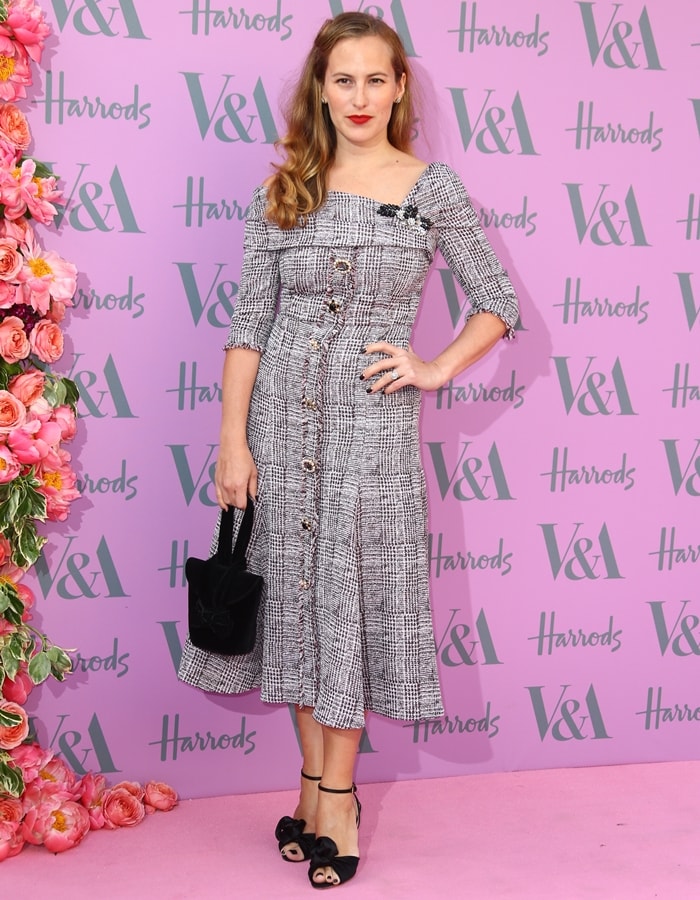 Footwear designer Charlotte Olympia Dellal attends the V&A Summer Party at The V&A on June 20, 2018, in London, England (Credit: JRP / WENN)
On February 17, 2018, Charlotte Olympia's three Delaware-based firms, Pinktoe Tarantula, Desert Blonde Tarantula, and Red Pump Tarantula, filed for bankruptcy in the U.S., citing the "unprecedented disruption in the retail market."
"The brick-and-mortar retail environment has been experiencing, and continues to experience, unprecedented disruption due to a confluence of factors, including the proliferation of online retailers, changing consumer tastes and demographics, and increased competition," chief restructuring officer William Kaye stated in the filing.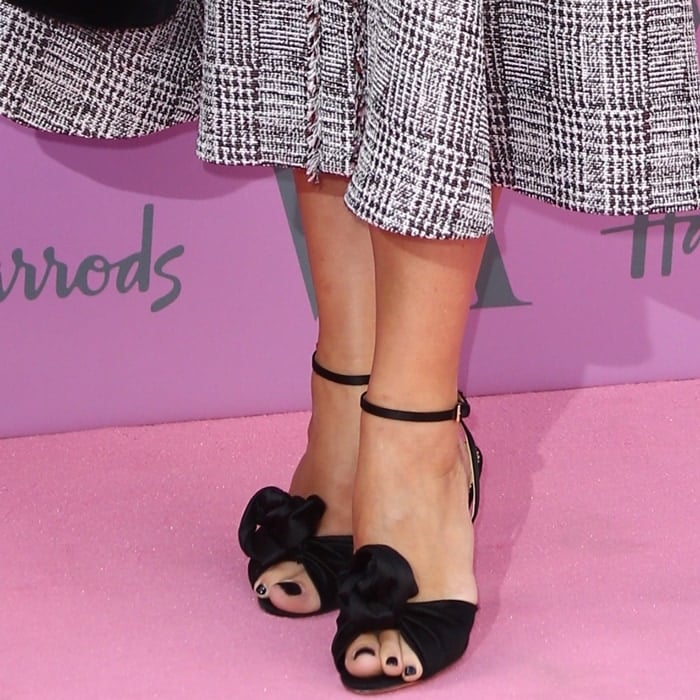 Charlotte Olympia Dellal shows off her feet in black sandals from her eponymous footwear label
"Despite selling the iconic Charlotte Olympia brand and taking steps to reduce their expenditures, the debtors' operations are not profitable due to the widespread disruption in the retail industry."
While the U.S. affiliates doing business as Charlotte Olympia declared bankruptcy and closed four retail outposts in New York, California, and Nevada, Charlotte Olympia Dellal still controls her namesake brand.
Below, we're excited to show you ten of our favorite shoes from the London-based footwear brand Charlotte Olympia, founded by Charlotte Olympia Dellal in 2008.
We've spotted her footwear creations on celebrities like Sofia Vergara, Kate Mara, Elizabeth Banks, Lily Aldridge, Olivia Wilde, Heidi Klum, Beyoncé Giselle Knowles-Carter, Selena Gomez, and Lindsay Lohan.
1. Gold Island Platform Dotty Suede Pumps, $695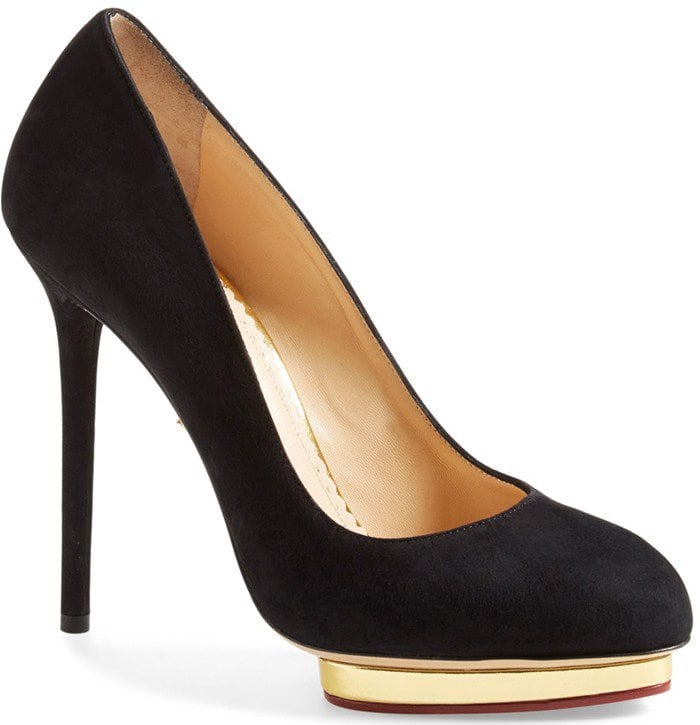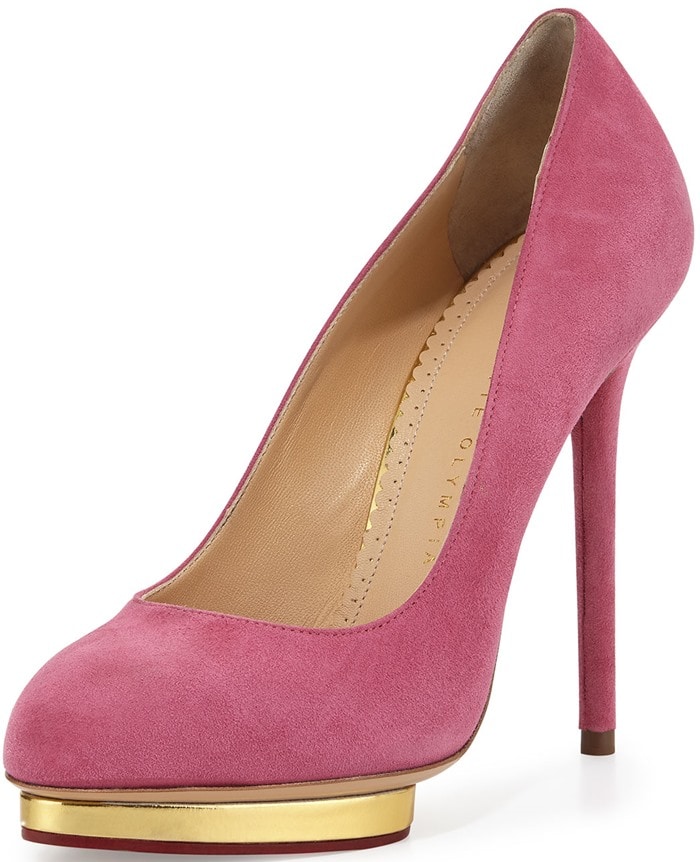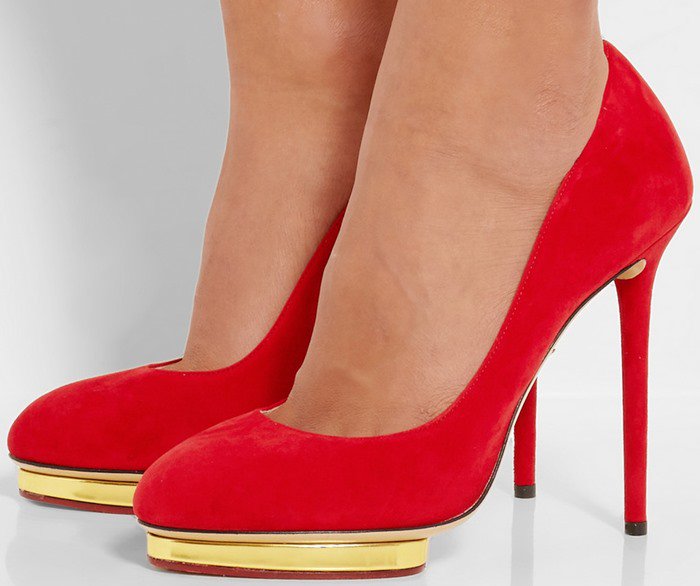 This red suede pair has a flattering round toe and gold island platform to temper the sky-high heel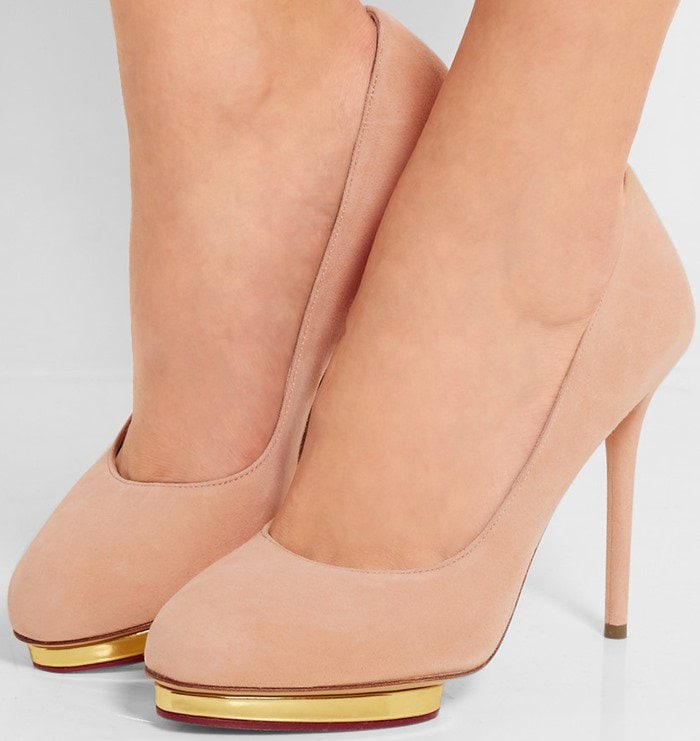 This pair is crafted from supple suede and finished with the label's signature gold island platform for stability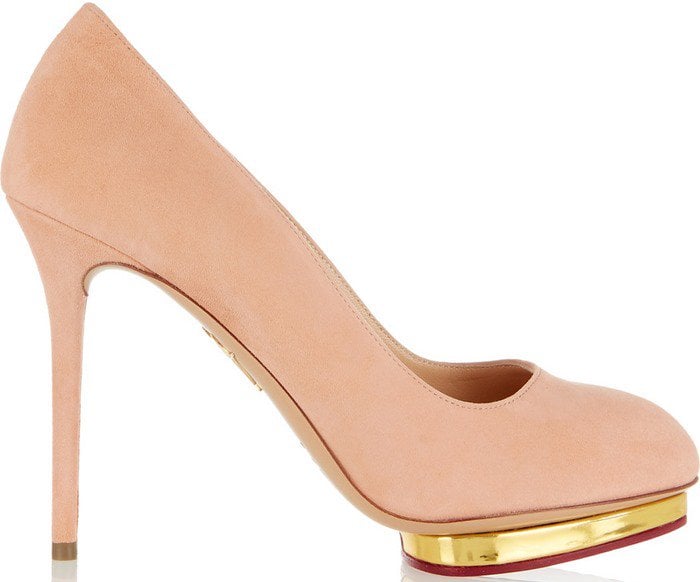 Charlotte Olympia's signature 'Dotty' pumps are part of the label's 'Encore' collection
2. Evelyn Crystal-Embellished Suede Sandals, $795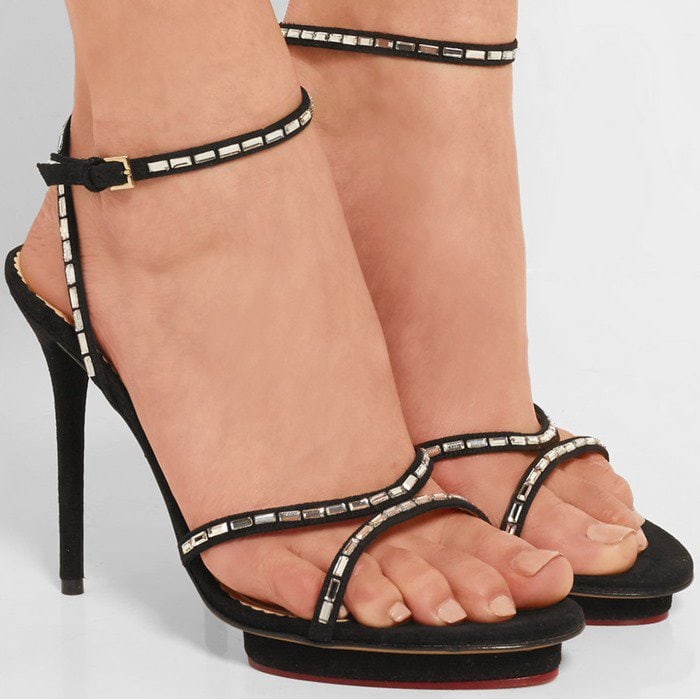 The slim suede straps of Charlotte Olympia's 'Evelyn' sandals are embellished with sparkling baguette crystals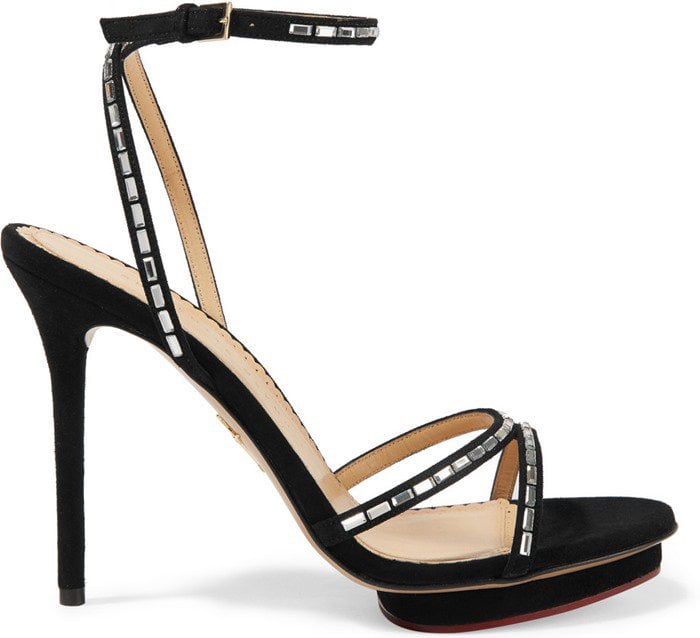 This light-catching pair has a towering 115mm heel balanced by the signature island platform
3. Forever Young Metallic-Trimmed Suede Platform Sandals, $945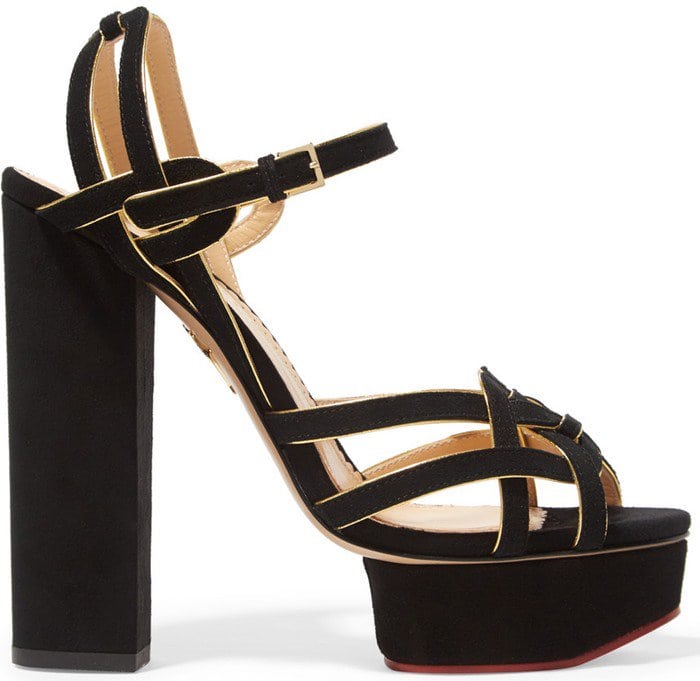 Charlotte Olympia's black suede 'Forever Young' sandals are woven in a graphic interlocking pattern outlined in gold leather to showcase its intricacy
The towering block heel is balanced by a generous platform
4. Ilona Bow-Embellished Canvas Mules, $745
These metallic 'Ilona' mules are decorated with a twisted bow detail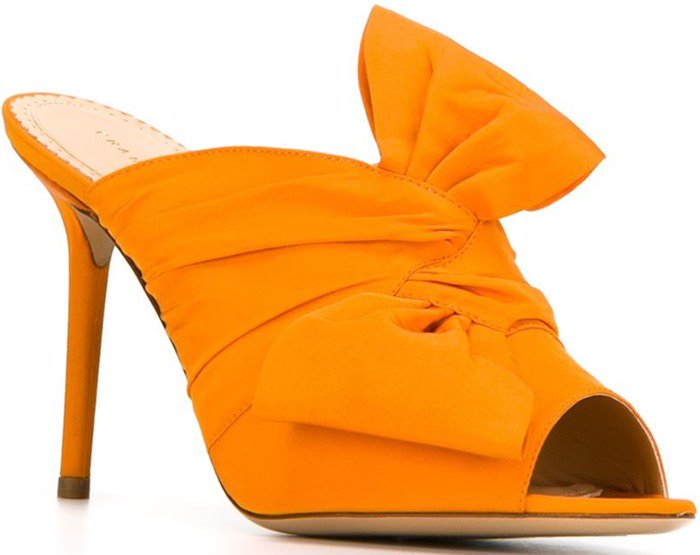 Made in Italy from lustrous satin, this peep-toe pair has a twisted bow at the front and a pin-thin heel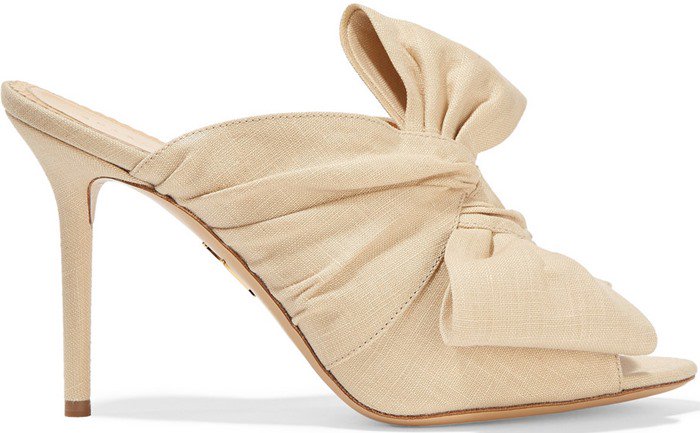 Charlotte Olympia's shoes are inspired by the opulent wardrobes of vintage fashion icons
Charlotte Olympia's 'Ilona' mules showcase her continuing admiration for old Hollywood glamour
5. Less Is More Embellished Stretch-Knit Over-the-Knee Boots, $595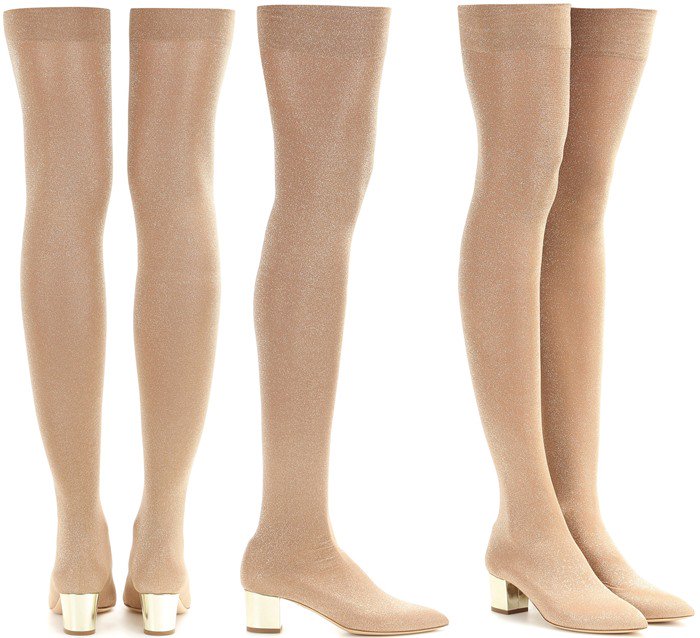 Charlotte Olympia's 'Less Is More' boots seamlessly fuse the look of stretch-knit tights and pumps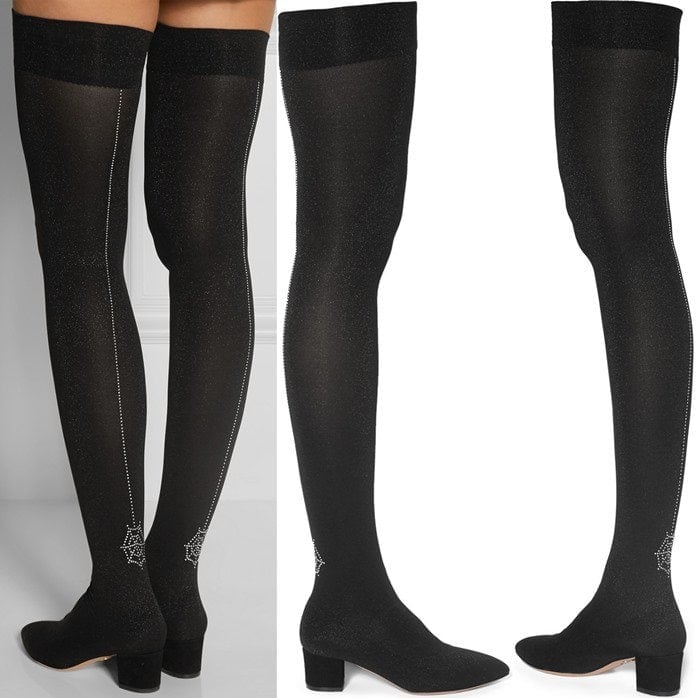 Designed with a sturdy block heel, this mid-thigh style is detailed with the brand's signature spiderweb in crystals
6. Lotte Cutout Suede and Mesh Sandals, $795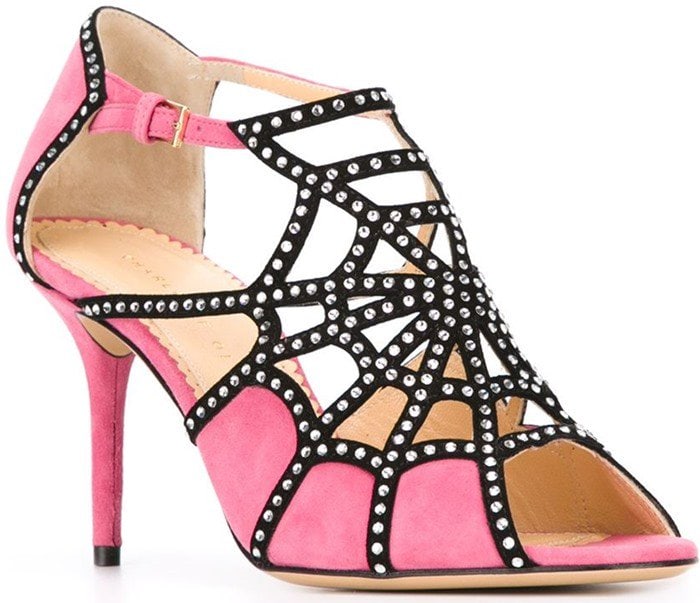 Pink Charlotte Olympia Lotte spider-web suede high heel sandals
The mid-heel is comfortable for night-long events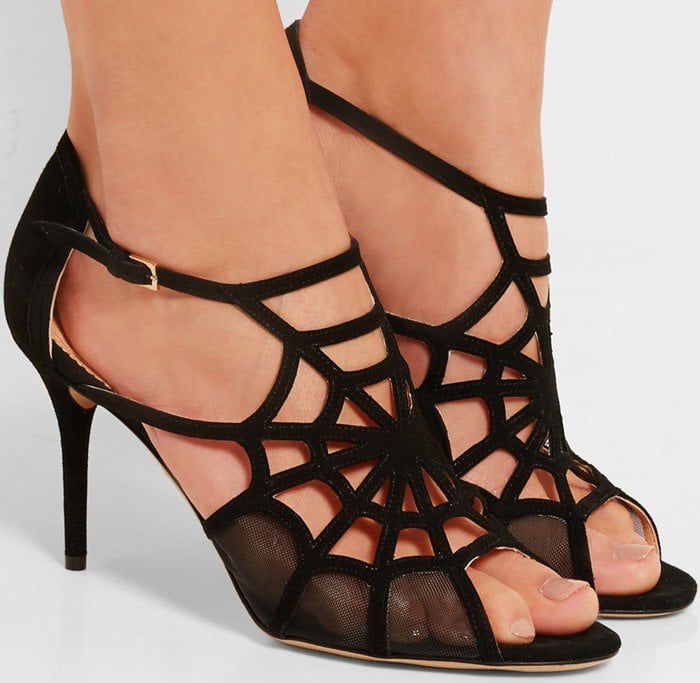 This glamorous pair is crafted from suede with spider web-shaped cutouts and mesh side panels
Charlotte Olympia's 'Lotte' sandals are from the 'Encore' line – a permanent collection of the designer's signature silhouettes
7. Mid-Century Dorsay Leather-Trimmed Canvas Point-Toe Flats, $565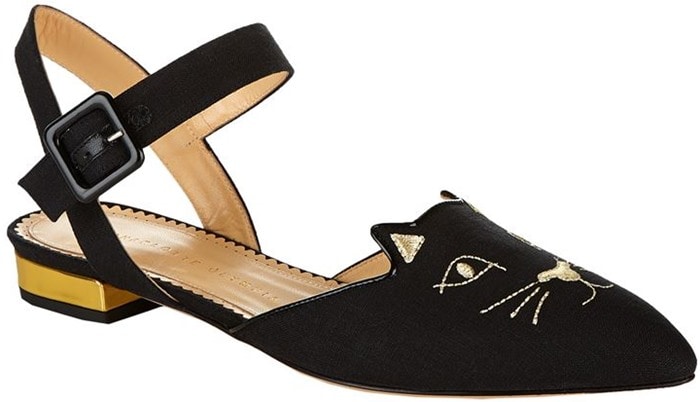 This point-toe pair is trimmed in glossy patent-leather and lightly cushioned for all-day comfort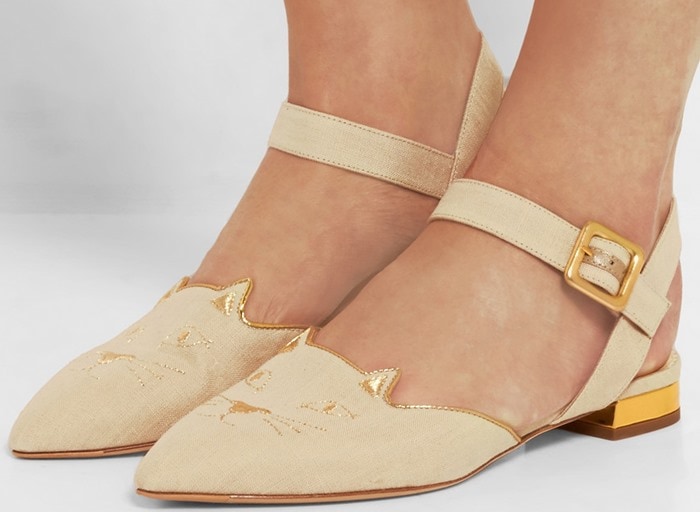 Charlotte Olympia's 'Mid-Century Dorsay' flats are the latest addition to the designer's cult 'Kitty' range
Handcrafted in Italy from ecru canvas, this point-toe pair is accented with glossy gold leather piping and embroidery
8. Odelle Bow-Embellished Faille Sandals, $795
Charlotte Olympia describes her 'Odelle' sandals as "an exquisite party shoe"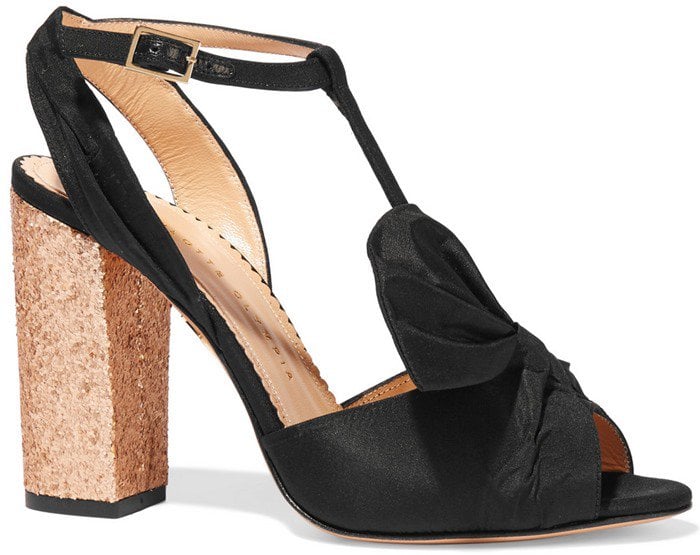 These sandals have been crafted in Italy from black faille neatly knotted into a bow and finished with a shimmering gold glitter heel
9. Vreeland Lamé Platform Sandals, $875
These platform sandals are named after fashion editor Diana Vreeland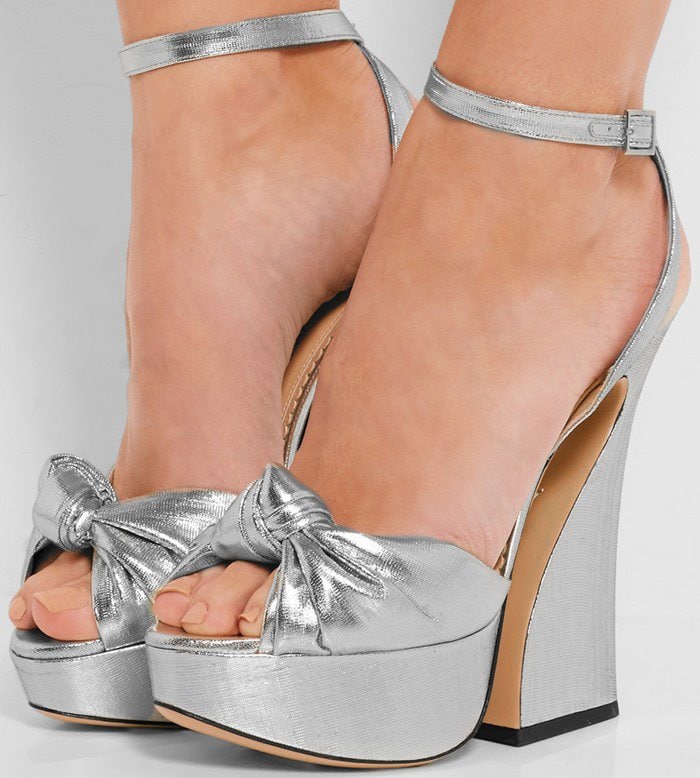 Crafted from sparkling silver lamé, this '70s-inspired pair has a decorative knotted strap and sculpted curved heel
Silver Charlotte Olympia lamé fabric sandal featuring 5.8″ curved heel and 1.5″ platform
10. Wallace Satin Sandals, $825
Charlotte Olympia satin evening sandal featuring 5″ covered stiletto heel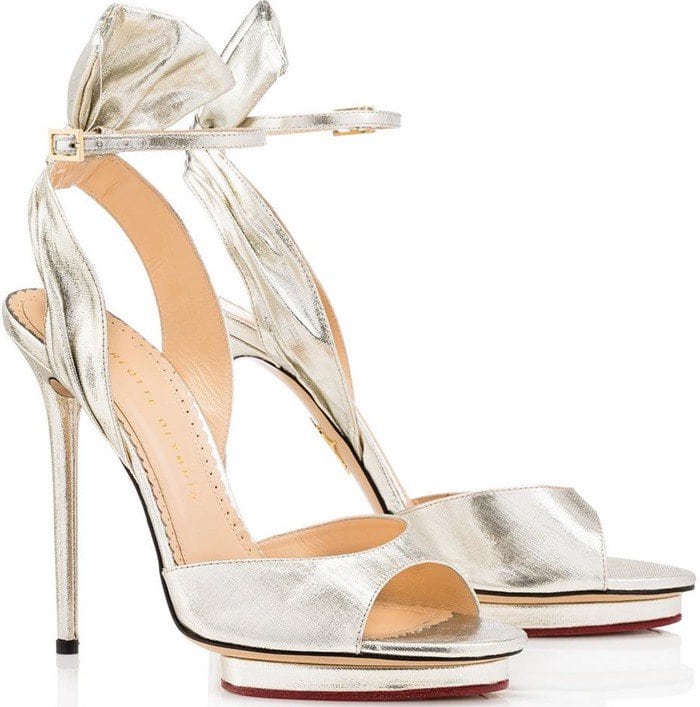 A bow-like accent at the ankle strap balances out the island platform of a fanciful peep-toe sandal fashioned from silvery lamé fabric and finished with a towering stiletto heel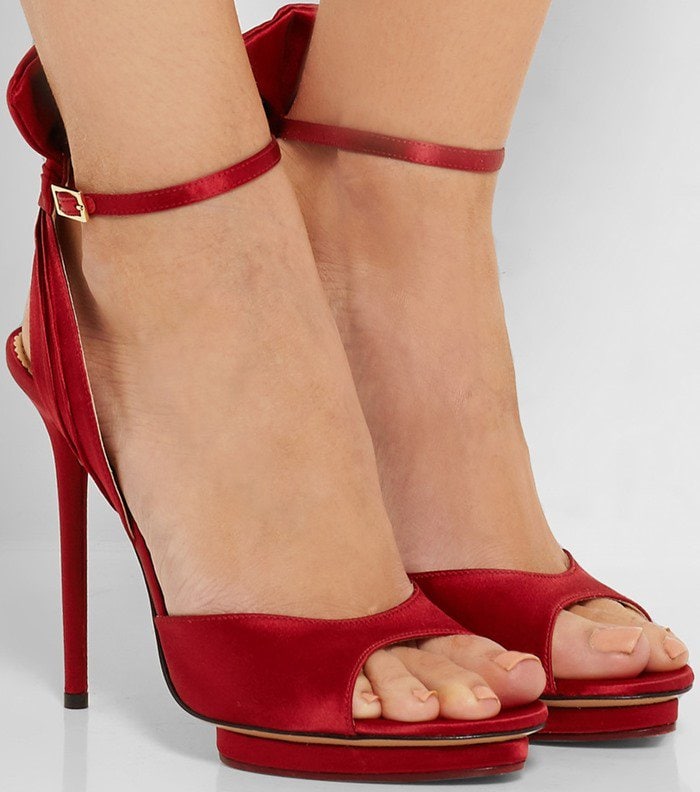 Charlotte Olympia is known for feminine shoes and accessories with a sense of humor
Crafted from sumptuous red satin, this pair is detailed with a knotted bow detail at the back and the 5-inch heel is balanced by the label's signature island platform, ensuring evening-long comfort