Just like a slew of other Disney stars before and after her, Lindsay Lohan has experienced what it is like to be addicted to something.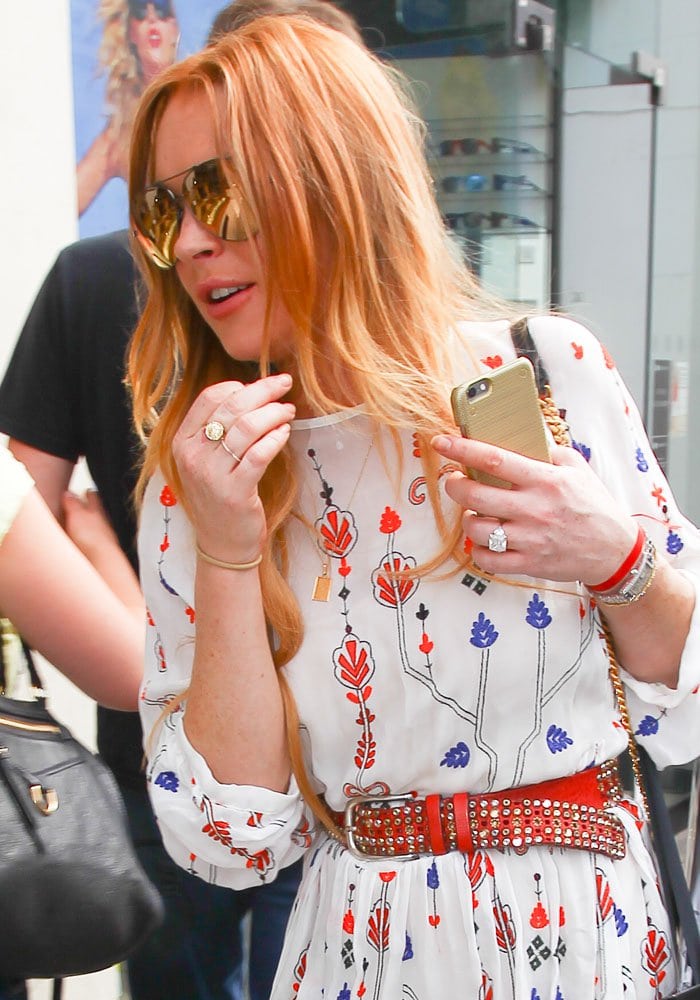 Lindsay Lohan styled her summer dress with a studded red belt
In the 28-year-old's case, a string of drugs, alcohol, partying, and even accusations of theft have haunted the past of the now-recovering star – but it looks like tables have now been turned.
Lindsay Lohan was recently granted a restraining order against Daniel Voderwulbecke
The former child star was granted a restraining order against an obsessed 37-year-old fan, Daniel Voderwulbecke.
Lindsay Lohan shopped at Pinko, a contemporary, trend-focused Italian women's fashion brand
Voderwulbecke, who claimed that he was Lohan's husband and nephew of the Queen, was sentenced to keep at least 100 meters away from Lohan as well as from her London haunt Chiltern Firehouse, where the fan reportedly harassed the reservations manager for allegedly keeping him and "his wife" apart.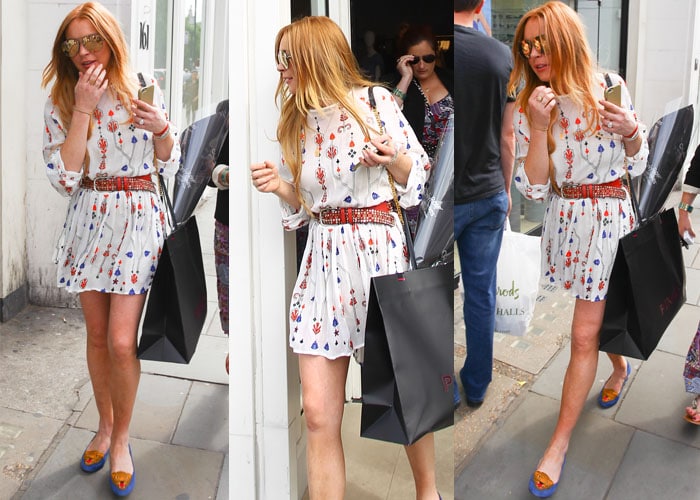 Lindsay Lohan stopped by Pinko in Knightsbridge with a few friends on June 25, 2015
The German national will be spending 12 weeks in prison and will undergo a year of therapy. Yikes.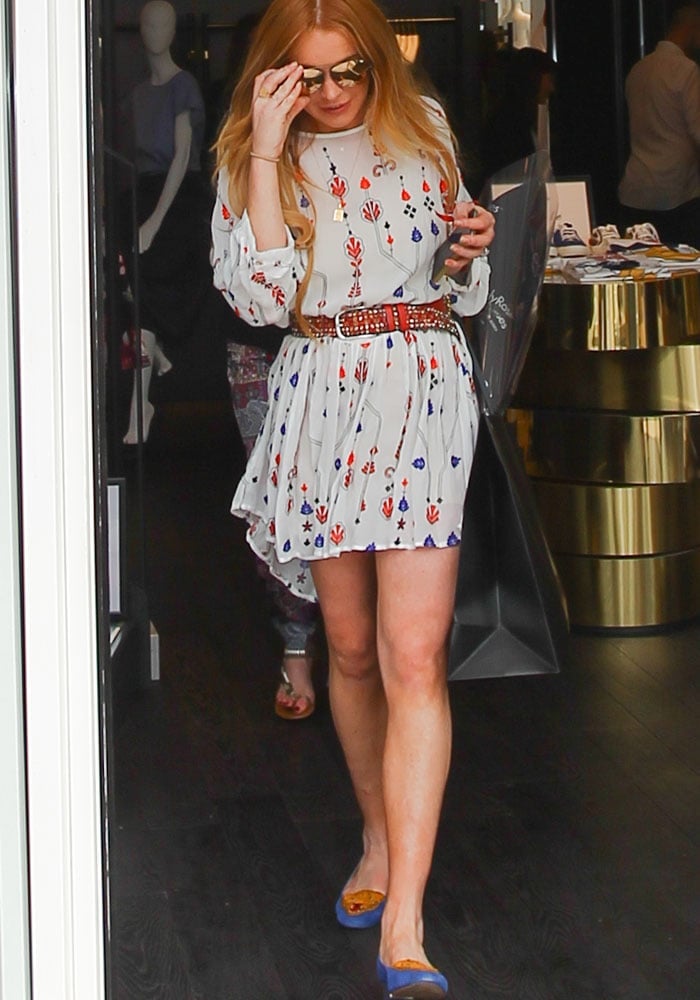 Lindsay Lohan flaunted her legs in a cute summer dress
Despite the harassment, LiLo seems to be doing well. Lindsay was photographed going about her usual afternoon shopping trips, this time to a boutique named Pinko, looking cheerful and not quite minding the cameras.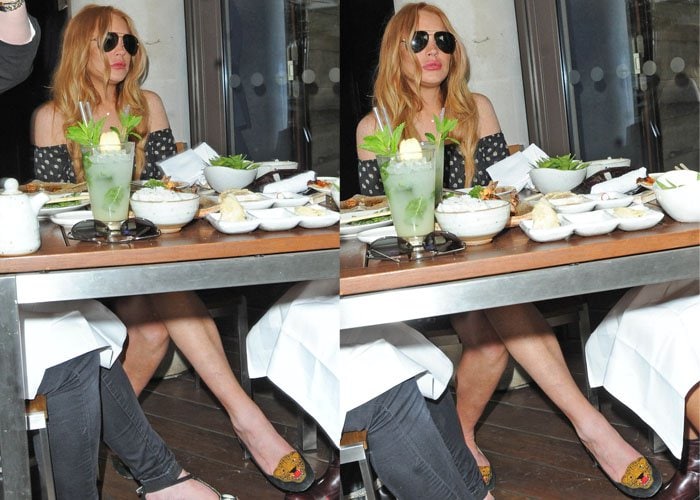 Lindsay Lohan wore Charlotte Olympia's Mascot pumps
The night before, however, drew an unresponsive reaction from the former child star as unwelcome paparazzi invaded her dinner in London.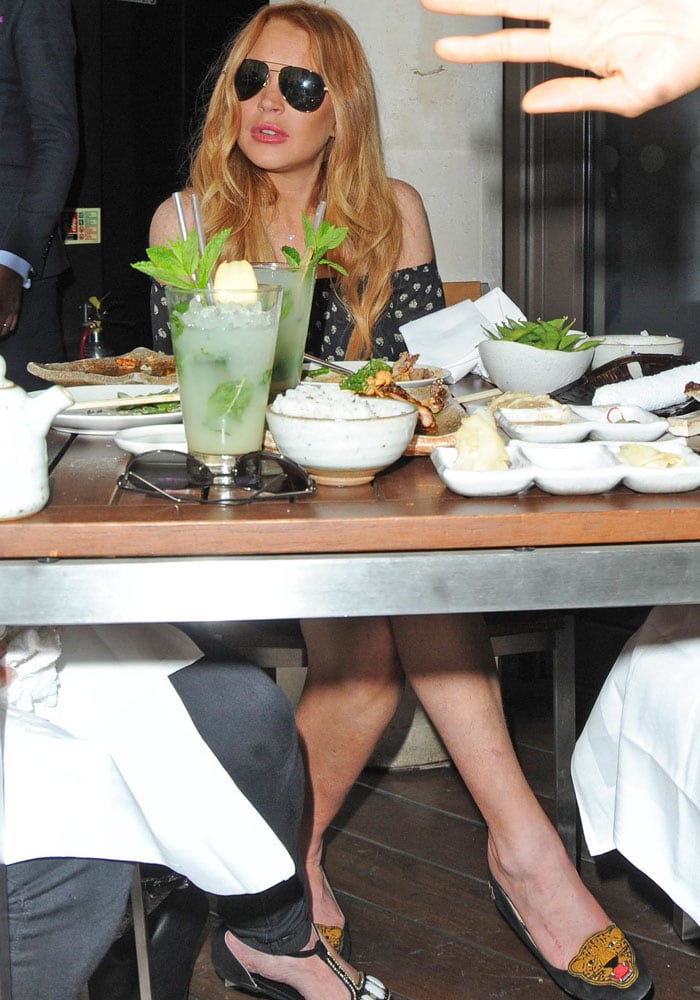 Lindsay Lohan enjoyed a meal at London's award-winning Japanese restaurant ROKA Mayfair
Speaking of obsessed, Lindsay showed some major obsession over her first love (which we don't really mind) – shoes. The Mean Girls star was photographed wearing the Charlotte Olympia's Mascot pumps in two different colors consecutively. Head on over to Farfetch to get your own tiger dose.
Lindsay Lohan dines at Roka Mayfair with friends on June 24, 2015
Black Charlotte Olympia Mascot Pumps, £495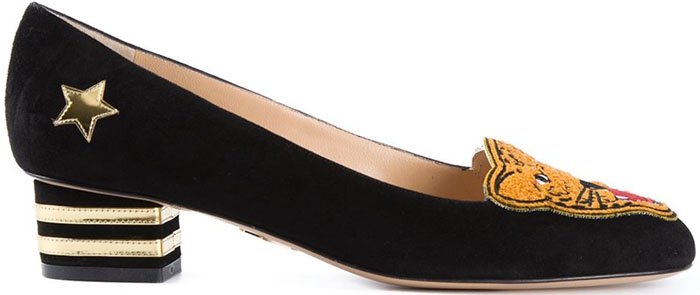 Blue Charlotte Olympia Mascot Pumps, £
495
Red Charlotte Olympia Mascot Pumps, £
495
Credit: DGA / WENN