If you've ever gone on a day-long tourist trip, a mountain hike, or even just a long walk around town, you probably know how uncomfortable wearing shoes can get after a while. Even the most comfortable shoes that are designed for extended use can hurt sooner or later.
Luckily, there are other ways to keep your feet as comfy as possible, other than getting the right shoes. No, we're not talking about sprays and external remedies, like the "Still Standing" foot spray that Margot Robbie used during the 2018 Academy Awards.
We're talking about special devices that provide an additional layer of comfort to your shoes. Enter the insoles and the inserts.
What are Insoles and Inserts?
Insoles (or inserts, as others call them) are products that are made up of a soft material that provides additional comfort to the sole of your foot, hence the term "insole".
Heidi Klum promotes Dr. Scholl's soft DreamWalk insoles that instantly transform the shoes you want to wear into remarkably comfortable ones
Insoles are placed under the feet, and the material (which is usually made up of gel, foam, or even plastic) provides the additional padding in your shoes. Aside from the added cushioning, insoles provide an extra layer of support to your feet, so that over time you won't be feeling as much pain as you would without them.
The only real downside to insoles and inserts is the fact that they aren't exactly tailor-made. Sure, they come in different shapes and sizes, but unless your foot size is exactly the same as the sizes available, you won't get a perfect, snug fit.
Dr. Scholl's high heel insoles, heel cups, and blister treatment for standing all day
This makes them a lot less effective than they're capable of being, which is why many people turn to an alternative – custom orthotics.
What is Custom Orthotics?
Just like insoles, custom orthotics provide added comfort and support to your feet by placing them in the soles of your shoes. What makes orthotics different, though, is the fact that they're custom-made.
Orthotics are usually recommended by doctors and are made to fit your foot size perfectly, providing the maximum possible effect.
Unfortunately, custom orthotics are pretty expensive, so unless you really want to invest a good amount of your savings on them, you're better off getting some high-quality insoles.
And don't worry – we've got you covered on that as well, as we're listing some of the best insoles and inserts on the market today.
1. Superfeet GREEN
With over 8000 ratings on Amazon, Superfeet GREEN is one of the most popular insoles available online. Their amazing build quality makes them last longer than most insoles, and they're designed to help out people who stand up all day.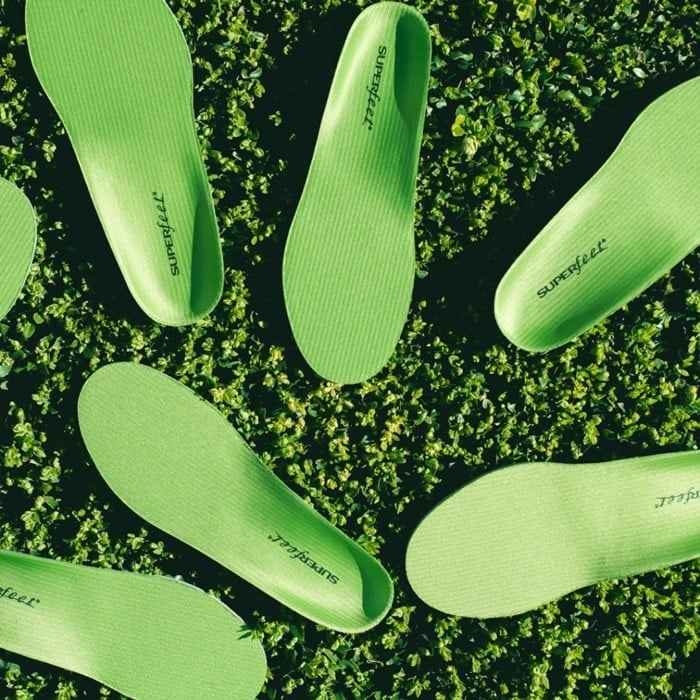 Also available in other colors, Superfeet's premium insole shape and designs are based on biomechanical principles of podiatric medicine
As their name suggests, Superfeet GREENs come in a vibrant lime color, which may be off-putting for some, but remember that you (nor anyone else for that matter) will be able to see them at all, unless you're wearing something like a pair of sandals or heels, of course.
2. Samurai Insoles
Ever heard of plantar fasciitis? It's the term used to describe the inflammation of the tissue beneath your foot (the one that connects your heels to your toes). You probably know what we're talking about.
What you probably don't know, however, is that there are insoles designed to help deal with that exact problem.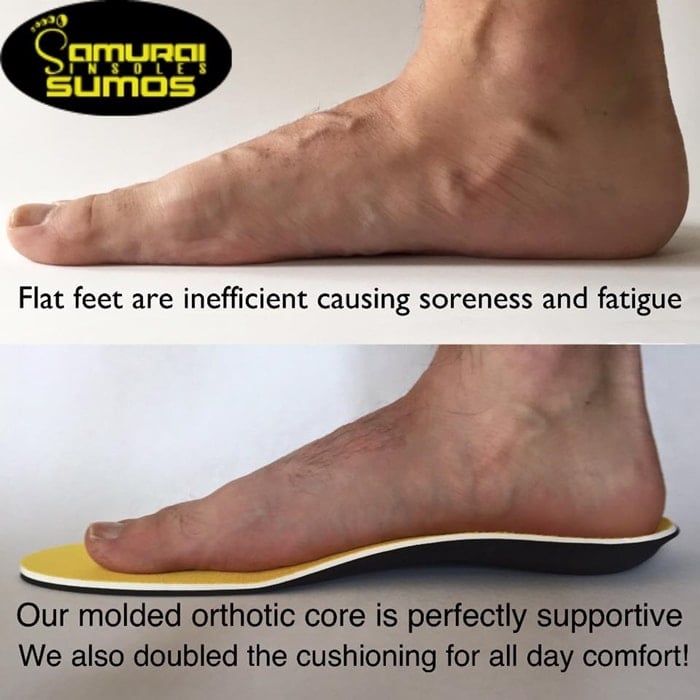 Samurai Insoles makes orthotic arch support inserts for flat feet/ plantar fasciitis
Also available on Amazon, Samurai Insoles is designed with pain relief in mind. Not only will it make standing for extended periods of time more bearable, but it will also help minimize the chances of getting that terrible aching feeling on the bottom of your feet. They're recommended by Amazon with almost 2000 reviews, so they're worth checking out.
3. Dr. Scholl's Work Insoles
If you're already familiar with insoles, then you've probably heard of Dr. Scholl's before. As a brand that sells various types of insoles, they've got products with different designs, each meant for a specific purpose, such as sports, heavy-duty, or massage therapy.
If you're not sure what insole to choose, check out Dr. Scholl's insole advisor. For this article, though, we're taking a look at their work insoles, which are best used for people who move around a lot all day. They are available on Amazon.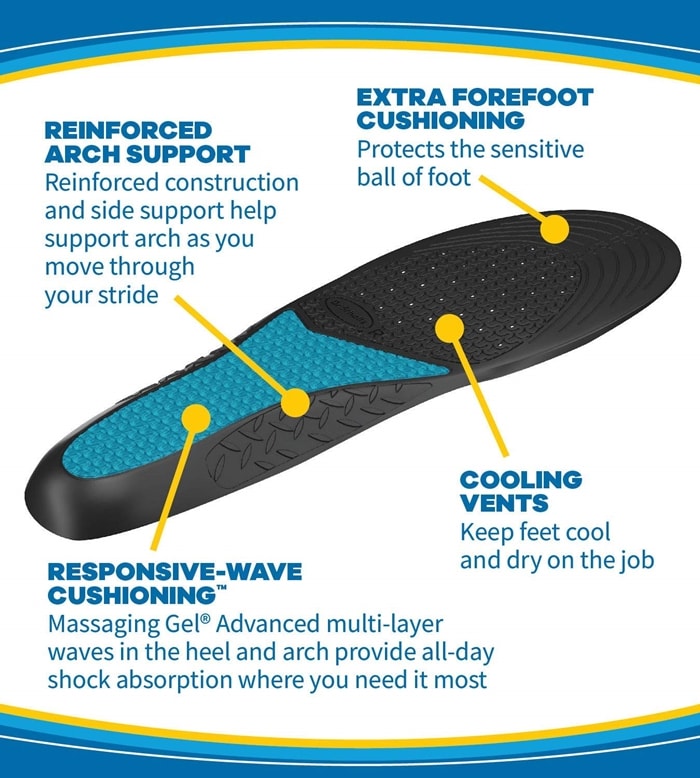 Dr. Scholl's work insoles are designed for people who work on hard surfaces all day and experience discomfort and fatigue in their feet and legs
Unlike their other products, Dr. Scholl's Work insoles are made with the hard worker in mind. They're designed to perform at their best even after hours of continuous walking and standing, and they fit into most types of shoes, including work boots. This is definitely one of the more intense insoles available on the market today.
4. HappyStep Memory Foam Insoles
For all you readers out there with high arches on their feet, HappyStep is a great first choice that you can buy on Amazon.
If you don't know what an "arch" means, it basically refers to the gap beneath your feet that doesn't touch the floor. Some people have higher arches than others, and that can lead to foot problems that regular insoles can't properly solve.
HappyStep's high-density memory foam means better quality and long-lasting durability
That's where HappyStep comes in. Made out of memory foam, which is known for its comfortability and pressure relief, HappyStep ensures that even people with high arches on their feet can enjoy a more relaxing time standing. They're also pretty breathable, so you won't feel too cramped with a pair of these insoles tucked in your shoes.
5. Spenco RX
Not all of us have high arches on our feet, and some of us may even have feet that are almost completely flat. Thankfully, there are insoles made for those types of feet as well. For those with flat feet, Spenco RX will prove to be a life-saver. You can buy them on Zappos.
Spenco insoles help protect the interior of your foot, which contains 26 bones, 33 joints, and more than a hundred muscles, tendons, and ligaments
Made out of antimicrobial fabric and nylon, these insoles are extremely lightweight, with the added benefit of minimizing bad foot odors. They also feature a shock-absorbent layer that minimizes the impact of walking, running, and jumping. Even if you don't have flat feet, these insoles are great for providing a simple yet comfortable experience.
Conclusion
Shoes can be extremely tiring to wear after a while. But with the right insole, you'll be able to rock your favorite pairs without having to worry about anything. Whether you've got flat or high-arched feet, prefer durable soles or soles with maximum comfort, there are plenty of options in store for you.
Credit: PNP / WENN / Ivan Nikolov