While Maya Rudolph and Tiffany Haddish ditched their shoes before the 2018 Academy Awards were even over, Margot Robbie remained standing in her high heels throughout the entire Oscars and its many after-parties. How did she do it?
The "I, Tonya" star has her stylist, Katie Young, to thank for introducing her to a Hollywood red carpet fashion secret. The Best Actress Oscar nominee had a $36 foot spray called Still Standing (available at Amazon) applied to her feet that let her wear her Roger Vivier "Es'sensual" sandals all throughout the day, and her Jimmy Choo "Minny" sandals all throughout the night.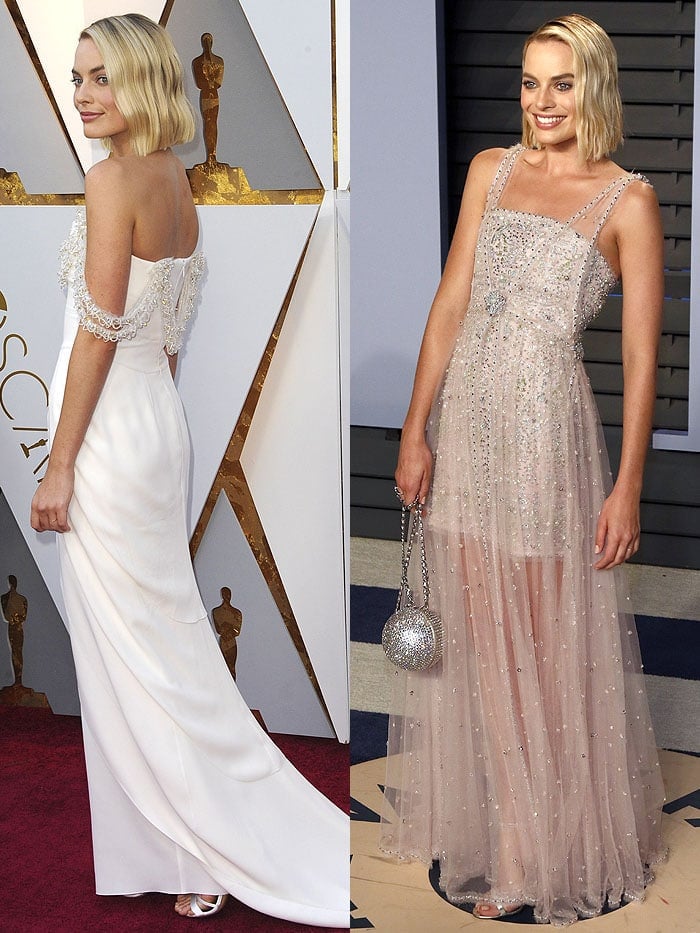 Margot Robbie being able to wear her Roger Vivier "Es'sensual" white satin heels and Jimmy Choo 'Minny' heels all day from the 2018 Academy Awards to the 2018 Vanity Fair Oscar Party on March 4, 2018
The spray eases high heel-induced foot pain not by numbing the feet, but rather by cooling and calming them. Its herbal and certified organic formula also prevents inflammation and relieves pain. And judging from the huge smile that Margot was still able to flash at the Oscar after-party, it really works!
Stylist-to-the-stars Katie took to Instagram to reveal the entire secret arsenal she used to style Margot for the Oscars: stain removal wipes, nude-toned seamless underwear, gel insoles, and, of course, the now-invaluable Still Standing foot spray.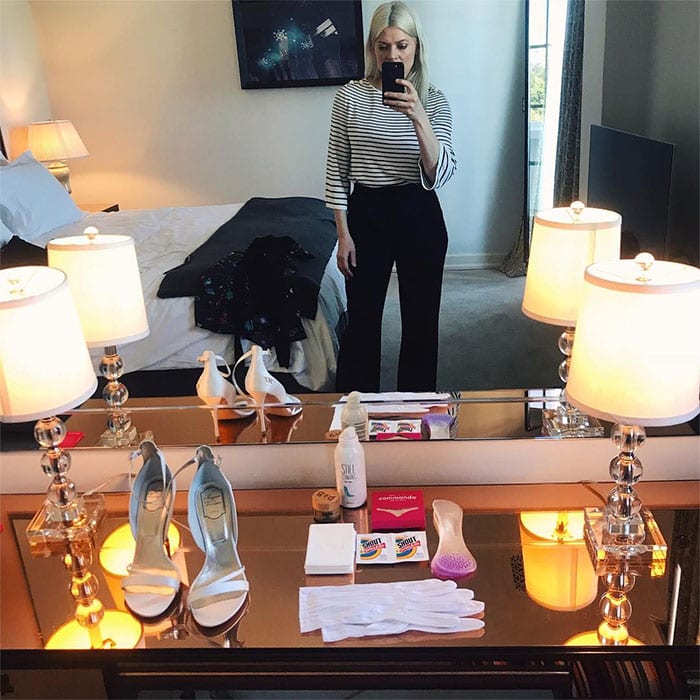 Celebrity stylist Kate Young's Instagram post of the secret styling arsenal she used to dress up Margot Robbie for the 2018 Oscars, posted on March 4, 2018.
Still Standing foot spray is available at Amazon and comes in a large or mini-purse size. It must be sprayed on the top, sides and bottom of feet and allowed to dry prior to putting on shoes for it to work. Unfortunately, the spray will neither keep shoes from slipping off your feet nor will it prevent blisters from shoes that don't fit properly.
While we wait for the magic potion that will be able to solve all of those shoe problems, follow our tips on how to shrink shoes that are too big and how to stretch too-small shoes.
Still Standing Foot Spray, $36 at Amazon
Image shared by @bystillstanding of their red-carpet-favorite Still Standing foot spray on March 6, 2018.
Credit: Apega / Future Image / Regina Wagner / WENN / Kate Young and Still Standing's Instagram