Podiatrist and fellow shoe lover Dr. Suzanne Levine has said it herself: telling women not to wear heels because they're bad for the feet is just plain unrealistic. To her, "it's like telling a woman who wants to lose weight to never eat sugar or carbs again."
We women can probably give up heels (and carbs) for maybe a little while but definitely not for long.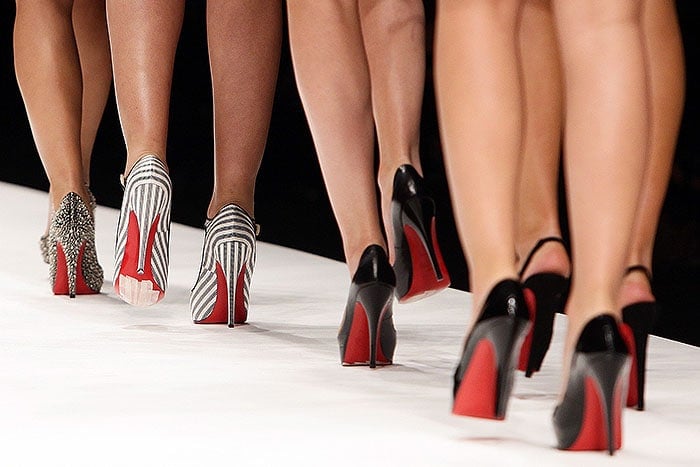 Models walking in Louboutins on the Fashion for Relief — Haiti runway in London, England, on February 18, 2010
That's why Dr. Levine is an advocate of toe jobs, which are cosmetic and reconstructive surgeries done on the feet to make wearing heels more comfortable.
However, she also knows that not very many are willing to lop some length off their toes or to cushion their feet with expensive Botox injections just for shoes' sake. So, the doctor offers these three less extreme solutions to ease foot pain from wearing high heels:
1. Wear Two Pairs of Shoes a Day
Dr. Levine recommends alternating between at least two pairs of shoes with different heel heights.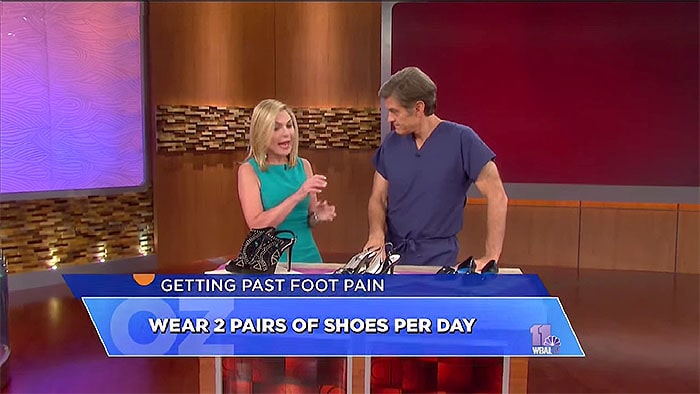 Suzanne M. Levine is an American podiatrist and foot surgeon
Doing so shortens and lengthens the foot and leg muscles like regular exercise would except without going to the gym part. Wear one pair for about three hours, and then switch it up.
2. Give Your Feet an Exfoliating "Foot Facial" Once a Week.
Exfoliate the dead skin cells and dry, flaky skin off of your feet at least once a week. This prevents bigger problems such as corns, calluses, and ingrown toenails from forming.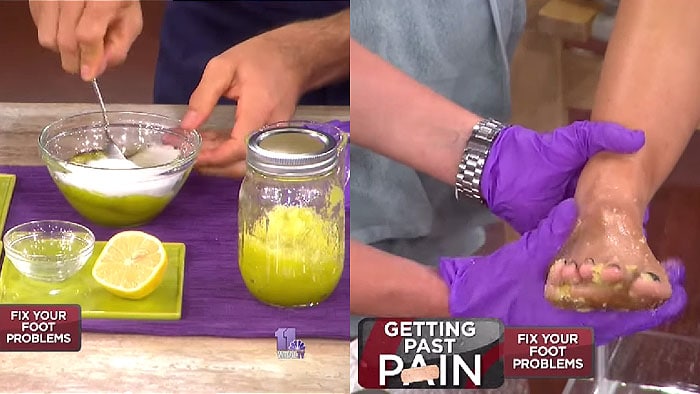 Give your feet a foot facial with a mixture of olive oil, salt, sugar, and lemon
A mixture of olive oil, salt, sugar, and lemon is all that's needed for a foot facial. "Treat your feet the way you treat your face," as Dr. Levine's motto goes.
3. Write the ABCs with Your Feet
The best way to stop feet from hurting is to prevent it from ever happening. This is where exercise comes in. Strengthen all the muscles in your feet by writing out the ABCs with them, making sure to exaggerate the strokes.
Suzanne M. Levine shows how to strengthen all the muscles in your feet
Dr. Levine gave all of these tips and more on an episode of The Dr. Oz Show, which you can watch in full below.
4. Wear the Right Shoe Size
Many women make the mistake of not having the right shoe size for their foot. Did you know that your foot size changes over the years? Studies have shown that pregnancy may permanently increase a woman's foot size.
Your feet are complicated pieces of machinery, and the literal pounding and squeezing they take over the years due to aging and gravity will change how they look and perform.
As we age, feet tend to get longer and wider. It is recommended that you have your feet sized every few years to make sure you always wear the right shoe size. According to Mayo Clinic, "wearing too-small shoes or high heels can cause your foot to be misshapen." Just take a look at these celebrities with deformed feet!
Aubrey Plaza in Christian Louboutin Pigalle Plato pumps with a gigantic gap between her ankle and the back of her shoes
In addition to causing foot pain and blisters, wearing shoes that are too big can also look silly. Just take a look at Aubrey Plaza in Christian Louboutin "Pigalle Plato" pumps with a gigantic gap between her ankle and the back of her shoes.
If your shoes are too big, consider shoe inserts or try this shoe hack to make them smaller.
5. Use Cooling and Calming Foot Spray
Margot Robbie uses foot spray that eases high heel-induced foot pain by cooling and calming your feet.
Still Standing Foot Spray, $36 at Amazon
Credit: Adriana M. Barraza / FayesVision / Visual / WENN