Christian Louboutin, Manolo Blahnik, and Jimmy Choo. They're all legends of the footwear world. Another name that belongs in any book about designer shoes is Roger Vivier.
The French shoe designer is famous for creating the stiletto heel and was one of the most influential designers of the 20th century.
Over 20 years after his death, Roger Vivier's shoes continue to captivate our imagination. Without Roger Vivier, we wouldn't have the stiletto heels we know and love today. We're deep-diving into the world of his French fashion house to discover why their shoes are so famous.
Meet Roger Vivier
Roger Vivier – pronounced "ro-juh vee-vee-ay" – is an eponymous French fashion brand founded in 1937 at 22 Rue Royale in Paris.
Known as the "Faberge of Footwear," Vivier is credited with creating the first platform shoe and the first thin stiletto heel.
Known as the Faberge of Footwear, Roger Vivier is credited with the design of the first platform shoe in 1937 and the first stiletto heel in 1954 (Credit: Roger Vivier)
He worked at Christian Dior and Yves Saint Laurent, designing some of the brands' most iconic shoes.
For his design inspiration, Vivier looked to the world of theatre and music halls, starting by creating custom-made shoes for Josephine Baker and Mistinguett.
Why is Roger Vivier Famous?
One reason why Roger Vivier is famous is for the brand's celebrity clientele. While building his brand, Vivier created shoes for Queen Elizabeth II's coronation, Ava Gardner, and The Beatles.
Other famous customers of Roger Vivier include Elizabeth Taylor, Catherine Deneuve, and the Duchess of Windsor.
The celebrity following of Roger Vivier is still going strong today. Hollywood leading ladies like Scarlett Johansson, Katie Holmes, Anne Hathaway, and Charlize Theron have all stepped out in Roger Vivier's shoes.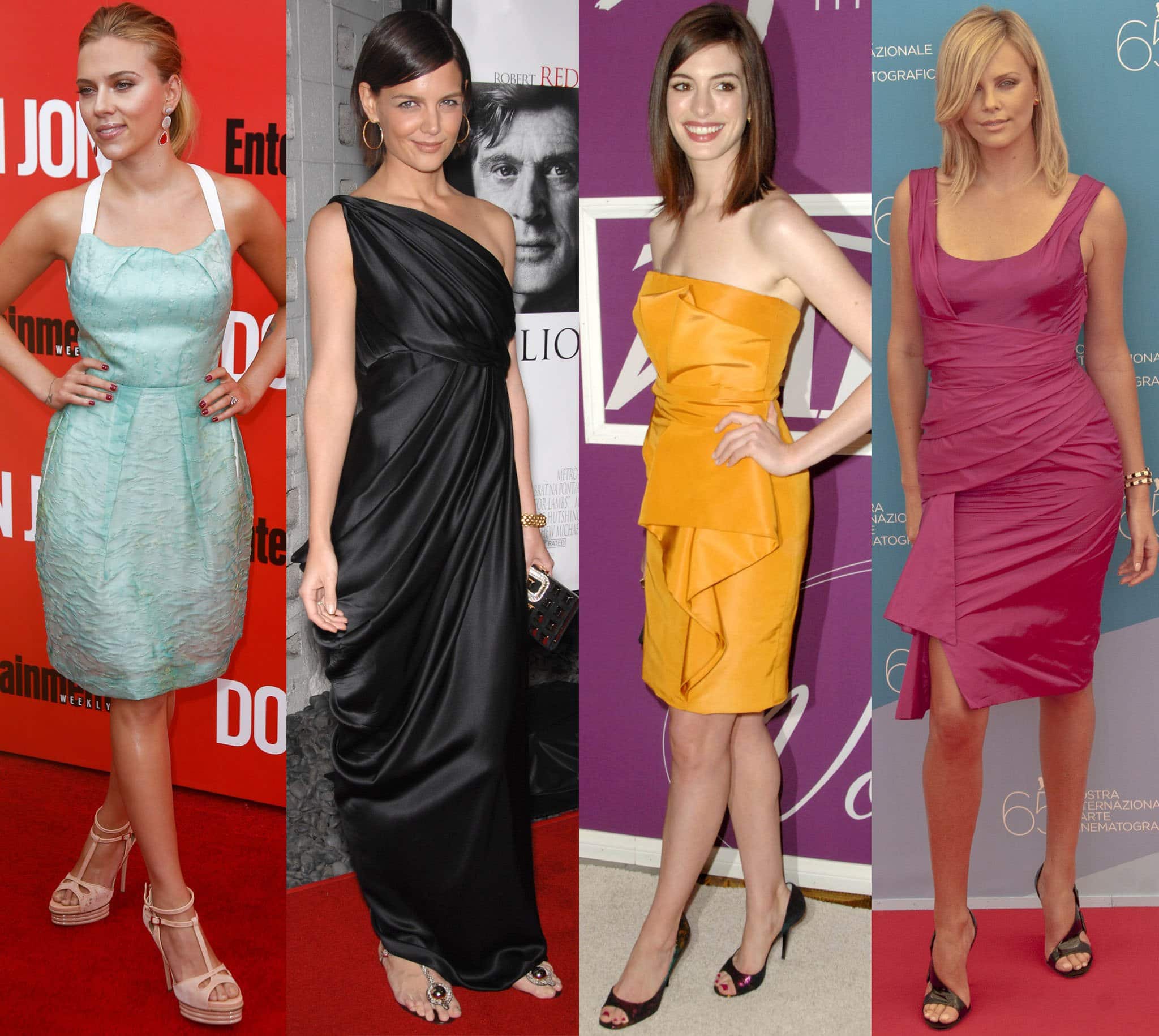 A-list stars Scarlett Johansson, Katie Holmes, Anne Hathaway, and Charlize Theron wearing Roger Vivier heels (Credit: Debby Wong / Featureflash Photo Agency / s_bukley / Denis Makarenko / Shutterstock)
Roger Vivier shoes are also famous for their unique design elements. While most brands stick to minimalistic designs, Vivier's signature is intricate embellishments, including pearls, jewels, and applique.
One of its most famous motifs is the buckle that symbolizes fashion's eternal cycle, which acts as the brand's signature.
If you want classic stilettos or satin shoes, you'll be in excellent company at Roger Vivier. The brand is famous for its understated elegance and Parisian chic. If you count Hepburn, Kennedy, and Taylor amongst your style inspiration, Roger Vivier is a shoe brand you want to know.
Everything You Need to Know About Roger Vivier Shoes
Fast forward to today, and Roger Vivier hasn't lost its magic. What makes these shoes famous is their whimsical look.
The brand has always believed that the right footwear could transform any outfit. Although stilettos are part of the brand's heritage, platform boots are another signature style.
Roger Vivier is one brand that isn't afraid to experiment with color. Whether you enjoy pastels or jewel tones, this French shoe brand has something for everyone.
Roger Vivier's creative director, told Vogue, "I chose unexpected colors – a fuchsia but also an acid green" when speaking about his upcoming collections. While Roger Vivier is famous for its classic styles, the brand isn't afraid to take risks and do something unexpected.
Roger Vivier is known for its unique, whimsical footwear designs and use of bold colors (Credit: Roger Vivier)
Roger Vivier is now owned by Tod's Group, which "strives to keep Monsieur Roger Vivier's creativity and vision alive, adding new chapters to his unique story every season."
The parent company describes the Roger Vivier woman as "sophisticated and chic, but with an eccentric flair…never forgetting to add an irreverent, quirky touch".
Although Rover Vivier is a luxury shoe brand, it's not usual to find the brand on sale. They have several outlet locations across the world, and seasonal styles are known to end up in the sales sections of major department stores.
The brand is similarly priced to Salvatore Ferragamo and Manolo Blahnik, with most styles setting you back $700 – $900.
The Roger Vivier Shoe Everyone Needs
Not sure which Roger Vivier shoes to start searching for? Here is our list of the best Roger Vivier shoes that deserve a spot in your closet.
1. Belle Vivier Leather Pumps, $775 at Mytheresa
One of the most famous Roger Vivier shoes is the patent heels worn by Catherine Deneuve in Belle du Jour. The popularity of the style led to the creation of "Belle Vivier," one of the brand's best-selling styles.
First launched in 1965, the Belle Vivier is an iconic Roger Vivier style, hand-crafted in leather with slanted heels and classic, polished metal buckle
The original Belle Vivier shoes were designed by Roger Vivier for YSL and became one of the most in-demand styles of the 1960s. These Roger Vivier heels are an ideal choice for a capsule closet and are one of the brand's most versatile styles.
2. Viv' Rangers Buckle Loafers, $1,545 at Mytheresa
Roger Vivier is also famous for its loafers, blending a masculine silhouette with a feminine buckle and oversized crystal detailing. These shoes are a conversation starter, adding a touch of luxury to any outfit.
The perfect shoes to wear between seasons, the Viv' Rangers Buckle loafers are finely hand-crafted in leather and feature detailed side-stitching and oversized crystal buckle
While they'll set you back an eye-watering $1,545, these shoes are ones you'll reach for every day.
3. Belle Vivier Trompette Patent Leather Pumps, $775 at Mytheresa
If you've already got a pair of Belle Vivier shoes, check out the "Trompette" Metal Buckle Pumps. These heels have an innovative design with a curved heel as a natural evolution from the OG Belle Vivier shoes.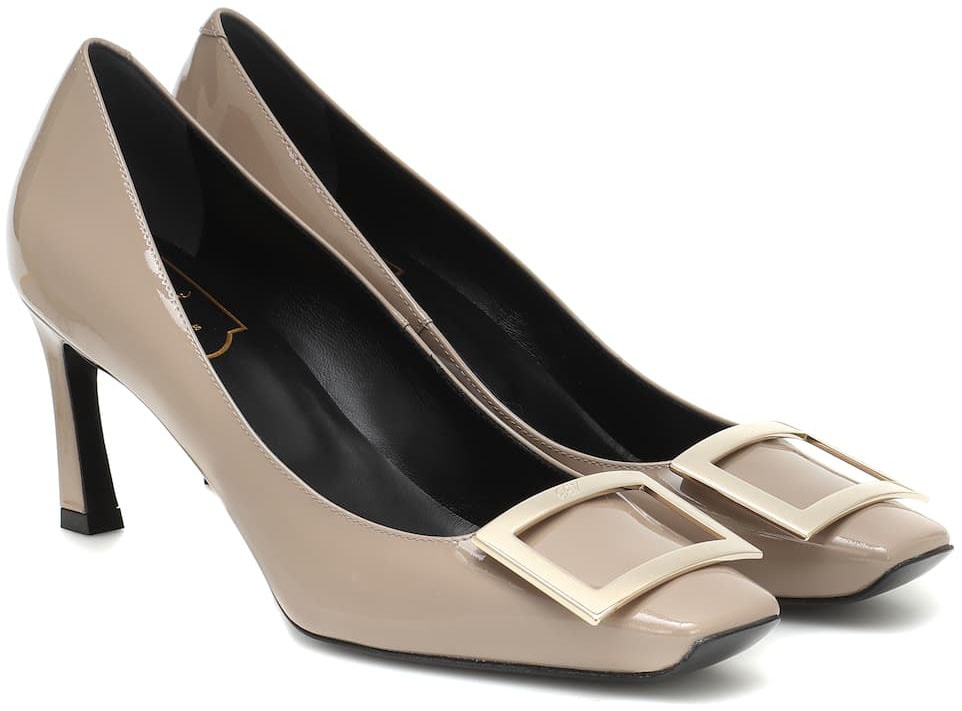 The OG Belle Vivier is updated with a classic yet innovative curved heel design, providing a timeless allure
4. Viv' Skate Strass Buckle Sneakers, $1,395 at Mytheresa
Every luxury footwear brand has a best-selling sneaker style, with Roger Vivier being no exception. While these sneakers are a splurge purchase at almost $1,400, they take streetwear to the next level with finely crafted leather and a crystal side buckle.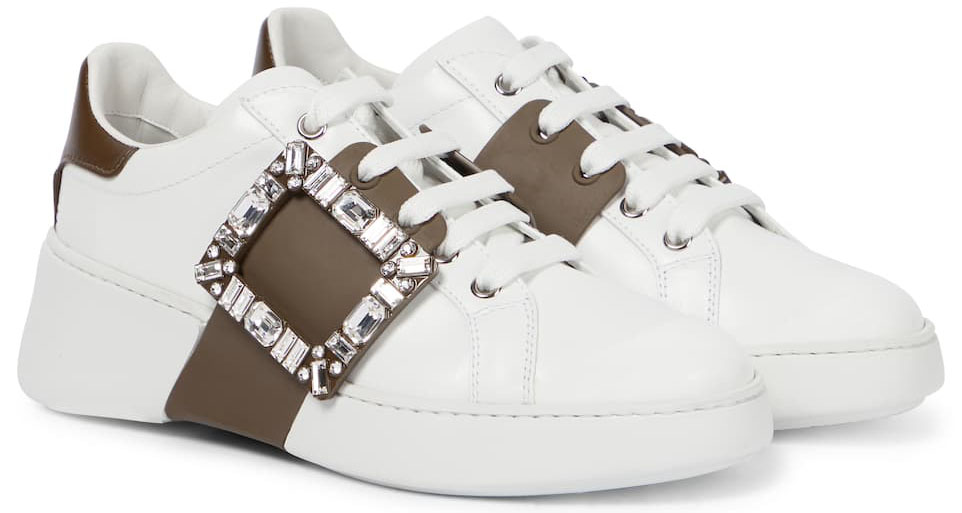 A classic everyday white sneaker elevated with a crystal side buckle
5. Flower Strass Buckle Pumps, $2,095 at Mytheresa
Roger Vivier's alternative to Manolo Blahnik's Hangisi heels is the "Flower Strass" style. They're a modern-day Cinderella shoe that is the perfect plus one for any special occasion or evening event.
An all-time red-carpet favorite, the Flower Strass is elegantly designed with floral crystal-embellished jewel buckle and thin stiletto heel
Where to Buy Roger Vivier Shoes
You should be able to buy Roger Vivier shoes from any luxury department store that sells designer shoes. Along with standalone Roger Vivier boutiques and the official website, you can purchase these shoes at Saks Fifth Avenue, Nordstrom, Mytheresa, and Net-a-Porter.
Roger Vivier shoes frequently go on sale and can be found at outlet stores, including Bicester Village near London. You can also shop for discounted Roger Vivier shoes at Saks OFF 5TH.
Scroll down to see the best bags and shoes by Roger Vivier, a leading French fashion designer who died in 1998. We'll also show you celebrities wearing his popular boots, flats, heels, pumps, and sneakers.