Joggers have become one of the most fashionable pieces of clothing, thanks to Gigi Hadid, Kiernan Shipka, Rita Ora, Alessandra Ambrosio, and countless influencers.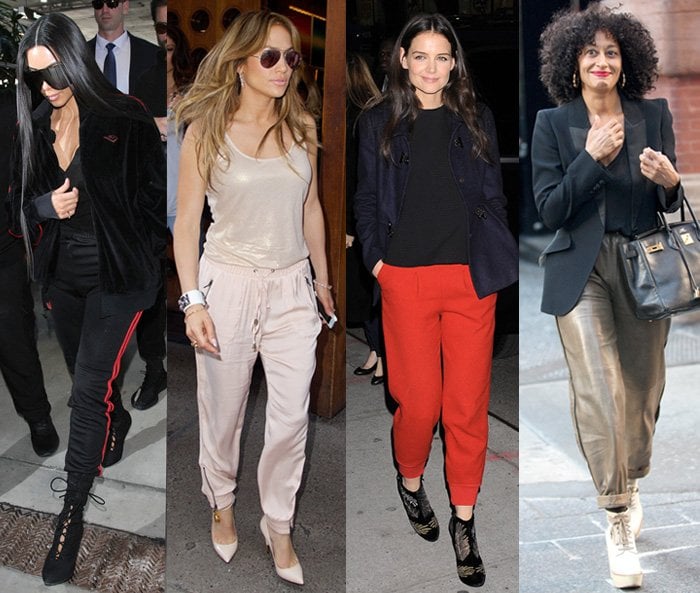 From left to right: Kim Kardashian, Jennifer Lopez, Katie Holmes, and Tracee Ellis Ross wearing trendy jogger pants (Credit: Alberto Reyes / WENN)
At one time, joggers were only worn around the house, lounging around or quickly running some errands. Now, joggers are gracing the covers of gossip and fashion magazines.
Although the look appears effortless, there are a lot of things to consider to get it right. The type of joggers, accessories, shoes, and the top that's paired with them make a big difference!
Before attempting this look for yourself, it's important to know the difference between sweatpants and joggers.
Joggers and sweatpants may look the same, but they are actually very different
Are joggers and sweatpants the same?
If you thought the two were synonymous, it's understandable. Many retailers have started calling anything with an elastic waist a jogger, which makes it more confusing. Joggers and sweatpants are different.
Sweatpants are made from heavy materials and usually have flared, straight, wide, or boot cut
Sweatpants are often made from a heavier material and will keep you warmer, whereas joggers are more lightweight and made from a thinner material.
Currently, you will find joggers in a variety of different materials like khaki, faux leather, silk, and velvet.
Joggers usually have a drawstring waist, relaxed hips, and tapered ankles
Joggers often have a drawstring waist and tapered ankles. They were originally designed for running and exercise and have features that make them suitable for these activities.
Sweatpants, on the other hand, were designed for comfort. The classic color for sweatpants is grey, although you can also find them in navy and black.
With the increasing popularity of joggers, you can now find them in every color under the rainbow, including tie-dye. The best places to buy joggers are Amazon, Nordstrom, Zappos, and cheap online clothing stores like Forever 21.