When styling joggers, the goal is to look fashionable, not frumpy. The first step is finding a pair of joggers that compliment your body and achieve the desired look.
Find a pair that is more structured made from quality material. They should be a little loose but still, form-fitting, tailored to your natural curves. Materials like polyester, nylon, and twill won't pill and will look good longer.
Once you have decided on the pair of joggers, there are a few different ways you can style them.
Mel B. and Kendall Jenner style their jogger pants with a hoodie and a sweatshirt
Coordinating joggers and sweatshirts are very popular right now, and you will find a variety of jogger sets available from most fashion retailers.
If a sweatshirt is too warm for you, you can pair them with a plain crop, tee, or tank. You want to keep it simple.
Hilary Duff wears her joggers with a plain tee, while Jennifer Lopez teams hers with a tank top
If you want to layer something over a crop or tank, try a long cardigan – this can really elevate the look! Jean jackets are classics that look killer with a pair of joggers and white sneakers.
Jessica Alba and Kelly Brook pair their jogger pants with cardigans
In addition to your top, you need to consider accessories. Accessorizing will make your look more fashionable. Gold rings, necklaces or earrings, and an eye-catching handbag will work wonders.
When you want to look good in a pair of joggers, the most important element to get right is your shoes! Your shoes can totally change the look of the outfit, in both good ways and bad.
If you want to sport this look yourself, we have put together a list of the 8 best shoes to wear with joggers that will look good!
1. Chunky Black Boots
A pair of black boots will give you all the 90s vibes joggers are known for.
Yes, if you didn't know, jogger fashion first occurred in the 90s and is now making a major comeback along with many other styles from the decade.
Dr. Martens 1460 Boots, $150 at Zappos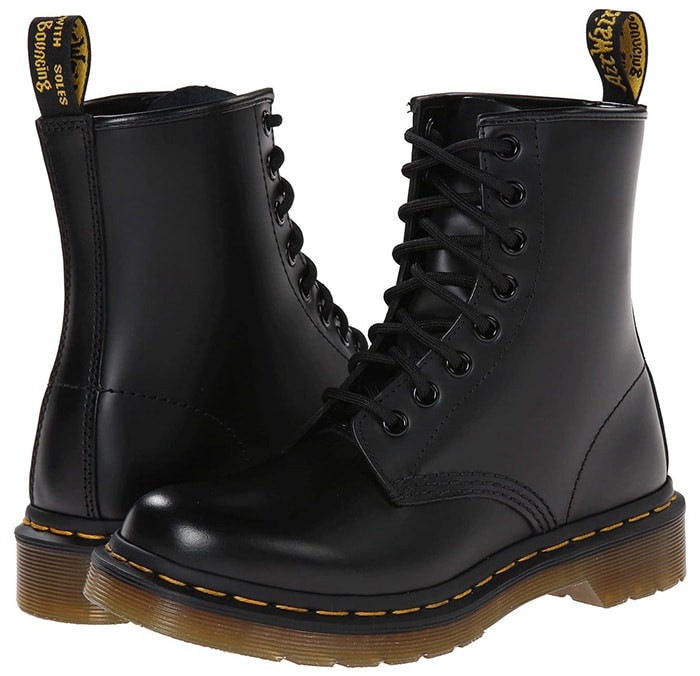 1460 is the original Dr. Martens boot and looks great with joggers
Doc Martens are the OG and look good in everything from joggers to dresses. Pairing these with form-fitting joggers in neutral shades or khaki go very well together!
To complete the look, wear a black top like a tucked-in tee or crop.
Dr. Martens Leona Vintage Smooth Leather Heeled Boots, $170 at Nordstrom
Feminine details like a slim silhouette and high, platform heel balance out the rugged and rebellious style of these contemporary leather combat boots
Although the original 1460 women's lace-up look great, adding a bit of a heel can create more of a feminine and refined look.
The Leona women's vintage smooth leather heeled boots have a 2-inch chunky heel that looks amazing with joggers!
2. Ankle Strap Sandals
For a look straight off the runway, pair ankle strap sandals with joggers. Choose a sandal with at least a 2.5-inch heel to elongate the leg and create a more flatter silhouette.
When you add a sleeker or "fancier" shoe to joggers, you want to wear high-quality fashion joggers. Polyester, faux leather, camo, or khaki are great options.
Christian Louboutin Loubi Queen Ankle Strap Sandals, $845 at Net-A-Porter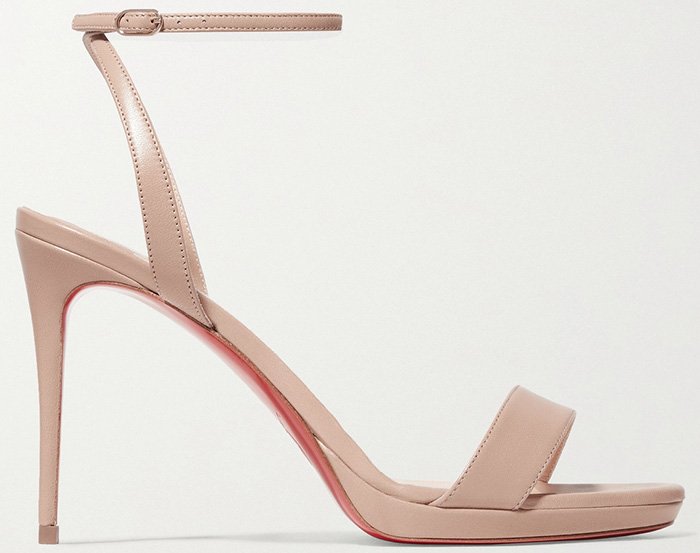 Set on a thin stiletto heel, these beige Loubi Queen 100 sandals been made in Italy from smooth leather and have adjustable buckle-fastening ankle straps
If you are feeling extra bold with your fashion, fasten the strap over the ankle of your sweatpants. This is a look that has moved from fashion week to the streets of NYC.
Open-toed or closed-toe heels with an ankle strap will work.
Michael Michael Kors Kimberly Sandals, $99.99 at Zappos
These high-heel sandals feature an open-toe front, a wrapped stiletto heel, and a halo ankle strap
The classic black Loubi Queen ankle-strap sandal from Christian Louboutin is brilliant. However, the Michael Kors Kimberly sandal will give you the same look and is much easier on the wallet!
If you are wearing black joggers, opt for nude or dark green sandals instead.
3. '90s Inspired Sneakers
Fashion is more straightforward than we often assume. Shoes designed for running with 90s influence look great with joggers!
All major brands now have a selection of chunky sneakers that pay homage to the styles three decades ago.
Fila Disruptor 2 Premium Chunky Sneakers, $65 at Amazon
The chunky '90s design of the Disruptor gets a color update for the modern age
Fila's women's Disruptor 2 Premium was one of the first pairs of shoes to bring back 90s sneakers and still remains one of the most popular.
Nike Air Max 3 Shoes, $140 at Nike
Nike Air Max 3 stays true to its roots with the iconic Waffle outsole, stitched overlays, and classic TPU accents
For a more colorful option, check out Nike Air Max 3 with bright detailing. These look great with baggier joggers made from lightweight athletic fabrics.
4. Flip Flops
For an effortless look that is still chic, you can pair joggers with a pair of flip flops. The material of both the joggers and flip flops will determine how casual your outfit is.
Cotton joggers with rubber flip flop on one end of the spectrum and bedazzled flip flops with silk joggers on the other.
Valentino Rubber Rockstud Thong Sandals, $425 at Farfetch

These Rockstud bow sandals from Valentino Garavani feature a bow detail, gold-tone Rockstud embellishments, a branded insole, a flat rubber sole, and a thong strap
For the best of both worlds, Valentino has designed a rubber Rockstud thong sandal that is made from PVC yet has a bow with platinum-finish studs for added elegance.
These flip flops will look good with every pair of joggers!
5. Pumps
You can do no wrong with a pair of pumps. As we can now see, they really do go with everything!
A sleek pointed-toe pump looks great with joggers. As for heel size, kitten heels or a 4-inch heel will work.
Nine West Tatiana Pointy Toe Pumps in Silver Snakeskin, $65 at Amazon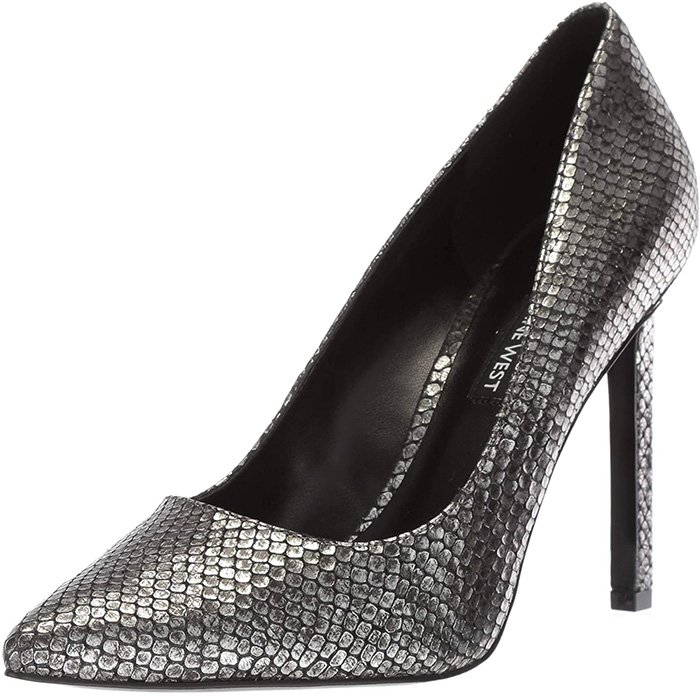 Nine West's timeless pump makes the perfect dressy staple for your joggers
If wearing black joggers, try pairing them with a printed pair of pumps in leopard or graphic design.
If you are wearing joggers in a brighter color or with more detail, stick to a more subdued pump like solid black or nude.
Stuart Weitzman The Leigh 95 Pumps, $398 at Saks Fifth Avenue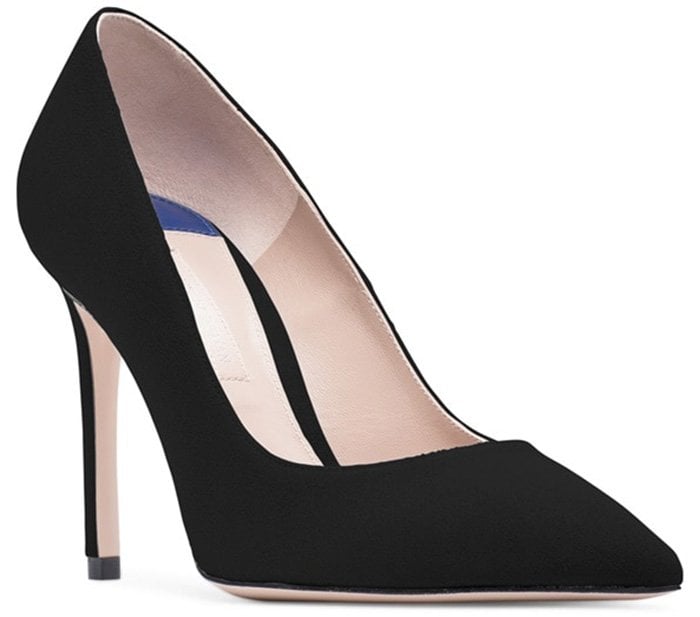 Classic point-toe pumps finished in a versatile suede
Some of my favorite pumps that go with joggers are INC Kenjay D'Orsay Pumps in leopard or Nine West Tatiana pointy-toe pumps in silver snakeskin.
Stuart Weitzman's The Leigh suede dress shoes are incredibly elegant and versatile for a solid black pair of pumps.
6. White sneakers/tennis shoes
If you tend to be on the more cautious side and don't like taking fashion risks, wearing white tennis shoes with your joggers is the easiest, fool-proof way to look great.
To create this look your shoes don't need to be tennis shoes; however, they should have a flat, thinner sole and all-white appearance to get the look.
Converse Chuck Taylor All Star Low Top Sneakers, $50 at Nordstrom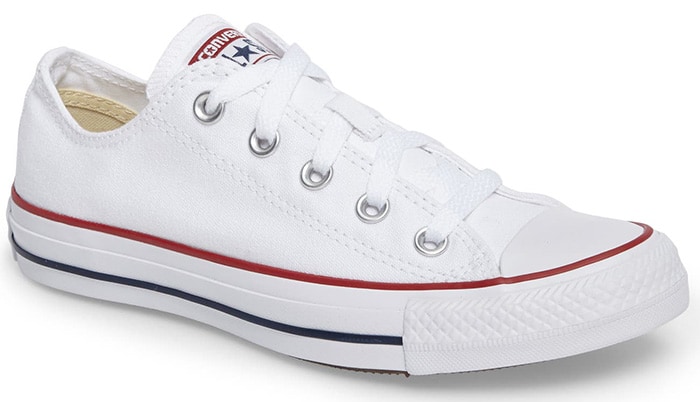 An iconic canvas sneaker exudes a cool, old-school vibe in a low-top silhouette
For a more casual look, pair with white low top canvas sneakers like Converse Chuck Taylor All Star low top.
Gucci New Ace Sneakers, $680 at Nordstrom
Golden bee embroidery and striped webbing bring iconic Gucci house codes to this sneaker while contrasting heel tabs reference the brand's official colors
For a more high-fashion look, pair joggers with an all-white leather sneaker-like Lacoste Graduate sneakers or Gucci Ace sneaker.
White sneakers can get scuffs and look tattered easily. Keep them clean and use shoe wipes to keep them bright.
7. Ballet Flats
Ballet flats look best with dressy joggers or joggers that end mid-calf. These shoes can be as casual or fancy as you want and can entirely change the vibe of your outfit.
If you plan on doing a lot of walking or are traveling, these shoes are a great option.
Tory Burch Minnie Embellished-Logo Travel Ballet Flats, $278 at Nordstrom
The iconic logo medallion tops the rounded toe of a cushy leather flat available in a wide choice of colors and spirit-lifting prints
Tory Burch is notorious for sleek and comfortable flats. The Minnie embellished-logo travel ballet flat in black pairs elegantly with forest green, black and khaki joggers that are designed to be worn out of the house.
8. Slides
Current fashion trends are focused on comfort, and designers are now taking notoriously comfortable items like joggers and slides and adding a little spice.
Slides were previously made by athletic companies as shoes that athletes could wear while commuting to practice or after a game. Now, slides are made from luxurious materials and sold by top luxury designers.
Adidas Adilette Slides, $44.95 at Zappos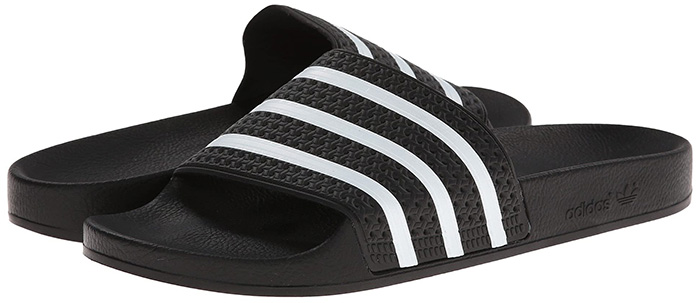 Originally released in 1972, the Adilette slide from Adidas continues to be the world's most popular go-to slipper of choice
With a pair of slides, you can change the whole look of your outfit.
For example, if you are wearing a fitted pair of grey joggers, they will look great with a pair of Adidas slides, and you will achieve a more of an "athleisure" look.
Saint Laurent Bleach Slides in Mink Fur, $1,095 at Nordstrom

Finnish mink fur wraps the dual straps and sumptuously lines the footbed of a slide sandal that's both decadent and incredibly versatile
Alternatively, you could pair these same joggers with Saint Laurent Bleach slides in mink fur. This look would be much more fashion-focused.
Credit: Avalon.red / TNYF / Alberto Reyes / WENN