Slide sandals keep coming back season after season, and there's a good reason why! Not only do these comfy shoes offer cushioned padding and extra support — but they're also easy to slip on and off.
You can also wear these stylish and supportive shoes in many ways without any hassle. Slide sandals are backless, open-toed, and a type of slip-on sandals that you can purchase for everyday use.
If we've convinced you to pick up a pair, customer reviews state that these are the ten most comfortable pairs of slide sandals for men and women.
1. Birkenstock Essential Arizona Waterproof Slide Sandals
Birkenstock's iconic "Arizona" slide sandals are available in numerous colors. These German-made sandals are super comfy and supportive and come with adjustable straps to custom-fit your feet.
These classic sandals are made from a rubber-like material, which means they're waterproof and easy to clean as well. They have contoured footbeds, synthetic uppers, linings, and soles.
Birkenstock's iconic "Arizona" sandals feature a rubber-like texture and sleek adjustable straps designed to exercise foot and leg muscles while providing comfort
These sandals are so well-loved that they received a 4.5/5-star rating on Nordstrom and have more than 500 positive reviews.
2. Nike Benassi JDI Slides
These comfy slide sandals from Nike are one of the best options available online if you are looking for a budget-friendly product.
Nike offers these sandals in various colors, which means they're perfect for brightening up a casual look. They feature the Nike logo on the foot strap, which means fans of the shoe brand can show off their brand allegiance in style.
These cushy slide sandals offer superior comfort thanks to adequate arch support, and they seem to run true to size. They have plenty of space in the front and back, too.
These Nike-branded slides are comfy, sporty, and ideal for warm weather
These Nike slides have thousands of mostly positive reviews online. It seems as though you can wear them indoors or outdoors, depending on what your needs are.
3. Gucci Pursuit GG Logo Slide Sandal
The timeless Gucci "Pursuit" slide sandals provide a refined and polished look. These Gucci logo-branded slip-ons are available in black, white, or pink and make a perfect companion for vacations and pool days.
These slides also feature contoured footbeds, rubber uppers, linings, and soles. They're a perfect fit for any season short of winter – you can throw them on with a casual outfit, and you are ready to go!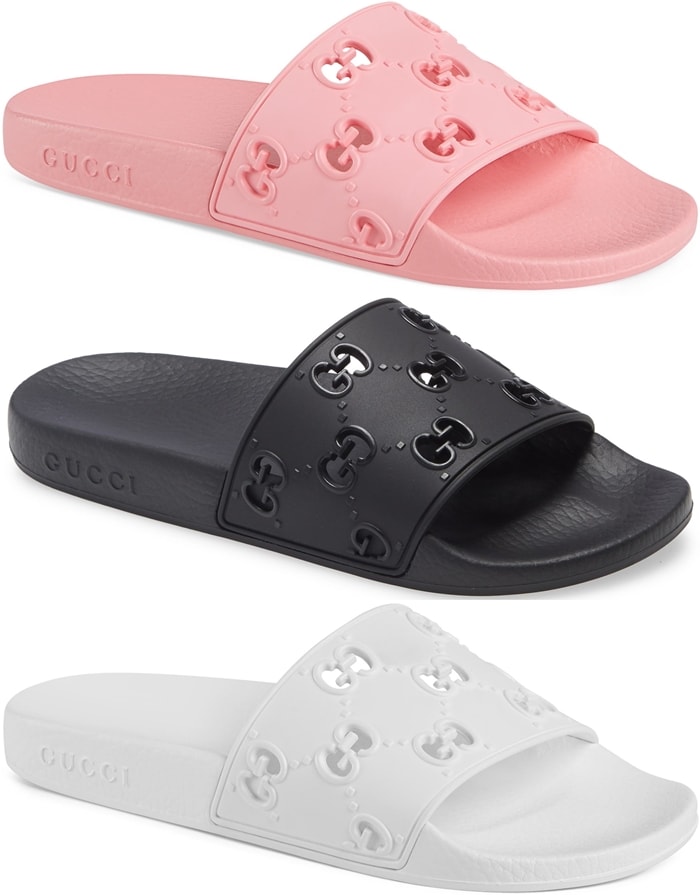 Gucci's molded rubber sliders feature a cutout logo motif as well as rubber soles that feel comfortable whether you're walking through a sandy beach or a bustling city
They have a 4.4/5-star rating on Nordstrom as well! These stylish slides provide all-day comfort thanks to molded rubber footbeds.
They're only available in whole sizes, but shoppers are advised to purchase the next size up if they're between sizes.
4. Crocs Swiftwater Telluride Sandal
Crocs tend to get a bad rap, but this isn't your average pair of Crocs.
These open-toed sandals offer excellent traction, so you can wear them to the pool or pair them with casual outfits. They're available in five different colors from Amazon.
These water-friendly slip-on slides from Crocs feature innovative straps with soft, breathable mesh baked-in
These lightweight slide sandals from Crocs feature flexible straps that can prevent foot pain, making them great if you suffer from conditions like Plantar Fasciitis.
If you don't believe us, here's a testimonial from the review section.
"My feet are very sensitive and walking on the tile in my home can cause some pain. These sandals are so comfortable and easy on and off. I wear them all the time and my feet feel great!"
These roomy and relaxing shoes are available in a standard fit. If you prefer a snug fit, you can always size down.
5. Adidas Adilette Comfort Slide Sandal
These slide sandals feature extra-cushy and contoured footbeds, which makes them easy to walk in.
They'll also add a punch of color to your outfit, considering they're available in beige, halo green, silver, cherry, champagne white, black, and core black/white.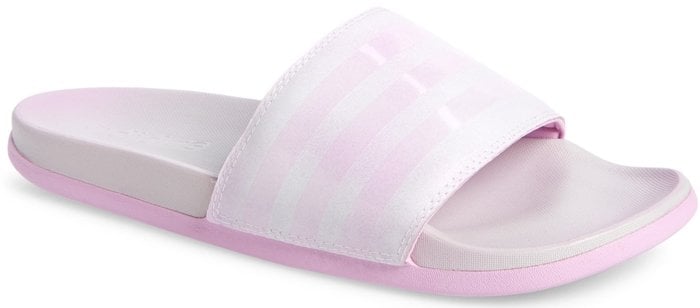 These athleisure-inspired Adidas slide sandals feature a bold logo and supreme comfort thanks to an extra-cushy footbed
These athleisure-inspired sandals are super comfy and have a 4.7-star rating on Nordstrom. Eighty-seven percent of reviewers have given these shoes a 5-star rating!
Whether running errands or going on a vacation, you can rely on these sandals. You can wear them with any outfit and flaunt them with style.
6. Salvatore Ferragamo Groove 2 Slide Sandal
The sleek finish and refined form of these high-end Italian sandals make them your perfect companion for boat trips and leisurely strolls.
These stylish Italian sandals come in a neutral color scheme, featuring Gancio motifs and comfortable contoured footbeds.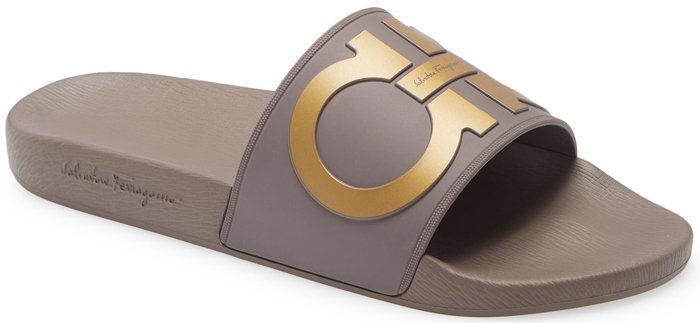 These high-end slide sandals from the Italian label Ferragamo feature stylish Gancio motifs and comfortable contoured footbeds
With a 4.6/5-star rating on Nordstrom, Ferragamo's slide sandals seem extremely comfy and run true to size.
7. Oofos OOahh Sport Flex
If you don't believe us, maybe you'll trust the American Podiatric Medical Association: These slide sandals have been endorsed for promoting good foot health.
They can reduce stress on sore feet, knees, and lower backs thanks to an impact-absorbing cushiony footbed that cradles the arches perfectly. These slide sandals with adjustable straps are beach and shower-ready too, thanks to incredible traction.
You also don't have to worry about moisture or odor after using them.
These Oofos OOahh Sport Flex slide sandals are podiatrist-approved and designed to soothe and reinvigorate feet
These slide sandals have hundreds of positive reviews on Zappos, so you can trust these slide sandals to be an excellent choice for your foot health.
8. Birkenstock Arizona Soft Slide Sandal
If a rubber-like material isn't your favorite, no worries! Birkenstock offers its classic "Arizona" slides in other materials.
These iconic slide sandals boast leather upper linings and synthetic soles. They are equipped with adjustable straps and secure buckle closures, and you can choose from four timeless colors.
Thanks to the shock-absorbing footbed and an extra layer of plush foam cushioning that conforms to the wearer's foot, they're also extremely comfortable to walk in.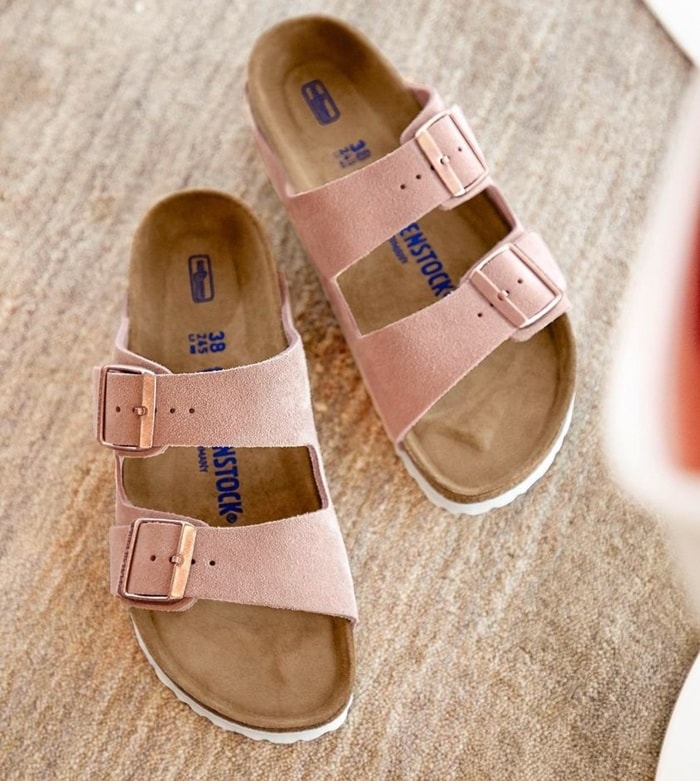 Birkenstock's iconic "Arizona" sandals feature a shock-absorbing footbed with an extra layer of plush foam cushioning that conforms to the shape of the foot
These timeless slide sandals feature a 4.8/5-star rating at Nordstrom. You can be positive that they'll never go out of style.
9. Adidas Alphabounce Slide
These Adidas "Alphabounce" slide sandals are made from an incredibly soft material and are versatile and extremely comfortable to wear. Seriously — you can wear them pre or post-workout, running errands, or going on vacation.
You can even wear them in the shower! They're waterproof so that you won't lose your grip.
These slides have synthetic uppers and textured footbeds. The plush bounce soles make them lightweight and provide shockproofing, and durable construction means these shoes will last you for years.
These Adidas slide sandals can be worn pre-workout, post-workout, and even in the shower
Seventy-two percent of buyers on Zappos consider these slides to be true to size, and 94 percent say they are true to width as well.
They come with adjustable hooks and loops, making these perfect if you have wider feet.
10. Reef One Slide
These lightweight slide sandals from Reef are exceptionally comfortable for casual slip-on shoes thanks to arch support and padded straps.
They're made of soft faux leather with breathable perforated details and are both waterproof and machine washable.
These waterproof and machine-washable Reef slide sandals are perfect for beach days
Ninety-one percent of Zappos customers find these slides run true to size, and 80 percent said they run true to width. Their anatomical contouring and EVA footbeds make them comfy all day long.