Birkenstocks have been a household name in footwear for decades, and their popularity is continuing to grow year after year.
Recently, A-list celebrities and fashion icons like Kendall Jenner and Gigi Hadid have been spotted wearing Birkenstock sandals around the streets of California.
This German brand dates back to the 1700s – so, I think we can all agree they have some serious staying power and comfortable footwear!
The history of German footwear brand Birkenstock can be traced back to the 18th century
They are known for their iconic buckle strap sandals with arguably the most comfortable footbed of all time. Do you know the feeling of pressing your foot into wet sand? That's what the Birkenstock footbed is molded after.
The brand appeals to people of all ages and is especially great for eco-conscious shoppers. A more sustainable footwear brand, Birkenstock sandals feature cork, copper, brass, and leather in most of their designs.
They also have vegan options available, which has pleased many shoppers looking to avoid using animal products in their clothing choices.
Headquartered in Neustadt (Wied), Rhineland-Palatinate, Germany, the brand has also committed to reducing their carbon footprint, relying on water-soluble and solvent-free adhesives during production.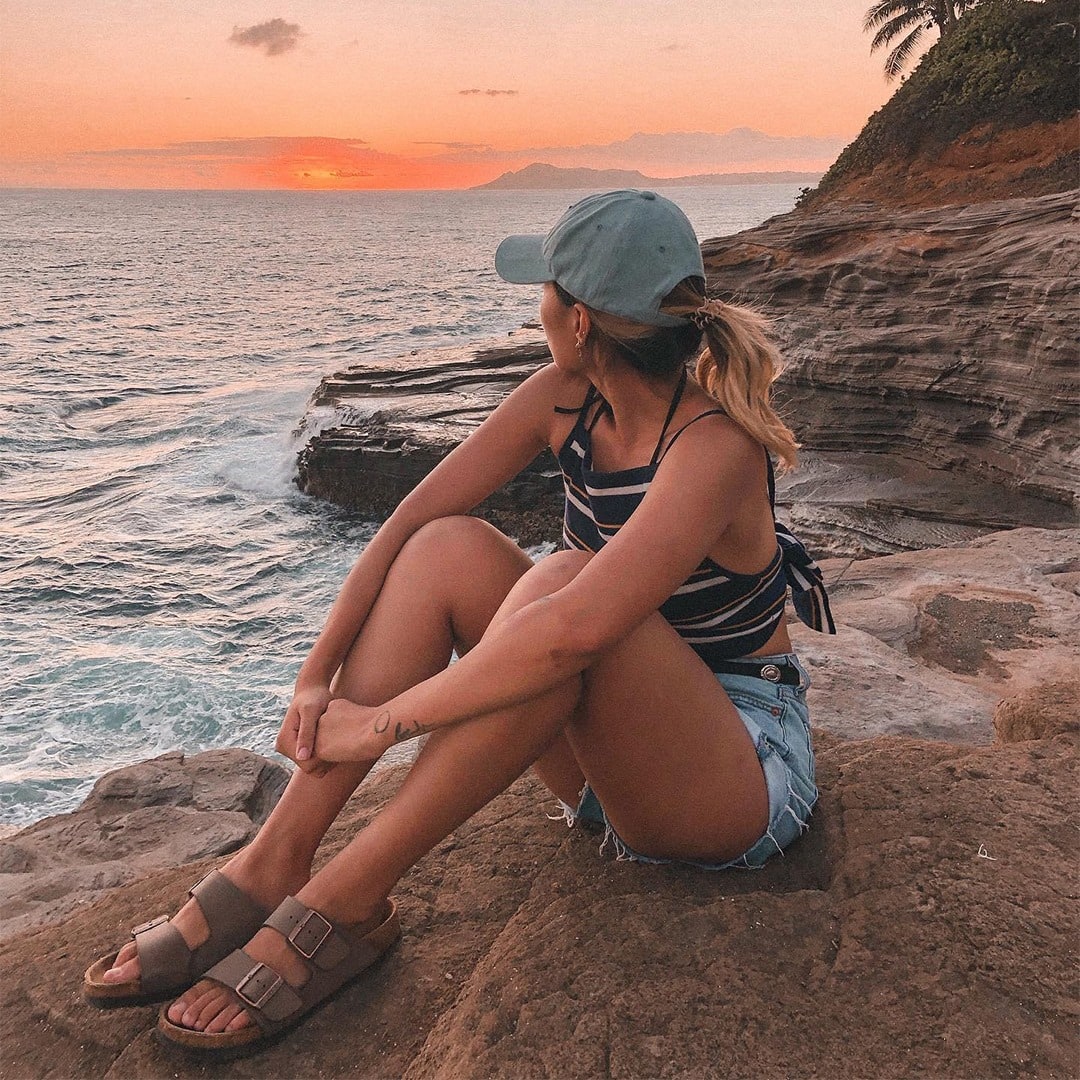 Birkenstock sandals are comfortable for walking and look great on your feet
To help you choose the right pair, we've compiled a list of 8 most popular Birkenstocks. We've included everything you need to know – why we love them, key features, what buyers are saying, and of course, the price-point. Finding the perfect pair for you just got a lot easier!
1. Birkenstock Madrid Birko-Flor Sandal, $99 at Birkenstock
Why we love them: These comfy slides have an adjustable strap of Birko-Flor, an incredibly soft fabric that Birkenstocks are known for.
The straps have a leather-like finish, and of course, the amazing contoured footbed. The style is understated and is great with a flowy summer dress or paired with your favorite athleisure outfit.
The Birkenstock Madrid sandals are famous for their ability to stay on your feet as you walk
Key features include: Multiple colors available / Adjustable strap with buckle closure / Comfortable, contoured footbed
What shoppers are saying:
I love these. They're my go-to and great for traveling. They're casual enough for jeans or shorts but can be worn with a skirt or dress, too.

I've even worn them hiking on the Big Island's lava field and up and down Singapore's Bukit Timah Nature Reserve's muddy stairs and hills.
2. Birkenstock Florida Soft Footbed Sandal, $110 at Nordstrom
Why we love them: This three-strap sandal promotes proper weight distribution and foot alignment, so you will reap the benefits while wearing them.
The vintage look is stylish and is one of the most flattering pairs out there. There's something about the 3-strap design that makes your legs look amazing.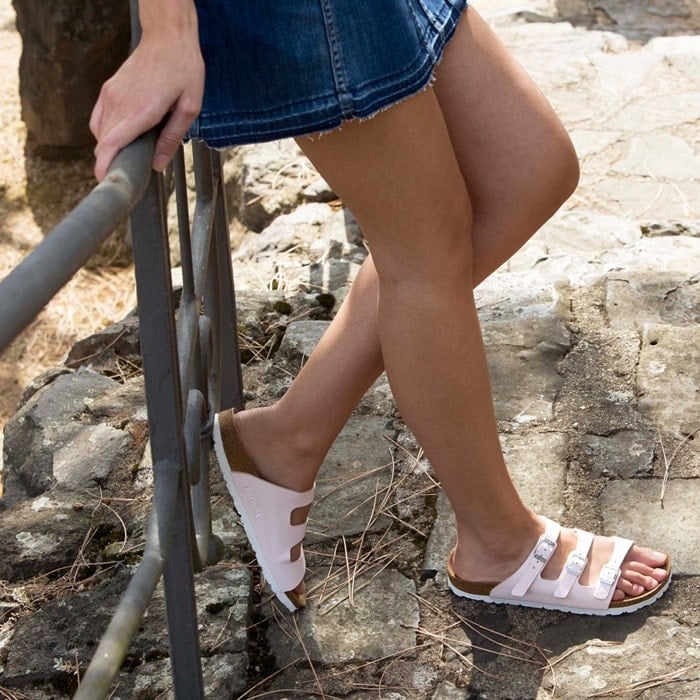 The Birkenstock Florida Soft Footbed is a fabulous triple-strap sandal that offers security and style
This pair contains the signature contoured footbed, so they are both comfortable and fashionable. These shoes are perfect for travelers, as they are great walking shoes that can take you miles and miles, pain-free.
Key features include: Three adjustable buckle straps / Comfortable, contoured footbed / Well-designed with heel cradle and arch support
What shoppers are saying:
Love love LOVE this shoe! I was in the market for a new pair of Birks – my 4-year old pair is still going strong, but I wanted a new look. The worn leather option gives them a more styled/intentional look, and as a bonus, the straps are so soft right from the box.

As with every other pair of Birkenstocks I've tried on, it's an extremely comfortable shoe. I also think the 3-strap style of the Florida is a nice twist on the classic 2-strap Birkenstock and very easy to style for the summer. Would 100% recommend for anyone looking to add some Birkenstocks to their collection."
3. Birkenstock Arizona Big Buckle Sandal, $150 at Amazon
Why we love them: A more modern, minimalistic vibe than some of the other Birkenstock designs, the Arizona big buckle sandals are ideal for fashionistas that need a comfortable pair of shoes.
Treat your feet with Birkenstock's comfortable two-strap Arizona big buckle sandals
Unsurprisingly, these effortless sandals have been seen all around LA. They are cute, casual, and look great paired with a flowy boho sundress. The big buckle is cute and unique, and we adore them in literally every color!
Key features include: Available in multiple colors / Comfortable, contoured footbed
What shoppers are saying:
Love these more than I even thought I would. I purchased the antique cognac oiled leather. The color is a wonderful rich medium tan. The large gold buckle complements the leather perfectly.

The Arizona style is a classic and the perfect choice if this is your first pair of Birks. As I wore these for the first time, I realized I've been wearing Birks for close to 30 years.

Their style, quality, and comfort have been consistent throughout the years. How many brands can you say that about?
4. Birkenstock Mayari Sandal, $99 at Zappos
Why we love them: These have a more delicate, feminine look than the traditional Birkenstock sandals. They are as trendy as they are comfy and available in regular and vegan leather.
These bright white Mayari triple-strap sandals are the perfect complement to any outfit
Though the straps are a bit smaller than traditional Birkenstocks, they are just as comfortable as other styles. We love the arch support and cushioned footbed.
Key features include: Available in multiple colors / Adjustable buckle straps / Comfortable, contoured footbed
What shoppers are saying:
It has been 10-15 years since I last wore a pair of Birkenstocks and am thrilled that they're back in style.

I had brown leather Arizonas back then and went with the anthracite Mayaris for what I felt was a more grown-up & feminine look now that I'm in my 30s.

The color is perfect and, as another reviewer said (which sold me on the color, as I debated between this and sand), anthracite goes with everything and won't show dirt. I have a wide foot and wear 7.5-8 in sandals. The 38 in these fit just right.
5. Birkenstock Gizeh Thong Sandal, $115 at DSW
Why we love them: These are a totally different style than the typical Birkenstock slides, but we love them just as much! They are the perfect pair of thongs, and of course, they're super comfortable.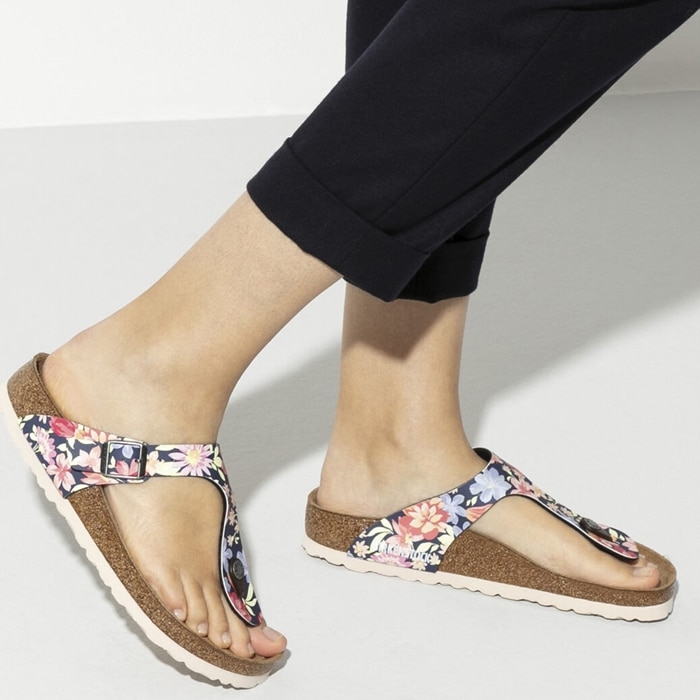 Birkenstock's elegant Gizeh thong sandal combines optimum grip with minimalist, fashionable design
The Gizeh thongs are one of the most popular on Zappos and Nordstrom, and reviewers are quite literally raving about them. If you're not a huge fan of the chunkier look of Arizona, try the Gizeh thong. They look great on your foot and are a bit sleeker.
Key features include: Available in other colors / Well-designed with heel cradle and arch support / Adjustable strap with buckle closure / Comfortable toe piece (flexible resin material)
What shoppers are saying:
I've been wearing Birkenstock's for over 40 years, obviously, I'm a huge fan. These soft footbeds are amazing, they just have that bit of cushion, that's a dream.

I'll be buying more of these, for sure. I love the floral print style, very feminine. The size was my usual size.
6. Birkenstock Arizona Slide Sandal, $99 at Birkenstock
Why we love them: When you picture Birkenstocks, you probably envision the Arizona slide. This classic style is comfortable, stylish, and always fashionable. Because they are built to last, you'll likely have your pair for years.
With the Arizona slide, you can be confident that they will still be trendy for years to come. There are many colors to choose from in this style, so you can find a pair for almost any taste preference.
Unchanged since 1973, the classic Arizona slide sandal continues to carry on the legacy of its cork-latex footbed
If you're not convinced, this is the go-to shoe for Kendall Jenner…enough said!
Key features include: Available in multiple colors / Adjustable straps and buckle closure / Comfortable, contoured footbed
What shoppers are saying:
"I owned Birks decades ago when I was a California teen. Now I'm in my early forties and an active east coast working mom — who strives to be somewhat more chic than mommish, but also needs comfort.

After walking around our house barefoot on wood floors since the pandemic hit, I needed a summer shoe that actually helps my feet and posture. Cute looking? Bonus. So I broke down and ordered white Arizonas.

Fast forward two weeks and I've barely taken them off my feet. I've worn them everywhere. They are ridiculously comfortable, and I dare say… chic! I did in fact just see pics of Brooke Shields and Katie Holmes wearing them and looking quite fashionable.
7. Birkenstock Boston Soft Footbed Clog, $190 at Nordstrom
Why we love them: If you're not perfectly pedicured, or simply not a fan of showing off your toes – there's still a pair of Birkenstocks for you!
These are the perfect pair of clogs, and maybe one of the only pairs you can wear comfortably. With their signature footbed and arch support, your feet will be thanking you!
A natural cork and latex footbed ensures proper weight distribution and support in a comfy clog designed to stimulate circulation and improve balance
They look adorable paired with a pair of ripped jeans or leggings. They are great for fall-weather and can be worn with socks or bare feet.
Key features include: Available in other colors / Comfortable, contoured footbed / Closed toe design / Adjustable buckle closure
What shoppers are saying:
The soft clog is worth every penny. Comfortable and convenient to slip on and go.

If you wear only one style of Birkenstocks, the Boston soft footbed is a great choice. After a week for your feet and the Boston's to adjust to each other, they are comfortable, even for a 16 hour day.
8. Birkenstock Arizona Soft Footbed Sandal in Metallic, $135 at Zappos
Why we love them: You may have noticed… we love Arizona! This classic style has been reimagined over the years with new styles, features, and the metallic version simply had to make this list!
With the same comfortable design of Arizona slides, the metallic design adds a bit more style to the look. These metallic slides look great paired with jean shorts, a classic tee, and a boho cross-body bag.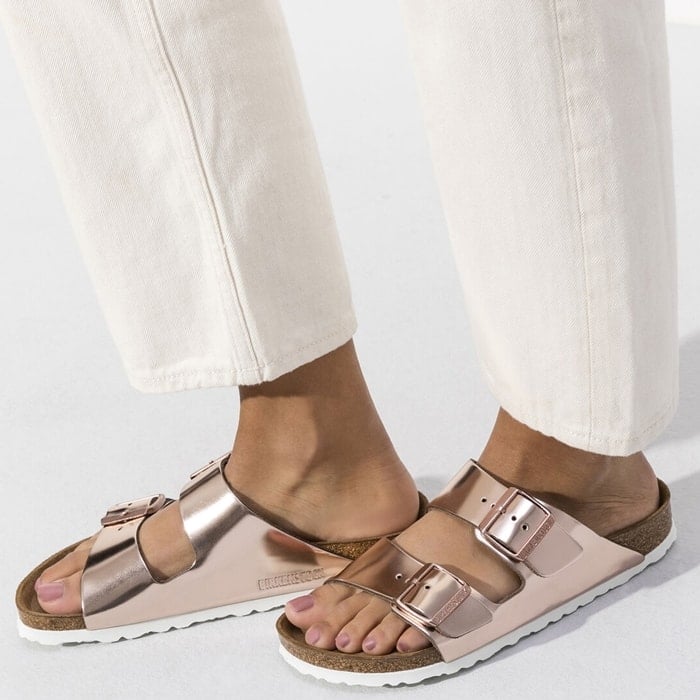 With adjustable straps and a magical cork footbed that conforms to the shape of your foot, a truly custom fit is as effortless as the classic design
Key features include: Adjustable straps and buckle closure / Comfortable, contoured footbed
What customer reviews are saying:
I think it's been 15 years since I wore my last pair of Birkenstocks. These remind me of why I always loved them in the first place.

Not only are they incredibly comfortable, but the deep metallic gunmetal straps make them incredibly stylish too. They go with everything and I am practically wearing them everyday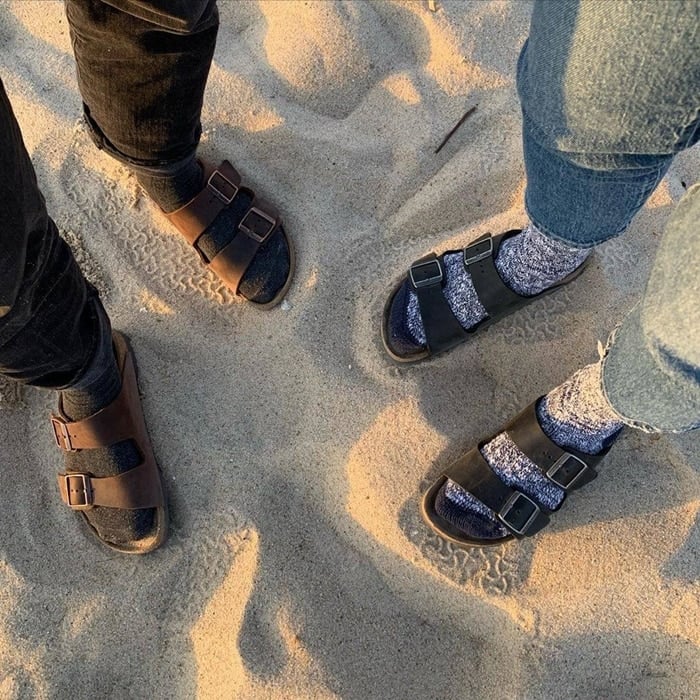 According to the chairman of the board of Birkenstock USA, it's perfectly acceptable to wear Birkenstocks with socks
Birkenstocks have been famous for decades, and it makes perfect sense! Their shoes are built to last and are just so comfortable!
Fashionistas, celebrities like Jessica Alba and Vanessa Hudgens, moms, and teens are all obsessed with the brand, and it can be hard to pick just one pair. These 8 pairs are the most popular Birkenstocks out there, and they are also the most comfortable. Whichever pair you choose, you can't go wrong.
Credit: Birkenstock