Global footwear brand Birkenstock has seen a resurgence in popularity over the last few years. Popular styles that many sandal lovers will know include Arizona, Gizeh, Madrid, Boston, and Florida.
According to Forbes, the German company's global revenue tripled to $870 million between 2012 and 2019. In 2019 alone, the company reportedly sold 24 million pairs of shoes.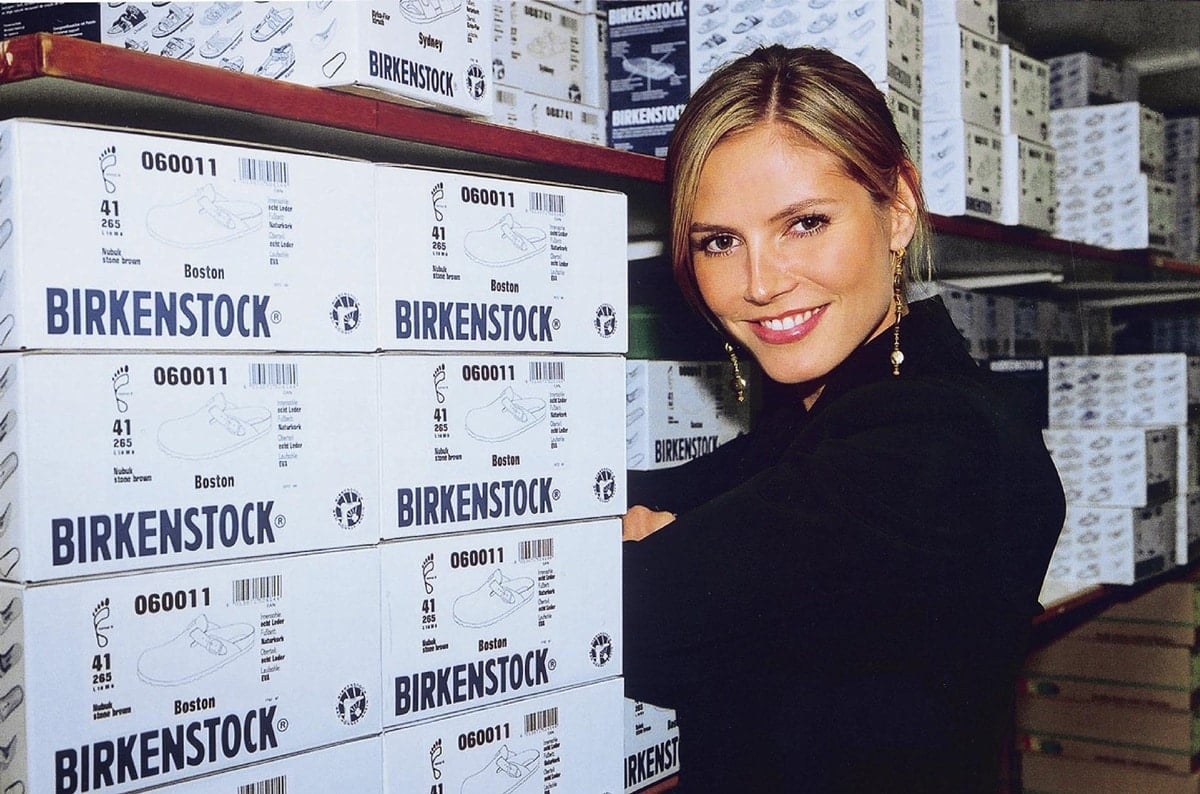 Heidi Klum is one of many celebrities who has designed shoes for Birkenstock (Credit: WENN)
In 2017, Footwear News named Birkenstock "Brand of the Year" during its 31st Achievement Awards. In February 2021, Birkenstock was acquired for $4.87 billion by L Catterton, a private equity firm backed by Bernard Arnault's LVMH.
Although they have been called "ugly sandals," these thick-strapped, cork-soled sandals have developed a cult following.
Their popularity continues to increase and shows no signs of slowing down.
Birkenstock 'Arizona' Birko-Flor sandals
"Birks" first broke onto the high fashion scene in 2012, when Celine's then-creative director Pheobe Philo sent the brand's models down the runway in them.
Celine matched its Spring 2013 collection to fur-lined versions of the Birkenstock Arizona sandals, and we haven't stopped seeing these shoes since.
Kendall Jenner wears Birkenstock sandals with socks in New York City on September 12, 2019 (Credit: WENN / Instar)
Since the Celine debut, Birkenstock has teamed up with goth/grunge designer Rick Owens, Italian luxury label Valentino, and American clothing brand Opening Ceremony on several successful collaborations.
Below are some celebrity fans of these orthopedic, utilitarian sandals.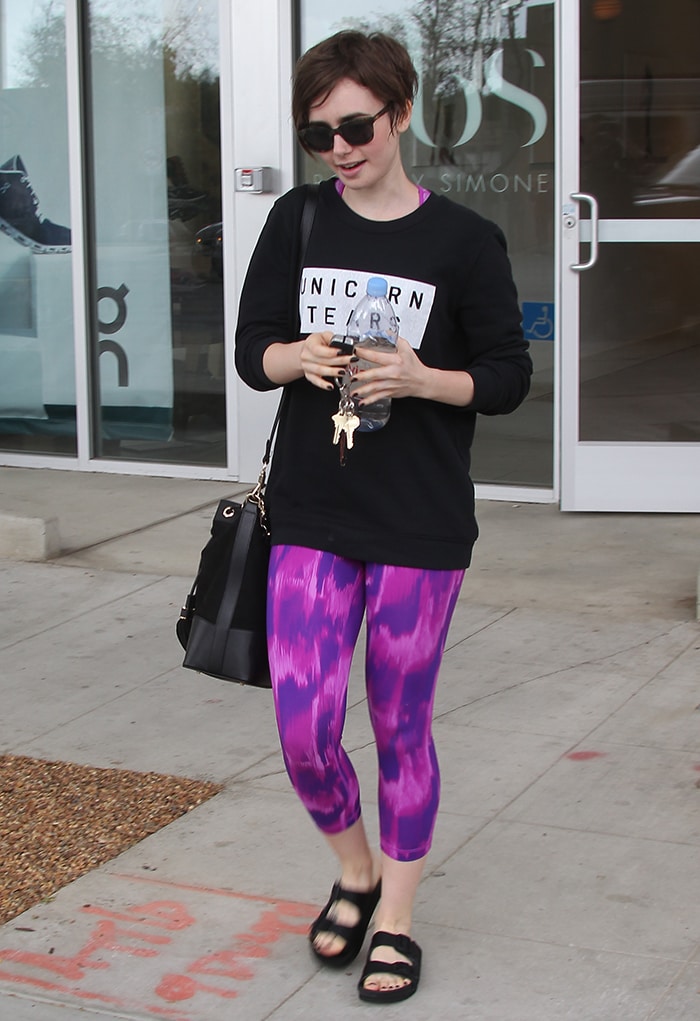 Lily Collins leaves Body by Simone in a pair of Birks on May 8, 2015 (Credit: WENN)
Birkenstock is one of the longest-running footwear companies in the world, with historical roots that can be traced as far back as 1774.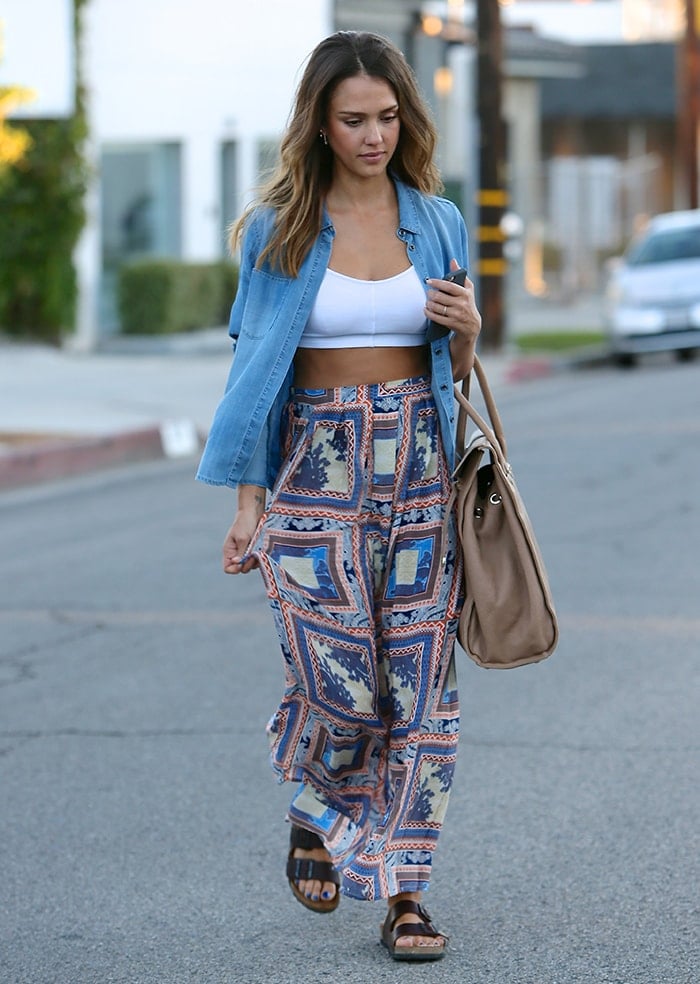 Jessica Alba looks hot in a bralette and Birkenstocks while leaving the Andy Lecompte Salon on October 5, 2014 (Credit: WENN / Michael Wright)
Throughout the mid-20th century, Birkenstock originally developed and sold orthopedic shoe inserts for factory-made shoes.
The company later decided to take their original contoured footbeds concept to the next level by creating comfy sandals.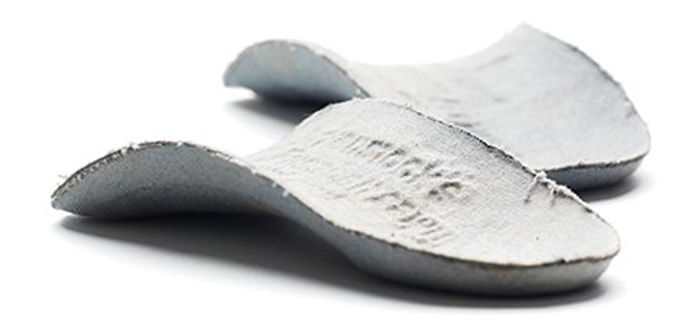 Master cobbler Konrad Birkenstock started manufacturing and selling flexible footbed insoles in 1896
Family-owned from its founding in 1774 until it was acquired in 2021, Birkenstock has stayed true to its "commitment to the art of making orthopedically inspired shoes" for more than two centuries.
Birkenstock prides itself on comfort and quality. The brand follows strict manufacturing standards and makes use of carefully selected, high-quality materials from sustainable sources.
This makes Birkenstock sandals "stand out from the flood of cheap products that dominate large parts of our consumer world today."
Birkenstock's blue footbed manufactured at the newly-opened facility in Friedberg, Germany, in 1925
Birkenstock is very much aware of the rise of illegal manufacturers producing replicas of its products. In 2016, the company pulled its products from Amazon after counterfeits and unauthorized retailers were discovered.
"The Amazon marketplace, which operates as an open market, creates an environment where we experience unacceptable business practices which we believe jeopardize our brand," said Birkenstock US CEO David Khan in a letter obtained by CNBC. "This includes postings by sellers proven to have counterfeit Birkenstock products."
Despite taking action against counterfeiters, there are still a lot of knock-off companies and distributors that sell fake Birkenstocks these days. You can sometimes also find Birkenstock sandals at Costco, though the company isn't happy about that.
Fortunately, there are several ways to identify authentic Birkenstock shoes. Check them out below:
1. Check the seller
One sure way to avoid falling victim to scammers is to purchase directly from Birkenstock's official website or through authorized dealers. You can check out the store locator provided by the shoe manufacturer headquartered in Neustadt, Germany.
You can also buy from reputable websites and established retailers like Zappos, Nordstrom, Saks Fifth Avenue, and Farfetch. Discounted styles can be purchased on sale at Nordstrom Rack.
2. Compare prices
Original Birkenstock sandals are usually priced between $29.95 and $99.95 for classic styles, depending on the material.
The "Madrid" EVA, for example, retails for $29.95, while its Birko-Flor version is priced at $79.95.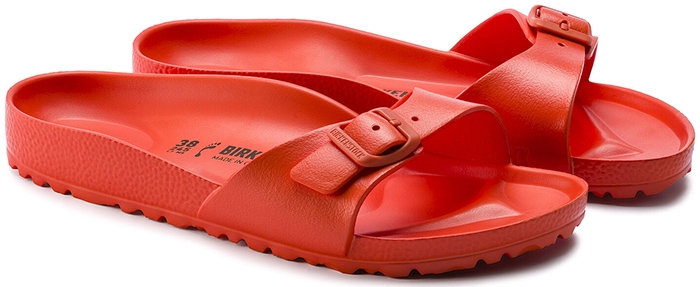 Birkenstock 'Madrid Essentials' EVA in flame
Birkenstock 'Madrid' Birko-Flor in white
One of the most copied Birkenstock styles is Arizona. The EVA version can be purchased for $44.95, while other versions retail for $99.95.
Birkenstock 'Arizona Essentials' in black EVA
Birkenstock 'Arizona' Birkibuc in nubuck mocha
The company also has limited collections, including one titled Metallic Stones, which retail from $99.95 to $110.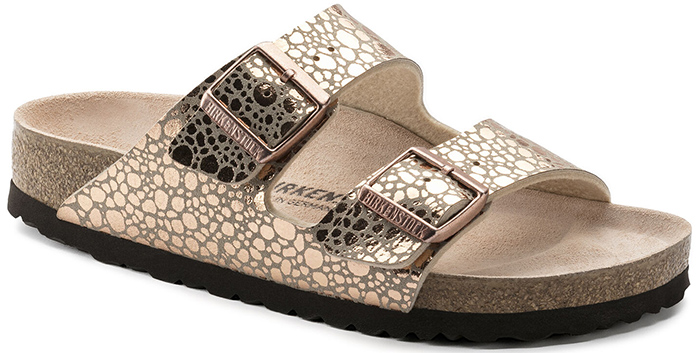 Birkenstock 'Arizona' Birko-Flor Metallic Stones
The more high-end versions, which are made from premium leather, suede, cowhide, and microfiber materials, are priced between $120 and $300.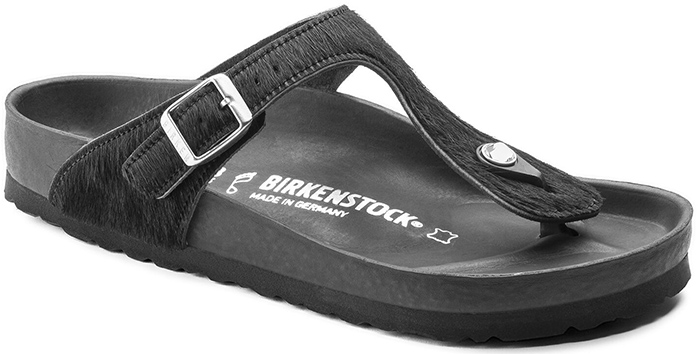 Birkenstock 'Gizeh' in black cowhide material
Their Valentino collaboration sandals are priced at $495 for the black-and-white logo version and $460 for the red version.
Valentino x Birkenstock VLNT sandals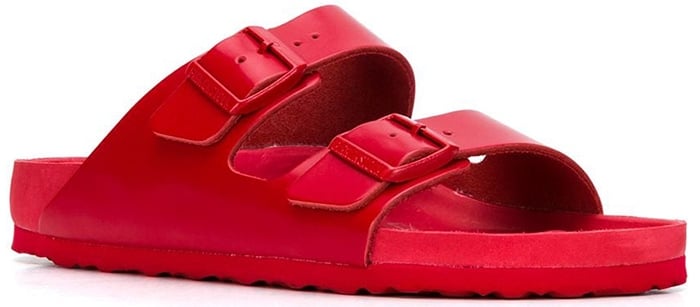 Valentino x Birkenstock slide-on sandals
Sandals from the Birkenstock x Rick Owens collaboration are discounted by at least 40% at Farfetch. From $429 – $572, you can now get them for only $258 – $344.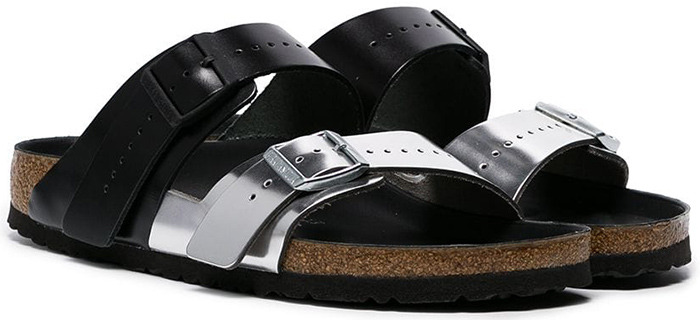 Rick Owens Birkenstock sandals
Birks are quite pricey, so if you see a store selling them at prices that are too good to be true, chances are pretty high that they're fake.
3. Check the packaging
The shoes should come in a blue Birkenstock shoebox properly labeled with the BIRKENSTOCK text logo on all sides, except for the bottom. There should also be a circular logo on top that carries over onto the backside of the box.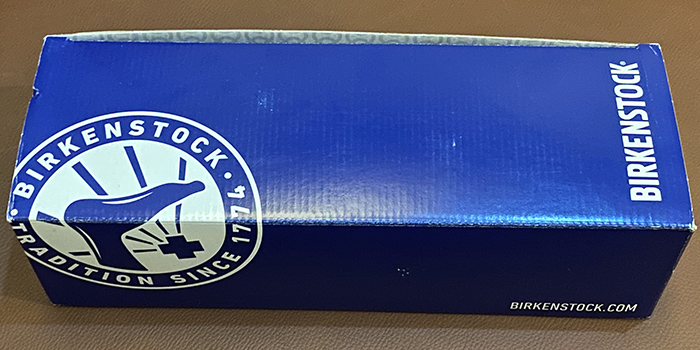 The original Birkenstock box should be properly labeled with logos
The front part should display an illustration of Birkenstock shoe styles with their respective names printed below each style.
The front side of a Birkenstock box shows an illustration of different Birk models
A paragraph about Birkenstock should be printed in both German and English on one side of the box.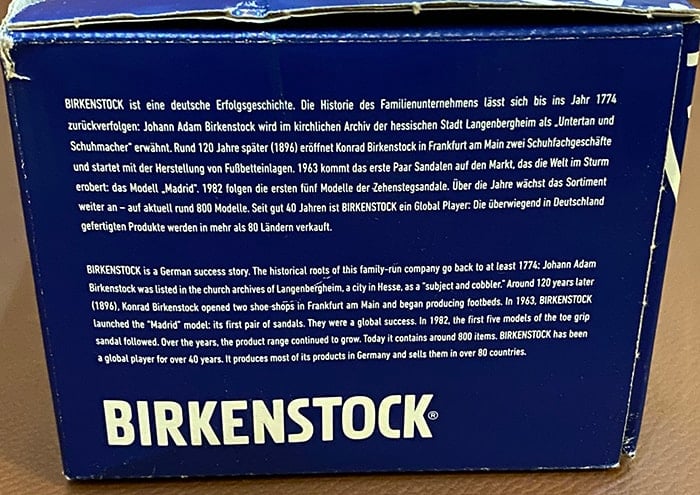 One side of the box shows a short text about Birkenstock's history
On the opposite side, there should be a sticker label showing an illustration of the shoe style, the model name, color, and material, as well as your shoe size and foot width.
This information should match the shoe inside the box. The sticker label should also include a product code and EAN/UPC barcodes.
The opposite side of the box has a sticker label that contains information about the shoes
When opened, there should be text reading "TRADITION SINCE 1774" on the inside of the box lid. The interior should be printed with Birkenstock's sole design and should have a size guide on the cover.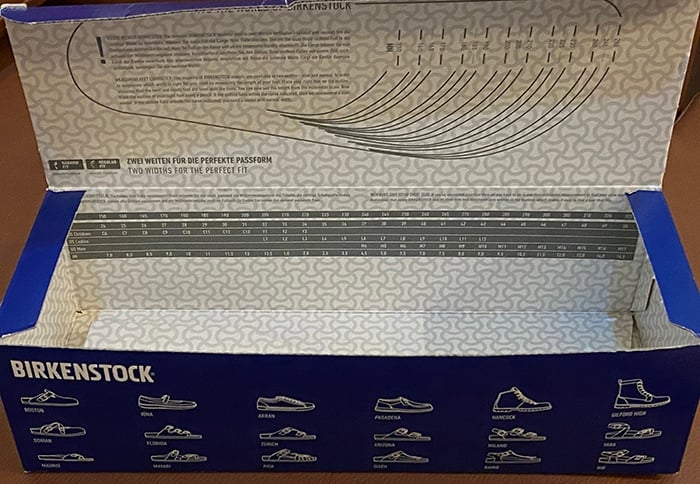 Sole-printed interior of the box with a size guide on the cover
The packaging must come with a white logo-printed tissue wrapping and a tag indicating the material of the shoe.
4. Inspect the footbed
The footbed is perhaps the most important part of checking the authenticity of Birkenstock shoes.
Dubbed the "heart" of all Birkenstock shoe models, the footbed should have a suede lining, a deep heel cup for natural cushioning under the heel bone, longitudinal and transverse arch support, and a raised toe bar.
The original Birkenstock contoured footbed
The Birkenstock text logo should be imprinted on the footbed of each shoe. It should also feature the words "MADE IN GERMANY" just below the logo.
You should see the shoe size and the footprint symbol on the left side of the logo, while the leather icon should be on the right.
The footbed should have an imprint showing the logo, the shoe size, a footprint symbol, and a leather icon
These imprints come in black, except for older Birks, which are in yellow. Vegan Birks also have green imprints, while limited edition Birks have silver or gold. For Soft Footbed versions, the imprint is done in blue.
Older Birkenstocks have yellow-colored imprints
Imprints on vegan Birkenstocks are inked in green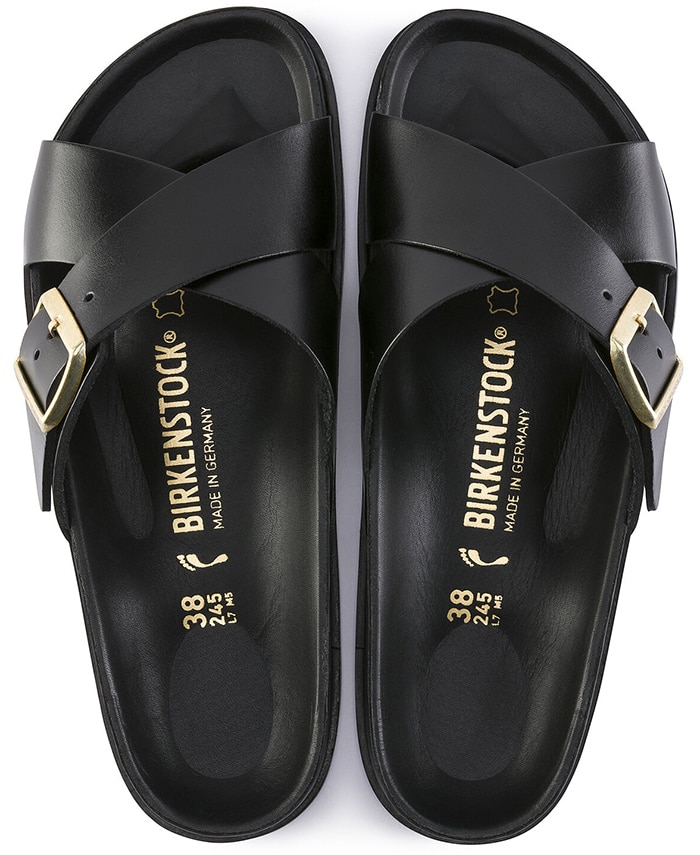 Limited Editions usually have gold imprints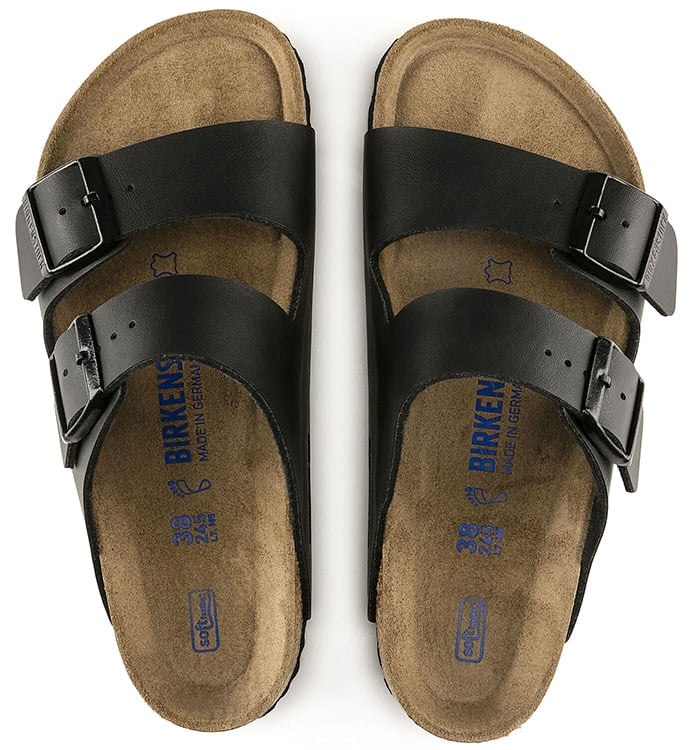 Imprints on Soft Footbed versions are done in blue
The EVA models should also have the same information on the footbed, except for the leather icon imprint. Its footbed should also be made from EVA, not suede.
The footbed of a Birkenstock sandal EVA
There should be a tag showing the same information on models with shearling lining, including the text logo, the foot symbol, and the shoe size.
The footbed of a fur-lined Birkenstock sandal
Make sure that the texts are spelled correctly and neatly done.
5. Check the sole
Birkenstock soles are patented, and they feature the brand's unique hourglass-shape pattern. There should also be the word "Birk" debossed on some of the shapes on the soles.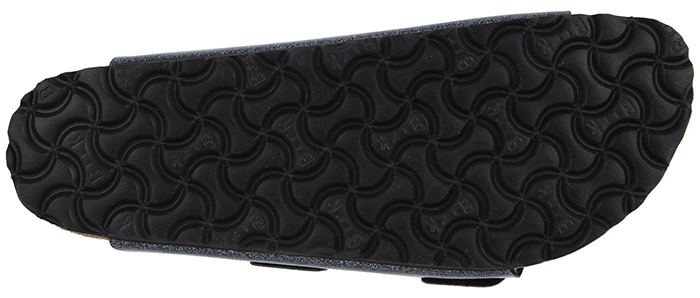 Birkenstock's patented hourglass-patterned outsole
The premium versions may have different sole designs.
Footbeds on limited edition and high-end Birks look different but have the same hourglass pattern
6. Check the logo
There should be a BIRKENSTOCK debossed logo on the inner side of the strap of each shoe. You should feel the imprint across the logo when you run your fingers over it. It should be straight and neatly done.
Original Birks have text logo on the inner side of each shoe
7. Check the buckles and buttons
The buckles and buttons on every original Birkenstock shoe should have a debossed text logo.
On larger buckles, you should see the word "BIRKENSTOCK."
Sandals with large buckles have a "BIRKENSTOCK" debossed logo
On smaller buckles, you should see either "BIRKEN" or "BIRK."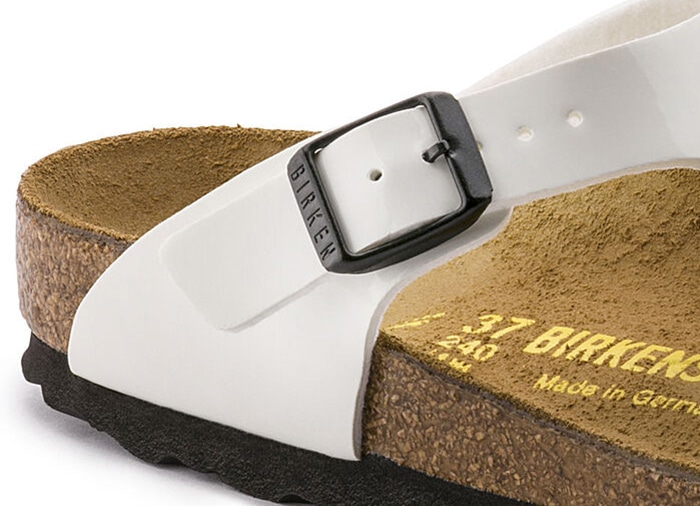 Styles like the 'Gizeh' show shortened text logos on the buckle
The Birkenstock 'Florida' sandals have three small buckles that show the "BIRK" logo
8. Check the material
Birkenstock uses premium materials. Leather Birks are made of high-quality, thick, unsplit leather, and synthetic Birks are made of a skin-friendly, durable Birko-Flor, which should be thick and hard-wearing.
Fake Birks are usually made from thin leather or poor-quality materials without fleece lining.
9. Check the weight
Birkenstocks are made for comfort, so they should be lightweight. Fake Birks are usually heavier than authentic ones.
10. Check the overall quality
Authentic Birkenstocks adhere to strict manufacturing standards and are guaranteed to be of top quality.
The outsole, cork, and footbed should be neatly aligned, and there should be no excess clumps of glue anywhere.