Valentino is one of Europe's most recognizable fashion brands. The brand is one of the last great fashion houses created in Hollywood's golden era.
Valentino would come to unite Hollywood stars, political icons, and European royalty under one label.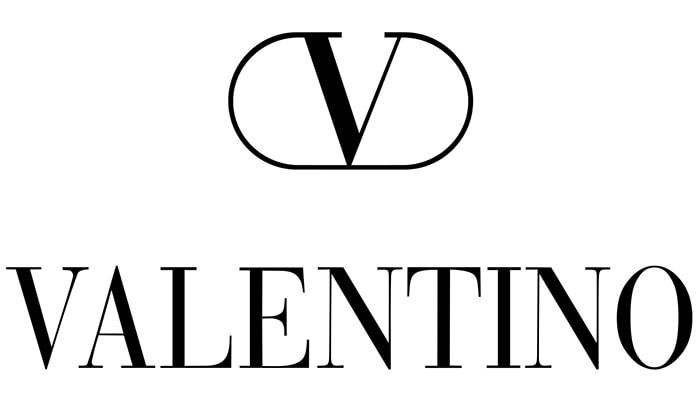 Valentino S.p.A. is an Italian luxury fashion house founded in 1960 by Valentino Garavani
Valentino defines the idea of 'jet-set chic'. The Italian fashion house has several diffusion lines, including R.E.D Valentino and Valentino Garavani.
We will cover everything you need to know about this legendary fashion brand, including its history and where you purchase your Valentino pieces.
The History of Valentino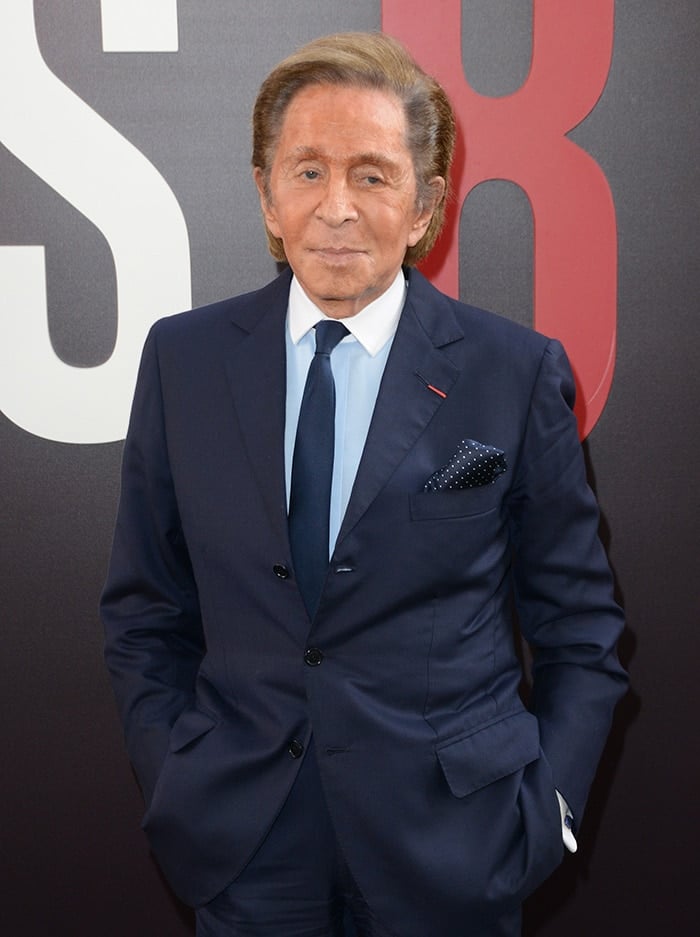 Valentino Garavani, pictured in 2018 at the Ocean's 8 world premiere, founded the Italian luxury fashion house in 1960 (Credit: Ivan Nikolov / WENN)
Valentino was founded in 1960 by Valentino Garavani in Italy. You pronounce Valentino as "valen-ti-no".
Before launching his brand, Valentino Garavani studied at Ecole des Beaux-Arts and the Chambre Syndicale de la Couture Parisienne in Paris. He had an apprenticeship with Jean Desses before working with Guy Laroche for two years.
He returned to Jean Desses, leaving the fashion house five years later. After helping Laroche with his brand, Valentino returned to Rome in 1959 to launch his own label.
Elizabeth Taylor dancing with Kirk Douglas at the Spartacus premiere after-party in Rome in 1961
Valentino first gained attention in 1959 when Elizabeth Taylor was in Paris filming Cleopatra and purchased a white dress to wear to the premiere of 'Spartacus.'
The brand made its international debut in Florence in 1962 but got its big break in 1964 thanks to none other than Jackie Kennedy. The First Lady had seen a two-piece black organza outfit and contacted the lady to ask who the designer was.
Upon discovering it was Valentino, she became interested in purchasing a piece. Valentino had traveled to New York to present his collection at the Waldorf-Astoria and sent a selection of pieces to the Kennedy apartment on Fifth Avenue.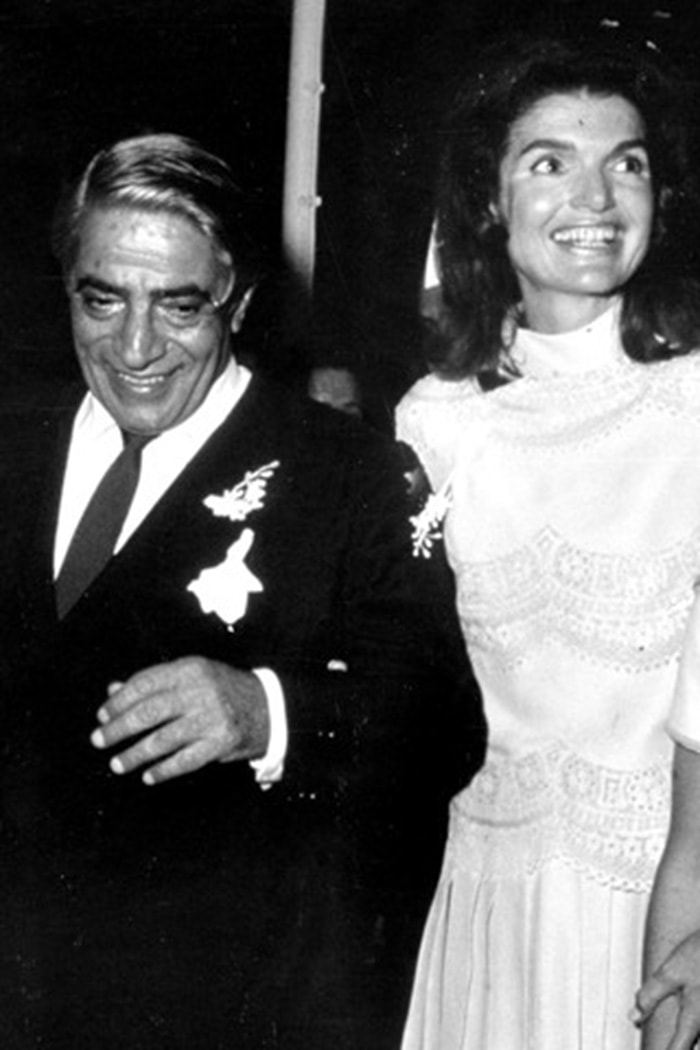 Jackie Kennedy weds Greek shipping magnate Aristotle Onassis in a white Valentino wedding dress in 1968
Jackie purchased six dresses she wore throughout the year of mourning after her husband's assassination.
Jackie would become a friend of Valentino's, and he would later design the white gown that she wore to her wedding to Aristotle Onassis.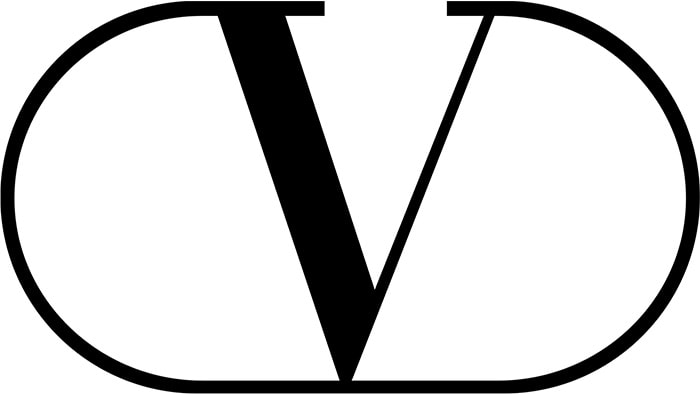 A pioneer in using logos within the design of his apparel, Valentino debuted the idea in his unforgettable 1968 Sala Bianca show in Florence
In 1968, Valentino released his all-white collection that featured the 'V' logo, which is now synonymous with the brand.
This collection marked a breakaway from the brand's signature red color and would go on to win him the Neiman Marcus Award.
During the 1970s, Valentino split his time between Italy and New York. He became part of the jet-set culture, befriending the likes of Andy Warhol.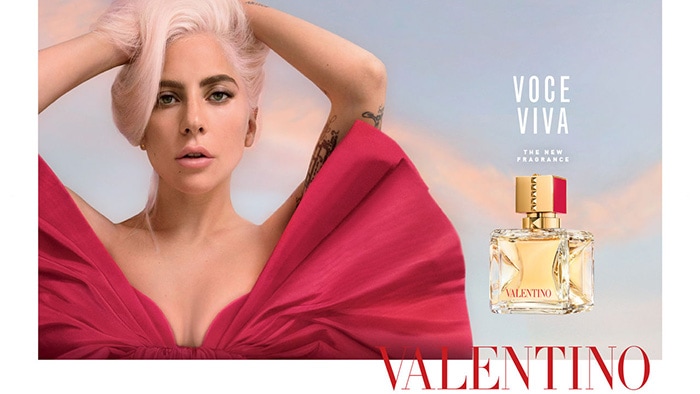 Lady Gaga as the ambassador for Valentino's new fragrance Voce Viva
Like most luxury fashion houses, Valentino has its own range of fragrances. The brand released its first scent in 1978, 'Valentino Classique for Women.'
Valentino's first men's cologne wouldn't follow until 1999 when they released 'Very Valentino for Men'.
The newest Valentino fragrance is 'Voce Viva,' with Lady Gaga as its ambassador.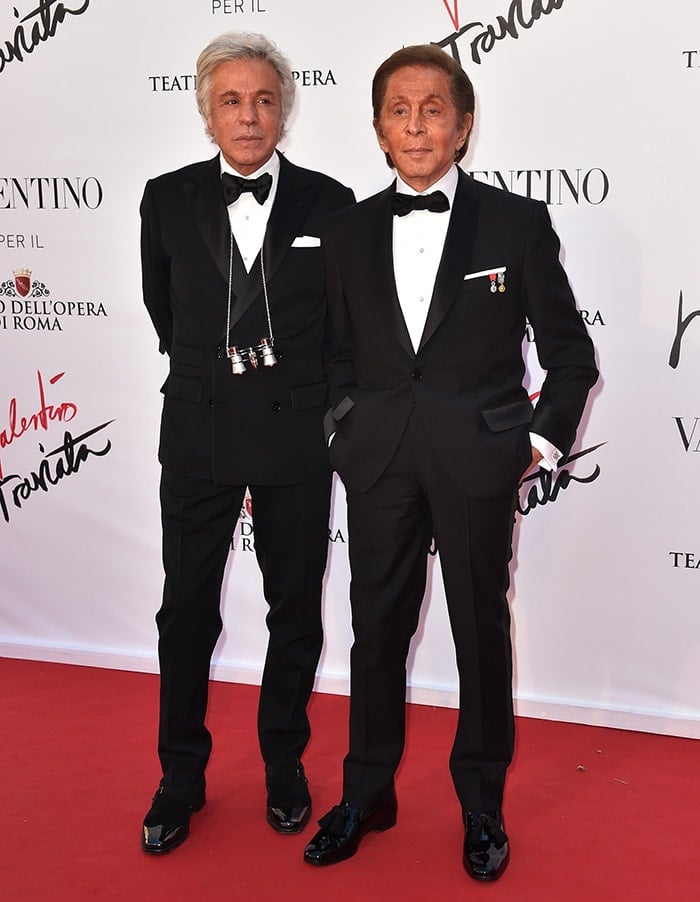 Valentino Garavani and Giancarlo Giammetti at the La Traviata opening gala in Rome on May 22, 2016 (Credit: SHOTPRESS / WENN)
In 1991, Valentino Garavani and Giancarlo Giammetti created L.I.F.E, an organization to support AIDs patients, encouraged by Elizabeth Taylor.
The organization was funded by 'Accademia Valentino,' a space near the brand's atelier in Rome that hosted art exhibitions.
Valentino Garavani received the French 'Legion of Honour' medal in 2006 for his dedication to the fashion industry.
Valentino Garavani at the 65th Venice Film Festival premiere of his documentary Valentino: The Last Emperor on August 28, 2008 (Credit: Apega / WENN)
In September 2007, Valentino announced that he was retiring after his final haute couture collection in January 2008.
His final show featured a collection of the world's most iconic international supermodels, including Naomi Campbell, Claudia Schiffer, and Karen Mulder.
The last year of Garavani's time at the brand was the subject of a feature-length documentary 'Valentino: The Last Emperor', which premiered at the 2008 Venice International Film Festival.
When Valentino Garavani retired in 2007, he was succeeded as Creative Director by Alessandra Facchinetti, who left the position in 2008.
After her departure, Maria Grazia Chiuri and Pierpaolo Piccioli became joint Creative Directors, with Chirui departing in 2016 to make Piccioli the sole Creative Director.
Under Picciol's leadership, the brand has fundamentally changed since 2016, blending modernity and beauty with innovative designs.
To keep up with the times, Valentino combines its haute couture history with streetwear to make the brand appealing to the next generation.
Valentino offers haute couture and ready-to-wear collections for both men and women. Their extensive accessories range includes handbags, eyewear, small leather goods, and shoes.
The 'Valentino Garavani' range is dedicated to accessories and the most common collection you'll see on the market.
Who Owns Valentino?
Valentino Garavani and his associate Giancarlo Giammetti sold the 'Valentino' label in 1998 for $300 million to HdP, an Italian conglomerate that was led by Fiat's corporate head, Gianni Agnelli.
HdP sold the brand in 2002 to Marzotto Apparel for $210 million when the brand was producing revenue of $180 million.
Speculation around HdP's sale of the brand focuses on rumors of their disagreement over the personal expenses of Garavani and Giammetti, who remained at the company.
The brand is now in a unique position where a foreign state owns it. In 2012, Qatar purchased the brand for 700 million euros through an investment company called 'Mayhoola for Investments S.P.C.'
What is Valentino Famous For?
Today's fashion followers will associate Valentino more with their accessories than their ready-to-wear. Their romantic aesthetic has developed to meet the needs of today's consumers.
Valentino's famous Rockstud collection
Valentino's most popular and recognizable collection is their 'Rockstud' range, part of the Valentino Garvarni range.
The 'Rockstud' collection jumped onto the scene as slingback pumps and has since inspired an entire product range. The shoes remain one of the brand's best-sellers and now come in a series of styles, including mules and caged pumps.
The Rockstud collection includes crossbody styles, tote bags, and clutches. You can also find bracelets and cardholders in the Rockstud line-up.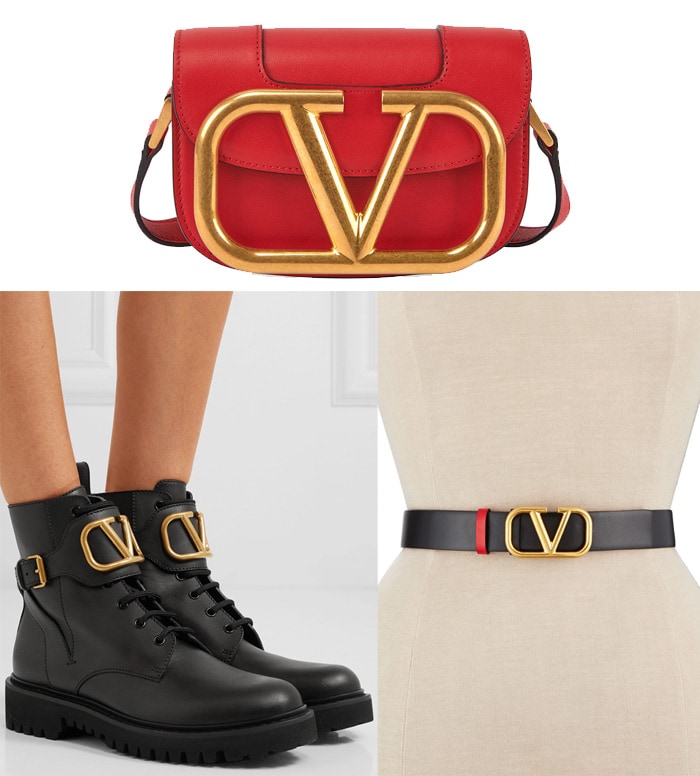 Valentino's accessories collection featuring the signature reversible V logo
The other iconic collection within the fashion house's accessory line is the 'Reversible VLogo Signature'. The 'V' logo is incorporated on everything from knee-high boots to belts and handbags.
If you're considering checking out the Valentino brand for the first time, these timeless collections have a cult following.
One unique reason Valentino is famous is for its bridal range. While other luxury fashion houses have dabbled with bridal collections, Valentino has an unmatched record.
The brand created the wedding dresses of Elizabeth Taylor, Anne Hathaway, and Jennifer Lopez. Valentino was also responsible for the lace wedding dress of Princess Madeleine of Sweden.
Princess Madeleine of Sweden married businessman Christopher O'Neill at the Royal Palace in Stockholm in a bespoke bridal gown from Valentino Garavani (Credit: WENN)
Valentino's client list is practically unrivaled within the industry. The brand was a favorite of Queen Paola, the Queen of Belgium, and Princess Margaret. Audrey Hepburn was regularly photographed wearing Valentino, and the brand is now a red-carpet staple.
You might also recognize Valentino Garavani as one of the few designers to make a cameo in the hit film 'The Devil Wears Prada'. He appears in one scene with Meryl Streep during Paris Fashion Week.
Where are the best places to buy Valentino products?
Valentino has an international presence with over 175 Valentino boutiques in more than 100 countries. There are more than 1500 points of sale for Valentino, including major luxury department stores.
You're spoilt for choice when it comes to purchasing Valentino online. You can buy directly from the Valentino official website to receive your order with all the trimmings and wrapping.
They stock Valentino at all the major luxury department stores, including Saks Fifth Avenue, Nordstrom, and Harvey Nichols.
You can also find Valentino at Flannels, both in-store and online. The brand is sold by several online luxury retailers, including Bloomingdale's, Mytheresa, Matches Fashion, and Farfetch.
If you keep an eye on these online retailers, you might be able to pick up Valentino products at a slight discount when they offer promotional codes. The Valentino RED collection is stocked by most of these retailers as well.
Valentino is one of the most recognizable Italian brands in the world. Valentino is an ideal brand to add to your list if you're considering investing in a pair of shoes or a handbag.
Their products are the pinnacle of Italian craftsmanship, with classic silhouettes and shapes that will last the test of time.