Manolo Blahnik is a shoe brand founded by Manuel "Manolo" Blahnik Rodríguez CBE, a Spanish fashion designer born on November 27, 1942, in Santa Cruz de La Palma, Spain.
Unlike many luxury shoe brands, he has not sold his business to a giant fashion conglomerate. Like his personality, the footwear designer likes to keep his business free and independent.
Lithuanian-born actress and model Irma Mali, footwear designer Manolo Blahnik, and model Semina Zia celebrate the opening of his exclusive new boutique at Brown Thomas in Dublin on October 7, 2008 (Credit: WENN)
For years, Manolo Blahnik has undeniably been one of the biggest names in fashion. Establishing the self-named brand in London in 1970, the designer grew as a household name that came to conquer the luxury footwear industry.
Since then, while headquarters still remain in the British capital, various offices and flagship stores have opened in fashion hubs like Hong Kong, New York, and Madrid.
A gallery staff member poses with Damien Hirst X Manolo Blahnik Spin boots, circa 2002, (est. £2,000-3,000) during a photocall for Bonhams' British. Cool. sale showcasing a diverse range of British and émigré talent from the last one hundred years, on February 22, 2021, in London, England (Credit: Avalon / WENN)
Born in the Canary Islands, Manolo Blahnik displayed an interest in shoemaking from an early age.
A 2017 documentary film titled "Manolo: The Boy Who Made Shoes for Lizards" recalls Blahnik's first-ever 'clients:' lizards for whom he would make shoes out of aluminum wrappers.
Though his inclinations were clear, the designer wouldn't fully commit to the art until years later.
It was only in 1969 that, as an art and set design student, Blahnik would be guided to fulfill his destiny in shoemaking by Diana Vreeland, former director of the Met Costume Institute.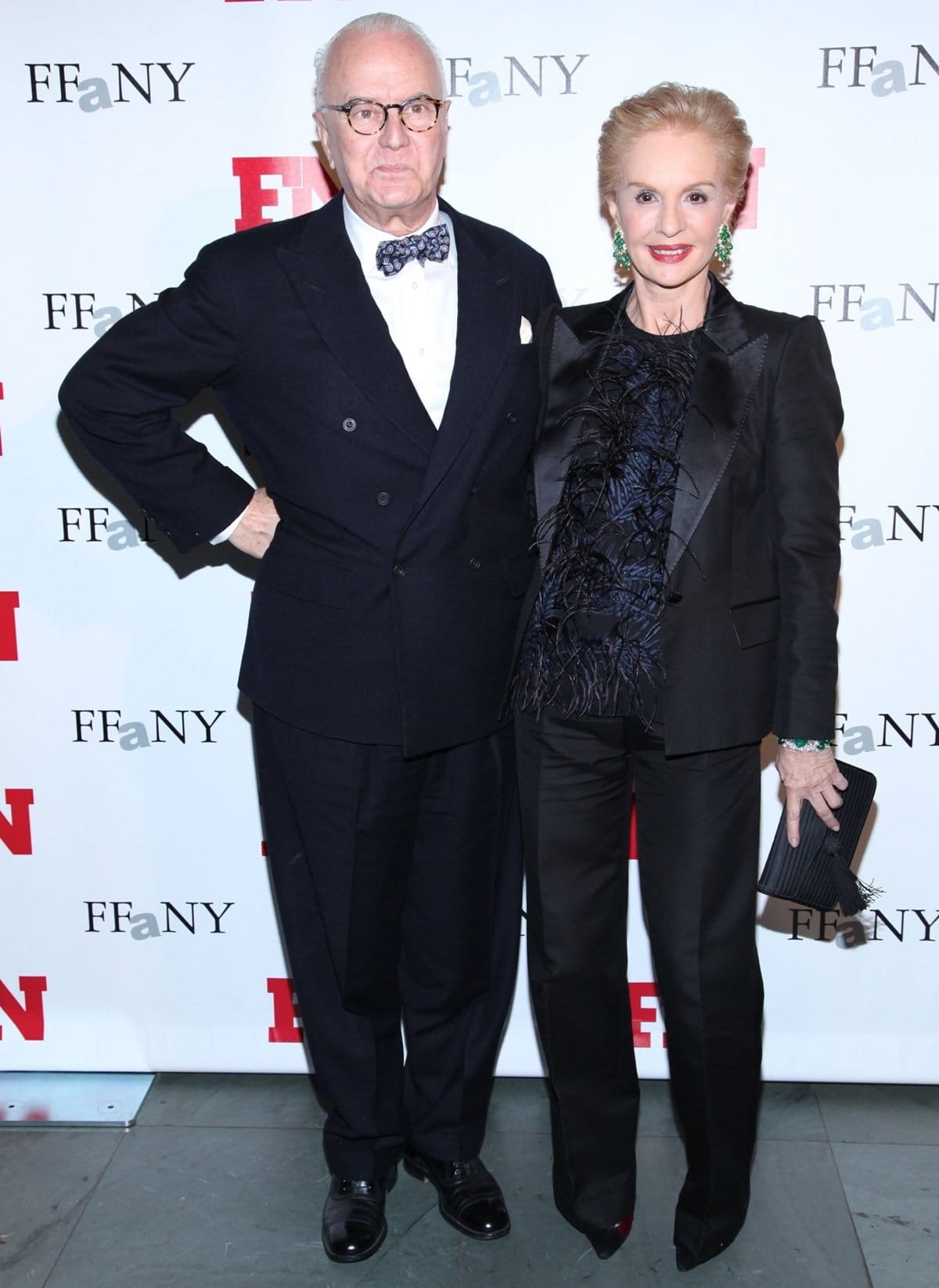 Shoe designer Manolo Blahnik (L) and designer Carolina Herrera attend the 25th Annual Footwear News Achievement Awards at the Museum of Modern Art on November 29, 2011, in New York City (Credit: Andres Otero/ WENN)
The Spanish designer, whose name is pronounced "Mah – no – low / Blah – Nik," has curated a deeply personal style over the years – one strongly rooted in femininity, elegance, and jewels.
Dramatic yet classic embellishments detail timeless silhouettes, a trademark that has only become more renowned over time.
Manolos, as the shoes are referred to by admirers, have made it to some of the most esteemed events in the world, worn by celebrities like Rihanna and American Vogue editor-in-chief Anna Wintour.
Anna Wintour wears Manolo Blahnik kitten heels with an indigo sheath Michael Kors dress at the 2014 God's Love We Deliver Golden Heart Awards at Spring Studios on October 16, 2014, in New York City (Credit: C.Smith/ WENN)
Additionally, they have been iconically featured in Sex and the City, one of the most popular fashion-centric films in recent history.
More specifically, the Hangisi style was thrown further into the spotlight when worn by Carrie Bradshaw, a fashion-obsessed writer played by actor Sarah Jessica Parker. The pumps feature a rectangular jewel at the front.
Instantly recognizable on screen in its satin blue variation, the shoe has never lost its star status. In 2021, it still stands amongst the most popular, 'classic' styles of the brand.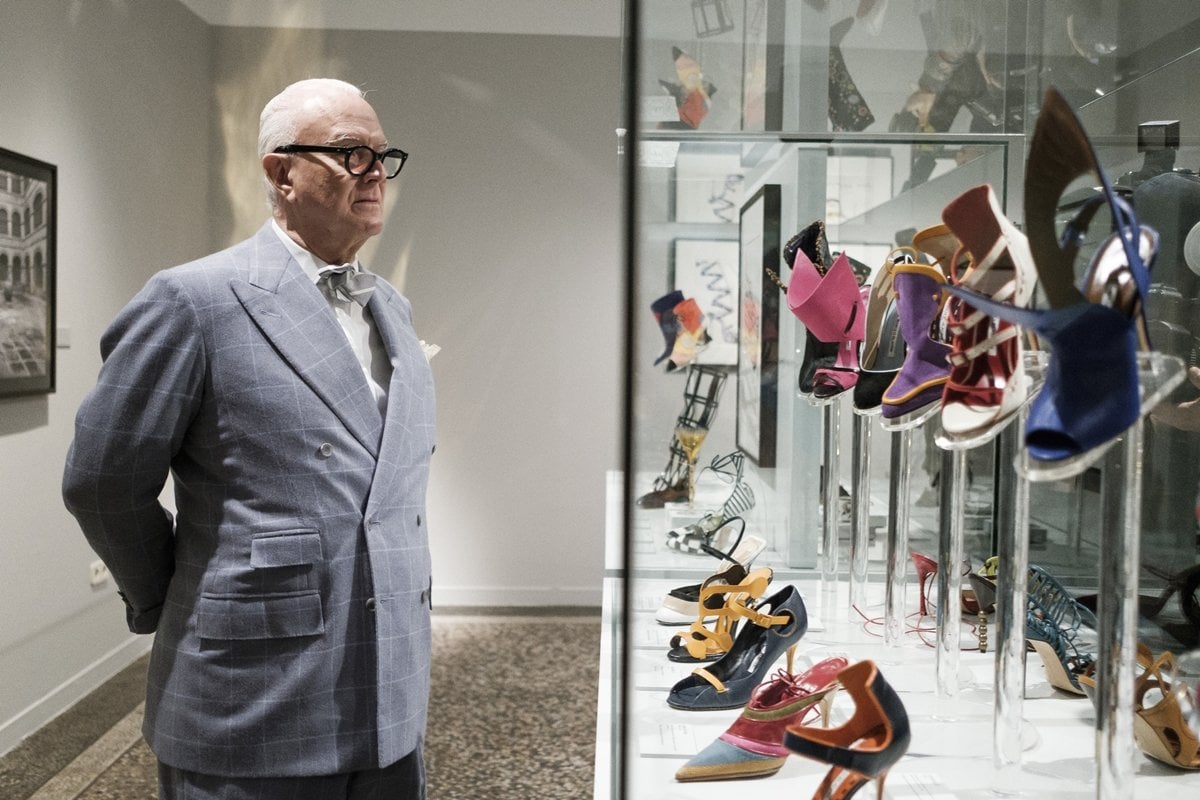 Spanish designer Manolo Blahnik poses during 'The Art of Shoe' exhibition at the National Museum of Decorative Arts in Madrid, Spain, on November 27, 2017 (Credit: Oscar Gonzalez / WENN)
Blahnik's strong personality accompanies him throughout the entire shoemaking process. The designer is noted for his dedication to the brand, reflected in his unparalleled focus and involvement.
Every shoe is designed and sketched by hand solely by Blahnik, a rare system for a brand of such size, reach, and influence.
Despite the massive proportions that Blahnik has reached with his work, his process seems to have remained incredibly intimate.
Hilary Duff shows off her feet in Manolo Blahnik Vella slingback booties (Credit: Nikki Nelson/ WENN)
The designer can often be found in Italy, where his shoes are crafted, working to ensure the proper development and eventual creation of his vision.
How Much Are Manolo Blahnik Shoes?
Expert design and craftsmanship, along with materials of the highest quality, translate to the pricing of the shoe.
A pair of Manolos can range from $555 to an astounding $14,000, though a more realistic estimate of some of the most popular styles is more likely to average $1,000.
The shoes can be purchased directly on the Manolo Blahnik website and in luxury department stores like Nordstrom, Farfetch, and Harvey Nichols.
Manolo Blahnik's black wool pointed-toe Waga pumps feature white embroidery detail, elasticated slingback strap, and kid leather lace-up front strap (Credit: Manolo Blahnik)
Are Manolo Blahnik Shoes Comfortable?
Manolos live up to high expectations when it comes to comfort, an aspect taken very seriously by the designer himself. The brand abides by Italian sizing; 'fit' details for each pair are included on the website.
On the internet, the shoes are confirmed to be both extremely comfortable and true to size, though narrower in their fit. If you have wider feet, a half a size up might be the way to go.
Despite its long-lasting success, the brand shows no signs of slowing down – and it's clear why.