This collaboration couldn't come sooner. We here at "Your Next Shoes" have long recognized Rihanna's love for Manolo Blahnik shoes, so it's about time Manolo Blahnik himself recognized Ri with the new "Dangerous" Denim Shoe Collection!
The Spanish-born shoe designer has tapped the "Work" singer for a denim-themed shoe collection. To be honest, denim isn't among our top materials for shoes, but trust Ri to make us covet it like pretty much every fashion item she wears.
Rihanna makes the Manolo Blahnik x Rihanna "9 to 5" chaps-inspired denim boots with an embellished-buckle belt look positively wearable as she posed in an editorial for the latest issue of British Vogue.
OK, maybe you wouldn't wear these shoes topless in an Alexander McQueen denim coat or with Isabel Marant knit hot pants, but does the following picture not make you consider giving double denim a chance?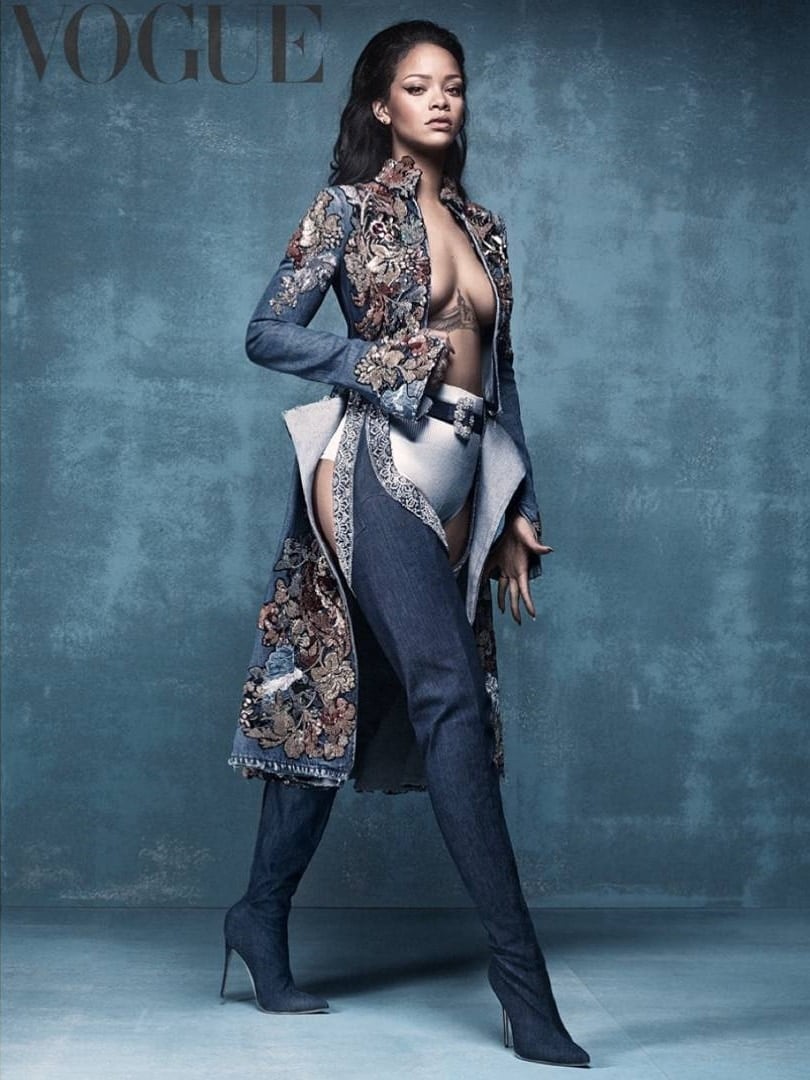 Rihanna promoting her "Denim Desserts" footwear collaboration with Manolo Blahnik in Vogue (Credit: Vogue UK / Craig McDean)
At the very least, the 28-year-old Barbadian singer promises that she will run after you if she sees you wearing a pair of her shoes.
"The day I see a woman in the street wearing my shoes, I am sorry for that woman because I'm going to literally run after her, shouting, 'Stop! Selfie! Who are you? Where did you get them?'" Rihanna said. "I'm going to have a moment!"
If you don't need the thought of a selfie with Rihanna to persuade you into buying these shoes — and had been planning on buying them anyway — you should still be warned: Rihanna herself says they are trouble.
"Guuurrrl! Those boots are dangerous!" Rihanna said. "If you're trying to get back home to your bed, don't wear them boots! You will get kidnapped in those boots, those boots are trouble."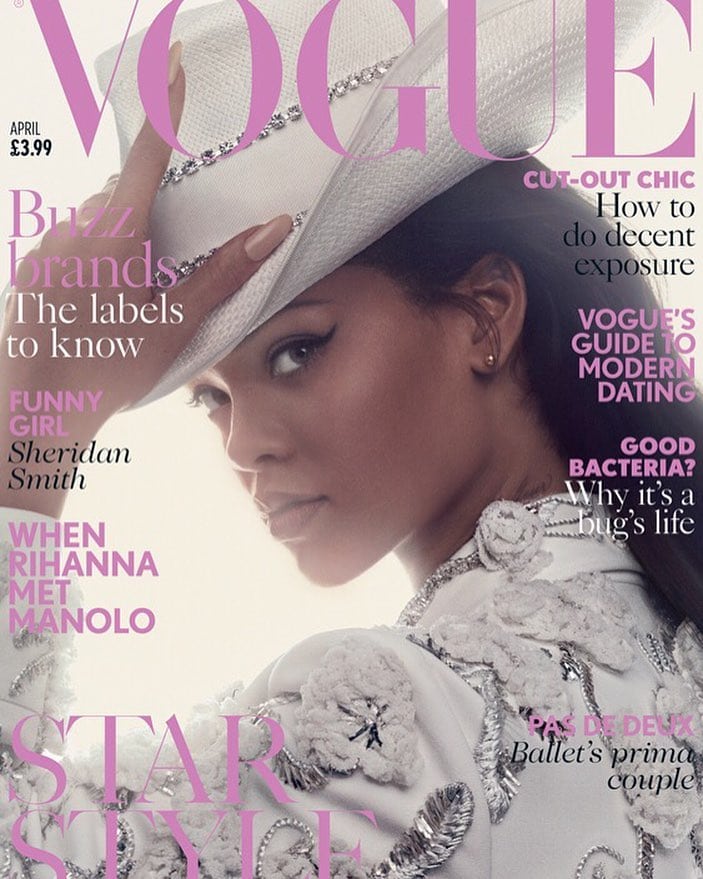 Rihanna channels her inner country girl on the cover of British Vogue's April 2016 issue (Credit: Vogue UK / Craig McDean)
Get a sneak peek at four of the six shoe styles in the Manolo Blahnik and Rihanna collaboration collection below.
Rihanna's 9-to-5 Manolo Blahnik denim boots
Prices range from $895 to $3,995 and will be available for purchase on May 5 at Manolo Blahnik stores in New York, London, and Hong Kong.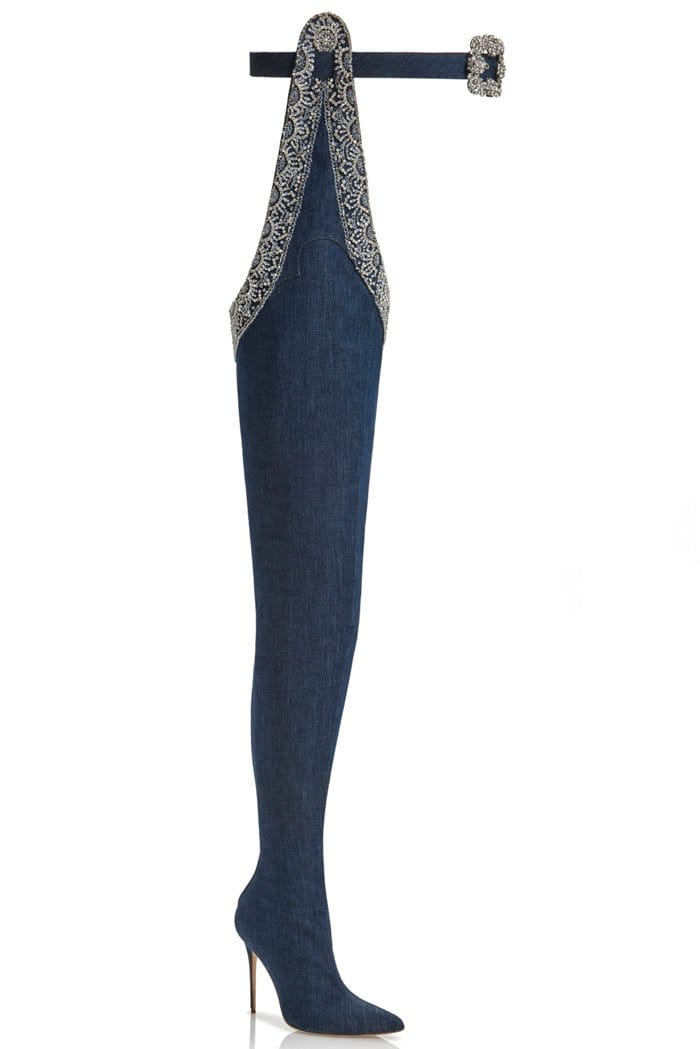 Manolo Blahnik x Rihanna '9 to 5' Chap Boots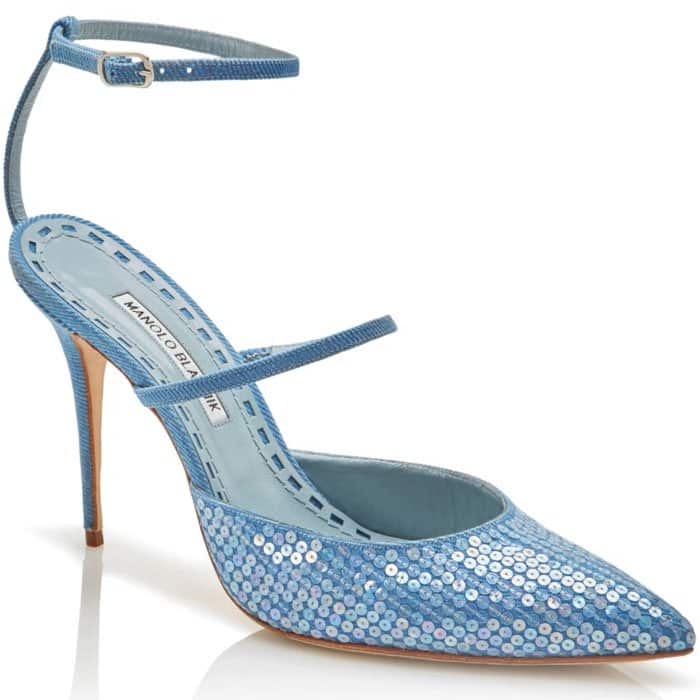 Manolo Blahnik x Rihanna 'Sea Salts' Ankle-Strap Pumps
Manolo Blahnik x Rihanna 'Dancehall Cowgirl' Lace-Up Booties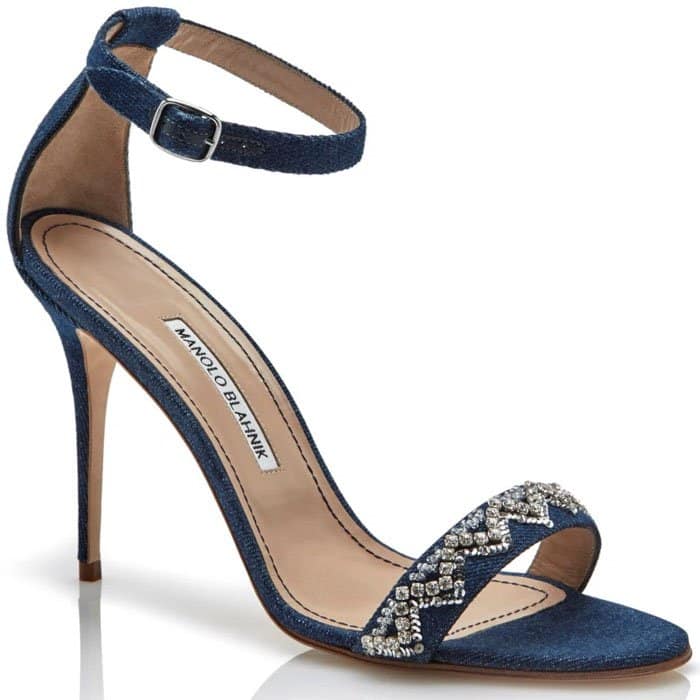 Manolo Blahnik x Rihanna 'Rih-Vi' Sandals