We're always on the hunt for a comfortable pair of shoes. A style that offers comfort without compromising on style. While it's easy to be focused on the size or design of your shoes, the most important aspect is the material of your shoes.
The material will make or break the design. It can make you feel like you're walking on a cloud or give you the support you need to stay on your feet all day.
This ultimate guide takes you through the most common materials used for shoes, including different types of leather, synthetics, and textiles.
Popular materials used to make shoes include leather, textiles, synthetics, rubber, and foam (Credit: LauraVl / Shutterstock)
It's your go-to reference to help you find the best material that matches your aesthetic without causing too much discomfort. Shoe materials are easy to overlook, but they're the foundation of your shoes.
Make sure to bookmark this guide to visit again when you're searching for your next shoes.
What materials are used to make shoes?
Shoe designers have dozens of types of materials to choose from. The most common materials used to make shoes include foam, rubber, plastic, textiles, and synthetics.
Each brand and designer will choose their material to complete the design of the shoe. The material is what makes the shoe from the page and brings it to life.
Designers also consider where and when the shoes will be worn. You'll need a different kind of material for running shoes versus ballet shoes. Every material has a specific use and gives the shoe its unique characteristics.
Textile fabrics are weighted in denier, with one denier equally one gram per 9000 meters of thread. Most lightweight fabrics are around 110 deniers, while most traditional shoes are between 420D to 600D. Popular textiles include cotton, rayon, lycra, nylon, and polyester.
1. Braided
Have you got a pair of espadrilles in your closet? These 'it shoes' are typically worn in summer and have become a must-have in recent seasons. They're made using a distinctive braiding material that looks similar to a rope.
It's a casual material that you can find in flat espadrille shoes and occasionally high-heeled styles. The braided material is usually reserved for the sole, often giving the shoes a platform sole, while cotton or canvas is used for the upper.
Castañer Carina wedges, $115 at Matches Fashion; Misson Zigzag flat espadrilles, $410 at Farfetch; Saint Laurent embroidered canvas espadrilles, $425 at Mytheresa
Another type of 'braided' material that you'll find is braided leather. While it looks similar to espadrilles, it's typically leather that is made to create shoes like Chelsea boots and loafers.
Braiding gives the leather a unique appearance and creates a vintage-inspired aesthetic. The braiding is held in place with a backing, meaning that you don't have to worry about the braiding moving and creating gaps.
Sartore braided leather-detail western-style ankle boots, $911 at Farfetch; Gianvito Rossi braided-trim leather loafers, $845 at Farfetch; Santimon braided Chelsea ankle boots, $99.99 at Amazon
Braiding adds a distinctive texture to your shoes and can take a casual silhouette and elevate it for a more formal look.
2. Canvas
What makes canvas unique is that it's a shoe material made using hemp. Along with shoes, you'll also find this cloth material used to make everything from tents to tote bags and homeware.
This material is minimalistic and has found its niche within the casual footwear industry. You'll usually find canvas material with sneakers and summer shoes. Most shoes made with a canvas upper have a rubber sole for extra wearability and added durability.
Golden Goose Superstar canvas sneakers, $520 at Farfetch; Vibi Venezia Gondola striped canvas flats, $110 at Matches Fashion; Acne Studios Canvas slip-on sneakers, $280 at Mytheresa
Canvas shoes are fuss-free and low maintenance, making them ideal for anyone who wants easy-going shoes to wear every day. The benefit of canvas shoes is that you can throw them into the washing machine if they get dirty, making them ideal for all-day wear.
One thing to consider with canvas is that it does not retain its initial shape and eventually wears down and becomes flat. You can remedy this by placing shoehorns into your canvas shoes when you're not wearing them to help maintain their shape.
3. Cork
If you're looking to build a sustainable closet, cork is a material you want to be looking out for when shoe shopping. It's a vegan alternative to leather, giving you the same look and unique characteristics of leather.
Just like its traditional counterpart, cork ages over time to create a vintage look. Just like a leather jacket, your cork shoes will change in appearance over time.
Anne Klein Noa Wedge Sandal, $79 at Nordstrom; Stella McCartney Elyse platform lace-up shoes, $975 at Farfetch
Cork is becoming an increasingly popular material for shoes due to its limited environmental impact. Cork comes from the bark of an oak tree, which renews its bark following every harvest, allowing it to keep growing.
While cork can be used instead of leather for almost every type of shoe, it's a popular choice for sneakers. Cork shoes are guaranteed to be comfortable and perfect for anyone living an urban lifestyle.
4. Leather
The most common material used for shoes is cow leather. It's used for its durability and stretchability while also being available in different styles and colors.
The beauty of leather shoes is that they offer breathability and mold to your feet over time for a comfortable fit. While you may need to wear them in, these leather shoes will quickly become your go-to.
Leather is considered a 'living' material with its own unique characteristics and imperfections. Just like leather bags, leather shoes can take on a life of their own.
BC Footwear After All Vegan Leather Bootie, $98.95 at Nordstrom; RED (V) leather slippers, $508 at Mytheresa; Veja Recife leather trainers, $133 at Matches Fashion
While most leather used for shoes is still the traditional type, vegan leather is becoming a popular alternative. If you want the look and feel of traditional leather without using an animal product, the vegan alternative will be right up your street.
When buying leather shoes, it's worth checking if the leather has been given a waterproof or water-resistant treatment to prevent damage.
Traditional leather usually comes with a high price tag, while man-made vegan leather is often more affordable.
5. Nylon
Nylon is a man-made textile that is a go-to choice for designers who want to add a pop of color or patterns to their designs.
You can find nylon either in the interior or outer design of the shoe to give it a distinctive look. Nylon is popular for summer shoes as it is lightweight while also being durable.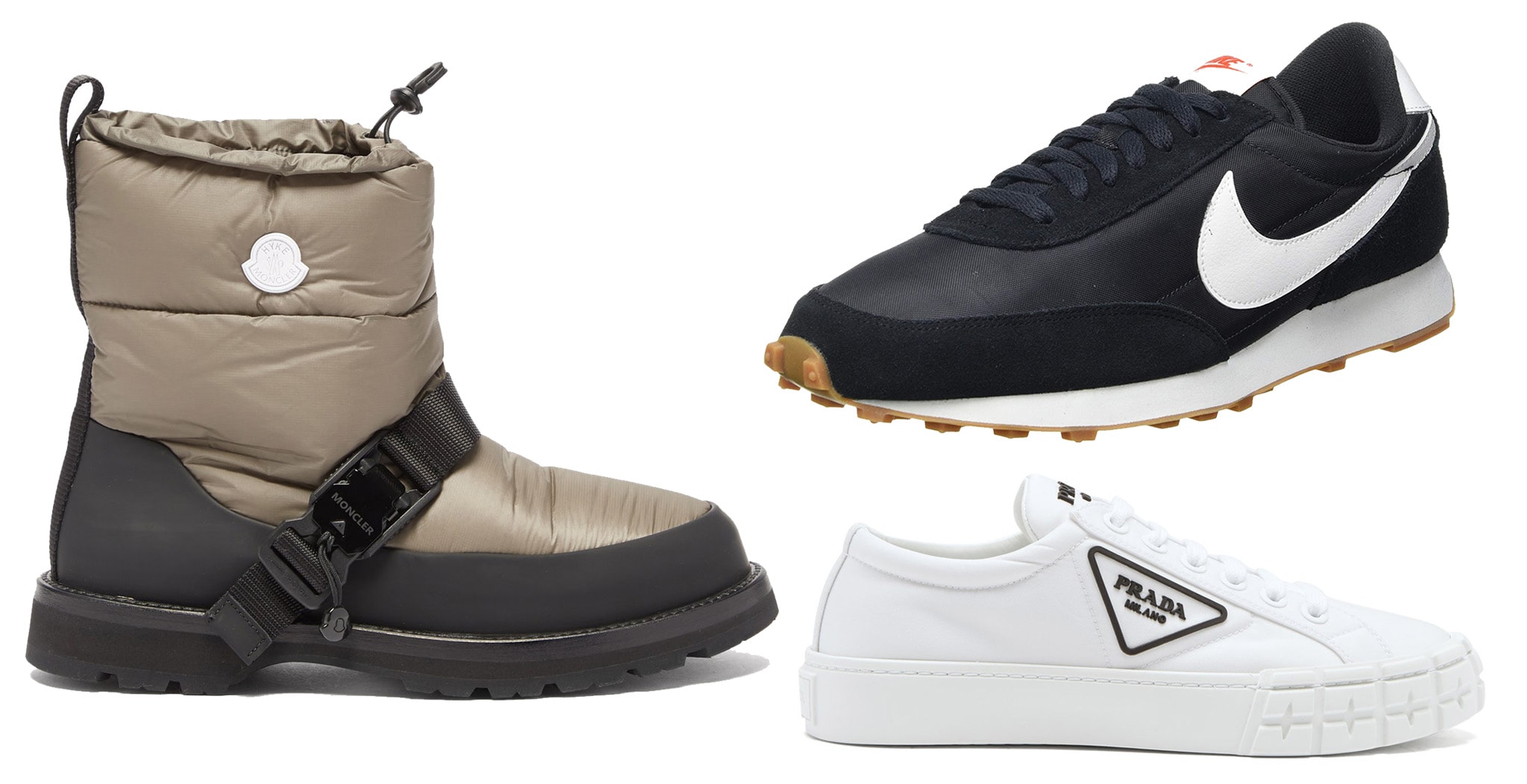 4 Moncler Hyke Mhyke short quilted-nylon snow boots, $570 at Matches Fashion; Nike Stroke running shoes, $56.27 – $222 at Amazon; Prada Wheel Re-Nylon trainers, $702 at Matches Fashion
If you're a sneaker fan, the chances are that you've come across nylon sneakers – you probably have a few sitting in your closet. The material changed the game by offering breathability, flexibility, and form.
Nike was one of the first sneaker brands to introduce nylon into their sneakers, quickly followed by Adidas.
As a synthetic fabric, nylon has allowed sneaker designers to create single-piece uppers for their sneakers to develop a seamless design. While nylon was the world's first synthetic textile, it remains the go-to choice for thousands of sneaker and footwear brands.
6. Neoprene
Another material that you'll typically find in sneakers is neoprene, which also appears in boots and wet shoes. The appeal of neoprene comes from its ability to keep your feet warm when in water.
It's ideal for use on winter shoes or specialist shoes designed for swimming or surfing. Neoprene is both practical and versatile without compromising on comfort.
Khaite White Taylor point-toe neoprene boots, $$920 at Matches Fashion; Rafters Belize slip-on, $15 at Zappos; Khaite Forli neoprene pumps, $680 at Mytheresa
If you live in a colder climate, neoprene is a material to look out for when choosing shoes as it can help regulate your body temperature by keeping you warm.
One thing to consider is the fact that neoprene does not stretch, meaning you'll need to choose the right size as the shoes won't stretch when you're taking them on and off.
While neoprene is famous for being used in scuba diving shoes, you can also find it in avant-garde footwear. If you're planning on spending your summer at the beach, neoprene will make your shoe water, weather, and UV-resistant.
Another thing to consider is that neoprene is not a breathable fabric and cannot be cleaned in your washing machine.
7. Lycra
Lycra is another popular man-made textile that you'll often find in activewear and sporting shoes. It's commonly used to give shoes an extra stretch or to make them more comfortable.
If you're looking for shoes that can withstand all-day wear, lycra is a material that should be at the top of your list.
Skye The Rbutus sneakers, $135 at Zappos; Vibram FiveFingers V-Run sneakers, $130 at Zappos; Osklen Super Light lycra sneakers, $133 at Farfetch
If you're a keen footwear aficionado, you might have spotted that lycra is often added to leather shoes to help give them a stretchable element.
This material is often used with dance shoes as they are lightweight while being soft against your feet.
8. Silk
When we think of silk shoes, pointe shoes instantly come to mind. You don't have to be a ballerina to appreciate silk shoes. In the 19th century, silk was used for uppers, while leather was used to create the interior and sole of the shoe.
Silk is used to create shoe uppers by spinning thin silk threads into fibers, creating a distinctive shiny appearance with a soft hue.
Christian Louboutin Louis Junior silk-satin sneakers, $795 at Mytheresa; Amina Muaddi Blue Rosie crystal-embellished silk-satin pumps, $915 at Matches Fashion; JW Anderson crystal-embellished Silk Ballerina shoes, $640 at Farfetch
As a natural material, silk is considered a luxury within the footwear industry and often appears in designer shoes. Outside of pointe shoes, you'll most commonly see silk in bridal shoes, as it gives the shoes a luxurious hue and light color.
Silk shoes are more common than you think. In 2017, Adidas introduced biodegradable shoes made using silk, showing that it's not just ballerinas who can benefit from the softness of silk.
9. Jacquard
Jacquard is a versatile fabric that you'll see everywhere, from upholstery to home décor and clothing. It's typically used to create utilitarian footwear as it offers durability and stretch.
One thing to keep in mind is that jacquard is considered a luxury material as it is woven on a loom, making it a costly and timely material to create.
If you want elevated footwear with a timeless aesthetic, jacquard is one material that you want to be on the lookout for.
It offers intricate patterns, such as brocades and damasks, that are ideal for anyone who wants to incorporate a feminine touch into their footwear closet.
The material rose to popularity in the 18th century and maintains its Parisian aesthetic to this day.
See by Chloe Gema Logo Jacquard Mule, $285 at Nordstrom; Gucci GG jacquard denim espadrilles, $540 at Mytheresa; Tory Burch T Monogram slide sandal, $198 at Nordstrom
Jacquard is popularly used to create everything from kitten heels to mules and loafers, allowing designers to incorporate bright patterns into their designs. The pattern is incorporated into the weave of the fabric.
While cheaper fabrics choose to print or dye the pattern into the fabric, jacquard material incorporates the pattern directly into the material.
Today, you're spoilt for choice with thousands of different patterns and prints to choose from as technology evolves to streamline the production of jacquard fabrics.
10. Velvet
If you're a fan of loafers, chances are you've seen velvet shoes. This elevated material appears everywhere, from casual loafers to block heels. It's a go-to material for party shoes or ones for special occasions.
It's soft against your skin and adds an instant touch of elegance to any outfit.
Tom Ford Velvet platform sandals, $1,790 at Mytheresa; Alexander McQueen velvet sneakers, $580 at Mytheresa; Dee Ocleppo bow-detail velvet pumps, $388 at Farfetch
Velvet is made using natural and synthetic fibers and offers you breathability without too much stretch. While you might be used to seeing velvet in evening wear and home décor, it's having a resurgence in the world of footwear.
It's worth considering the maintenance that comes with velvet shoes. You'll want to avoid getting them wet, and they'll require regular cleaning after every wear.
It's also a good idea to invest in a protective coating to spray over your velvet shoes before wearing them for the first time.
11. Raffia
Another unexpected material for shoes is raffia. The raffia shoe trend was booming this summer, and we expect it to re-emerge in 2022.
Everyone from Bottega Veneta to Chanel and H&M comes out with raffia shoes in summer. The material screams resort wear and is a go-to choice for anyone jetting off on a tropical vacation.

Bottega Veneta Stretch Intrecciato raffia mules, $1,050 at Matches Fashion; Jeffrey Campbell Shindy platform slide sandal, $139.95 at Nordstrom; Clergerie raffia lace-up shoes, $550 at Farfetch
While raffia is traditionally used to create sandals or beach shoes, the material is starting to appear more in stilettoes and mules. The material is derived from palm trees and gives any outfit a whimsical feel, whether you choose sneakers, block heels, or wedge sandals.
What is the best type of material for shoes? The answer is difficult. It will depend on what shoes you're buying, along with where and when you want to wear them.
It's always worth considering the type of shoe when choosing which material to look out for. With this ultimate guide, you're one step closer to finding your next shoes.