Your wedding is the one time in your life when the entire world does indeed revolve around you, and it's important that when you take that first step down the altar, you're wearing the perfect shoes to do it.
From the careful selection of silverware placed on each dining table to the individual flower buds in your bouquet, weddings are all about the little details.
While the ceremony itself is meant to become this effortless dreamscape for your family and guests to immerse themselves in as you float down the aisle, we know that this fairytale day took months (or years) to plan.
Choosing the perfect wedding shoe isn't an easy task (Credit: your story by Mikhailova / Shutterstock)
From the moment you said "Yes" to the big question, you began planning your wedding day. Whether you have dreamed of this day since you were a little girl or never considered marriage in your future until you met the one, the time has come for you to decide exactly what kind of bride you want to be.
Perhaps you'll be the classical bride and marry in a church surrounded by cherrywood pews and shimmering stained glass. Or maybe you're a beach bride and envision yourself walking to your groom as the ocean waves kiss the shore behind you and the seashells glisten on the sand like diamonds.
Maybe you've always seen yourself getting married in a remodeled barn, on top of a mountain, or maybe in your own backyard.
Considering comfort is a must when choosing the right wedding shoes for your big day (Credit: OlgaMerolla /Shutterstock)
Whatever portrait you envision in your mind for your wedding day, one aspect is always the same. You'll be wearing a white dress and your wedding shoes.
Just as versatile as your ceremony, your bridal shoes must be carefully selected, which can be a difficult task when so many options are available to you.
Whether you're looking for shoes with a simple design built for comfort or attention-catching details with an elegant heel, we've created a list of the top designer women's wedding shoes to buy in 2022.
Pumps: The Perfect Wedding Shoes for Brides Who Want to Glam It Up
Pumps are always the answer if you want to gain a few inches and become an Amazonian goddess on your wedding day. With the perfect balance of sexy and sophisticated, a good heel can add glamor to any wedding dress.
Whether you're looking for a heel with some additional bling or a more modern style, the designers below all offer precisely the pump you want.
1. Christian Louboutin 'Galativi 85' Pumps, $795 at Mytheresa
A chic option for the modern bride, these Galativi pumps from Christian Louboutin come in classic white with delicate floral lace paneling
2. Manolo Blahnik 'Hangisi 70' Pump, $995
A regal-looking pair, the Hangisi 70 pumps in white satin are crowned with the fashion designer's signature bejeweled square buckle
3. Dior 'J'Adior' Slingback Pump, $1,190
Refined and elegant, this luminous J'Adior pump is crafted in cotton with metallic embroidery and features a cotton ribbon slingback strap
Effortless Chic Flats for Your Wedding Day
Certain wedding dresses may conceal your shoes, making comfortable footwear preferable. These flats exude an effortless chic quality that can enhance the overall look of any wedding dress, even without the added height of heels.
If your ceremony is more casual and pumps are not the vibe you're looking for, or if you're looking to change into a pair of comfortable flats for the reception, the following designers offer the perfect balance of style and comfort.
4. Badgley Mischka 'Gigi' Flats, $191 at Farfetch
Art Deco-inspired rhinestone crystals and sheer mesh panels define these comfy yet elegant wedding flats from Badgley Mischka
5. Jimmy Choo 'Romy' Flats, $625 at Farfetch

Jimmy Choo's classic Romy ballerina flats are updated with a platinum ice dusty glitter finish, making it a perfect bridal offering
6. Stuart Weitzman 'Anny' Mesh Bow Flats, $425 at Zappos

Providing comfort and timeless sophistication, the Anny Mesh Bow Flats are constructed from satin with a low-cut vamp and dipped sides
Low Heels: The Perfect Middle Ground for Your Wedding Day
Now, if you want more of a pop than flats but aren't ready to commit to the stiletto moment, a low heel may be the best option for your big day.
Low heels offer the perfect amount of support and sophistication for a wedding shoe. They are elegant enough to wear for the ceremony but also comfortable enough to keep on all night long. Low heels are perfect for any occasion, no matter how formal or casual.
7. Jimmy Choo 'Hya 45' Slingbacks, $795 at Mytheresa
A modern take on the classic slingback silhouette, the Hya is characterized by pearl embellishments, finished with a square toe and a short block heel
8. Badgley Mischka 'Madelyn' Kitten Heel D'Orsay Pumps, $215 at Nordstrom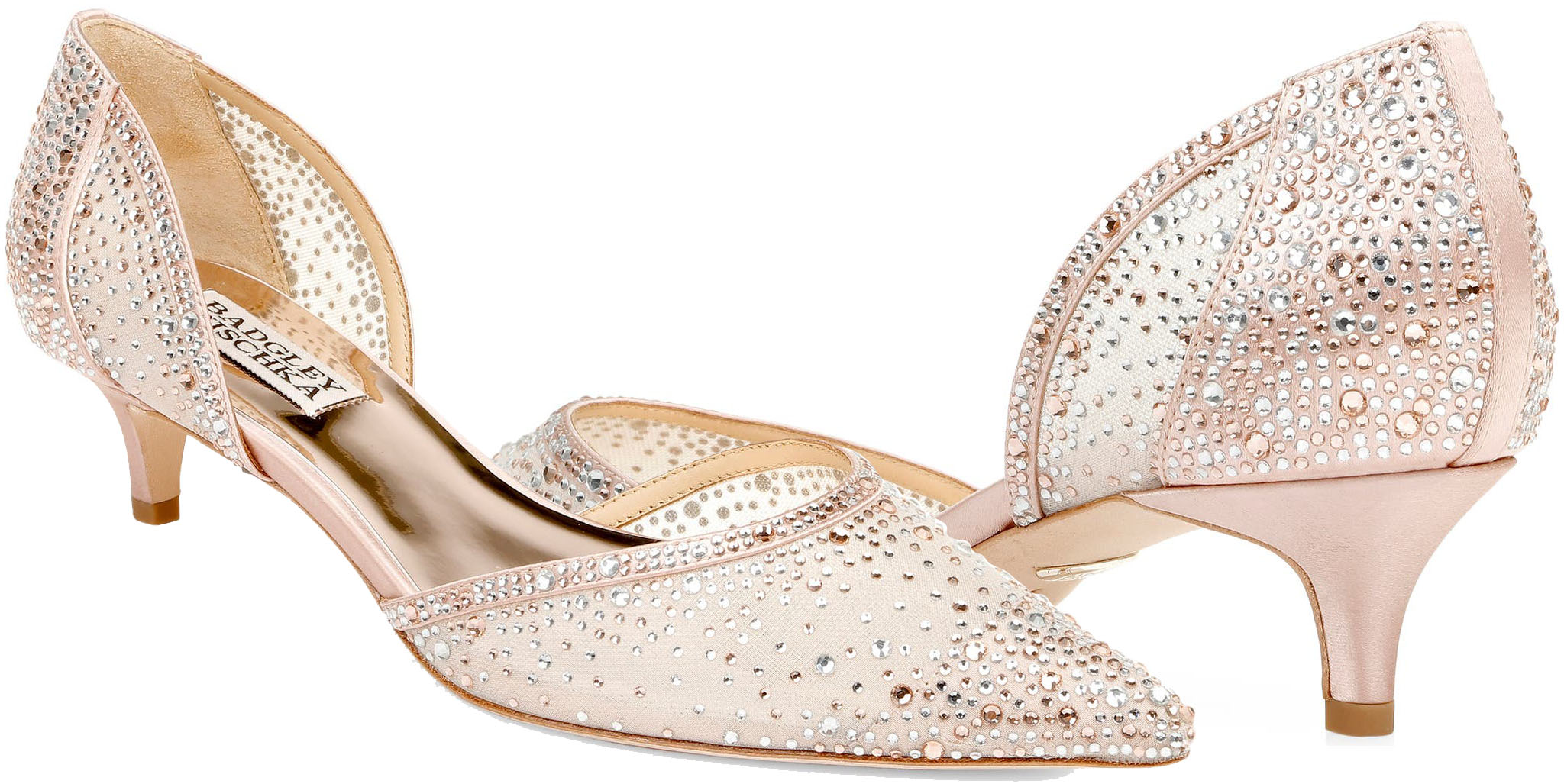 Giving any wedding dress a sparkling finish, the Badgley Mischka Madelyn slingback is adorned with tiny crystals all over, set on comfy kitten heels
9. Manolo Blahnik 'Carolyne Bride' Slingback Pump, $695
Simple but elegant, these white satin pumps from Manolo Blahnik will look perfect with just about any type of wedding dress
Block Heels: The Stylish and Comfortable Wedding Shoe Alternative
Wearing a block heel for your wedding shoe is another fantastic alternative to stilettos. Block heels allow you to gain the same desired height as a stiletto but will add enough support that your feet won't be in pain before you say, "I Do."
If you also don't often wear heels, a block heel is easy to balance and still gives off an air of sophistication and elegance.
10. Miu Miu Crystal-Embellished Block Heel, $1,148.73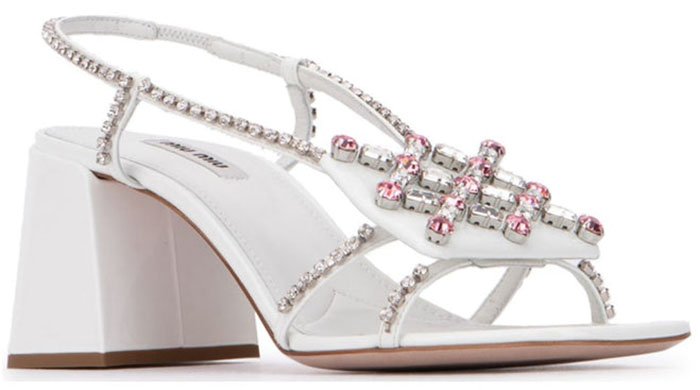 Made in Italy from white leather, these Miu Miu sandals with crystal-embellishments and block heels can elevate even the simplest wedding dress
11. Alexandre Birman 'Clarita' Block 60 Sandals, $595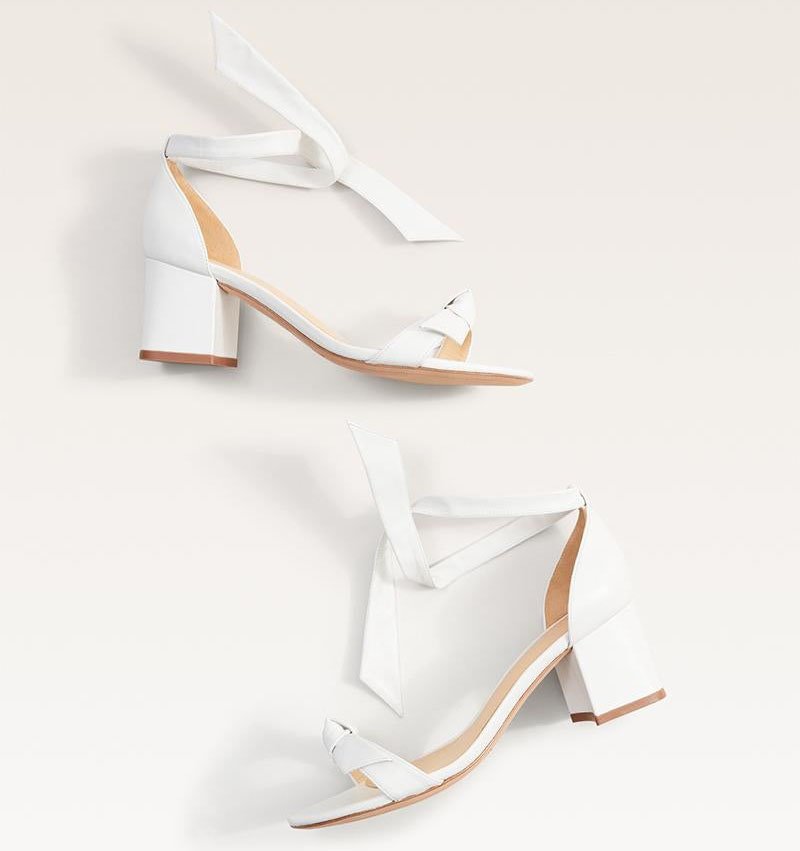 Alexandre Birman's classic Clarita bow sandals but with manageable block heels for effortless stride down the aisle
12. Salvatorre Ferragamo 'Vara' Chain Sandals, $695 at Farfetch
Versatile and comfy, Salvatore Ferragamo's Vara sandals have short block heels and braided leather-and-chain accents on the straps
Designer Sandals: Elevate Your Beach or Backyard Wedding Look
Ideal for a beach or backyard wedding, sandals allow for comfort and the perfect amount of added glamor. From the world of Louboutin to Dior, there is nothing "simple" about these stunning designer sandals.
Choosing a sandal for your wedding day will allow you to feel comfortable as you enjoy the festivities while giving you a high-fashion shoe moment you will never forget.
13. Christian Louboutin 'Loubi Flip Donna' Flats, $350 at Mytheresa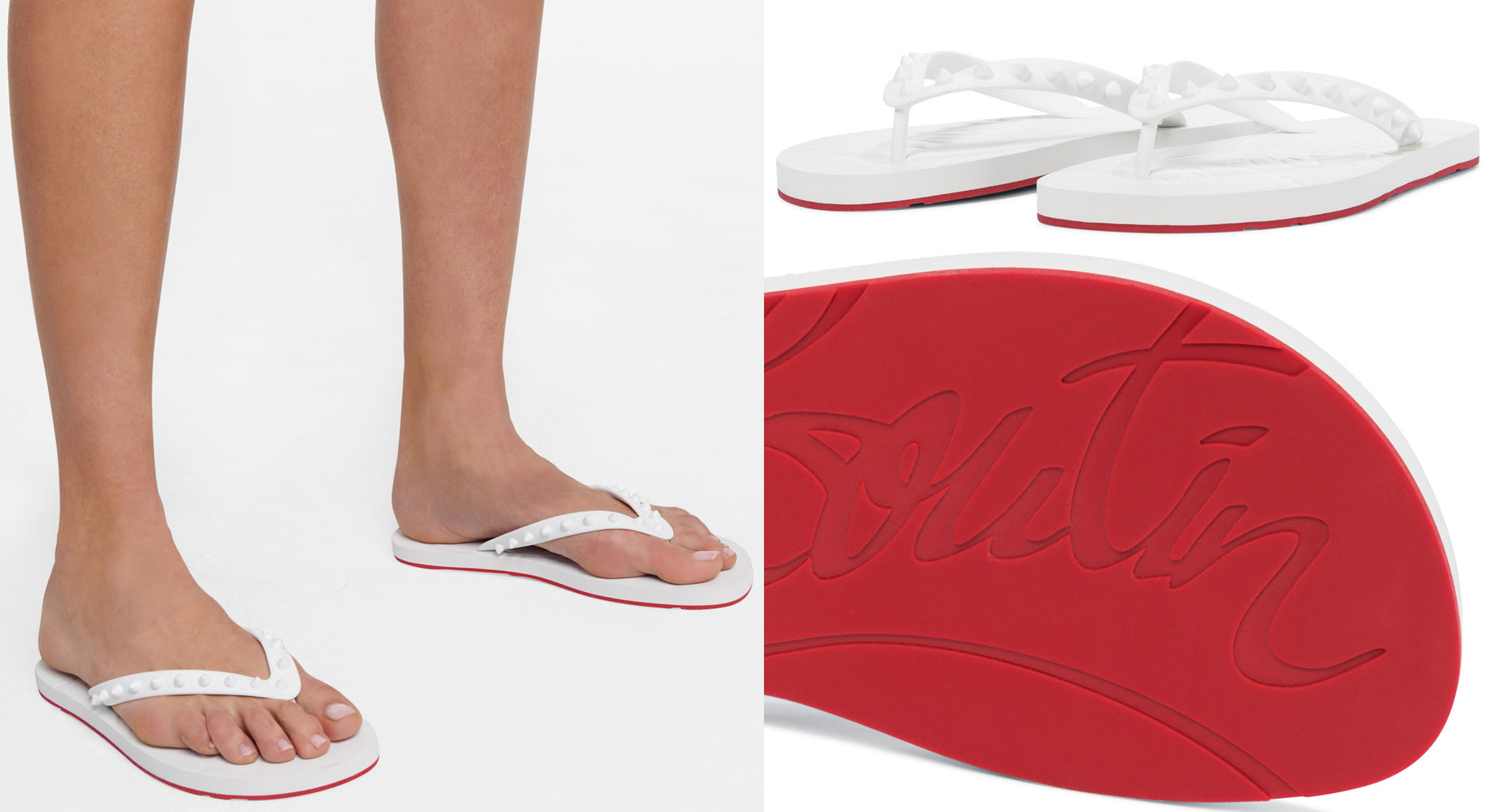 Add tough-luxe to a beach wedding look with the Loubi Flip Donna flat sandals, featuring tonal spikes along the straps
14. Dior 'Rhodes' Heeled Sandals, $1,150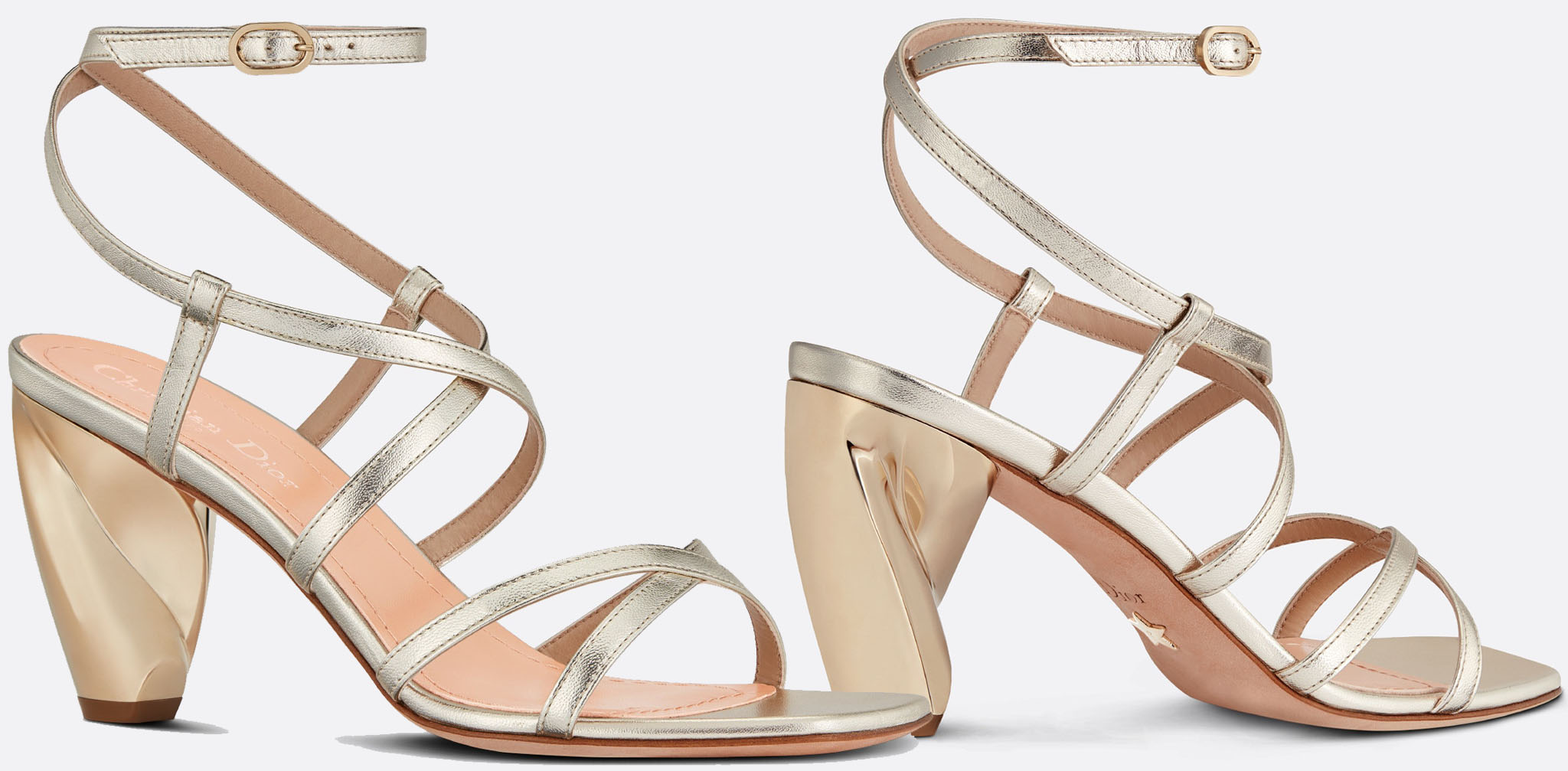 The strappy Dior Rhodes is characterized by the gold-finish architectural heel inspired by the sculptures of Constantin Brancusi
15. Reformation 'Eleonora' Slingback Block Heel Sandals, $228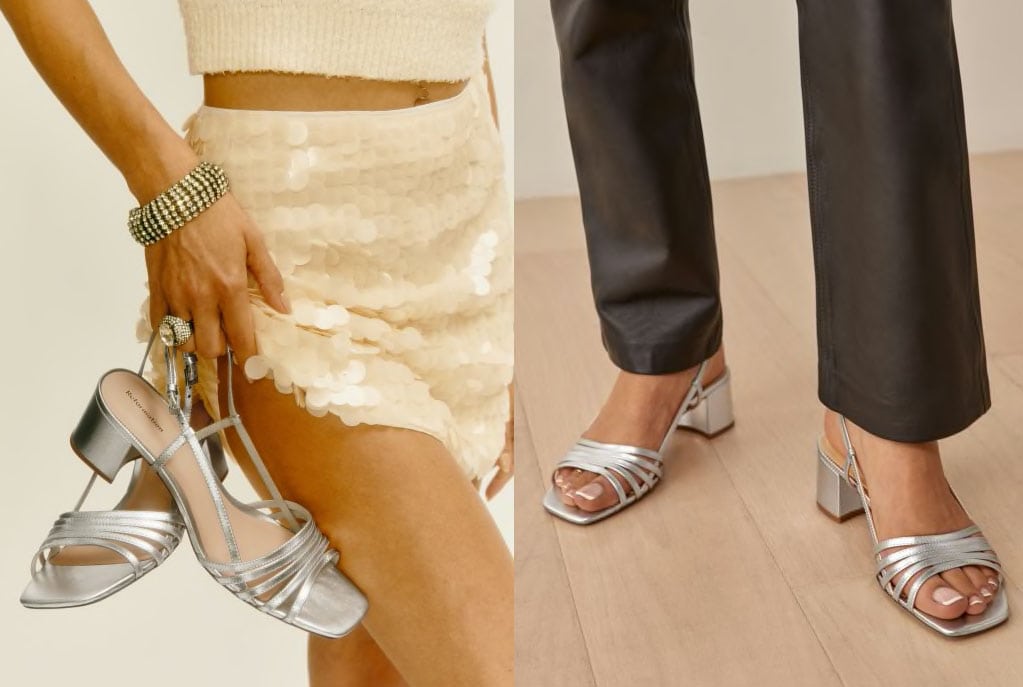 Complete a vintage wedding look with the '70s-inspired Eleonora metallic slingback sandals from Reformation
Chic Designer Sneakers for Your Non-Traditional Wedding
Whether you're a non-traditional bride who wants the casual chic wedding day look or just want to have the most comfortable shoes possible before you dance the night away, sneakers are another fantastic option for wedding day shoes.
Now, just because sneakers are not traditionally glamorous doesn't mean you can't find yourself a pair of chic designer sneakers. Just take a look at the list below and see for yourself.
16. Jimmy Choo 'Hawaii/F' Sneakers, $695
Go casual chic on your big day with Jimmy Choo's Hawaii/F sneakers detailed with light-catching pearls all over
17. Stuart Weitzman 'Goldie' Collapsible Sneaker, $295 at Zappos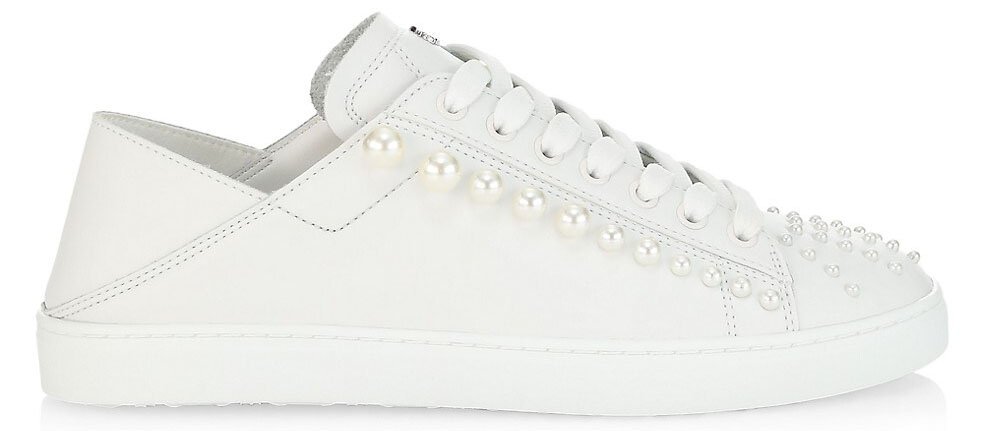 Stuart Weitzman's Goldie sneakers feature faux pearl embellishments and the option to wear as a backless style with the collapsible heel
18. Chloe 'Lauren' Slip-On Sneakers, $495 at Mytheresa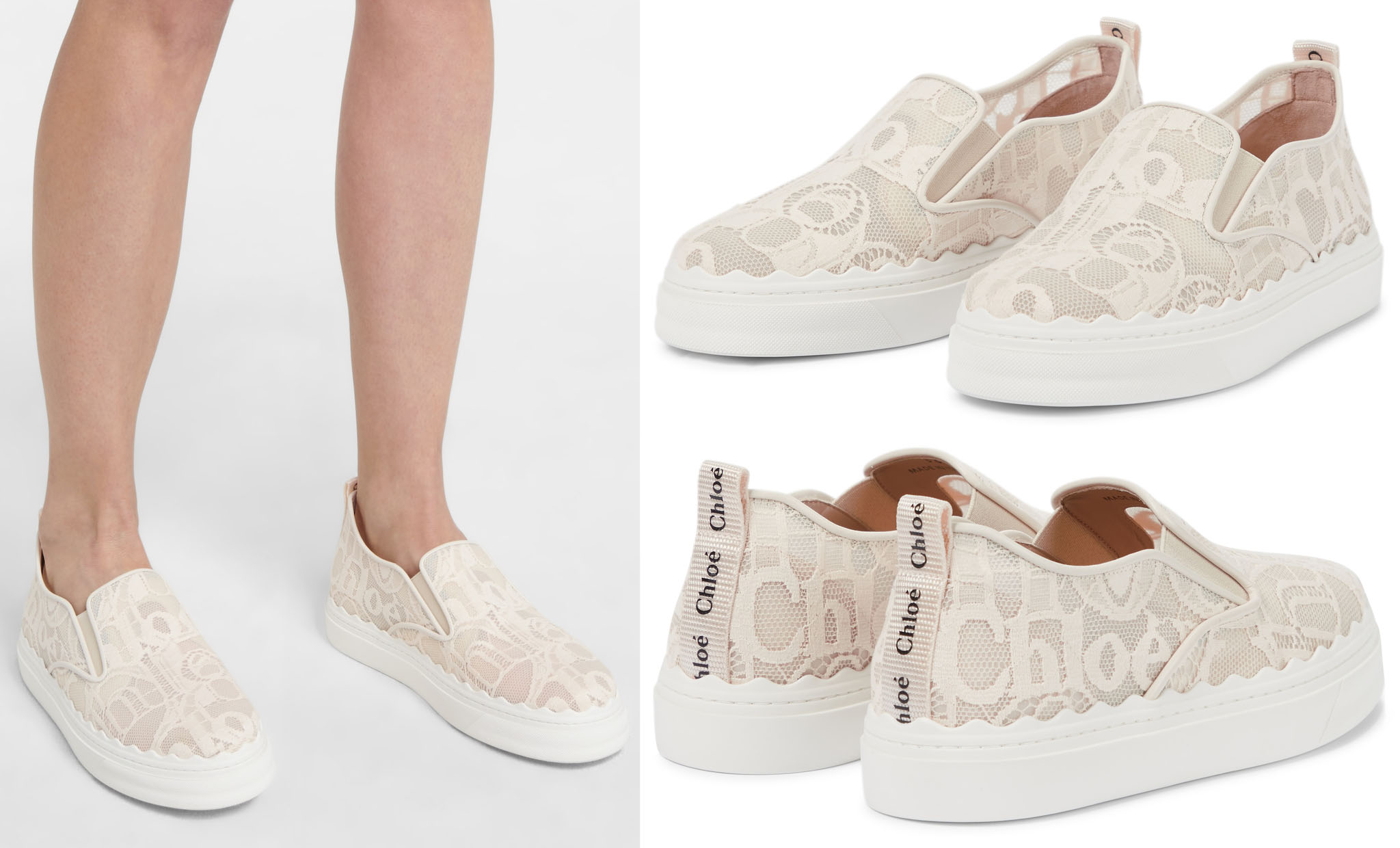 Chloe updates its signature slip-on sneakers in intricate, logo-adorned lace with scalloped trims for an ultra-feminine finish
Designer Ballet Slippers: The Perfect Comfortable and Chic Shoe for Your Wedding Day
Another alternative to uncomfortable high heels is ballet slippers. There's a reason the most elegant dancers wear these delicate shoes: they put all their weight on only the tips of their toes.
While you may not be doing any pirouettes on your wedding day, you will still be dancing for many hours and may want to have comfortable shoes to carry you through the night.
These gorgeous designer ballet slippers are the perfect addition to your reception or rock them during the entire ceremony and stay comfortable and chic on your special day.
19. Jimmy Choo 'Love' Flats, $695 at Mytheresa
Give your wedding look an ethereal finish with the Jimmy Choo Love flats, crafted from gathered ivory-white mesh with silver-tone glitter trim
20. Khaite 'Ashland' Bow-Embellished Leather Ballet Flats, $660 at Net-A-Porter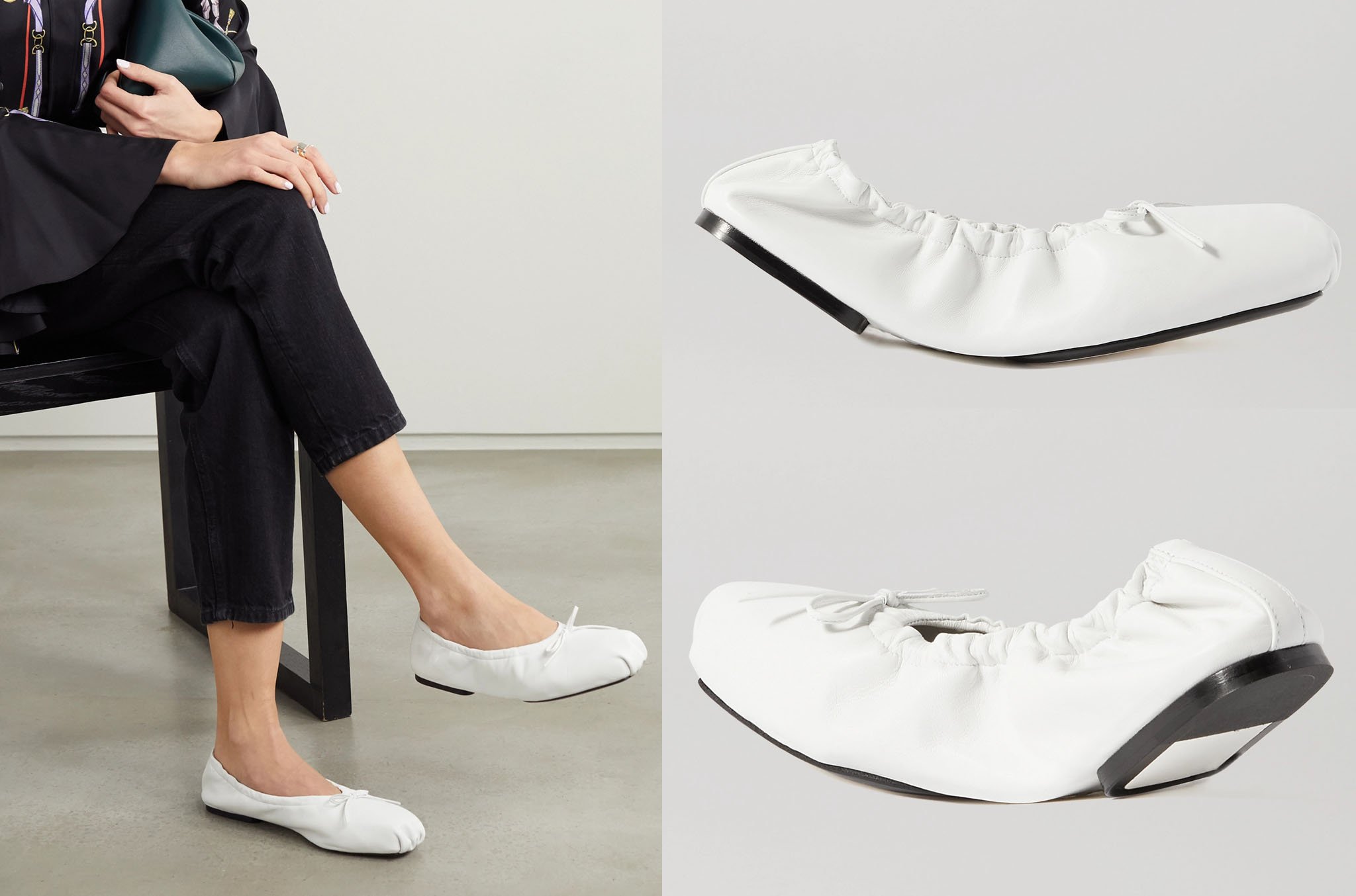 Comfy and versatile, Khaite's Ashland ballet flats are made from smooth white leather that gets even softer over time and features square toes inspired by pointe styles and a dainty bow for a feminine touch
21. Stuart Weitzman 'Gala' Maryjane Flats, $425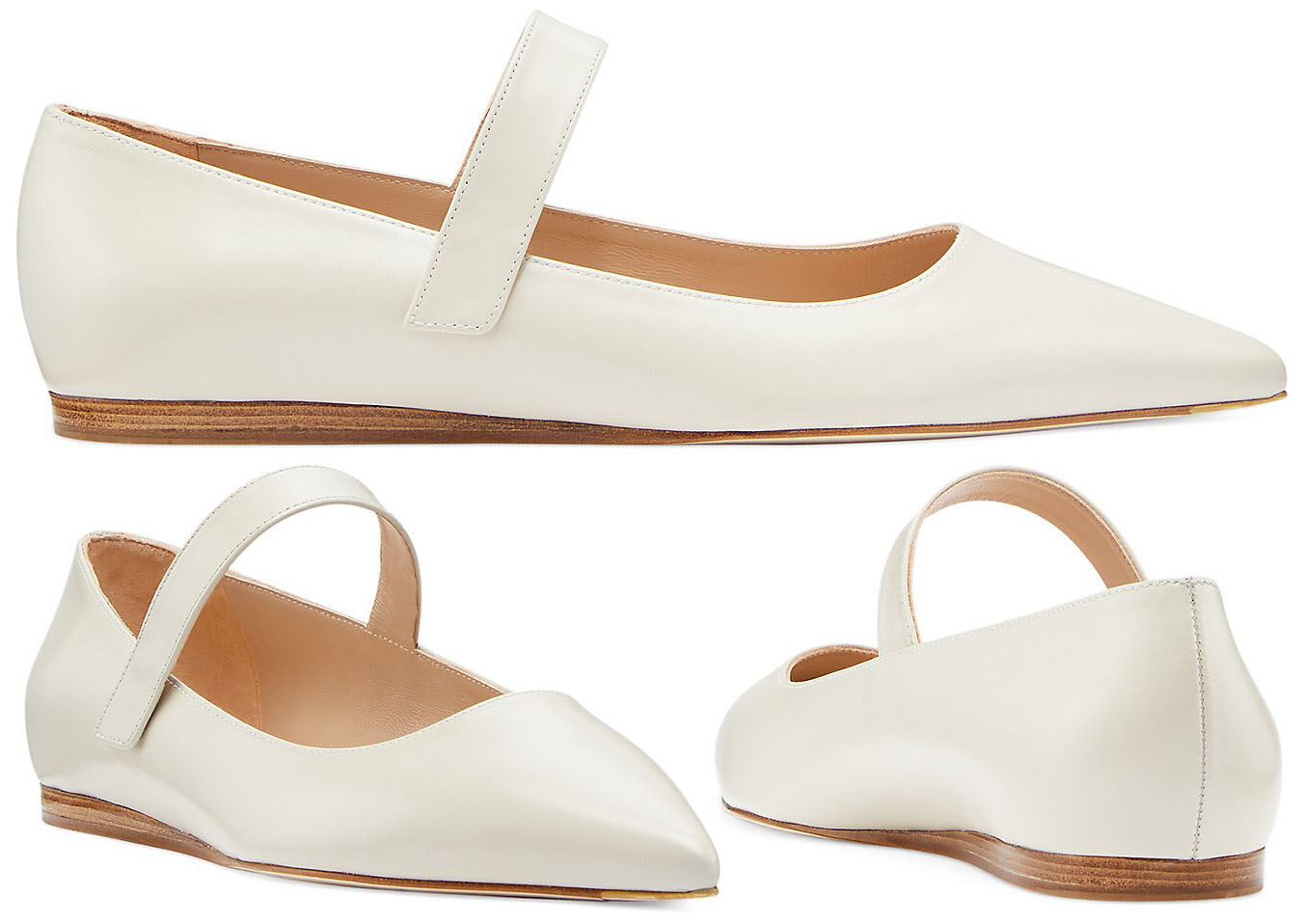 Stuart Weitzman's Gala features a streamlined pointed-toe look, offering a modern minimalist take on the classic Mary Jane silhouette