Shoe shopping is no easy task, either in person or online. Whether you're a shoe connoisseur with your own stockroom of shoes or if you're a minimalist with only a few pairs, shopping for shoes should be an enjoyable process.
If you have wide feet, you might be someone who avoids shoe shopping at all costs, as it can be a stressful experience.
We have a few tips and suggestions to make it easier for you to find the perfect wide width shoes for you that are comfortable without compromising on style.
We've rounded up the best styles of shoes for women with wider feet, as well as the best places online for you to shop.
How To Know If You Have Wide Feet
Did you know that you can have wide feet in any shoe size? Whether you're a size four or a nine, the width of your feet is rarely determined by their length.
Pregnant celebrities Kim Kardashian (L) and Myleene Klass (R) show off their feet (Credit: Mario Mitsis / WENN)
Most shoes that you can pick up from a department store are made to a standard size chart that only accounts for the average width of feet.
You might have tried a pair of shoes on and felt a pinch around your toes. Wearing shoes that are not wide enough to accommodate your feet can result in blisters and bunions, which can follow you for the rest of your life.
The width of your feet can change throughout your life, particularly if you gain weight or if you fall pregnant. It's perfectly normal to go up a shoe size when you gain weight or when your feet swell during pregnancy.
Along with changes in your body, as you get older, the shape of your feet can change again. Just because you were able to wear a regular-fitting shoe before, it doesn't mean that your foot shape is set in stone.
If you regularly suffer from blisters and feel like your feet are constantly being pinched, it's usually a clear sign that you need to look for wide width shoes.
Tips To Improve Comfort
In our early years, we measure both the length and width of our feet, but as we get older, we depend more on standard sizing charts and less on specific measurements.
You can measure your feet at home with a traditional measuring tape and compare your stats with size guides. Measuring your feet at home is easier than you would expect and involves measuring the widest part of your foot when your feet are bare.
If you're able to go into a store for a consultation, especially at a specialist shoe store with a Brannock Device, this can make your shopping a lot easier, and you'll be sure that you have the right measurements.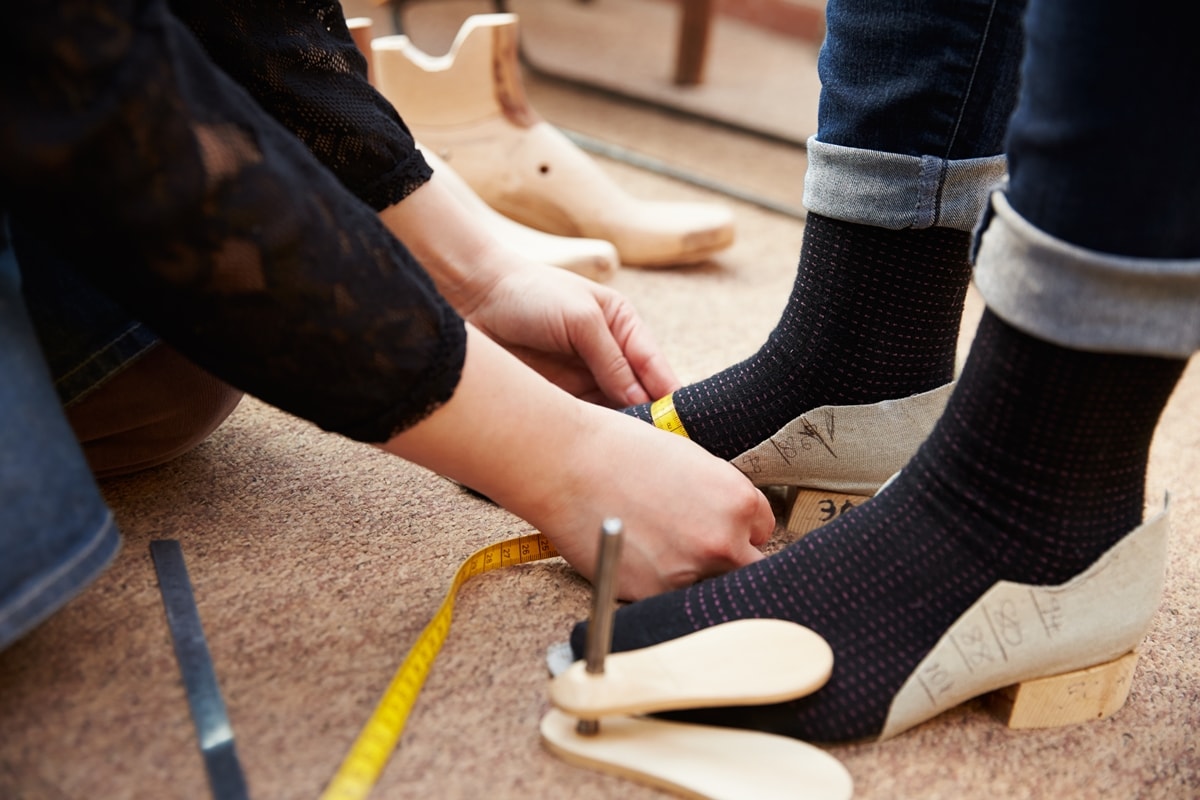 You can get your feet measured professionally by a podiatrist, use a Brannock device at a store or measure your shoe size at home (Credit: Monkey Business Images / Shutterstock)
When it comes to buying wide width shoes, the process can differ between brands. While your shoe size is assigned a number, you will typically find that the fit is given a letter.
Along with a regular fit (D), you can find narrow fits (C), wide fits (E), and extra-wide fits (EE). It's important to note that some brands can switch these up. For example, a 'D' is considered a wide fit for women with Brooks Running.
Unfortunately, much like with clothing, there is no standard size chart for widths, so you'll need to be aware of any nuances between different styles.
Some brands will only offer a regular fit, but more companies are becoming aware of the need for a size-inclusive range that is versatile both in traditional sizes and widths.
You can even find brands that are dedicated to plus-size fashion, including wide width shoes. Lane Bryant is a size-inclusive fashion brand that offers clothing in sizes 12 – 28.
Lane Bryant specializes in comfortable plus size boots and shoes that you can use for every occasion
Their collection has an extensive range of shoes, and they offer a wide width at both the sole and upper portions of the shoe.
Lane Bryant combines stylish shoes with a wide fit to give you maximum comfort, with styles including knee-high boots and ankle strap flats.
In the same way that regular shoes can fit differently, so too can wide fit shoes. Be careful not to buy shoes that are too wide to accommodate your feet as this can cause you to fall out of your shoes and can result in friction while you're walking which causes blisters.
Some people wrongly think that sizing up in their shoes will help their wider feet, but this can lead to a whole new series of problems.
If you want to invest in a comfortable pair of shoes, search for a pair in a natural material like leather that can mold to your feet.
For closed-toe shoes, you can add a memory foam insole for extra padding to give your feet more support and remove the pressure that can lead to blisters on the soles of your feet.
Lane Bryant's wide width shoes range in size from 7-12
Christian Louboutin's shoes are famously designed with the mentality that beauty comes with pain. His stiletto shoes are some of the most uncomfortable that you'll find anywhere in the industry, as they have an uneven pitch.
If you have wide feet and want to focus on comfort, swap out your stilettos for block heels. Not only are these heels easier to walk in, but they are also a popular choice for wider-fitting shoes, as the thicker heel can be balanced out with an expanded toe box.
Styles To Buy + Where To Find Them
Women who have wide feet often spend the summer months living in their flats and flip-flops. You want to invest in shoes with as flat of a sole as possible and avoid styles with an uneven pitch and finely pointed toe caps.
The same is true during colder months when you'll want to swap your sandals out for sneakers and ankle boots.
The key to finding the right style of shoe is to look for ones that can accommodate the entire shape of your foot, not just the widest part below your toes.
We've rounded up some of our top shoe styles for women with wider feet, along with the best online store to visit to get a pair of your own. Also, make sure to check out Nordstrom, which offers a big selection of wide width shoes in sizes 4 to 13.
1. Wide Width Comfort Shoes for Women at Birkenstock
One benefit of sandals is that they usually have buckle straps to make it easy to accommodate wider feet and to give you a custom fit.
Birkenstock sandals are a popular choice for both men and women as they have a mule-style backing with two oversized buckles.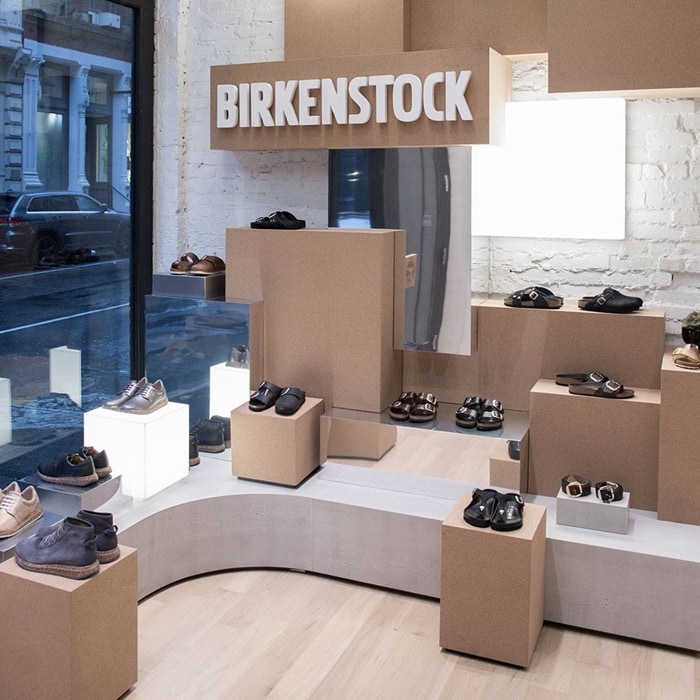 You can use the straps and buckles on Birkenstock sandals and shoes to adjust them individually to fit your foot
If you have wide feet, these are some of the most comfortable shoes that you can find online.
You can wear Birkenstock shoes religiously during the warmer months and retire them as shoes to wear around your house for autumn and winter.
2. Round-Toe Flats at Torrid
For those with wider feet, pointed shoes can be a nightmare. Choosing round-toe flats means that there is more space to accommodate your feet, and there is less likelihood of unpleasant pinching occurring.
If you want a pair of elegant-looking shoes that you can wear every day, then flats should be your go-to choice.
Torrid offers cute and comfortable wide with shoes in different styles
Torrid is another plus-size fashion brand that offers a full spectrum of stylish shoes with a wide fit. Their ballet shoes include a sparkly gold glitter style and a metallic faux leather option.
Torrid provides an extra-wide width fit with an extra cushioned footbed to relieve the pressure off every part of your foot.
You might assume that sneakers are the perfect shoes to buy for those with wide feet, but it can be more complicated than you expect.
We have experienced the pain of an uncomfortable pair of sneakers, particularly if you don't wear the right pair of socks to prevent rubbing against the back of your ankle.
Brooks Sports, Inc., also known as Brooks Running, is an American sports equipment company that offers men's and women's sneakers in a wide range of sizes
If you want a pair of sneakers – either for daily wear or working out – take a visit to your local shoe shop and try on several pairs. For sneakers that you intend to wear for exercising, you can have your feet measured at a professional running store to get the best fit.
Brooks Running offers a specialist range of sneakers for women that are designed with a wide fit to support you while achieving your fitness goals.
4. Chelsea Boots at Clarks
When it comes to buying quality shoes, you can never go wrong with a pair of Clarks. The shoemakers began in 1825, so it's no surprise that their brand caters to every size of foot.
If you're looking to shop online, their website is super easy to navigate, and you can filter the search results according to the width options.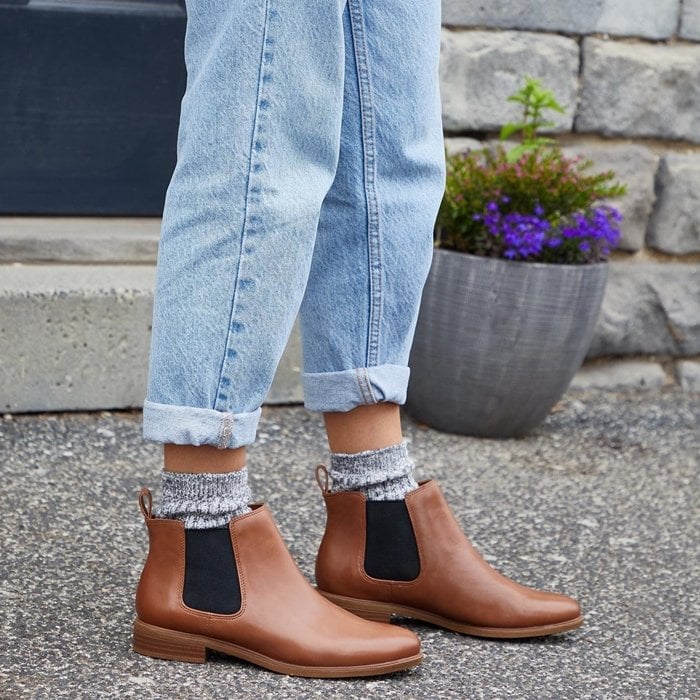 The Chelsea boot is a versatile style that is available in wide sizes at Clarks
Chelsea boots are ideal for wider feet as they typically have a round toe, and a small and thick heel with side panels that make it simple to pull the shoes onto your feet.
Often when you have larger feet, they can be more prone to sores and blisters. With a pair of Clarks boots, you can walk around all day and not need to worry about your feet becoming uncomfortable.
The Skechers' GoWalk shoes are a hybrid between a boat shoe and a sneaker. This pull-on style is available with a wide fit and includes Skecher's patented 'Ultra Go' cushioning for added comfort.
If you want a minimalistic pair of shoes that you can wear on the go while running errands, then these shoes by Skechers are a classic choice.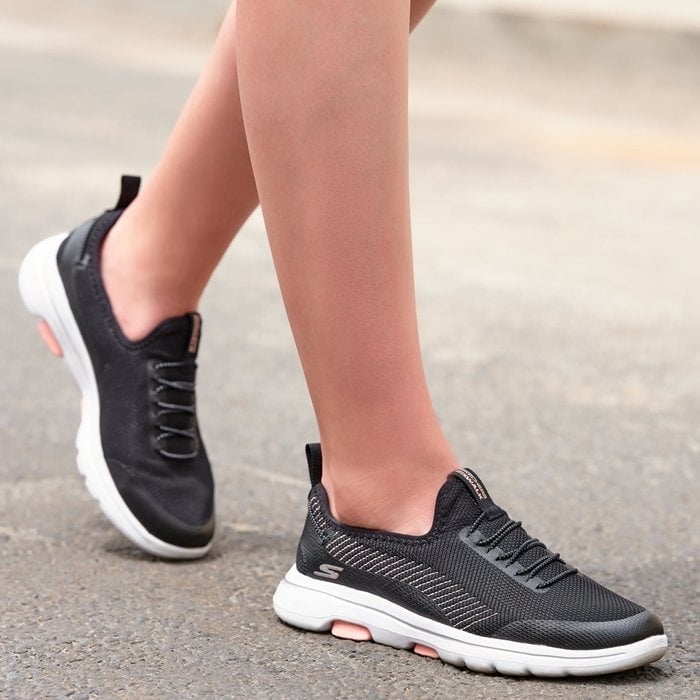 A leader in walking shoe technology, Skechers continues to innovate with the Skechers GOwalk shoes
While they have a simple design, they include innovative walking shoe technology that makes them the perfect shoe for anyone who suffers from bunions as a result of pinching to their feet.
Having wider feet doesn't mean that you can't have a Cinderella moment. When you are shopping for heels, keep an eye out for options that include a block heel for added stability. If you need a pair of shoes for a special occasion, then Sam Edelman can be your Prince Charming.
The brand's website has a specific wide width section which means it couldn't be easier to find a comfortable pair of shoes.
Sam Edelman makes it easy to find wide-width shoes
With the classic ankle strap open-toe shoes, you can benefit from the height of the heel, the comfort of the heel size, and the added width around your toes. Show off a freshly painted pedicure with this style of shoe and dance the night away.
If you want the elegance of wearing heels without the discomfort of stilettoes, then kitten heels are a go-to choice for anyone who has wide feet. This style of shoe is experiencing a resurgence as we all turn our focus on comfort.
No one wants to be crying over sore feet at the end of a night out. Sargasso and Grey is a UK company that offers global shipping with a focus on re-designing shoes with comfort in mind.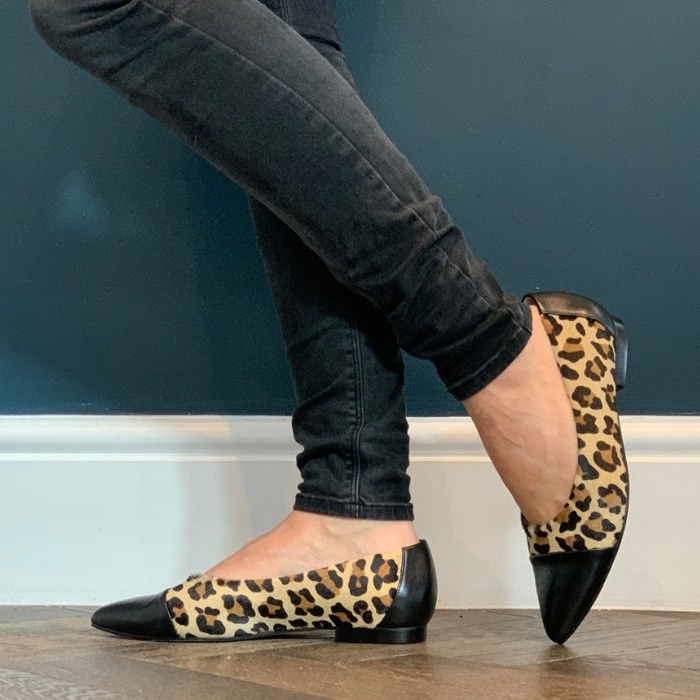 Sargasso & Grey's wide fit leopard print flats
Their designer kitten heels take their inspiration from some of the most sought-after silhouettes, with the bonus of being crafted with wide feet in mind. The Ava shoes are one of their best-sellers, and for good reason.
The Sargasso and Grey shoes feature a leather insole with memory foam padding to keep you standing in your heels all day, along with an extra-wide toe box to let you wriggle your toes.
8. Loafers at ASOS
As the fashion world is increasingly looking to the past for inspiration, it's no surprise that loafers are once again back in style.
Loafers are shoes that you can run around in all day without having to worry about your feet being pinched or having to deal with a nasty blister the next day.
ASOS is one of our favorite places to shop when you want as many options as possible. Their wide fit section includes hundreds of shoes, meaning that your shopping couldn't be easier.
You can pick up a pair of faux crocodile-skin loafers from the ASOS Design collection for an elegant look that can take you from work to evening drinks with your friends.
Wide fit mid-heeled ASOS loafers in black patent
Thanks to the internet, it's easier than ever to find stylish shoes that are created specifically for women with wider feet. As plus-size fashion brands have grown, so too have the options for wide width shoes.
You shouldn't feel that you have to compromise on style in other to get comfortable shoes. We hope that this article gives you some ideas of the styles that work best for wider feet, as well as the best places online to buy wide width shoes for women.
Remember, every brand will be different, and you should always check your feet measurements against their size charts to figure out your accurate sizing. Happy shopping!