Everyone needs a solid pair of walking shoes. They're the pair you reach for on days when you are running errands or being a tourist in a new city.
Walking shoes are also a staple for anyone trying to kickstart their fitness routine. Putting on your favorite podcast and going for a walk can have major health and wellness benefits.
Both the American Heart Association and Centers for Disease Control and Prevention (CDC) have said that regular walks can promote weight loss, lower your risk of heart disease and type 2 diabetes.
Walking is an excellent form of exercise and can help you reach your fitness and weight-loss goals (Credit: WENN)
While we all know the importance of choosing the right running shoes, your walking shoes require the same care and attention when purchasing.
You want to find the right walking shoes that can keep you on your feet all day long. Brooks Sports – also known as Brooks Running – is one of the most popular brands for walking shoes.
We're rounding up the best women's walking shoes from Brooks Sports and which easy style works best for you.
Brooks offers a wide selection of walking shoes for women
What to look for in walking shoes
When you're shopping for walking shoes, you can't just pick the first pair off the shelf. Podiatrists recommend that your walking shoes should provide both flexibility and support, giving you a bounce to help you achieve your best form and speed. Your walking shoes should offer support and comfort for your muscles and joints.
If you're planning on going walking, you need to switch out your tennis shoes or sneakers for specific walking shoes. Tennis sneakers aren't recommended for walking long distances, as walking shoes are designed to keep you going forward.
You always want to consider the type of feet you have when buying walking shoes. If you have high arches, you'll want extra cushioning to prevent a higher impact when your foot hits the ground.
Fans of pedestrianism, also known as competitive walking, hike in the Taklamakan Desert in Southwest Xinjiang in Northwest China (Credit: WENN)
If you're experiencing plantar fasciitis, you want to ensure you choose walking shoes with rearfoot support to prevent pain in your heel area.
Whatever type of walking shoes you're looking for, we're rounding up the list of the best women's walking shoes by Brooks Sports.
We're looking at the best styles for specific feet issues, including what customers have highlighted in their recent reviews on the styles. We'll help you find the right walking shoes that give you the support you need while still giving you breathing space.
1. The most versatile walking shoes by Brooks Sports
Meet the 'Addiction Walker Suede' shoes, the most versatile walking shoes in the Brooks Sports range. They're "softer than soft" and a firm fan favorite amongst the Brooks Running community.
These walking shoes offer a slip-resistant sole and maximum support, making them ideal for everyday runs and any kind of walking.
Addiction Walker Suede, $139.95 at Amazon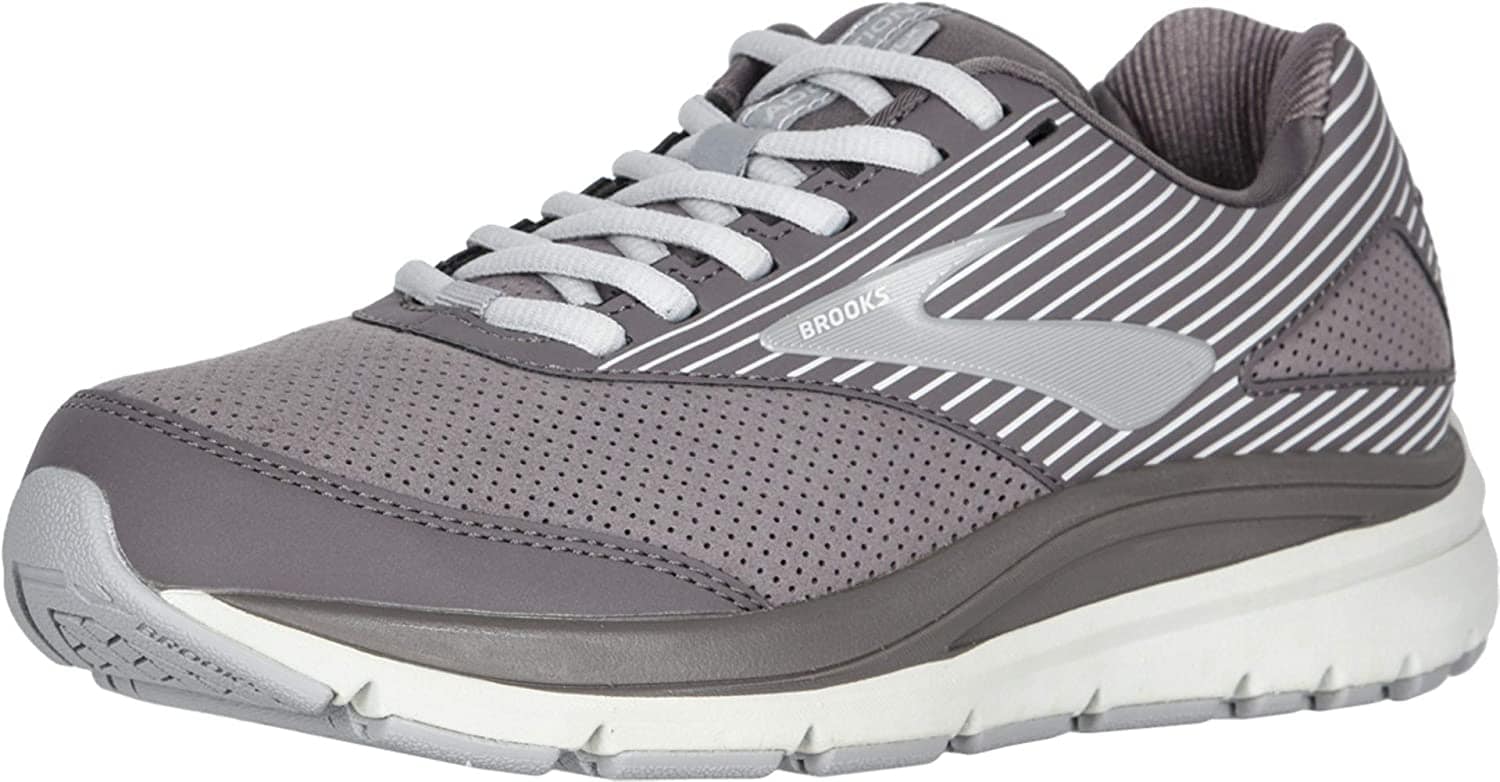 The Addiction Walker Suede has the sports label's extended Progressive Diagonal Rollbar (PDRB) support system for your entire body, guiding and keeping your body in its natural path of motion
The responsive cushioning works with the soft suede upper to mold to your feet, giving you exactly what you need. The 'Addiction Walker Suede' offers all-day comfort thanks to the extended progressive diagonal rollbar (PDRB) in the shoes, which work with your natural stride. The PDRB also offers targeted arch support to keep you moving all day long.
These walking shoes are made using Brooks Sports' 'BioMoGo DNA' cushioning, which offers adaptive comfort as you walk. The shoes are designed to help reduce the impact of walking on your joints, making them ideal for power walking or if you're on your feet all day long.
What reviews say: "These shoes are more comfortable than any walking shoes I have ever had. They make me very stable and strong as I walk. I'll be buying another pair. They do run a little short if you wear thicker socks, so I recommend ordering up 1/2 size. I truly love them!"
2. Best walking shoes for people with high arches
People with high arches usually have increased pressure on the forefoot and the heel when walking or standing, which is why they are more are susceptible to developing many painful feet problems, including ankle sprains, stress fractures, and corns and calluses, and tight calf muscles.
Adrenaline GTS 21, $109.98 – $336 at Amazon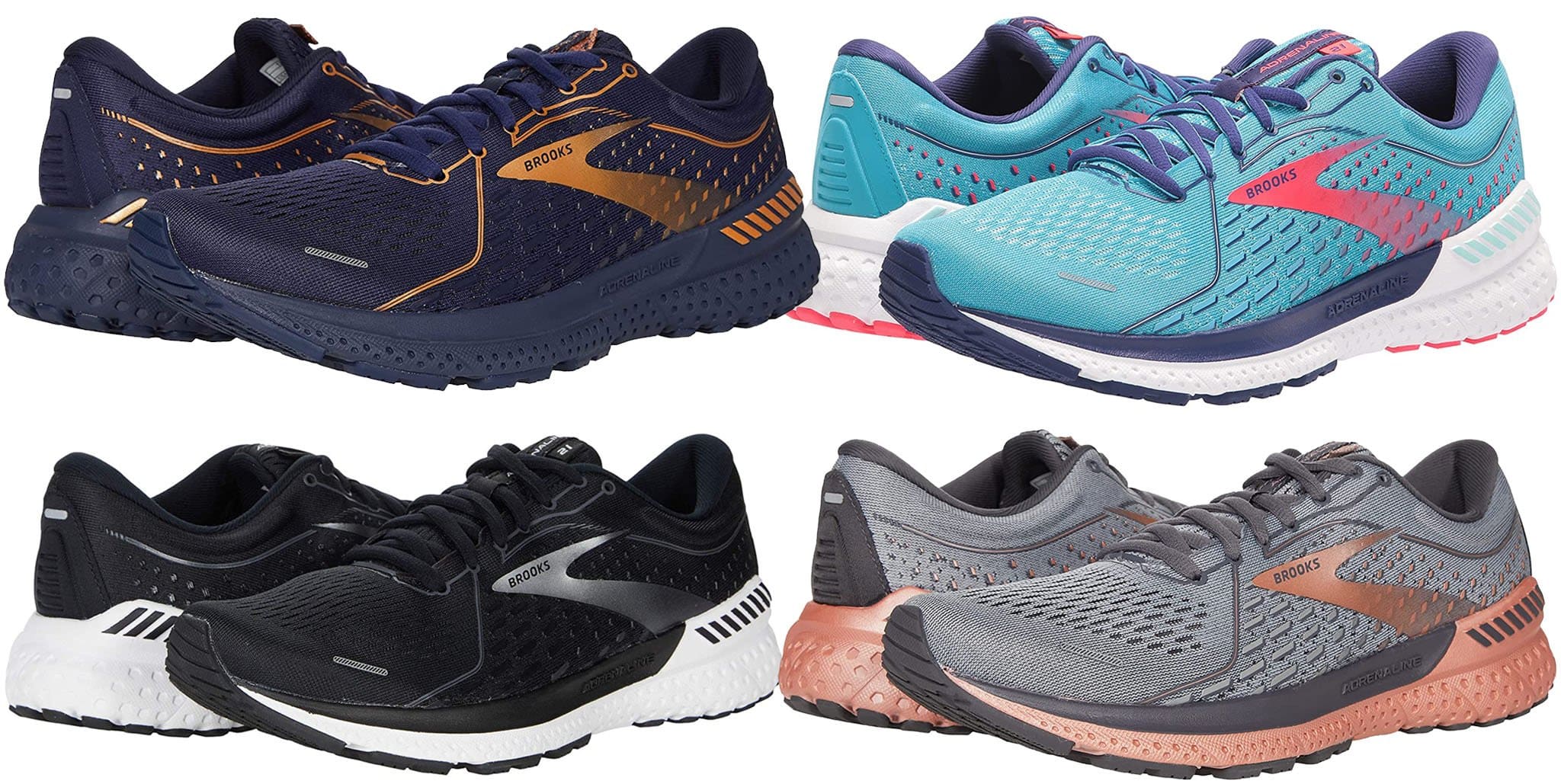 The Adrenaline GTS 21 is perfect for those with high arches as it features DNA Loft Crash Pad that delivers plush support
If you're looking for walking shoes designed specifically for your high arches, Brooks' 'Adrenaline GTS 21' has you covered!
It's incorporated with the DNA Loft Crash Pad that offers soft and smooth cushioning, and it works with BioMoGo DNA that responds to every stride, reducing pressure on the foot.
A certified PDAC A5500 Diabetic shoe, the 'Adrenaline GTS 21' has a streamlined, engineered mesh upper with 3D Fit Print that offers the structure and proven fit the Adrenaline is known for.
What reviews say: "I have tendinitis in my feet and these shoes are so comfortable. I have tried several other brands that make my feet ache after a couple of hours but I can wear these all day with no pain. I would probably sleep in them if I could, they feel that good. Definitely worth the price."
3. Best walking shoes for bunions and plantar fasciitis
Are you on the lookout for streetwear-ready walking shoes? The 'Addiction Walker 2' sneakers are a classic monogram style that you can wear with everything from loungewear to jeans or your go-to gym kit.
Available in both white and black, the 'Addiction Walker 2' sneakers come in four width options for a custom fit.
Addiction Walker 2, $129.95 at Zappos
Ideal for both long and casual walks, the Addiction Walker 2 has a roomier fit that provides maximum support for your low arches and control for your overpronation
If you have bunions or suffer from plantar fasciitis, these walking shoes are available in both a wide (1D) and extra-wide (2E) width.
These shoes are great for those who are looking to incorporate walking into their daily exercise routine. The leather uppers are stylish, while the slip-resistant sole offers added support.
We love the maximum support, cushioning, and slip resistance that these shoes offer. They're versatile enough to also serve as running shoes as you start to take your daily walks to the next level. The 'Addiction Walker 2' sneakers offer maximum support and all-day comfort.
What reviews say: "Best shoes for walking ever – I have ankle and knee problems and first got these to help recovery from plantar fasciitis. This is my third pair."
4. The best budget-friendly walking shoes by Brooks Running
Looking for walking shoes that won't break the bank? Check out the 'Addiction Walker V-Strap 2' sneakers from Brooks Running, which are also ideal for fans of velcro shoes or those who struggle with laces.
These walking shoes are one of the most affordable sneaker options from Brooks Running, coming in at $130 retail. Available in both white and black, you have three width options to choose from.
Addiction Walker V-Strap 2, $129.95 at Zappos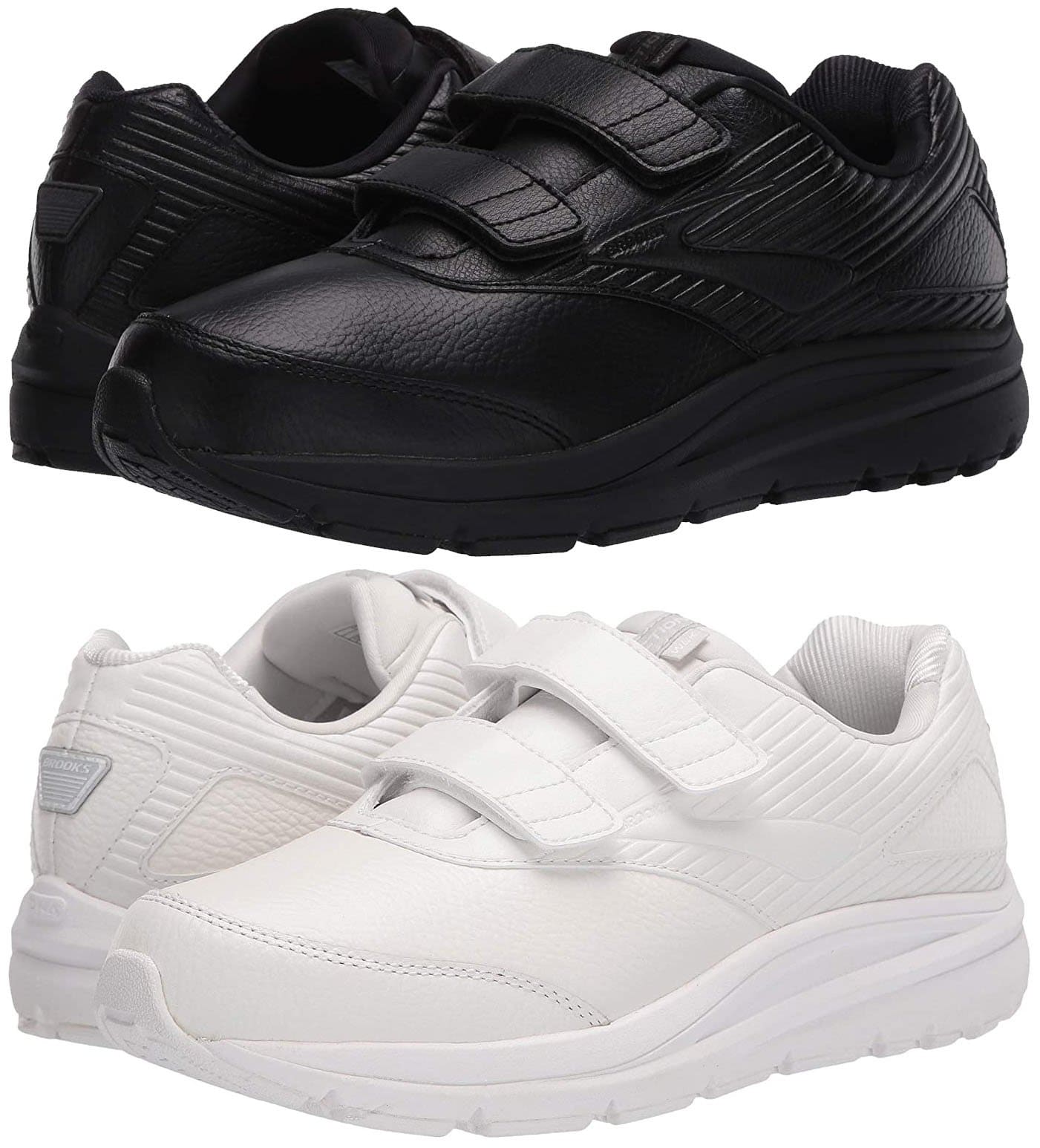 The Addiction Walker V-Strap 2 provides comfort and durability with a durable full grain leather upper, adjustable straps, and reliable slip resistance
These women's walking shoes are easy to take on and off, with responsive cushioning and maximum support, combined with slip resistance. The shoes feature Brooks Sports' BioMoGo DNA cushioning that reacts to your unique stride to help reduce the impact of walking on your joints and muscles.
The 'Addiction Walking V-Strap 2' walking shoes give you everything that you need without breaking the bank.
What reviews say: "I needed a safe walking shoe to accommodate my balance challenges from Multiple Sclerosis….the shoes provide a stable support base and the leather completes the look and feel of a well-made, comfortable, walking shoe."
Still looking for more walking shoe options? You can check out the full range of Brooks Running walking shoes at Brooks Running.