Running is one of the cheapest types of exercise and meditation available to the general public simply because all you really need to get started is a spark of motivation and a solid pair of shoes.
Unfortunately, picking the perfect pair of running shoes is not always the easiest task. There is a plethora of variables to consider—material, weight, style, not to mention the way your feet are shaped—and not every running shoe brand caters to your specific needs.
There are a lot of factors to consider when buying the perfect running shoes suitable for your feet (Credit: Pavel1964 / Shutterstock)
What makes finding a suitable pair of running shoes so difficult is that they need to be worn in order to decide if they are right for you.
Though sporting goods stores can be helpful, they typically carry a rather meager selection of styles and brands, and online shopping means you don't have the option to run around the store to test a pair of running shoes!
Luckily, most of the running shoe brands below have rather flexible return policies, allowing you to put your new shoes through the wringer before settling on a purchase. Just don't get them dirty if you think you may send them back!
Whether you are a seasoned marathon runner or just beginning to jog around your block, there is a running shoe brand out there for you. In alphabetical order, here are ten of the best running shoe brands and what you need to know about each company—before you purchase their shoes.
1. Adidas- German Footwear Technology
Unlike the running shoes your parents wore, Adidas does not sacrifice style for function and comfort. Popular with both runners and streetwear enthusiasts alike, the brand has been committed to making high-quality running and sports shoes since its inception.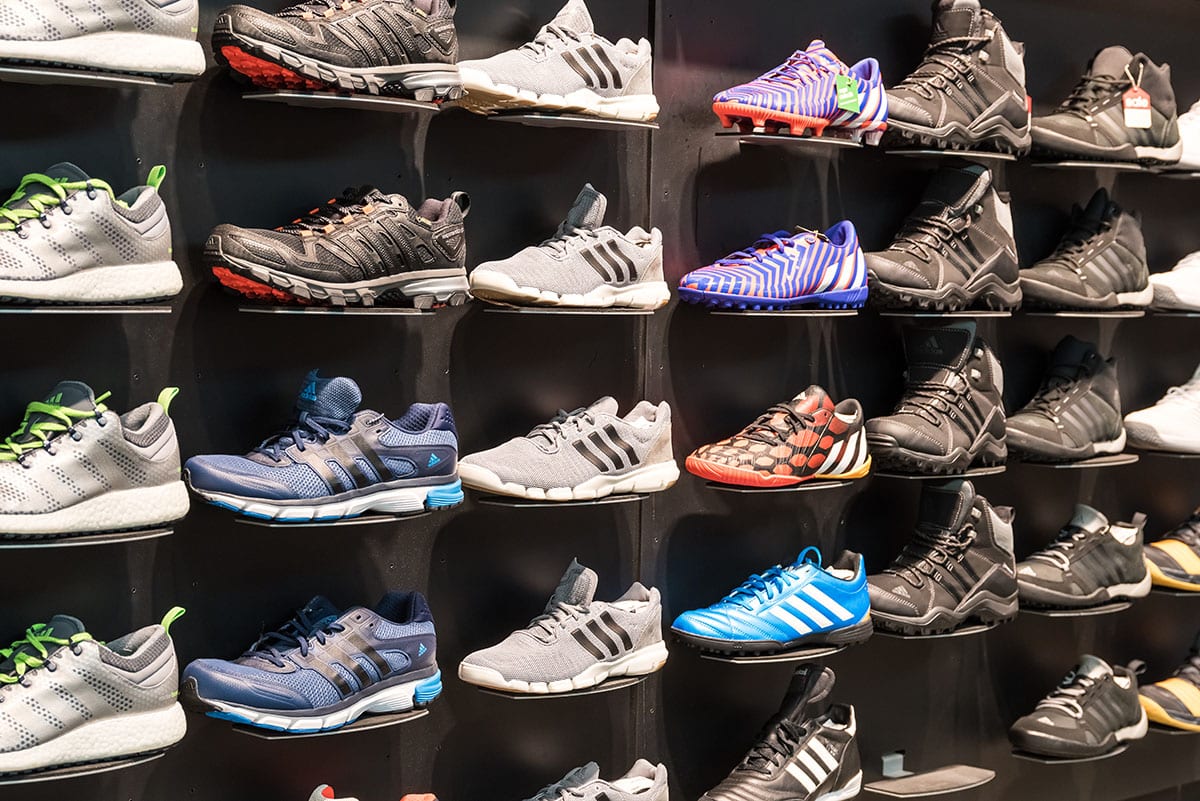 Adidas offers shoes for both runners and streetwear enthusiasts (Credit: Radu Bercan / Shutterstock)
First founded in 1924 in Germany by Adolf Dassler—the brand's name is a mash of its founder's name, "adi" for Adolf and "das" for Dassler—Adidas is a multinational corporation owned by its namesake Adidas Group.
Are Adidas running shoes made in China?
It is difficult to pin down exactly where every Adidas running shoe is manufactured, but according to the Adidas Group, 27% of the company's shoe manufacturers are based in China, while the remainder of the factories is based in India, Indonesia, Vietnam, Japan, Korea, Taiwan, Thailand, Cambodia, Pakistan, and the Philippines. There is little comparison available to see if the quality of Adidas shoes varies depending on where they are manufactured.
The Best Adidas Running Shoes:
1.1 Adidas Ultraboost, $80 – $300 at Farfetch and Zappos
The Adidas Ultraboost boasts the sportswear giant's full-length Boost midsole, elastic Primeknit upper, and Continental rubber outsole
1.2 adidas Supernova, $80 – $133 at Zappos and Farfetch
A well-cushioned, neutral shoe, the Supernova features a mix of Bounce and Boost in the midsole, providing comfort and energy return
2. Altra – Road and Trail Running
Based on the Latin word altera, which means "to fix or mend something that is broken," Altra is a brand that got its start by making shoes that support the foot and prevent injuries that are common in runners.
Altra is a brand that helped spearhead "smart shoe" technology, analyzing common ailments in runners and using AI-harvested data to create footwear to correct them.
Altra Running is known for its comfortable, top-quality shoes perfect for trail or road running (Credit: Altra Running)
Owned by the VF Corporation, a conglomerate that owns other brands such as Lee, The North Face, Vans, Timberland, and Wrangler, the corporation still manages to pay enough attention to Altra to produce comfortable, long-lasting running shoes.
Though the brand was founded in Utah, United States, the majority of Altra's running shoes are manufactured in countries across the continent of Asia, with the bulk coming out of China.
The Best Altra Running Shoes:
2.1 Altra Escalante Racer, $97.10 – $183.71 on Amazon
Featuring a static-mesh upper, these race-ready shoes are built for both speed and performance with the Altra EGO midsole that provides more return and response
2.1 Altra Vanish Carbon, $240 at Altra Running
Made of breathable engineered mesh, these carbon half-plated shoes are equipped with Active Stance Rocker for a more efficient toe-off and designed with the Altra EGO Pro midsole foam and Slim FootShape fit for a secure and stable fit
3. ASICS – Japanese Running Shoes
It would be easy to think that ASICS gets its name from the word "basics"—they provide the basics for runners—but that would be wrong.
According to the brand itself, ASICS is an acronym for the Latin expression derived from Roman satirist Juvenal, Anima Sana In Corpore Sano, which means "you should pray for a healthy mind in a healthy body."
ASICS is a Japanese multinational corporation that produces sportswear, including footwear, clothes, and accessories (Credit: taurusphoto / Shutterstock)
Founded by Kihachiro Onitsuka in China—the majority of the brand's shoes are still manufactured there—with the goal to promote healthy lifestyles, ASICS delivers on that promise with comfortable shoes in almost every style of running shoe imaginable.
That being said, most ASICS styles look like running shoes—you won't be able to wear them to the bar with your little black dress.
The Best ASICS Running Shoes:
3.1 ASICS GEL-NIMBUS LITE 3, $160 at ASICS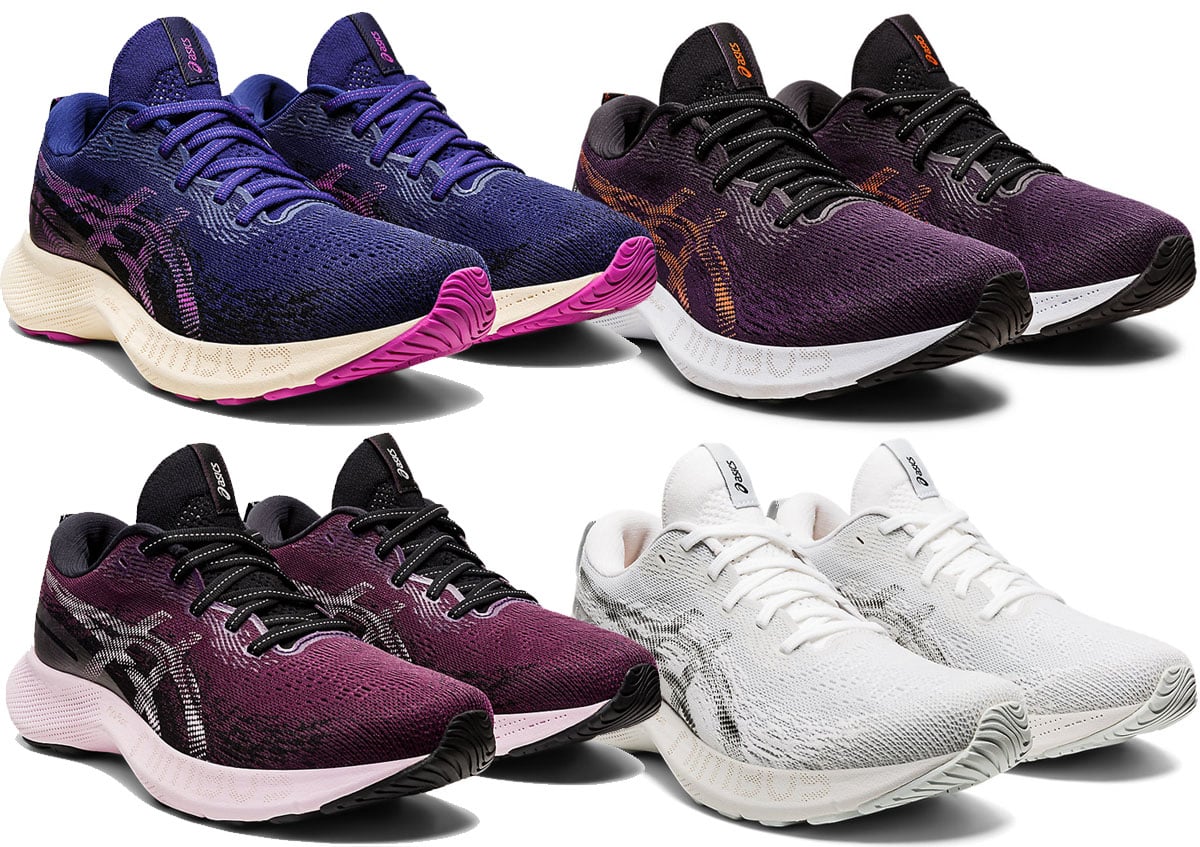 Designed with recycled materials, the Gel-Nimbus Lite 3 boasts a mesh upper with FLYTEFOAM midsole cushioning and rearfoot and forefoot GEL Technology Cushioning System
3.2 ASICS NOVABLAST 3, $139.95 – $159.95 on Amazon
Made of jacquard mesh, the Novablast 3 draws inspiration from a geometric origami and features a gusseted tongue wing fit system, heel stabilizer, and FF BLAST PLUS cushioning
4. Brooks – Fierce American Running Shoes
Strangely enough, this running shoe brand originally manufactured ballet shoes and bathing slippers (whatever those are) when it was founded in 1914.
Now, Brooks is one of the biggest names in running shoes, putting runners and joggers at the forefront of their operations.
Brooks is a Seattle-based apparel company that designs and markets high-performance men's and women's sneakers, clothing, and accessories (Credit: Miet Astlen / Shutterstock)
A subsidiary of Berkshire Hathaway—a corporation that dips its foot into nearly every industry and owns companies like GEICO, Helzberg Diamonds, and Pampered Chef—Brooks escapes hefty tariffs and taxes by manufacturing 55% of their running shoes in Vietnam and the other 45% in China.
Still, Brooks is one of the most popular brands with runners due to their shoes' comfortable fit.
The Best Brooks Running Shoes:
4.1 Brooks Ghost 14, $140 at Zappos and Amazon

These road runners offer neutral support while providing high energizing cushioning
4.2 Brooks Glycerin 20, $125.05 – $275.63 at Zappos and Amazon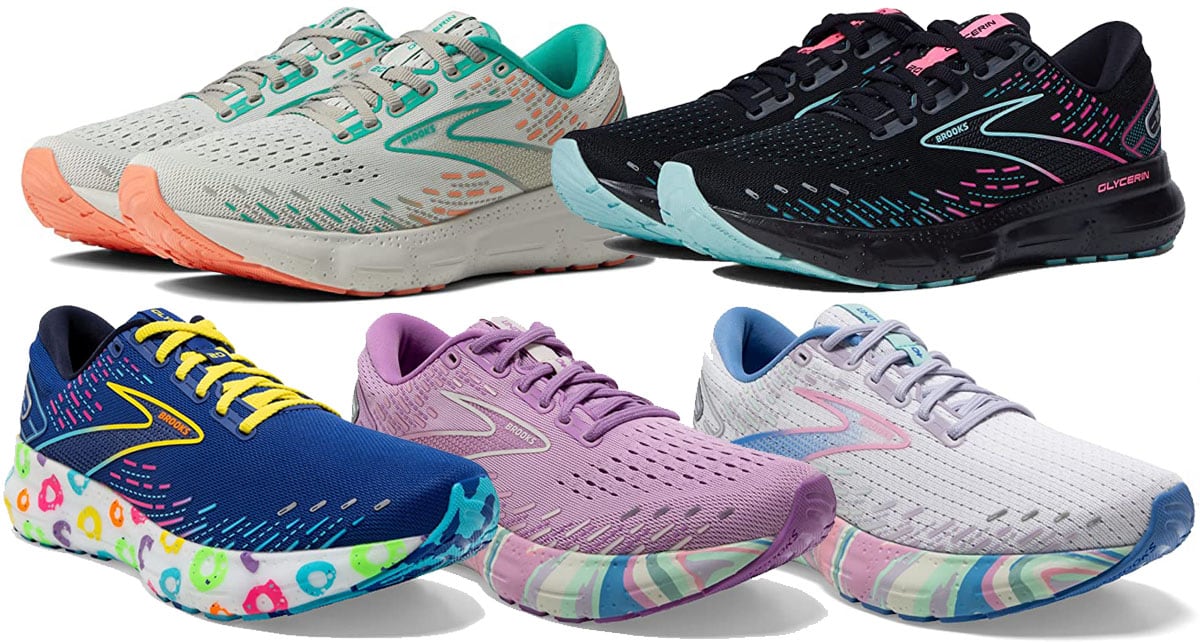 Chic and comfy, the Glycerin 20 boasts Nitrogen-infused DNA LOFT v3 super soft cushioning, plush and breathable engineered textile and synthetic upper, and a widened platform
5. HOKA – French Design Cloud Shoes
A favorite with ultramarathon runners, this French-born company gets its name from the Māori phrase meaning "fly over the Earth."
HOKA focuses on lightweight, functional, and form-fitting designs that won't drag the wearer down after miles and miles on the road—or off the road!
Hoka is known for its highly cushioned yet lightweight shoes, best for long-distance running (Credit: Everything You Need / Shutterstock)
HOKA is owned by Deckers Brands, a parent company known for its shoe brands, including UGG, Teva, Sanuk, and Koolaburra. Deckers Brands' subsidiaries are allegedly based around the world, but most of the factories themselves are based in China, Vietnam, Cambodia, and the Philippines.
HOKA is a running shoe brand that has become popular with runners and everyday sneaker-wearers alike due to the comfort and low-key profiles of its styles.
The Best HOKA Running Shoes:
5.1 HOKA Clifton 8, $139.95 at Zappos and Farfetch
Soft and light, the Clifton 8 is crafted with a lighter, more responsive midsole, an engineered mesh upper, and a flexible traction outsole
5.2 HOKA Rocket X, $199.95 at Zappos
A lightweight, responsive shoe, the Rocket X offers a springy response with a soft midsole carrier, mesh upper, and a rubberized foam outsole
6. Karhu – Finnish Comfortable Running Shoes
Founded in 1916, Karhu is a Finnish brand through and through, earning itself the honor of being the brand worn by the first "Flying Finns," Ville Ritola and Hannes Kolehmainen.
Named after the Finnish word for bear, Karhu allegedly was the originator of the "three stripes" brand imagery, which the brand's website claims to have later sold to Adidas—though they say this without directly naming their competitor, of course.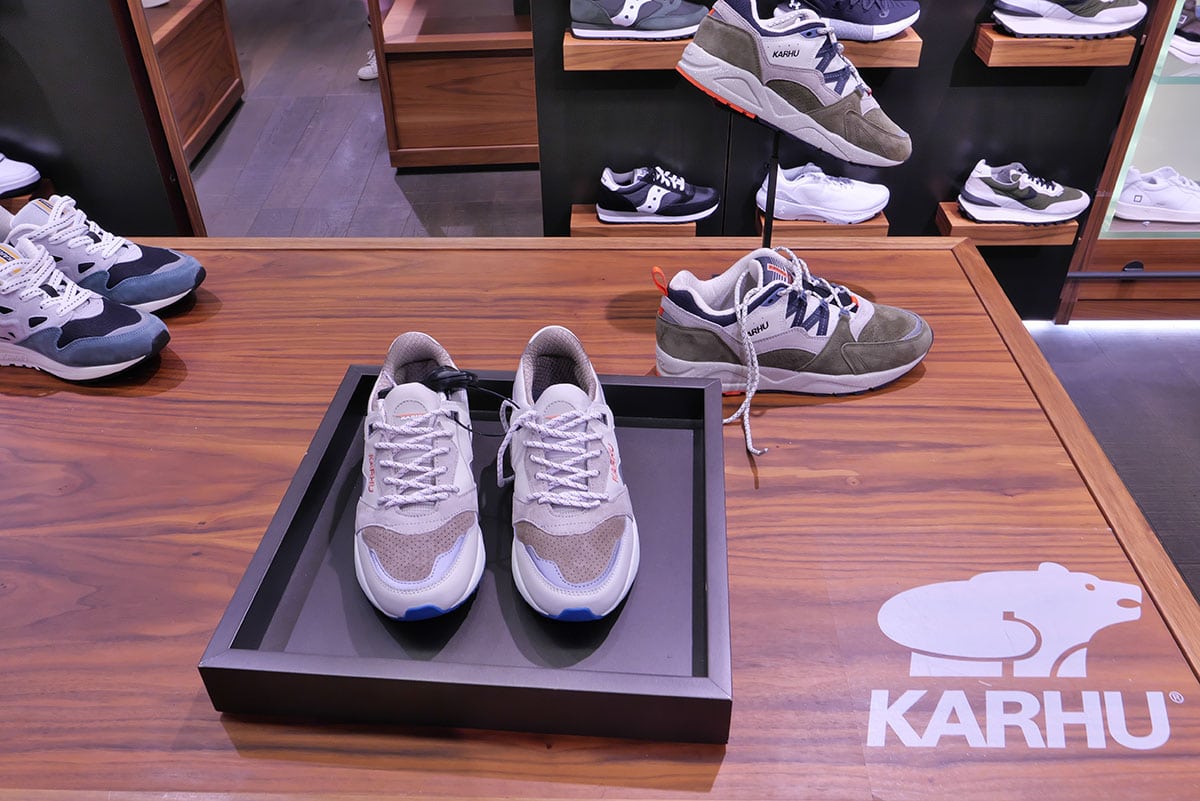 Karhu is a sports equipment company that provides shirts, jackets, and sneakers, with a focus on running (Credit: REPORT / Shutterstock)
Karhu may not be the most well-known running shoe brand on this list, but the brand is respected in the running community and many Olympic athletes have earned gold medals wearing Karhu running shoes.
Where are Karhu running shoes manufactured?
Better yet, Karhu stays true to its roots, manufacturing all of its running shoes in Finland rather than outsourcing production to other countries with cheaper labor costs.
Karhu may not offer the most fashionable running shoes we have ever seen, but we have to give them credit for their manufacturing processes and Finnish pride.
The Best Karhu Running Shoes:
6.1 Karhu Ikoni Ortix, $140 on Amazon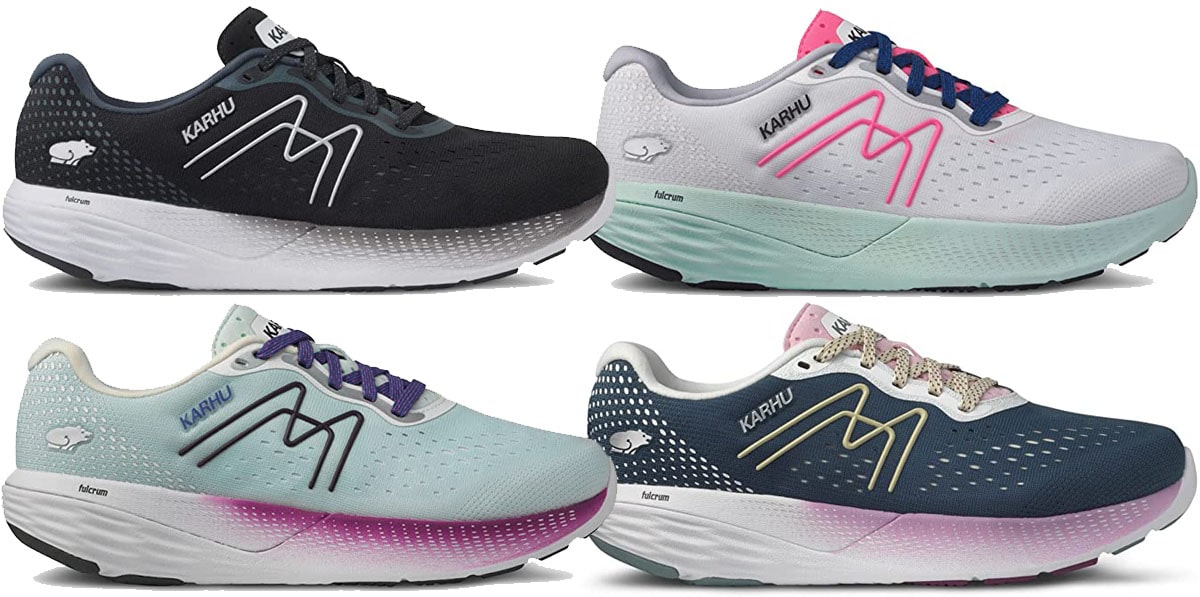 Designed for neutral or early to mid-stage overpronators, the Karhu Ikoni features a mid-length Fulcrum rocker, a plush AeroFoam midsole bed, and an engineered knit mesh upper
6.2 Karhu Fusion 3.5, $150 on Amazon
The Karhu Fusion is high cushion running shoe for neutral-footed runners, designed with a shortened Fulcrum and a Propulsion unit for a quick turnover and a high cushioned AeroFoam midsole
7. New Balance – Made in USA Running Shoes
Like Adidas and Nike, New Balance has become a favorite in the fashion community, which is a plus for runners that like to look good even when they are sweating after a six-mile run.
First founded in 1906 under the name New Balance Arch Support Company, this running shoe brand makes its customers' feet its top priority. A privately owned company, New Balance pours its wealth back into production, improving running shoe technology with each new iteration of its styles.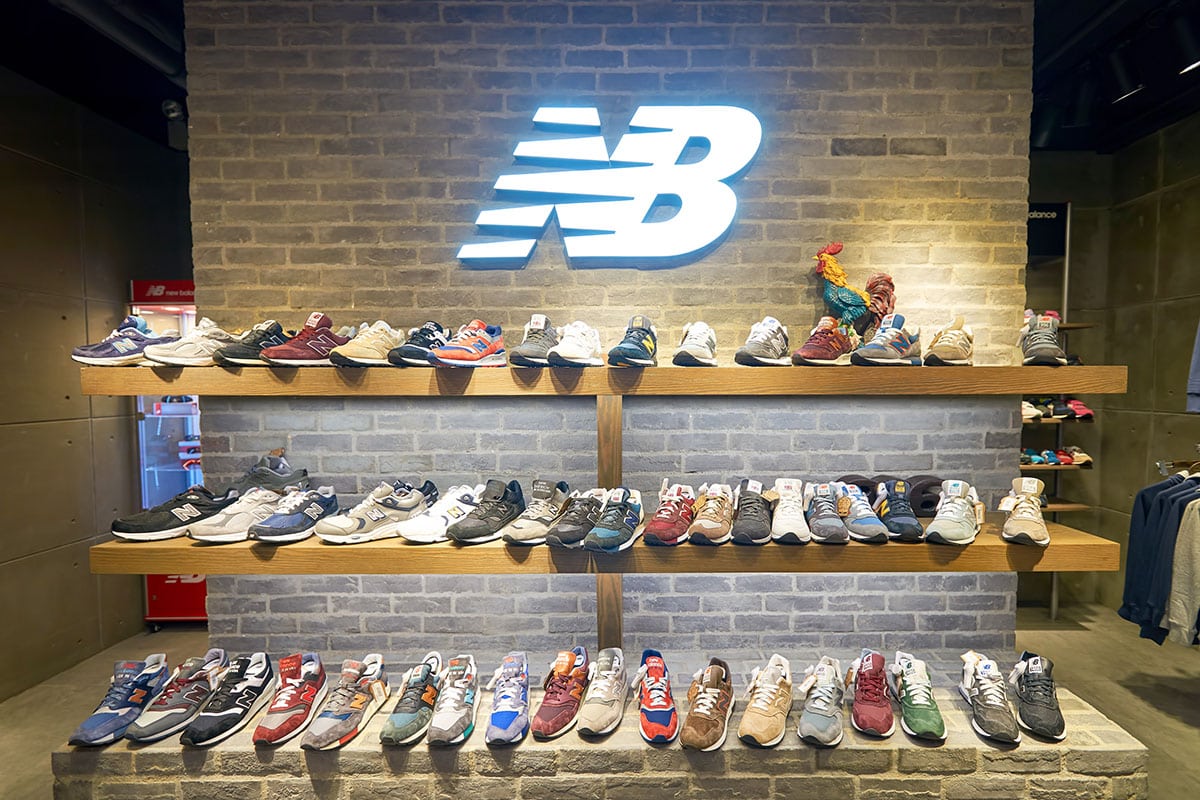 New Balance is one of the world's major sports footwear and apparel manufacturers, offering a range of shoes and apparel for runners, other athletes and non-athletes (Credit: Sorbis / Shutterstock)
New Balance running shoes are mainly manufactured in Vietnam, but unlike some of the other running shoe brands on this list, the company does have a line of 100% American-made shoes that are manufactured in Maine and Massachusetts.
The Best New Balance Running Shoes:
7.1 New Balance Fresh Foam X 1080v12, $101.25 – $298.67 at Zappos and Amazon
The Fresh Foam X 1080v12 offers comfort and a supportive, second-skin style fit with an engineered Hypoknit upper and the signature Fresh Foam X cushioning technology
7.3 New Balance FuelCell SuperComp Pacer, $149.99 at Zappos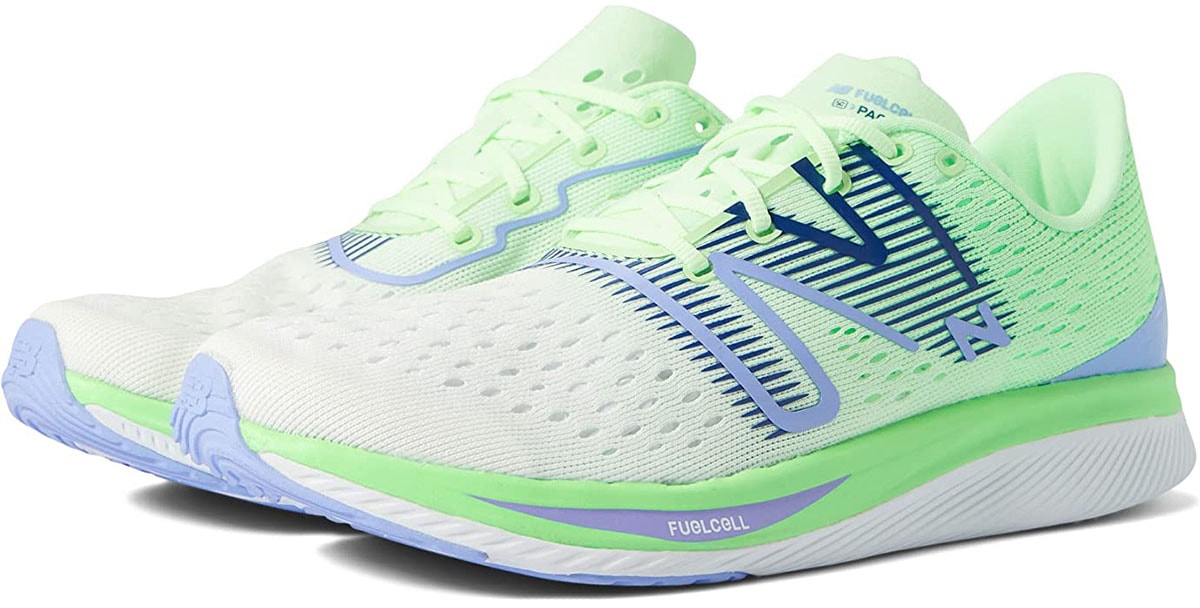 Designed for 5k to half-marathon distances, the FuelCell SuperComp Pacer boasts Energy Arc technology, a carbon fiber plate, and a double-layer springy FuelCell midsole to help propel strides forward
8. Nike – Iconic American Style
Named after the Greek Winged Goddess of Victory, Nike is more synonymous with "streetwear fashion" than it is running shoes. That being said, Nike is still a top contender in the category. There's a reason why the Nike 'swoosh' logo is so iconic!
Nike is the world's largest athletic apparel company known for its footwear, apparel, and equipment (Credit: pio3 / Shutterstock)
Are Nike shoes made in China or Vietnam?
Owned by the titular Nike, Incorporated, the brand is well-known for cutting manufacturing costs as the majority of its products are made in factories in countries where employee wages are lower, namely China and Vietnam.
These lower costs should result in lower prices for the consumer, but considering the price tags on many styles of Nike running shoes, we wonder if consumers pay more to rock the 'swoosh.'
Fortunately, Nike has some of the most aesthetically pleasing and cutting-edge running shoes on the market today, with every style coming in multiple colorways.
The Best Nike Running Shoes:
8.1 Nike Zoom Fly 5, $160
Offering comfort and reliability, the Zoom Fly 5 features a lightweight mesh upper and the ZoomX foam in the midsole for a lighter, more responsive cushioning system
8.2 Nike Air Zoom Pegasus 39, $130 at Nike
The Air Zoom Pegasus 39 is more lightweight than its predecessor and has underfoot cushioning and double Zoom Air units
9. On – Swiss-Engineered Cushioning and Impact Protection
Like a millennial-inspired mobile app, On is a brand that likes to keep things minimal.
In fact, its name was a play on the idea that the founders wanted customers to feel as if they were "running on clouds," resulting in the brand's simple name.
On or On running is an athletic shoe and performance sportswear company originating in Switzerland (Credit: On-running)
A publicly traded company, On is the brainchild of the Swiss six-time Ironman champion and triathlete Olivier Bernhard, so you know that On running shoes have been tested by professionals.
In what country are On Cloud shoes made?
Despite heavily featuring Swiss imagery in its branding, On admits that its running shoes are not manufactured in Switzerland, rather they are made in factories across Asia, with the majority of On products coming out of Vietnam.
On features a very brand-specific aesthetic, somewhat evocative of the Nike Vapormax shoes that took the sneakerhead world by storm around 2016, but this running shoe brand manages to make it work for itself.
The Best On Running Shoes:
9.1 On Cloudmonster, $169.99 at On-Running
The On Cloudmonster features the label's biggest CloudTec, providing extra cushioning and max energy
9.2 On Cloudrunner, $139.99 at On-Running
A supportive running shoe, the Cloudrunner features recycled polyester and Cloud cushioning for comfort
10. Saucony – High-Performance Running Shoes
Founded in Kutztown, Pennsylvania, in the United States, Saucony is another running shoe brand whose namesake is a nod to its birthplace: Saucony Creek.
Where are Saucony shoes manufactured?
Now, the brand is owned by Wolverine Worldwide and features headquarters located in Lexington, Massachusetts, but each pair of the brand's running shoes—the majority of which are manufactured in (you guessed it!) Vietnam—still features the same creek-inspired logo.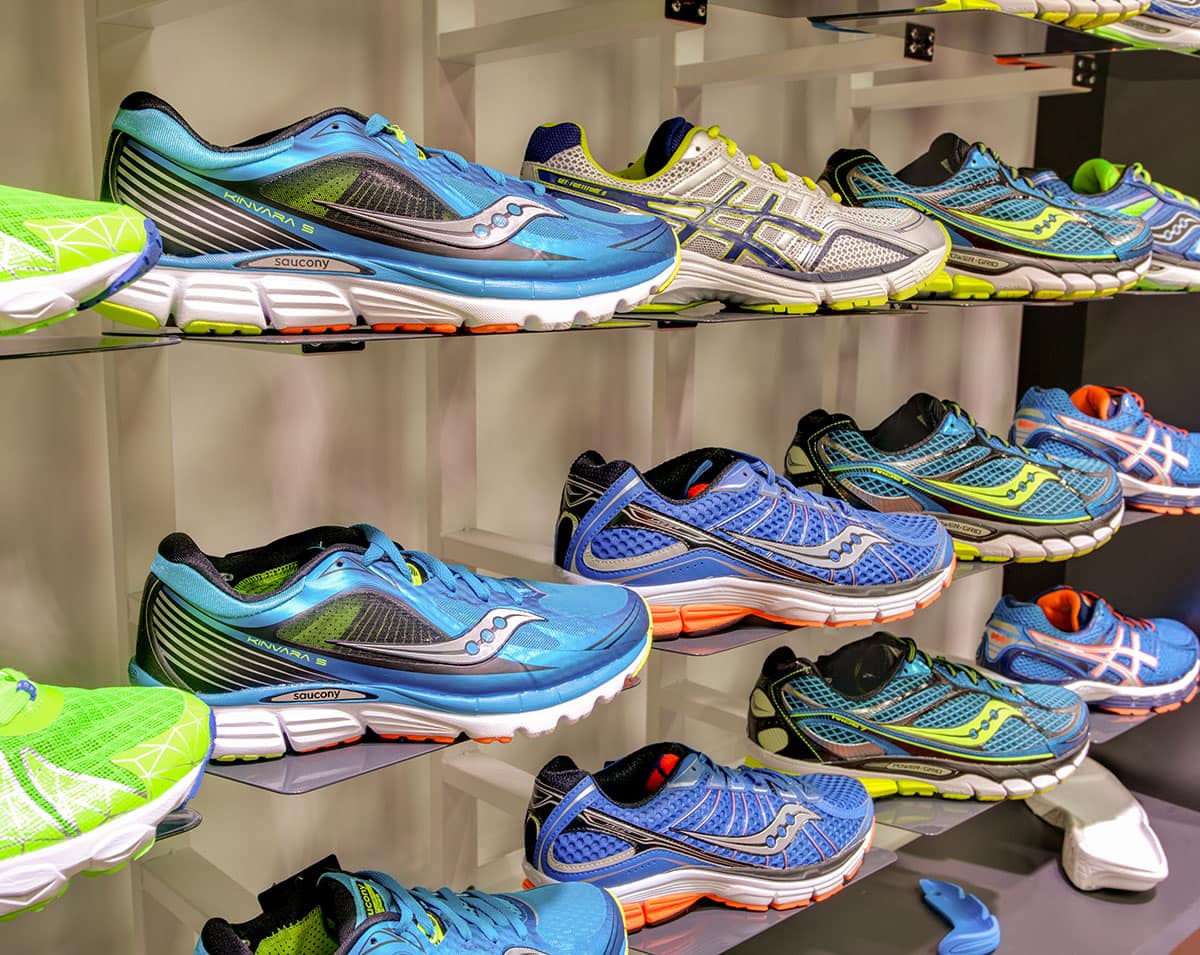 Saucony is an American brand of athletic footwear and apparel owned by Wolverine Worldwide (Credit: Sandratsky Dmitriy / Shutterstock)
Saucony is considered to be one of the original manufacturers of running shoes, as they have been improving on their designs since the company's founding in 1898. Despite a century of work, Saucony didn't reach mainstream popularity until the 1980s, but the brand exploded in the running community due to its sleek, lightweight designs.
Even better, Saucony offers some of the most budget-friendly running shoes out of all the brands on this list, as each style frequently goes on sale. However, their running shoes designed for competition do come at a steep price hike.
The Best Saucony Running Shoes:
10.1 Saucony Freedom 4, $54.39 – $171.84 on Amazon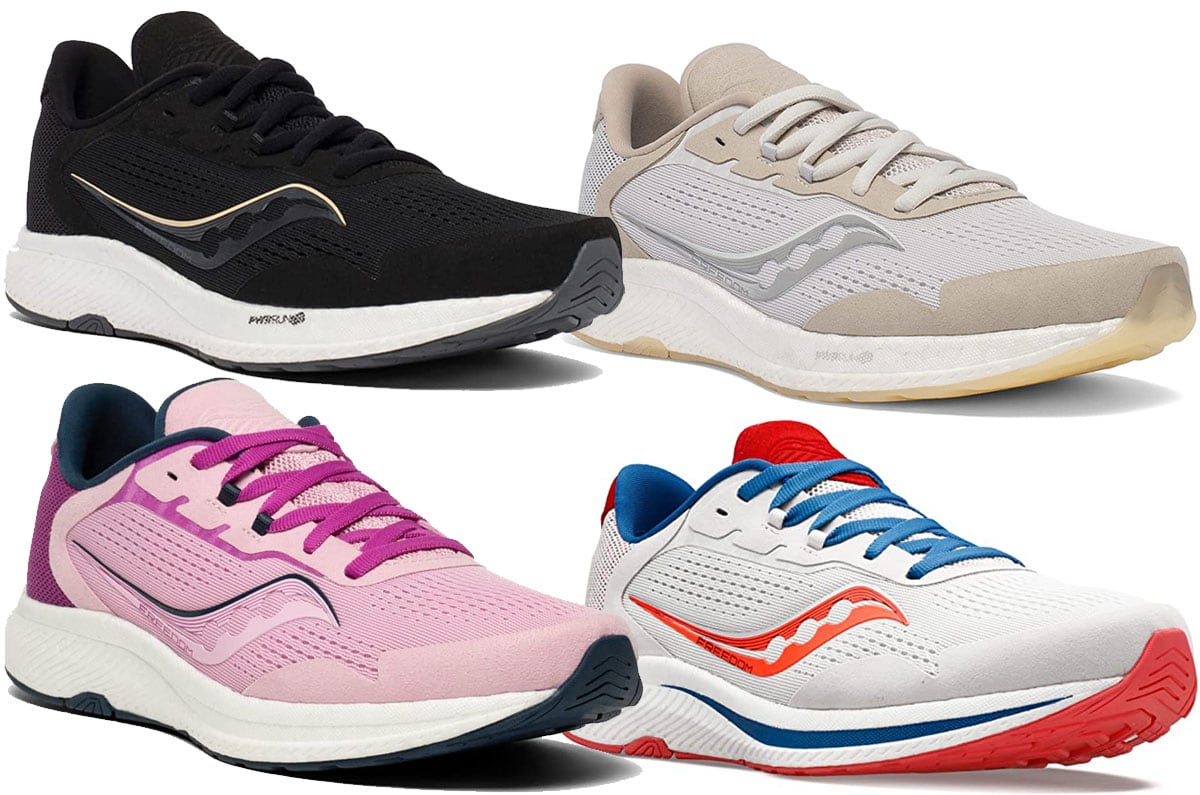 The Saucony Freedom 4 shoes are updated with the ultralight, high-performance PWRRUN PB cushioning that takes energy efficiency to new heights
10.2 Saucony Endorphin Pro 3, $219.42 – $297.35 on Amazon
The Endorphin Pro 3 is designed with an S-curve carbon plate and a max stack of high-performance PWRRUNPB foam cushioning