Hoka is famous for its "fly human fly" tagline. The brand is rooted in optimism as an outdoor footwear brand born out of an "unwavering belief that…it was possible to create a show that let people fly down mountains". While the brand is called Hoka One One, it's most commonly known as Hoka.
Shoppers line up to enter the Hoka sneaker store in the Flatiron neighborhood of New York City on July 17, 2022 (Credit: Rblfmr / Shutterstock)
If you're looking for shoes that will take you from the mountain peaks to lakeside valleys, Hoka is the brand for you. Hoka is a brand that makes running shoes designed to be kind to your body while still being fast.
Hoka is known for offering running shoes designed for everyone. Whether you're running your first mile, taking a wild trail walk, or preparing for a marathon, Hoka shoes are designed to support you every step of the way.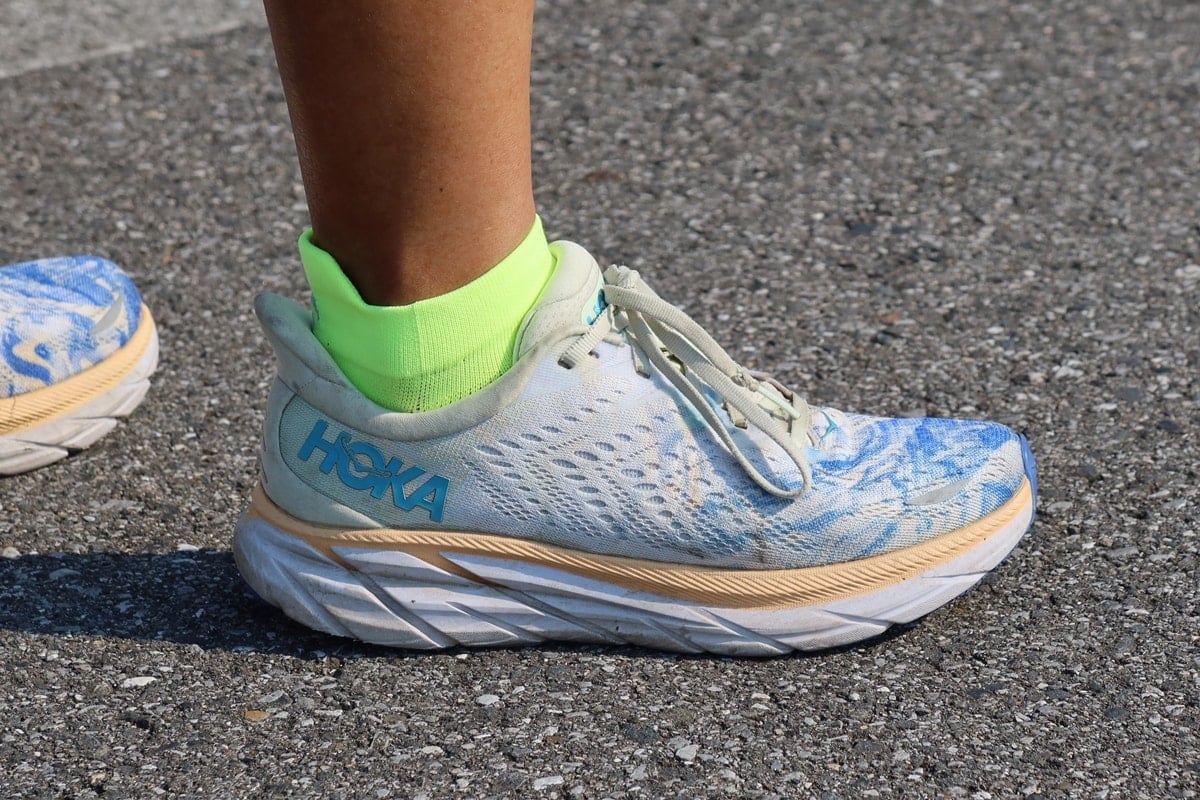 Most Hoka shoes are made in Vietnam, China, Cambodia, the Dominican Republic, and the Philippines (Credit: Picturesque Japan / Shutterstock)
We're sharing the best places to buy Hoka shoes and everything you need to know about this footwear brand that unites everyone from walkers to ultra-marathon runners.
Where to Buy Hoka Shoes
The popularity of Hoka shoes means that you can usually find these running shoes from several stockists. We're rounding up where you can buy Hoka shoes, both in-store and online.
The main place you'll find Hoka shoes to buy online is the brand's official website. You'll find all the best-selling styles along with collaborations and an outlet section for previous seasonal styles.
Hoka offers a 30-day guarantee with free shipping and returns online. We recommend exploring the brand's official website to see its full collection and learn more about specific styles.
Zappos is one of the leading e-commerce websites for running shoes. It's no surprise that Hoka is one of the website's best-selling brands.
You can read in-depth reviews about the shoes and sizing guidelines to help you find your perfect fit.
Amazon is expanding its collection of fashion and footwear brands. It's no surprise that Hoka is one of its most popular. You'll find dozens of styles on Amazon with hundreds of reviews to help inform your shopping decisions.
Hoka shoes are available on Amazon with a price range of between $130 and $250, depending on the style. Amazon occasionally discounts Hoka shoes, so it's worth adding your favorite styles to your Amazon Wishlist.
Hoka sits at a higher price tag for running shoes, comparable to brands like Brooks Running and Nike. You'll typically find Hoka stocked at department stores, including Nordstrom.
The department store offers a range of Hoka shoes online. Nordstrom's website is one of the best places to shop for new Hoka styles online. You can occasionally find Hoka shoes discounted by 20-25% on Nordstrom.
The price point of Hoka means that you'll occasionally find the brand on luxury websites. Net-a-Porter offers a small range of Hoka shoes, primarily streetwear-inspired styles.
The most popular Hoka shoes on Net-a-Porter are the Clifton 8 mesh sneakers. These sneakers blend lightness and cushioning for shoes that will take you from long jogs to sprints.
One of our favorite places to find new Hoka sneakers is Farfetch. The luxury e-commerce website commonly has discount codes and popular Hoka shoes on sale. Farfetch curates its range of Hoka shoes, focusing primarily on streetwear styles and shoes with a bold color scheme.
What Makes Hoka Shoes Special?
What makes Hoka shoes special is their design. Every aspect of the shoe is tailored to support the human body, whether you're a runner or going on a casual walk. Each style has its own specialist features, but every Hoka shoe offers shock absorption and support for extra comfort.
Hoka shoes are the best style to wear if you're going to be on your feet all day. These shoes will make you feel like you're walking on a cloud. They're designed as "maximalist" shoes with extra support and cushioning to make every step easier.
Padma Lakshmi, Victoria Justice, and Jamie Chung show three great ways to wear Hoka One One shoes (Credit: Michael Simon / Startraksphoto)
The brand is famous for its maximum cushion and low-profile shoes that are designed to work in all terrains. Hoka's oversized outsoles are what it made famous within the runner community.
Hoka was one of the first brands to introduce comfort-driven designs that incorporate contemporary trends. These sneakers bridge the gap between streetwear and athleisure.
What Hoka Stands for and How It's Pronounced
Hoka was previously known as "Hoka One One." Some websites still list the brand by its former name. 'Hoka One One' means "fly over earth" in Maori, the language spoken by New Zealand's Maori people.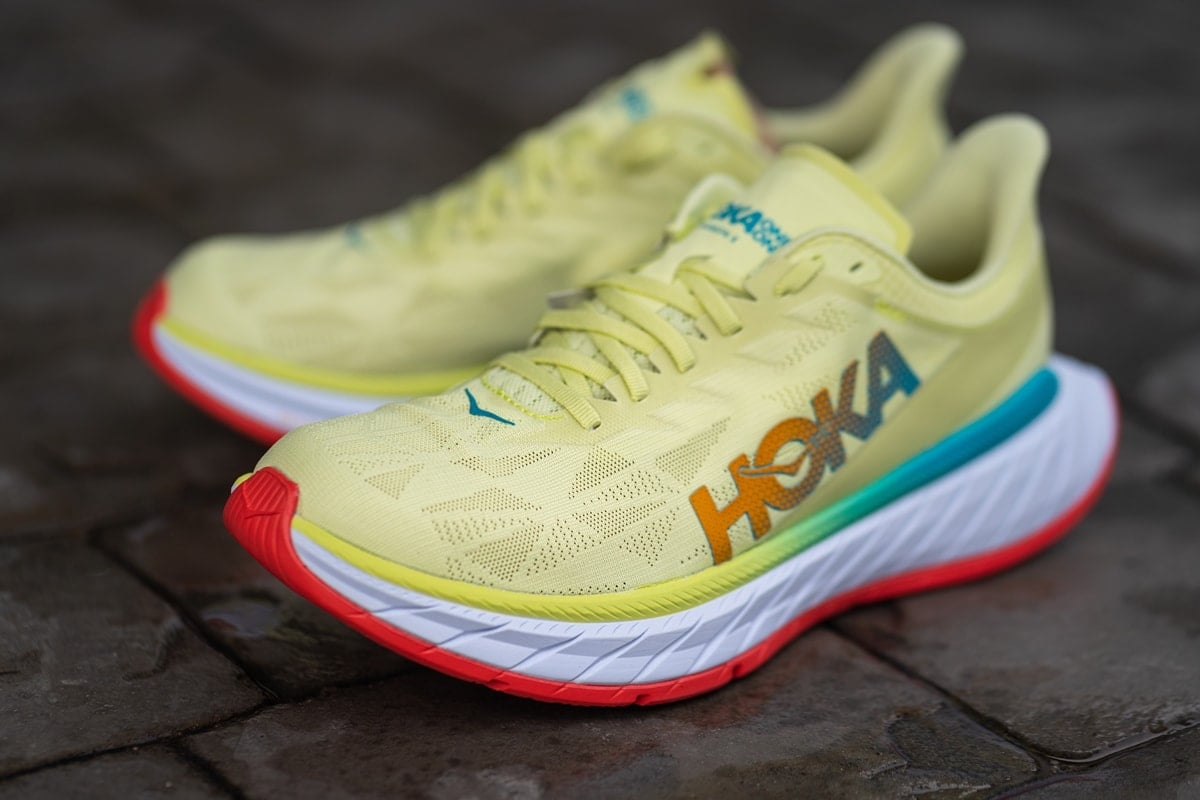 Pronounced "ho-kuh oh-nay oh-nay,") HOKA ONE ONE is a phrase in the indigenous New Zealand people's Maori language meaning fly over earth (Credit: Nattawit Khomsanit / Shutterstock)
While the brand hasn't explained why the name was changed, it's largely thought to be to make it easier to pronounce for English speakers. The name "Hoka One One" should be pronounced as "ho-kuh oh-nay oh-nay."
However, most English speakers would say the name as "ho-kuh won won," leading to the shortening of the name to Hoka.
Who Owns Hoka Shoes?
Hoka was launched in 2009 in Annecy, France, although the brand's base and corporate headquarters are in California.
While many people believe the brand is a subsidiary of Adidas or Nike, Hoka is actually owned by Deckers Outdoor Corporation and was purchased in April 2013.
Hoka One One is owned by Deckers Outdoor Corporation, which portfolio of brands also includes UGG, Teva, Sanuk, and Koolaburra (Credit: JHVEPhoto / Shutterstock)
Deckers is the parent company that oversees several household brands, including UGG, Teva, and Koolaburra. It also has its corporate headquarters based in California.
While Hoka was originally founded in France, the brand is promoted as being an American footwear brand.
Where Are Hoka Shoes Made?
Hoka shoes are primarily made in China and Vietnam. Although the company is based in California, it's following the common trend of exporting its manufacturing to Asia.
While most Hoka shoes are made in China and Vietnam, the brand also uses factories in Cambodia, the Dominican Republic, and the Philippines.
Combining Comfort and Style with Hoka
We all want shoes that offer comfort and style. Hoka shoes are designed for those who are always on their feet, whether it's walking around your office or training for an ultra-marathon.
Perfect for long-distance running, Hoka One One shoes are highly cushioned but also lightweight and breathable (Credit: Nattawit Khomsanit / Shutterstock)
Hoka is a growing activewear brand that is rivaling Nike and Adidas as one of the best brands for running shoes. Give your feet the comfort they deserve with a pair of Hoka sneakers.