For decades, people have sworn by the cozy sheepskin boots, UGGs. Celebs, influencers, and everyday fashionistas have a newfound love for the brand, and UGGs are increasing in popularity.
If you are considering getting a new pair of UGGs, we've compiled a list of the 11 most popular UGG boots right now.
In 2016, stopped using the "UGG Australia" name and rebranded as simply "UGG" (Credit: Lucy M Ryan / Shutterstock)
When searching for UGGs, you might come across other brands that sound and look similar. This can cause a lot of confusion, but there is only one UGG.
To help ensure you get the true UGG boots known around the world, you need to know a little more about the company's origin.
The Timeless Appeal of UGGs
UGG is an American footwear company founded in 1978. Two Australian surfers, Brian Smith and Doug Jensen, went to school in California when they started the brand we know today.
The two men began importing sheepskin boots from Australia but found the quality poor, so they created their own sheepskin boots and trademarked the company UGG.
UGG's popular lounge-worthy slippers are extremely comfortable
A year later, Jensen left the company as Smith continued to build it. In 1985 he trademarked "Original UGG Boot UGG Australia." Almost two decades later, in 1994, the company was doing quite well locally. Still, only about 20% of their sales were outside of Orange County, California.
"It took us several years to get rid of that first 2,000 pairs," Smith told the San Diego Daily Transcript. "[Buyers] didn't even understand what the product was. They didn't even perceive it as footwear."
That was until the US Olympic team wore UGG boots during the opening ceremony of the 1994 Winter Olympics in Lillehammer, Norway.
Major footwear corporation Deckers Brands purchased UGG from Smith for an impressive $14.6 million in 1995.
Decker Brands quickly turned UGG into the brand we know today. They opened the first UGG store In New York in 2006. The brand continued to gain momentum and reported over $871.8 million in sales in 2020.
In the fiscal year 2023, the UGG brand generated approximately $1.9 billion in net sales.
UGG Brand Disputes: The Name Game
UGG has had its fair share of brand drama. Since its launch in the 70s, there remains confusion between the UGG brand and brands like UGG Australia.
In 1971, the brand UGH-BOOT was trademarked in Australia. It later became UGH in 1982.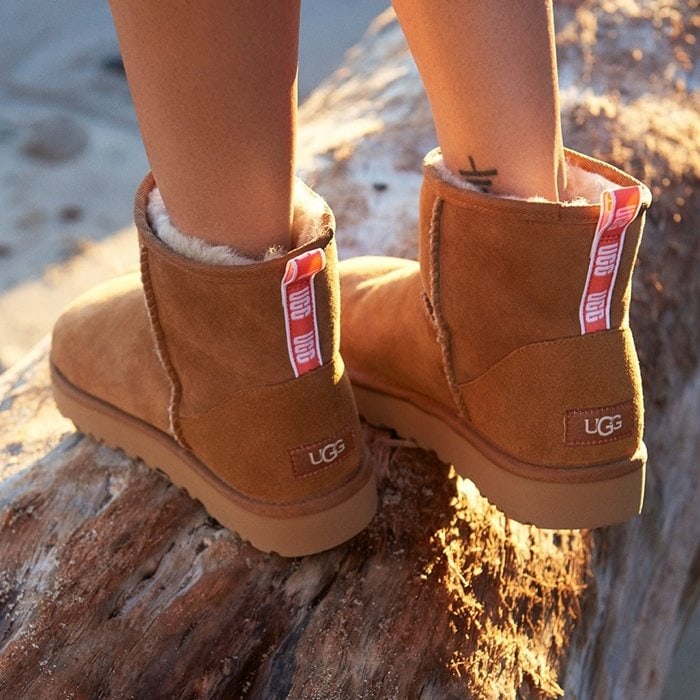 Previously known as UGG Australia, the brand dropped the word "Australia" in 2016
The name and registration were sold to UGG Holdings in 1995, and 4 years later, Decker Brands purchased UGG Holdings. Deckers has tried to stop other brands from using "UGG" in Australia but hasn't been successful.
They hold the UGG trademark in the U.S., China, and many other countries, but not in Australia. This is why you can find Australian websites like UGG Australia and UGG Since 1974 selling similar boots. Since these companies are located in Australia, they can use "UGG" in their brand names.
Where UGGs Are Really Made
Due to the confusion with other Australian brands, many assume that UGG boots are made in Australia. This is not the case.
While Deckers Brands continues to get most of their sheepskin from Australia, the boots are manufactured in several countries located around the world. Deckers Brands footwear factories are in China, Vietnam, the Philippines, Cambodia, and the Dominican Republic.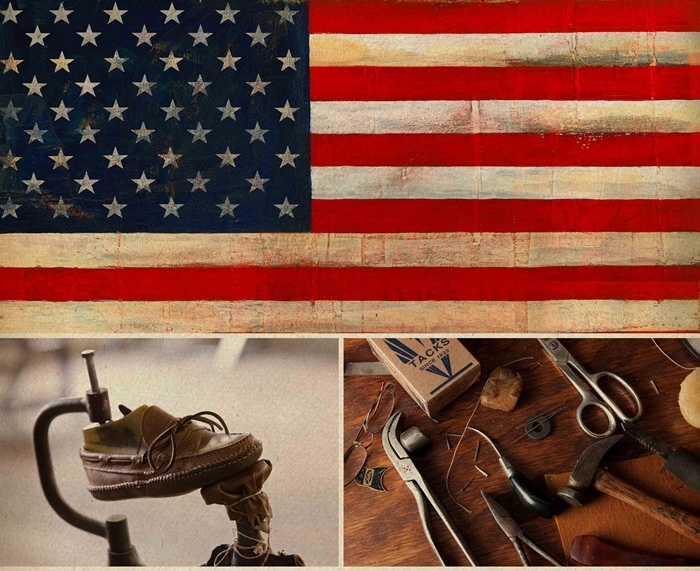 UGG's Made in America Collection celebrates high-quality construction and premium materials sourced entirely in the USA
A few years ago, UGG introduced a new footwear collection of shoes made in the United States. The Made in America Collection boots and shoes were manufactured by partnering with three American companies: Horween Tannery, Addison Shoe Company, and the Quoddy Workshop.
The Harrisburg boot and Lewiston slipper are two of the styles that were made in the U.S. However, they are no longer available online.
11 Must-Have UGG Styles for Fashion Enthusiasts
UGG styles have remained relatively consistent over the past couple of decades. The tan sheepskin with cozy sherpa lining is a staple. That said, UGG has a wide selection to choose from!
After a lockdown and with more people working from home, UGGs are having a major moment in fashion right now. Comfortable and practical, more and more people are sporting UGGs.
Before purchasing, ensure you know how to identify fake UGG boots. These are the 11 most popular UGG styles right now on Amazon, Nordstrom, and Zappos:
1. Classic Boot
The boots that started it all and what UGGs are most famous for. The Classic Boot comes in various colors, from sparkly pink and baby blue to neutral shades.
The iconic UGG Classic boot was originally worn by surfers to keep warm after early-morning sessions
Right now, neutral colors like tan, black, and brown are the most popular. They are also available in different sizes; mini, short, and tall—these range in price, with taller boots costing more. Prices start at about $150 at Zappos.
2. Bailey Button Boot
These boots are similar to the classic boot with extra detail. This boot is lined with fur and features fur running down the side with a large single button.
Embellished with a wood-button closure, this plush sheepskin boot is more versatile than ever
Made from 100% sheepskin, these boots are also available in a variety of colors, with neutrals being the most popular. These boots are said to be a little looser in the ankle while having a more sleek appearance. The Baily Button boots are around $150 on Amazon.
3. Bonham Boot III
Ankle boots are a wardrobe essential, and these UGG boots are no exception!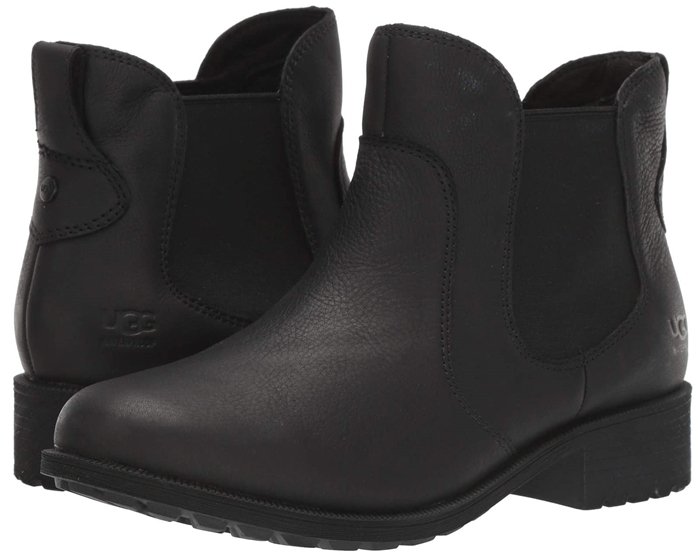 Go for a look that is bold and a little bit rugged with the waterproof leather UGG Bonham Boot III
Made from a combination of wool and rubber, they are waterproof with a one-inch heel.
4. Biltmore Chelsea Boot
These men's boots resemble the Bonham Boot III and have a sleek, distinguished look.
A casual performance style for urban environments, this versatile boot features weather-ready innovations like seam-sealed construction and a custom, hollow-core outsole with lightweight foam cushioning and White Spider Rubber that maintains traction in the cold
The spider rubber outsole provides traction, and the boot is fully waterproof, making these very popular for rainy days.
5. Scuff Slipper
The men's scuff slippers are among the most popular options for men's UGGs and are great for working from home. They are super soft and plush, keeping feet comfortable and warm.
Although they are on the pricy side for a pair of slippers, starting at $100, they are known to last years!
6. Clear Mini Ankle Boot
These ankle boots are one of the newest UGG styles. The 100% wool exterior is enclosed in clear modeling, creating a unique look. They have a strap up the side that features the UGG graphic.
A clear upper emblazoned with bold logo lettering brings a fashion-forward update—along with waterproof protection—to UGG's classic mini boot
These fully waterproof boots make them the coziest rainboots you can buy! They are available in black, beige, and hot pink, with prices starting at $150 at Nordstrom.
7. Tasman Slipper
The Tasman is a cross between a moccasin and a slide. It's one of those slippers you can wear in your house but could also run out and grab a coffee in.
A slipper for all occasions, both indoors and outside, the best-selling Tasman features a light, durable outsole
The Tasman features beautiful stitching around the ankle, which has made this one of the most popular UGG styles. Available in both men's and women's, these slippers start at about $100 at the official UGG store.
8. Ansley Moccasin Slipper
In the Ansley moccasin slippers, your foot is enveloped in soft plush sherpa, and the exterior is a soft suede.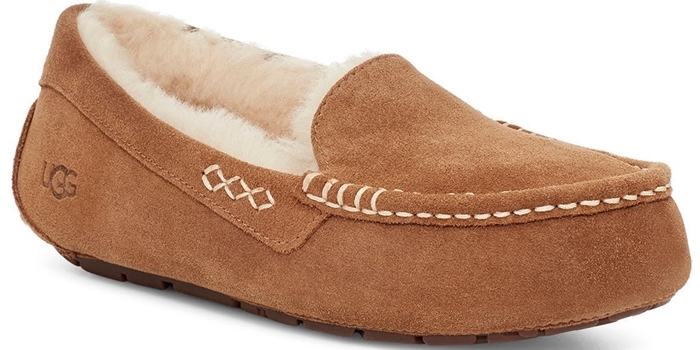 A soft, comfortable, and remarkably durable moccasin slipper is made from water-resistant suede so you can wear it on errands, around the house, or around campus
Reviews rave at how warm these slippers will keep your feet. They have a rubber sole and are available in several neutral colors.
9. Fluff Yeah Slide Slipper
The Fluff Yeah slide slipper is one of the most popular slides right now and is available in 35 different colors, including animal prints, solids, stripes, and camo.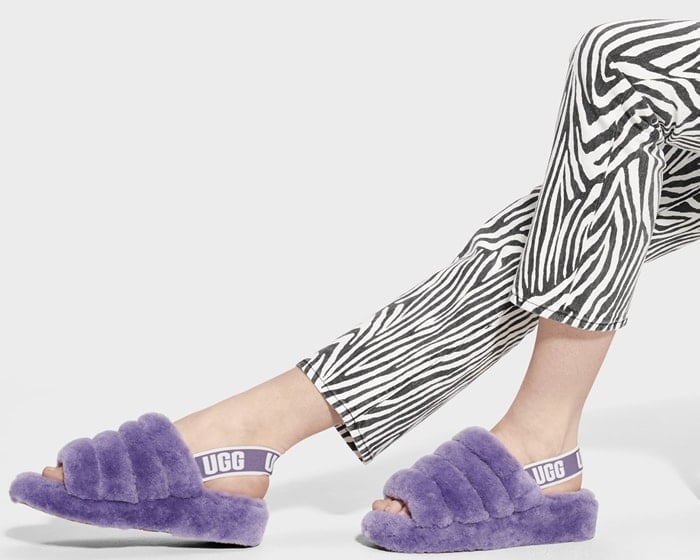 Fluff Yeah combines slipper and sandal into a cozy statement shoe
They are made from sheepskin with a rubber sole and feature an elastic strap with a UGG graphic.
10. Fluff Collar Boot
Recently seen on Hilary Duff, the classic mini fluff collar boot is one of the most popular UGG styles right now. The big fluffy collar is made from sheepskin, and the rest of the boot is suede.
A plush, short shaft of fluffy genuine shearling adds extravagant texture to a fan-favorite bootie updated for a modern look
These are available in black and caribou and are one of the most expensive UGG boots.
11. Neumel Flex Boot
A very popular men's UGG boot, the Neumel flex boot, has several positive reviews online.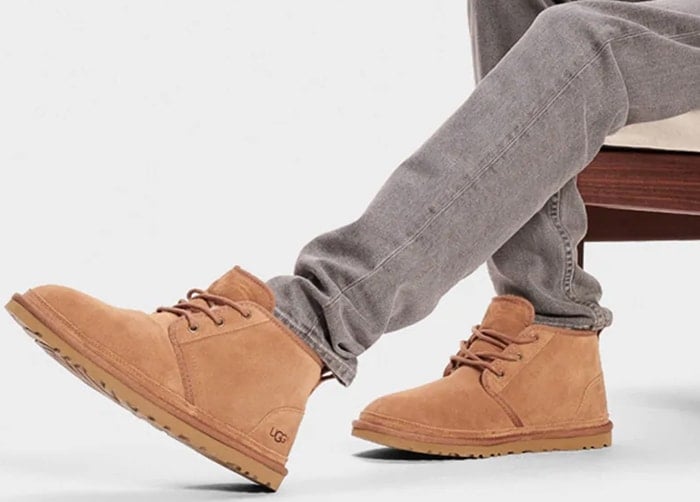 Combining premium materials and effortless style, the Neumel is a timeless boot made of rich suede
They have a unique look, similar to a traditional ankle boot but with classic UGG suede and sherpa interior. These boots are available in chestnut, grey, and black.
UGG's Rising Star: From Celebrities to Everyday Fashionistas
Celebs have played a huge role in the success of the brand. First, athletes wore them at the Lillehammer Winter Olympics, and then in 2003, Oprah Winfrey featured them as a part of "Oprah's Favorite Things" when she gave a pair to every member of the audience and staff.
Following this, UGGs were plastered over the pages of celebrity gossip magazines with pictures of Jennifer Lopez, Paris Hilton, Cameron Diaz, and Blake Lively wearing UGG boots. Even fashion gurus Alexa Chung and Andre Leon Talley have spoken about them.
"The thing about Uggs is that they're so comfortable. Once you've worn them, you don't want to go back," Jimmy Choo's co-founder Tamara Mellon said about the popular sheepskin boots.
Selma Blair, Jennifer Lopez, and Emily Ratajkowski wear their favorite UGG boots (Credit: Patricia Schlein / WENN)
UGG has launched a few campaigns marketing the boots to Men. In 2011, Gisele Bündchen's equally famous husband, Tom Brady, was featured in their advertisements, and a men's UGG store opened the following year.
Although more women purchase UGGs than men, Leonardo DiCaprio and Rolling Stones guitarist Ronnie Wood have been spotted wearing the brand.
The fact that UGGs have remained so popular for so long is because of their comfort! All their boots and shoes feel like slippers, making them undeniably cozy.
While UGG has remained true to its origins with its classic boot, it continues to release new looks and styles that complement current trends.