No couple rocks the red carpet, the catwalk, and the football field quite like Gisele Bündchen and Tom Brady.
The supermodel and the seven-time Super Bowl champ have been married for twelve years now — a lifetime by Hollywood's standards — and show no signs of calling it quits.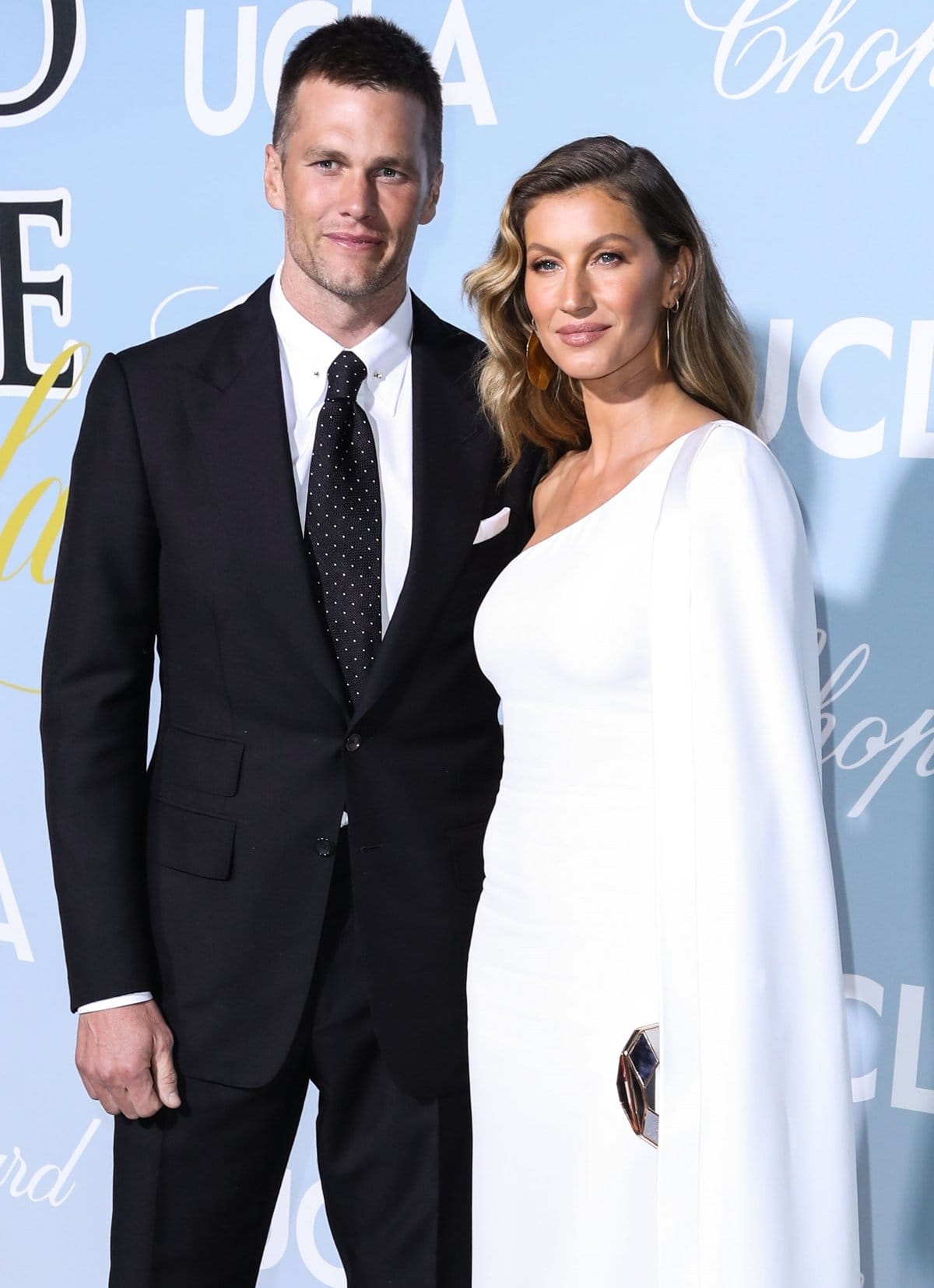 Tom Brady and Gisele Bündchen met in 2006 and got married in February 2009 (Credit: WENN / Avalon)
Together, 41-year-old Gisele Bündchen and 44-year-old Tom Brady are the happy, glowing couple that fairytales are inspired by.
The supermodel, who stands at 5'11" found her joy with one of the few men who was not intimidated by her height, as the former New England Patriots quarterback stands at a hulking 6'4".
This husband and wife duo don't just look good, either, they are doing very well for themselves. Bündchen and Brady are seriously rich!
However, the couple does things a little differently, choosing to keep their funds separate from one another.
Tom Brady and Gisele Bündchen met in 2006 through a mutual friend at West Village wine bar Turks & Frogs (Credit: WENN)
Since finances are one of the biggest stressors for married couples, perhaps their decision to keep their fortunes apart is one of the reasons they have lasted so long. Then again, they probably don't ever have to worry about finances.
With seven Super Bowl wins under his belt, Tom Brady is one of the most celebrated and prolific NFL players of all time, and his impressive net worth of an estimated $250 million certainly reflects that.
Despite the footballer's remarkable career, many would be surprised to know that his wife, Gisele Bündchen, is worth far more than he is — almost twice as much — with an estimated net worth of a cool $400 million.
Bündchen was the highest-paid model in the world from 2012 to 2017, signing a $25 million dollar contract with Victoria's Secret in 2000, and earning $500 million in endorsements alone.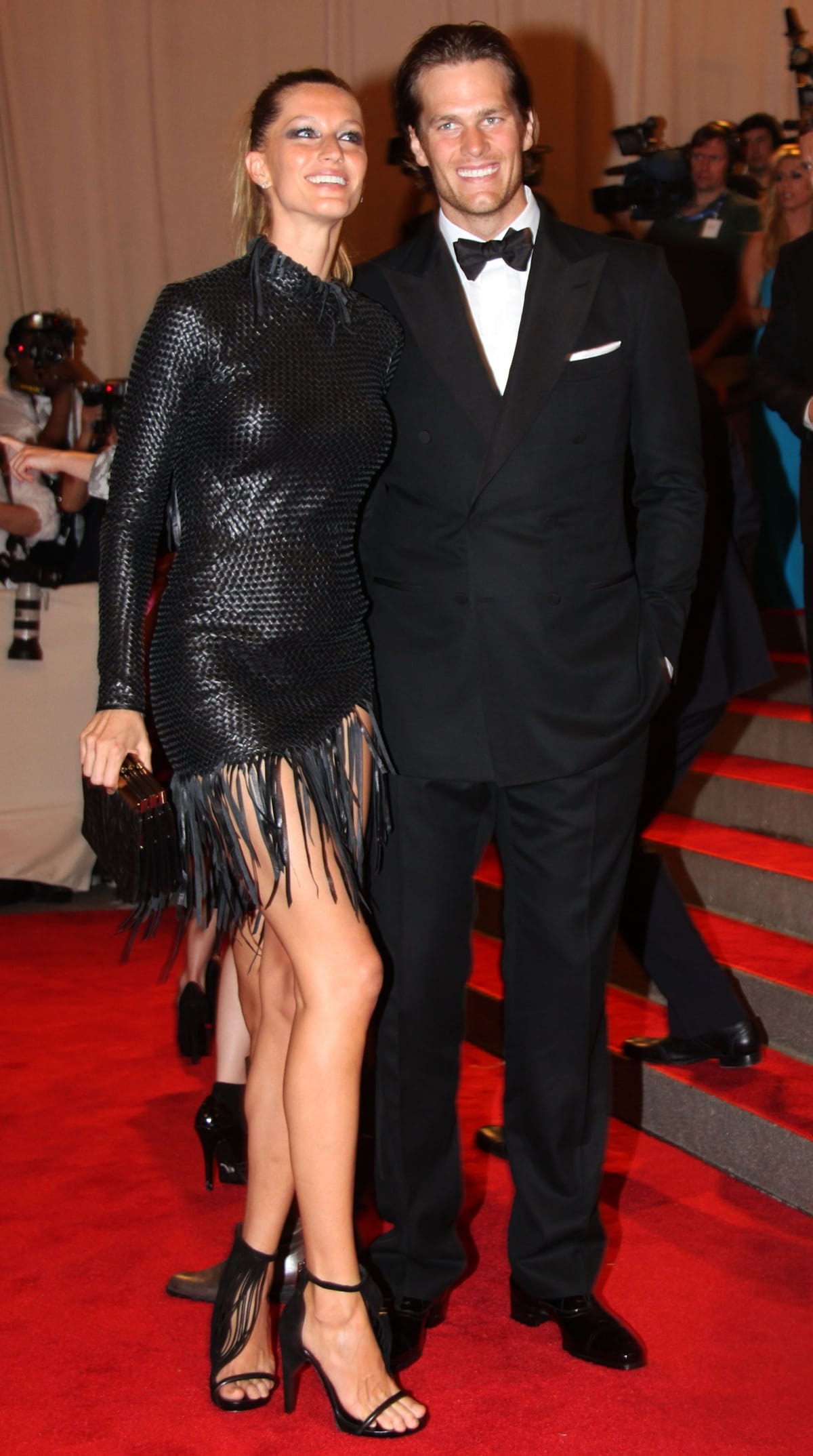 Gisele Bündchen in a fringe-embellished Alexander Wang dress with Tom Brady at the 2010 Met Gala (Credit: WENN / Flashpoint)
To top things off, Bündchen is a polyglot, speaking five languages, and is able to work all around the world because of it. Though Tom Brady probably doesn't need a sugar mama, Bündchen would more than fit the bill.
The couple may be a breath of fresh air when compared to the constant celebrity relationship scandals, but even Bündchen and Brady admit that their life together is not always perfect.
The couple, whose marriage has lasted over a decade, have two children together and say that while they love their romance, even they experience "challenges".
"I'm blessed to find this life partner that we all kind of seek at different times in our life," Tom Brady said in a 2016 interview with Access Hollywood.
Gisele Bündchen in a red strapless Alexander McQueen Fall 2005 red fish-tail dress kissing Tom Brady at the 2011 Met Gala (Credit: WENN / Ivan Nikolov)
"We found each other at the right time. We've been through a lot of ups and downs together, and in so many ways, that's kind of built our relationship so strong. It's great to have that rock that you can always lean on that can support you in different ways that you need to."
Follow along with us to learn how one of the world's most successful supermodels and her NFL star husband met and how they keep their love alive.
Gisele Bündchen and Tom Brady's Relationship Timeline
Before meeting the Tampa Bay Buccaneers quarterback, Gisele Bündchen had been in a five-year relationship with none other than Academy Award-winning actor, Leonardo DiCaprio.
Knowing the actor's penchant for dating beautiful, blonde, and often way-too-young-for-him models, it is no wonder that Bündchen caught DiCaprio's eye.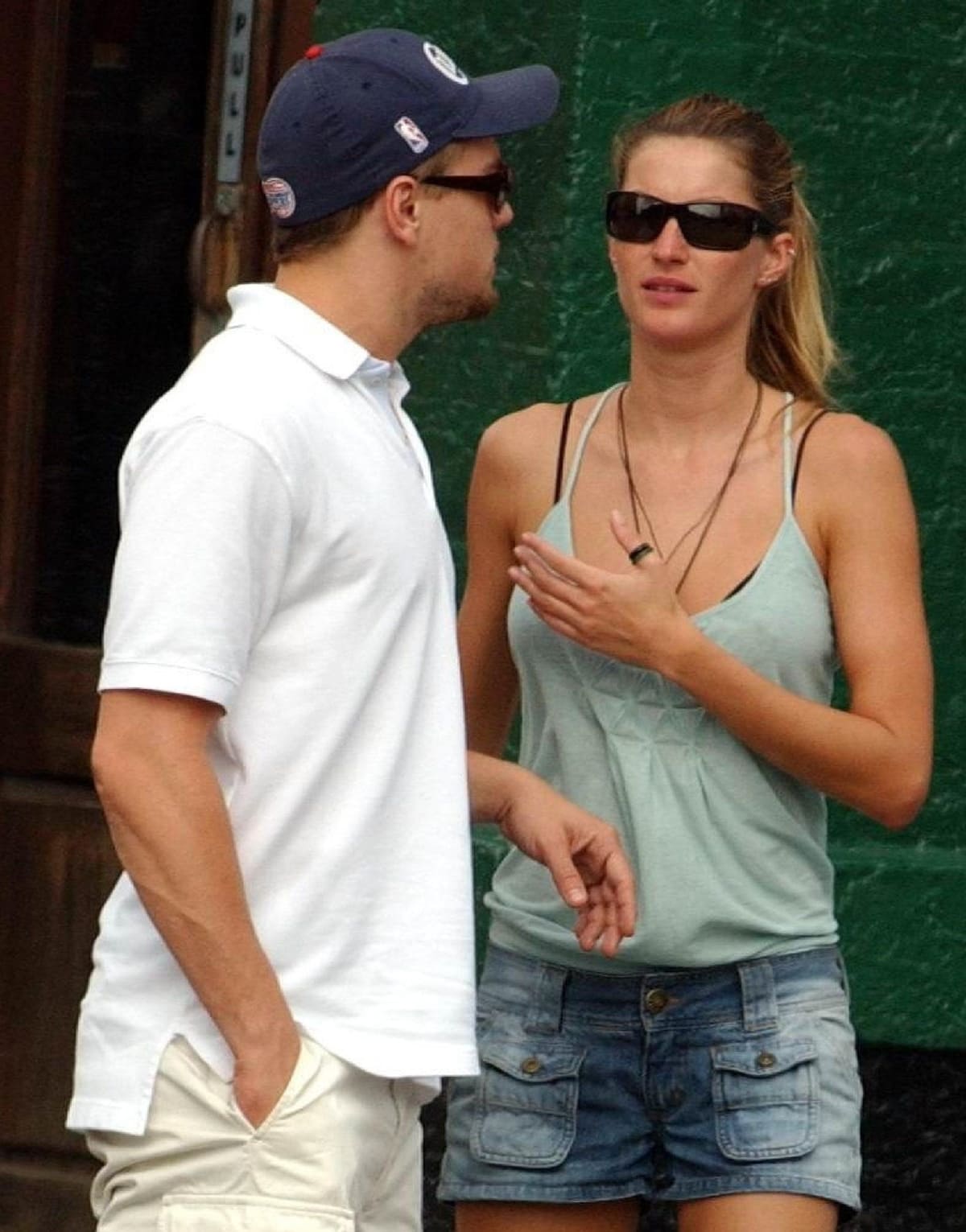 Gisele Bündchen broke up with Leonardo DiCaprio in 2005 when she realized he wasn't right for her (Credit: Vallenilla / WENN)
Bündchen and DiCaprio dated for five years, from 2000-2005 before calling it quits.
Though the reasons for their split were not known at the time, Bündchen revealed in her 2018 autobiography, Lessons: My Path to a Meaningful Life (available on Amazon), that she had become depressed and realized she needed to make a lifestyle change, and unfortunately for Leo, that meant he had to go.
Gisele Bündchen and Leonardo DiCaprio dated on and off for six years from 1999 through 2005 (Credit: WENN / Jody Cortes)
"No longer numbing myself with smoking, drinking, and too much work, I was becoming more and more aware of things that I'd chosen not to look at," the supermodel wrote in her book.
"Was I alone in wanting to do some serious soul-searching while he stayed the same? In the end, unfortunately, the answer was yes."
Though this meant the end of one of Hollywood's favorite "it" couples, Bündchen's split with DiCaprio meant that she was prepared to meet her soulmate.
A Christmas Meet-Cute
In December 2006, Gisele Bündchen and Tom Brady met for the first time at Turks & Frogs, a mellow Turkish wine bar located in New York City's West Village, and their chemistry was undeniable. The supermodel says that as cliche as it sounds, it was love at first sight.
"I knew right away — the first time I saw him," Bündchen said in a 2009 interview with Vanity Fair. "We met through a friend. The moment I saw him, he smiled and I was like, 'that is the most beautiful, charismatic smile I've ever seen!"
Gisele Bündchen in a dramatic sleeveless sexy black Givenchy dress and Tom Brady in a Tom Ford suit at the 2012 Met Gala (Credit: WENN / Lia Toby)
"We sat and talked for three hours. I had to go home for Christmas but I didn't want to leave," she continued. "You know that feeling of, like, you can't get enough? From the first day we met, we've never spent one day without speaking to each other."
Cue the "awws". Then abruptly stop them! There was one thing standing in the way of Bündchen and Brady's instant connection: Tom Brady was not single.
At the time, the footballer was dating actress Bridget Moynahan, known for her roles in Blue Bloods and Sex and the City.
Fortunately for Tom Brady (and unfortunately for Bridget Moynahan) he knew that he would regret it forever if he did not explore what he had with Bündchen.
Though it likely hurt at the time, Brady did the right thing and broke things off with the actress before pursuing Bündchen.
Gisele Bündchen and Tom Brady officially start dating. . . with a surprise!
Bündchen and Brady began officially dating in January 2007.
Things were going swell for a while until they heard the unbelievable news: Tom Brady was going to be a dad! That's right — we haven't heard the last of Miss Bridget Moynahan. In February 2007, the actress revealed that she was pregnant and Tom Brady was the father.
This was a huge shock for fans, but the person who was most shocked was Gisele Bündchen. After only a mere two months together, the supermodel had found out that her new boyfriend was going to be a father to another woman's child.
Bridget Moynahan and Tom Brady started dating in 2004 and split in 2006 (Credit: PNP / WENN)
"Two months into our relationship, Tom told me that his ex-girlfriend was pregnant. The very next day, the news was everywhere and I felt my world had been turned upside down," Bündchen said in her book, Lessons: My Path to a Meaningful Life.
"It was a challenging thing, because here I am, you know, thinking, 'I'm dating this guy. We met, and we started dating, and then this happens,'" the model said in an interview with CBS This Morning. "So, then I felt like I didn't know what to do. It was kind of those moments of like, 'Do I just run away?'"
Luckily, Bündchen did not run away, eventually becoming a great step-mom to Brady's son, John Edward Thomas Moynahan, who was born later that year in August 2007.
In her book, Bündchen says that her stepson "[made] my heart expand in ways I didn't know was possible."
"I'm not sure anyone — and I could be wrong in this — grows up thinking, I want to be a single mom," Bridget Moynahan told Harper's Bazaar in June 2008.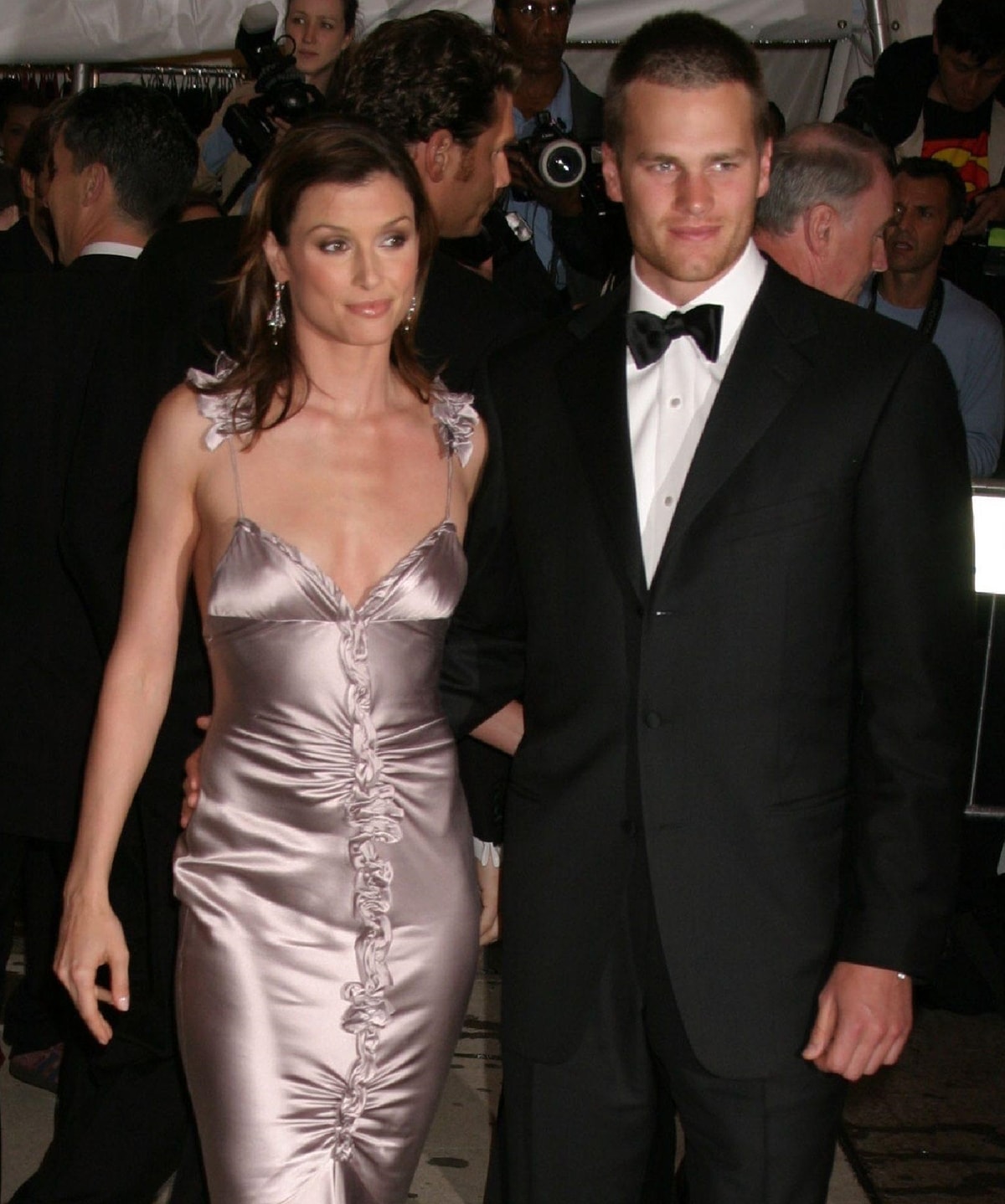 Bridget Moynahan and Tom Brady are the parents of John Edward Thomas (Jack) Moynahan (Credit: PNP / WENN)
"You really have to weigh out all the pros and cons and how it will fit into your life professionally, spiritually, and emotionally. Doing it on your own when it wasn't expected comes with a lot of fears and anxieties. But I felt 100 percent that I could do this."
"I didn't want to have kids or get married until my late 30s. That was the plan," Brady said on The Howard Stern Show in April 2020.
"It was an interesting time because we found out after that my ex-girlfriend was pregnant with my oldest son. We were forced into this very important thing in our lives at a new part of our relationship. In a lot of ways, I found out a lot about Gisele through this experience, and she found out a lot about me dealing with a situation that was not a very easy one. … It was hard for my wife and for my son's mom because she didn't envision that either."
A dramatic engagement and speedy ceremony
If Bündchen and Brady's relationship could survive a surprise child, it could survive anything.
After two years of dating, the footballer popped the question in January of 2009. Bündchen explains that Brady devised a ruse so that she would not suspect the proposal, telling her that her house had flooded and that it was an emergency — she needed to head home now!
"When I got there, the whole apartment had candles and rose petals everywhere, and then he went down on his knees to propose, and I'm like, 'get up!' because he just had surgery and had three staph infections," the model said in a Vogue "73 Questions" interview in 2018.
"And I was like 'What are you doing?' He's like, 'I gotta go on my knees,' and I'm like, 'No, no, no! Get up, please!'"
Gisele Bündchen in a black Anthony Vaccarello dress and Tom Brady in a blue suit jacket at the 2013 Met Gala (Credit: WENN / Michael Carpenter)
The pair wasted no time going down the aisle, planning a wedding in only ten days. They were married on February 26, 2009, during a private ceremony in Santa Monica, California where the couple's only witnesses were their parents.
"We planned it in like ten days, and it was perfect," Brady said in a 2009 interview with GQ.
"We went back to the house and I barbecued aged New York strips. We had champagne, a cake, some ice cream. It was a great night. I think you always have this idea that weddings need to be 200 people and you invite everybody, and I'm all for it if people want to do that, but I think there was really something special about just having our parents there."
Brady and Bündchen realized that their wedding may have been a bit too private and decided to get married again.
Two months later, in April 2009, the couple held another wedding ceremony in Costa Rica. Though it was another intimate affair, this time the couple invited their extended families, but only family.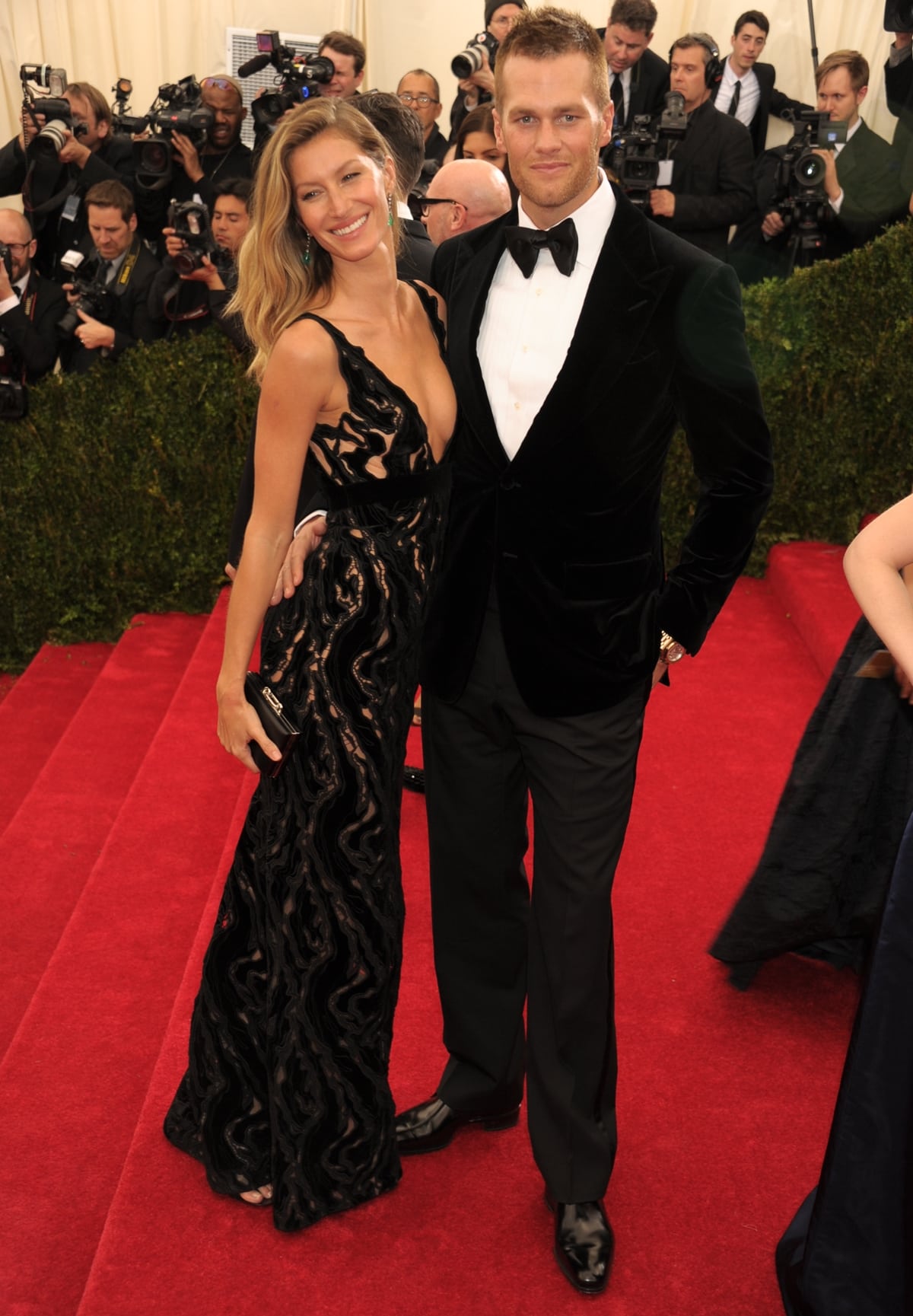 Gisele Bündchen in a plunging black velvet Balenciaga gown with Tom Brady at the 2014 Met Gala (Credit: WENN / Rob Rich)
"The thing is, the day's for you," Brady continued. "It's nothing personal against anybody, but it's not about them. It's about what you and your wife need for that day."
Starting a family together
The couple had already had practice parenting with Tom Brady's first son, so they went ahead and began building their own family.
Bündchen gave birth to their son, Benjamin Rein, in the bathtub of the couple's penthouse on December 8, 2009.
The couple remained rather private during this time, and Bündchen took a break from her illustrious modeling career to be a stay-at-home mom for her son, so no one was surprised when the couple stayed out of the limelight for a while.
Gisele Bündchen visits St. Monica Catholic Church in Santa Monica to have her daughter Vivian baptized on March 8, 2014 (Credit: WENN)
However, Brady and Bündchen shocked fans when they revealed that Bündchen had delivered their second child, a daughter named Vivian Lake, on December 5, 2012.
This would not have been a shock, save for the fact that the supermodel never even announced her pregnancy until her daughter was born — a move Kylie Jenner would emulate years later.
The couple has experienced a few football fiascos
Even after admitting she isn't "really into sports", Bündchen has long been an ardent supporter of her husband's football career.
In 2012, she made headlines for her expletive-laced defense of her husband's performance after the Patriots loss at the Superbowl, yelling, "My husband cannot f*cking throw the ball and catch the ball at the same time! I can't believe they dropped the ball so many times!"
The supermodel kept that same energy in 2015, when Tom Brady was deeply entrenched in the notorious "Deflategate" scandal, where Brady was accused of deliberately asking NFL officials to deflate the footballs used in the AFC Championship game, which led to Brady's team, the New England Patriots, winning by a large margin.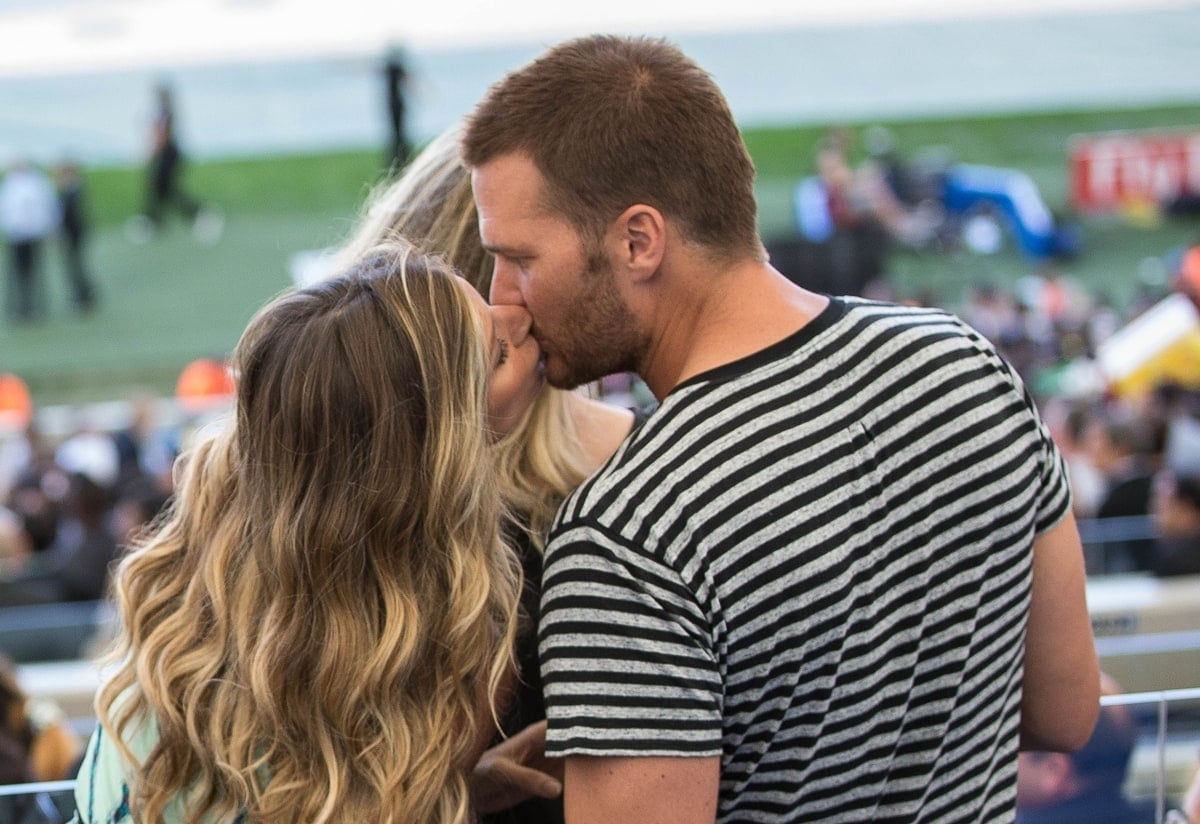 Gisele Bündchen and Tom Brady kissing during the 2014 FIFA World Cup final between Argentina and Germany at the Maracana Stadium in Rio de Janeiro, Brazil, on July 13, 2014 (Credit: WENN / ATP)
As a result, Tom Brady was suspended for four games and the New England Patriots were fined $1 million and ordered to forfeit two draft picks the following year.
Despite rumors that "Deflategate" put a strain on their marriage, Bündchen and Brady maintained a united public front. "We're in a great place. I'll just say that," Brady told a Boston radio station.
Meanwhile, Bündchen shared an Instagram photo of the couple tossing the pigskin together, captioning the image, "Don't worry guys, I will keep him ready," referencing her husband's inevitable return to the game of football after his suspension.
In 2018, the New England Patriots experienced a crushing Super Bowl loss to the Philadelphia Eagles after a successful season. The couple's children were very upset — of course, they wanted their dad's team to win! However, Brady and Bündchen said that they used the Patriots' loss as a teachable moment.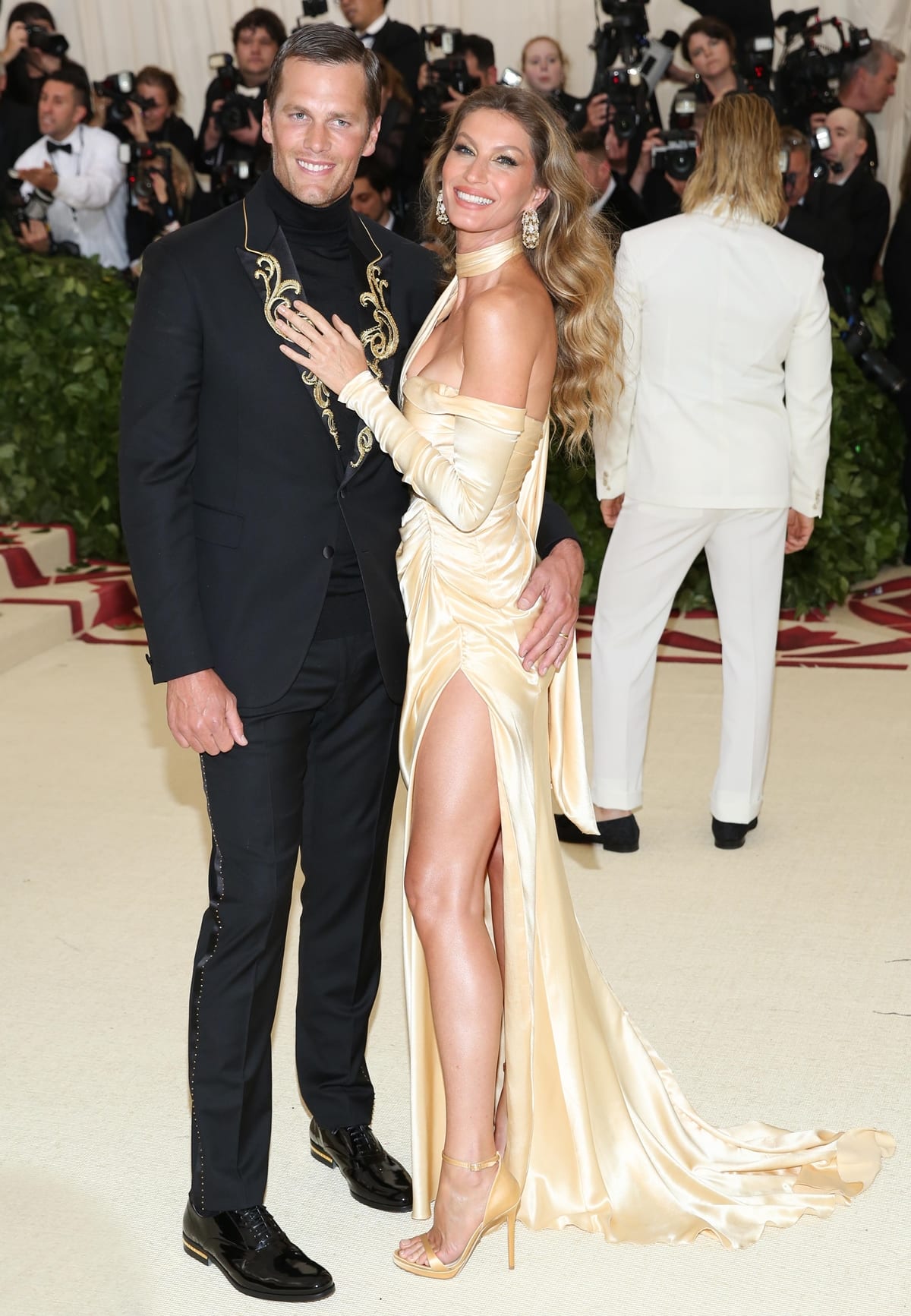 Gisele Bündchen in an eco-friendly long, gold Versace dress with Tom Brady in an embellished tuxedo at the 2018 Met Gala (Credit: WENN / Andres Otero)
"Just this time. Daddy won five times. They [the Eagles] never won before," Bündchen reportedly said to their daughter, Vivian, who was six at the time. "You have to let someone else win sometimes. We have to share. Sharing is caring."
How Tom Brady and Gisele Bündchen's marriage is going now
In 2020, Tom Brady revealed that he needed to "check" himself to ensure that he kept his marriage strong.
"There was a couple of years ago, she didn't feel I was doing my part for the family," the footballer said in an interview with Howard Stern.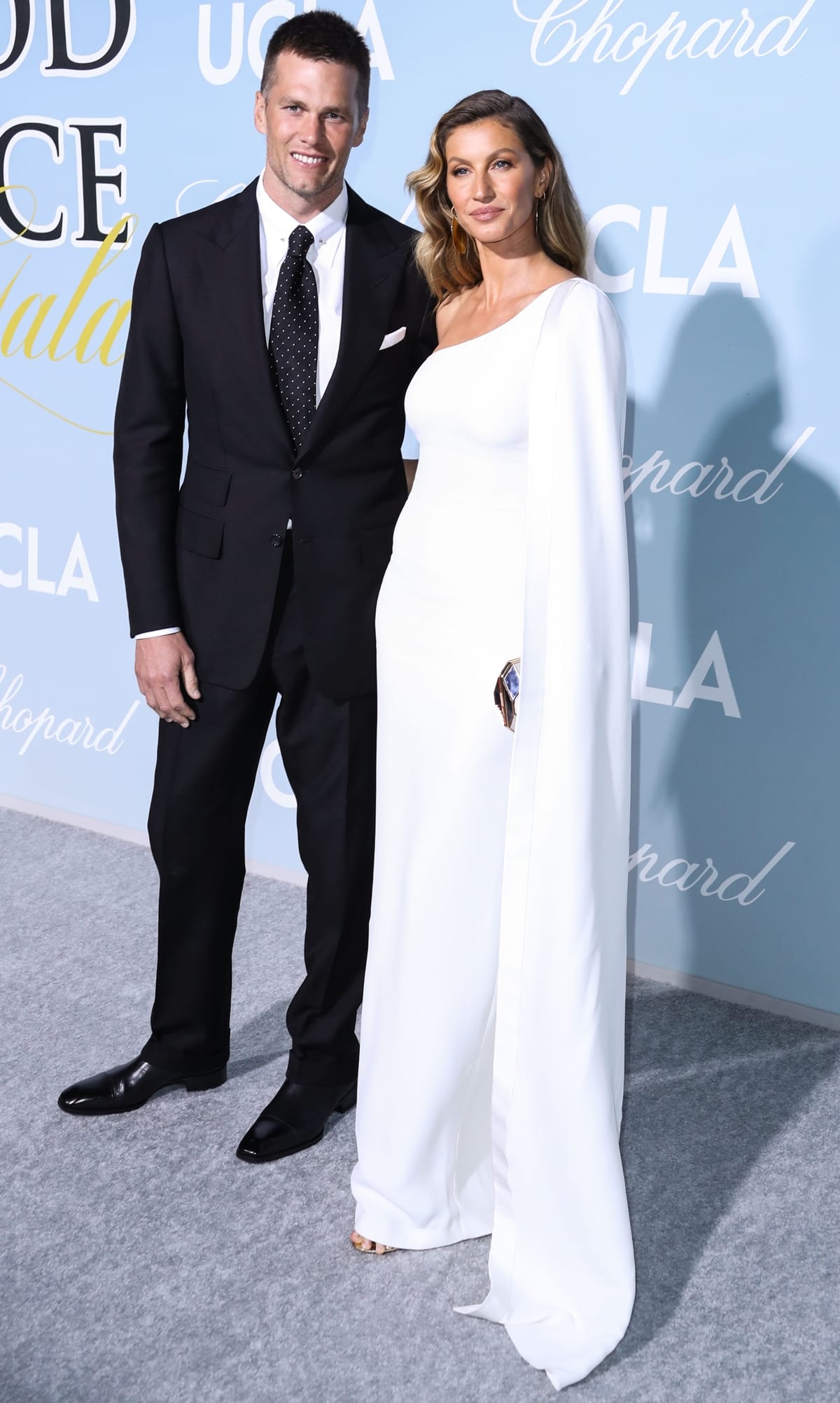 Gisele Bündchen in a white one-shoulder Stella McCartney dress with Tom Brady in a black suit at the 2019 Hollywood For Science Gala at Private Residence on February 21, 2019, in Los Angeles, California (Credit: WENN / Avalon)
"She felt like I would play football all season and she would take care of the house, and then all the sudden when the season would end, that I'd be like, 'Great, let me get into all my other business activities. Let me get into my football training.' And she's sitting there going, 'Well, when are you going to do things for the house? When are you going to take the kids to school and do that?'"
Brady said he made a "big transition" and since then, things have been smooth sailing. Like any couple, Brady and Bündchen have their marital issues, but they are devoted to making their "till death do us part" vows ring true.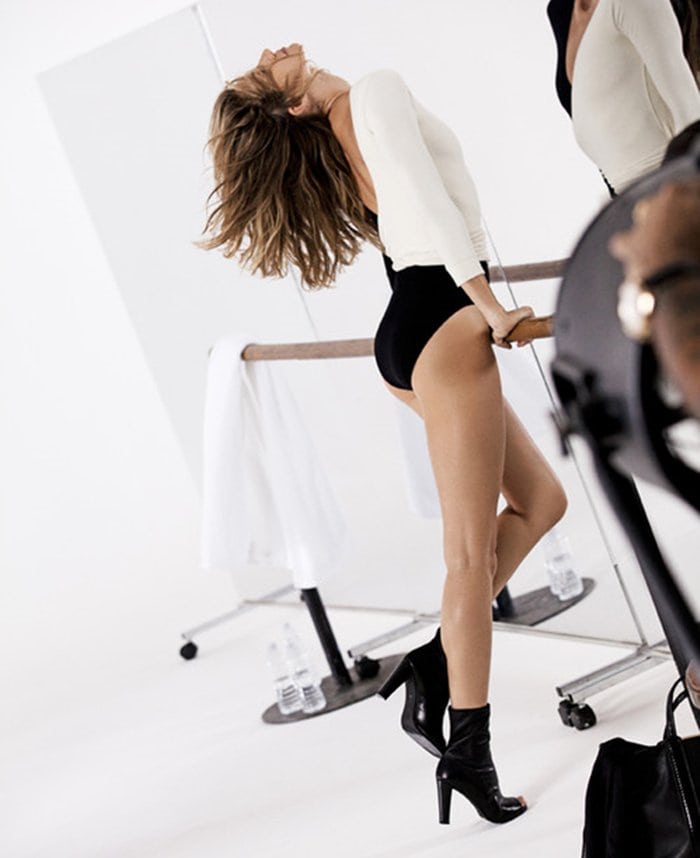 Supermodel Gisele Bundchen shows off her Stuart Weitzman boots and her toned behind while filming a commercial for the footwear brand (Credit: Mario Testino / Stuart Weitzman)
In November 2015, supermodel Gisele Bündchen showed off her dance moves in Stuart Weitzman's first-ever commercial campaign.
The commercial was directed by famed fashion photographer Mario Testino and features the leggy Brazilian model surrounded by shirtless, dancing men.
Gisele Bundchen's short brown hair flies backward as she poses during a commercial shoot
In the short commercial, Gisele dances up a storm in the brand's "Koko" boots.
It seems like the message behind the campaign is that Stuart Weitzman's products are both fashionable to wear and comfortable to dance in.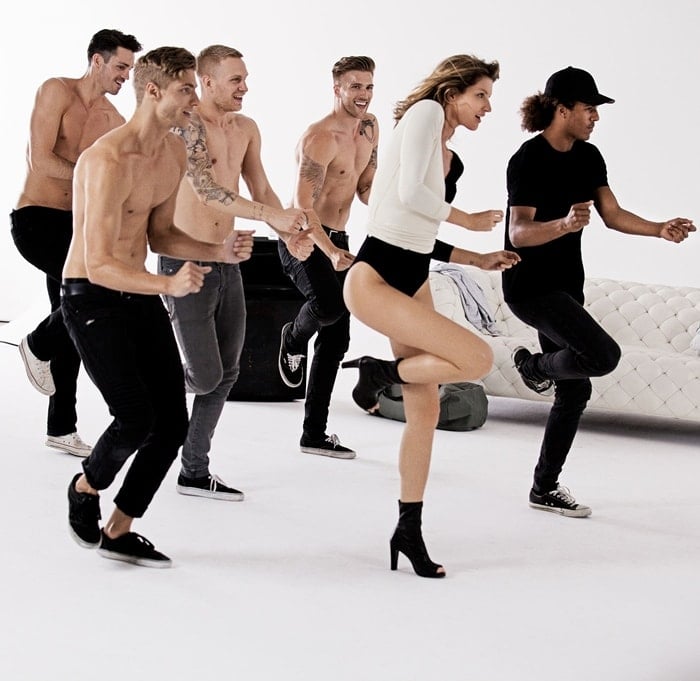 Gisele Bundchen shows off her dance moves with her crew in tow as she films a commercial for footwear brand Stuart Weitzman
The full commercial debuted during the MTV Video Music Awards.
Stuart Weitzman "The Koko" Boots in Nero Plonge Stretch, $575 at Zappos
You can get the same look with our budget-friendly picks below from ShoeDazzle and JustFab.
Black Lurina Open-Toe Ankle Booties, $10
Madison "Cyndi" Peep-Toe Booties, $10
BEAU+ASHE "Tanya" Peep-Toe Booties, $10
GX by Gwen Stefani "Mai" Boots, $10