What can be said about Leonardo DiCaprio that hasn't been said before?
Since receiving critical acclaim for his performance as Arnie Grape at the age of 19 in 1993, he has become one of the premier talents in Hollywood with an impressive filmography to back up that claim.
Looking back upon his illustrious career, it's clear why Leonardo DiCaprio is in such high demand as an actor. He consistently chooses projects that capture his interest and takes on roles that challenge his already wide acting range.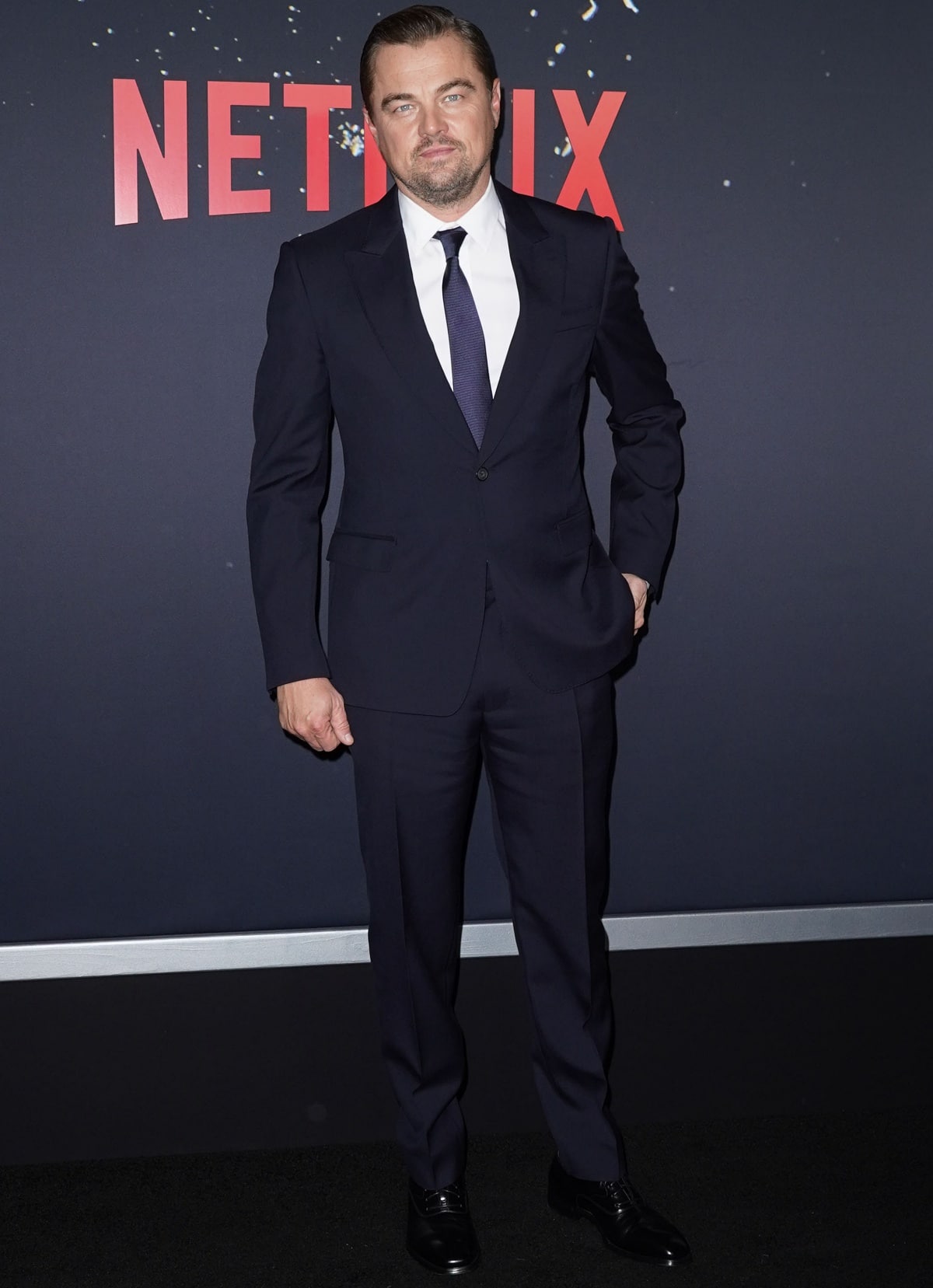 Leonardo DiCaprio in a custom Alexander McQueen suit and David Yurman cufflinks at the Don't Look Up premiere held at the Jazz at Lincoln Center in New York City, New York, on December 5, 2021 (Credit: John Nacion / Startraksphoto)
DiCaprio also works frequently with cream-of-the-crop filmmakers such as Martin Scorsese, Quentin Tarantino, Steven Spielberg, and James Cameron. This has led to some of the best acting performances in cinematic history.
Some highlights of the celebrated actor's career include six Academy Award nominations under his belt and one win for his role as Hugh Glass in The Revenant (2016), a film that narrowly missed appearing on this list.
Leonardo DiCaprio won the Oscar for Best Actor in a Giorgio Armani tuxedo and Established Jewelry cufflinks at the 88th Annual Academy Awards held at the Loews Hollywood Hotel in Hollywood, California, on February 28, 2016 (Credit: Tinseltown / Shutterstock)
Let's take a look at some of the best films in Leonardo DiCaprio's remarkable career, according to Rotten Tomatoes, and see how well they have held up today.
10. The Wolf of Wall Street (2013) – 79% Critics / 83% Audience Score
One of the most highly anticipated movies of 2013, The Wolf of Wall Street, was the fifth and most recent DiCaprio film directed by legendary filmmaker Martin Scorsese.
The actor was 39 years old at the time of its release. He starred alongside an impressive ensemble of actors, including Margot Robbie, Kyle Chandler, Matthew McConaughey, and Jonah Hill.
DiCaprio portrays the real-life figure of Jordan Belfort – an entrepreneur and stockbroker who gained notoriety in the 1990s for amassing a fortune of over $1 billion using illegal "pump and dump" schemes that ended up earning Belfort a four-year prison sentence.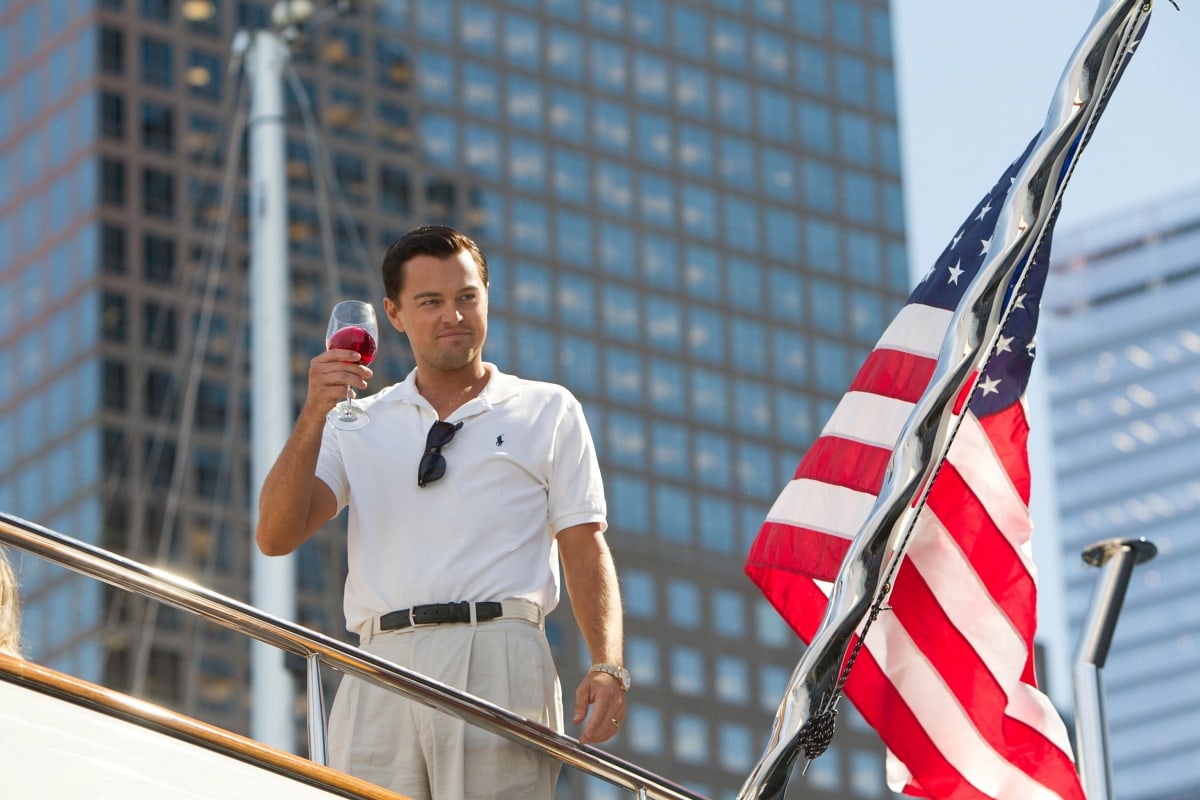 Leonardo DiCaprio as Jordan Belfort in the 2013 biographical black comedy film The Wolf of Wall Street (Credit: Paramount Pictures)
The film was a hit with audiences and ended up being Scorsese's highest-grossing film to date, with a final box office gross of $392 million.
While critics did enjoy the film, they gave it a much lower rating than previous Scorsese films. They remarked on its narrow scope, which prevented it from being the exceptional piece that they've come to expect from the legendary director.
General audiences seemed to love the film more, as evidenced by the difference in scores. They appreciated the humor of the film, loved the quotable dialogues, and applauded the performances of DiCaprio, McConaughey, and Hill.
9. Marvin's Room (1996) – 84% Critics / 63% Audience Score
Marvin's Room is a far cry from the rambunctious antics of The Wolf of Wall Street.
The film surrounds an estranged family portrayed on screen by a star-studded cast including Meryl Streep, Robert De Niro, Diane Keaton, and Hume Cronyn.
22-year-old DiCaprio plays a rebellious teenager named Hank, whose aunt Bessie discovers she has leukemia.
Aunt Bessie seeks his nephew's aid as Hank may be a potential donor for a bone marrow transplant. Hank, placed in a psychiatric ward for setting his mother's house on fire, adamantly refuses her request.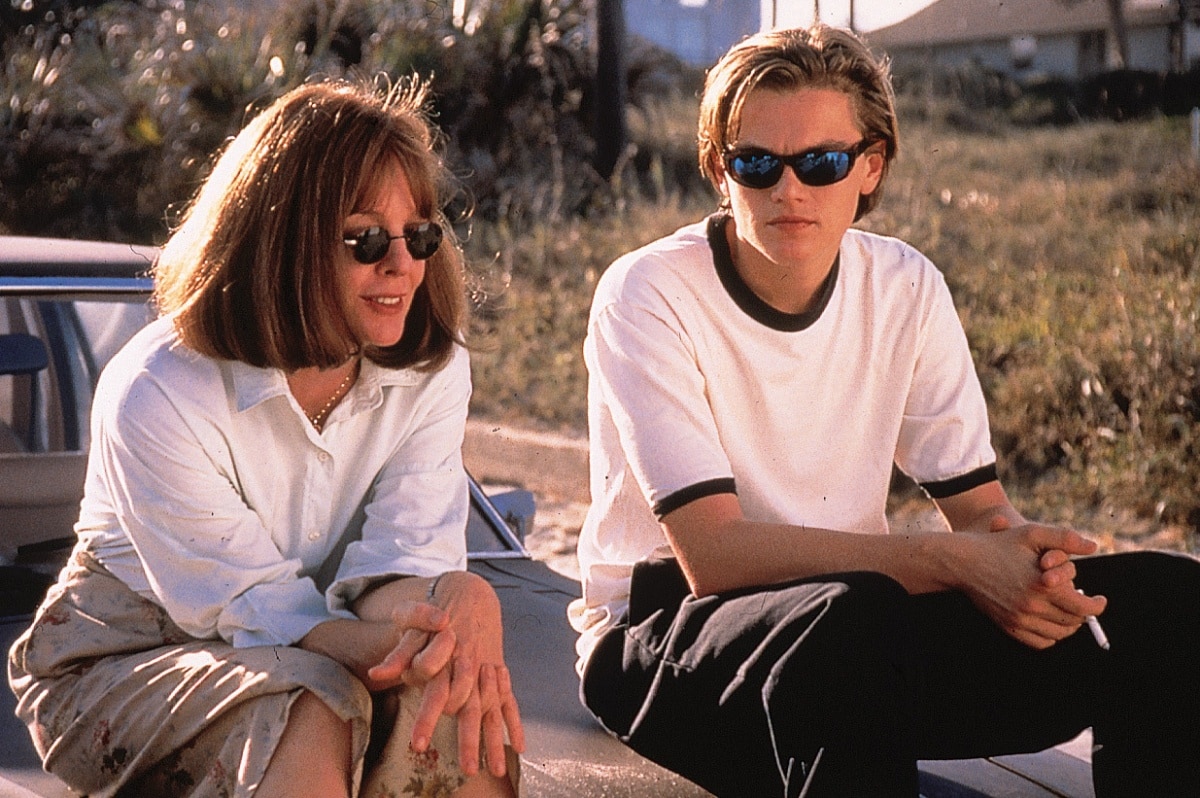 Diane Keaton as Bessie Wakefield and Leonardo DiCaprio as Hank Lacker in the 1996 American drama film Marvin's Room (Credit: Miramax Films)
The film's affecting plot managed to win over critics at the time, with the consensus being that the strength of the cast helped to propel the script past its initial potential.
However, modern audiences found the film a little slow, sappy, and dull. This is why there is such a large discrepancy between the scores from critics and general audiences.
But if you're in the mood to shed some tears, this film might be a good choice.
8. Once Upon a Time in Hollywood (2019) – 84% Critics / 70% Audience Score
The most recent effort from Tarantino and DiCaprio (who first collaborated in Django Unchained in 2012), Once Upon a Time in Hollywood is a period love letter to the Golden Age of Hollywood in the late 1960s.
It combines real-life figures Sharon Tate (Margot Robbie), Jay Sebring (Emile Hirsch), and Steve McQueen (Damian Lewis) with fictional characters Rick Dalton (DiCaprio) and Cliff Booth (Brad Pitt).
Leonardo DiCaprio as Rick Dalton in the 2019 highly stylized comedy-drama film Once Upon a Time in Hollywood (Credit: Sony Pictures Releasing)
The film largely deals with Rick Dalton struggling as a fading actor as he tries to adapt to the changes in the film industry.
All the while, the threat of Charles Manson and the Tate murders is brewing, resulting in a tangle of multiple storylines that play out in a quintessential Tarantino fashion.
The film's critical reception was positive, although some were perplexed by and divided on its ending. Other critics also reacted negatively to the depictions of real-life figures such as Bruce Lee, Sharon Tate, and the Manson family.
Meanwhile, general audiences were disappointed with the film's long running time (clocking in at 161 minutes). However, most of them reacted positively to the humor and incredible performances.
7. The Aviator (2004) – 86% Critics / 79% Audience Score
The second collaboration between Martin Scorsese and DiCaprio (following Gangs of New York in 2002) is a biopic based on the life of Howard Hughes.
Hughes was a larger-than-life business magnate who was one of the most influential and financially successful figures of his time. He was particularly notable for his work within the film industry, as he produced several successful films in the late 1920s to early 1930s.
The film deals mostly with his lifelong struggles with OCD and how those struggles began to worsen over time, conflicting with his public persona.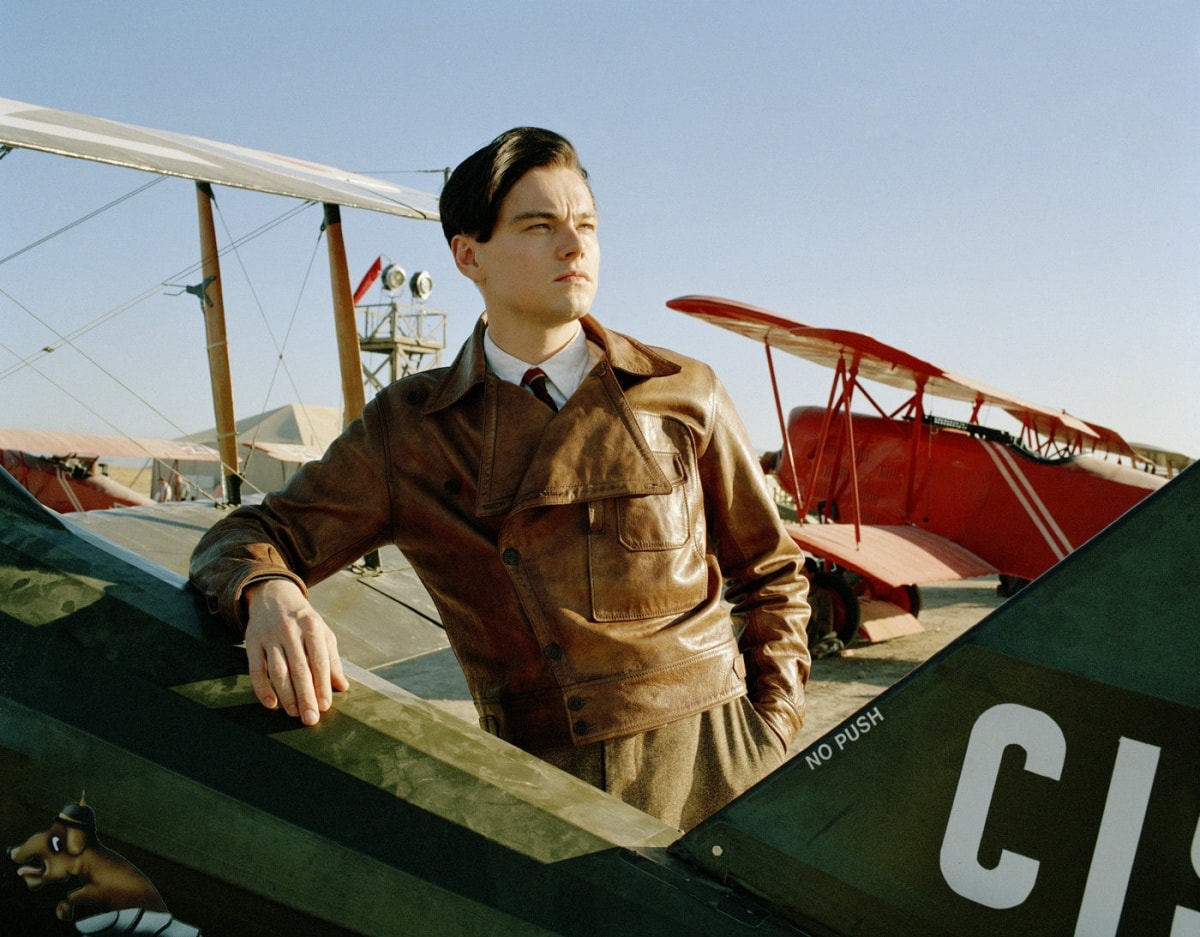 Leonardo DiCaprio as Howard Hughes in the 2004 biographical film The Aviator (Credit: Miramax Films / Warner Bros. Pictures)
DiCaprio managed to accurately portray the torrid mental state of Hughes, as he was notorious for his episodes of manic reclusion (he once refused to leave his private theater for a period of months).
His brilliant performance earned him an Academy Award nomination for Best Actor, which was one of ten nominations that the film received overall.
Critics and audiences alike have shown appreciation for this film even today, as evidenced by the comparable audience and critic scores. It seems like this film is one that has certainly stood the test of time.
6. Django Unchained (2012) – 86% Critics / 92% Audience Score
This film marks the first collaboration between Quentin Tarantino and Leonardo DiCaprio. It sheds light on the horrors of America's history in a stylized Spaghetti Western presentation that doubles as Tarantino's tribute to the genre.
DiCaprio plays the role of Calvin J. Candie, a charismatic but cruel plantation owner. Django (Jamie Foxx) is a slave, who desires to free his wife Broomhilda (Kerry Washington) from the clutches of Candie as he uses his slaves for "mandingo" fighting rings.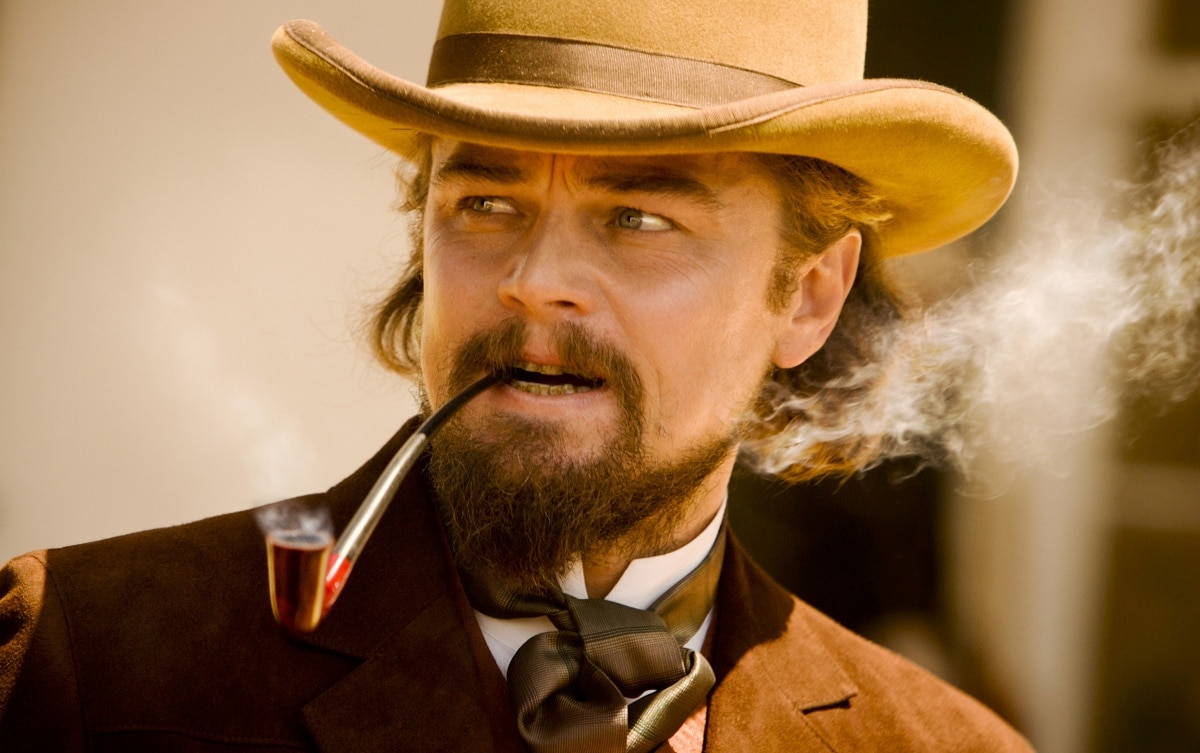 Leonardo DiCaprio as Calvin J. Candie in the 2014 American revisionist Western film Django Unchained (Credit: A Band Apart Films / Columbia Pictures)
Django Unchained was a hit and grossed $425.4 million against a budget of $100 million.
Both critics and audiences found the film entertaining. Although, in typical Tarantino fashion, the movie garnered some controversy for its depiction of slavery and the American South.
Nevertheless, Django Unchained has become one of the most popular in the filmographies of both Tarantino and DiCaprio.
5. Titanic (1997) – 87% Critics / 69% Audience Score
Does this one really need an introduction? One of the highest-grossing films of all time, Titanic was an absolute revelation when it premiered in 1997.
DiCaprio was 23 years old and became an internationally recognized superstar after the film's release.
The actor was initially reluctant to take on the role of Jack Dawson, a poor orphan who wins third-class tickets to board the Titanic cruise liner, but was encouraged by director James Cameron to accept it. He beat out other potential actors like Tom Cruise, Matthew McConaughey, and Billy Crudup.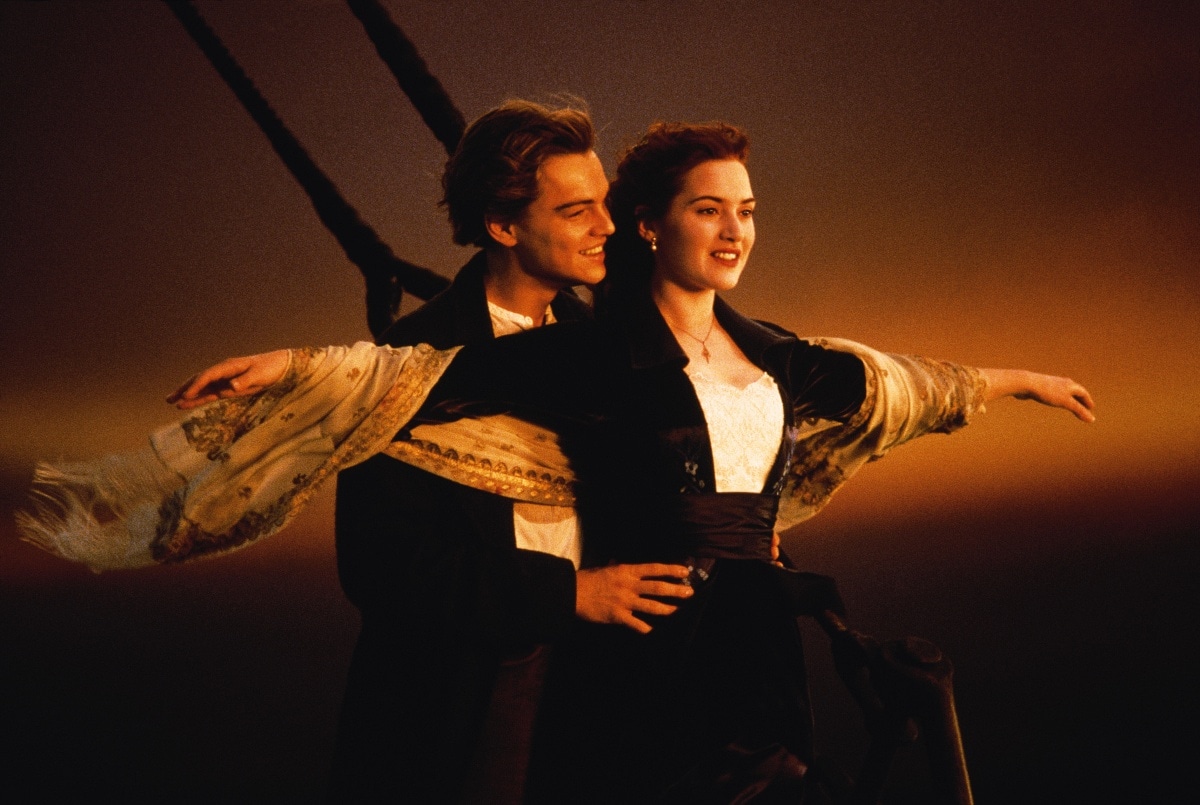 Leonardo DiCaprio as Jack Dawson and Kate Winslet as Rose DeWitt Bukater in the 1997 epic romance and disaster film Titanic (Credit: Paramount Pictures / 20th Century Fox)
DiCaprio stars opposite Kate Winslet as Rose DeWitt Bukater, a first-class passenger from Philadelphia. Jack and Rose, separated by class, eventually spark a whirlwind yet passionate romance cut short by the looming Titanic disaster.
The film was a major boon for DiCaprio's career as it ignited a phenomenon dubbed "Leo-mania," which cemented his status as a young heartthrob.
Titanic was instantly popular among both critics and audiences, amassing an estimated $2.1 billion in box office gross against a budget of $200 million (the highest budget for a film at the time).
Critics loved the universal appeal of the love story, which manage to impact male and female viewers alike. The discrepancy between the audience and critic scores can be somewhat explained by the fatigue felt by modern cinema fans, as the film has a legendary status at this point.
4. Inception (2010) – 87% Critics / 91% Audience Score
DiCaprio has a knack for working with the best directors in Hollywood. Inception marks his first collaboration with Christopher Nolan, one of the most consistently brilliant directors in the business.
In typical Nolan fashion, the film deals with memory and the subconscious. Nolan previously explored similar themes in his feature debut Memento (2000).
While Nolan's previous efforts to recruit DiCaprio failed, the actor was intrigued by the slick screenplay of Inception. He agreed to sign on as protagonist Dom Cobb, beating out A-list stars Will Smith and Brad Pitt.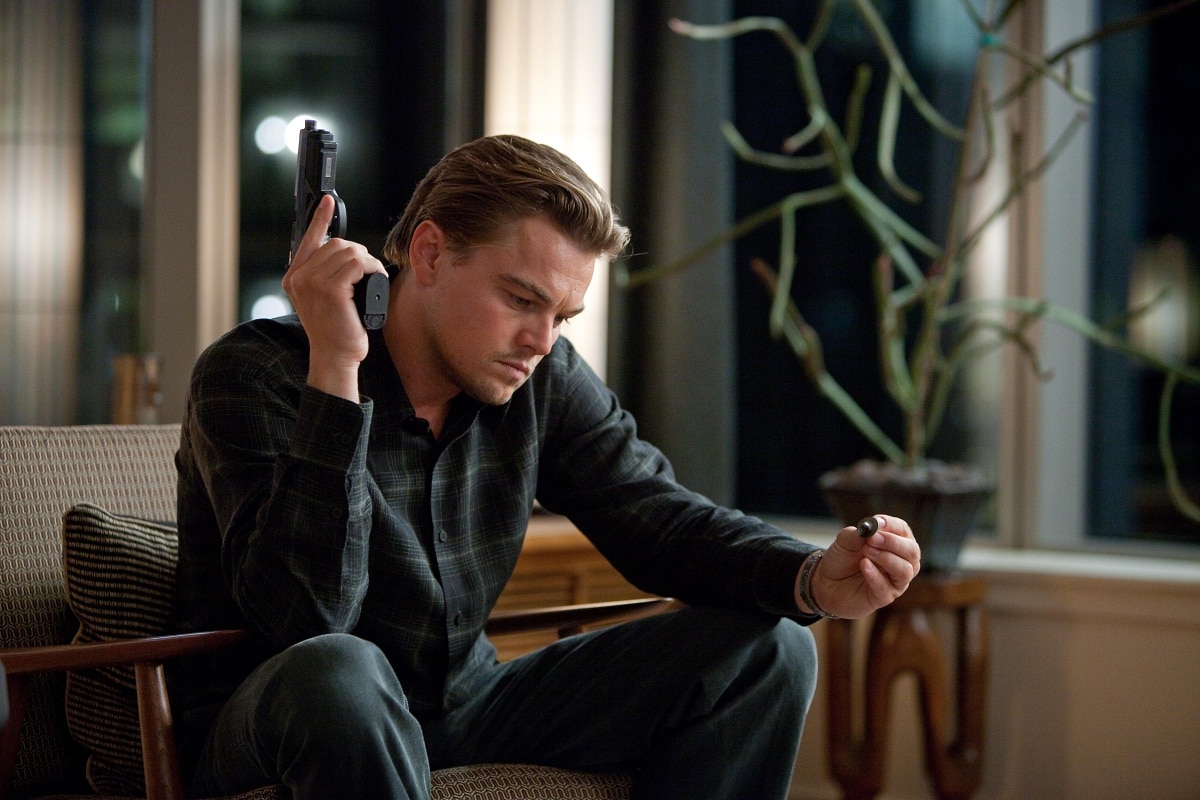 Leonardo DiCaprio as Dom Cobb in the 2010 sci-fi action film Inception (Credit: Warner Bros. Pictures)
Inception boasts of a stellar cast of talented young actors, including Joseph Gordon-Levitt, Tom Hardy, Marion Cotillard, Elliot Page, and Cillian Murphy.
In the film, Cobb works as a professional thief infiltrating the dreams of his victims to steal precious information. For his recent job, he's tasked with performing the impossible – implanting an idea into his victim's mind, which is called "inception."
Inception was a success both financially and critically, making it one of the highest-grossing films of 2010.
Viewers loved its unique combination of action-packed thrills and an intellectually stimulating concept. The film went on to win four Academy Awards out of eight nominations in total.
3. What's Eating Gilbert Grape (1993) – 90% Critics / 89% Audience Score
This film put a young DiCaprio on the map. What's Eating Gilbert Grape is a slice-of-life film that takes place in the small fictional town of Endora, Iowa.
DiCaprio portrays the role of Arnie Grape, the intellectually disabled teenage brother of Gilbert Grape (Johnny Depp).
Gilbert acts as the caretaker of the family, as his father committed suicide, and his mother is a despondent obese woman who spends her days watching television.
Leonardo DiCaprio as Arnie Grape in the 1993 coming-of-age drama film What's Eating Gilbert Grape (Credit: Paramount Pictures)
He struggles to keep up with the challenges of his role as he takes care of his family while juggling his own personal issues and a potential romance with a woman named Becky (Juliette Lewis).
Gilbert's frustrations manifest in the abuse of his younger brother. Disgusted by his own actions, he leaves the small town shortly after.
The film was a box office bomb and only managed to gross a meager $10 million against a budget of $11 million, losing money in the process.
Despite the disappointing box office result, the film did manage to win over the hearts of film critics. They particularly gushed over the brilliant performances of DiCaprio and Depp. Audiences seem to agree with the critics in this case, as evidenced by the strong and almost identical scores from both.
2. The Departed (2006) – 90% Critics / 94% Audience Score
The golden standard of the Scorsese and DiCaprio collaboration, The Departed was produced as an English-language remake of the Hong Kong film Infernal Affairs (2002).
It deals with two informants – one is an Irish mafia member placed as a spy in the Massachusetts State Police, and the other is a state trooper assigned to infiltrate the Irish mafia.
DiCaprio plays Billy Costigan Jr., the state trooper ordered to be a rat within the Irish mafia. Opposite him is Matt Damon as Colin Sullivan, the mafia member who infiltrates the State Police as an informant for the mob.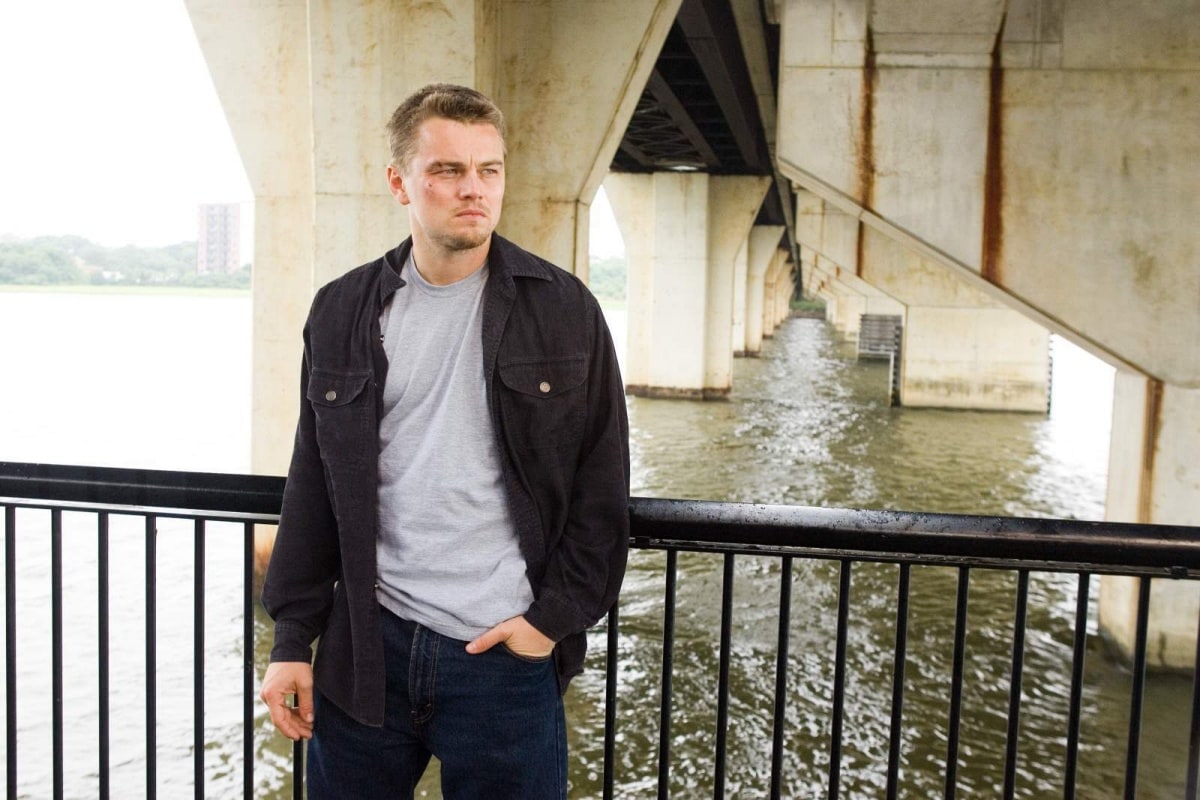 Leonardo DiCaprio as William "Billy" Costigan Jr. in the 2002 crime thriller film The Departed (Credit: Warner Bros. Pictures)
The cast is rounded out by Hollywood heavyweights such as Jack Nicholson, Mark Wahlberg, Martin Sheen, Alec Baldwin, and Vera Farmiga.
Released in 2006, the hype surrounding the film matched the acclaim it received. Critics and audiences alike gave enthusiastic responses to the film, which grossed $291.5 million against a budget of $90 million.
The Departed won four Academy Awards, including Best Picture, Best Director (Scorsese's only win to date), Best Adapted Screenplay, and Best Editing.
As evidenced by the scores, general audiences were on the same page as the critics. The Departed is definitely a must-watch for any fan of cinema.
1. Catch Me If You Can (2002) – 94% Critics / 89% Audience Score
Perhaps the most iconic DiCaprio film to date, Catch Me If You Can, is an adaptation of Frank Abagnale's autobiography. Abagnale is an American con artist who allegedly managed to con millions of dollars by posing as multiple authoritative figures before his 19th birthday.
Leonardo DiCaprio plays Frank Abagnale Jr., while Tom Hanks takes on the role of Carl Hanratty. The latter is an ambitious FBI agent who works diligently to track down Abagnale and make him face justice for his crimes.
DiCaprio plays his role with charisma and swagger, which helped propel the film's popularity as it managed to gross $352.1 million against a budget of $52 million.
Tom Hanks as Carl Hanratty and Leonardo DiCaprio as Frank Abagnale Jr. in the biographical crime film Catch Me If You Can (Credit: DreamWorks Pictures)
Catch Me If You Can received unanimous praise from both critics and audiences, citing the incredible performances of Hanks and DiCaprio as the highlights of the film.
However, in recent years, the movie has come under scrutiny due to the exaggerated claims of Frank Abagnale himself. FBI records revealed that Abagnale's cons only amounted to a sum of $1500, which is a far cry from the millions claimed in the film.
Nevertheless, it remains a classic in DiCaprio's filmography and a treat to watch for any fans of the actor.
In conclusion, DiCaprio rarely misses in his decades-long career as one of the most prominent actors in Hollywood. Whether you're a diehard fan or someone who has never seen a Leonardo DiCaprio film before, this list can serve as a guide for analyzing his career up until this point.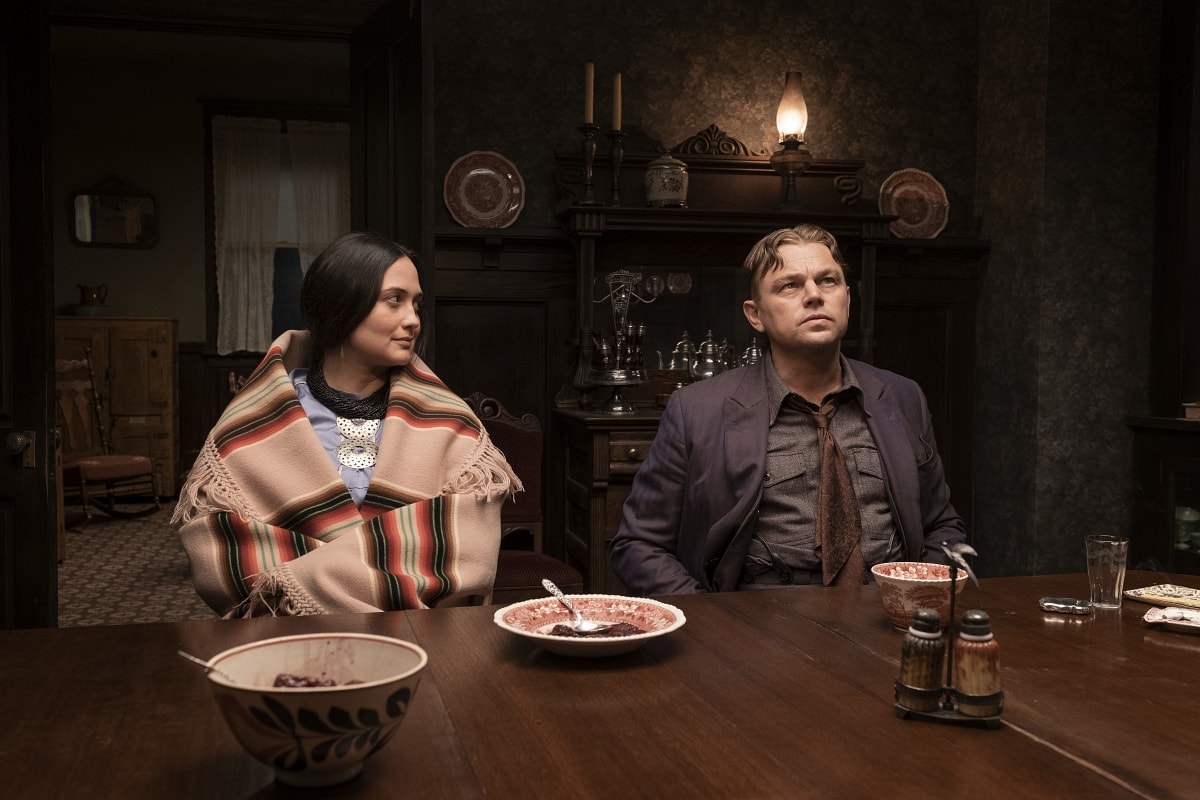 Lily Gladstone as Mollie Burkhart and Leonardo DiCaprio as Ernest Burkhart in the upcoming Western crime drama Killers of the Flower Moon (Credit: Paramount Pictures / Apple TV+)
We're keen to see if his upcoming project, Killers of the Flower Moon (his sixth film with Martin Scorsese), could earn a coveted spot on this prestigious list. Only time will tell!