The release of the movie Titanic in 1997 was an iconic moment in the late 90s. This box-office drama stirred up a frenzy in moviegoers.
James Cameron's film adaptation of the historic event starring Kate Winslet and Leonardo DiCaprio captivated audiences around the world.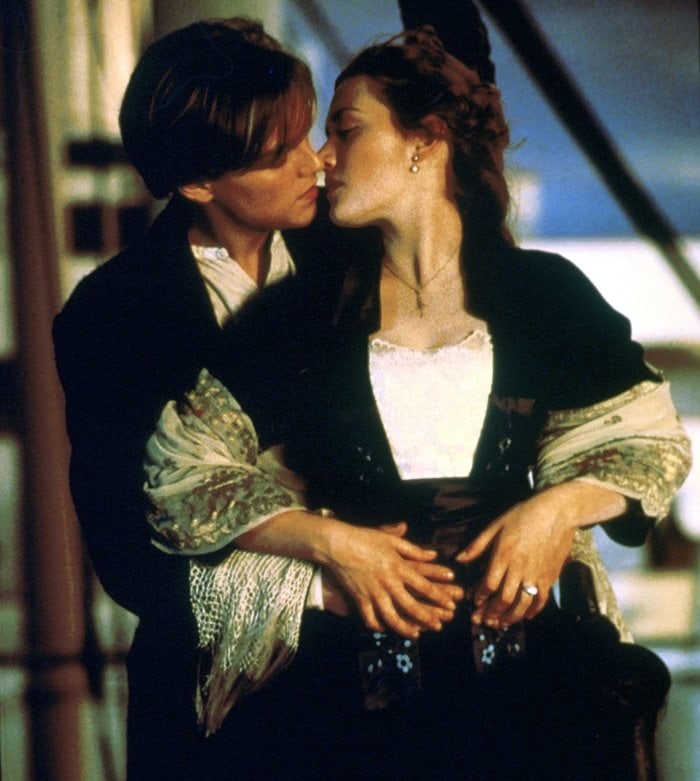 Leonardo DiCaprio and Kate Winslet as members of different social classes who fall in love aboard the Titanic
It remains the highest-grossing film in history. Further, it is one of the few films in history to win an astounding 11 Oscars, including Best Picture.
Over twenty years old, the movie still holds its own. On many streaming services like Netflix, Titanic is capturing new audiences every day.
At the time of its release, Leonardo DiCaprio and Kate Winslet both had impressive careers, but they weren't internationally known.
That was until the opening night and the beginning of what people referred to as "Leomania." Kate, too, became a household name because of the film.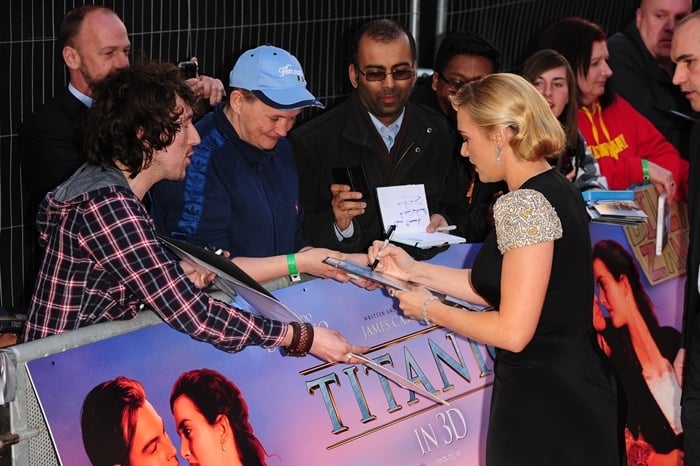 Kate Winslet meets fans at the world premiere of 'Titanic 3D' at Royal Albert Hall on March 27, 2012 in London, England
These roles changed the career trajectory of these young stars forever. Many wonder, who were they before Titanic, and how old were Leonardo DiCaprio and Kate Winslet in Titanic before their careers took off?
The casting process was very drawn out. Director James Cameron knew the importance of these roles and had considered many A-list actors and actresses before choosing Kate and Leo.
Casting Rose: How old was Kate Winslet
Kate did an incredible job at portraying Rose. So good that she was nominated for an Oscar. The British actress had an impressive filmography before staring in Titanic.
In 1996, Kate was nominated for an Oscar for Best Supporting Actress for Sense and Sensibility. She also stared in Hamlet, Jude, and Kid in King Arthur's Court. Clearly, Winslet had a thing for historical works.
She had received the script for Titanic prior to auditioning, and as soon as she read it, she knew she had to have the role. The English actress felt a connection to the character and was determined to play Rose DeWitt Bukater.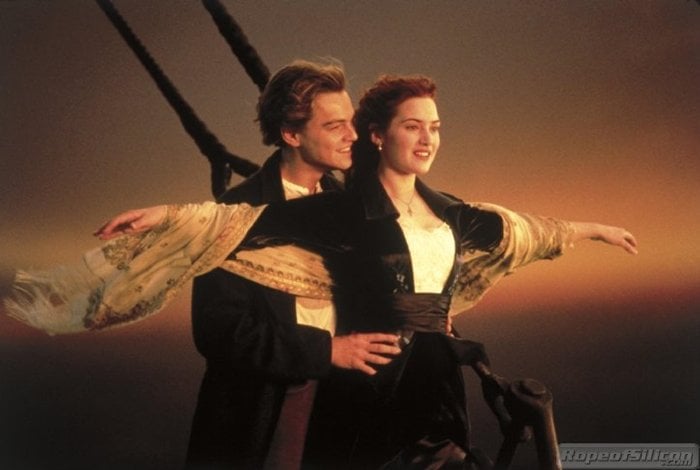 Rose DeWitt Bukater (Kate Winslet) says she's flying while leaning into the wind with Jack Dawson (Leonardo DiCaprio) at the bow of the Titanic
Kate recalled the sequence of events and said she started weeping as she was reading it. She called James and told him she had to have the role. Although she initially wasn't the first choice, her persistence did sway Cameron to select her.
Although it's hard to imagine anyone else playing Rose, a long list of talented actresses were considered. Just a few of the names include Claire Danes, Winona Ryder, Tori Spelling, Reese Witherspoon, Nicole Kidman, and apparently, even Madonna!
Kate was cast before Leo. The studio was pushing for Matthew McConaughey to play Jack, and he auditioned with Kate Winslet through the casting process.
Footage was also released from a screen test Kate did with actor Jeremy Sisto. The chemistry clearly wasn't there, and so the casting team kept looking to fill the role.
At the time of filming, Kate was 21 years old. Production began in 1995 when she was just 20. Kate celebrated her 21st birthday on the set of Titanic with co-star Leonardo DiCaprio.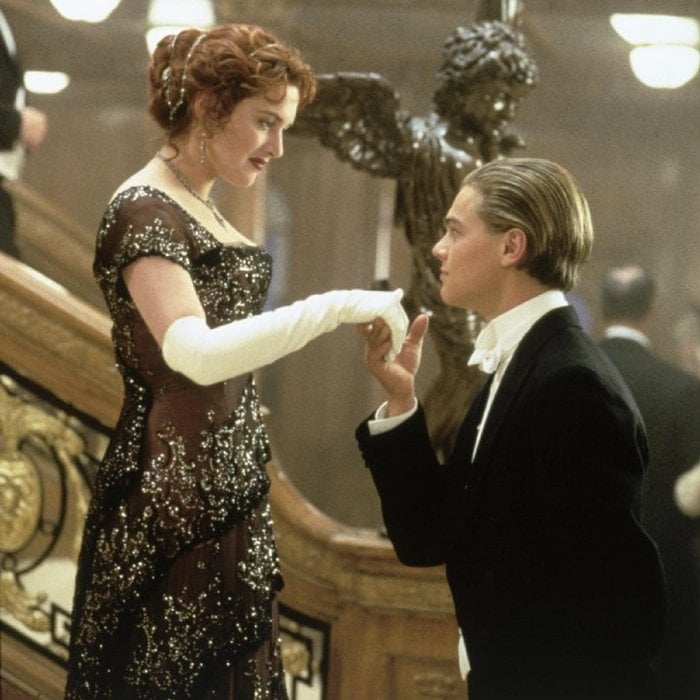 Kate Winslet celebrated her 21st birthday on the set of Titanic with her co-star Leonardo DiCaprio, who turned 22 a month later
She has reminisced about this birthday, saying she ate so much cake she felt sick after. Born on October 5, 1975, in Reading, United Kingdom, when the film was released two years later, Kate was 22 years old.
Casting Jack: How old was Leonardo DiCaprio
Although not the global phenomenon he was after Titanic. Leonardo DiCaprio was a talented and well-known American Actor.
In 1994, he was nominated for Best Supporting Actor at the Academy Awards for his role as Arnie in What's Eating Gilbert Grape?
He began to gain his reputation as a teenage heartthrob in films The Basketball Diaries and Romeo + Juliet.
Leonardo DiCaprio as Arnold "Arnie" Grape in the 1993 American drama film What's Eating Gilbert Grape
Can you imagine anyone else playing the role of Jack? I can't! It's hard to imagine this infamous character being played by anyone else. Ironically, many critics initially felt that Leo was a casting mistake.
They thought he was too "baby faced" to be believable as a third-class lowly passenger.
Leo was looking for his next gig and had just turned down a spot in Boogie Nights when he signed on with Titanic. After auditioning a few actors, and talking with Tom Cruise (who would have cost too much), casting director Mali Finn suggested Leonard DiCaprio.
Leonardo DiCaprio at the Los Angeles premiere of 'Titanic' on December 14, 1997
There were many others who were up for the role, including Matthew McConaughey, Brad Pitt, Johnny Depp, Steven Doroff, River Phoenix, Christian Bale, and Billy Crudup.
Although not all of these actors auditioned, it is well known that Christian Bale was passionate about the role and was publicly disappointed when it was given to DiCaprio.
As a consolation, Matthew McConaughey was offered the role of Cal Hackley, which he declined and ended up being played by Billy Zane.
When the filming of Titanic began, Leo was only 21 years old. Just like Kate, Leo celebrated his birthday on set and turned 22 years old. Born on November 11, 1974, in Los Angeles, Leonardo DiCaprio was 23 when Titanic was released.
Relationship Between Kate Winslet and Leonardo DiCaprio
The first shot the pair filmed together was the nude scene in the vehicle. That's one way to break the ice! Many have said they grew up together. Both in their early twenties, together, they were catapulted to extreme levels of fame.
The chemistry between Kate and Leo played a huge part in the success of the movie. Many of the other actors in the film commented on their bond.
At the Golden Globes, following Titanic's release, Leo and Kate went as each other's date and walked the red carpet together. This chemistry existed both on and off-screen.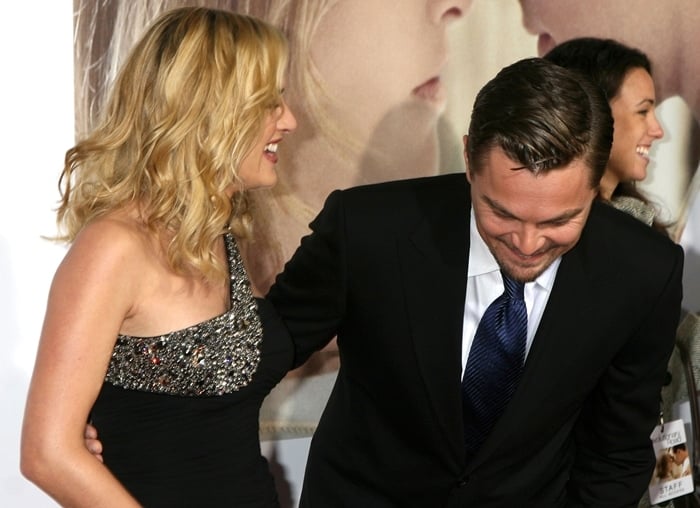 Best friends Kate Winslet and Leonardo DiCaprio have been inseparable since starring in Titanic
They have both said they were never romantically involved and haven't dated. Despite the chemistry we saw in Titanic, they were just friends. Great friends, in fact.
Both have spoken out about their strong friendship, and Kate has described it as a "rare Hollywood friendship." In interviews, you could see the banter and teasing; it was clear they were very close.
This friendship isn't just for appearances. Leo actually walked Kate Winslet down the aisle at her wedding in 2013!
On the Today's Show, DiCaprio gushed about Winslet, saying, "She's still as beautiful and radiant as the day I met her," "She is the consummate professional. She keeps pushing herself to an emotional truth when she's working. That's why I keep saying she's the best."
He also shared on Oprah that out of all the movies he's starred in, his favorite on-screen kiss was the one he shared with Winslet.
Films Together
Fans were captivated by the two together, and their chemistry was clear. It came as no surprise that the two were once again cast as a romantic couple in the 2008 film Revolutionary Road.
They had a reversal of roles, and instead of Leo being the one to die, Kate dies in this film. Another heart-wrenching film by the two! The film was released roughly a decade after Titanic when Kate was 33 and Leo was 34 years old.
Leonardo DiCaprio and Kate Winslet as Frank and April Wheeler in the 2008 romantic drama film Revolutionary Road
Kate once again wowed critics and moviegoers in Revolutionary Road, and she won a Golden Globe! At the awards, once her name was called, she first hugged Leo and then hugged her husband.
With her acceptance speech, she gushed about Leo, saying, "Leo, I'm so happy I can stand here and tell you how much I love you and how much I've loved you for 13 years."
"Your performance in this film is nothing short of spectacular. I love you with all my heart; I really do." In the audience, Leo looked teary-eyed as he blew kisses to her.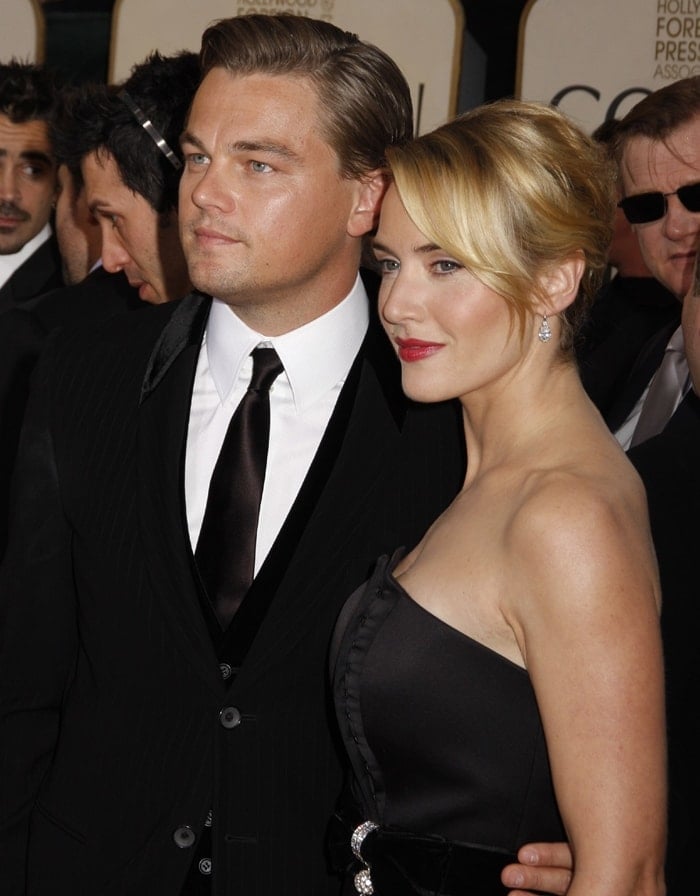 Actors Kate Winslet and Leonardo DiCaprio at the 66th Annual Golden Globe Awards held at the Beverly Hilton Hotel on January 11, 2009, in Beverly Hills, California
Although that was their last film together, they are still each other's biggest cheerleaders. In 2016, Leo won an Oscar for his role in The Revenant, and Kate was in the audience to support him.
She was also at the premiere of the film where she said, "I feel very strongly that it may possibly be Leo's year. And he is my closest friend in the world, and I just couldn't imagine not being there to support him".
Leo and Kate have paired up their charitable efforts as well. In 2017 they worked together to help pay for a young mother's cancer treatment. They were able to raise $1.35 million by auctioning off a dinner with Jack and Rose.
Some still speculate a romantic spark between the two, and although that is debatable, no one can deny the incredible bond and friendship Kate Winslet and Leonardo DiCaprio share.
Meeting at just 20 and 21 years of age with the filming of Titanic, their friendship has remained strong for nearly 3 decades!
Leonardo DiCaprio and Kate Winslet as Jack Dawson and Rose DeWitt Bukater in the film Titanic
In January 2016, people all over the world mourned the passing of Alan Rickman, the actor who played the love-to-hate character Professor Snape in "Harry Potter," and naturally, the people whose lives he has touched personally have been having a harder time accepting it.
Kate Winslet was recognized for her portrayal of Joanna Hoffman in the 2015 biographical drama film Steve Jobs
One such person is Kate Winslet, who tearfully commemorated the actor during her Supporting Actress of the Year award speech at the London Critics Circle Awards.
Kate Winslet flaunted her legs in a black flare mini dress
Kate wore a simple flared dress with a laser-cut hem by Alaïa, which she paired with gorgeous mesh pumps by Rupert Sanderson.
Whether or not this surprisingly dark awards season look was a sign of mourning for the late actor, Kate looked stellar in this understated look.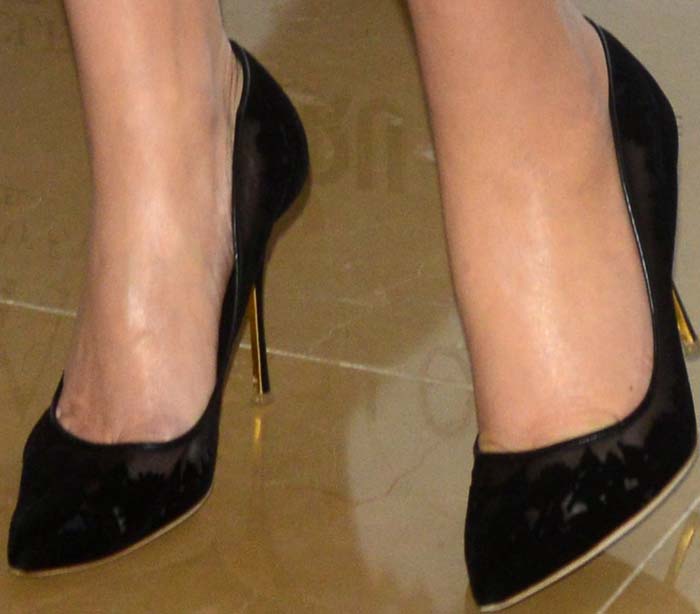 Kate Winslet shows off her size 11 (US) feet in Rupert Sanderson high heels
Kate thanked people for her award before tearfully sharing that the week of Alan's passing had been horrible. She then asked the people to stand up and applaud the late actor before thanking everyone and composing herself.
Not wanting to end her speech on a sad note, Kate decided to share a funny story about Alan from when she was only 19 years old.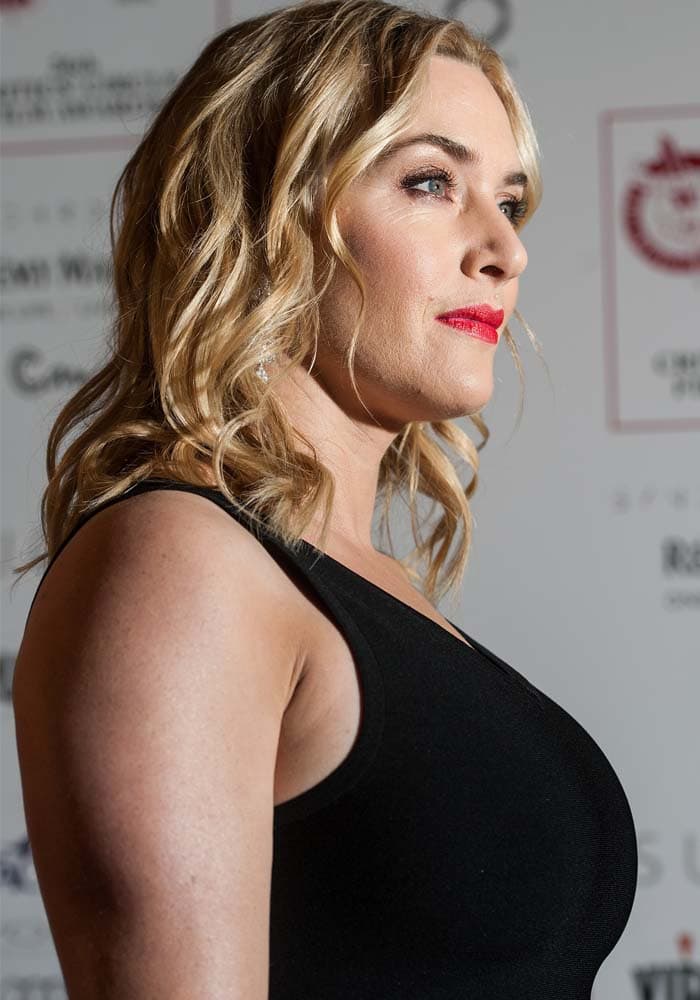 Kate Winslet, winner of the Supporting Actress of the Year award for "Steve Jobs", at The London Critics' Circle Film Awards at The May Fair Hotel on January 17, 2016, in London, England
Get Kate's cutout mesh pumps from Rupert Sanderson at Farfetch and Matches Fashion.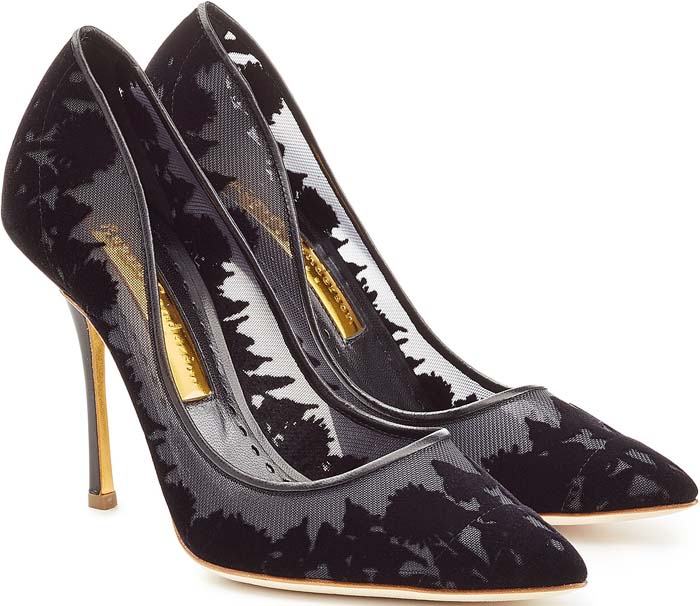 Rupert Sanderson Suede, Leather and Mesh Pumps, $615 – $1,025
Credit: Daniel Deme / Jordan / WENN / Zibi / Nikki Nelson / Adriana M. Barraza