On December 12, 2001, Winona Ryder shocked her fans when she was arrested on shoplifting charges in Beverly Hills, California, accused of stealing $5,560 worth of designer clothes and accessories from Saks Fifth Avenue's department store on Wilshire Boulevard.
She was caught with a cashmere Marc Jacobs sweater worth $760, hair adornments from Frederic Fekkai worth about $600 and several pairs of luxurious socks, including a cashmere pair from Donna Karan worth $80, inside two shopping bags and a garment bag.
Winona Ryder, who stole over $5,500 worth of merchandise in 2001, at the Stranger Things Season 3 World Premiere in Santa Monica, California, on June 28, 2019
While Ryder did not testify at her trial, her lawyer, Mark Geragos, insisted she was innocent. According to The New York Times, he argued that "Saks security officials and an overly zealous district attorney's office had conspired against his client to capitalize on the high-profile trial of an Oscar-nominated actress."
In December 2002, she was sentenced to three years of probation, 480 hours of community service, $3,700 in fines, and $6,355 in restitution to the Saks Fifth Avenue store, and she was ordered to attend psychological and drug counseling.
Noah Schnapp hugs his shoplifting co-star Winona Ryder
In a July 2016 interview with Porter Magazine, Ryder did her best to downplay her crime.
"Psychologically, I must have been at a place where I just wanted to stop. I won't get into what happened, but it wasn't what people think," Ryder said.
The actress added, "And it wasn't like the crime of the century! But it allowed me time that I really needed, where I went back to San Francisco and got back into things that … I just had other interests, frankly."
Best known for her roles in films such as 'Heathers,' 'Edward Scissorhands' and 'Girl, Interrupted,' as well as the hit show 'Stranger Things,' the American actress has an estimated net worth of $18 million.
Actress Winona Ryder, who has a net worth of $18 million, attends the 23rd Annual Screen Actors Guild Awards at The Shrine Expo Hall on January 29, 2017, in Los Angeles, California
In August 2015, Winona Ryder looked dated while hitting the red carpet at the screening of Show Me A Hero held at The New York Times Center in New York City.
She was joined at the event by many of her co-stars from HBO's brand new miniseries based on the 1999 nonfiction book (available at Amazon) of the same name. They include Oscar Isaac, Catherine Keener, Paul Haggis, Hilary Mann, Nichole Galicia, and Carla Quevedo.
Winona Ryder is known for her beautiful, huge eyes
The then 43-year-old American actress donned a black silk velvet dress from the Oscar de la Renta Fall 2013 collection featuring ivory thread-work scroll embroidery.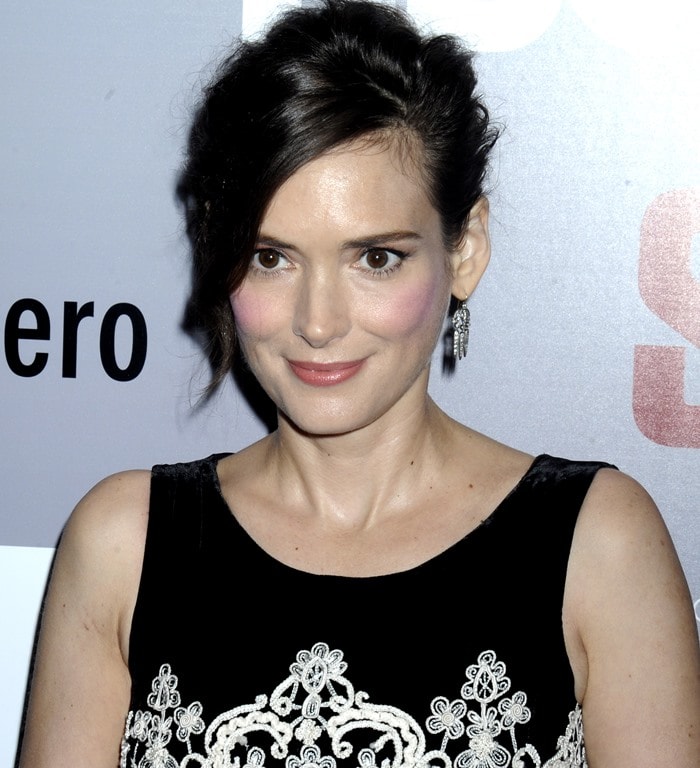 Winona Ryder's dress featuring ivory thread-work scroll embroidery
She styled the frock with a beaded clutch from the same Dominican American fashion designer and completed the ensemble with suede Casadei pumps.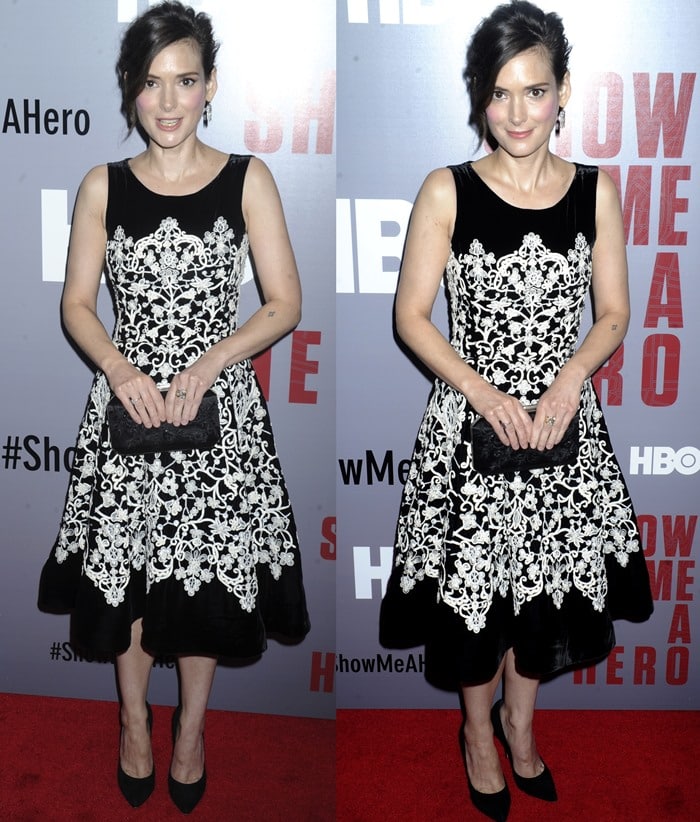 Winona Ryder at the screening of Show Me A Hero held at The New York Times Center in New York City on August 11, 2015
How do you like Winona's black silk velvet dress? Do you agree that this outfit would look better on Tina Fey or Michelle Obama?
You can find the latest from Casadei at Casadei and Farfetch. The following black supple leather pump features mesh panels with buckle up front.
Black Supple Leather Casadei "Anniversary" Pumps, €325 at Casadei
Credit: WENN / Dennis Van Tine / Future Image / Apega / Brian To / FayesVision