Winona Ryder has been in the limelight ever since she was a young teenager, first stealing hearts in blockbuster titles such as Beetlejuice and Heathers.
Ryder has been acting for almost 35 of her 49 years! Unfortunately, that level of dedication to her career and fame also comes with the less savory aspects of Hollywood.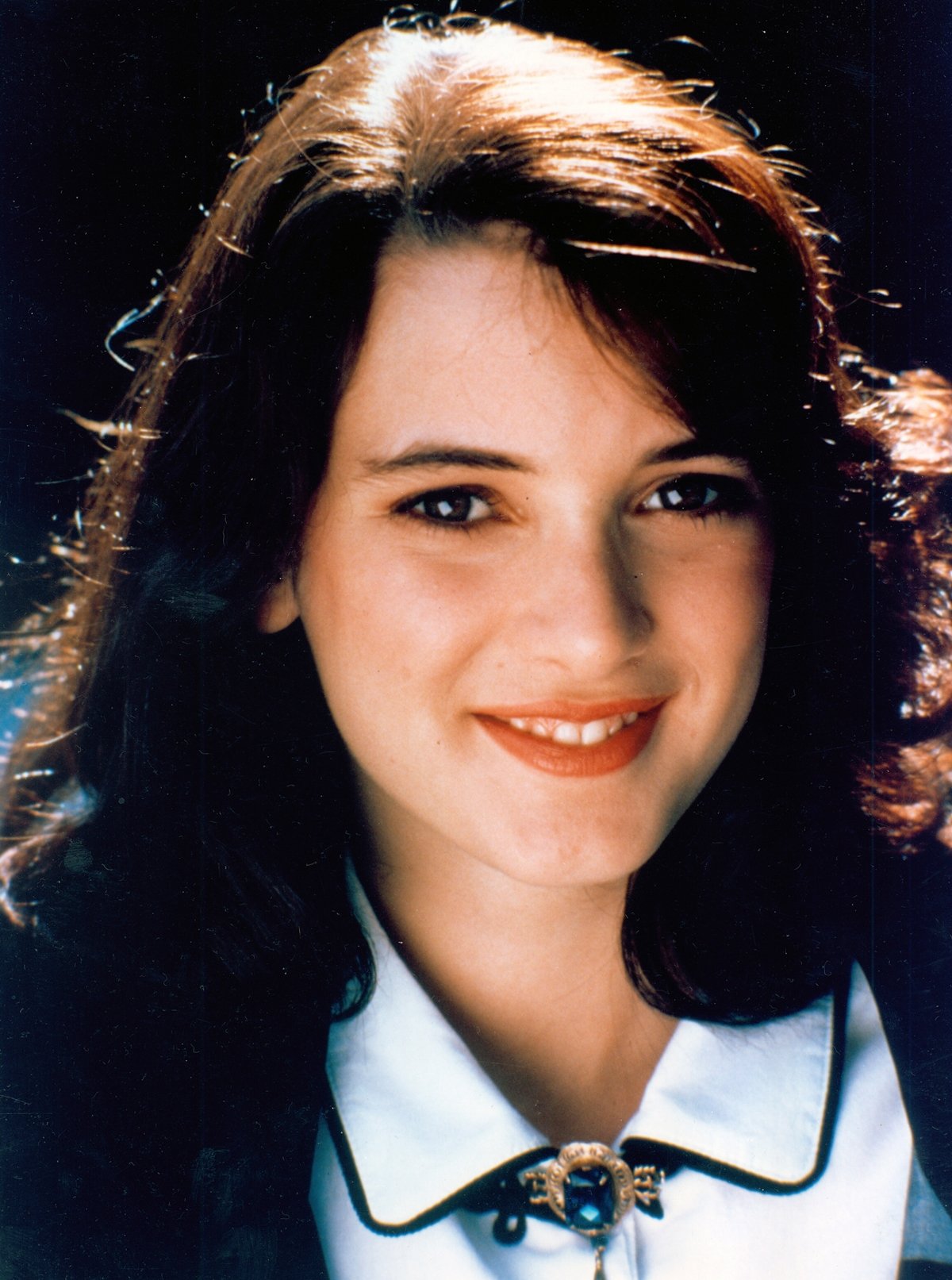 Winona Ryder rose to prominence with her role as Veronica Sawyer in the 1989 American black comedy teen film Heathers (Credit: WENN)
Being a child star is not easy, and many actors that begin their careers early in their lives find their mental health suffering due to the invasiveness of the press — especially when it comes to romantic relationships.
Despite all of the things that have happened in Ryder's very public life, we're proud to say that it seems like she is doing great!
The actress has starred as Joyce Byers in the hit Netflix show, Stranger Things, since 2016, and has been dating her partner, boyfriend Scott Mackinlay Hahn, since 2011.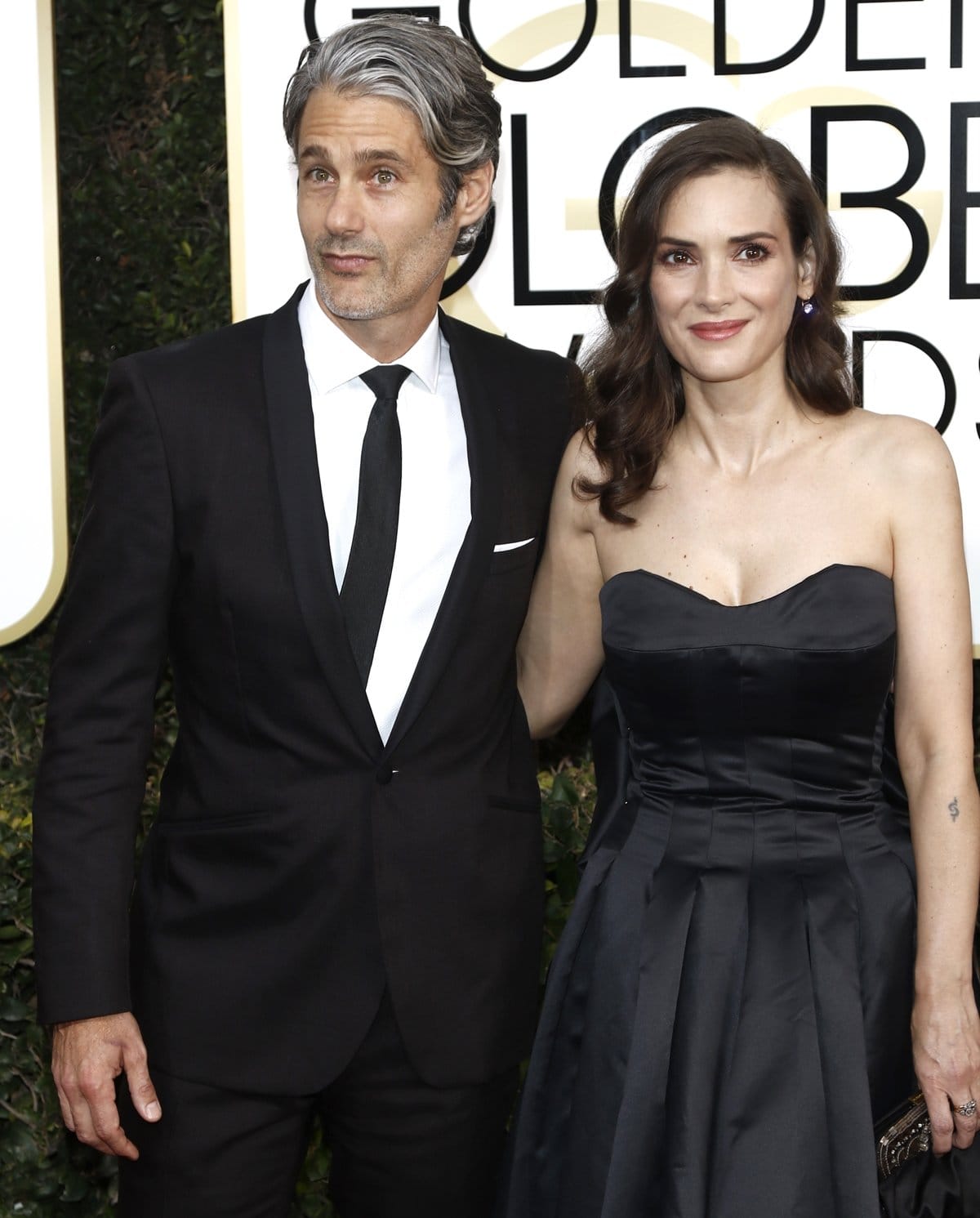 Fashion designer Scott Mackinlay Hahn and Winona Ryder have been together since 2011 (Credit: WENN)
Before her relationship with Scott Mackinlay Hahn began, Ryder dated a bevy of A-list celebrities. Take a walk down memory lane with us and revisit some of Winona Ryder's past relationships.
1. Rob Lowe (Mid-'80s)
After Winona Ryder's film debut in 1986, she was linked with fellow America's Sweetheart, Rob Lowe. They were rumored to have a fling in 1987 while filming Square Dance.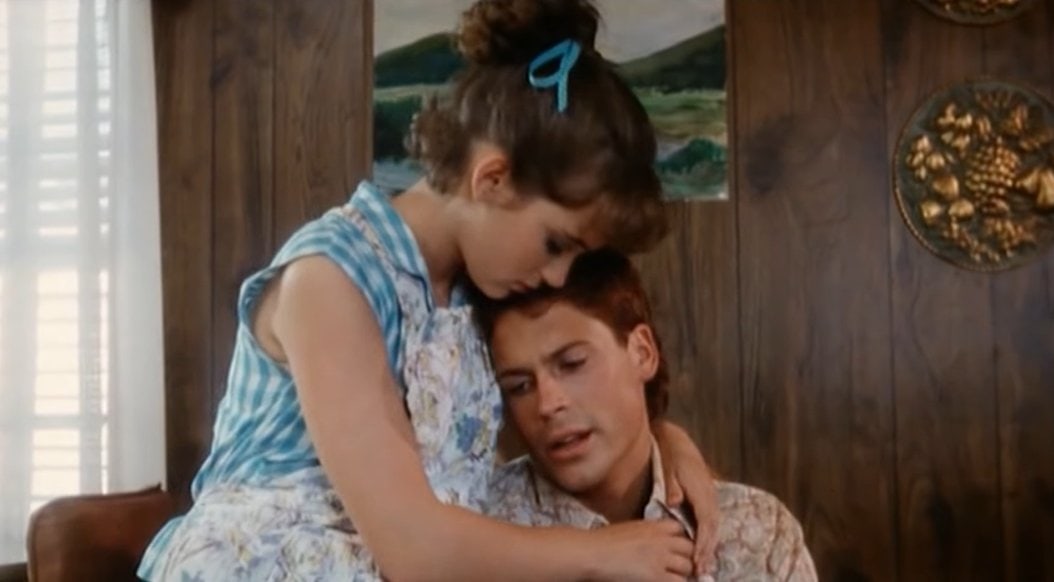 Rob Lowe as Rory and Winona Ryder as Gemma Dillard in the 1987 American drama film Square Dance (Credit: Island Pictures / NBC)
They attended the Golden Globes together the following year. However, the rumors of Lowe and Ryder being an official couple were never confirmed, especially considering Lowe was also linked to Princess Stephanie and Melissa Gilbert at the time.
2. Christian Slater (1988 and 1989)
After their undeniable chemistry in Heathers, Ryder was reportedly dating her costar, Christian Slater between 1988 and 1989.
Unfortunately, things didn't last between Ryder and the teen heartthrob — Winona told Vogue in 1993, "He broke my heart, or I thought he did at the time."
Christian Slater and Winona Ryder fell in love after meeting on the set of Heathers (Credit: WENN)
Wildly enough, 20 years later in 2007, Slater told the British weekly entertainment magazine NOW, "We don't speak on a regular basis, but I love her," about Ryder. "I've never gotten over the crush I had on her then. She is still the woman of my dreams." Oh, what could have been!
3. Johnny Depp (1989 to 1993)
One of Winona Ryder's most famous relationships (and one of the most beloved couples of the 90s) was her coupledom with Johnny Depp, who is about 8 years older than Ryder. The two struck up a romance after starring together in Tim Burton's Edward Scissorhands.
Who could forget Depp's iconic "Winona Forever" tattoo, which he famously covered to read "Wino Forever" after they split in 1993?
Winona Ryder and Johnny Depp were engaged while making Edward Scissorhands (Credit: 20th Century Fox)
Their relationship was full of firsts for Ryder, who said in an interview, "When I met Johnny, I was pure virgin. He changed that. He was my first everything. My first real kiss. My first real boyfriend. My first fiancé. The first guy I had sex with. So he'll always be in my heart. Forever. Kind of funny that word."
4. David Pirner (1994 – 1996)
Shortly after her highly publicized split with Johnny Depp, Ryder found herself in a relationship with David Pirner.
The two allegedly met when she attended an MTV Unplugged session where Pirner's band, Soul Asylum, was featured. The pair dated from 1994 to 1996.
5. David Duchovny (1996)
After her split with musician David Pirner, Ryder was linked to X Files star David Duchovny. Duchovny told TV Guide, "I'm happy, and I'm in love."
Meanwhile, Ryder told an interviewer that she was "completely single" when asked about Duchovny's comments. Either they were never dating or Ryder was completely uninterested.
6. Matt Damon (1997 – 2000)
In 1997, Ryder hit it off with none other than the voice of Spirit: Stallion of the Cimarron himself: Matt Damon! The two were introduced by friends and fellow celebrity couple (at the time) Gwyneth Paltrow and Ben Affleck.
Matt Damon and Winona Ryder met through Gwyneth Paltrow in 1997 and dated for three years (Credit: WENN)
They began as friends but began a romantic relationship later, and eventually attended the Golden Globes as a couple in 2000.
Ryder and Damon split in 2000, but there doesn't seem to be any bad blood between the two. In 2009, Ryder told Blackbook, "Matt couldn't be a greater, nicer guy. I'm really lucky that I'm on good terms with him."
3 years later, Matt met his future wife Luciana Barroso in Miami.
7. Beck (2000)
Full disclosure: this one is just a rumor, but boy is it a juicy one! Winona Ryder was rumored to be dating indie musician Beck in 2000.
With hits like "Loser", "E-Pro", and "Where It's At", we can't blame Ryder for letting the musician's catchy tunes help him work his way into her heart. Again, the rumors of their relationship were just that: rumors.
8. Pete Yorn (2001)
In 2001, Ryder was in a brief relationship with musician Pete Yorn. The New Jersey artist had just found fame with his successful debut album, musicforthemorningafter.
Coincidentally, their relationship happened right around the same time as Ryder's shoplifting scandal. The pair split that same year for reasons that were undisclosed.
9. Page Hamilton (2003)
In 2003, Ryder dated (yet another) musician Page Hamilton. Hamilton, the lead singer of Helmet, alleges that many of the songs on Helmet's 2004 album, Size Matters, were written about Ryder.
The album was not well received, and Ryder and Hamilton broke up after about a year.
10. Henry Alex-Rubin (2006)
In 2006, Ryder broke her musician streak when she began dating filmmaker Henry Alex-Rubin. They had apparently known each other for years, initially meeting on the set of Girl, Interrupted in 1999.
Academy Award-nominated American filmmaker Henry Alex-Rubin and Winona Ryder dated in 2006 (Credit: Nikki Nelson / WENN)
During this time, Alex-Rubin directed a mockumentary based on Ryder's notorious shoplifting scandal, which, for some reason, Ryder actually starred in. At least she has a good sense of humor?
11. Blake Sennett (2007)
Old habits die hard. In 2007, Ryder ignited a relationship with guitarist Blake Sennet from the band Rilo Kiley. They dated for a year without much fanfare.
Winona Ryder has been with her current partner, Scott Mackinlay Hahn, since 2011. Ryder had been on a few dates and there were rumors of relationships before then, but this is the only one that had been substantiated.
Hahn is the founder of Loomstate, a fashion company based on creating sustainable clothes. "We found out how destructive conventional cotton farming is, so we made a brand just focused on organic cotton," Hahn said in an interview with Time magazine. Handsome and environmentally conscious!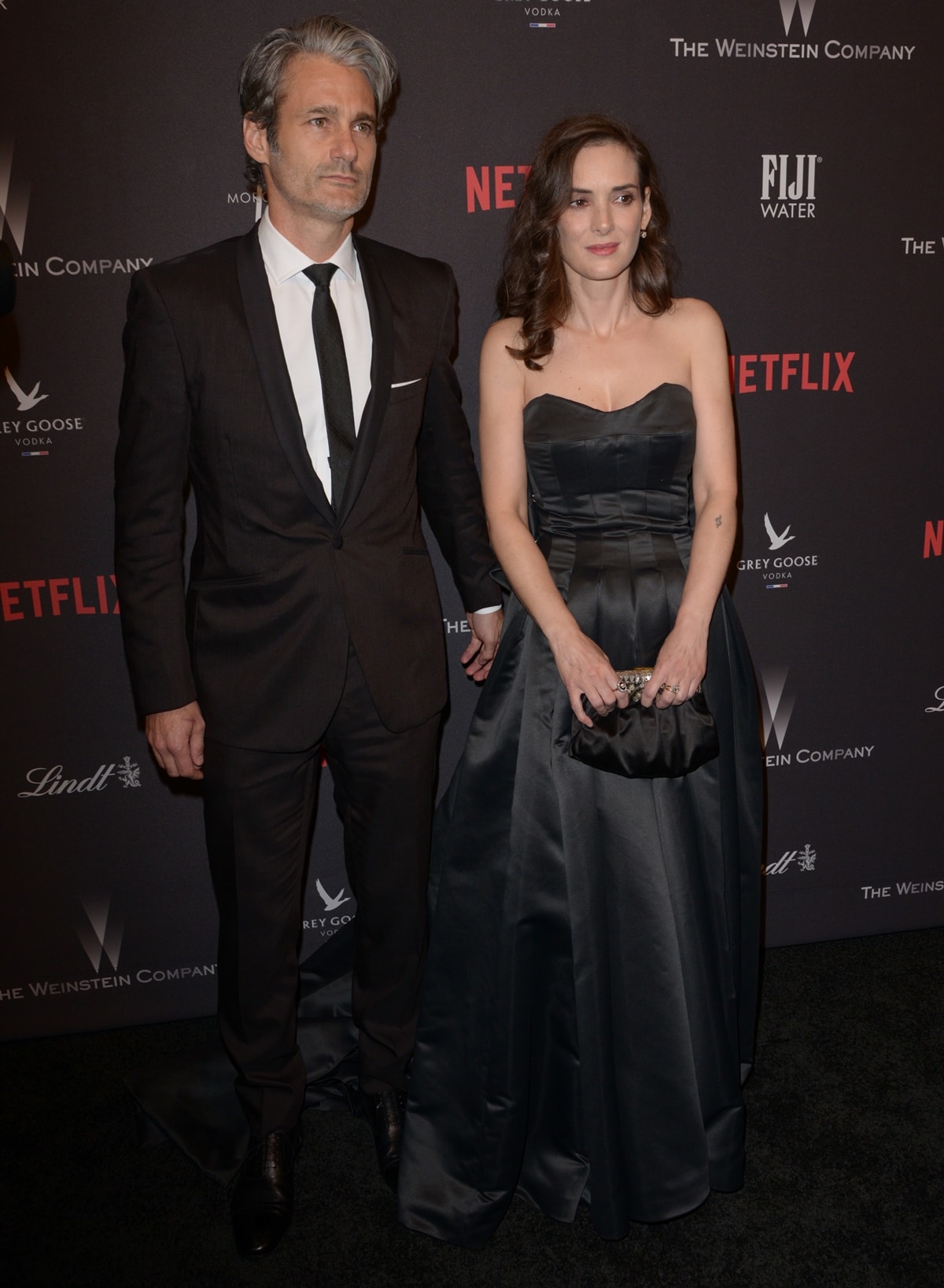 Winona Ryder and her longtime boyfriend Scott Mackinlay Hahn prefer not to share details about their relationship (Credit: Charlie Steffens / WENN)
Despite their ten-year relationship, Ryder and Hahn have kept many details about their relationship under wraps.
Considering that Hahn is one of Ryder's less well-known boyfriends (as compared to the other A-listers) we can guess that Ryder may have been sick of all the drama that comes with dating celebrities.
Either way, their low-key relationship seems to be working for Ryder and Hahn. Here's to many more years!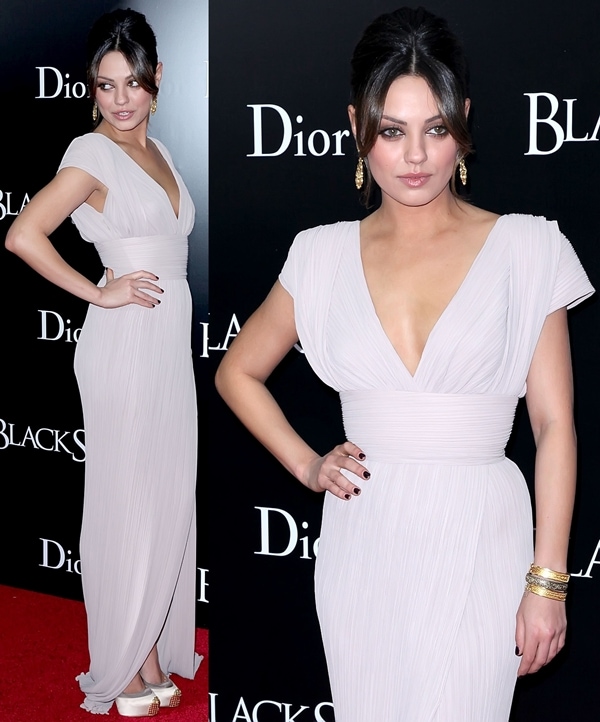 Mila Kunis in a stunning Elie Saab Spring 2011 gown at the premiere of Black Swan held at the Ziegfeld Theatre in New York on November 30, 2010 (Credit: Andres Otero / WENN)
In November 2010, we almost missed the shoes Mila Kunis wore when joining Winona Ryder at the New York premiere of Black Swan.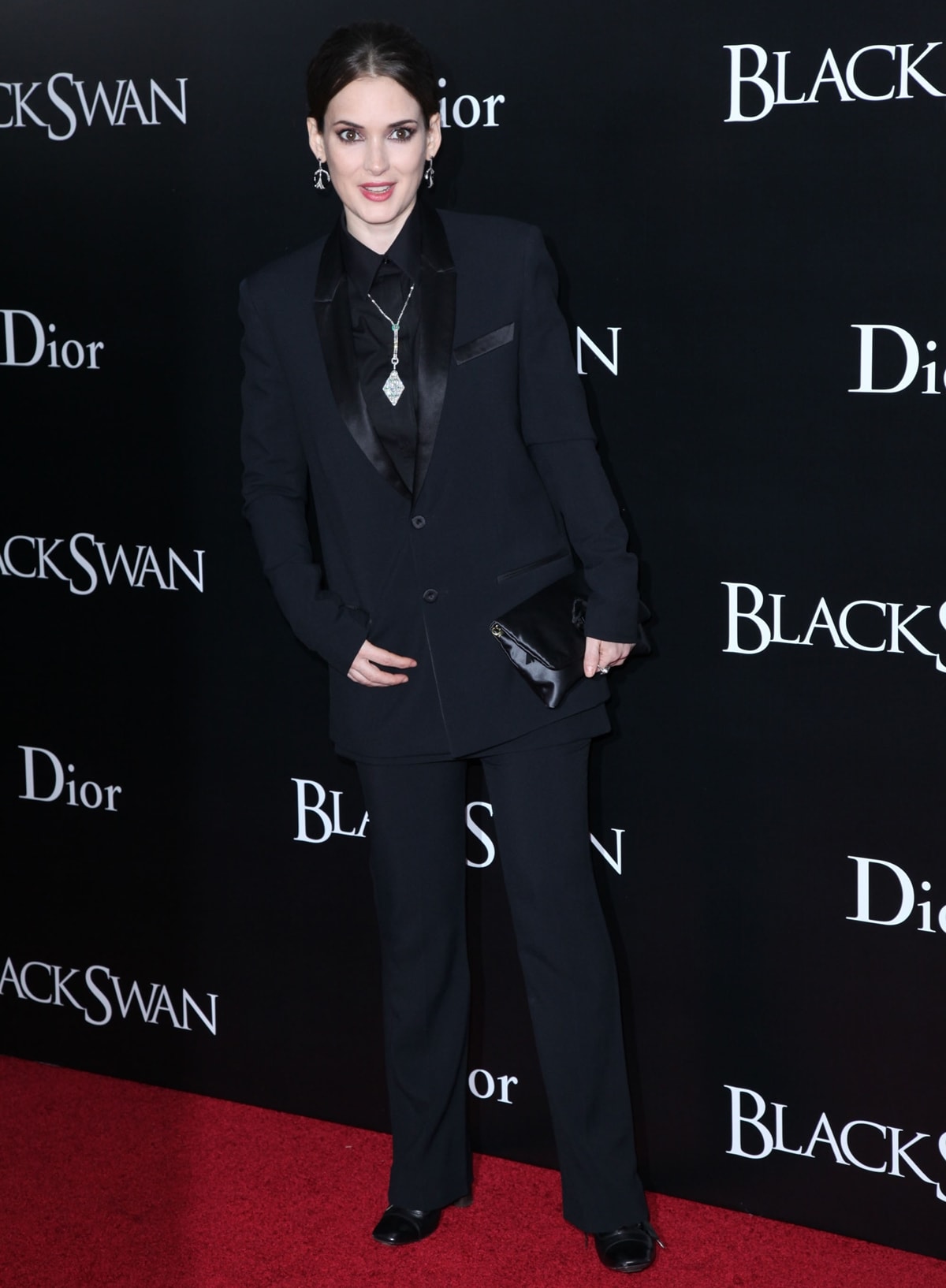 Winona Ryder styled a black Givenchy Resort 2011 suit with Stephen Russell jewelry and a Lanvin Ouloulette satin brooch clutch (Credit: Andres Otero / WENN)
I was actually too focused on Natalie Portman's book clutch that I simply overlooked checking out Mila's shoes. In the movie, we get to see Mila and Natalie make out!
"Sorry mom," director Darren Aronofsky said when introducing the movie. "I have to admit that I cut class to watch Raiders of the Lost Ark when I was a kid, so to be here to [premiere Black Swan] is incredible."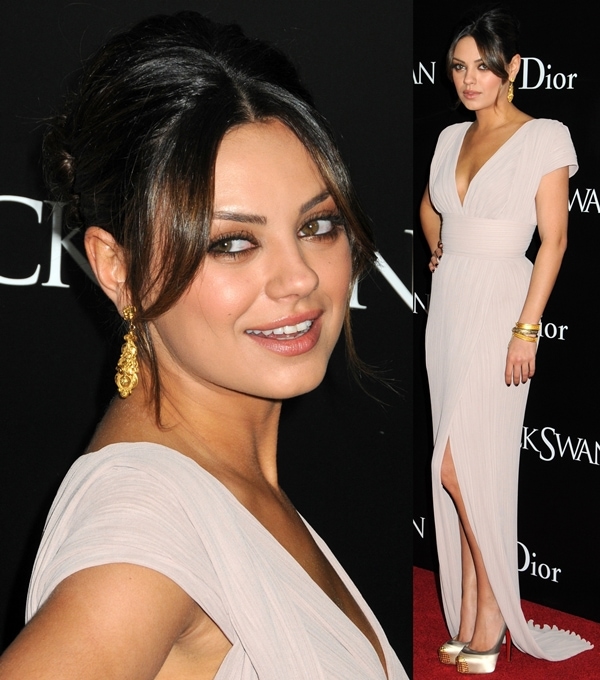 Mila Kunis styled her Elie Saab dress with Chrisitan Louboutin shoes and Fred Leighton jewelry (Credit: Andres Otero / WENN)
Sure, she looked fabulous in a fluid Grecian gown from the Elie Saab Spring 2011 Collection. However, it was the pair on her feet that was begging for attention.
Mila Kunis shows off her 19th-century gold bangle bracelets (Credit: Andres Otero / WENN)
Do you like her Christian Louboutin 'Maggie' heels? The toe cap is actually covered with a metal grid (talk about some killer steel-toe shoes!).
It's interesting because from afar, it actually looks like the tip is covered in studs or crystals instead of some hardware.
Producer Scott Franklin, Natalie Portman, Mila Kunis, and Vincent Cassell, director Darren Aronofsky and Winona Ryder (Credit: Andres Otero / WENN)
If you want it, bad news for you, it's no longer in stock. Well, not online at least.
However, if you're a size 11.5 and you don't mind getting it in black, then it's your lucky day! That's exactly the last pair available at Net-A-Porter: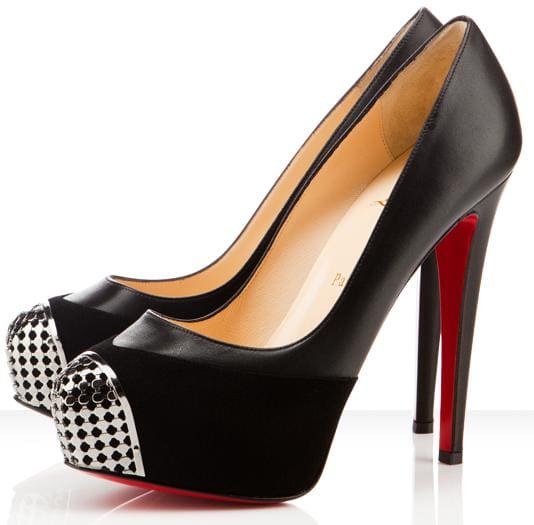 Christian Louboutin 'Maggie' 140 Leather-Trimmed Calf Hair Pumps, $895
There is also a Mary Jane version available for those who don't mind having it a little different – the Christian Louboutin 'Boulima' d'Orsay.
It comes in black and tan and the only (virtual) place where you can find it is Bergdorf Goodman.
Christian Louboutin 'Boulima' d'Orsay in Black and Tan Suede, $995
If you love the shoes, but not the price, then maybe I can interest you in these Penny Loves Kenny 'Tetra' pumps that we found at Amazon:
Penny Loves Kenny 'Tetra' Pump in Brown/Black, $90
Penny Loves Kenny 'Tetra' Pump in Blue/Grey, $90
Obviously, the 'Tetra' is a knock-off version of the 'Maggie'. If you're on a budget, I would say this is your best option.
It looks just as yummy as the 'red bottoms' and will cost you only a fraction of the real deal. Besides, I'm sure once you put it on, you'll feel just as fabulous as Mila 🙂