Óscar Isaac is no stranger to the blockbuster spotlight. Breaking stereotypes about Latino characters in Hollywood, he was named the best actor of his generation by Vanity Fair in 2017 and one of the 25 greatest actors of the 21st century by The New York Times in 2020.
He has won a Golden Globe Award, a National Board of Review Award and has been nominated for a Primetime Emmy Award. Isaac's career has included supporting and leading roles in films, TV shows, and stage productions, including his breakthrough role as Llewyn Davis in the musical drama Inside Llewyn Davis and his lead role in the Star Wars sequel trilogy as Poe Dameron.
He also starred as Laurent in the 2013 film In Secret and the Marvel Cinematic Universe (MCU) series "Moon Knight" as the lead character, Marc Spector / Moon Knight.
But none of these feature film movies or award-winning performances brought together Oscar Isaac and his wife, Elvira Lind.
Jessica Chastain in an Atelier Versace dress and Oscar Isaac in Prada at the premiere of their HBO series Scenes From a Marriage during the 2021 Venice Film Festival September 4, 2021, in Venice, Italy (Credit: MEGA / WENN)
Oscar Isaac and Elvira Lind had a private and quiet start to their relationship. Much of their dating life and even their marriage were kept quiet and out of the public eye.
How Did Oscar Isaac and Elvira Lind Meet?
In a December 2013 interview with NPR, Oscar Isaac recalled when he first met Elvira Lind, saying, "I went to a party, and I was forced to be at this party, and I went dressed as Llewyn. It was a month before shooting. And then I was sitting in the corner just eating. I was the only person eating at the party. And this girl who ended up, she's a documentary filmmaker, so obviously she spotted the weirdo and went directly to that one."
On her Instagram post in March 2020, Lind verified that they had encountered each other in 2012 and said that her favorite dress "helped me lure in my now husband eight years ago."
Oscar Isaac at the premiere of the 2006 American biblical drama film The Nativity Story (Credit: Rachel Worth / WENN)
They were in the same location while Oscar worked with Bobbi Jene Smith on a project titled Arrowed in 2012. Vogue magazine called Lind "Isaac's then-girlfriend" at the time, so there is speculation that they were together before this event.
Lind was recording the performance that Isaac was performing with Smith. Lind later created a documentary with Smith called Bobbe Jean that has garnered her much praise.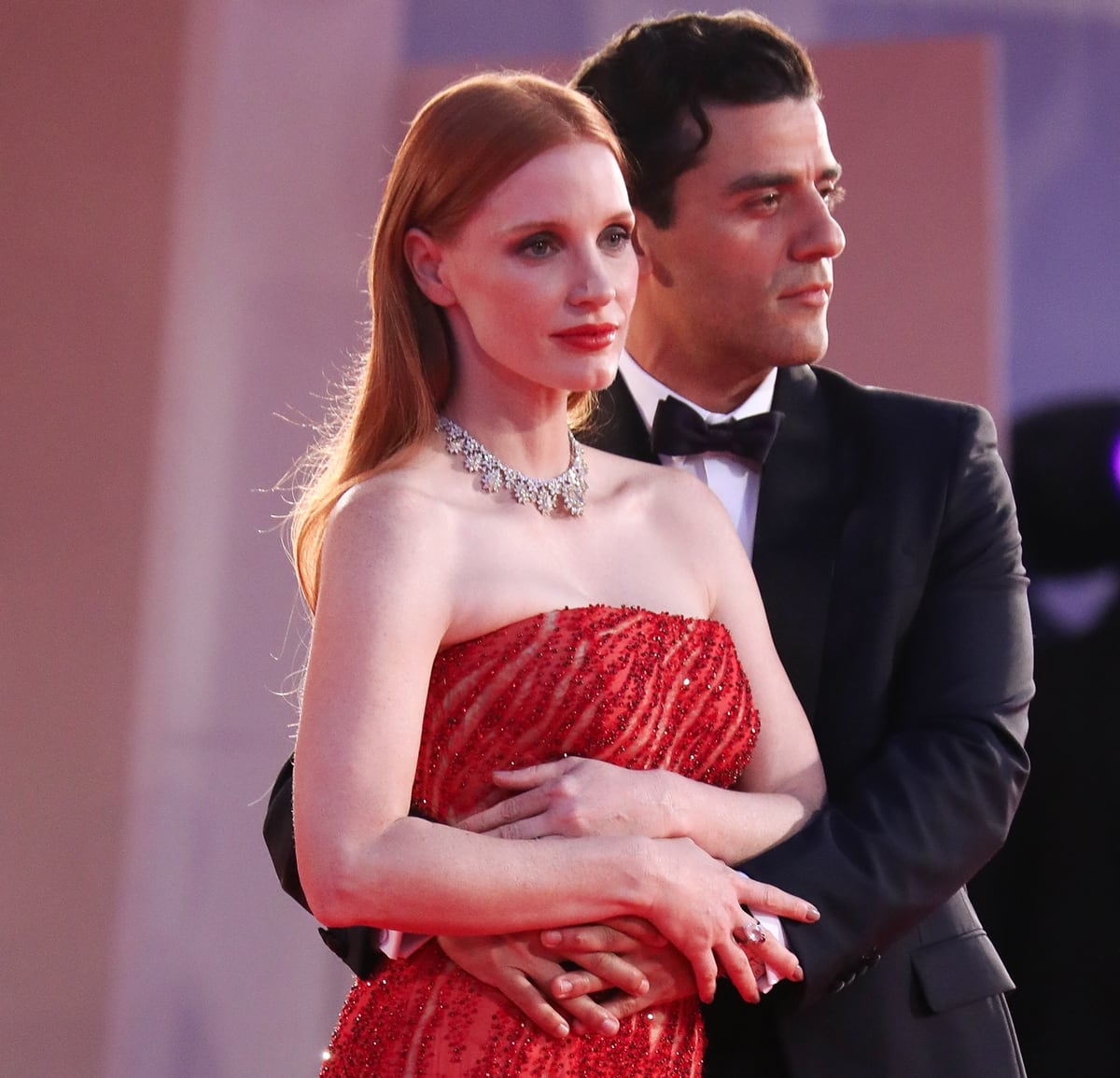 Jessica Chastain and Oscar Isaac with their arms wrapped around each other at the premiere of Scenes from a Marriage, which is a modern adaptation of Ingmar Bergman's classic Swedish series (Credit: MEGA / WENN)
In 2013, Oscar Isaac, Bruce Ferguson, and Elvira Lind were playing around with guitars and cameras. They moved their performance to a stairwell because the acoustics were better, which was the birth of a musical docuseries Lind produced.
Staircase Sessions became a creative documentary that recorded musicians playing one song in a stairwell that showcased the rawness of artists in unpolished performances.
Oscar Isaac and his wife, Elvira Lind, attend the European Premiere of 'Star Wars: The Last Jedi' at Royal Albert Hall on December 12, 2017, in London, England (Credit: Lia Toby / WENN)
It was not until 2016 at the Golden Globes that their relationship was made public in the form of a red-carpet kiss which took the internet world and entertainment world by storm. Many were shocked that the "Internet's Boyfriend" was suddenly in a relationship.
In 2017, they announced they were married and expecting their first child, sending more shock waves through the internet and entertainment world.
In an interview with GQ, Isaac was unusually open about his reasons for marrying Lind, even though they kept most of their dating life private. One of the reasons for marriage was that they wanted to create a family unit for themselves and their child, even though marriage is not necessarily expected in Danish culture.
"She's Danish—she's not a citizen, and she was very pregnant, and there was an element of figuring out "Well, where are we going to be?" And us wanting to be a family unit a bit more. Also, the Danes, they don't really believe in marriage. I think it has a lot to do with the equality of the sexes over there. Marriage doesn't mean anything financially, because the state takes care of people. So the marriage itself becomes less important," he said.
Oscar Isaac met Danish film director Elvira Lind in 2012, and they married in February 2017 (Credit: Adriana M. Barraza / WENN)
After seeing a pregnant Lind caring for his sick mother, Oscar Isaac realized he wanted "to be with this person forever and ever." His mother passed in February 2017; they married in March and welcomed the birth of their son in April.
Most recently, Oscar Isaac and Elvira Lind worked together on the Oscar-nominated short film, The Letter Room (2020). It is Elvira Lind's first narrative short, which she wrote and directed and stars Oscar Isaac as the lead character.
Lind talked about directing Isaac and said, "We work a lot on each other's things. We've been a big part of each other's productions for many years so it's been fun to open a place where we can start creating things for real."
Who is Elvira Lind?
Though Elvira Lind is famous as Oscar Isaac's wife, she is an accomplished actress, writer, director, and film producer in her own right.
She was born in 1981 in Copenhagen, Denmark, and graduated from City Varsity School of Media Arts in Cape Town in 2006, majoring in documentary filmmaking.
| How did Oscar Isaac meet his wife Elvira Lind? | They met while he was preparing for the role of folk singer Llewyn Davis for the 2013 film Inside Llewyn Davis. |
| --- | --- |
| Full Name: | Elvira Lind |
| Born: | October 28, 1981, in Copenhagen, Denmark |
| How tall is Elvira Lind? | 5′ 9″ (175 cm) |
The Danish filmmaker is known for her documentaries, following musicians, artists, and their work. Her works of various lengths have been released for TV, cinema, and web series. She is most recognized for her documentaries Songs for Alexis, Bobbi Jene, and Twiz & Tuck.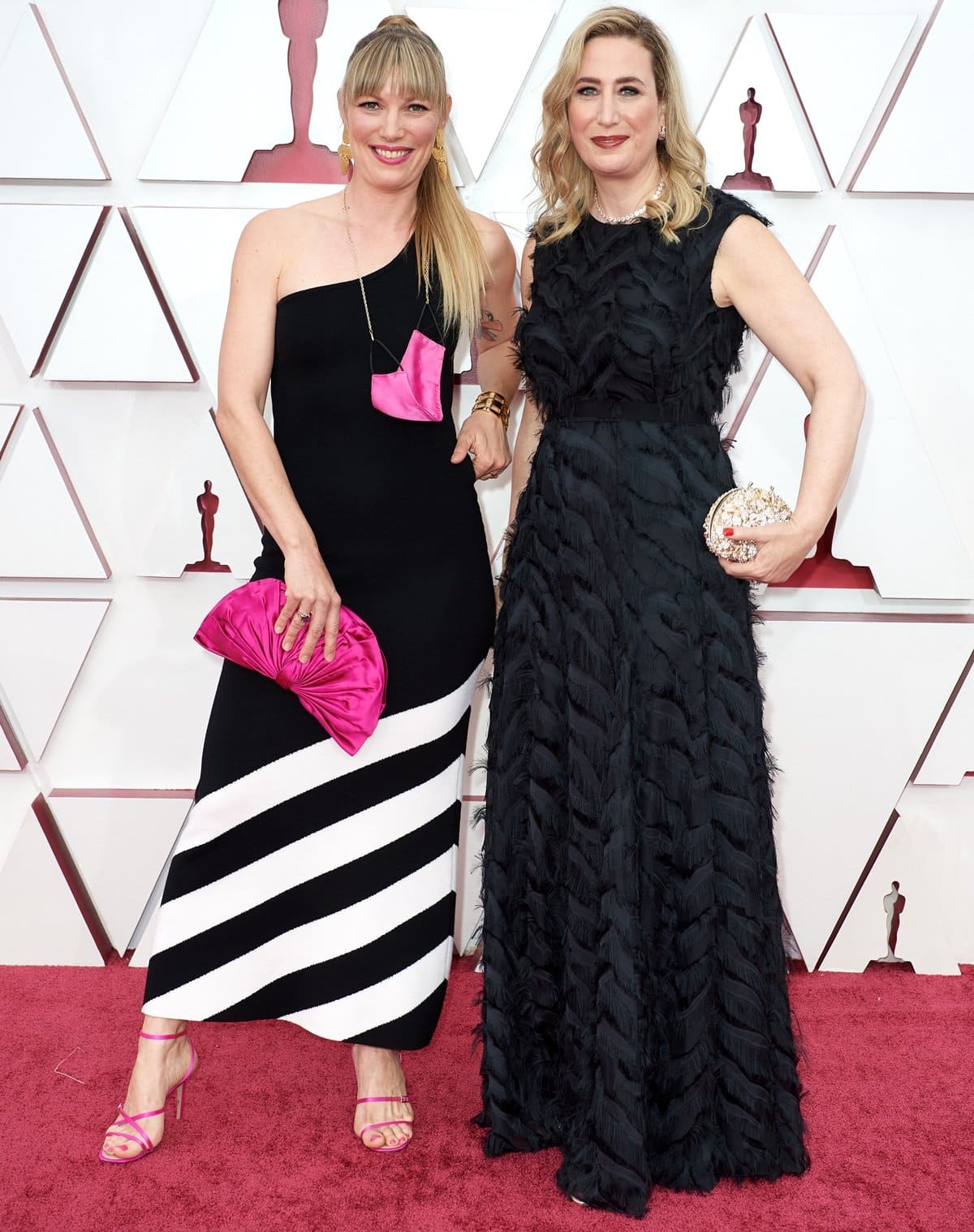 Produced by Sofia Sondervan (R), the 2020 American short comedy-drama film The Letter Room was directed by Elvira Lind (L) and was nominated for the Academy Award for Best Live Action Short Film (Credit: WENN / Avalon)
This Danish documentarian is highly private about her personal life, keeping information and pictures about herself and her family very quiet. Almost nothing is known about her family, siblings, or prior relationships.
Elvira Lind shows off her feet in pink high heels (Credit: WENN / Avalon)
Isaac and Lind keep pictures and information close from the start of their relationship to the two children they share.
They only show the occasional snapshot of their children, always with their backs to the camera. Their first son, Eugene Isaac, was born in April 2017 and is named after Oscar's late mother's middle name Eugenia.
Elvira Lind announced the birth of her and Oscar Isaac's second son, Mads Isaac, on Instagram in October 2019. She posted a photo of the newborn lying in a basket surrounded by flowers and described the scene as a "table of absolute abundance."
Who Is Oscar Isaac?
| What is Oscar Isaac's net worth? | He is a Guatemalan-American actor and singer with a net worth of $10 million. |
| --- | --- |
| Full Name: | Óscar Isaac Hernández Estrada |
| Born: | March 9, 1979, in Guatemala City, Guatemala |
| Kids: | Eugene Isaac and Mads Isaac |
| What is Oscar Isaac famous for? | He's best known for his roles in Drive (2011), Inside Llewyn Davis (2013), the crime drama A Most Violent Year (2014), and the science fiction thriller Ex Machina (2015). |
| Feet/Shoe Size: | 10 (US) |
| How tall is Oscar Isaac? | 5′ 7″ (170 cm) |
| Nationality: | Guatemalan and American |
| Does Oscar Isaac sing in 10 years? | Yes, he did the singing himself. He also wrote the song "Never Had" from "10 Years." |
| Does Oscar Isaac speak Spanish? | Yes, Spanish is his mother's tongue. |
| Did Oscar Isaac go to college? | Yes, he studied at The Juilliard School, a private performing arts conservatory in New York City. He also studied performance arts at Miami Dade College |
Oscar Isaac's Background
Oscar Isaac was born in Guatemala in 1979. His family moved to the United States when he was five months old and eventually settled in Miami, Florida.
Oscar performed in punk and ska bands as a child and produced backyard plays with his sister, climate scientist Nicole Hernandez Hammer.
He began acting with the Area Stage Company in Miami Beach. Oscar also performed in City Theatre's Summer Shorts short play festival.
Elvira Lind is a Danish documentary filmmaker who is married to American actor and producer Oscar Isaac, and the couple has two sons together while also occasionally collaborating professionally (Credit: Charles Guerin / ABACA / INSTARimages / Cover Images)
Not exactly a perfect child, he got expelled from his private grade school for setting off a fire extinguisher and defacing a mural with explicit words.
Oscar was a class clown, and the teacher even attempted to screen his desk off from the rest of the class to keep him from being a distraction.
He began his entertainment career in music as the lead vocalist and guitarist in a punk band, Blinking Underdogs. The band opened for Green Day and The Mighty Mighty Bosstones. After moving to New York City, he auditioned for and was accepted into the acclaimed Julliard School in 2001 with a focus on drama.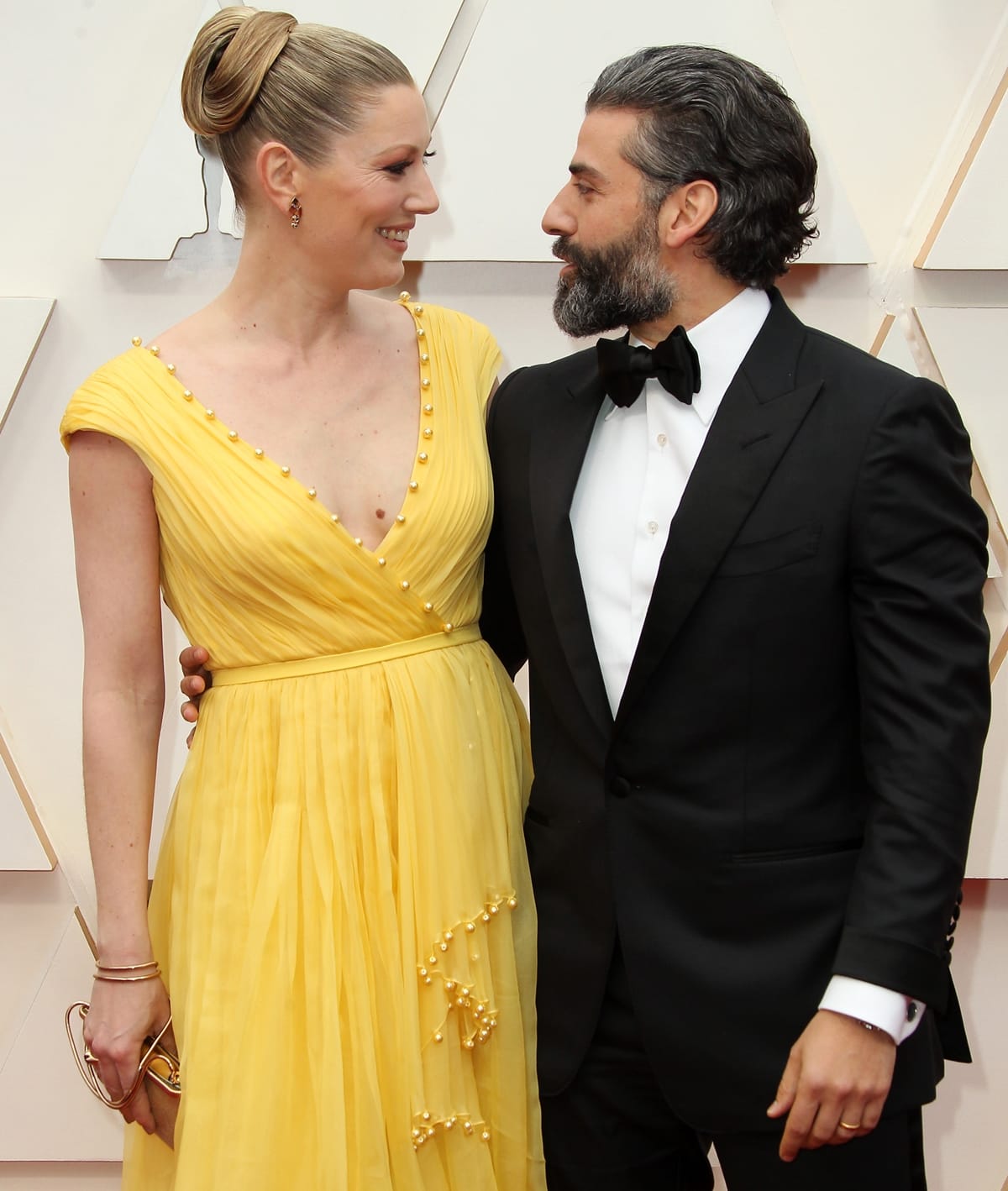 Elvira Lind and Oscar Isaac are extremely secretive about their private lives (Credit: Adriana M. Barraza / WENN)
Before he graduated, he made his film debut in the action-comedy, All About the Benjamins (2002). Even though he chose acting over music, he still found ways to incorporate his musical talent into his acting career. In the movie 10 Years, Isaac performs the song "Never Had," which Isaac wrote for his character to sing.
At Juilliard, he met Bobbe Jean Smith, which eventually led to their production of Bobbe's art that Elvira Lind would be recording as a spectator. Though his acting made him famous, his music got him the girl.
While in school, he dropped his Latin surname, Hernandez, and went by his middle name, Isaac, hoping it would help him expand the roles he was offered. Even though he felt that the name change was beneficial, he was passed on a role because the director wanted a Cuban or Latin actor to play the role.
He has spent his career attempting and succeeding in breaking stereotypical molds for Latino characters in film, molding them into full-rounded characters instead of cliches. He has since acted in over 30 feature films and has received two Golden Globe Awards for his various performances in feature films and TV series.
Relationship Histories
Oscar Isaac got engaged to his childhood sweetheart Maria Miranda in 2007. Like his now-wife, Elvira Lind, Oscar Isaac has kept his private life secretive and out of the spotlight.
Until 2015, there was speculation that Oscar Isaac and Maria Miranda were engaged or married. But in interviews in 2015, Oscar Isaac refers to his significant other as a girlfriend, putting to bed those rumors of rings and matrimony.
The entertainment world was shocked when the "Internet's Boyfriend" was suddenly attached to Elvira Lind and even more so when they announced their marriage and pregnancy in 2017.
Oscar Isaac was reportedly engaged to childhood sweetheart Maria Miranda before he met Elvira Lind (Credit: Andres Otero / WENN)
There is speculation that pictures of Oscar Lind and Miranda might have been of Elvira Lind all along, as the two were confused until 2016.
There are few pictures of Maria Miranda, so it is a hard rumor to put to bed. There are even rumors that Elvira is Maria Miranda.
Elvira Lind has no known relationship history, which is unsurprising given that her personal life is notoriously private.
Height difference
Measuring in at 5' 7", actor Oscar Isaac is a little shorter than his Danish wife, who measures in at 5' 9".
Though this may not seem like an impressive height difference, the average height for a man is 5'9", and the average height for a woman is 5'6", making him a little shorter than the average height and her a little taller.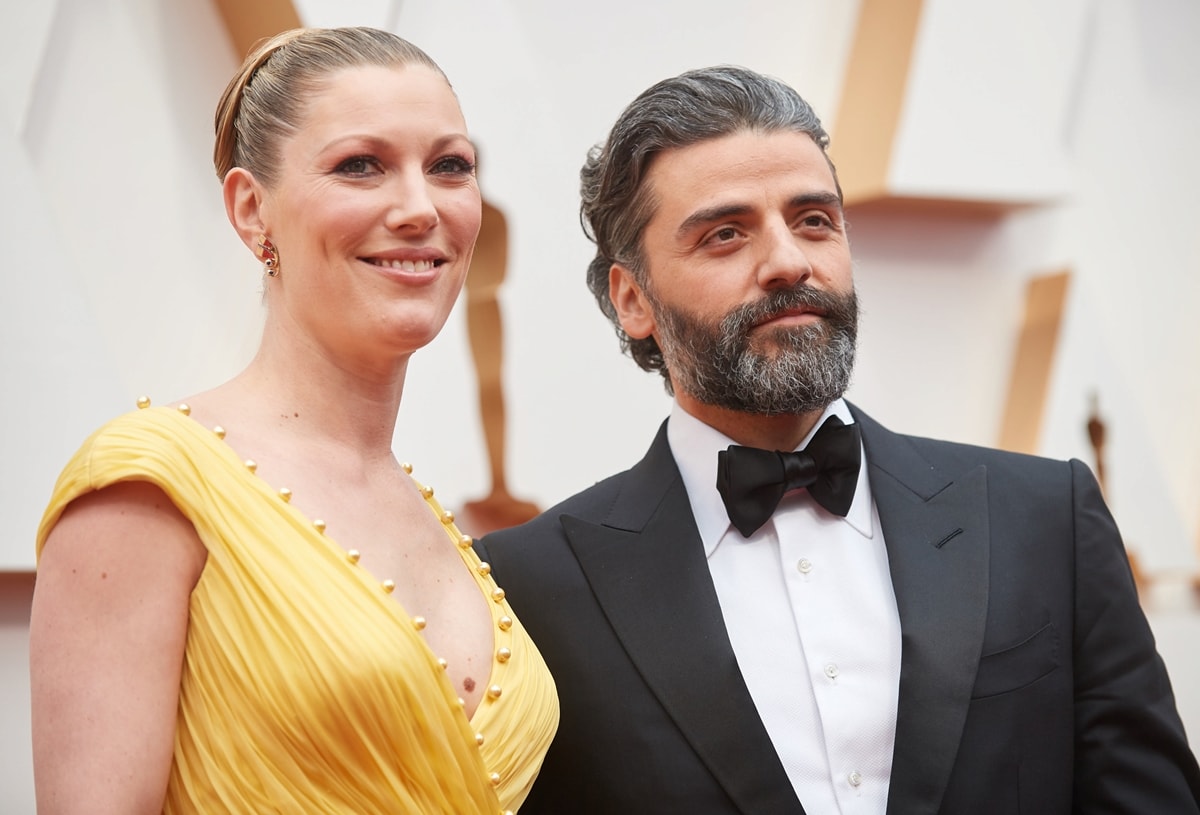 Oscar Isaac's height is shorter than his tall Danish wife, Elvira Lind (Credit: Andres Otero / WENN)
Their height difference is significant enough to garner attention, especially in the public eye, where pictures and high-heeled shoes can make it seem there is a much more substantial difference between their heights.
Hot Cheetos and Chopsticks
In 2016, a photo of Oscar Isaac went viral: for eating Flamin' Hot Limon Crunchy Cheetos with chopsticks.
More than that, the "Internet's Boyfriend" was sporting a black beanie, red sweater, a mustache, a 5-o'clock shadow, with a counter littered with cold medicine. Isaac's breakdown of the photo was quite simple, which he told Jimmy Kimmel on the "Jimmy Kimmel Live!"
He explained how he had a bad cold, hence the medicine, and the mustache was for a role in an HBO series, Show Me a Hero (2015).
Why chopsticks? "I'm a sophisticated gentleman, so I didn't want to get the powder on my fingers," Isaac said. "So I went for the chopsticks."
Where did Oscar Isaac meet Pedro Pascal?
Before Oscar Isaac and Elvira Lind were a couple, there was Pedro Pascal and their close friendship. They met in the off-Broadway production Beauty of the Father in 2005. The duo were fast friends with their shared dreams and frustrations of the entertainment industry.
Both shared the frustration of feeling pigeonholed by consistently being cast as Latin characters. With Isaac being a Guatemalan American and Pedro Pascal being a Chilean American, they both felt that their Latino heritage drove Latino-based stereotypical roles that cast them as thugs, gangsters, or roles that directors felt only Latin Americans could play.
But their dreams of being actors are what drove their lifelong friendship. Though the play Beauty of the Father only lasted for a month, their friendship lasted till now.
The two friends rang in the 2021 new year together, with Lind taking some now-viral shots of Pascal and Isaac drinking and laughing. There is even a picture of Pascal and Lind on Pascal's Instagram page.
View this post on Instagram

Eventually, the two worked for the Star Wars franchise, though not together on the same projects. Oscar played Poe Dameron in Star Wars: The Force Awakens, while Pedro Pascal plays the Mandalorian in Star Wars The Mandalorian.
The close friends eventually worked together again in the Netflix movie Triple Frontier. Oscar Isaac's character puts the gang back together and focuses on the friendships of these men on their mission.
It is a fitting story for two friends who have spent the last fifteen years working in the same industry and cheering each other on.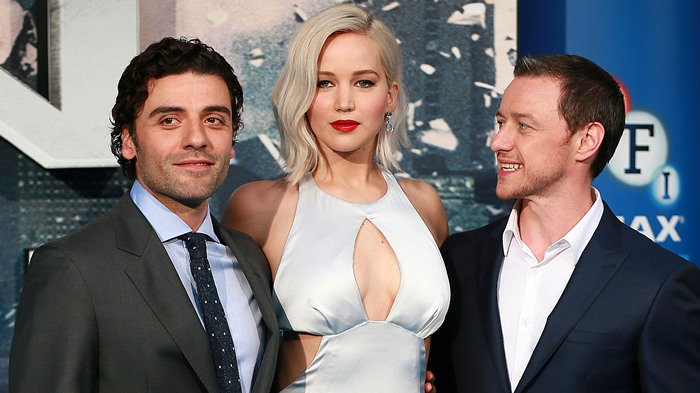 Jennifer Lawrence, Oscar Isaac, and James McAvoy (Credit: WENN)
Joining her co-stars Oscar Isaac and James McAvoy on the red carpet in March 2016, Jennifer Lawrence showed off her cleavage in a gorgeous dress on the carpet at the X-Men: Apocalypse fan screening event at the BFI IMAX in London, England.
She reprised her role as the blue-tinged mutant Mystique in the superhero franchise.
Jennifer Lawrence in a pale silver satin floor-length dress from Christian Dior (Credit: WENN)
The then 25-year-old Oscar-winning actress donned a pale silver satin floor-length dress from Christian Dior featuring a keyhole neckline, cut-out side panels, and a sexy open back with a criss-cross design.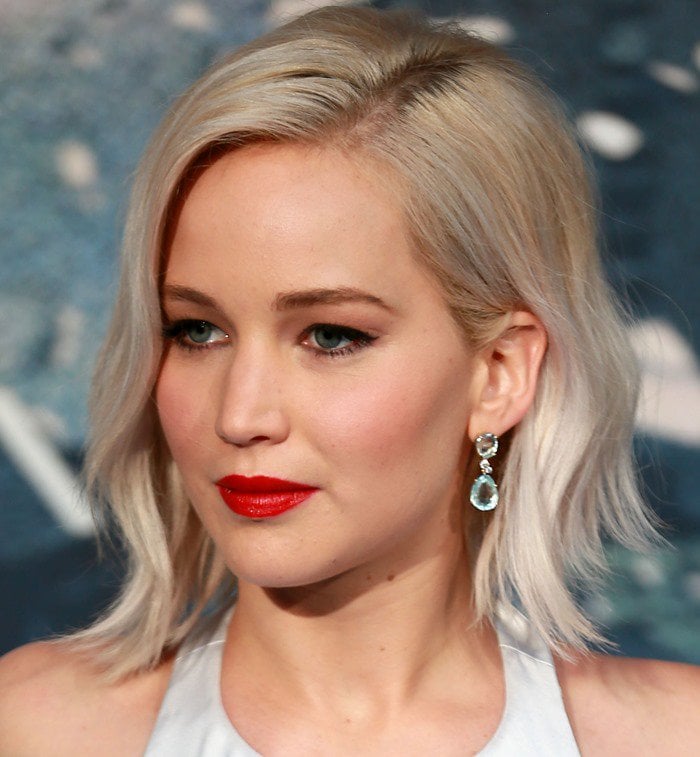 Jennifer Lawrence styled the Marilyn Monroe-esque gown with Pomellato jewelry (Credit: WENN)
She styled the Marilyn Monroe-esque gown with Pomellato jewelry and a pair of 'Pearl' sandals by Jimmy Choo.
Jennifer Lawrence's dress featuring a keyhole neckline (Credit: WENN)
Earlier the same year, we spotted Jada Pinkett Smith in a custom-dyed version of the same open-toe platform sandals.
Jennifer Lawrence showed off her cleavage in a gorgeous dress (Credit: WENN / Lia Toby)
They are unfortunately not available for sale. You can find the latest shoe releases from the designer on Farfetch.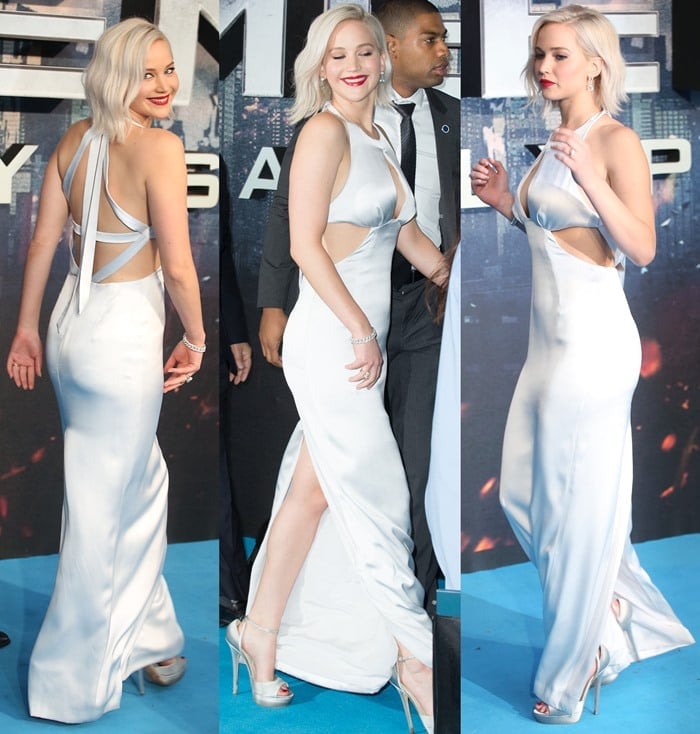 Jennifer Lawrence in a daring Christian Dior cut-out dress at the 'X-Men: Apocalypse' fan screening event at the BFI IMAX in London on May 9, 2016 (Credit: WENN / Zibi / Mario Mitsis / Lia Toby)
How do you like Jennifer Lawrence's silver Christian Dior Couture halter gown and her matching platform sandals?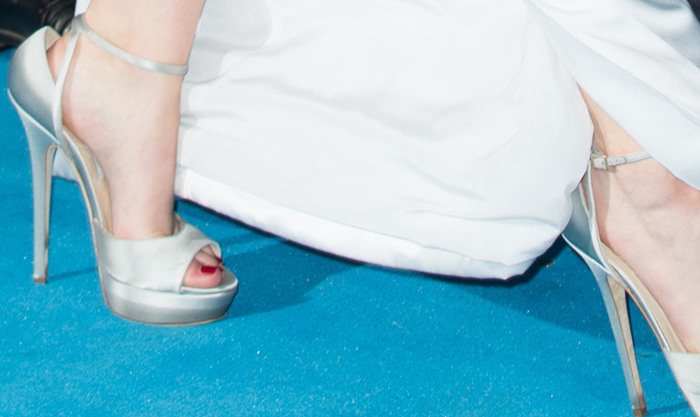 Jennifer Lawrence shows off her feet in Jimmy Choo 'Pearl' sandals (Credit: WENN / Mario Mitsis)