One of the latest additions to the MCU, the character of Moon Knight has been popular with comic fans since his introduction during the silver age of Marvel comics in the 1970s.
However, the character's popularity has spiked since the miniseries based on the character premiered in March of 2022.
The American television miniseries Moon Knight based on the Marvel Comics character of the same name was created by Jeremy Slater for the streaming service Disney+ (Credit: Rokas Tenys / Shutterstock)
With series lead Oscar Isaac (of Star Wars and Inside Llewyn Davis fame) at the helm, the show has managed to bring new fans to the Moon Knight franchise while also satisfying longstanding fans of the comics.
In this article, we're going to be ranking the main cast of Moon Knight by height. May the tallest man (or woman) win!
David Ganly, Oscar Isaac wearing Thom Browne, Ann Akinjirin, May Calamawy, and Ethan Hawke arrive at the "Moon Knight" premiere at The British Museum on March 17, 2022, in London, England (Credit: Cover Images)
WARNING: This article will have spoilers for Moon Knight. If you haven't seen the show yet, do NOT read on!
7. Ann Akinjirin (Bobbi Kennedy) – 5′ 2″ (1.57 m)
You wouldn't be able to tell that this villainous henchwoman is so short within the show, but Bobbi Kennedy (portrayed by Ann Akinjirin) manages to intimidate audiences despite this fact.
Bobbi acts as the right-hand woman for the main antagonist of the series, Arthur Harrow (played by Ethan Hawke), while also working as a detective and a loyal follower of the evil god Ammit.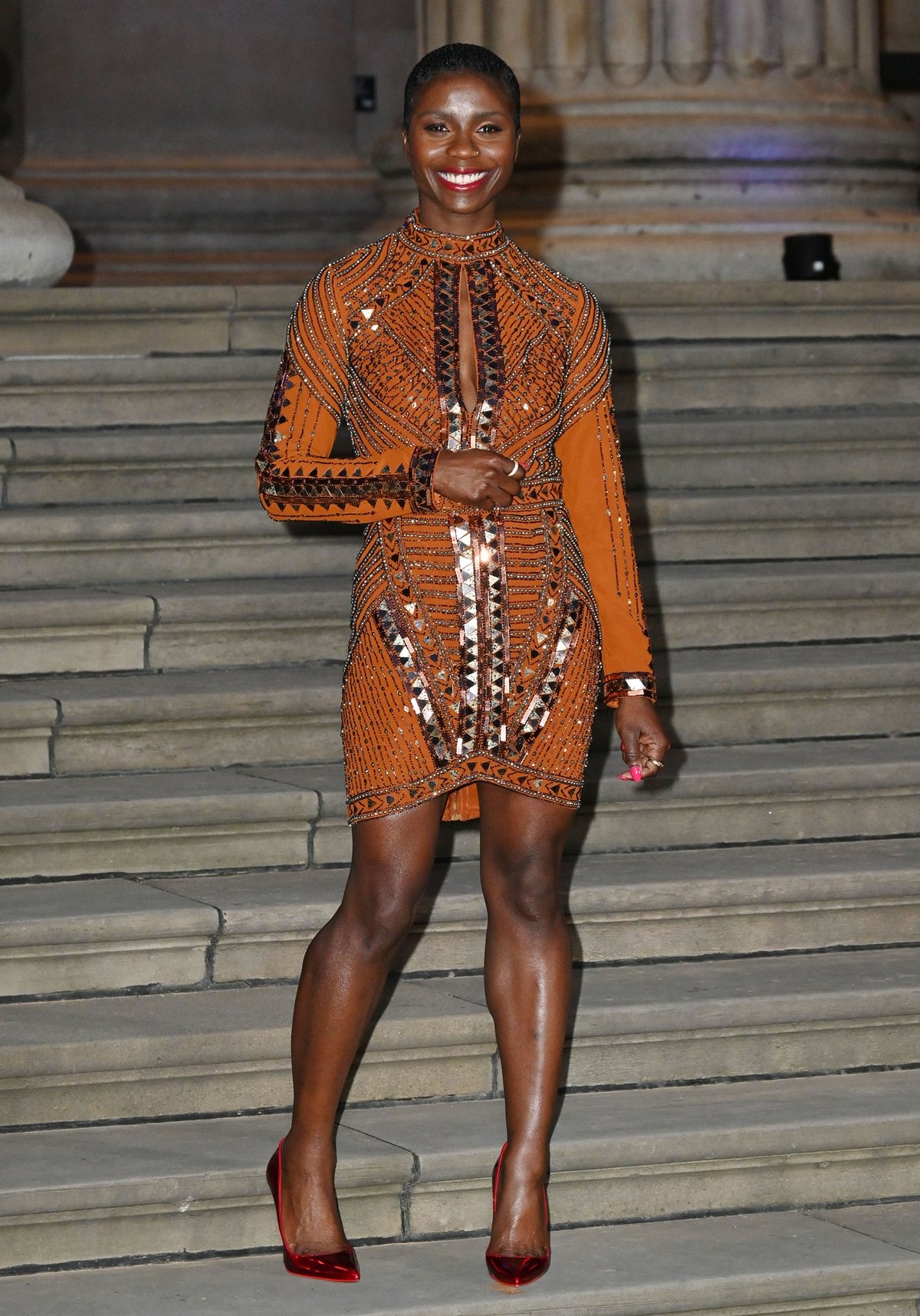 Ann Akinjirin is a British actress of Nigerian descent who is best known for her portrayal of Bobbi Kennedy in Moon Knight (Credit: Nils Jorgensen / INSTARimages)
Like many characters within the series, Bobbi Kennedy is a reimagining of the original character within the comics, who is a male.
Bobbi remains loyal to Harrow and Ammit throughout the events of the show and constantly attempts to track down and kill Marc Spector. Fortunately for us, she doesn't succeed.
6. May Calamawy (Layla El-Faouly) – 5ft 6 ¼ (168.3 cm)
May Calamawy adds a ton of spunk and character to Layla El-Faouly, a character that did not exist in the original comic series. In the comic series, Marlene Alraune acts as the primary romantic interest for Moon Knight.
For the television series, however, the writers decided to reimagine her character as an Egyptian woman, which made the Egyptian themes within the show stronger as a whole.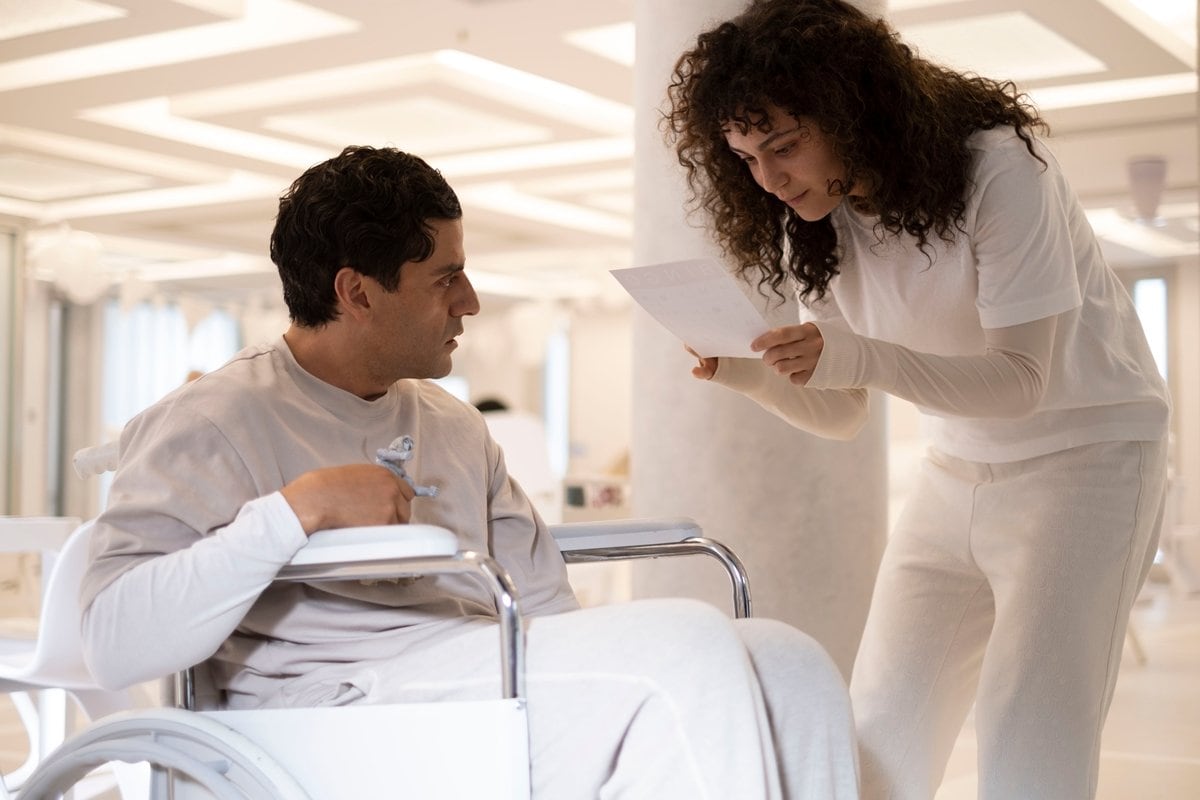 Oscar Isaac portrays a man with dissociative identity disorder (DID) and May Calamawy portrays an archeologist and adventurer in Moon Knight (Credit: Disney+)
In the show, Layla El-Faouly is a badass agent from Marc Spector's (Moon Knight) past. Did we mention that she is also his girlfriend? Layla manages to track Marc down in the early episodes despite his split personality disorder.
In the show's final episode, Layla eventually becomes the Scarlet Scarab, a new Marvel superhero. She stands at a height of 5ft 6 ¼ (168.3 cm), considered above average for a woman.
5. Antonia Salib (Taweret) – 5'8″ (173 cm)
This is where this list starts to get a little funky. In a show filled with Egyptian gods (which were all based on different animals native to Ancient Egypt), some of the actors in the show portray characters that are animals!
Actress Antonia Salib is only 5'8", but her character, the Egyptian god Taweret, is definitely much taller than that.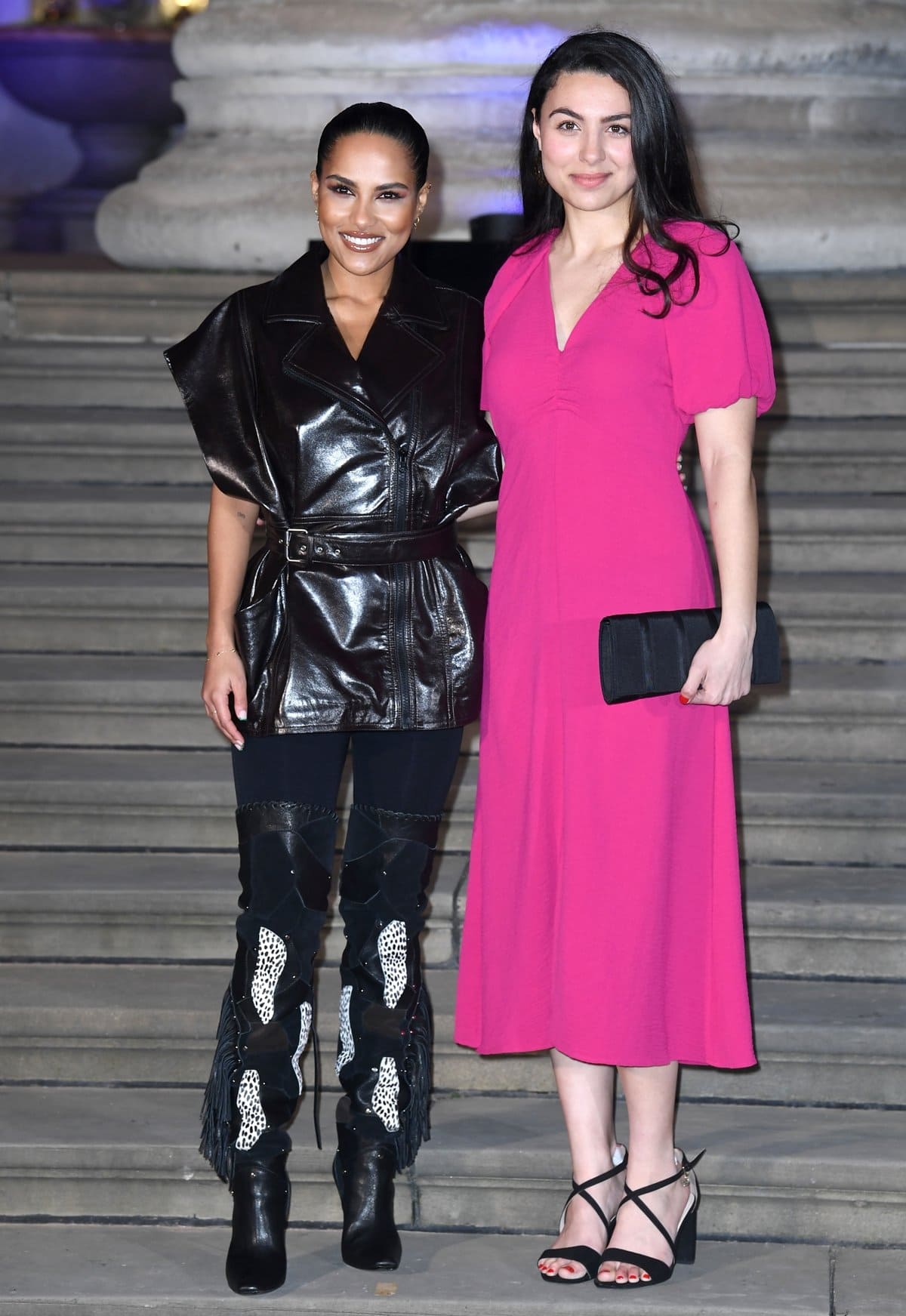 Saffron Hocking (L) and her much taller co-star Antonia Salib (R) attend the "Moon Knight" premiere at The British Museum on March 17, 2022, in London, England (Credit: Doug Peters / EMPICS / PA Images / Instarimages)
Taweret is an Ennead, which are beings revered by Ancient Egypt and Wakanda. Taweret is a benevolent Ennead, and resolves to help Marc Spector and Layla on their quest to defeat Harrow and Ammit.
In the show's final episode, she decides to make Layla her avatar, granting her the powers to become the Scarlet Scarab, a superhero with powers comparable to Moon Knight.
4. Oscar Isaac (Marc Spector/Steven Grant/Jake Lockley/Moon Knight) – 5ft 7 ½ (171.5 cm)
The titular character of the show, Marc Spector, is a former U.S. Marine suffering from dissociative identity disorder.
Because of this, Spector shares his personality with multiple other personalities, including Steven Grant (an awkward, shy British museum worker) and later Jake Lockley (a ruthless, aggressive killer).
Oscar Isaac promotes Moon Knight in a Valentino bowling shirt in cotton poplin with all-over Street Flowers Couture Peonies print and brown pants at Hotel Rosewood Villa Magna in Madrid, Spain, on March 16, 2022 (Credit: Jose Oliva / Europa Press / Abaca / INSTARimages / Cover Images)
While on a mission in Egypt, Spector was left for dead by his former partner Raul Bushman. However, his life is spared by the vengeful god of the Moon Khonshu, who makes Spector his avatar, creating the hero Moon Knight.
Oscar Isaac plays the role of Spector well, juggling multiple personalities throughout different moments of the show.
From the slightly maniacal Jake to the very bookish Steven, Isaac manages to portray all of the different sides of the character to amazing effect. It's certainly a performance that we'll remember for a long time!
The talented Guatemalan-American actor stands at a height of 5ft 7 ½ (171.5 cm), considered slightly below average for a man.
3. David Ganley (Billy Fitzgerald) – 5'10" (178 cm)
Most often seen alongside Bobbi, Billy Fitzgerald is a fellow detective and follower of the evil god Ammit, and Ammit's avatar, Arthur Harrow.
Billy is first introduced in the show as one of the detectives investigating Steven Grant in an attempt to find the Scarab of Ammit.
David Ganly, who portrays British police officer Billy Fitzgerald, towers over his shorter Moon Knight co-star Ann Akinjirin (Credit: Cover Images)
Once the scarab was secured, David followed Arthur to Egypt, where they discovered Alexander the Great's tomb, where Ammit was trapped inside.
Arthur's followers attempt to break into the tomb, only to find it guarded by Heka priests, ancient undead Egyptian sorcerers who protect the tomb. The Heka priests fight the Ammit cultists, and one ends up killing Billy.
2. Ethan Hawke (Arthur Harrow) – 5ft 10 ¾ (179.7 cm)
The main antagonist of the show, Arthur Harrow, is the former avatar of Khonshu, who, as a result, was also the former Moon Knight.
However, by the time of the events of the show, Harrow decides to switch his allegiance to Ammit, the evil Egyptian goddess of judgement. Harrow is a calm, cool, and collected villain, the opposite of Marc Spector, who is neurotic and anxious.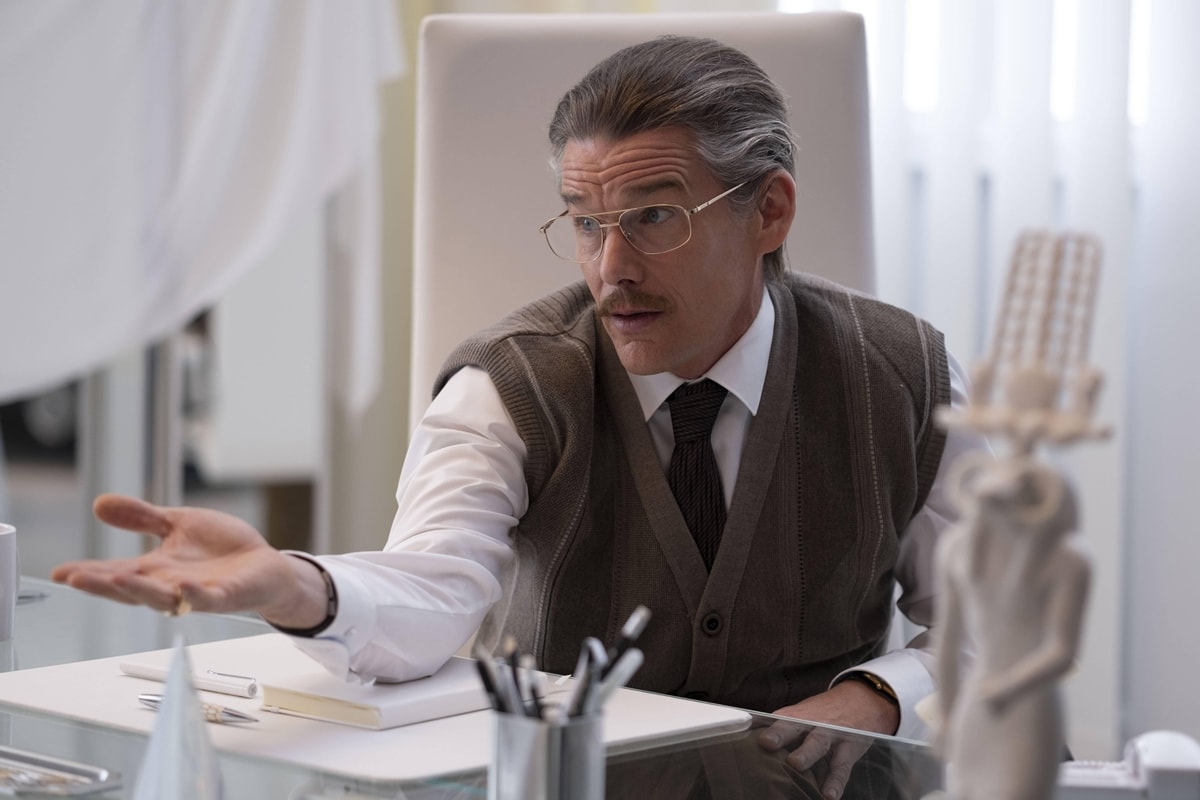 Ethan Hawke as religious cult leader Arthur Harrow in Moon Knight (Credit: Disney+)
During the show, Harrow eventually manages to summon Ammit, who decides to choose Harrow as her avatar. As Ammit's avatar, Harrow gains the ability to "judge" mortals, eviscerating those deemed to be unworthy instantly.
By the conclusion of the show, Harrow (as Ammit's avatar) dukes it out with Moon Knight, although he fails to defeat the hero. Moon Knight eventually seals Ammit within Harrow, neutralizing the threat of Ammit forever.
In a post-credits scene, Harrow is killed by Marc's third alter-ego, named Jake Lockley.
1. Karim El Hakim (Khonshu) – 6'0″ (183 cm)
In the show, Khonshu acts as the vengeful god of the moon, who chooses Marc Spector as his avatar, resurrecting him to force him to defeat Ammit.
Khonshu is actually played by two actors: physically, he is portrayed by Karim El Hakim, and he is voiced by F. Murray Abraham, who has a booming, deep voice.
Khonshu is a very interesting character who has a unique view of humanity. Of the Ennead, Khonshu is perhaps the one that cares about humanity the most, although he still uses humans as pawns for his bidding.
Karim El Hakim and F. Murray Abraham as the Egyptian moon god Khonshu in Moon Knight (Credit: Disney+)
After Marc Spector and Steven Grant defeat Harrow and Ammit, Khonshu frees them from his servitude, and the events of the show seems to be concluded. However, a third alter-ego, Jake Lockley, eventually emerges, who remains devoted to Khonshu, continuing to carry out his bidding.
Who is your favorite character on Moon Knight? We hope you've enjoyed this article on all of the diverse characters of the show, and if you haven't seen Moon Knight yet, we suggest watching it (even after the spoilers in this article).