"The world is healing," said fans of High School Musical: The Musical: The Series after seeing lead stars Olivia Rodrigo and Joshua Bassett together on the red carpet for the season three premiere of the mockumentary musical drama in Los Angeles on Wednesday.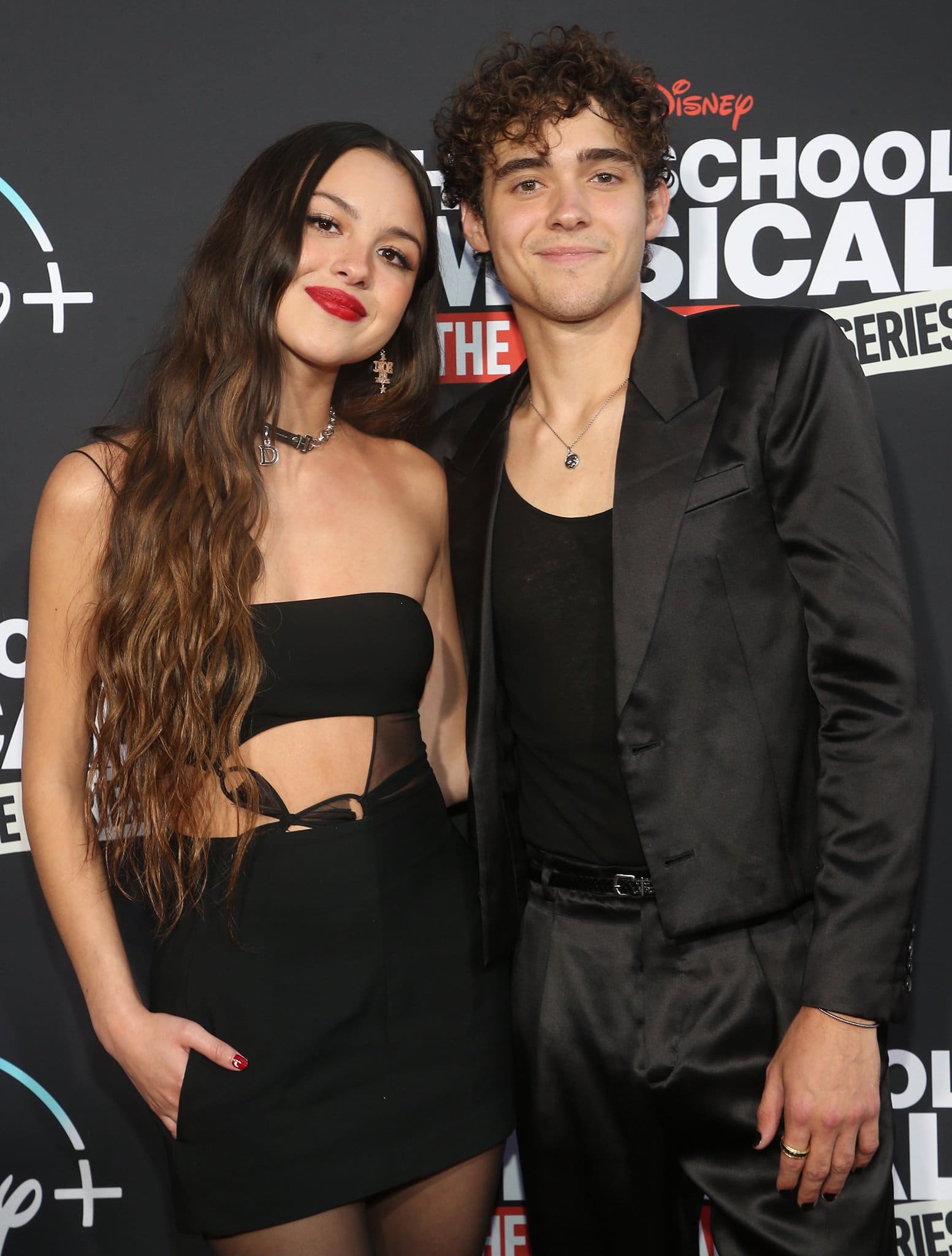 Olivia Rodrigo and Joshua Bassett are believed to have dated throughout early 2020 (Credit: Faye's Vision / Cover Images)
The reunion came after Bassett revealed in his GQ interview in December 2021 that he hasn't talked to Rodrigo in months.
He said he tried to reach out to her, but she "hasn't spoken to me since 'Drivers License' came out." Rodrigo and Bassett reportedly dated for a few months in 2020. They met on the set of High School Musical: The Musical: The Series when she was 16 and he was 18 years old.
Drivers License has become the ultimate breakup song of 2021. Fans speculated that the song is about her breakup with her co-star Bassett, her then rumored boyfriend, and his subsequent relationship with Sabrina Carpenter.
Executive producer Tim Federle, Matt Cornett, Joshua Bassett, Sofia Wylie, Olivia Rodrigo, and Ayo Davis, president of Disney Branded Television, attend Disney+ "High School Musical: The Musical: The Series" Season 3 Premiere at Walt Disney Studios on July 27, 2022, in Burbank, California (Credit: Faye's Vision / Cover Images)
The Olivia-Joshua Drivers License drama seems all water under the bridge now as the two were pictured playing around while posing together on the red carpet.
With their arms wrapped around each other's waist, Joshua and Olivia stuck their tongues out and threw up the peace sign together.
The 21-year-old Better Nate Than Ever star opted for an edgy-stylish look in a black tank top, a cropped satin tuxedo jacket, and matching trousers with a thin textured black belt. He styled his outfit with a pendant necklace, a bangle, and a statement ring and rounded out the ensemble with a pair of black boots.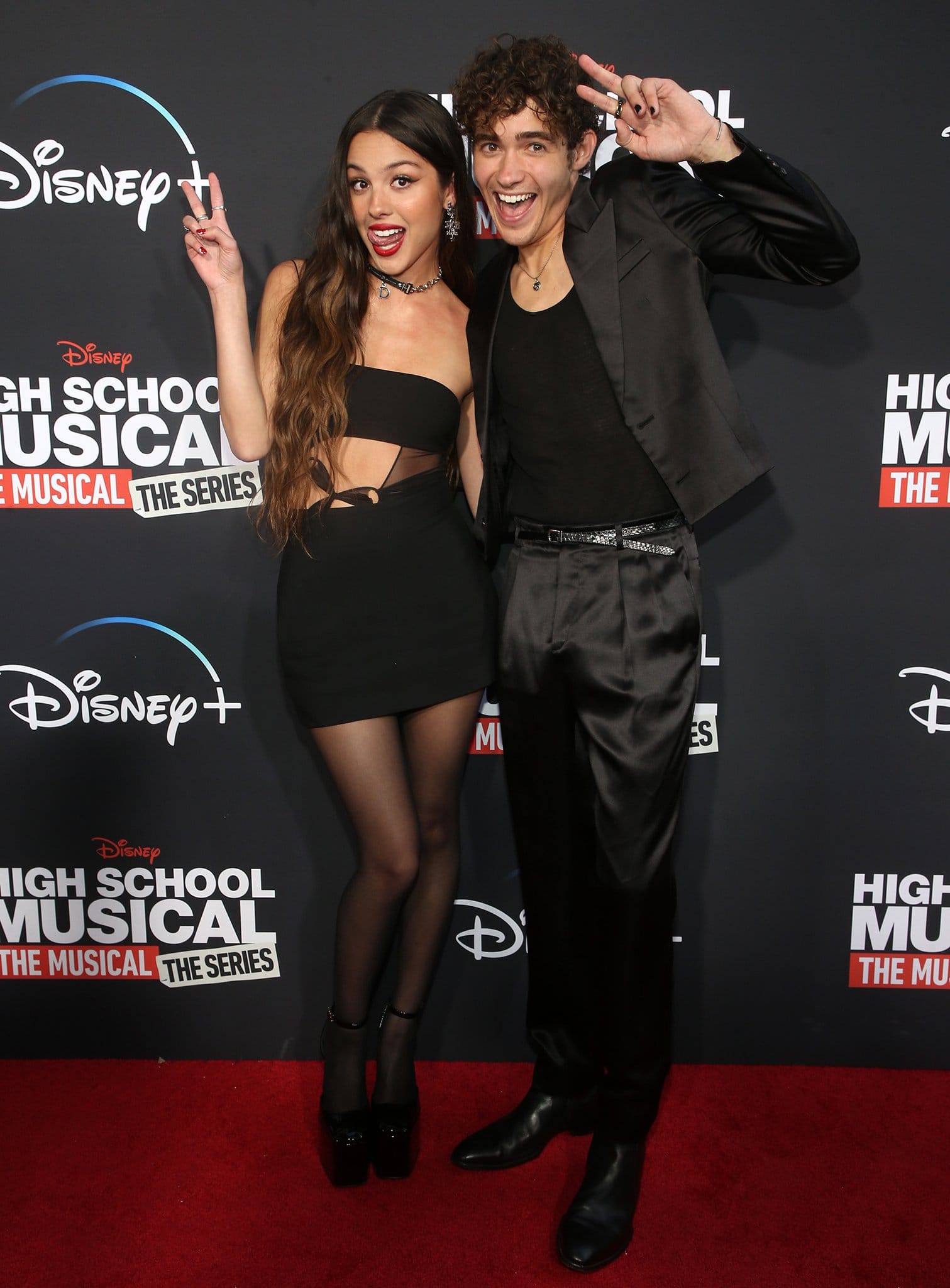 Rumored exes Olivia Rodrigo and Joshua Bassett get playful on the red carpet (Credit: Faye's Vision / Cover Images)
Joshua's black outfit complemented Olivia's sheer LBD, which she got from London-based Albanian womenswear designer Nensi Dojaka, best known for her deconstructed designs.
Never one to shy away from flaunting some flesh, the Good 4 U hitmaker showcased not just her abs but also her legs and cleavage in the tiny number that features mesh paneling and a large cutout design at the waist.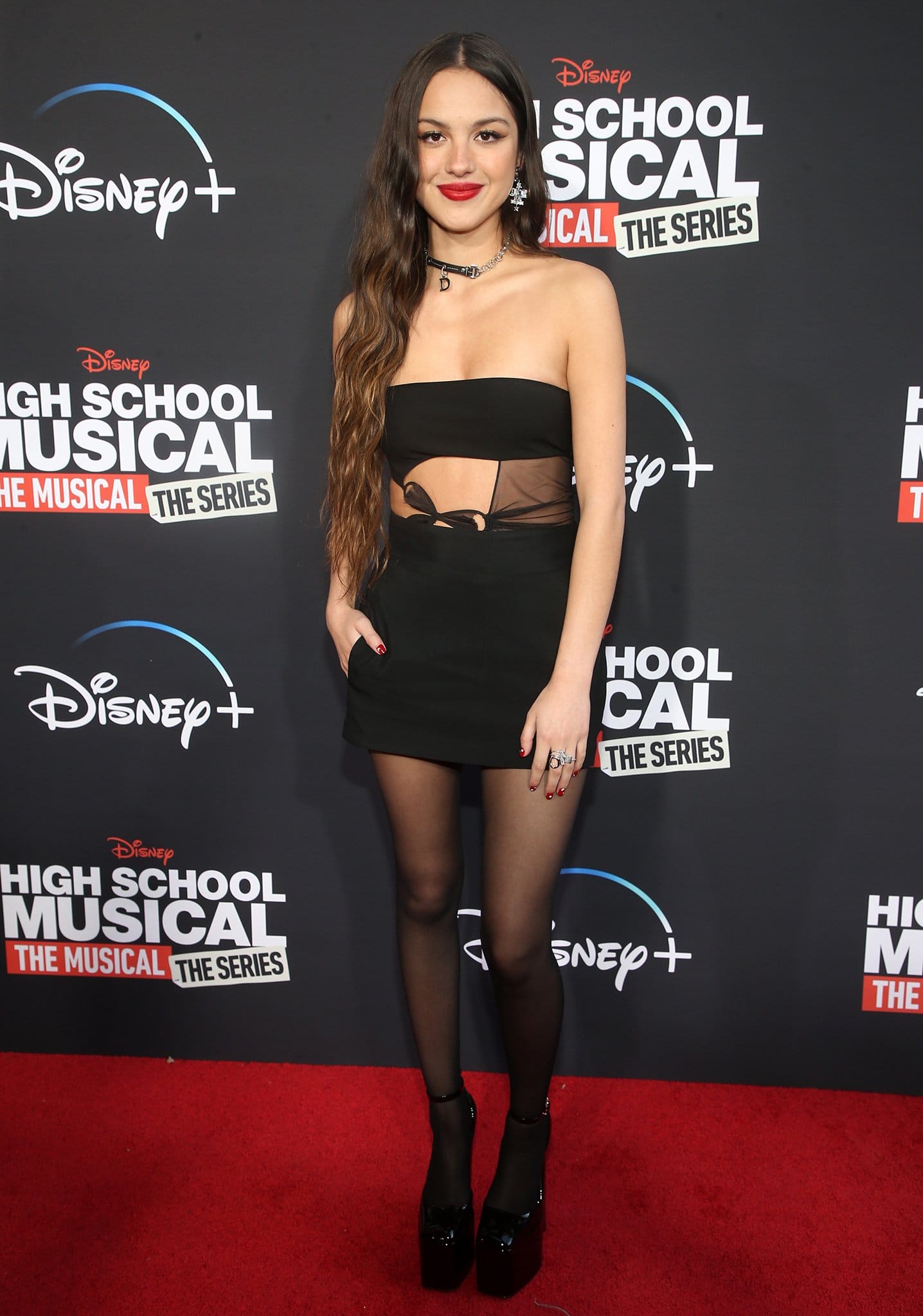 Olivia Rodrigo flaunts some flesh in Nensi Dojaka mesh-detailed cutout dress (Credit: Faye's Vision / Cover Images)
The racy number also has a bodycon fit, a single adjustable shoulder strap that holds the bandeau-style top, a wired flower design in the midsection, and a high-waisted thigh-skimming straight hem.
The Driving Home 2 U documentary star kept the look sultry with sheer black tights and boosted her height by several inches with sky-high patent leather platform pumps.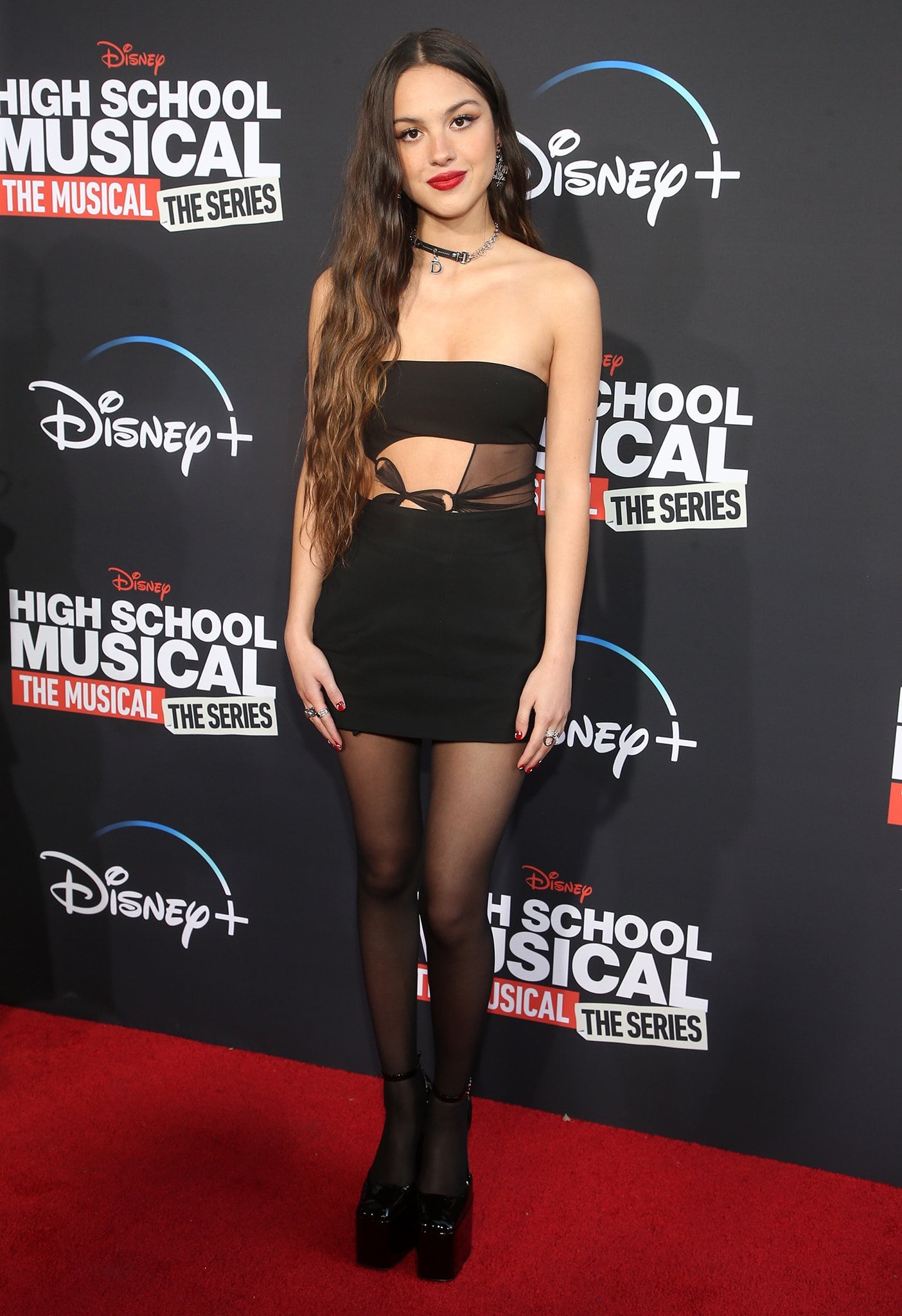 Olivia Rodrigo keeps a sultry look as she pairs her tiny dress with black tights and platform heels (Credit: Faye's Vision / Cover Images)
Adding gothic-punk elements to the look, the hot singer accessorized with silver Dior earrings, a black leather and silver chain choker with a D pendant, and an array of chunky silver rings.
She then styled her long tresses in loose waves flowing on one side, while her makeup featured winged eyeliner, fake lashes, and a swipe of bold red lipstick to match her nails.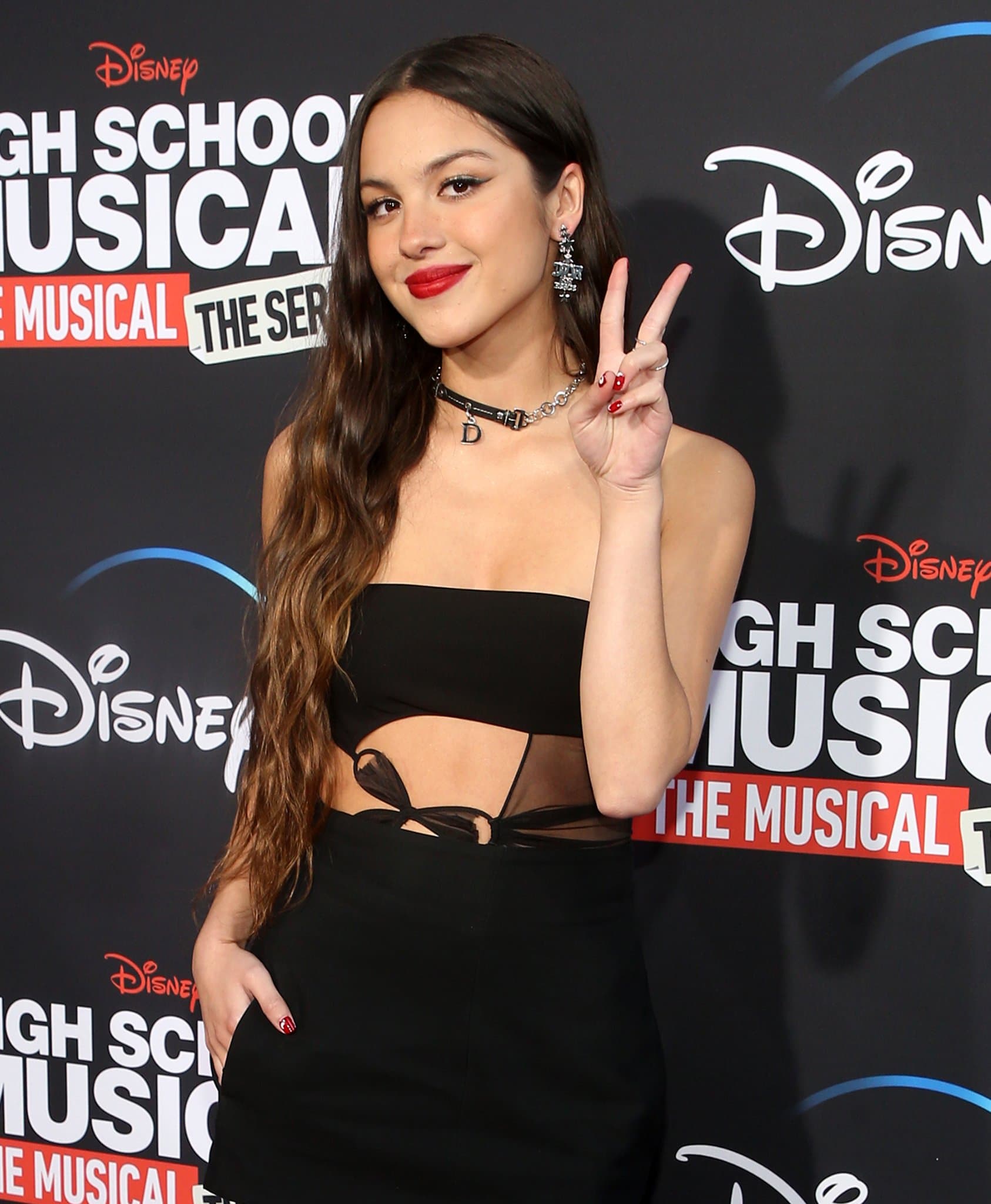 Olivia Rodrigo styles her long tresses in waves and wears winged eyeliner and red lipstick (Credit: Faye's Vision / Cover Images)
Did Olivia Rodrigo and Joshua Bassett Ever Date?
Rodrigo and Bassett play couple Nina Salazar-Roberts and Ricky Bowen in the Disney+ series THMTMTS.
Their onscreen chemistry and offscreen close friendship sparked romance rumors, but neither party has confirmed nor denied anything.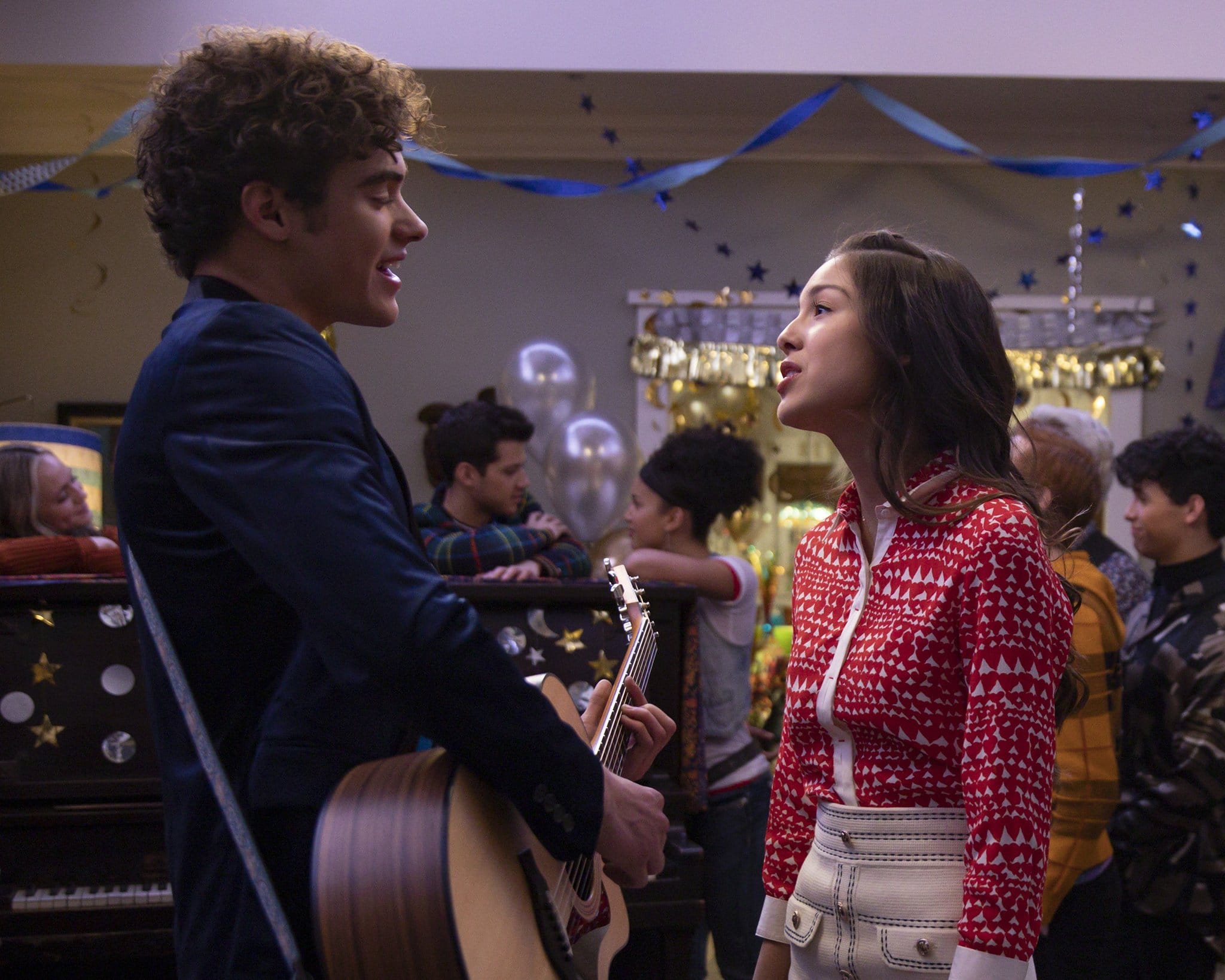 Joshua Bassett and Olivia Rodrigo met on the set of Disney+ High School Musical: The Musical: The Series (Credit: Disney+)
However, with the release of Olivia's breakthrough single, Drivers License, in early 2021, fans believed that the heartbreak song is about Joshua Bassett and his rumored new love interest, Girl Meets World's Sabrina Carpenter.
Fans pointed out a possible love triangle between Joshua, Olivia, and Sabrina in the verse: "And you're probably with that blonde girl / Who always made me doubt / She's so much older than me / She's everything I'm insecure about."
The lyrics hint at Carpenter's blonde hair color and age, which is four years older than Rodrigo.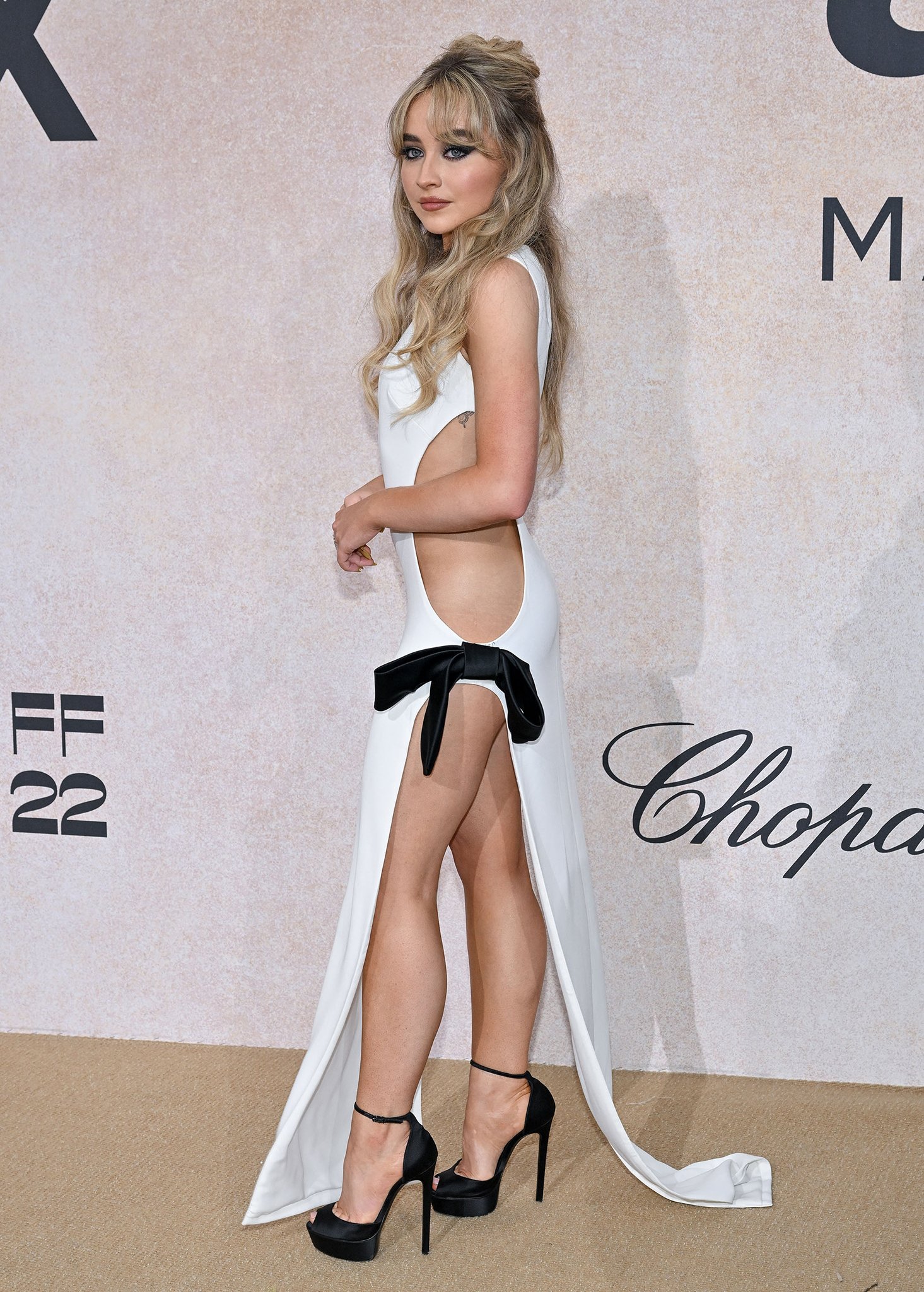 Sabrina Carpenter in a daring white cutout dress by Monot at this year's amfAR Gala Cannes (Credit: Julien Reynaud / ABACA / INSTARimages)
Joshua Bassett and Sabrina Carpenter's Response to Drivers License
Just two weeks after Olivia released her heartbreak anthem, Sabrina dropped a new song, titled Skin, which seems to be a response to Drivers License.
"You can try / To get under my, under my, under my skin / While he's on mine / Yeah, all on my, all on my, all on my skin / I wish you knew that even you / Can't get under my skin / If I don't let you in."
Bassett also released a song, Lie, Lie, Lie, amid his rumored feud with Rodrigo.
"So they told me all the things that you said / Running all over my name, oh / and you're acting oh so innocent / Like I'm the only one to blame."
"I know what you say about me / I hope that it makes you happy / You can't seem to get me off your mind, oh / I know you're lying through your teeth / You told them the lies that you told me / I've had enough of it this time."
Although he clarified that the song isn't about his rumored ex, fans still believe it's a response to Olivia's Drivers License.