On January 7, 2021, Olivia Rodrigo released her debut single, "drivers license" (stylized in lower case), her first single as an artist independent of Disney Channel and Disney+.
Within one week of the song's release, the then eighteen-year-old singer broke the Spotify record of the most daily streamed song ever for a non-holiday song, twice. She also debuted at #1 on Billboard Top 100.
"Drivers license" became an international success, topping the charts at #1 in multiple countries and regions like Australia, Canada, and the United Kingdom. Rodrigo became the youngest artist to debut on the Billboard Chart in history.
Actress Olivia Rodrigo in a black dress and matching sandals at the Los Angeles Premiere "Thor: Ragnarok" on October 10, 2017, in Hollywood, California (Credit: Apega / WENN)
The success of "drivers license" continued on the popular social media app TikTok, where the hashtag #driverslicense garnered over 888.5 million views within one week.
Her song became one of the hottest trending songs on the app in January 2021 with users using her song to narrate their own personal stories of heartbreak.
"Drivers license" was very well received by the public; critics and fans praised the young star for her impressive vocal range, emotional singing abilities, and relatable lyrics, especially for an artist at her young age.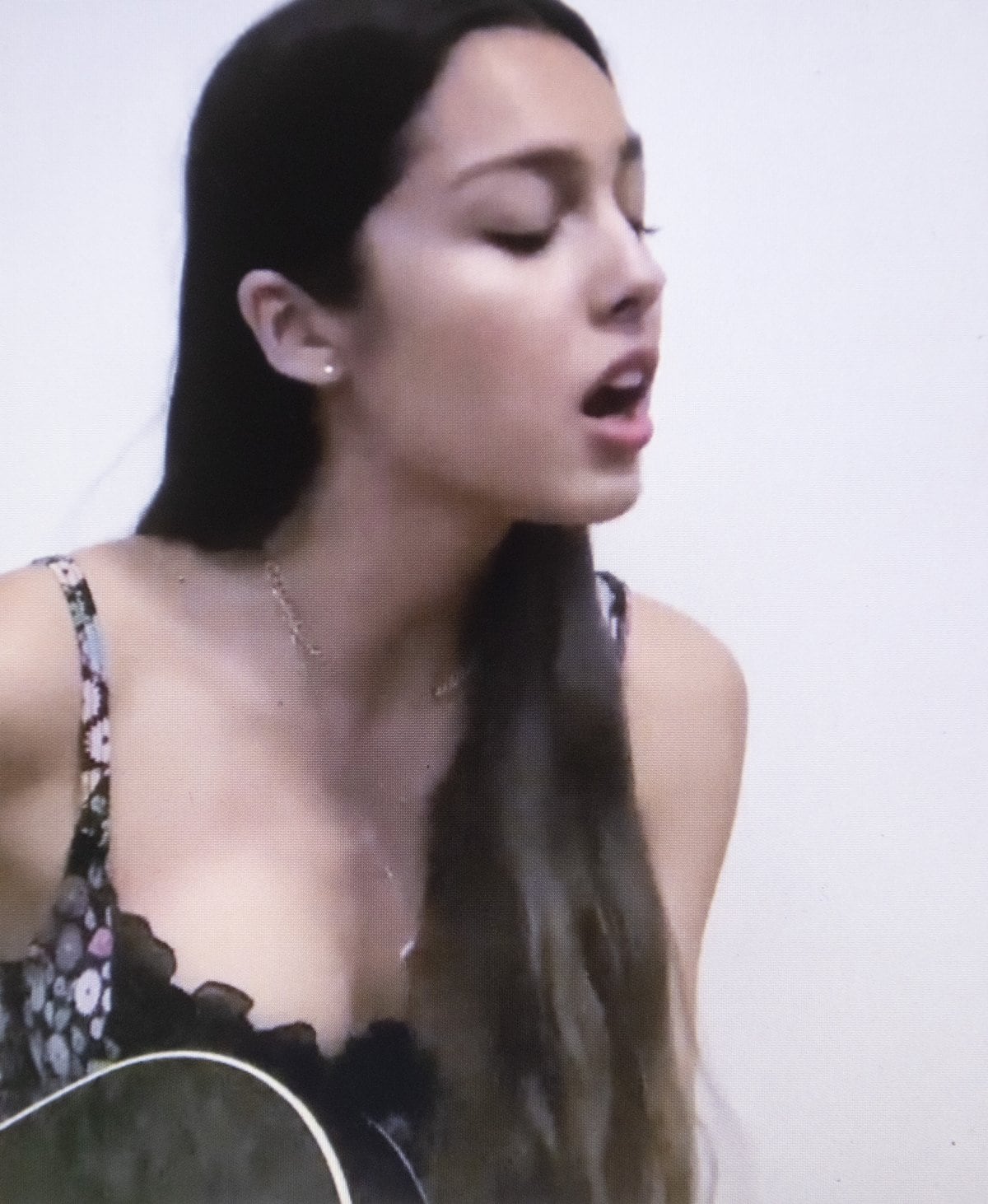 Olivia Rodrigo singing her original song "drivers licence" on Instagram (Credit: Avalon / WENN)
The song has been loved by fans all across the internet, which led them to wonder what had happened to the young star and who broke her heart.
Based on hints in the lyrics and piecing together timelines, the most popular theory behind the hit single is a private relationship between Olivia Rodrigo and her High School Musical: The Musical: The Series co-star and on-TV love interest Joshua Bassett.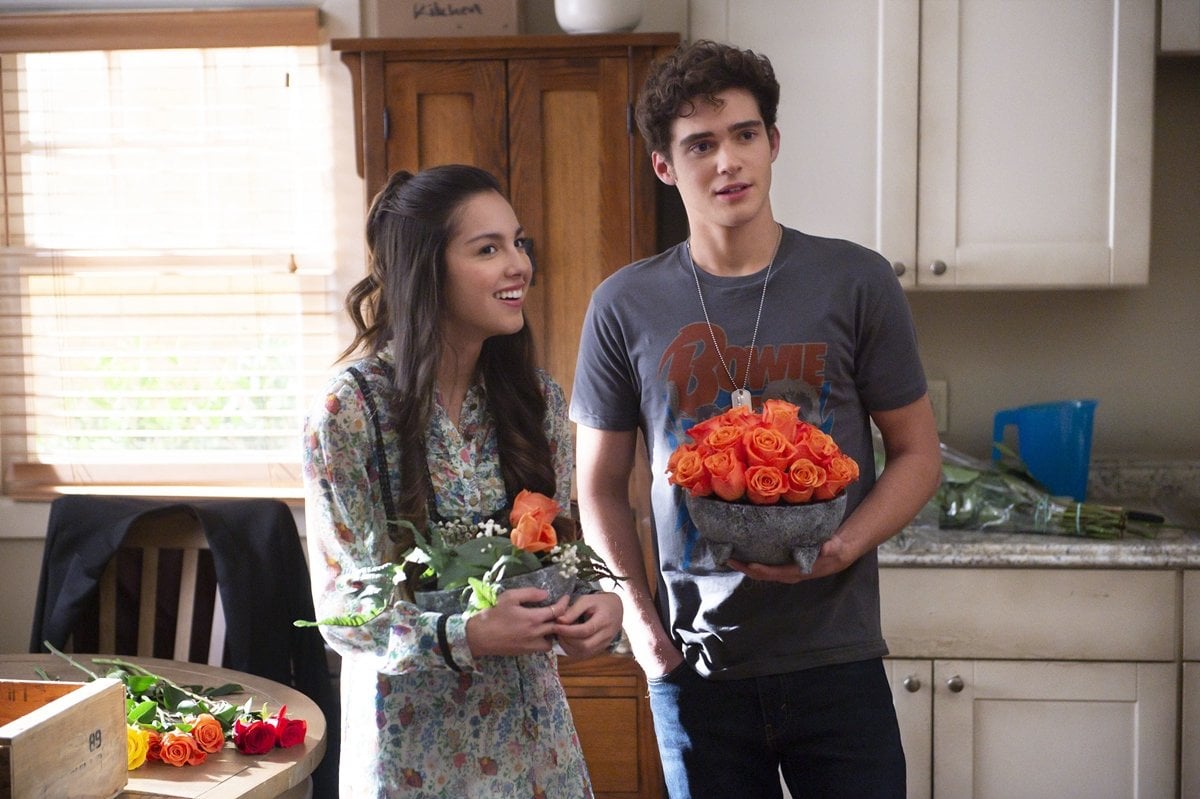 Rini is the official friendship/romantic pairing between Ricky Bowen (Joshua Bassett) and Nini Salazar-Roberts (Olivia Rodrigo) in the American mockumentary musical drama television series High School Musical: The Musical: The Series (Credit: Disney Platform Distribution)
There was already speculation about a possible relationship between the two stars when they wrote the duet "Just For a Moment" together for High School Musical: The Musical: The Series soundtrack.
Actress Olivia Rodrigo styled a long red dress with matching shoes at the premiere of "Coco" at El Capitan Theatre on November 8, 2017, in Los Angeles, California (Credit: FayesVision / WENN)
The lyrics of "drivers license" state that Rodrigo was in love with someone who left her and moved on to a "blonde girl" much older than her.
This led fans to believe the "blonde girl" in question was fellow Disney Channel singer and actress Sabrina Carpenter, who has been linked with Joshua Bassett since June 2020, which appears to match the approximate time frame Rodrigo wrote the song.
It was later revealed that the original lyrics of "drivers license" were a "brunette girl" instead of "blonde girl," which could have indicated that the song was actually not about Sabrina Carpenter.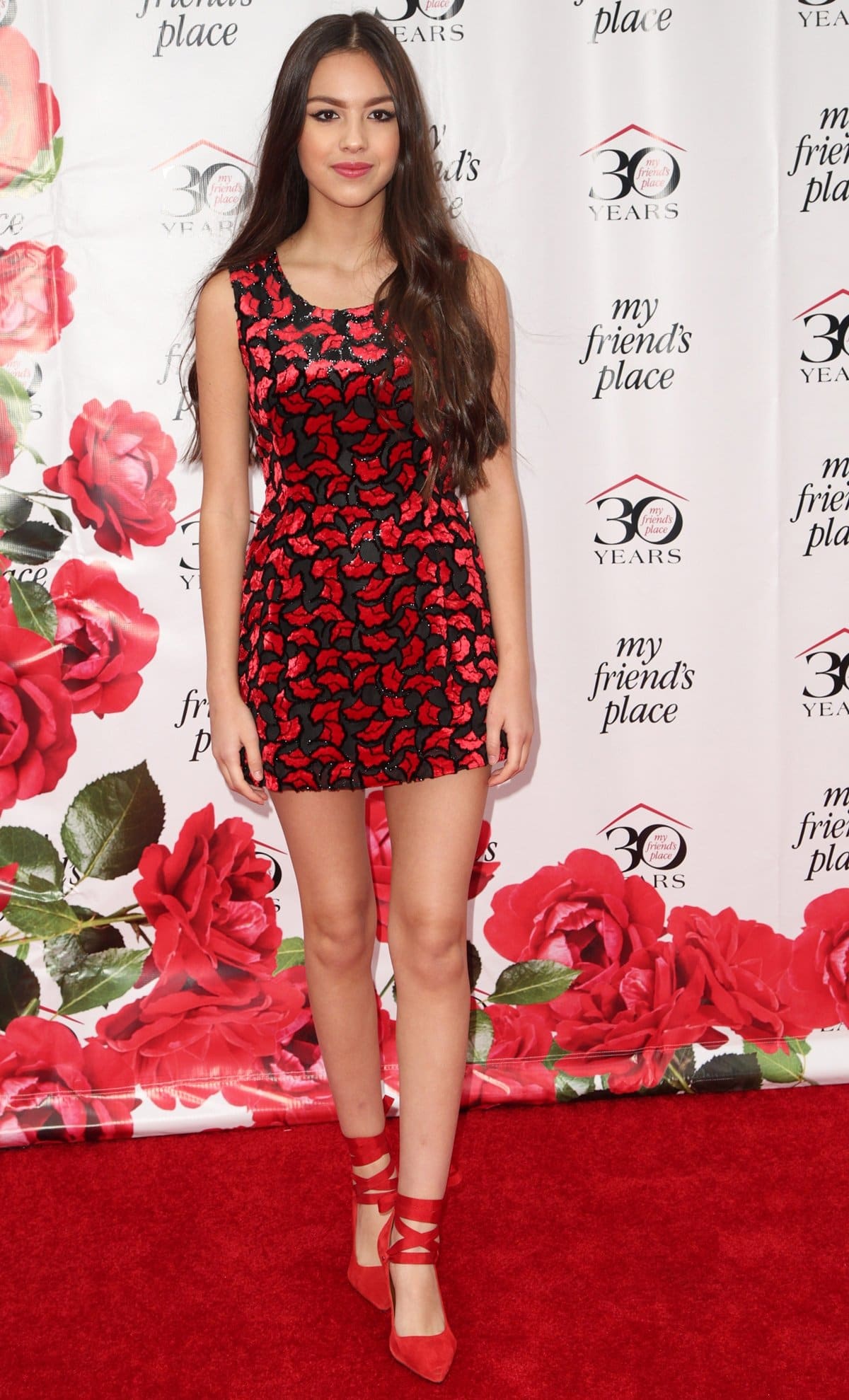 Olivia Rodrigo flaunts her legs in a floral mini dress at the My Friend's Place 30th Anniversary Gala at Hollywood Palladium on April 7, 2018, in Los Angeles, California (Credit: Brian To / WENN)
However, further investigation concluded that Carpenter was still the most likely suspect.
Fans noticed that Bassett's later single "Lie Lie Lie" and Carpenter's single "Skin" both appeared to possibly be direct responses to Rodrigo's "drivers license."
Bassett's single "Lie Lie Lie" suspiciously responds to someone who he thinks is trying to spread rumors to tarnish his name and pretend to be the victim.
Olivia Rodrigo's song "drivers license" is reportedly about her ex-boyfriend Joshua Bassett and his new girlfriend Sabrina Carpenter (Credit: Instar / WENN)
Fans have found Carpenter's single "Skin" to be even more obviously related to "drivers license" with Carpenter's reference to someone "blonde", which is likely a response to the "blonde girl" in Rodrigo's single.
"Skin" talks about someone Carpenter could have been friends with but is now trying to cause drama, but Carpenter is not phased despite this person being upset that Carpenter is happy in her relationship.
However, all parties involved in the rumored situation have yet to confirm or deny any relation or participation in the alleged love triangle.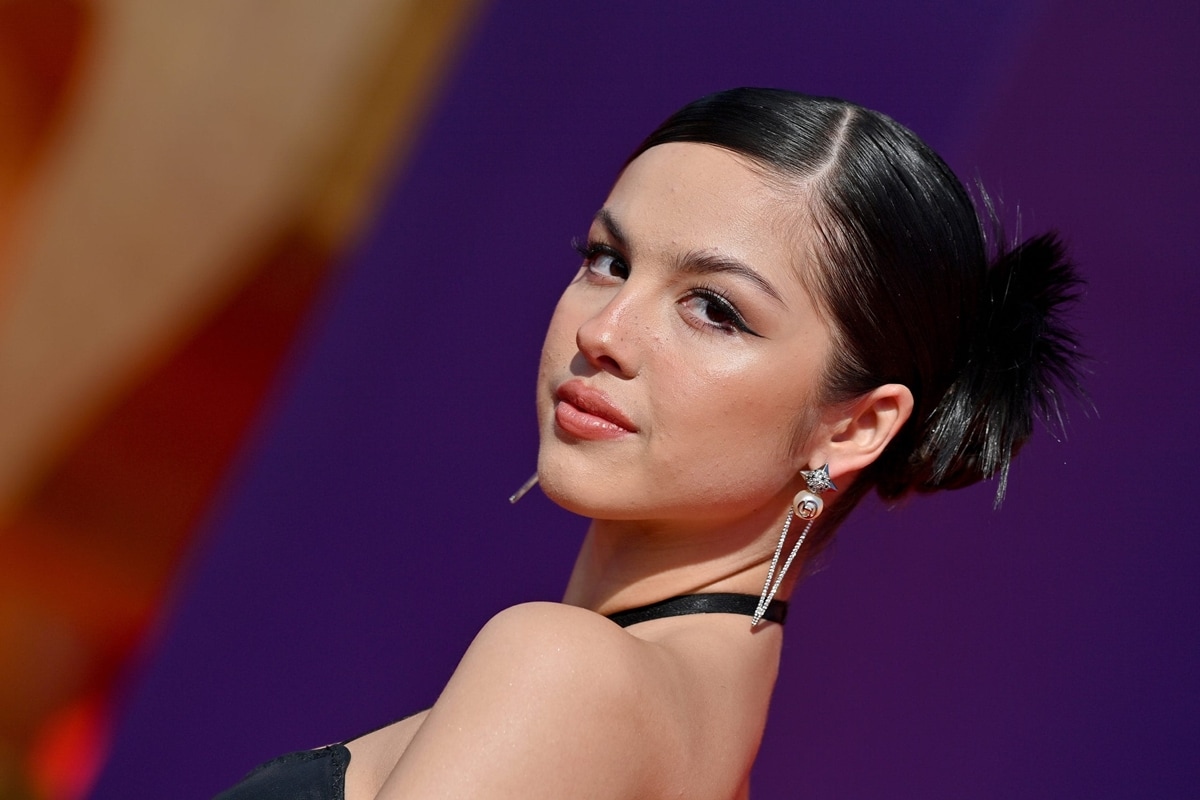 It's believed Olivia Rodrigo's "Drivers License" was inspired by Joshua Bassett, her costar on the Disney+ series "High School Musical: The Musical: The Series" (Credit: BauerGriffin / INSTARimages)
Olivia Rodrigo admits that the background of the story does not matter to her compared to what the story told means to her listeners.
"I totally understand people's curiosity with the specifics of who the song's about and what it's about, but to me, that's really the least important part of the song," the Filipina-American singer told Billboard in January 2021.
"It's resonating with people because of how emotional it is, and I think everything else is not important."
Joshua Bassett said in December 2021 he hasn't spoken with his ex-girlfriend Olivia Rodrigo since the release of "drivers license" (Credit: Avalon / WENN)
Joshua Bassett told GQ in a December 2021 interview that he has not spoken with Olivia Rodrigo since the release of "drivers license."
"[Olivia Rodrigo] hasn't spoken to me since 'drivers license' came out," he said in the interview. He claimed to have made several attempts to speak with her.
"I would see TikToks with like 50 million views and 10 million likes saying, 'If I ever see that kid on the street, I'm going to f—ing kill him,'" he said about the impact of her song.
"It's hard to see that and then be living in New York and walking down the street."
"It sort of felt like a losing battle… If I try and defend myself in any way, it just felt impossible," he continued, adding that he has "a right to stand up for myself," and is "glad" that it took him this long to release the songs "Crisis," "Secret" and "Set Me Free."
"I finally found the courage to speak up for myself. I'm not here to expose people. It was eating me alive, and I couldn't keep it in anymore."
Taylor Swift and the Future of Olivia Rodrigo
Despite being on television for years as a child actress and singer, Olivia Rodrigo is still very much a fan at heart like anyone else. The nineteen-year-old star has been very public about her love for Taylor Swift over the years.
Fans were quick to notice the influences of musicians like Taylor Swift and Lorde in Rodrigo's style of music, whilst still being original and relatable with her own stories.
Before the release of "drivers license," Rodrigo received public recognition from her idol Taylor Swift for her cover of "Cruel Summer."
Due to both singers' songwriting styles of personability, heartbreak, and storytelling, fans have been dying for Rodrigo to join Swift on tour.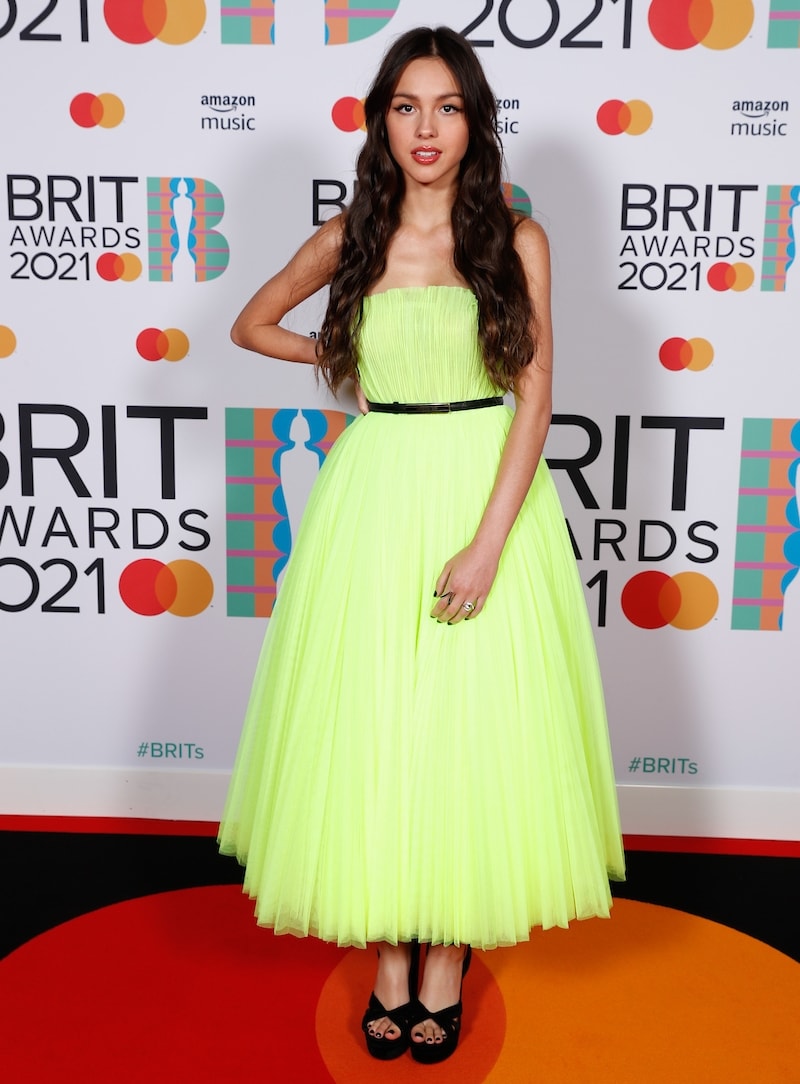 Olivia Rodrigo looked gorgeous at the 2021 Brit Awards in a neon green Dior Pre-Fall 2021 tulle bustier dress and Shaun Leane jewelry on the red carpet at the O2 Arena in London, England, on May 11, 2021 (Credit: WENN / John Marshall / Avalon)
However, due to the global pandemic, all of Swift's tours were postponed.
Rumored to have had a boob job, Olivia Rodrigo is currently working on promoting her own work as an artist independent of her Disney Channel and Disney+ career.
In May 2021, she attended the BRIT Awards 2021 in a neon green dress that was praised by fashion critics for a flattering and well-accessorized look that let the loudness of the dress speak for itself.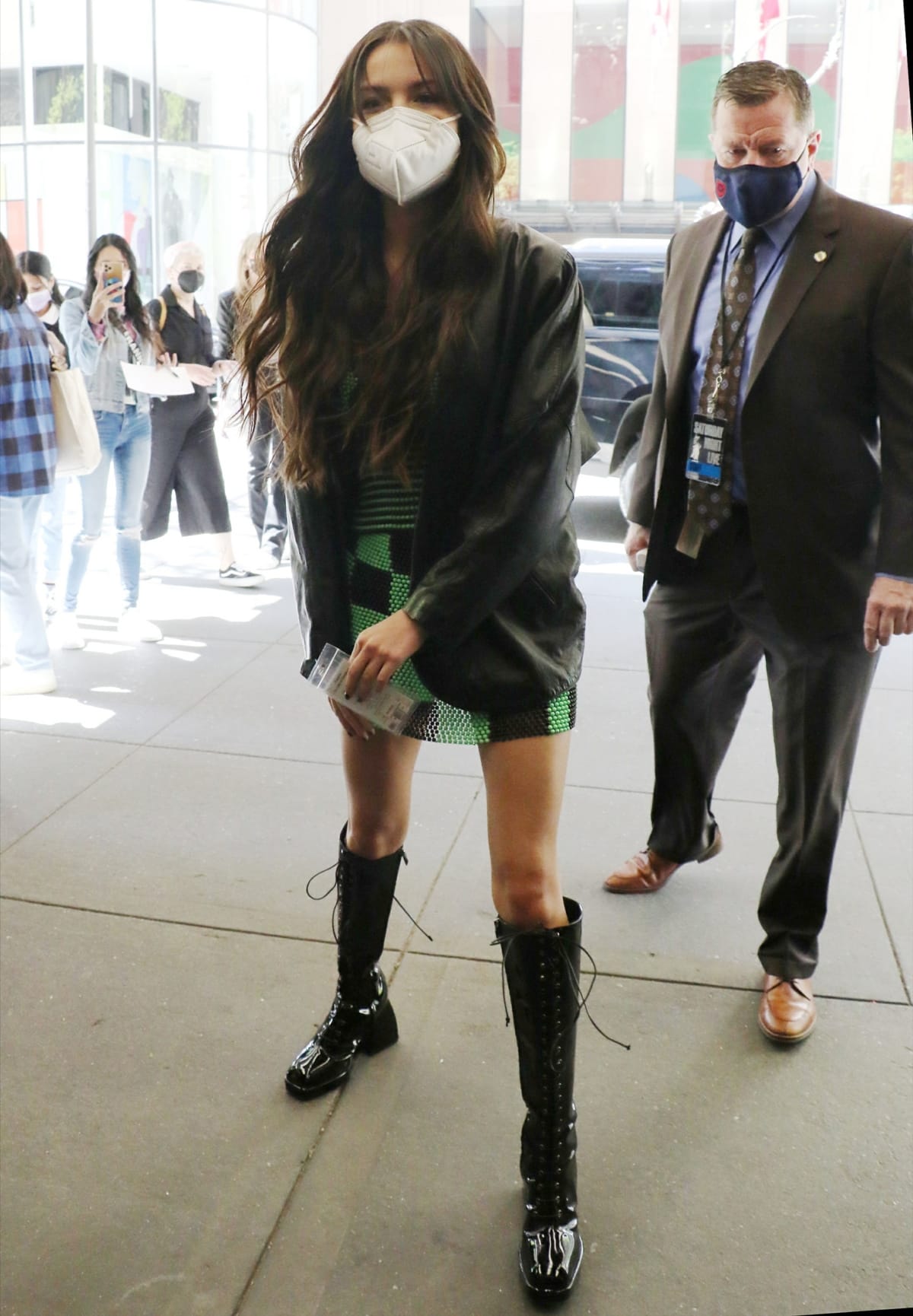 Olivia Rodrigo wore a black and green pattern top and skirt from Los Angeles-based costume designer Erika Maish for Saturday Night Live rehearsals in New York City on May 13, 2021 (Credit: Instar / WENN)
The 5'5″ singer was also seen with a tall leather boot and jacket look paired with a green and black checkered dress for her SNL debut rehearsal.
This new look shows a more confident and mature version of the nineteen-year-old to match her new breakup anthem, "Good 4 U".
Olivia Rodrigo rocked a chunky pair of knee-high PVC boots (Credit: Instar / WENN)
"Good 4 U" and Her Debut Album Sour
In her song "Good 4 U", Rodrigo tells the story of seeing her ex move on so quickly after breaking up. The Disney star's new single was well received as another relatable song that reaches people of all ages.
Released on May 14, 2021, the song has been praised for branching out into new music styles, a much different approach to heartbreak compared to her debut song "drivers license."
"Good 4 U" has been notably compared to the emo classic "Misery Business" by pop-punk band Paramore for similar singing style, revenge-style lyrics, and overall musical vibe.
Be it the tragic heartbreak in "drivers license" or the upbeat revenge anthem "Good 4 U", fans have been loving the fresh take on love and loss in adolescence by Olivia Rodrigo.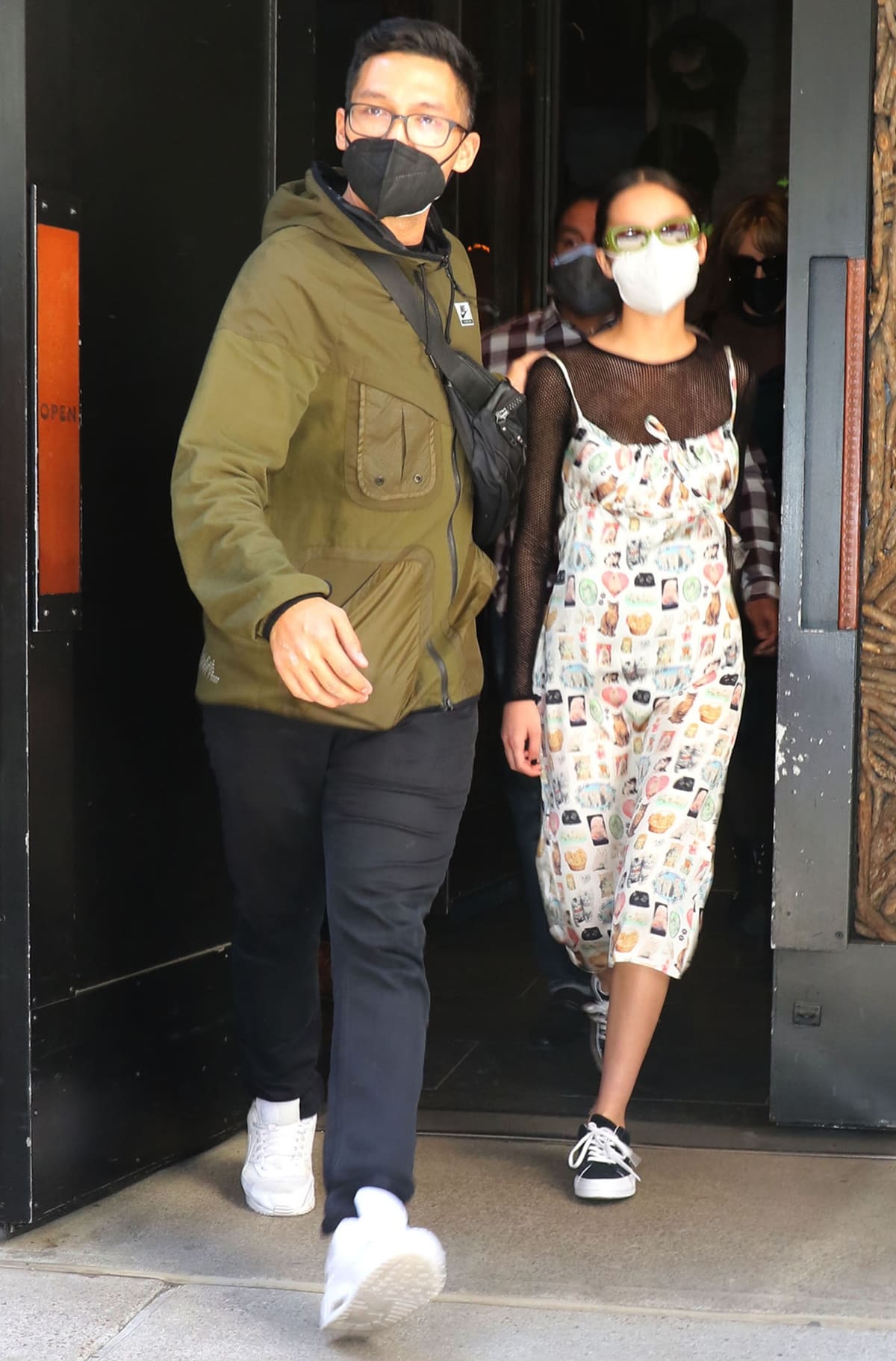 Olivia Rodrigo rocked a cat-print patterned slip dress from British fashion designer Ashley Williams with black and white sneakers for Saturday Night Live rehearsals in New York City on May 14, 2021 (Credit: Instar / WENN)
The nineteen-year-old singer-actress says her debut album Sour is about her experiences growing up as a young adult, including the insecurities, angst, jealousy, anger, and love that come with adolescence.
Rodrigo won the awards for Best New Artist, Best Pop Vocal Album for Sour, and Best Pop Solo Performance for "Drivers License" at the 64th Grammy Awards on April 4, 2022.
She was also named 2021 Entertainer of the Year by Time and Billboard named her Woman of the Year in 2022.
The young star has made a very big name for herself in a matter of days in 2021 and continues to carry the momentum.