While fans are worried she has breast implants, the 19-year-old singer seemed to pay no attention to the plastic surgery rumors while flaunting her boobs in a sexy outfit at the Los Angeles premiere of Olivia Rodrigo: Driving Home 2 U held at the Regency Village Theatre.
Directed by Stacy Lee, the documentary recounts the memories of writing and creating her debut album, Sour, and was released to Disney+ on March 25, 2022.
Olivia Rodrigo flaunts her boobs at the LA premiere of her documentary Driving Home 2 U on March 24, 2022 (Credit: Faye's Vision / Cover Images / INSTARimages)
The Drivers License hitmaker served sexy looks as she made her way down the purple carpet in a sexy black-and-pink ensemble from Vietnam-based brand Fanci's Fall/Winter 2021 collection.
Does Olivia Rodrigo have breast implants?
The debate about Olivia Rodrigo's boobs started when Dana Omari, a dietitian and social influencer focusing on cosmetic procedures, shared before and after images of the singer on Instagram.
"Olivia Rodrigo appears to have gotten breast implants to fill out the small breasts she had before. They're fuller, the gap between her breasts is much smaller now, and they sit higher," Dana Omari said about Olivia Rodrigo's cleavage.
Olivia Rodrigo in 2022 (L) and 2018 before and after rumored plastic surgery (Credit: Faye's Vision / Cover Images / INSTARimages / Tony DiMaio / Startraksphoto)
"It looks like she had 'moderate or mod-high profile' implants that really suit her frame well," she speculated about the type of plastic surgery Rodrigo might have had.
Olivia Rodrigo's rumored new breast implants started a discussion on Reddit as well.
"There was a blind shared here a while ago that music execs were pressuring her to sex up her image, or else she would flop as Billie did recently. I just saw several posts saying she recently got a boob job. I mean, good for her, but I hope she's actually doing it for her. She was really skinny too a couple of months ago, and then her boyfriend being so mature as soon as turned 18," a user started a debate that has received hundreds of comments.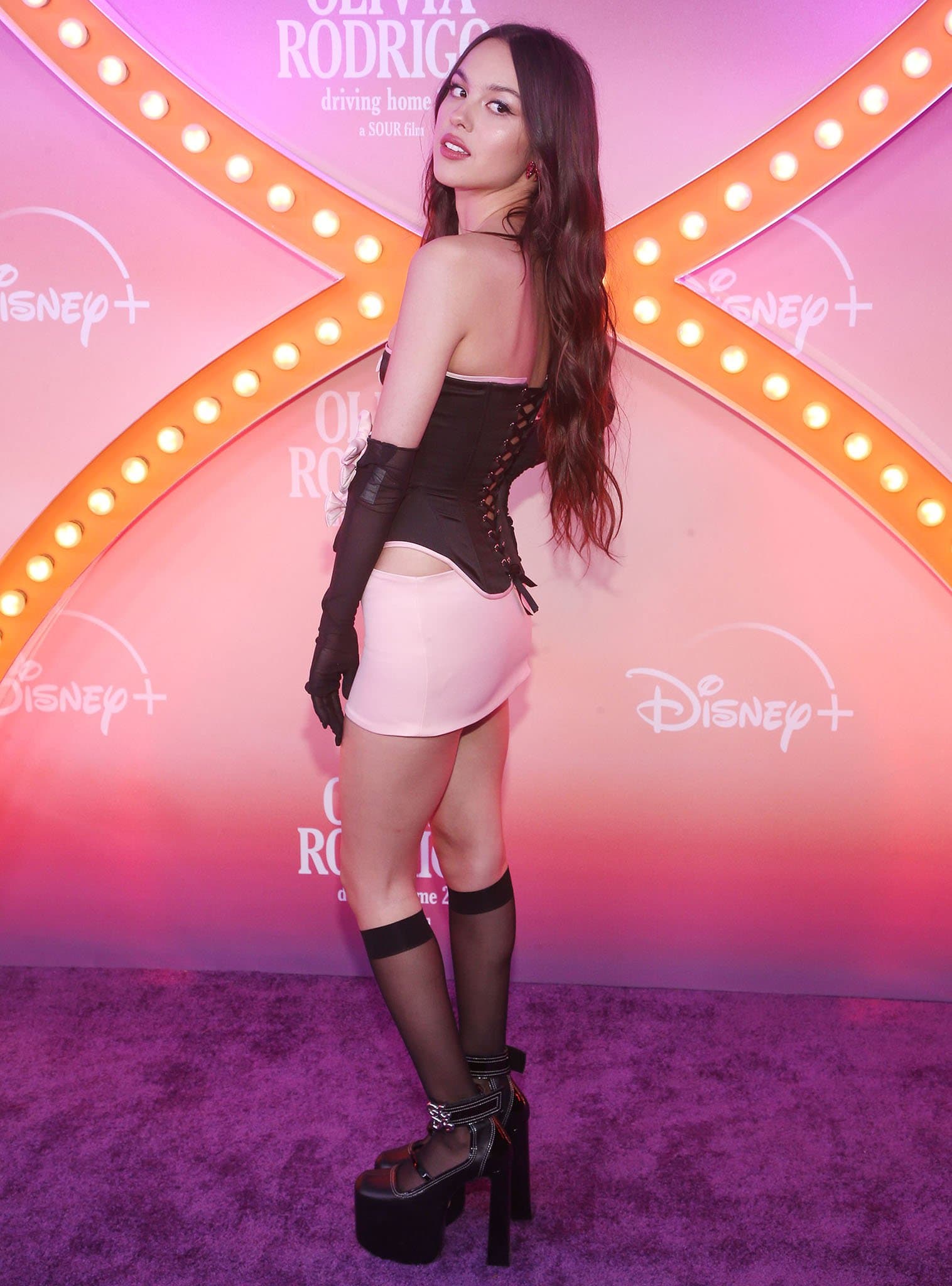 Olivia Rodrigo flashes her impressive figure in a Fanci black and pink corset mini dress (Credit: Faye's Vision / Cover Images / INSTARimages)
Reimagining Y2K's fashion aesthetic, Olivia wore a $350 "Bad Sheep" fitted corset that offered an eyeful of her cleavage.
The strapless number is adorned with pink bows running down the front, which matched the bows on her black opera gloves.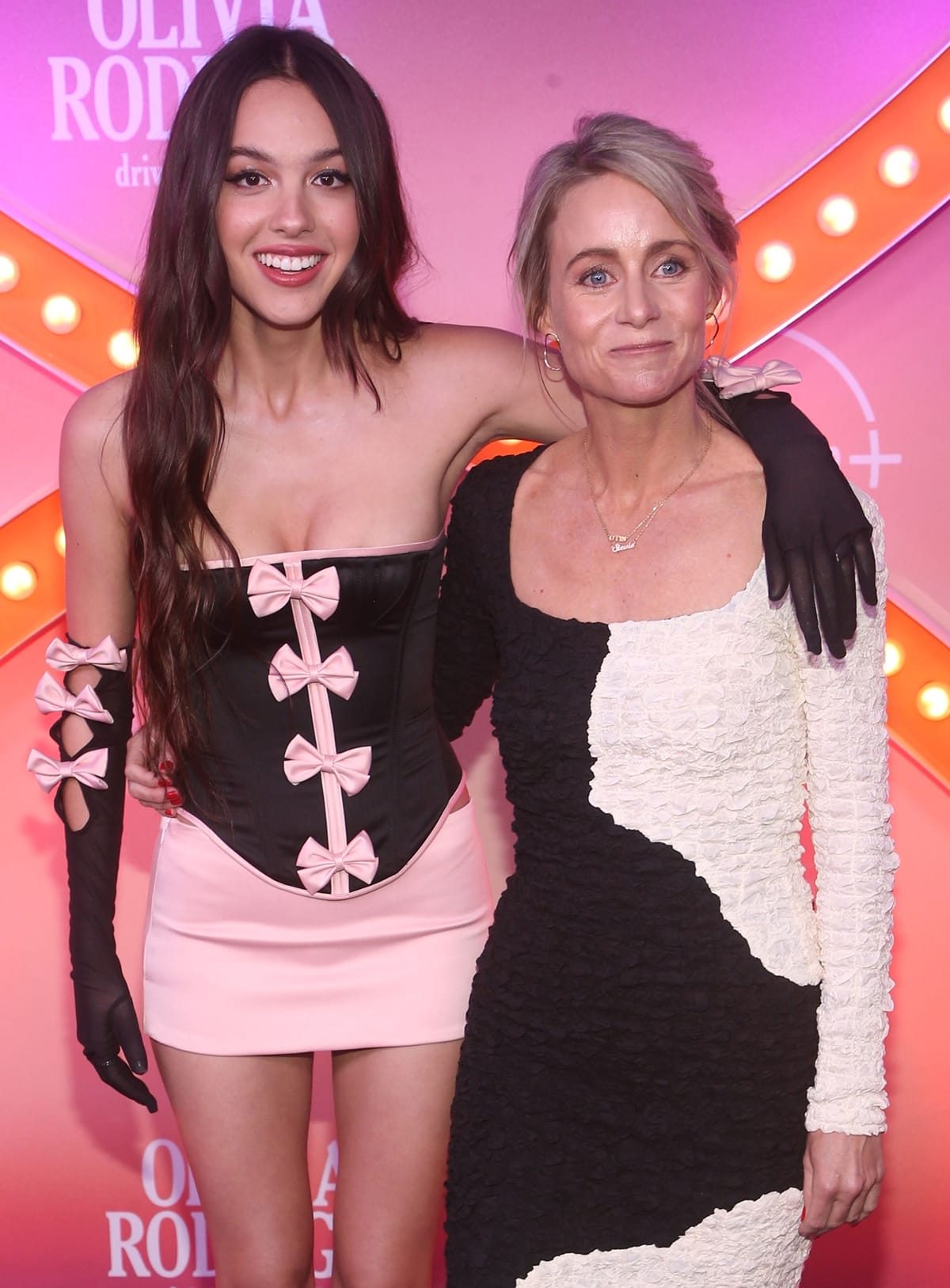 Joined by New Zealand-born, US-based director Stacey Lee, Olivia Rodrigo flaunts her boobs in a pink micro mini skirt and corset dress (Credit: Faye's Vision / Cover Images / INSTARimages)
Her outfit also comes with a pink micro mini skirt, which Olivia paired with $23 Wolford black knee-high tights and towering platform shoes.
The Good 4 U singer boosted her 5'4" height with a pair of "Divine" heels from the Italian streetwear fashion label GCDS. You can purchase her paneled buffed and patent leather heels for $1,040 at SSENSE.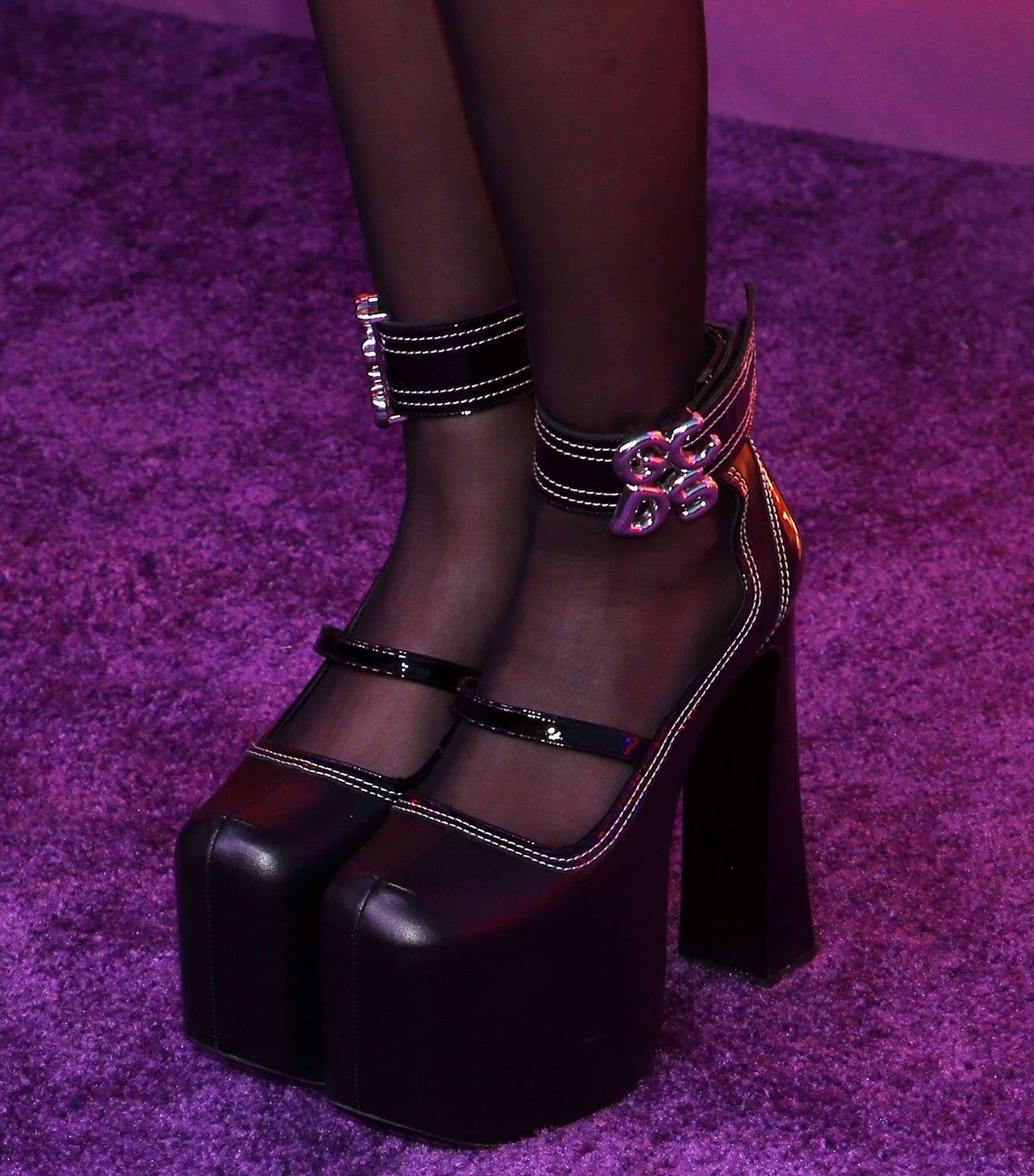 Olivia Rodrigo pairs her revealing outfit with Wolford tights and GCDS platform shoes (Credit: Faye's Vision / Cover Images / INSTARimages)
These shoes feature contrasting smooth and patent leather uppers set atop a 6-inch block heel and a 3.5-inch platform. They also boast rounded toes, contrasting stitching, a slender strap across the foot, and an ankle strap with logo embellishment.
Styled by Chloe and Chenelle Delgadillo, Olivia accessorized her already striking look with earrings that were barely visible from her long wavy tresses.
Hairstylist Clayton Hawkins parted her brunette locks in the middle and styled them in loose waves flowing over her shoulders.
Makeup artist Lilly Keys gave the singer a dramatic winged eyeliner with matte pink lipstick and matching blush.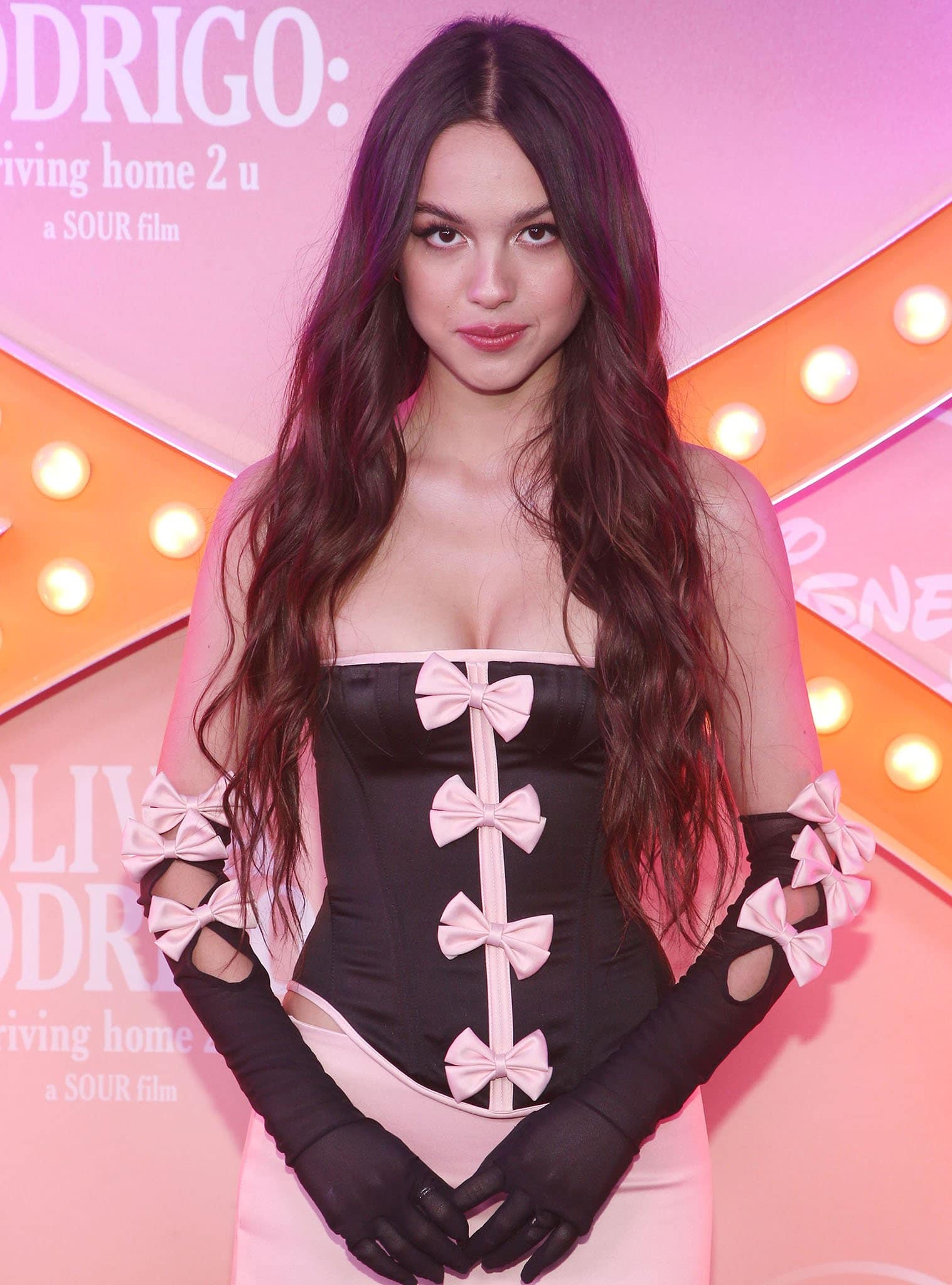 Olivia Rodrigo styles her long tresses in center-parted waves and highlights her eyes with winged eyeliner and subtle smokey eyeshadow (Credit: Faye's Vision / Cover Images / INSTARimages)
The Déjà Vu singer was among the top winners at the 2022 iHeartRadio Music Awards held at the Shrine Auditorium a few days earlier.
Dressed in a Versace Fall 2022 purple outfit, Olivia took home the awards for Female Artist of the Year, Best New Pop Artist, and TikTok Bop of the Year.