When Tom Cruise and Nicole Kidman were together in the '90s, it was a BIG deal. They were THE Hollywood royal couple, right up there with the likes of Winona Ryder and Johnny Depp or Justin Timberlake and Britney Spears.
Not only did Cruise and Kidman grace the covers of numerous magazines together, but they also starred in three different films together – Days of Thunder, Far and Away, and Eyes Wide Shut.
Tom Cruise and Nicole Kidman exchanged vows in December 1990, one year after his divorce from Mimi Rogers (Credit: Bart Sherkow / Shutterstock)
There's something exciting about co-stars being romantically involved. It's like, when you watch a movie they're in together, you can't help but get a little thrill knowing that their chemistry isn't just an act.
But before we get into the films they starred in together, let's take a little look at their relationship timeline.
Tom Cruise and Nicole Kidman: The Hollywood "It" Couple
Tom Cruise met the then-unknown Nicole Kidman on the set of Days of Thunder. Cruise had just divorced Mimi Rogers in 1990.
The two quickly fell in love, and their relationship rocketed Kidman into stardom, putting her front-and-center in the public eye.
By the end of the year, Kidman and Cruise were married. They wed in a private ceremony on Christmas Eve in Colorado.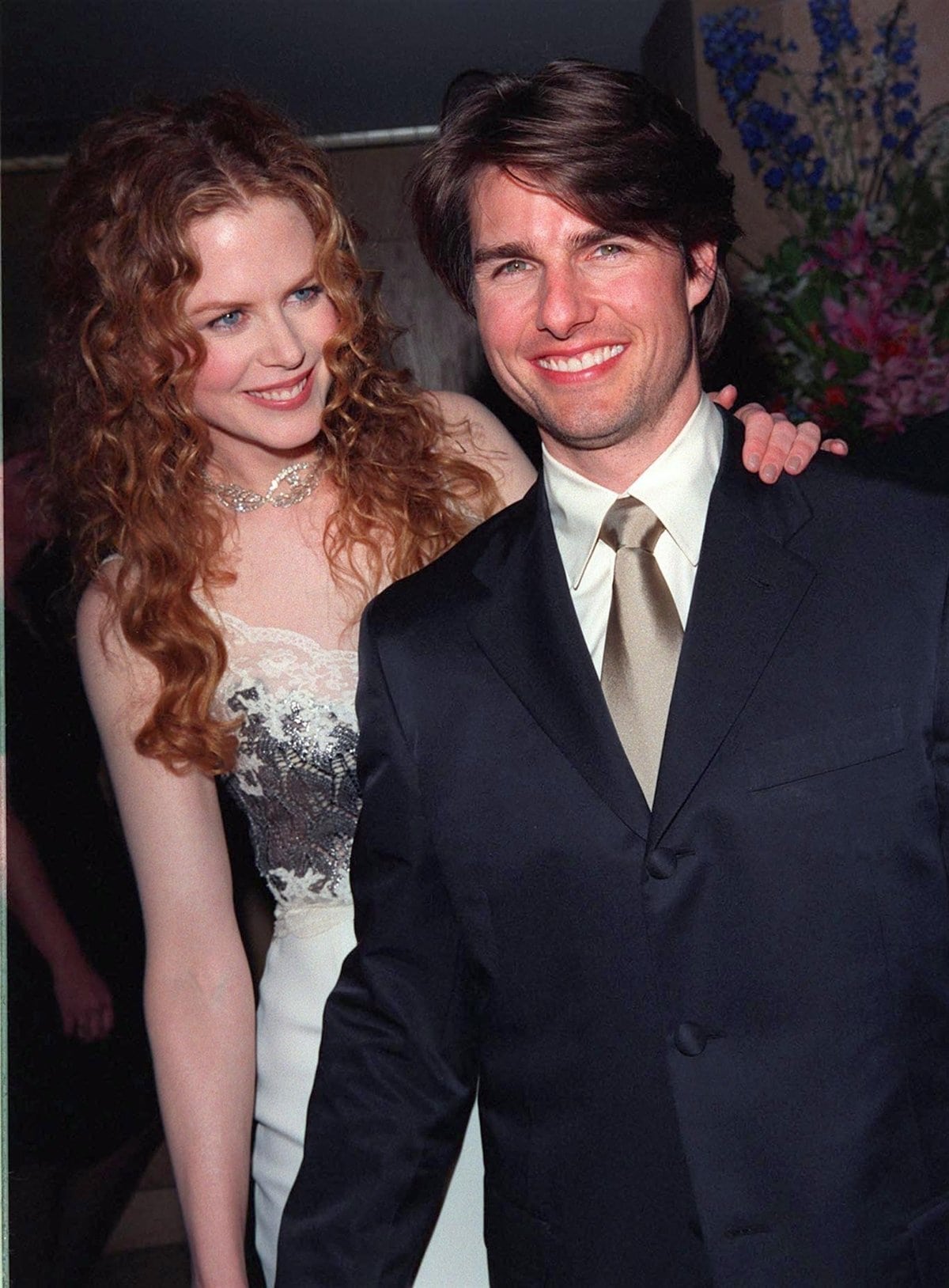 Nicole Kidman and Tom Cruise married in 1990 and split in 2001 (Credit: Featureflash Photo Agency / Shutterstock)
At the time, Kidman was 22 and Cruise was 28. This was Kidman's first marriage, and Cruise's second. While they were together, they adopted two children together: Isabella Jane and Connor Antony.
During their time together, Cruise and Kidman befriended Princess Diana of Wales. They actually attended her funeral together in 1997.
According to Kidman, the romance was intense. "He basically swept me off my feet. I fell madly, passionately in love," Kidman said. "And as happens when you fall in love, my whole plan in terms of what I wanted for my life — I was like, 'Forget it. This is it.' I was consumed by it, willingly."
Nicole Kidman and Tom Cruise at the Los Angeles premiere of Eyes Wide Shut on July 13, 1999 (Credit: Featureflash Photo Agency / Shutterstock)
By this point, Tom Cruise was already becoming a staunch advocate for the Church of Scientology.
Kidman tried to join up too, but wasn't a fan – she actually successfully pulled Cruise away from Scientology for a period of time.
The Shocking Divorce
Cruise and Kidman seemed like the perfect couple, so the world was pretty surprised when Cruise filed for divorce in 2001. Apparently, it even took Kidman by surprise!
Still, it seemed like a pretty amicable split, at least on Cruise's end. Tom Cruise wished Kidman well in a Vanity Fair interview but was vague about why he chose to split.
Tom Cruise filed for divorce in February 2001 citing "irreconcilable differences" (Credit: Featureflash Photo Agency / Shutterstock)
He merely said, "She knows why, and I know why…. Things happen in life, and you do everything you can, and in every possible way, and there's a point at which you just sometimes have to face the brutal reality."
Cruise moved on pretty quickly, as he started a relationship with his Vanilla Sky co-star Penelope Cruz later that year.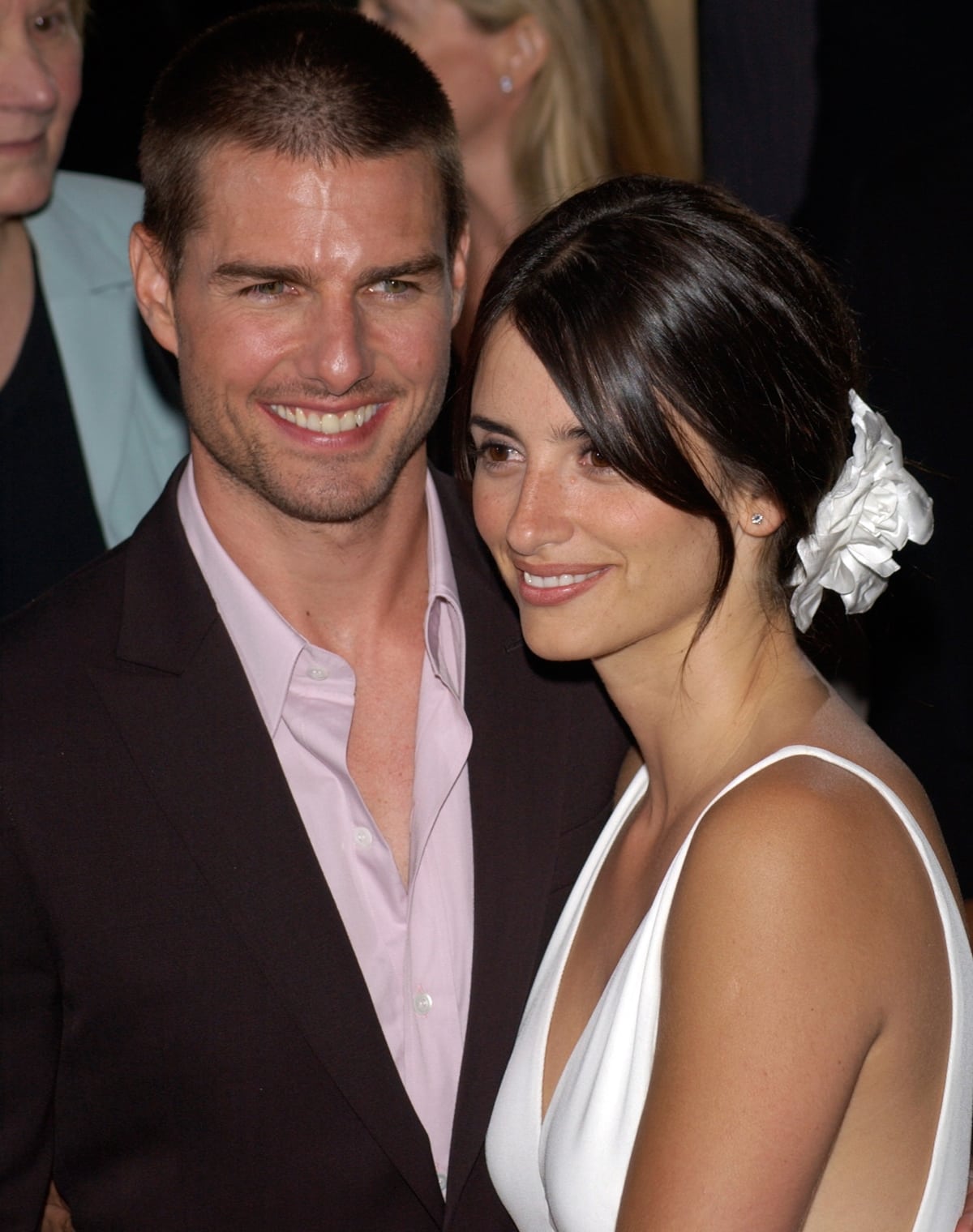 Tom Cruise and Penelope Cruz dated for almost three years from 2001 to January 2004 (Credit: Featureflash Photo Agency / Shutterstock)
Kidman described this period in her life as difficult and tumultuous. She told Vanity Fair that she would end up crying in the fetal position often.
She was also afraid that she would lose some of her celebrity status and acting work because of the divorce, but luckily, that didn't turn out to be the case.
3. Days of Thunder (1990) – Rotten Tomatoes 38%, iMDb score 6.0
This is the movie where the romantic sparks really started flying. It's where Cruise and Kidman first met, and shortly after filming, the pair ended up engaged.
Cruise was 27 during the filming of Days of Thunder, and Kidman was 22. Cruise actually approved Nicole Kidman to be his love interest in the film after he saw her performance in 1989's Dead Calm. If Kidman hadn't been chosen, Robin Wright likely would have gotten the role.
The movie is about Cole Trickle (Cruise), who is recruited to race in the NASCAR cup series. He has a hot temper, though, and the explosive rookie gets himself into trouble with just about every pro on the race track.
Along the way, he makes himself a friend (and rival) in Rowdy Burns (Michael Rooker). Nicole Kidman plays the neurosurgeon Dr. Claire Lewicki, Cole's love interest. Kidman actually wanted to study neurosurgery for her role as Claire, but the producers shot her down, telling her it'd be a waste of time.
Tom Cruise as young race car driver Cole Trickle and Nicole Kidman as neurosurgeon Dr. Claire Lewicki in the 1990 American sports action drama film Days of Thunder (Credit: Paramount Pictures)
As for the quality of the movie itself, well, it's mixed. On one hand, there are some really entertaining special effects here and it's plenty flashy.
On the other hand, Days of Thunder doesn't really do anything new, and the character dynamics and plot are pretty much exactly the same as Top Gun.
However, after the movie's release, it was considered to be an important turning point for the movie industry. It also happens to be one of Quentin Tarantino's favorite movies. Still, for the purpose of this list, Days of Thunder ranks at #3.
2. Far and Away (1992) – Rotten Tomatoes 50%, iMDb score 6.6
By the time Far and Away began filming, Kidman and Cruise had already been married for about two years. Kidman was 24, and Cruise was 29.
This movie has the two playing each other's love interests once again, and this time, Kidman's role is much bigger than it was in Days of Thunder.
The film is an epic romantic drama that follows Joseph Donnelly (Cruise) and Shannon Christie (Kidman) in the 1800s. Joseph and Shannon run away together from Ireland to America after learning that there is free land up for grabs in Oklahoma.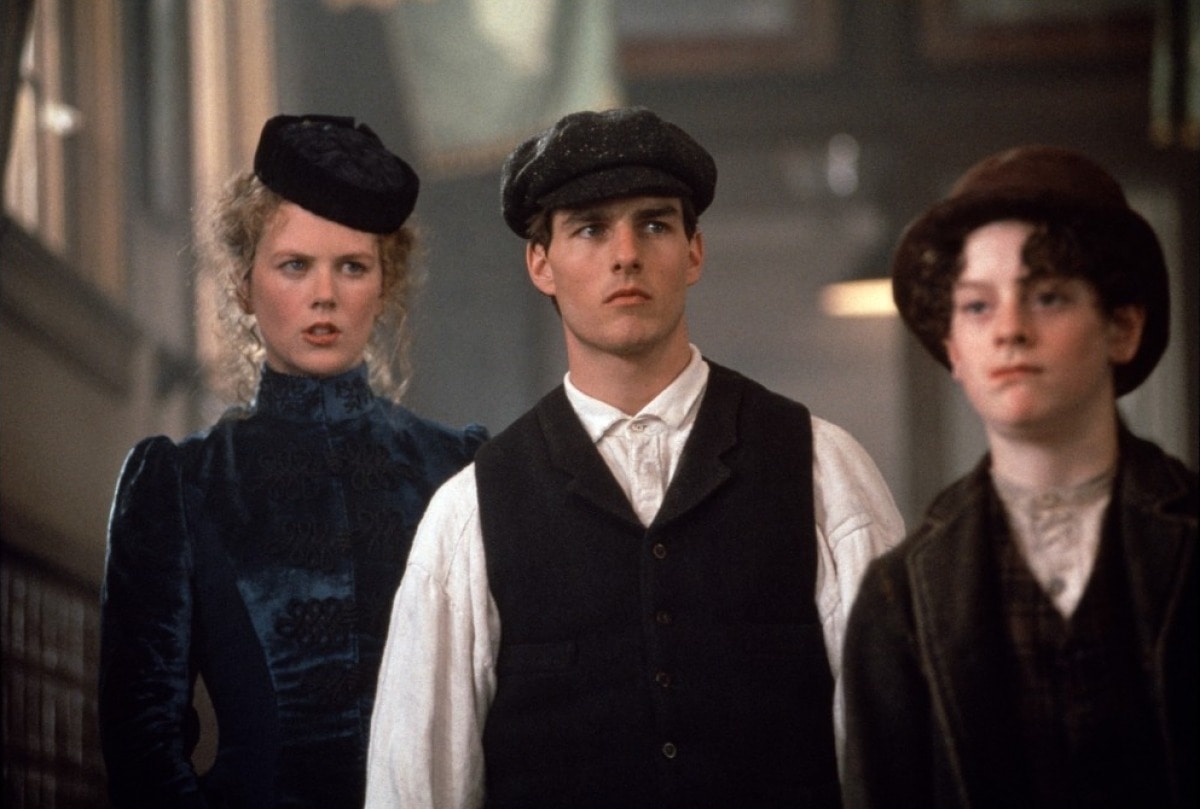 Tom Cruise as Joseph Donnelly and Nicole Kidman as Shannon Christie in the 1992 American epic Western romantic adventure drama film Far and Away (Credit: Universal Pictures)
Joseph becomes a bare-knuckles boxer to make money until all his money is stolen from him by his employers. The two must fight for their survival and keep their dreams alive.
One of the silliest scenes in the movie involves a naked Joseph Donnely laying in bed with only a bowl covering his naughty bits, and Shannon sneaks a peek under the bowl.
Initially, Cruise was wearing underwear in this scene, but director Ron Howard didn't think Kidman was delivering the right facial expression for the bit. Secretly, Howard had Cruise take his underwear off.
In the next take, Kidman picked up the bowl and was shocked to see her husband's junk. The expression of shock she makes in the scene is genuine!
Tom Cruise was 29 years old and Nicole Kidman was 24 years old when filming Far and Away (Credit: Universal Pictures)
This movie is very, very pretty. The picturesque landscapes make for some truly breathtaking visuals. As for the story, though, well…it's a bit melodramatic.
Critical response was very mixed when the film came out, with Roger Ebert criticizing the "shallow story." It falls short as an epic, but Kidman and Cruise turn out some pretty good performances.
Funnily enough, the movie is a bit of a cult comedy flick in Ireland, though. Apparently, the Irish accents used throughout the film are not very accurate, so actual Irish people find the acting to be hilarious.
1. Eyes Wide Shut (1999) – Rotten Tomatoes 75%, iMDb score 7.5
Finally, ranking in at #1, we have the erotic thriller Eyes Wide Shut. This movie is nuts!
This movie is by far the sexiest of the three movies that Cruise and Kidman starred in, and while it's not for everyone, it's definitely objectively the best of the three. During filming, Cruise was 35 and Kidman was 30.
The movie stars Cruise as Dr. Bill Harford. William's wife, Alice (Kidman) reveals that she had sexual fantasies about other people and that she considered leaving him for another man just a year before.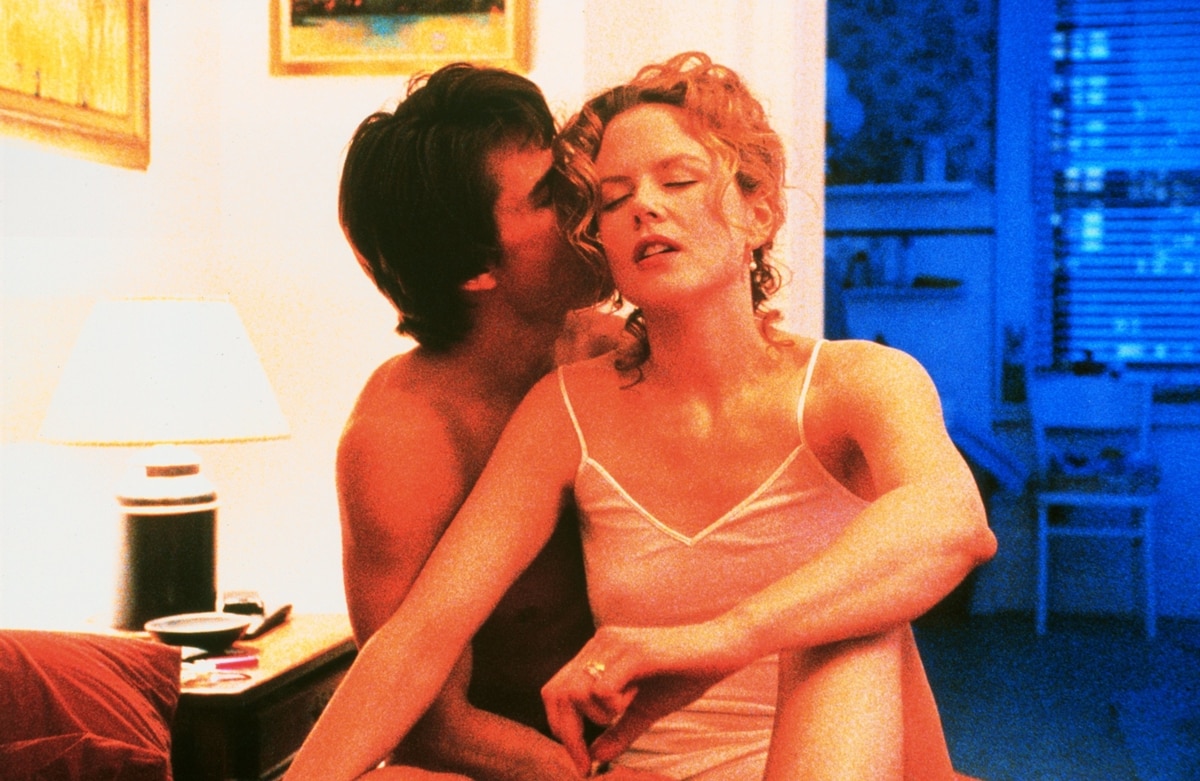 Tom Cruise as Dr. Bill Harford and Nicole Kidman as Alice Harford in the 1999 erotic mystery psychological drama film Eyes Wide Shut (Credit: Warner Bros.)
In response, Dr. Harford embarks on a journey of sexual debauchery. His old pal Nick (Todd Field) tells him about bizarre costumed sex parties that go on in the city. Bill heads out to one, but after someone recognizes him under his mask, he realizes that he's in great danger.
Since the film hinged on distrust between Bill and Alice, Kubrick wanted Kidman and Cruise to have a bit of distrust between one another on set.
For example, Kubrick directed them separately and would not allow them to share any notes. Once, Kubrick had Kidman shoot six days' worth of sex scenes with a male model, and forbade Kidman from telling Cruise about what happened during those days of shooting. That scene ended up only being one minute of footage used in the film.
On top of that, Kubrick would actually make Cruise and Kidman attend psychoanalysis sessions with him. He would have Kidman and Cruise confess all their fears about their relationships.
Kidman said that the sessions were brutal. What they discussed, the world may never know – they've both vowed never to talk about what went on during those sessions.
Tom Cruise was 35 years old and Nicole Kidman was 30 years old when filming Stanley Kubrick's Eyes Wide Shut (Credit: Warner Bros.)
The shoot was notoriously long, and during it, Kidman and Cruise lived in England together with their children. They were there for two years, and since they were there so long, their kids actually developed English accents!
Cruise and Kidman had signed an open contract with Kubrick that basically stated that he could keep them shooting for as long as he wanted.
Vincent D'Onofrio, who had previously starred in Kubrick's Full Metal Jacket, warned Cruise and Kidman – "rent a house or an apartment because you're going to be in England for a while." D'Onofrio knew just how long Kubrick liked to shoot!
Shortly after filming Eyes Wide Shut, Kidman and Cruise divorced. Many people thought that their relationship must have started deteriorating on set, but according to Kidman, that was far from the truth.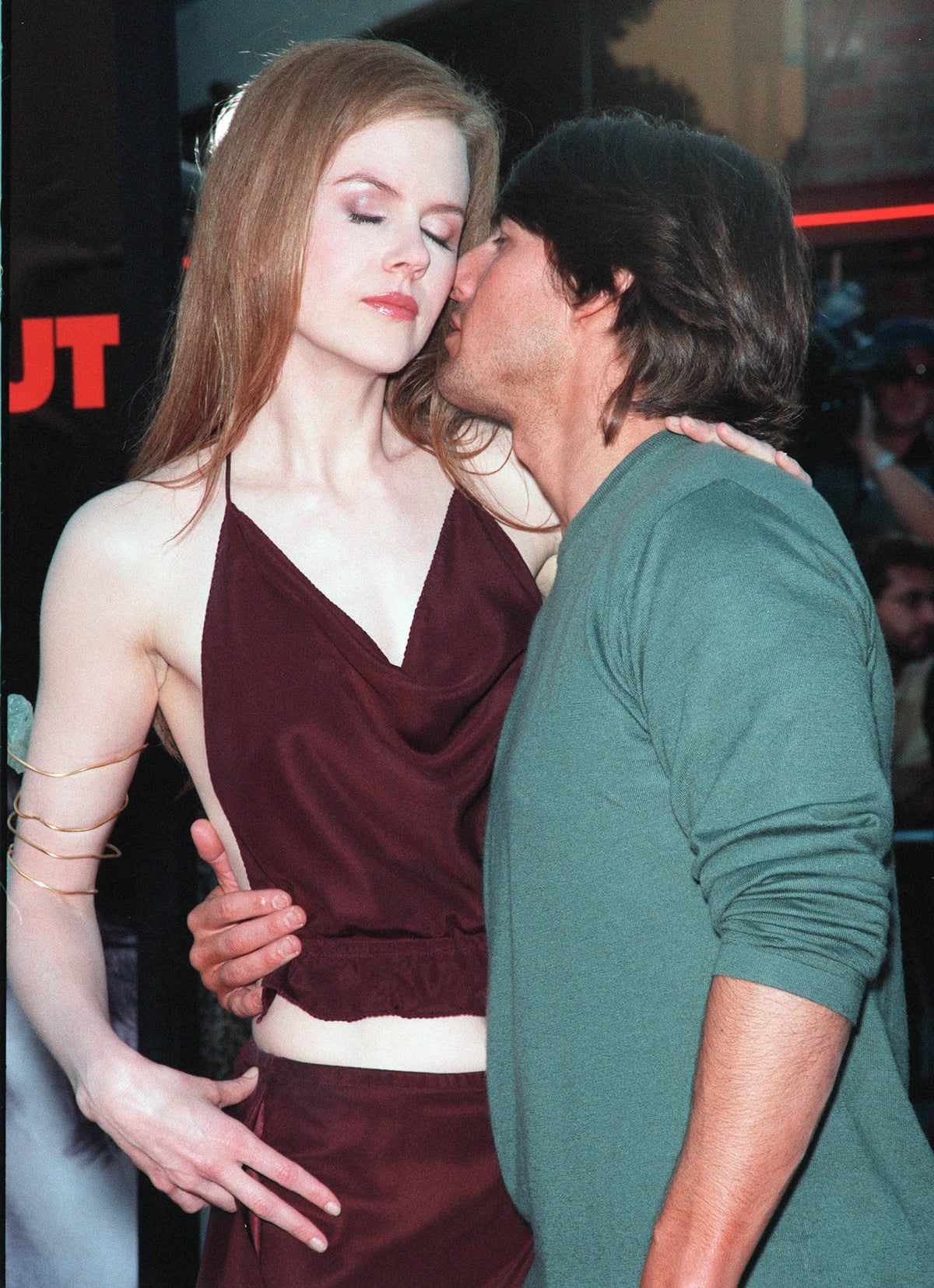 Tom Cruise leans in to kiss Nicole Kidman at the Los Angeles premiere of Eyes Wide Shut on July 13, 1999 (Credit: Featureflash Photo Agency / Shutterstock)
In fact, she told The New York Times that was one of the happiest times in their marriage. "We would go go-kart racing after those scenes. We'd rent out a place and go racing at 3 in the morning."
Kidman actually stated that her time on Eyes Wide Shut's set was some of her favorite in her entire career. She said that working with Kubrick made her feel like she was "attending film school," and Kubrick even talked her out of retiring.
Cruise, however, did not particularly enjoy playing his character, but he wasn't about to pass up the chance to work with the legendary Stanley Kubrick.
Who Are Tom Cruise and Nicole Kidman With Now?
After Cruise divorced Kidman, he married actress Katie Holmes. The two were married from 2006 to 2012. Since Eyes Wide Shut, he's starred in plenty of films like Vanilla Sky, Minority Report, and various Mission Impossible films.
As for Nicole Kidman, she has been happily married to country star Keith Urban. In 2020, The New York Times named her one of the greatest actors of the 21st Century. She's received five Academy Award nominations and one win, as well as six Golden Globes.
Recently, an interviewer asked Kidman about her marriage to Tom Cruise. During an interview promoting Being the Ricardos, Kidman had commented that the film took an interesting approach to marriage.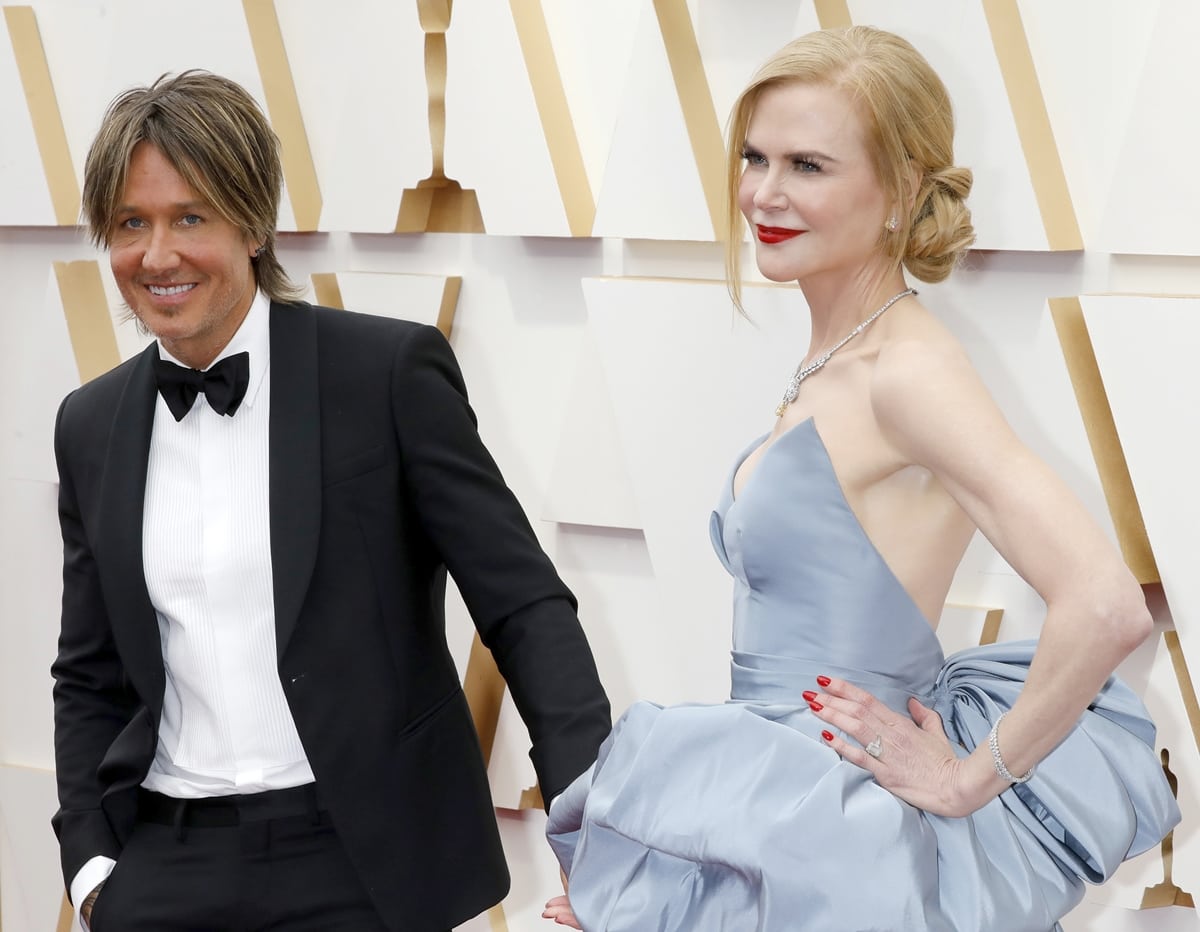 Keith Urban and Nicole Kidman met in 2005 and married in a ceremony in Sydney in June 2006 (Credit: Abby Grant / Cover Images / INSTARimages)
She said, "You can't make people behave how you want them to, and sometimes you're going to fall in love with someone who isn't going to be the person you spend the rest of your life with. And I think that's all very relatable. You may have kids with them. You may not, but they were very much in love."
This prompted reporter Eva Wiseman to ask if Kidman was referring to her marriage to Cruise. Kidman was NOT happy about this question. She became angry and shut the line of questioning down.
"No. I mean, that's, honestly, so long ago that that isn't in this equation. So no," Kidman responded. "And I would ask not to be pigeonholed that way, either. It feels to me almost sexist because I'm not sure anyone would say that to a man."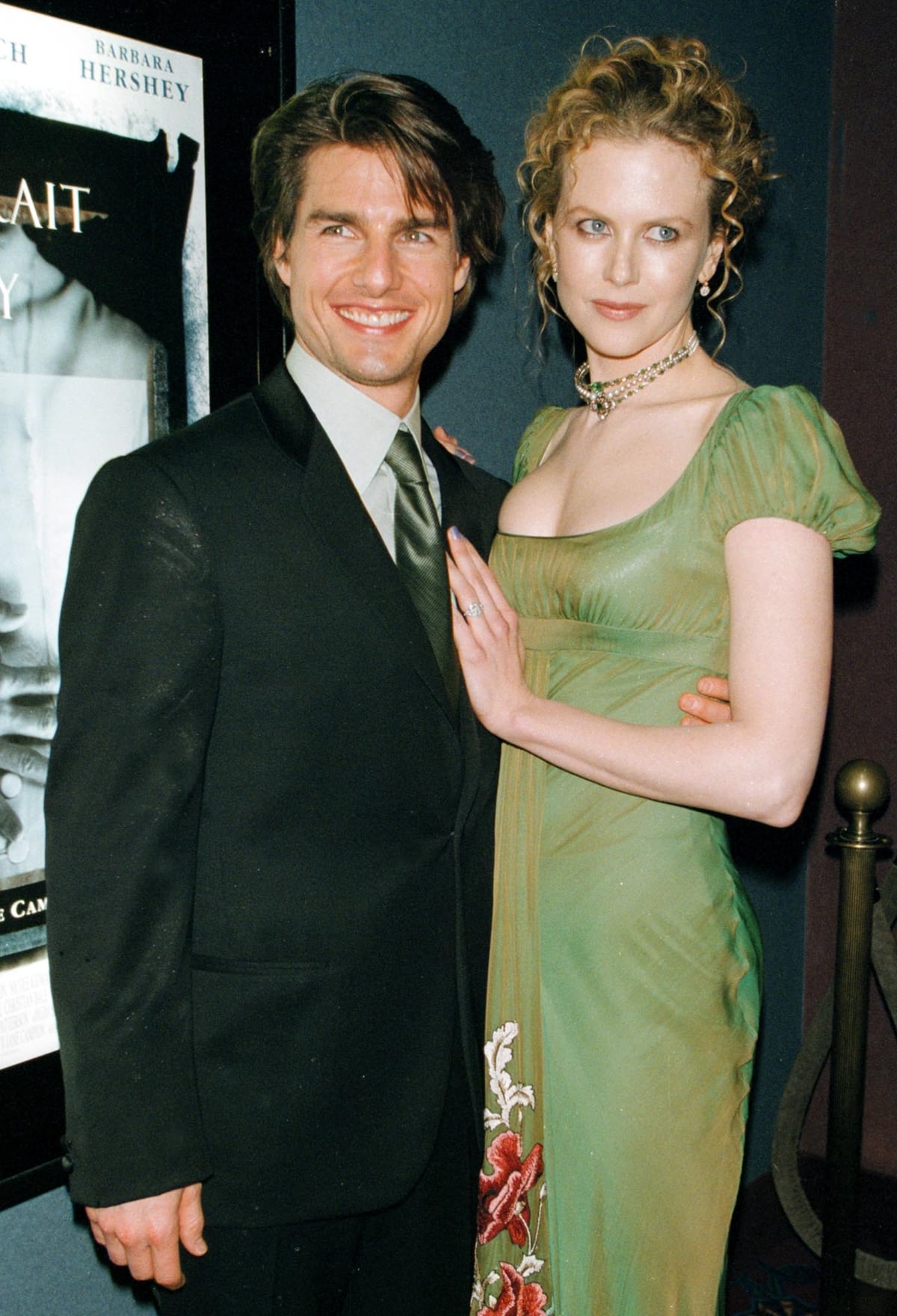 Nicole Kidman doesn't like being asked questions about her failed marriage to Tom Cruise (Credit: StarTraks Photo)
And it makes sense – after all, she has been married to Keith Urban for quite some time! In fact, she wrote in an essay for New York magazine, "Being married to Tom Cruise at 22 is something I'm always reluctant to talk about, because I'm married now to the man who is my great love [Keith Urban], and it almost feels disrespectful."
She's also noted that, following the media circus surrounding her and Cruise's divorce, she's learned to become much more tight-lipped around the media.
In April 2016, Nicole Kidman went vintage on the red carpet of the premiere of the 2015 American comedy-drama film The Family Fang held at the Tribeca Film Festival in New York City.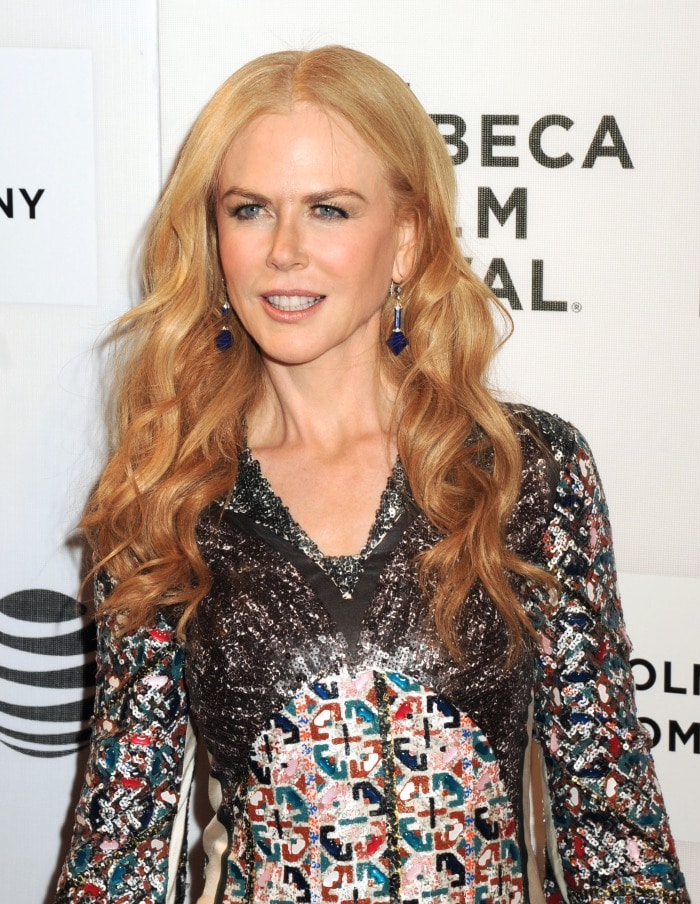 Nicole Kidman wears her hair down at the premiere of "The Family Fang" at the Tribeca Film Festival held on April 16, 2016, in New York (Credit: Andres Otero / WENN)
The then 48-year-old actress looked youthful in a flowy and patterned Louis Vuitton frock as she posed next to her hubby, Keith Urban.
Even though Nicole towered a few inches over her country-singing beau, the couple looked stunning together as they walked the red carpet before the premiere.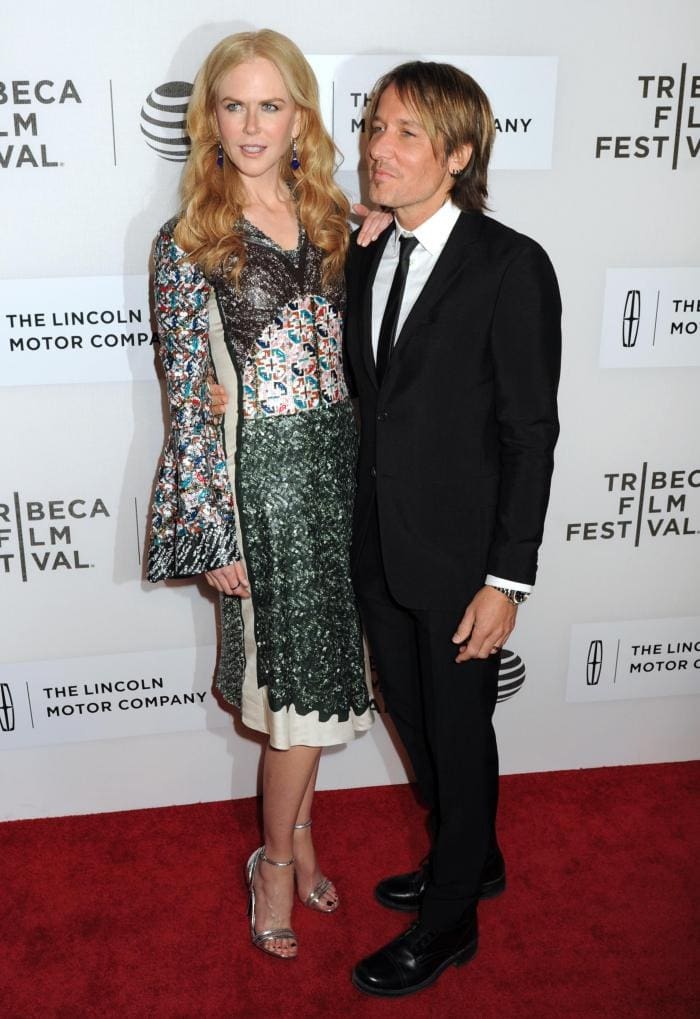 Nicole Kidman and Keith Urban pose for photos at the BMCC John Zuccotti Theater in New York City (Credit: Andres Otero / WENN)
Nicole's Louis Vuitton dress had a 70's inspired silhouette with long bell sleeves and a funky colorful sequined design.
Although the dress had a modest bodice and a below-the-knee hemline, Nicole still looked flirty and fun as she showed off her slim figure in the flared frock.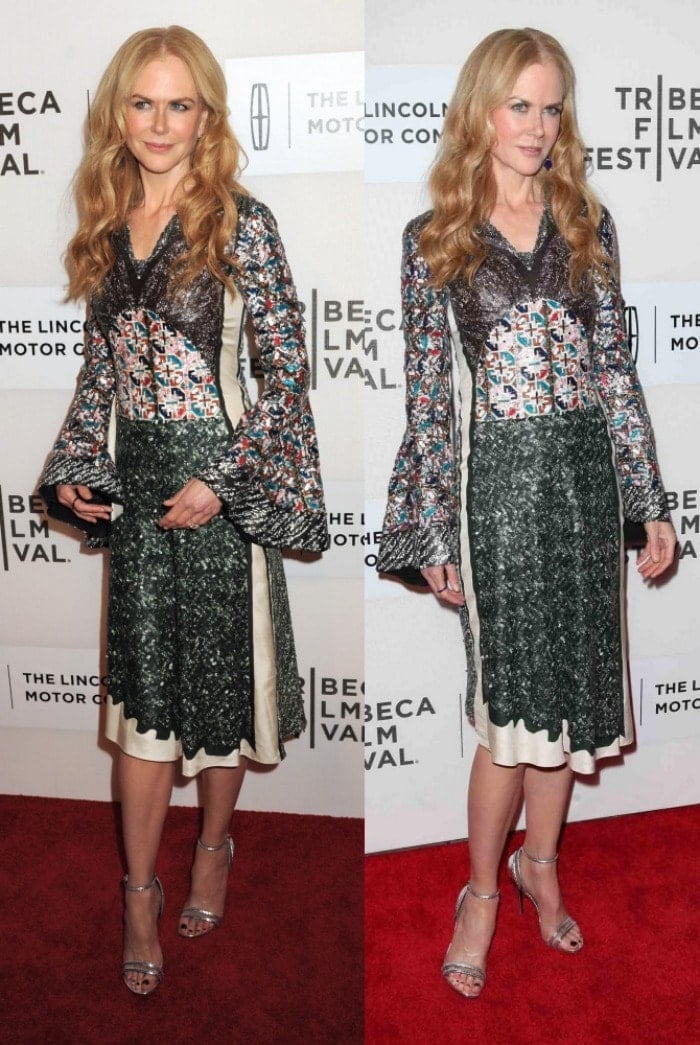 Nicole Kidman wears a sequined Louis Vuitton dress on the red carpet (Credit: Andres Otero / WENN)
The "Moulin Rouge" star styled her strawberry blonde locks into soft curls and kept her makeup simple.
She accessorized with some bold royal blue Fred Leighton jewels and added to her height in a strappy pair of metallic Louis Vuitton sandals.
These gorgeous sandals complemented the sequin shimmer of Nicole's dress perfectly. Made of shining silver leather, Nicole's shoes feature mesh-accented toe straps and heel caps, thin ankle straps, and about 4.5-inch stiletto heels.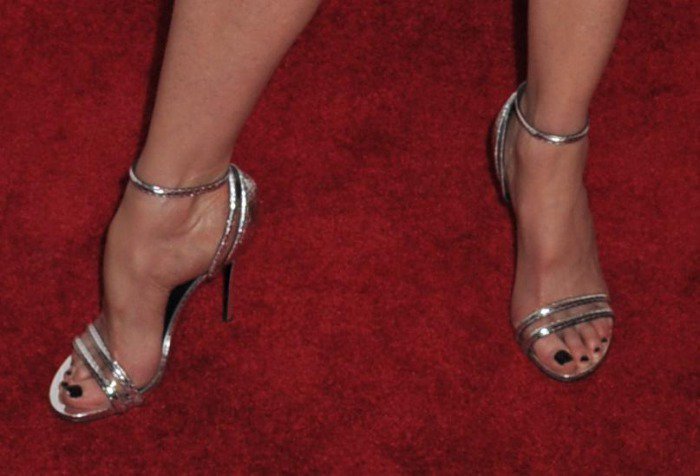 Nicole Kidman shows off her feet in strappy metallic Louis Vuitton sandals (Credit: Andres Otero / WENN)