We all know and love Heidi Montag (now Pratt) from her days on the MTV reality series The Hills, but you may not have known that the television personality has also taken her talents to the recording studio.
Montag has recorded several singles including "Trash Me" and "Higher", and has released two full-length albums, Superficial and Dreams Come True.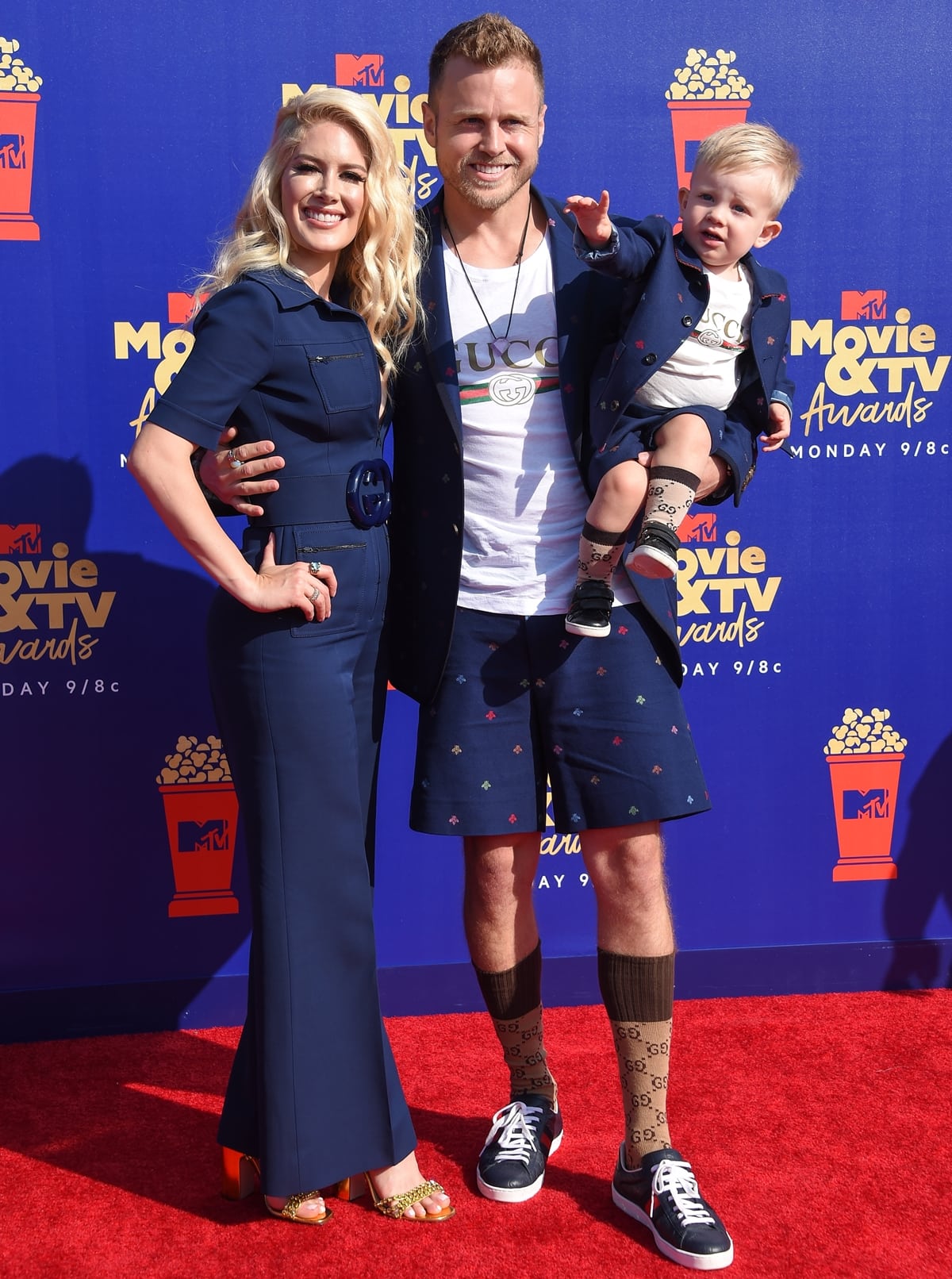 Spencer Pratt with his wife Heidi Montag in a Gucci belted jumpsuit and their son Gunner Pratt at the 2019 MTV Movie And TV Awards held at Barker Hangar on June 15, 2019, in Santa Monica, California (Credit: DFree / Shutterstock)
However, Montag claims that her music career would've been much more successful if one pop superstar, Lady Gaga, hadn't stifled it.
On March 21st, 2022, the actress made an appearance on The Unpopular Podcast hosted by Jacques Peterson. In the episode, she revealed how she believes the music legend threw a wrench in her budding career as a popstar.
She tells Jacques that RedOne, a producer, real name Nadir Khayat, and she were cultivating an exciting professional relationship before Gaga "pulled the chord".
"We were gonna do what he and Lady Gaga ended up doing, which is writing every song together and producing," she explained on The Unpopular.
Heidi Montag claims Lady Gaga stole her song and derailed her pop career (Credit: Cubankite / Shutterstock / s_bukley)
Apparently, when RedOne had her record a demo of "Fashion", a song that Gaga wrote, "He was like, 'I just need to get the consent of the writer.' And so, I just thought Lady Gaga was a writer, because she was a writer on the song. And he was like, 'Hey, I'm gonna cut 'Fashion' with Heidi. I have her in the studio, she loves it.' And [Gaga's] like, 'Great. Sure, she can have that song.' So, then I recorded it and it was my song. That was the impression I was under."
Unfortunately, that impression turned out to be dead wrong.
Montag used the song "Fashion" in an appearance on The View and to promote her latest clothing line. She claims that once she started gaining traction with the song, Gaga wanted it back.
Lady Gaga would go on to record her own version of "Fashion" for the 2009 Confessions of a Shopaholic soundtrack and, Montag states, told RedOne that she wouldn't work with him anymore if he continued his partnership with Heidi Montag.
"It's hard because people are like, 'I love Lady Gaga!' And I'm like, 'I'm sure she's great but I have not had the best encounter with her,'" Montag stated.
Heidi Montag flaunts her legs at her "Heidiwood for Anchor Blue" fashion show held at the Hollywood and Highland shopping center on April 11, 2008, in Hollywood, California (Credit: Everett Collection / Shutterstock)
Miss Gaga has not made any public comments on the validity of Montag's claims, or her possible motivation for taking back the song and severing Montag's relationship with RedOne. Heidi suspects that Gaga viewed her as a possible threat.
"I was in the studio with her producer before she came out, so I think she saw that RedOne is one of the biggest and best producers and writers and [thought] 'if he takes Heidi, that's taking my magic'". Montag told Jacques, "He wrote 'Just Dance' for her, he wrote almost every song with her and produced it. So of course, she's not going to want to share that when at that moment I was a potential rival for what she was doing."
Heidi Montag and Spencer Pratt are seen out shopping on October 8, 2020, in Los Angeles, California (Credit: BauerGriffin / INSTARimages)
While the reality star's music career is clearly not what she hoped it'd be, she continues to create music. She told costar Justin "Bobby" Brescia on a 2019 episode of The Hills: New Beginnings that she'd like to start making Christian pop music. "I want to do something good and send out a positive message to the world".
We wish her the best of luck!
Lady Gaga's huge flower-covered helmet topped off the entire look (Credit: WENN)
In September 2012, Lady Gaga left her hotel during London Fashion Week wearing a pair of Alexander McQueen booties and a huge floral embellished headpiece.
Lady Gaga on her way to the Philip Treacy catwalk show during London Fashion Week in London on September 16, 2012 (Credit: WENN)
She donned a green velvet dress, gold-embroidered leggings, and pointed lace-up booties in bottle green. Her huge flower-covered helmet topped off the entire look.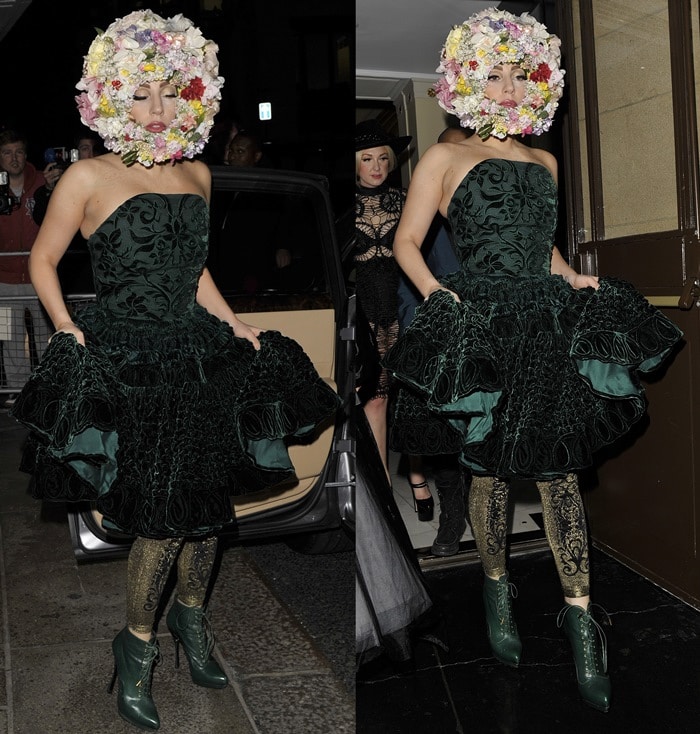 Lady Gaga leaves her hotel wearing a green dress and a headpiece made of flowers (Credit: Will Alexander / Stuart Castle / WENN)
The fashionista superstar could have gone with her signature curved heel wedge or cutout platforms in extreme shades of gold or silver, but instead, she opted for an exceptionally ugly pair of Alexander McQueen ankle boots. They feature pointed toes, gold metal eyelets, and green lace-up fronts.
While this style has sold out online, you can browse the latest from Alexander McQueen at Farfetch and Saks Fifth Avenue.
Alexander McQueen Laced Bottle Green Shoe Boots, $1,395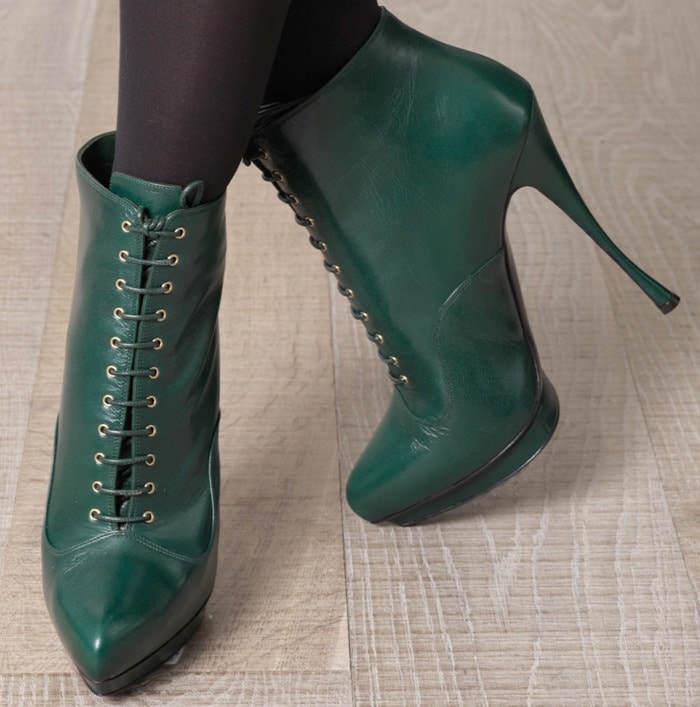 Do you find Gaga's heels bold and beautiful? Or a bit too bizarre?