In 1964, John Sturges' World War II film "The Great Escape," released the previous year in 1963, showcased Steve McQueen donning combat boots. This appearance marked a pivotal moment in the rise to fame of this iconic footwear.
This movie introduced combat boots to mainstream fashion. Before this, the boot was only used as a men's military shoe. But soon after the film was released, Dr. Martens combat boot became a must-have item in the British rock scene.
The trend eventually made its way to the U.S. and was worn by popular bands The Clash and Sex Pistols.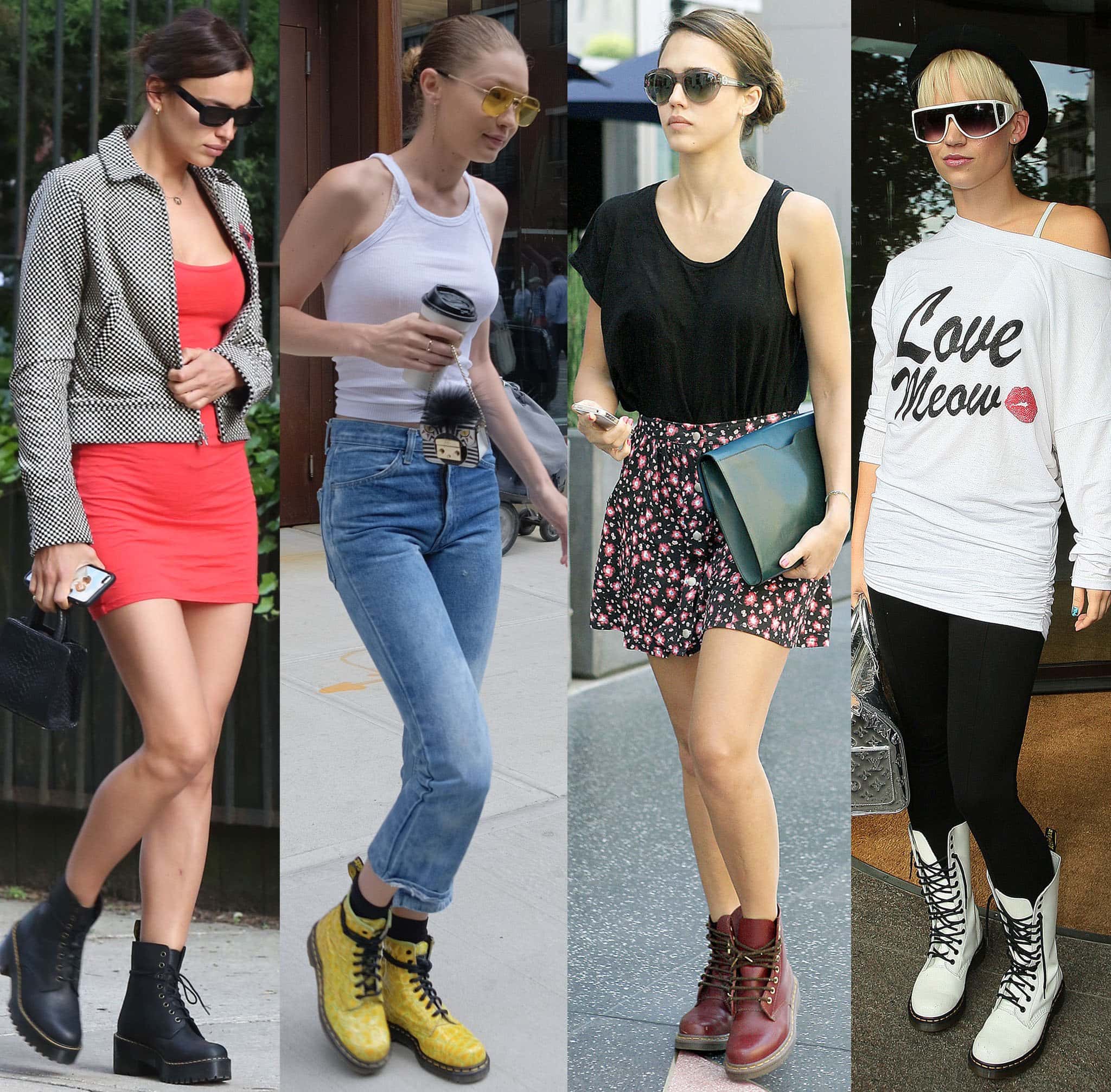 Irina Shayk, Gigi Hadid, Jessica Alba, and Kimberly Wyatt show different ways to wear Dr. Martens' combat boots (Credit: TNYF / Instar / WENN)
By the '90s, combat boots were no longer just for grunge rock, and they started appearing on runways. Marc Jacobs was the designer behind the Perry Ellis Spring '93 Collection, and he drew inspiration from popular street styles.
During the fashion show, he had models like Naomi Campbell and Christy Turlington wearing Dr. Martens combat boots.
This ground-breaking show and the fact that models were wearing combat boots got him fired! I guess the fashion world wasn't quite ready for combat boots.
Obviously, this did not ruin Marc Jacobs's career. On the 25th Anniversary of this infamous fashion show, Marc Jacobs collaborated with Dr. Martens to create an updated version of the same combat boots that walked the runway of that Perry Ellis fashion show.
Unfortunately for shoe lovers, this limited-edition Dr. Martens "The 1460 Marc Jacobs Boot" sold out in record time.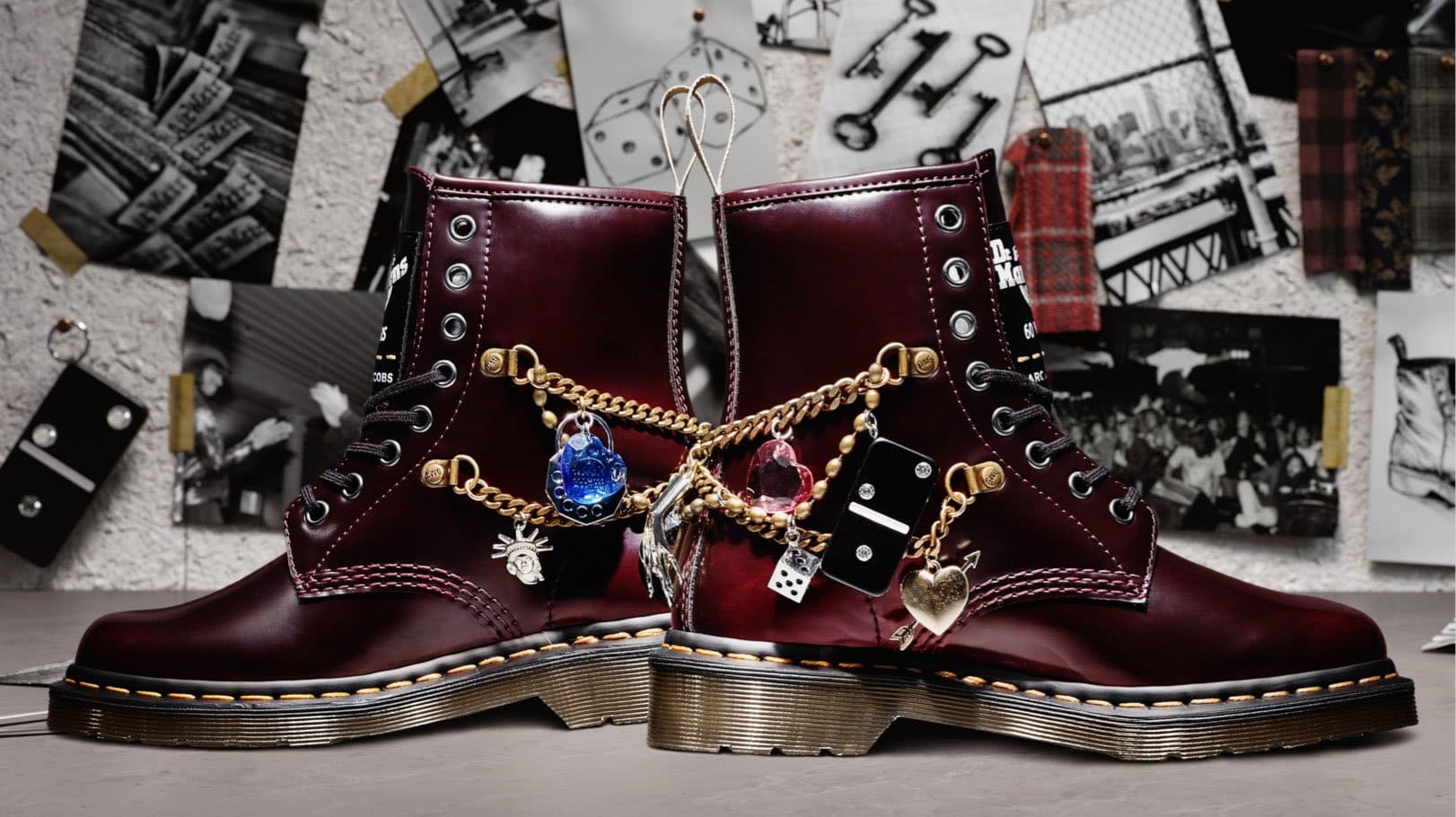 Dr. Martens and Marc Jacobs collaborated to recreate the 1460 Marc Jacobs Boot in honor of the 25th anniversary of the Perry Ellis Spring 1993 fashion show
Today, combat boots are more popular than ever. In the past couple of years, they have been seen at Paris Fashion Week, Prada's Fall show, and Dior's Spring '19 and '20 show.
Celebrities like Katie Holmes, Bella Hadid, Blake Lively, and Madonna have graced the covers of celebrity gossip mags wearing these boots.
Fashion trends have made combat boots very versatile. They look killer with fishnets and a leather mini, or a short floral dress. You can pair them with anything, and they will look super chic.
If you want to incorporate more fashionable footwear into your wardrobe, a pair of women's combat boots is a great choice.
We've compiled a list of the absolute best women's combat boots that are comfortable and stylish! Without further ado, here are the best of the boots…
1. Dr. Martens Jadon Boots, $170 to $239.99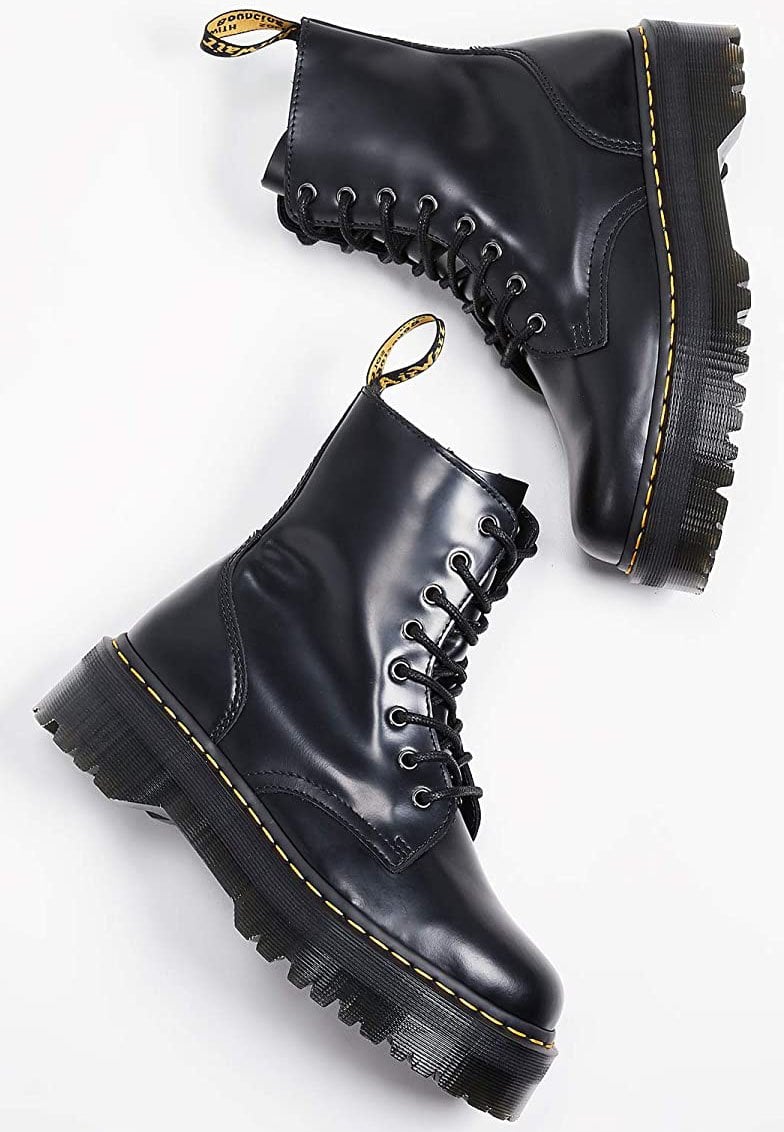 The classic Dr. Martens Jadon boots feature a grunge-punk vibe with chunky platforms
These are the boots that started it all. This style has been worn for decades, from British punk rock bands to American supermodels. Dr. Martens now has a few different versions: smooth leather, hardware leather, or vegan leather.
The Jadon smooth leather platform boots are the classic pair now available in white or black. These boots have a 1.5-inch platform with a slightly higher heel just under 2 inches.
Dr. Martens Jadon boots still have all the original details like the 8-eye lace-up, grooved edges, yellow stitching, and a heel loop. These combat boots have the chunky grunge-meets-punk look that was so popular in the '80s and '90s.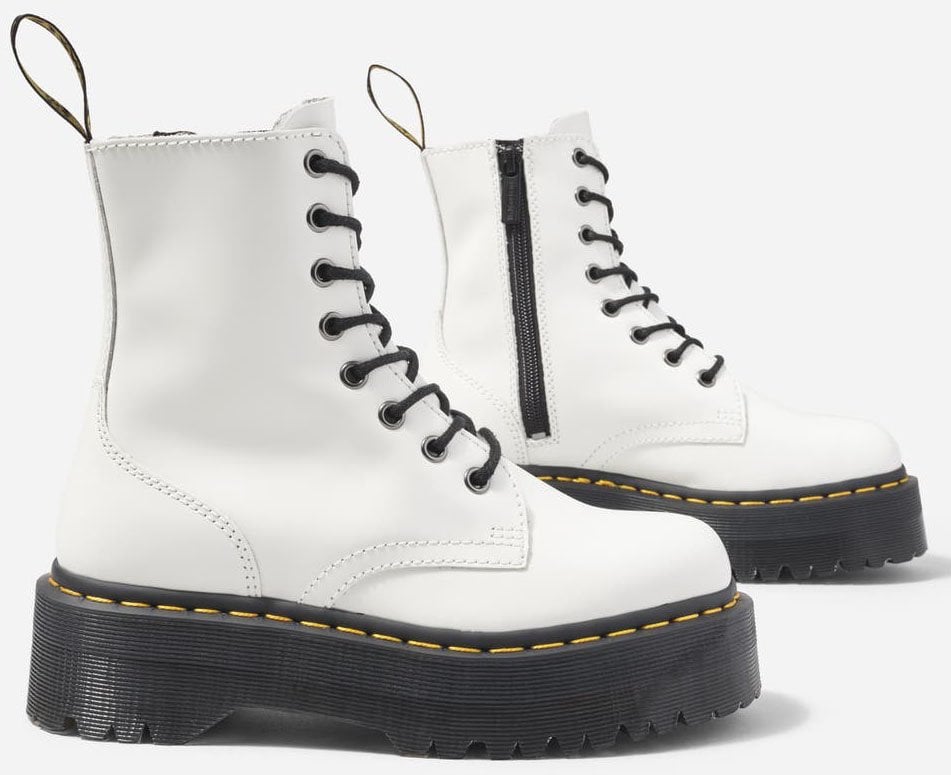 Also available in white leather, the Jadon boots are super comfy with air-cushioned soles
Although they appear a bit clunky, they are actually super comfortable. There is an inner ankle zip making them easy to take on and off. They also have a durable, comfortable air-cushioned sole that provides comfort as well as being slip-resistant.
These boots are reasonably priced too. They retail for $180 and will last you a long time. Dr. Martens leather is very durable and easy to care for, so your combat boots will look great for a long time!
2. Vagabond Shoemakers Kenova Combat Boots, $179.95
These have a great, all-black grungy look with a higher ankle than most other styles (8.25 inches). The Kenova combat boots look awesome over tights or under a flowy skirt.
Vagabond Shoemakers' Kenova combat boots have the classic combat boots features—from the leather upper to the cap toes, lace-up fastenings, and lug soles
These boots have everything you want from a classic combat boot – lace-up, back pull loop, lug sole, cap toe, and are made from leather.
They have a soft, comfortable lining that will keep your feet cozy, and the lace-up keeps them snug on your ankle, making them comfortable for all-day wear.
The leather will loosen and form to your foot, which will quickly make these your favorite boots!
3. Sam Edelman Junip Lug Sole Combat Boots, $149.90 to $259.54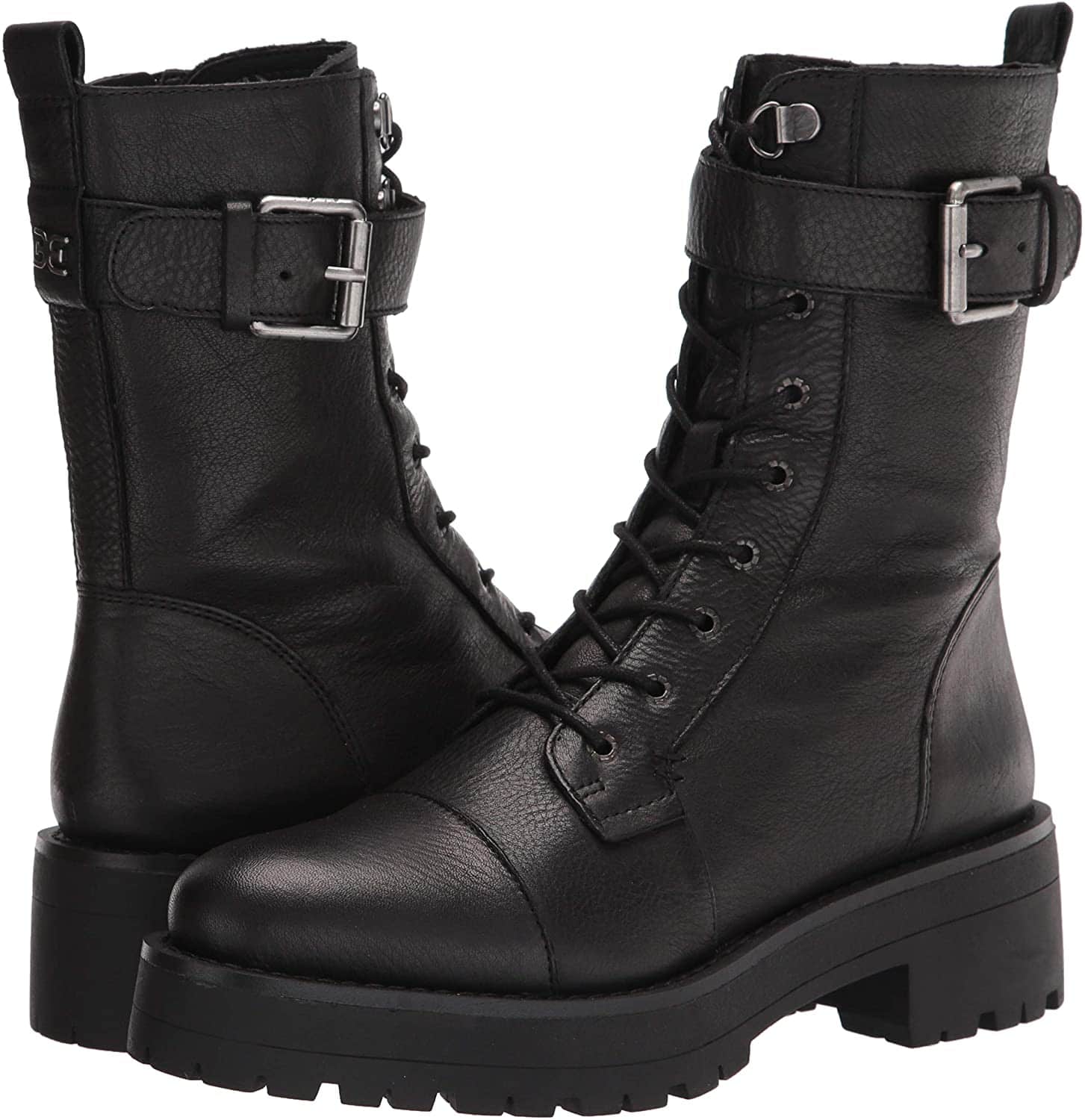 Add moto-edge to your look with the Sam Edelman Junip combat boots, featuring a buckled strap
Chunky lug sole, round toe, black leather, lace-up closure… these Sam Edelman combat boots have everything you would want in this style!
However, there is a bonus feature with a buckled strap at the ankle that adds an extra element of style. These boots also have a slightly more narrow silhouette for a sleeker look.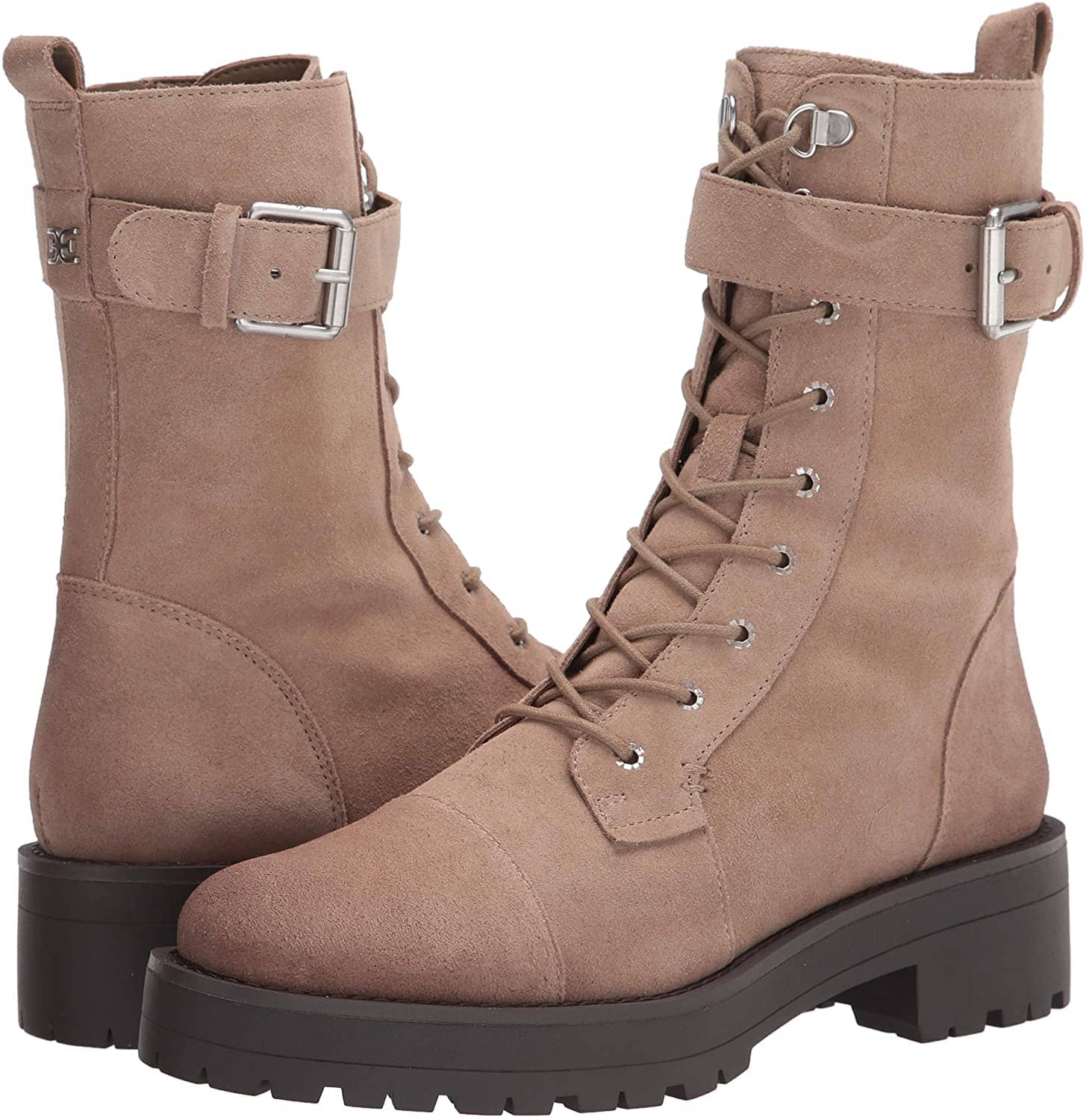 The Sam Edelman Junip boots are also available in safari tan colorway
These combat boots aren't only about style, though – they're very comfortable!
The Junip Lug Sole combat boots have a cushioned insole for added comfort and a cozy manmade lining.
You won't have to undo the buckle and laces every time you take them off. They have an inner ankle zipper closer for easy access.
4. Steve Madden Troopa Black Leather, $65 to $79.95
The military-inspired Steve Madden Troopa boot is one of the brand's most popular styles
Steve Madden is really in on the combat boot trend. The label took off in the '90s when combat boots were THE must-have item, and they've kept the style a key part of the collection ever since.
Although they have several different styles of women's combat boots, the Troopa Black Leather is by far the most popular. They've dubbed it their 'raging runway sensation' as these boots look great with everything from flannels to florals.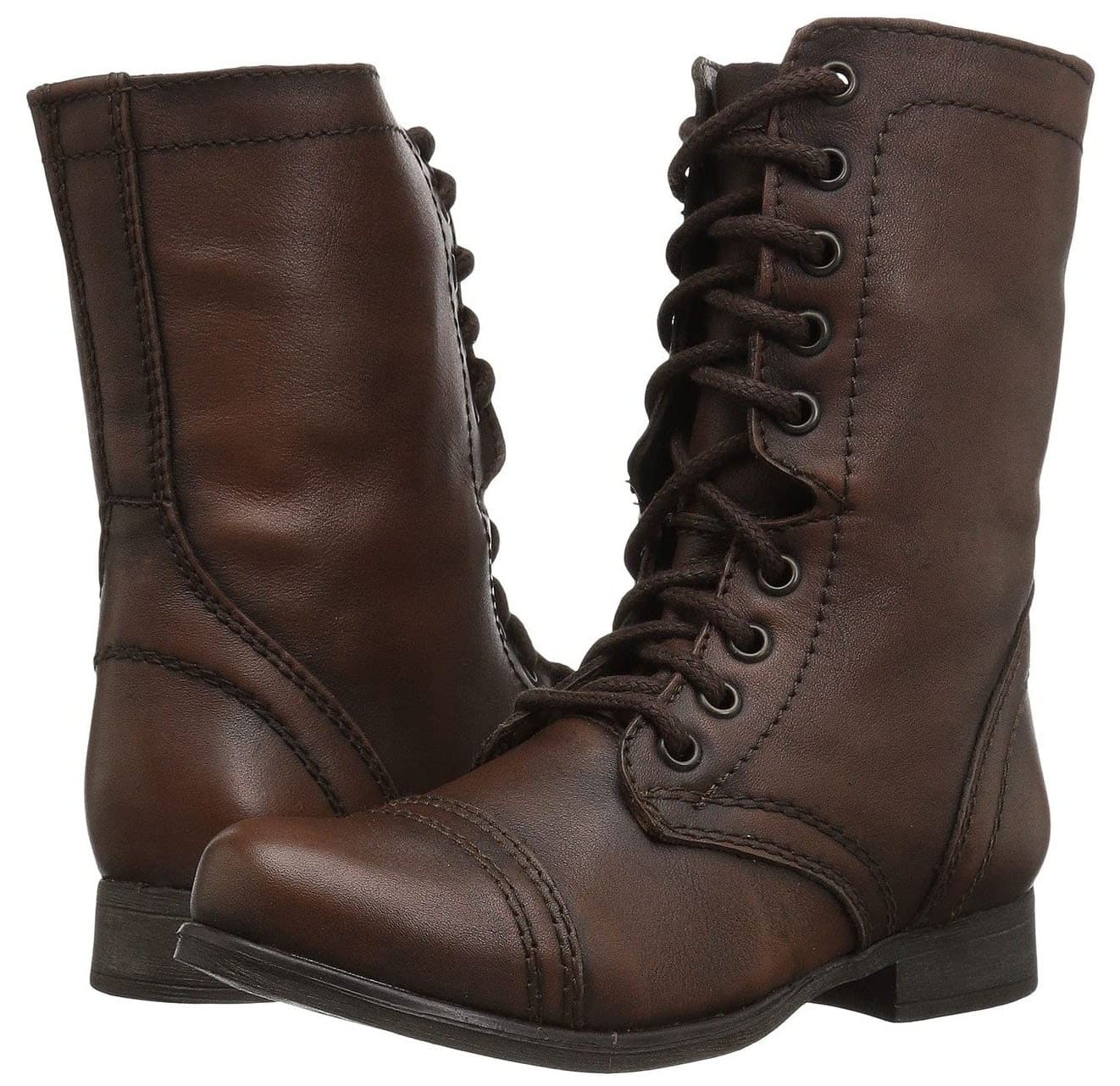 The Troopa boot comes in an array of colorway, including classic brown leather
These combat boots don't have a chunky sole and have a more narrow foot. They also have a small, inch heel without the platform.
The shaft of the boot runs a little looser, too, with an 11.5-inch circumference. It still has the classic combat boot look with an all-black leather design and lace-up closure.
Because these don't have the platform and large heel, they are more lightweight, which makes them a lot more comfortable.
The lining is a combination of manmade material and leather. The Troopa boots are also available in brown leather.
5. Free People Collins Combat Boots, $198 to $199.16
Free People is a women's fashion brand specializing in vintage-inspired and bohemian looks. Combat boots look amazing with boho fashion, so it's no surprise they've designed a stunning pair of women's combat boots.
Finish off your vintage, bohemian look with the Free People Collins boots
These boots have a combat-style lace-up, lug sole, and round-toe design. The upper shoe is made from leather, and the outer sole is synthetic.
They will give you a fair bit of height, with 2-inch heels and 1.25-inch platforms.
Thanks to the elastic in the back, you can easily pull these on and off. These boots were made in Spain from high-quality leather and are both stylish and comfortable!
6. R13 Combat Stack Boots, $1,195
If you want some serious rocker-edge and rebellious flair to your combat boots, these have a 2.75-inch platform – perfect for a grunge rock band.
The boots are made from Italian leather cowhide, and they have contract stitching for extra style. As you would expect from combat boots, they have a lace-up top and round toe.
Elevate your rock-chick rebellious look with the R13 combat boots with 2.75-inch platforms
They've got the classic combat look with extra edgy style. The R13 boots have a mid-size shaft at 7.75 inches long.
They are exceptionally high-quality, so you get all the comfort you'd expect from a high-end pair of boots. Although they have a higher price tag, they're definitely worth it.
7. AllSaints Donita Combat Boots, $348
AllSaints Donita combat boots have the added element of a buckle across the bottom of the foot, just below the classic lace-up.
For added flair, these combat boots are made from smooth, shiny leather and have metal eyelets that complement the buckle strap.
The Donita boots also have a chunky lug outsole and a round toe.
Combining industrial DNA with a rebellious attitude, the AllSaints Donita features a shiny smooth leather upper with a chic buckled strap across the foot
The side-zip closer with leather pull at the back makes these easy to put on. They also feature leather lining and a padded leather insole, making them very soft and comfortable.
The Donita boots are available in different colorways, including the chic black-and-white version
It's important to note, AllSaints women's footwear notoriously runs large, so if you want to pick up a pair of these stylish boots, you will likely want to go a size down.
8. Dolce Vita Lottie Almond Toe Combat Booties, $115 to $291.81
As the name suggests, these Dolce Vita combat boots have an almond toe. Your classic combat boot has a round toe, but the almond toe offers a more narrow and sleek look.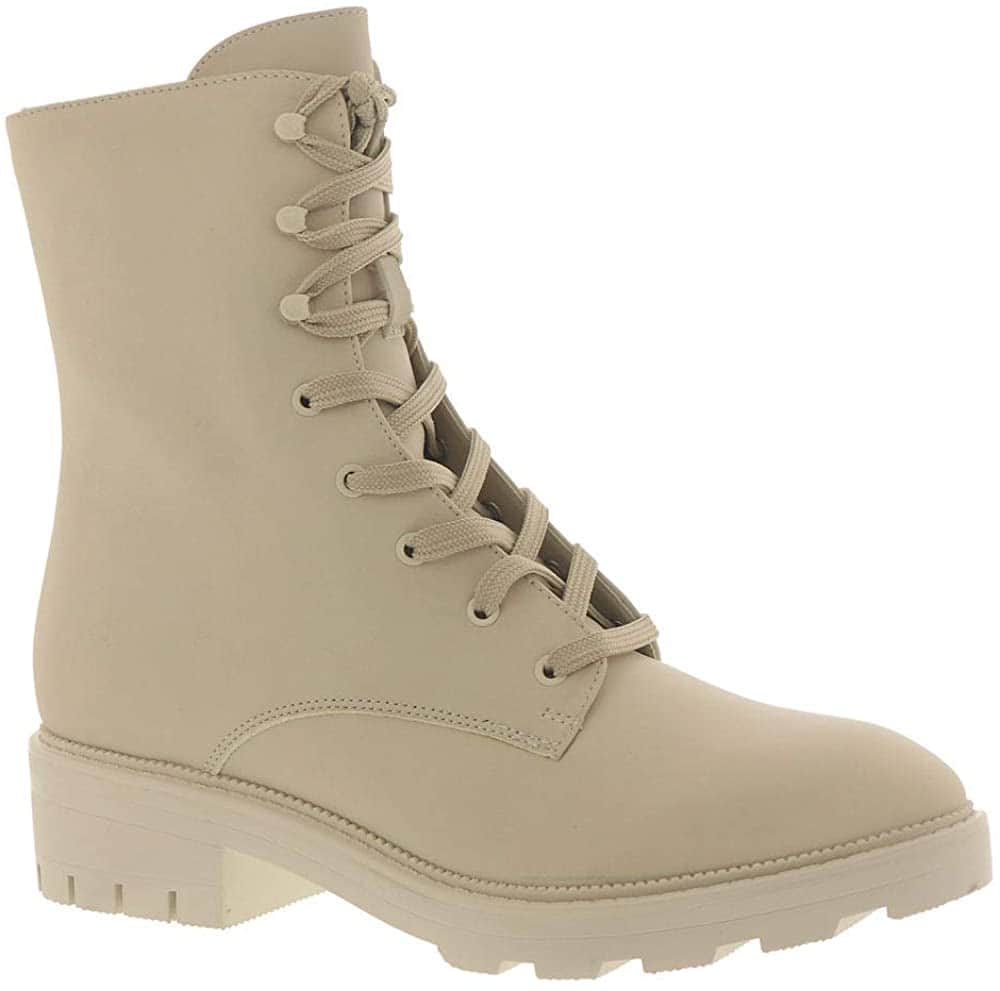 Dolce Vita's Lottie has a clean and sleek look with almond toes and chunky platform heels
Everything else is pretty standard for the style. It has a lace-up closure with a 2-inch heel and a 0.75-inch platform.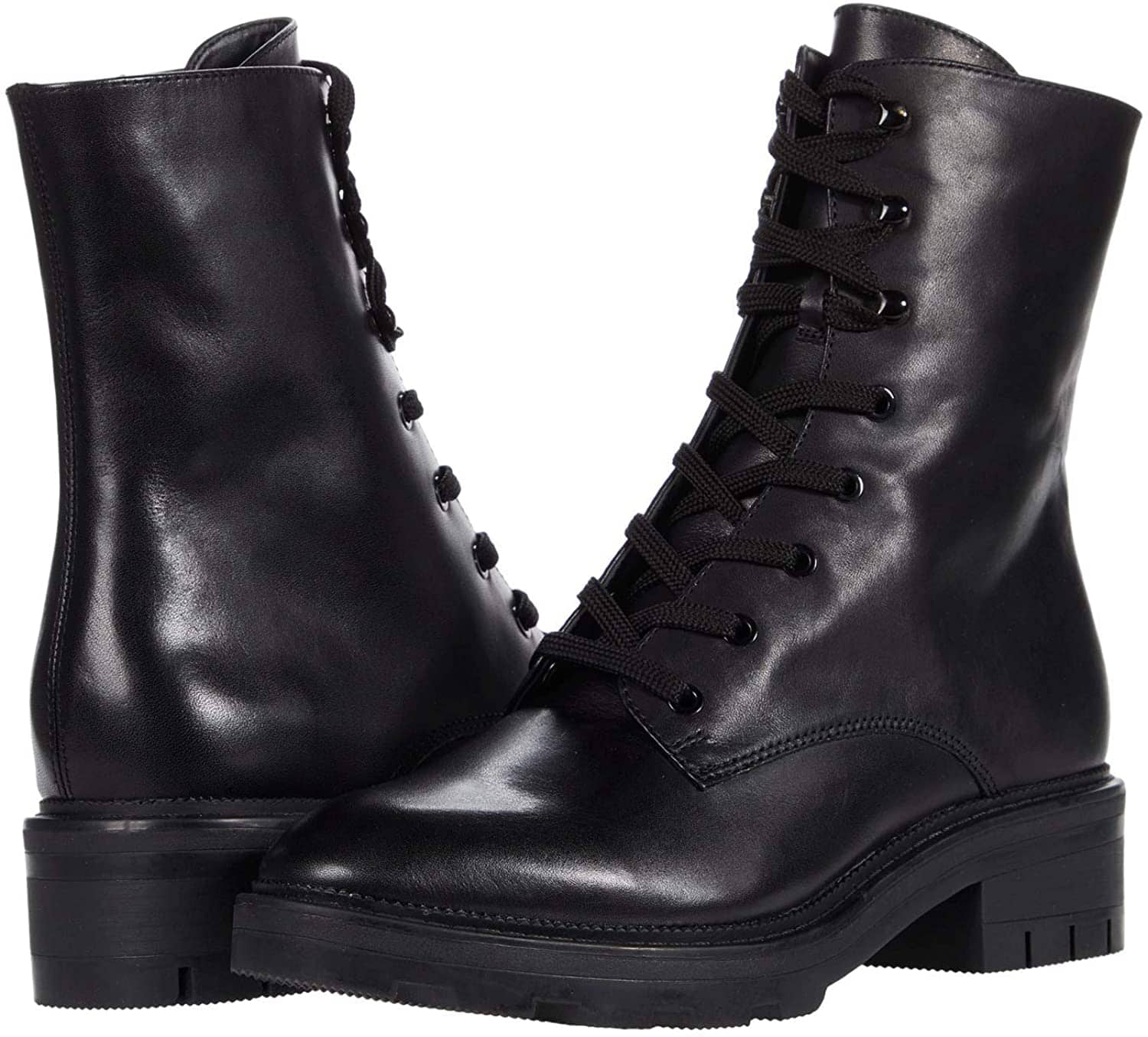 The Lottie is also available in a classic black colorway
It's a shorter shaft, similar to the Dr. Martens style, being just 6.5-inch tall. These boots are made from leather and have a rubber sole.
They will form to your foot and keep your feet warm and comfortable while providing you with excellent traction. These are perfect all-season boots!
9. Frye Veronica Lugsole Combat Leather Booties, $134 to $278
These stylish combat boots have a well-loved, distressed leather look and a slightly narrower foot, giving them a more feminine look.
That said, it still has the round toe, classic silhouette, and lace-up as you would expect from a combat boot.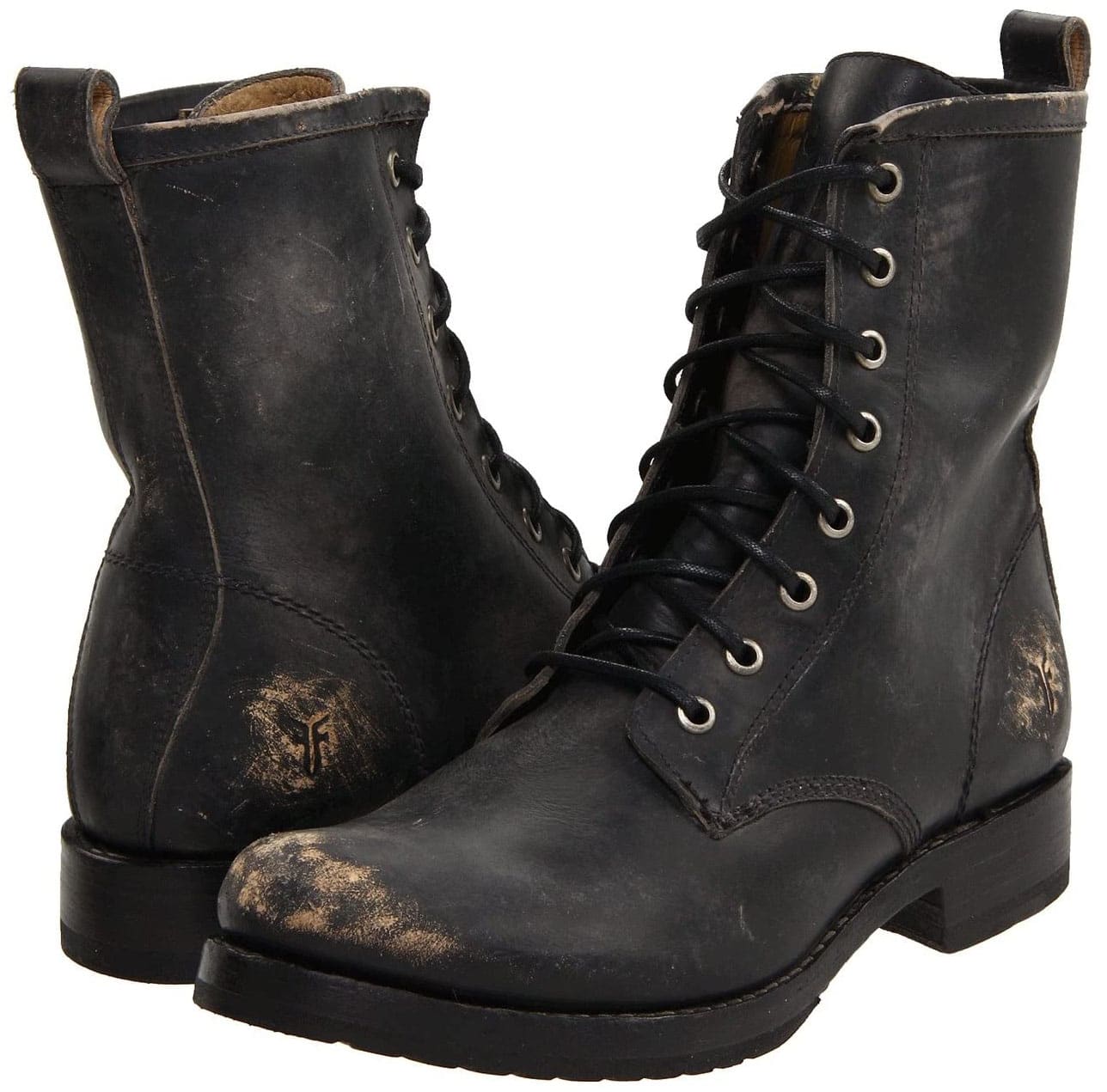 For a distressed, grungy look, opt for Frye's Veronica boots, which feature a burnished leather finish
Although it has the lug sole, it isn't quite as chunky as the others as there is no platform on these booties. Instead, they have a 1-inch wrapped heel.
These Frye boots have a ton of positive reviews online, with many people complimenting the cozy feel.
Even if you have a narrow foot, you may want to consider going up a half size. Because of the slim shape, they are a bit more form-fitting than your other combat boots.
10. Refresh WYNNE-01 Combat Style Lace-up Ankle Booties, $24.25 to $39.71
With over 7,000 ratings, the Refresh Wynne boots offer style, comfort, and durability without breaking the bank. They're one of the cheapest autumn/winter boots you can find in the market today.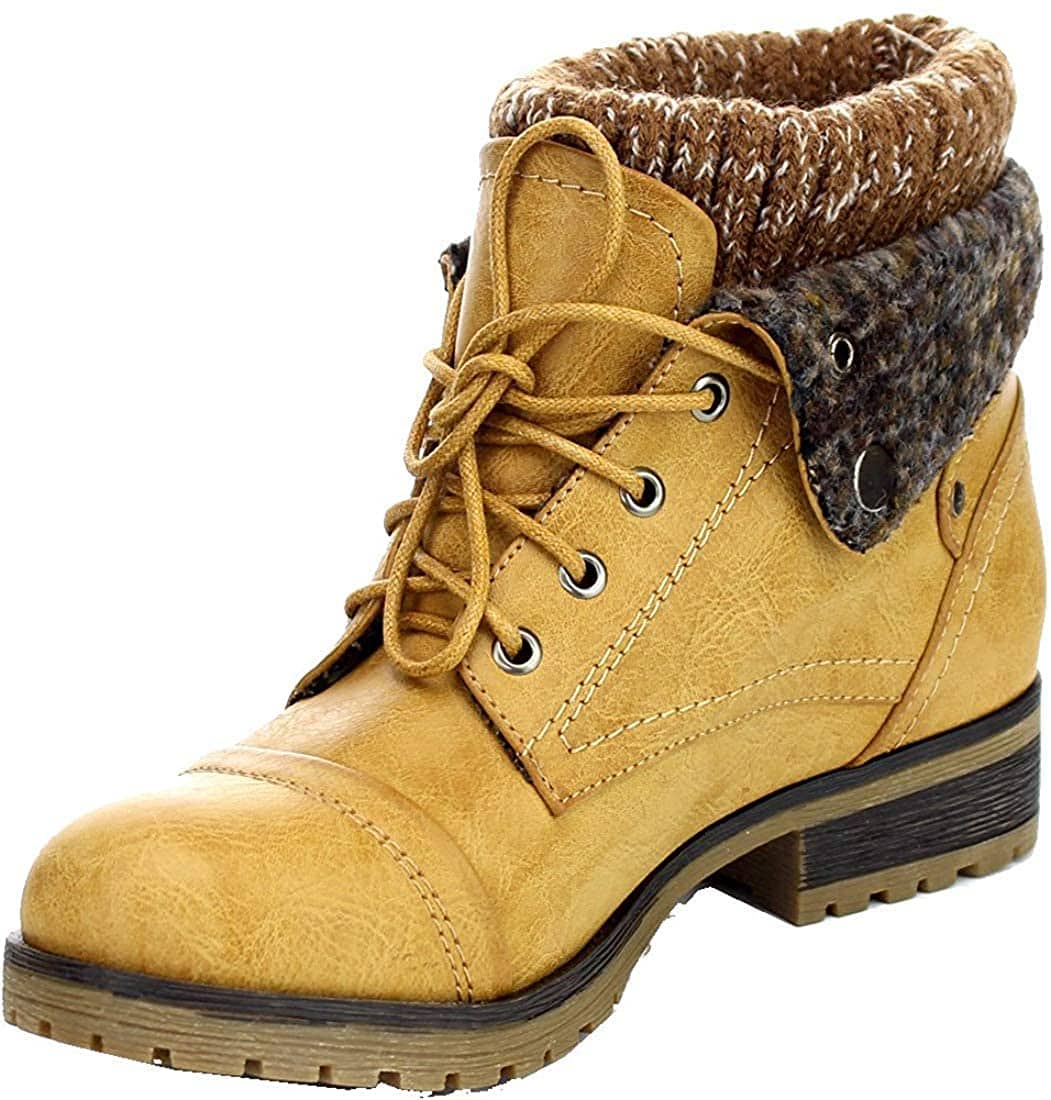 Chic yet sturdy, the Refresh Wynne-01 boots will add a stylish finish to your cold-weather outfit
Aside from the traditional combat boot elements, which include round toes, lace-up fastenings, and lug soles, the Wynne boots also have features crafted for freezing temperatures.
The knitted flip-over collar adds a hint of elegance to this tough-chic style, while the integrated knit socks should keep your feet cozy and warm.