Frye has centuries of experience in the boot-making trade, so it's no wonder the brand is one of the leading makers of all-American boots.
The oldest continuously operated shoe company in the United States, Frye uses some of the finest leathers and materials and relies on skilled artisan craftsmanship, allowing this footwear brand to offer iconic leather boots that boast unparalleled quality.
High-quality Frye leather boots for men and women
Frye's roster includes countless styles, ranging from timeless American classics to modern lifestyle boots.
Where to Buy Frye Boots
In addition to Frye's official website, below are the top five online retailers where you can purchase authentic Frye boots.
1. Backcountry
2. Nordstrom
4. Shopbop
5. Zappos
If you've been planning to buy secondhand Frye boots or are looking to shop via an unauthorized reseller, it is best to do some research first in order to avoid being scammed. You need to be particularly careful when buying shoes on eBay.
There are a lot of counterfeit Frye boots circulating online, which are being passed off as real Frye boots. Read our seven-step guideline below to help you authenticate Frye boots.
1. Know the styles
Familiarize yourself with the styles released by The Frye Company. Since Frye has been around for a long time, there are many different styles available for sale. The iconic Veronica combat boot is one of the company's most popular shoes.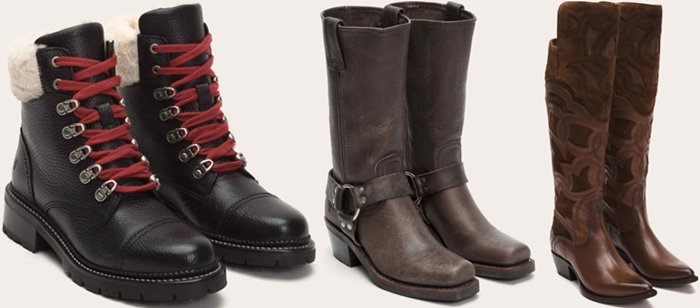 Counterfeiters usually copy the best-selling Frye boots
Counterfeiters usually copy the best-selling products because of the high demand for these shoes. Some might also claim that their products are "vintage pieces" or "limited edition."
Actress Gabrielle Union arrives for the LA Fashion Week Party hosted by Frye Boots and Gabrielle Union on October 22, 2005, in Hollywood, California (Credit: David Livingston / WENN)
Make sure to head over to an authorized retailer first to view the brand's current products. You will usually find high-resolution images that you can use for comparison.
2. Check the packaging
Frye boots usually come in a simple white box with the Frye brand name and logo along with the words "Benchcrafted since 1863."
On the side of the box, there should be a sticker that shows product details, including style number, color, and size.
Ensure that all the details are accurate. The boots inside should also come with Frye tags that display a bit of history about the brand.
A 1976 Frye advertisement for the iconic Campus boot that was reintroduced in the 1960s based on the original from the 1860s
The inner lining of the boot should display a serial number and product details that match the details on the side of the box.
3. Inspect the leather
There are several types of leather finishes used to make Frye boots. The leather varies from lightweight and polished to rugged and full-grain.
Genuine leather will always look and feel rich and soft in texture, with the characteristic smell of leather.
Several types of leather finishes are used to make Frye boots
Upon closer inspection, real leather will also exhibit pores and abrasions while faux will look uniform and perfect.
4. Check the stitching
Clean and even stitching is a mark of quality craftsmanship.
Make sure to check the stitching when buying Frye boots
Threads used should be the same color as the leather unless the stitching is displayed as a detailed design.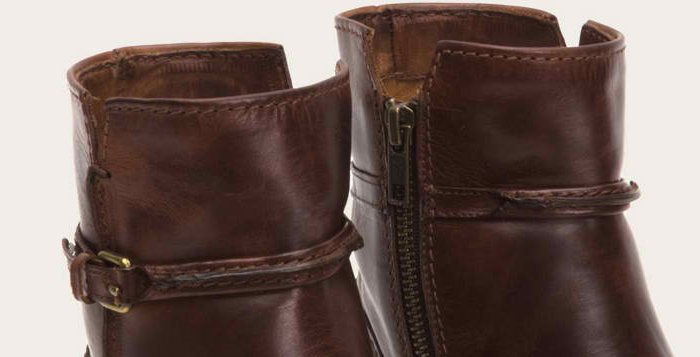 Uneven stitching is a clear indicator of fake boots
Watch out for loose and uneven stitching, which is a clear indicator of replicated goods.
5. Check the hardware
Genuine Frye boots have antiqued metal hardware.
Frye's hardware should feel relatively heavy
The hardware should look slightly bronzed or silver and should feel heavy.
Frye boots feature antiqued metal hardware
Counterfeiters often use a cheaper version of the metal or even hard plastic that feels slightly lighter.
6. Check the outsoles
The outsoles display the brand name FRYE in bold capital letters.

Some boots have the Neoprene Safetech Oil Resistant stamp
Other models, — usually the more rugged styles — have a Neoprene Safetech Oil Resistant stamp on the outsole to identify the rubber technology used.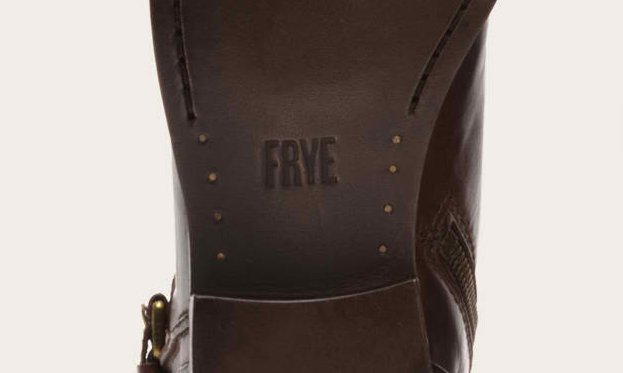 The outsoles display the brand name FRYE in bold capital letters
Fake Frye boots might miss the mark on the brand stamp, or will completely forego this important detail.
7. Check other details and fit.
The Frye Company prides itself on creating well-constructed boots made from the finest leather and materials. These boots go through several quality control checks to make sure even the smallest details are fine-tuned.
Another important factor is the fit, which can make or break any boot. Genuine Frye boots should feel good on your feet, even right out the box. These quality pieces are made to be sturdy but comfortable.
Style, comfort, and quality are just a few of the things you'll love most about Frye's classic Veronica boots
Cheap replicas might be able to copy the exterior look of a Frye, but will often feel rigid and tough, even after a break-in period.
Where are Frye boots made?
With the exception of a few select models, most Frye boots are now made in China. If you want to buy shoes made in the United States, check out the "Made in USA" collection at Frye.
Featuring boots, shoes, and sneakers that represent American craftsmanship, these shoes are made in the United States and sourced from domestic and imported products.
Who owns the Frye Company?
While the shoe brand claims to the oldest continuously operated American shoe company, it is now actually a Chinese company. Frye is owned by Global Brands Group Holding Limited, a fashion conglomerate based in Hong Kong.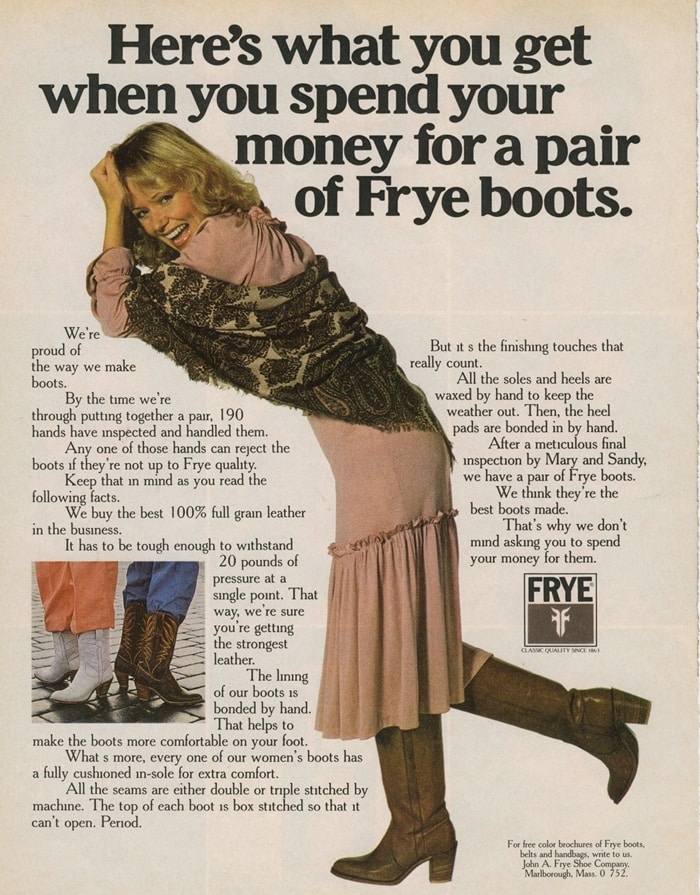 A 1978 advertisement for The Frye Company, a manufacturer of shoes, boots, and leather accessories founded in 1863
Other footwear brands in the same group include Aquatalia, Calvin Klein, Katy Perry, Allsaints, Taryn Rose, Fiorelli, Jones New York, Goats, Dirk Bikkembergs, Karen Millen, and Reiss.
Do Frye boots have a lifetime warranty?
No, they do not. The company warrants any genuine Frye footwear, handbag, and small leather good product against manufacturer's defect for up to one year after purchase from any authorized Frye retailer.
Does Frye have a clearance section?
You can buy Frye boots on sale and clearance at Nordstrom Rack and Amazon.
How to care for Frye boots
All leather goods including footwear, handbags, and apparel should be cleaned and moisturized on a regular basis. Please note that Frye boots and bags are not waterproof.
Frye Leather Conditioning Cream, $10 – $15 at Amazon
We recommend that you treat your leather bags and shoes with Frye's premium silicone-free waterproof balm that will condition, moisturize, and nourish them. You can find the balm and other care products at The Frye Company.
The unique formula creates an invisible, stain-proof shield against rain, snow, and dirt. It also prevents the leathers from drying, cracking, and exposure to salt damage.