Globalization has caught up with the footwear industry. Offshore manufacturing has risen in popularity over the course of the last few decades. More and more companies have started halting United States-based production in order to transfer production processes overseas to countries with cheaper labor costs.
This results in profitability and competitiveness.
There are plenty of American footwear brands manufacturing shoes in the United States using American materials (Credit: Paseven / Shutterstock)
According to the United Nations Statistics Division, China is the world's manufacturing powerhouse, accounting for 28 percent of global manufacturing output in 2018.
The cost of manufacturing in China is significantly lower compared to the cost of manufacturing domestically.
While it may be cost-effective to produce goods overseas, the increased tariffs imposed by former President Donald Trump on consumer goods from China — which is the major exporter of footwear to the U.S. — could turn the tables and encourage domestic manufacturing.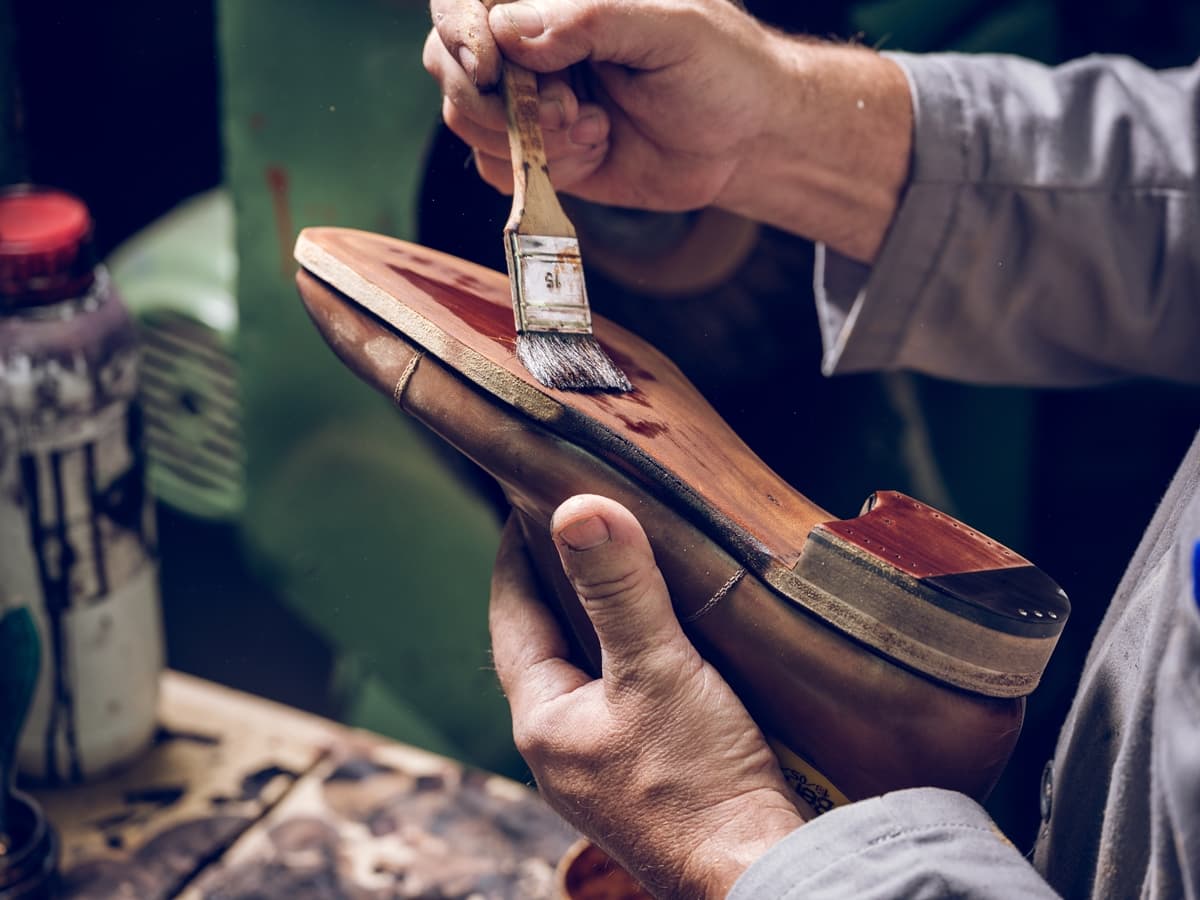 While there used to be many more, there are still some American shoe brands and designers making shoes in the United States (Credit: DegrooteStock / Shutterstock)
Prior to globalization, the United States used to be a manufacturing powerhouse, home of numerous domestic shoemakers, manufacturers and production facilities.
Although the shoe industry had been greatly affected by offshore manufacturing, there are still a number of American shoe brands that continue to produce their products within the U.S. borders. If you want to show your support for American craftsmanship, make sure to buy 100 percent "Made in the USA" shoes.
Below you'll find a list of shoe brands, from heels and sandals to sneakers and boots, that manufacture their products right in the United States.
1. Alden
The 19th century saw the birth of the New England shoe industry. Alden is one of the few remaining New England shoe companies founded during the height of the 19th century.
The Alden Shoe Company was founded by Charles H. Alden in Middleborough, Massachusetts, in 1884.It is a heritage, family-owned brand with about 100 workers who are part of the second or third-generation family.
The only original shoe and bootmaker remaining in New England, Alden dress shoes have been made in the USA by skilled shoemakers in Middleborough, Massachusetts, since 1884 (Credit: Solkanar / Shutterstock)
While a combination of the Great Depression and overseas overseas manufacturing led to the downfall of many of those New England shoe manufacturers, Alden survived multiple historic events and continues to manufacture high-quality dress shoes and orthopedic and medical footwear in Massachusetts.
Alden sources its leather materials from small tanneries in both Europe and the U.S., and is best known for its use of shell cordovan from Horween Leather Company, an American company founded in Chicago in 1905.
Alden Penny Loafer Unlined Brown Chromexcel
You can shop for Alden shoes at Alden Shop and Nordstrom.
2. Quoddy
Quoddy is another New England company that has mostly stood the test of time.
The Maine-based company is known for its hand-sewn moccasins, and produces shoes using methods dating back centuries to the native Passamaquoddy Americans.
Quoddy Moccasins was founded by Anne and Jack Spiegel in Portland in 1947. In the 1970s, it suffered a financial struggle and was sold and resold.
Kevin Shorey and his wife, Kirsten Shorey, purchased the company back in 1995 and revived the brand three years later as Quoddy Footwear, LLC in Maine.
Even though the Shorey family isn't related to the Spiegel family, Kevin's great-grandfather, grandfather and father were all shoemakers.
Quoddy Downeast Leather Boat Shoes
While Quoddy tries to keep as much of its sourcing and production in the U.S. as possible, none of the brand's shoes are made completely in the U.S. due to quality sourcing issues.
"Some soles are made in Italy, the laces in Mexico, and the leather comes from Chicago," he said.
Every Quoddy shoe — including the penny loafers, boat shoes, chukka boots, oxfords, and blucher shoes — is fashioned from the brand's iconic moccasin style.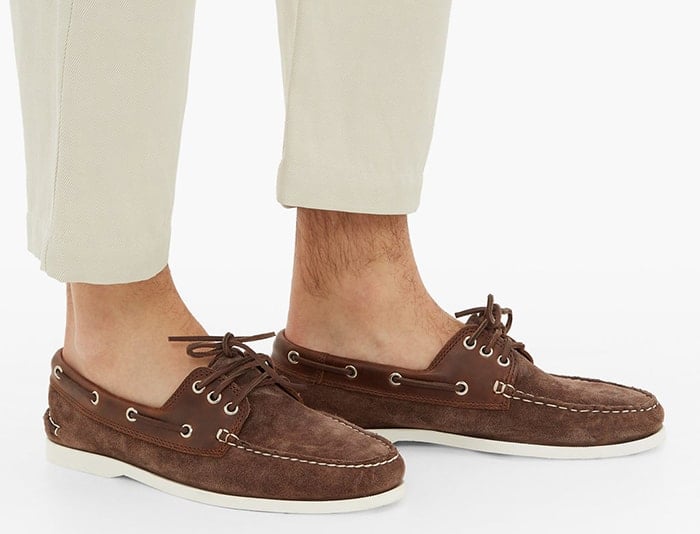 Quoddy Downeast Suede Deck Shoes
While Quoddy shoes are mostly made-to-order, you can get some ready-made styles at Matches Fashion, Mr. Porter, and Leffot.
3. Maine Mountain Moccasin (MMM)
Maine Mountain Moccasin is a new brand that produces moccasin-style shoes in Maine. It was founded in 2017 by Dan Heselton, who previously worked with Timberland and later started New England Outerwear with designer Greg Cordeiro.
The two signed up Bill Herrick, who had perfected his hand-sewing skills at Quoddy and Warren Shoe, to produce a collection of traditional hand-sewn shoes and boots.
Maine Mountain Moccasin Slipper Moccasin in Caramel Buffalo
The company, also known as MMM, earned a reputation for quality craftsmanship.
It utilizes local materials, such as Tasman leather and made-in Maine threads, and uses Blake/McKay welting with true double-vamp mudguards and Vibram soles.
Today, MMM offers a range of moccasin-style footwear, from boots and chukkas to boat shoes and oxfords.
Maine Mountain Moccasin 3-Eyelet Chukka in Waxed Coyote Sumner Roughout
Get them at Maine Moccasin.
4. Rancourt & Company
Another Maine-based shoe brand is the family-owned business, Rancourt & Company. The Rancourt family has been making traditional hand-sewn moccasins for three generations.
It was originally founded by David Rancourt, a Canadian immigrant who moved to Lewiston, Maine, to learn the trade of shoemaking.
He opened his own factory in Maine in 1967 and was joined by his eldest son, Michael, in 1970.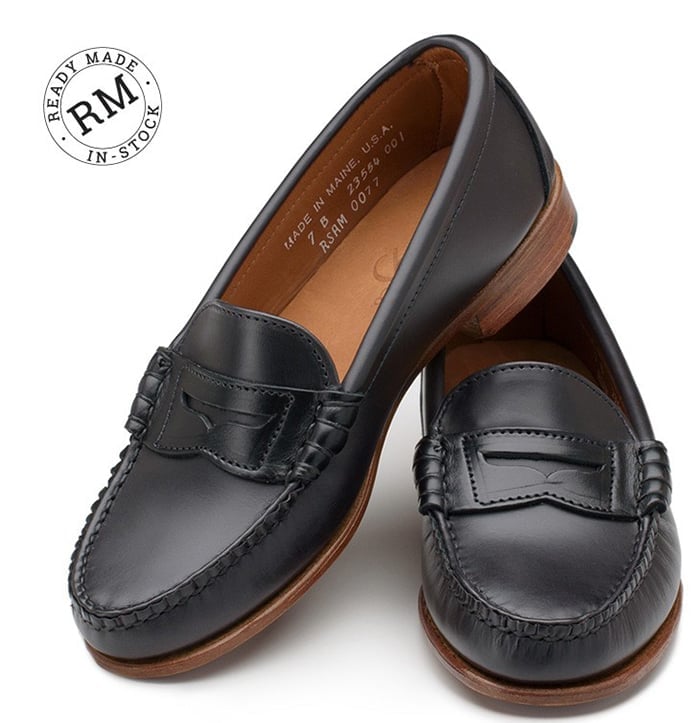 Rancourt and Co. Beefroll Penny loafers
Rancourt started out as a contract manufacturer. The family later sold the company to one of its largest customers, Cole Haan, which was eventually acquired by Nike.
Michael stayed as the president of manufacturing for the brand but left after Nike moved its production overseas.
He then founded Maine Shoe Co., which was bought by Allen Edmonds in 1998. When Cole Haan moved to overseas manufacturing and closed down its Lewiston plant, Michael bought it back and launched Rancourt & Co. with his son, Kyle.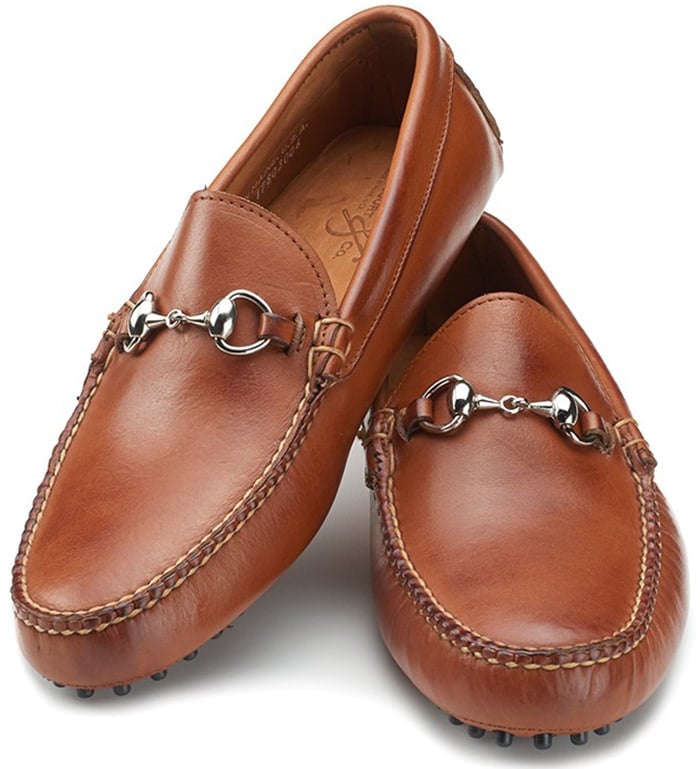 Rancourt and Company Horsebit Driving Moc
Rancourt has since continued its tradition of producing hand-sewn shoes with locally sourced materials in Maine. And after decades of contract manufacturing, the brand launched its in-house brand and a make-to-order line sold directly to customers in 2010.
Check out Rancourt & Company's website to see their collection.
5. San Antonio Shoemakers (SAS)
San Antonio Shoemakers, also known as SAS, is a family-owned footwear company founded by Terry Armstrong and Kew Hayden in Texas in 1976.
The company conducts the majority of its shoe operations in two Texas-based factories: in San Antonio and Del Rio.
SAS Marina Sandals
SAS specializes in comfortable hand-crafted shoes.
The brand sells a variety of styles, including flip-flops, slides, loafers, pumps, boots and sneakers.
SAS Free Time Mesh Sneakers
You can purchase SAS shoes via the SASshoes website, at SAS locations across the U.S., or in multi-line shoe stores, including Zappos and Amazon.
6. Okabashi
Okabashi was named after the Japanese principles of reflexology, and focuses on foot health and wellness.
The brand's line of plastic flip-flops and sandals is designed to provide comfort with active arch support and massage beads that hit the pressure points on the wearer's feet.
Iranian Bahman Irvani founded Okabashi after coming to the U.S., five years after the 1979 Iranian Revolution destroyed his family's multinational footwear business, Melli Shoe Company.
Okabashi Third Oak Journey in Black
The company has occupied a 100,000-square-foot factory in "Leather City" Buford, Georgia, since 1984.
Bahman's daughter, Sara Irvani, took over the family business in 2017 and has continued her father's sustainable practice by using 100 percent recyclable materials made in the U.S.
Today, the company has 200 employees and produces about 1.2 million pairs of flip-flops and sandals a year.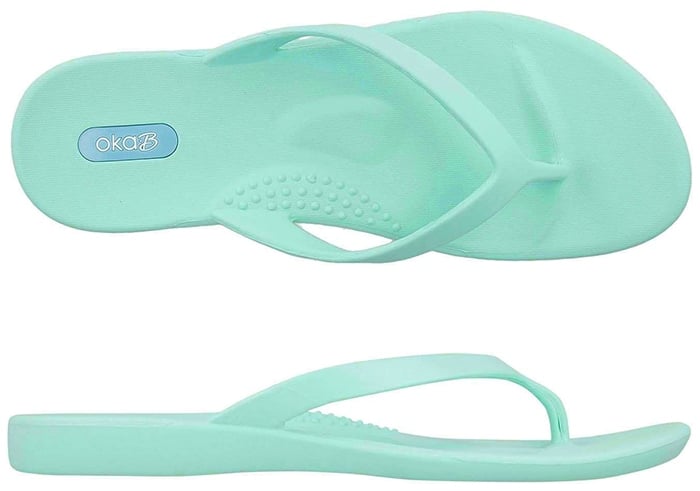 Okabashi Oka-B Millie Flip Flops
Okabashi's products are divided into three brands: The flagship Okabashi, which usually attracts customers that are over 40 and are concerned about foot health; Oka-B, a higher-end line of stylish, comfy shoes for boutiques, spas, and hotels; and Third Oak, which targets millennials.
7. Wolverine
The Wolverine shoe brand is part of Wolverine World Wide Inc., a publicly-traded American footwear manufacturer based in Rockford, Michigan.
Wolverine World Wide Inc., is also known for its other brands, including Hush Puppies and Merrell.
The manufacturer also produces footwear for other firms, including Caterpillar, Harley-Davidson, Saucony, Sperry, Keds and Stride Rite.
Wolverine founder G.A. Krause started a small leather tannery in 1883, which eventually started producing work boots that are famous for comfort and durability. By 1903, G.A. and his sons were already producing 300 boots a day and processing their own raw materials.
Wolverine Women Original 1000 Mile Boot
The company is famous for its Original 1000 Mile boot, which was first introduced in 1910. It was popular among workers as it was crafted from soft, pliable and long-lasting shell horsehide leather.
Nearly 140 years later, Wolverine is still using the same handcrafting method for its shoes. Although the signature 1000 Mile boot is now crafted from full-grain cowhide, it remains the brand's staple product.
As its name suggests, it is designed to give wearers a thousand miles of use.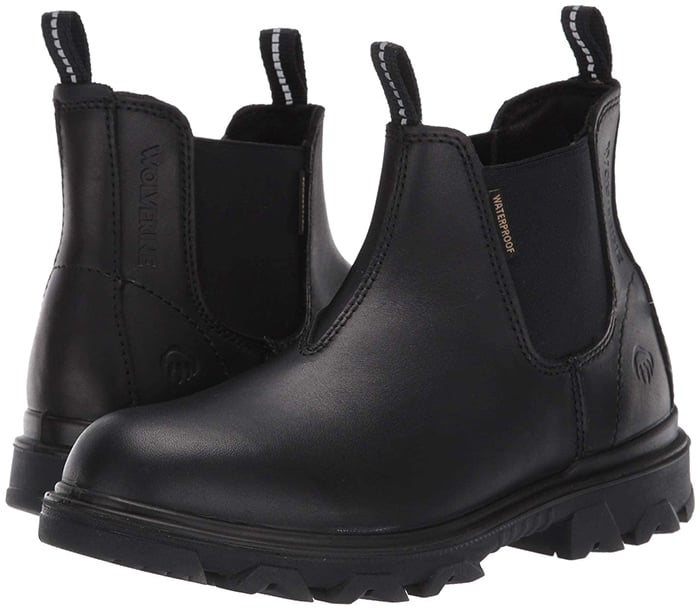 Wolverine Heritage I-90 EPX Soft Toe
You can shop for Wolverine shoes at Zappos and Wolverine's website.
8. Red Wing Shoe Co.
Red Wing Shoes was founded by Charles H. Beckman in 1905, and was the primary shoe manufacturer for American soldiers during World War 1.
The brand is known for leather boots designed for heavy work, but also offers athletic-style work shoes and shoes focused on laborious jobs, such as slip-resistant shoes for service industry workers.
Red Wing also produces oxfords, chukkas, hiking boots, logger work boots and 6-inch and 8-inch work boots.
Red Wing Heritage Weekend Chelsea Boots
In 2008, Red Wing Shoes debuted a Heritage collection that features more fashion-oriented shoes.
All shoes from Red Wing Shoes are handmade in America using American materials at the company's plant in Red Wing, Minnesota. The company also has plants in Potosi, Missouri, and Danville, Kentucky.
Red Wing Shoes Sawmill Lace-up Combat Boots
Red Wing Shoes products are available at Farfetch, Zappos, and on their website.
9. Sloggers
Sloggers started as Coffey-Hoyt Products in 1948, when the company invented the first clear plastic overshoe, "Drizzle Boots," which became popular over the years.
Roughly 50 years later, in 1997, Sloggers debuted its rain and garden boots, and became the first shoe to be sold in lawn and garden stores.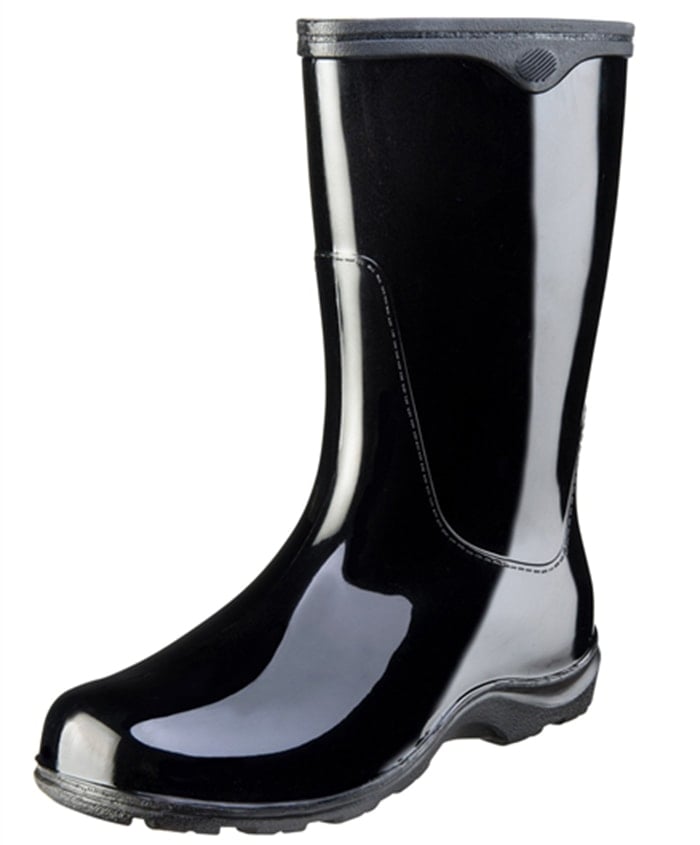 Sloggers Rain and Garden Boots in Classic Black
The brand also focuses on sustainability.
Sloggers launched a recycling program in 2015, which allows customers to return their worn-out Sloggers shoes, and "Sloggers will grind them up and put them back into a new pair."
The company's waterproof shoes and boots are made in America, with a plant in Los Angeles, California, that can produce up to 4,000 pairs a day.
Today, the family-owned company continues its commitment to quality and creating jobs for American workers.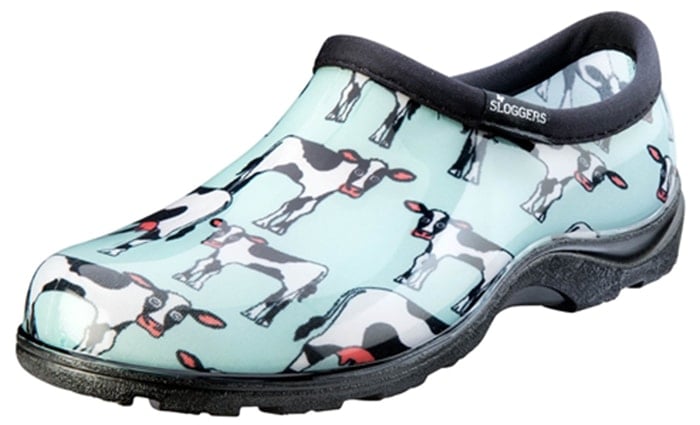 Sloggers Rain and Garden Shoes in Mint Cowabella
You can visit Sloggers website to purchase their shoes.
10. Lucchese
Lucchese, known for its cowboy boots, was founded in 1883 by Salvatore and Joseph Lucchese, Italian immigrants who moved to San Antonio, Texas, to set up a boot-making shop.
Lucchese boots for sale at Headquarters Hats store in Fredericksburg, Texas (Credit: Moab Republic / Shutterstock)
The shop originally catered heavily to members of the U.S. Army stationed nearby in Fort Sam Houston.
But by the 1940s, celebrities — including late actors Bing Crosby, Gregory Peck, Gary Cooper, and then-president Lyndon B. Johnson — were seen wearing Lucchese boots.
In 1987, the company moved from San Antonio to El Paso, Texas, where it remains headquartered to this day.
Lucchese Men's Hobbs Sunburst Western Cowboy Boots
In 2000, Lucchese released its limited edition 125th Anniversary Boot, with only 125 pairs produced, sold for $12,500 per pair. California Governor Arnold Schwarzenegger was among those who purchased a pair of the Anniversary boot.
Lucchese then expanded its line of footwear in 2014 with the launch of the Lucchese Collection. The luxurious fashion footwear line includes stilettos, dress shoes, chukkas, and high-heeled boots and sandals, handmade by Lucchese artisans in El Paso, Texas, and Tuscany, Italy.
Lucchese After Ride Slip-On Shoes in Tan Burnished
You can find Lucchese shoes and boots at Lucchese, Zappos and Amazon.
11. Keen Utility
Outdoor footwear and lifestyle company KEEN was founded by Martin Keen in Alameda, California, but later relocated to Portland, Oregon, where it is still headquartered.
The company initially produced footwear for sailing and other outdoor recreation activities, but later expanded to a variety of styles, including casual and cold-weather footwear and safety work footwear, as well as bags and clothing.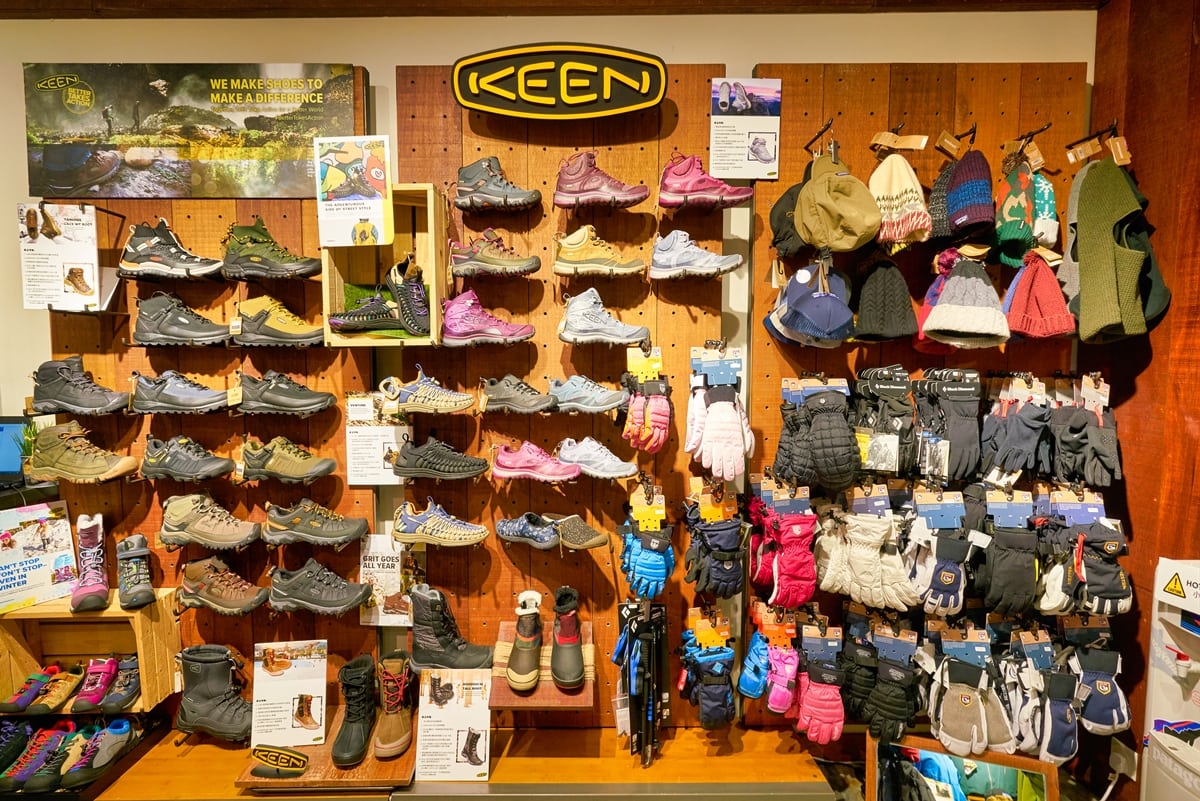 While not all Keen shoes are made in America, the company is making an effort to bring footwear manufacturing back to the USA (Credit: Sorbis / Shutterstock)

Although Keen's materials are sourced globally, its factory, which is located less than five minutes from the brand's Portland headquarters, is manned by local craftsmen.
Keen is an American footwear and accessories company based in Portland, Oregon (Credit: Tada Images / Shutterstock)
Keen has been growing fast since it was established in 2003.
In 2009, it had estimated sales of $130 million to $140 million. And in 2011, its revenue reached approximately $240 million.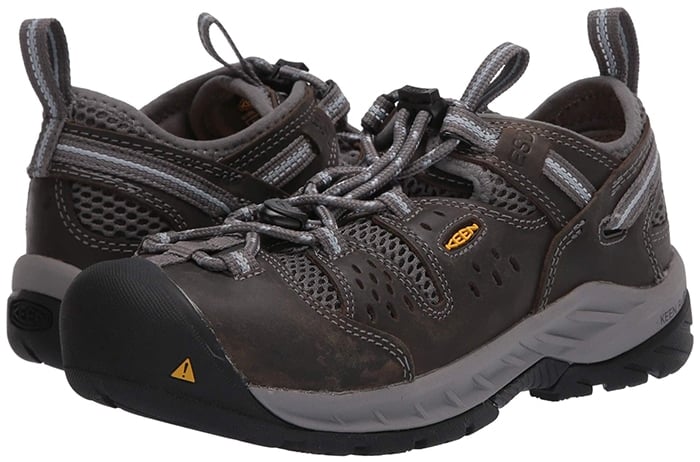 Keen Utility Atlanta Cool II ESD Steel Toe
You can buy KEEN shoes and sandals at KEEN, Zappos and Nordstrom.
12. Danner
Danner has been making work, duty and hiking boots in the U.S. for almost 90 years.
The company was founded in Wisconsin by Charles Danner in 1932, but relocated operations to Portland in 1936 due to the thriving timber trade in the Pacific Northwest.
The brand became one of the region's premier manufacturers of calked logging boots, and has since earned a reputation for its high-quality, tough and reliable boot designs.
Danner Explorer 650 6-inch in Brown and Green
Danner spent the 1970s focused on producing mid-weight hiking boots, and released the 6490 boot, which weighs just under four pounds.
Nine years after the success of the 6490 boot, Danner created the first fully-waterproof hiking boot, made with Gore-Tex lining, called Danner Light.
Danner's operations remain in the U.S. today, and the company continues its commitment to delivering quality-made and meticulously-inspected boots.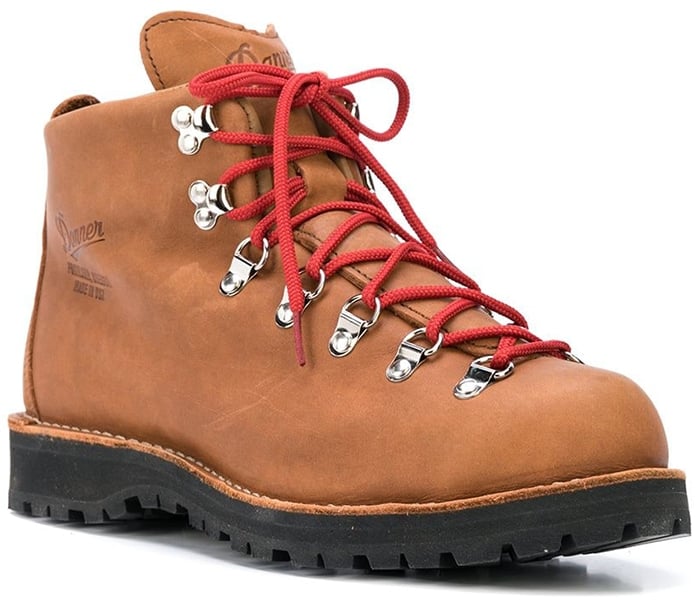 Danner Mountain Light Boot
You can find Danner boots at Zappos, Farfetch, Amazon and Dick's Sporting Goods.
13. Esquivel
George Esquivel is a top shoe designer and craftsman with a long list of celebrity clients. He has worked with Brad Pitt, Maddona, LeBron James, Elon Musk, Emma Stone, Gwen Stefani and more.
The footwear designer has been making shoes in his Southern California garage since the mid-1990s, but it wasn't until 2001 that he founded his footwear company, Esquivel.

Esquivel Gold Distressed Grace Slip-on
George's original styles were inspired by music and cars.
He has also released art-inspired collections, which draw inspiration from workers who built the Empire State Building, Canadian-born architect Frank Gehry, and Austrian painter Egon Schiele.
The brand focuses on custom and made-to-measure leather shoes, but it also has ready-to-wear styles available at some retail stores.
Esquivel Chestnut Jill Ankle Boots
Esquivel shoes are hand crafted in southern California by a group of artisans. Prices range from $225 for ready-made sandals to over $1,000 for boots.
Esquivel also features a collection of oxfords, sneakers, mules and chukkas on the brand's website.
14. Mark Albert Boots
Mark Albert Boots may be a new brand, but it definitely doesn't lack in quality.
The brand was founded in 2016 by Mark Albert Barbera, the great-grandson of Italian master shoemaker and immigrant Joseph Barbera.
Mark Albert's great-grandfather worked as a cobbler in his Somerset shop, and he passed on his shoemaking techniques to the manufacturer that is now creating all Mark Albert Boots footwear.
Mark Albert Boots Outrider Boot in Waxy Distressed Leather
The company is focused on producing durable, quality shoes and boots in its factory in Somerset, Pennsylvania.
It has about 50 employees, and all designs use the highest quality materials and construction methods to create comfortable and long-lasting footwear.

Mark Albert Boots Modern Mule Desert in Tan Roughout
You can shop for Mark Albert Boots online and in stores across America.
15. Parkhurst
Like Mark Albert Boots, Parkhurst is a new shoe company prioritizing the restoration of domestic shoe manufacturing in the U.S.
It was founded in November 2018 by former stock trading analyst Andrew Svisco, in Buffalo, New York.
The company offers boots and shoes made of high-quality materials sourced from American suppliers. Andrew uses leather hides from top-tier North American free-range cattle raised in the U.S.
And, if he needs an item that's not made in America, he makes sure to purchase from a U.S.-based supplier instead of buying directly from an overseas company.
Parkhurst The Allen Ridge Kudu Boots
For instance, Parkhurst's trademark kudu leather, which is tanned at England's C.F. Stead tannery, is purchased from a U.S.-based supplier. The same goes for the label's Dainite soles, which are made in the UK.
While manufacturing locally costs more, Andrew thinks "it's worth it to support an American job in every part of the sourcing process in this global economy."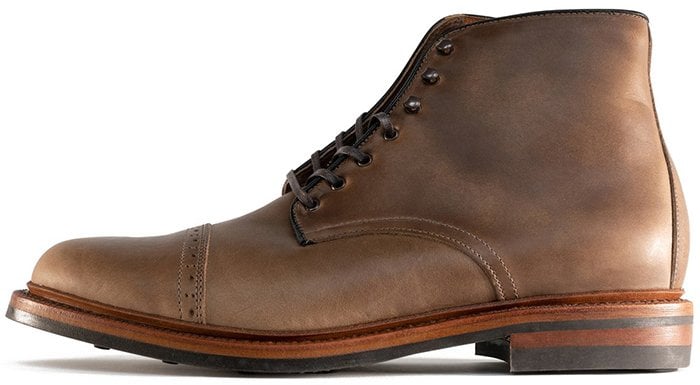 Parkhurst The Delaware Natural Chromexcel
You can buy Parkhurst shoes and boots via the brand's website and at local boutiques on the East Coast.
16. Nicks Boots
Nicks Boots, also known as Nicks Handmade Boots, is a manufacturer of handmade leather boots and shoes founded in 1964 in Spokane, Washington.
The company uses a 500-year-old European technology to craft its shoes, sans the use of welting machines, for a custom feel.
The welts are, instead, sewn by hand to the toe vamp leather through a grooved channel on the bottom side of the inner sole using an awl and a special waxed thread.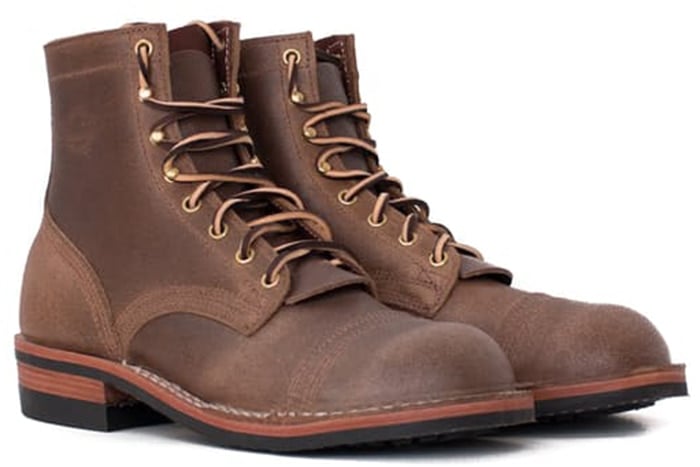 Nicks Boots Americana
Nicks also uses McKay Construction for those who are most likely to fit into a stock boot size.
While Nicks is famous for work boots — particularly wildland firefighting boots — the company also offers casual shoes, which are made with the same technique as its other boots.
Nicks Boots Falcon Veg Tan Brown Moderate Arch
After 56 years, Nicks still produces shoes and boots in the U.S.
Nicks proudly continues its tradition of crafting handmade products using premium leather and materials sourced domestically.
You can get your own pair of Nicks boots from the brand's website, or at Huckberry.
17. Wesco
Wesco is short for West Coast Shoe Company. The American shoe manufacturer was founded in 1918 in Scappoose, Oregon, and it still manufactures its boots and shoes in a factory in Columbia county.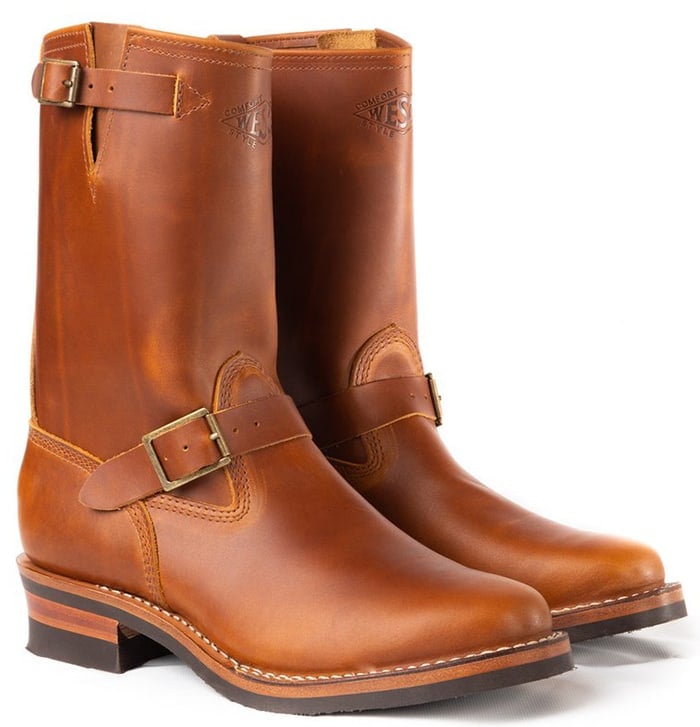 Wesco Standard Boss #7500 Boots
The company specializes in work boots used by linemen, loggers, wildland firefighters, bikers and even alpine climbers.
Wesco eventually expanded its line to casual footwear, which can also be customized for a perfect fit.
Every Wesco shoe is made from top quality, full-grain leather material, using a 155 step-by-step process.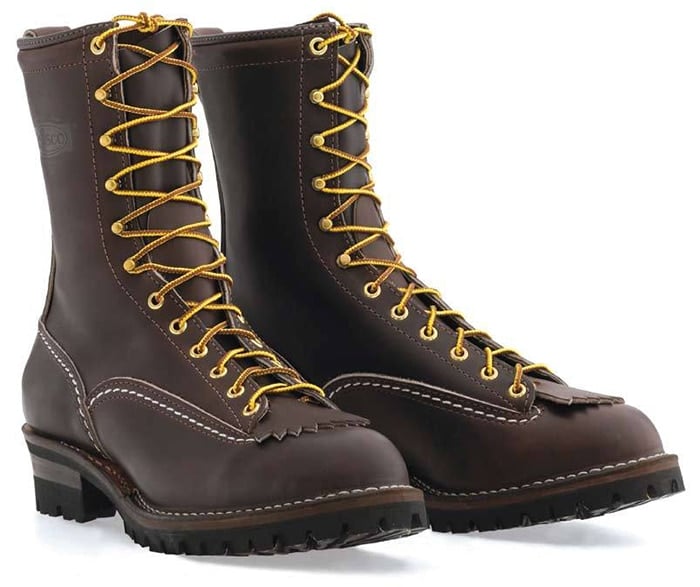 Wesco Standard Wesco Jobmaster Lace to Toe Brown Leather Boots
You can find Wesco boots on both the brand's website and Baker's Boots and Clothing.
18. Oak Street Bootmakers
Oak Street Bootmakers is a Chicago-based footwear manufacturer that aims to preserve the heritage of shoemaking in the United States.
It was founded in 2010 by George Vlagos, a second-generation cobbler who apprenticed at his father's shop during his early years.
Oak Street Bootmakers embraces craftsmanship and heritage. All of the companies footwear and accessory products are 100 percent handcrafted in the U.S. by shoemakers with more than 20 years of experience.
Oak Street Bootmakers Field Boot in Gaucho Waxed Kudu
Oak Street shoes and boots are made from carefully-sourced high-quality materials, including the local Horween Chromexcel leather and the replaceable Goodyear-welted soles.
Each Oak Street shoe is also fully recraftable, which means the shoes are designed to be repaired. The outsoles and insoles can be replaced again and again and still provide the same traction and comfort as a brand new pair.
Oak Street Bootmakers Trench Boot in Autumn Spiced Waxed Kudu
Visit Oak Street Bootmakers' website to purchase their boots.
19. White's Boots
White's Boots was founded in the 1850s as a family business that manufactured boots for Virginia-based loggers.
The company relocated to St. Maries, Idaho in 1902 and settled in Spokane, Washington in 1915. Following the relocation, White's Boots flourished and became popular among loggers, construction workers and wildland firefighters.
White's Boots 350 Cruiser
White's was sold to LaCrosse Footwear in 2014, which is also the owner of Danner Boots. Part of the sales deal was to preserve the brand's manufacturing process in its Spokane Valley factory.
White's Boots has maintained its focus on the quality of each of its boot, using the finest materials and craftsmanship.
White's boots are also rebuildable, which means the company's craftsmen can replace every worn-out component of the boot, except the upper quarters, at a fraction of the cost of a brand new pair.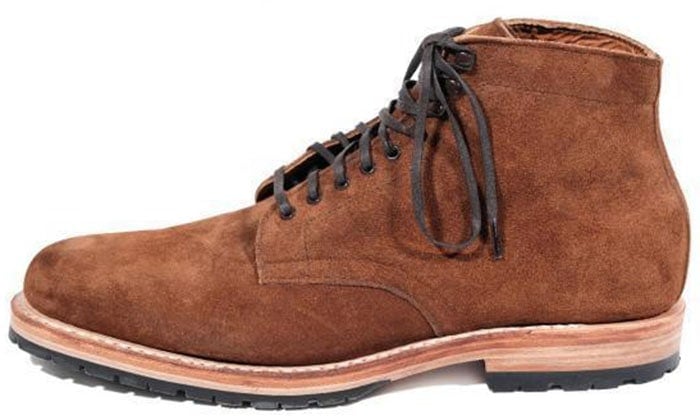 White's Boots Main Street Suede
You can get White's Boots at Baker's Boots & Clothing and on their website.
20. Truman Boot Company
Truman Boot Company produces boots that are crafted by skilled bootmakers in the Pacific Northwest, and influenced by American workwear, heritage tradecraft and western culture.
The company is currently based in Boulder, Colorado, but was originally founded in rural Pennsylvania by Vince Romano in 2014.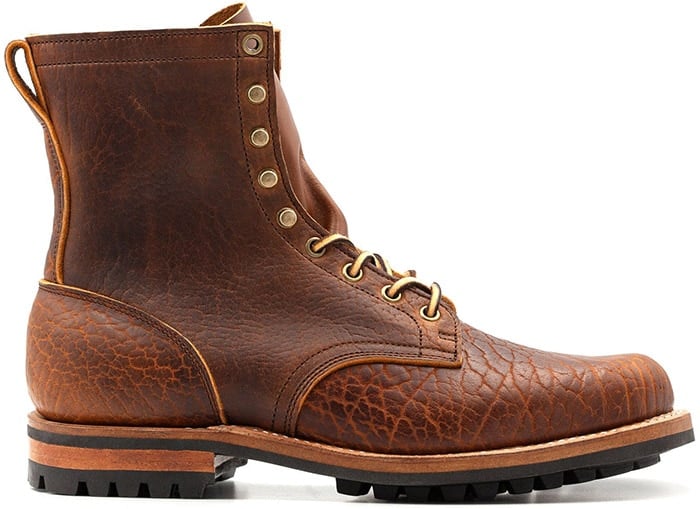 Truman Boot Company Cognac Shrunken Bison Upland Boot 79 Last
Truman Boot Company makes roughly 1,000 pairs of boots annually.
But while the company works in small batches and only has a handful of boot styles, bootmakers make use of an array of unique leathers, such as the java waxed flesh, rambler leather, waxy mohawk, moose leather, bison leather and horse rump leather.
Truman Boot Co. Gobi Mohawk Women's Boot
You can buy Truman Boot Co. boots, oxfords and derby shoes on the company's website.
21. Thursday Boot Company
Thursday Boot Company, founded by Nolan Walsh and Connor Wilson in 2014, is a relatively new shoe company based in New York City.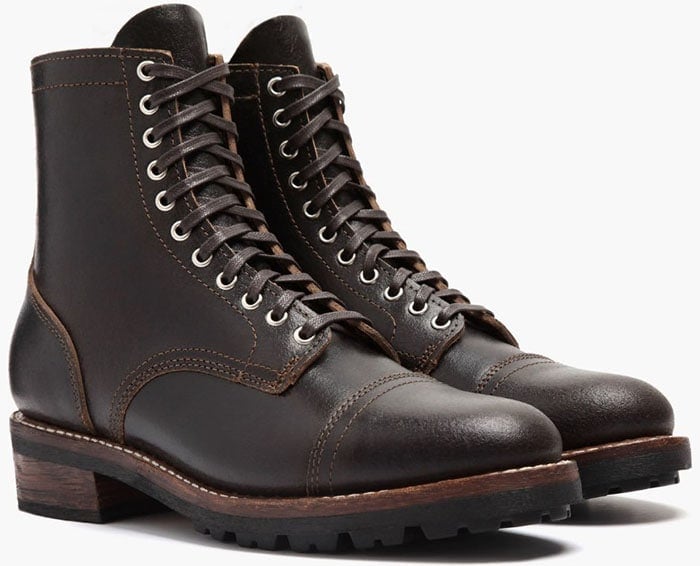 Thursday Boot Co. Logger Boots in Waxed Cacao
The company is known for offering high-quality, lasting footwear designs at affordable prices.
Thursday boots feature clean and timeless designs, and are handcrafted by highly skilled artisans.
Bootmakers at Thursday use premium materials, like Horween Chromexcel leather, veg-chrome tanned leather and WeatherSafe suede.
Not all Thursday boots are made in the U.S., but the company's hallmark Vanguard line and other accessories are 100 percent domestically crafted.
Thursday Boot Company Vanguard Boots in Burnt Copper
Check out the Thursday Boot Company website to purchase your own pair of Thursday boots.
22. Chippewa
Chippewa is an American boot label that dates back to 1901. It was founded in downtown Chippewa Falls, Wisconsin, and initially catered to loggers before shifting its focus to engineers, soldiers, firemen, pilots and other professions.
Chippewa is known for its fine quality footwear made by skilled craftsmen, and was the first bootmaker to produce boots in America with Italian Vibram soles.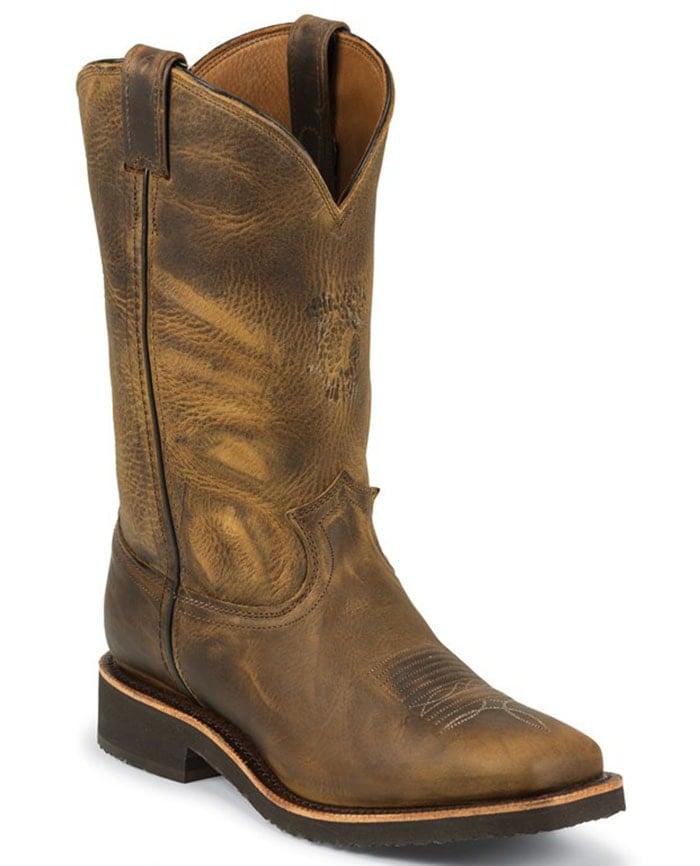 Chippewa Soronto Sand Square Toes
In 1984, Chippewa was acquired by Justin Brands, which was later purchased by Berkshire Hathaway in August 2000.
To this day, the heritage and philosophy of Chippewa remain, and the production of high-quality, long-lasting work and lifestyle boots continues.
Chippewa Ryodan Boot
In addition to the Chippewa website, you can also purchase these boots at both Zappos and Amazon.
23. Role Club
Role Club, founded by Brian the Bootmaker, is a new L.A.-based footwear brand that specializes in engineered boot styles.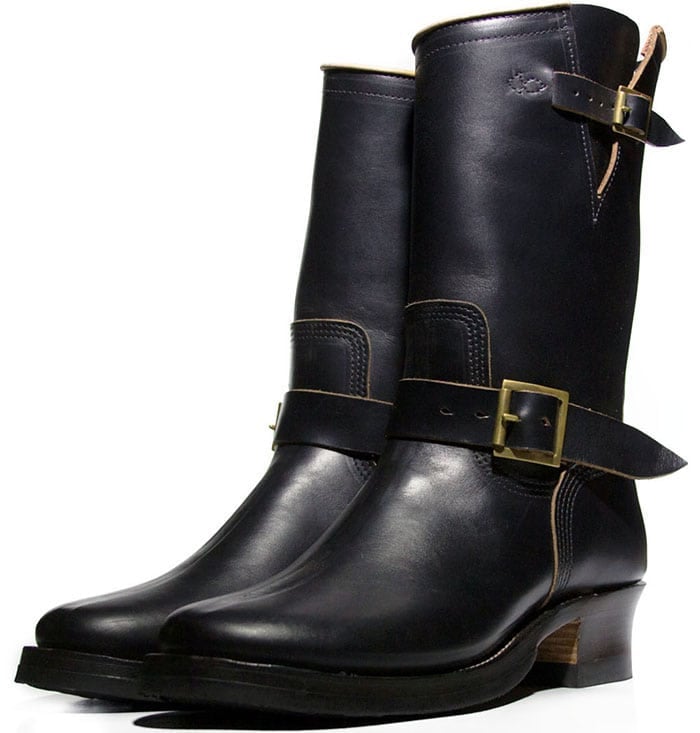 Role Club Black CXL Horsehide Engineer Boots Limited Edition
Brian developed a "deep passion and obsession with aging leather" after training with Ignacio Palacios, a shoe repair shop owner, in 2010.
After learning how to deconstruct old boots, Brian delved into the art of boot making before deciding to establish his own shoe brand, Role Club.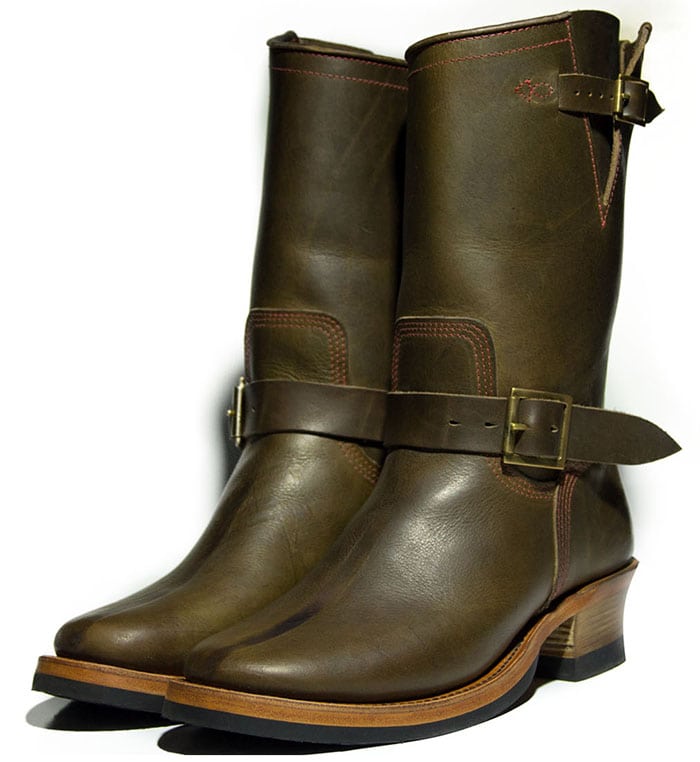 Role Club Dark Olive Steerhide Engineer Boots
You can get Role Club boots by filling out the Boot Inquiry Form on the brand's website.
24. Double-H Boots
Double-H Boots, known for its Western-style boots, was founded in Richland, Pennsylvania, by the H.H. Brown Shoe Company in 1955.
It was originally named the Richland Shoe Co. but was changed to Double-H in 1993 to reflect the company heritage of shoemaker Henry H. Brown.
Double-H Boots Charity Domestic Wide Square Toe Work Western Boot
The Richland factory was the first in the U.S. to manufacture western boots with a safety toe. When computerized stitching machines hit the shoe market, Double-H expanded its line to dress western boots.
Today, Double-H's casual and fashion lines are produced overseas, but the majority of its work and dress western boots are manufactured at a production facility in Martinsburg, Pennsylvania.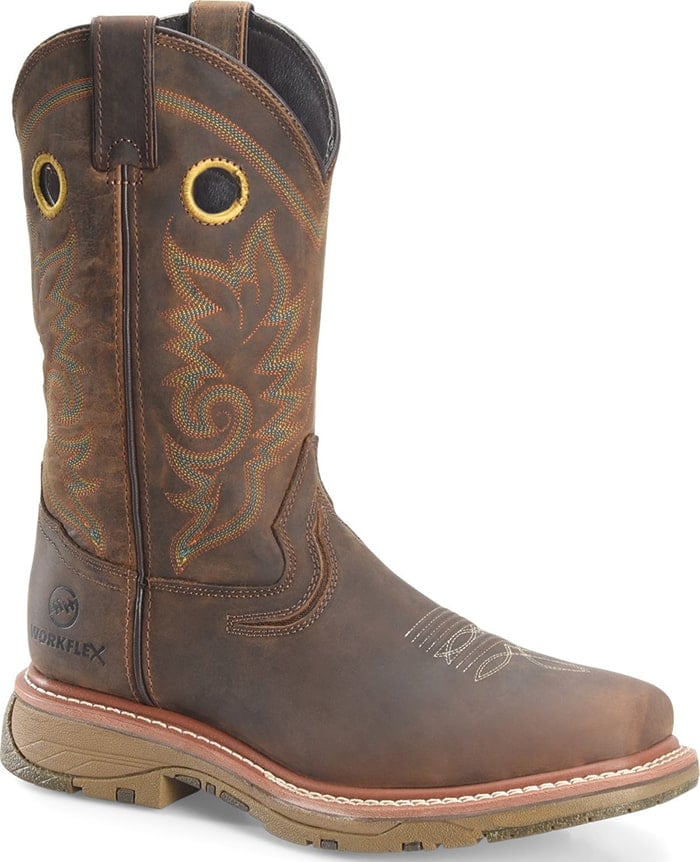 Double-H Boots Elijah Workflex MAX Wide Square Toe Comp Toe Work Boot
Visit the Double-H website or go to Amazon to buy your own pair of western boots.
25. Earth Runners
Earth Runners is an outdoor minimalist sandal company founded by Mike Dally in 2012. It has a factory in the San Francisco Bay Area that makes use of the highest quality eco-friendly materials.
Inspired by the Tarahumara Native American Indians of Northwestern Mexico, Earth Runners prides itself on making minimalist sandals that offer the closest thing to going barefoot.
Earth Runners Elemental Lifestyle Sandal
The brand's comfortable and primal-approved adventure sandals are crafted from vegan materials.
Earth Runners promotes physical health by enhancing the body's natural connection to earth. The brand touts its grounded conductive laces, which aim to recreate the primal experience of being barefoot.
This technology is believed to increase energy, decrease brain fog, lower inflammation, improve sleep and help in speedy recovery.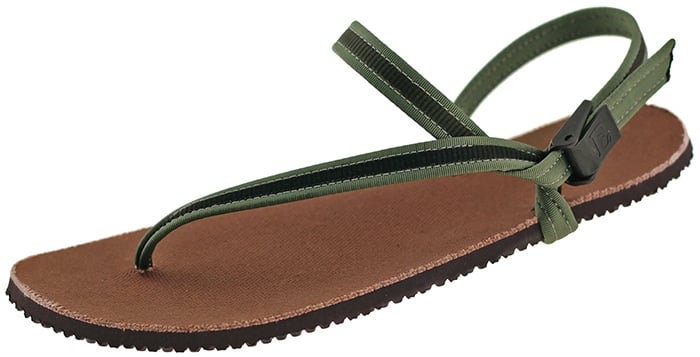 Earth Runners Circadian Adventure Sandal
Aside from adventure sandals, Earth Runners also has lifestyle sandals, apparel, and other accessories, which you can buy on the brand's website.
26. Island Slipper
Island Slipper is a family-owned business that has been making slippers by hand in Hawaii since 1946.
The company started making slipper soles from old tires at a factory in the Kaka'ako district of Honolulu. About 15 years later, Island Slippers reached the mainland market.
Wooden clog heels became one of the brand's most popular products.
Island Slipper Canvas Animal Suede Classic
In the 1990s, Island Slippers developed a new slipper designed for all-day wear.
It then expanded its market to resort and island communities in the Caribbean, Central America and the South Pacific.
To meet the growing market demand, the company moved its operations to a larger factory in Pearl City in 2000.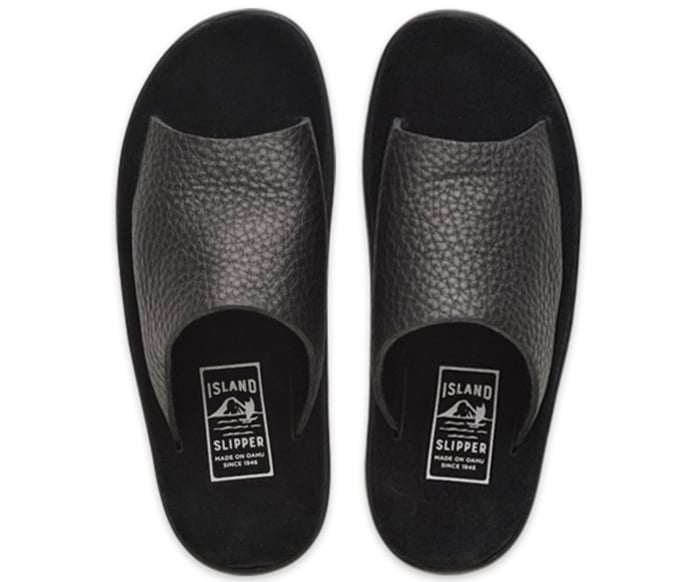 Island Slipper Bull Hide Slides in Black
Today, Island Slippers has three retail outlets in Hawaii: at the Ward Warehouse in Honolulu, in the Royal Hawaiian Shopping Center in Waikiki, and in the new Bloomingdale's wing at Ala Moana Center.
Visit Island Slipper's website to see more of its collection.
27. SOM Footwear
SOM Footwear started when metal worker and avid cross-fitter, Olivier Marchal, experienced back pain that stopped him in his tracks.
He read Christopher McDowell's "Born to Run" book and, like Earth Runners, was inspired by the minimalist footwear of the Tarahumara Indians.
SOM Footwear Urban Trekker Casual Sneakers in Vintage Sepia
Olivier quickly grew frustrated with the lack of minimal footwear on the market, and swiftly created his own U.S.-based footwear line, SOM, in 2012.
SOM, which is short for Sense of Motion, manufactures one pair of shoes at a time at the company's factory in Montrose, Colorado, making just about 35 pairs a week. The brand's barefoot-inspired shoes match the natural shape of the foot and have wide toe boxes and zero-drop soles.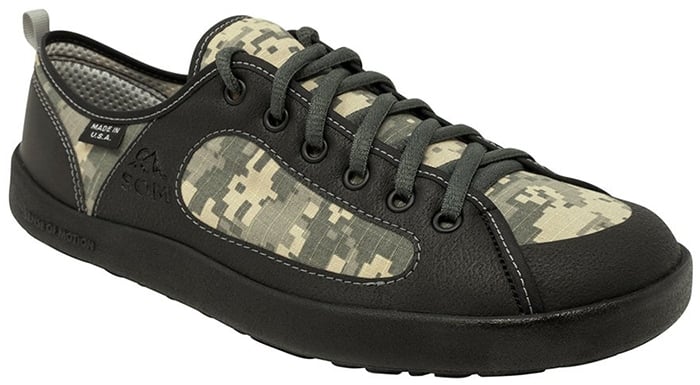 SOM Footwear Camo Combat All-Terrain Sneakers
Aside from its technical shoes, SOM Footwear also has casual sneakers available on its website.
28. Mohop
Architect Annie Mohaupt started eco-friendly fashion company Mohop in 2005.
The brand, which has its roots in Chicago, combines cutting-edge technology, traditional artisanal techniques, and sustainably-sourced materials.
In addition to handmade shoes, Mohop also produces bags and other fashion accessories.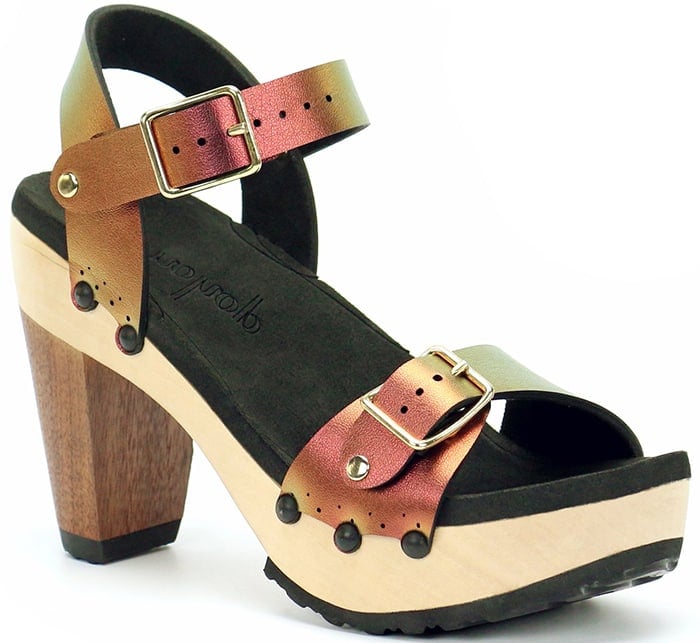 Mohop High Heel Buckle Toe Ankle in Ruby
So, what exactly is the cutting-edge technology Mohop boasts?
The brand digitally fabricates mass-customizable footwear and accessories by combining 3D digital fabrication with emerging body scanning technology.
In addition to creating sustainable shoes and accessories, Mohop also aspires to bring fashion manufacturing back to the U.S.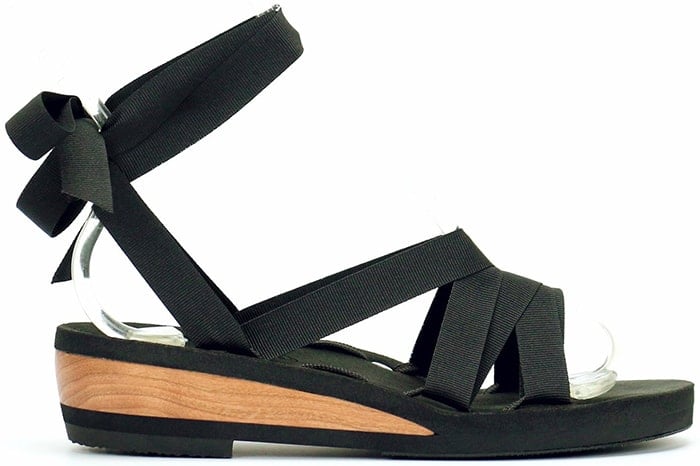 Mohop Low Wedge Slide Ribbon Sandal
You can get Mohop high heels, mid and low clogs, as well as wedge sandals on the brand's website.
29. Piper Sandals
The Piper Sandal Company is a family-owned business that was founded by Dave Piper in 1971 in Cocoa, Florida.
Eight years later, the company moved to San Antonio, Texas, where it remains headquartered to this day.
Piper Sandals The Slip-On
The company has two styles — The Original and The Slip-On — and each features a fully-adjustable one-piece leather strap that provides a perfect fit, Vibram outsoles, orthopedic foam insoles and arch support.
Piper Sandals The Original
Piper Sandals will also replace old or worn-out straps for free. The company will also resole the bottom soles for just half the price of a new pair.
Check out Piper Sandals to learn more about the brand's products.
30. Salpy
Husband-and-wife team Salpy and Kevork Kalaidijan founded the Los Angeles-based Salpy brand in 2000 with the goal of bringing shoe manufacturing back to the U.S.
Salpy comes from a background in fashion buying and sales, while Kevork descends from generations of shoemakers.
Together, the two fashion experts established the brand that reflects Salpy's effortlessly chic style.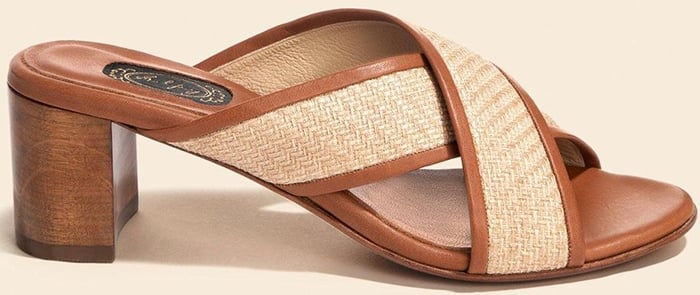 Salpy Chelsea Carved Wood Heeled Sandals
All Salpy shoes are cut, stitched, carved, painted and polished by hand at the company's small knit factory in Southern California.
Durable materials and timeless patterns and shapes ensure that these shoes will remain functional for years after purchase.
Salpy Bellamy Slide Sandals
You can visit Salpy Shoes to see more shoe designs from this husband-wife duo.
31. New Balance
Founded in 1906 as the New Balance Arch Support Company, the iconic American sports footwear and apparel manufacturer has never stopped making footwear in the United States.
In March 2022, the company opened a new factory in Methuen, a city in Essex County, Massachusetts, that employs around 90 people. It's the company's sixth plant in the United States.
New Balance is committed to American manufacturing and has never stopped making shoes in the USA (Credit: Red Herring / Shutterstock)
"The closer we can have it to our consumer, the better," Dave Wheeler, the company's chief operating officer, told WSJ about New Balance's popular MADE in USA Collection. The company makes or assembles "more than 4 million pairs of athletic footwear per year in the USA."