With so many different boot companies on the market, it can be really difficult to decide which is the best.
Considering that quality boots often come with a high price tag, it's important to do a lot of research to ensure you're getting your money's worth.
Take, for example, the popular American brand Timberland. Despite being an American brand, most Timberland boots are not made in the United States. In fact, with just a few exceptions, all of the brand's men's and women's boots are made overseas.
But don't worry! If you're looking to buy a pair of American-made boots, we're here to help. Here's a list of eight of the best boot brands specifically made in the United States.
1. L.L. Bean
American boot brand: L.L. Bean starts at the lowest price point on the entire list!
L.L. Bean is a well-known outdoor gear brand that offers apparel such as jackets, tops, bottoms, and socks. However, despite a vast catalog of adventure-ready products, the brand's Bean boot is its most popular and bestselling item.
L.L. Bean's Bean boots are made of premium leather and feature waterproof rubber soles, and are available at an affordable price at L.L. Bean.
L.L. Bean's waxed canvas boots for men, women, and kids
In addition to listing these American-made boots at a reasonable price, L.L. Bean also offers an extensive list of discounts. Teachers, students, military veterans, and medical professionals all qualify for discount pricing at L.L. Bean.
L.L. Bean was established in 1911 in Maine when founder Leon Leonwood Bean created the Maine Hunting Shoe. The company does continue to manufacture in Maine, but only its Bean Boot collection.
Some of the other shoes on their website are imported, as stated on L.L. Bean's product pages. The company offers both men's and women's boot options.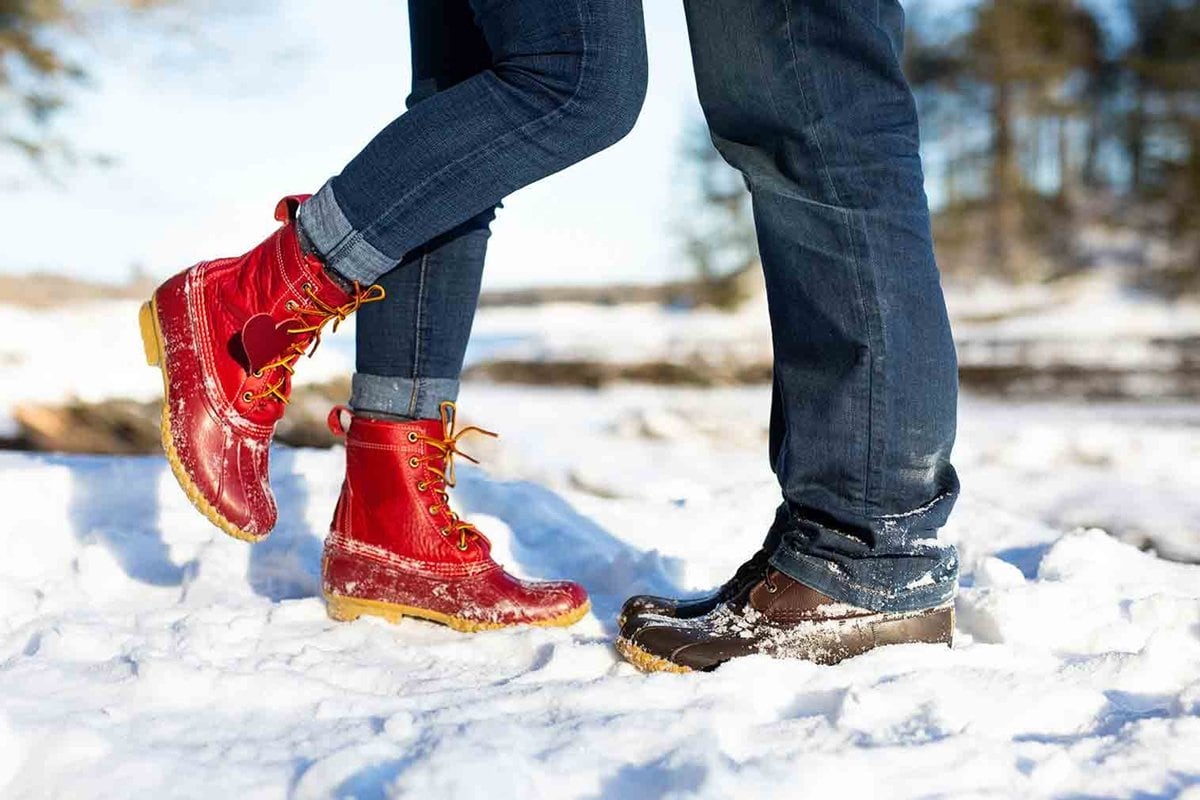 All the materials used to make L.L. Bean's Bean Boots are sourced and produced in the United States
L.L. Bean's Bean Boot collection for both men and women ranges from $99 to $240 per pair.
What Reviewers Say: Buyers state that Bean boots are high-quality shoes that keep their feet not only warm but also dry from wet weather. They are reported to be good for both rain and snow.
Buyers have found the selection of boots to be very stylish and durable. Most notably, buyers rave about L.L. Bean's great exchange policy and the lifetime guarantee that most of the brand's products come with.
2. Steger Mukluks
Boot brand Steger Mukluks has manufactured its products in Ely, Minnesota, since 1985. Steger Mukluks offers everything from knee-high boots to ankle boots and even moccasins.
Considering most products are made with moosehide and wool, it's almost surprising that a pair of boots from Steger Mukluks is the second most affordable product we've found.
While most of Steger Mukluks products are made in the U.S., some products are made overseas and imported. It's important to check each product page to ensure you're buying a product made in America.
Steger Mukluks manufactures comfortable winter boots and moccasins in Ely, Minnesota
Steger Mukluks offers men's and women's options both online and in stores. Despite the name, Steger Mukluks doesn't have any affiliation with Indigenous people.
What Buyers Say: Buyers love Steger Mukluks for being comfortable, warm, and great in the snow. Steger Mukluks boots are great for ice activities like mushing, ice fishing, and igloo building but may not be waterproof enough for long-distance treks, according to some reviews.
The boots are reportedly lightweight and easily repairable. The issue customers most commonly run into is customer service rather than the product itself.
3. Wolverine
Wolverine, founded in 1883 in Michigan by G.A. Krause, originally started as a tannery for gloves and work boots.
The brand later expanded to a mass boot-making factory in 1903 when the company was moved to Rockford, Michigan, just as electricity was being introduced.
Wolverine prides itself on its motto, "Strong Soles for Sturdy Shoulders." Wolverine is also a more affordable boot company with a lower price point.
One of the brand's most popular and best-selling styles is the 1000 Mile boots, which is the original Wolverine boot design that was first introduced in 1914.
Wolverine's iconic 1000 Mile boot is handcrafted in the USA
Like other brands, not all of Wolverine's products are entirely made in America. While the 1000 Mile boots are made here in the U.S., only a few other styles of work boots and steel-toe boots are made in the U.S. as well.
Frustratingly, Wolverine doesn't list the country of origin for each product on its website. Wolverine also doesn't offer a specific line of boots made in the U.S. as other brands do.
However, manufacturing information is able to be found elsewhere online. Nordstrom is a good place to start. The Wolverine boots that are made in the U.S. are typically manufactured in Michigan.
These Wolverine 1000 Mile boots are handcrafted in the USA
What Customer Reviews Say: Wolverine customers love the construction of the boots — especially the cushioned soles. Commenters say that the shoes provide great foot and ankle support, especially after the shoes are broken in.
Wolverine's shoes seem to be great to wear both for long periods of time and in wet weather. Buyers most notably mentioned how comfortable Wolverine shoes are — regardless of boot style — and how their feet stay warm and dry.
4. Chippewa
Chippewa is a popular boot brand that offers options for both the outdoors and worksites. The company says it was inspired by and pays homage to loggers, engineers, and mountaineers.
This Wisconsin-based company was founded in 1901, and while it does manufacture products in the U.S, some products are listed as "made in the USA with global parts."
Chippewa has a specific "Made in USA" collection on its website, but even products in this collection may still have global parts.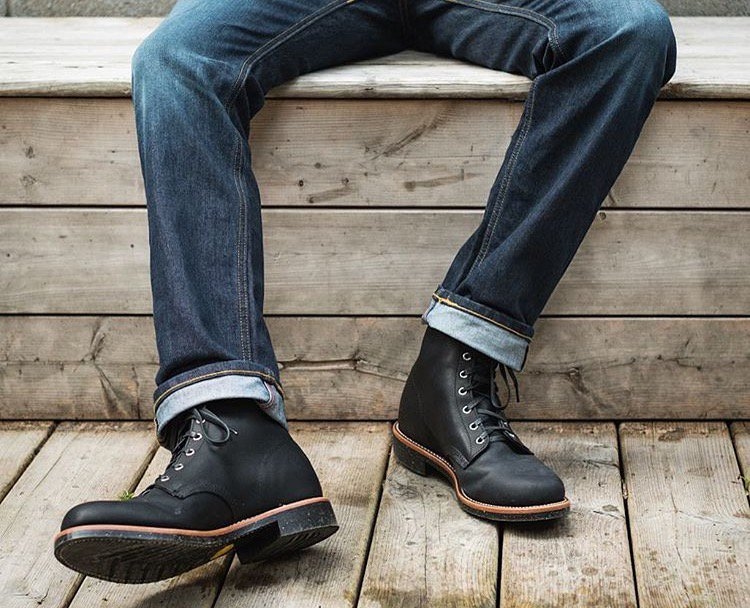 Chippewa's Aldrich Black 6″ men's rugged casual lace-up boot is made in the USA with global parts
Chippewa does offer both men's and women's options. However, the women's section is limited compared to the men's section. Additionally, while Chippewa seems to make men's boots in the U.S., women's boots are made overseas.
What Customers Have To Say: While Chippewa's offerings and shipping range are both limited (for example, California is out of its shipping zone), buyers still love Chippewa for the brand's high comfort and high-quality soled shoes.
One buyer did report that the "breathable layer" was not breathable enough, but most buyers did not have this issue. Buyers raved about the visible quality craftsmanship as well as the solid ankle support and protection. Chippewa boots seem to keep feet warm without being too hot.
5. The Frye Company
One of the oldest running American shoe companies is The Frye Company, which was founded in 1863 in Marlboro, MA.
The Frye Company offers both affordable styles and pricier styles, although even their most expensive styles are still not the priciest on our list. Frye boots are known to be versatile. Buyers often comment about how easy it is to dress these boots up or down.
Frye offers military and student discounts and has a company mission to help those in need by donating a portion of product sales to Feeding America.
Frye's Campus 14L stacked heel boot is made in the USA and sourced from domestic and imported products
While Frye does have a specific collection dedicated to all of its U.S.-made products, styles outside of the specific collection may be imported.
What Buyers Say: Customers most commonly comment about the high quality and wide variety of styles offered. Frye boots are not only stylish but also very sturdy and comfortable.
Some buyers have even called the styles offered "timeless." Frye has several options available for wide feet.
However, sizing reviews are mixed. Some buyers note that certain styles are too large while others are too small, depending on the boot style.
6. Danner
Danner, which has been operating since 1932, is committed to quality sourcing and production for its products.
The Portland, OR-based brand offers boots for work, hunting, military, tactical, law enforcement, fire, hiking, and lifestyle. Danner seems to offer the widest variety of boots of any company we have listed.
While Danner does import some of its products, most are still manufactured in America. Danner lists the country of origin on each product page.
Danner offers a wide range of shoe sizes for men, going up to size 16. Though Danner does technically offer both men's and women's styles, the women's selection is limited.
Danner's popular Mountain Light hiking boot is built by hand in Portland, Oregon
Danner only offers one style of women's boots made in America, and the men's range of tactical boots is more extensive.
Danner sells boots online and has multiple storefronts in Colorado, Washington, and Oregon.
What Buyers Say: Customers love boots from Danner because they are beautiful, well-made, and very comfortable. Many reviewers left positive comments about the fit and how comfortable these boots are to wear for long periods of time.
There have been mixed reviews about the boots being light or heavy, and Danner appears to be a popular choice for safety shoes. Many of the brand's styles are known to be true to size or run large, and Danner boots offer great protection and support.
7. Truman Boot Co.
While Truman Boot Co. was founded in rural Pennsylvania, the company shortly after moved to Boulder, Colorado, where it remains today. However, Truman boots are actually made in Oregon.
Truman is the newest American boot company on our list. It was founded in 2014, and according to the brand's website, Truman is influenced by "American workwear, heritage tradecraft, and western culture."
Truman boots are completely manufactured in America. In fact, Truman is the only company on our list that doesn't offer any styles that are produced or manufactured overseas.
This Gray Waxy Rough Out derby shoe and all other shoes from Truman Boot Co. are created in Eugene, Oregon, entirely by hand
Every Truman product is made in Oregon, and boot leather is handled at a tannery in Illinois. However, like most of the brands on our list, Truman's men's line is much more extensive than its women's line.
What Buyers Say: Buyers love the wide range of sizing, which goes up to size 14 for their men's line. Truman Boot Co. boots were noted as tough, waterproof, and requiring little maintenance.
This Rambler boot is made in Eugene, Oregon, using leather from Charles F. Stead tannery in Leeds, UK
Reviewers pointed out the quality craftsmanship, thick leather, heavy sole, and sturdiness. One buyer even noted that they didn't even need to break in the shoes because they were that comfortable.
8. Red Wing Shoes
Red Wing Shoes, founded in Red Wing, Minnesota, in 1905, is best known for a wide assortment of styles that come at a high price point. Red Wing shoes are the most expensive shoes on our list.
Red Wing claims that its shoes are great for rough environments and are made to be extremely durable. The brand offers both a "Work" line for safety and a "Heritage" collection for lifestyle and day-to-day wear.
During both World Wars, the company was the primary footwear manufacturer for American soldiers.
Red Wing's Heritage boots are all made in the USA
The Red Wing Shoes website also offers options from other companies which may not be made locally.
While Red Wing's Heritage line offers products all made in the U.S., Red Wing's Work line does not. While Red Wing products are primarily manufactured in the U.S., Red Wing is open about the fact that it does also have international facilities and warehouses.
Much like Frye, Red Wing Shoes also participates in charity work. Red Wing partners with Good360 to donate a portion of the proceeds to disaster relief. Red Wing Shoes has multiple storefronts, but all are located in California.
Red Wing Shoe Company is a family-owned business that was founded in Red Wing, Minnesota in 1905 (Credit: Red Wing Shoes)
What Buyers Have To Say:
Red Wing Shoes customers love how well-made the shoes are, as well as the handcrafted details and thick, durable leather. Some have found that the select styles appear to be oversized, which has been a benefit for those who require larger shoe sizes.
Others say there is a difficult break-in process for these boots but advise that once broken into, the shoes are very resilient and great for daily wear. One reviewer on Amazon said he is able to wear Red Wing Shoes boots for 2-3 miles a day.