Timberland boots have become one of the most popular casual footwear styles of this generation. Because of their trusted quality and distinctive style, many consumers consider the American label the go-to brand for boots.
However, due to the insatiable demand, it is also one of the most popular brands among counterfeiters. Buying Timberland boots directly from Timberland or authorized retailers like Zappos and Nordstrom is arguably the simplest way to ensure you get the real thing.
Timberland's iconic shoes are worn by customers from all walks of life, from the most famous A-listers to the average Joe.
Timberland is committed to ensuring that the brand remains a symbol of quality and durability

The good news is that while fake products may look like real ones from afar, dozens of telltale signs can help you identify counterfeit items.
Before spending your hard-earned moolah, take some time to do some research and educate yourself on how to spot knock-off Timberlands.
The most popular online websites to buy authentic Timberland boots are Timberland, Amazon, Nordstrom, Zappos, and Nordstrom Rack.
Timberland's shoe store in the King of Prussia, Pennsylvania
Here are seven easy ways to check for signs of counterfeiting:
1. Check the box
All genuine Timberland shoes come in a sturdy box made from recycled materials. These brown boxes display the brand's name and branchy tree on a field logo.
The side of the box also features a label that shows detailed information about the shoes, like size, style, color, and footprint details.
Make sure that the details displayed accurately describe the boots inside the box.
2. Check the tag
Most fake Timberland boots offered by fraudulent online stores and vendors place a barcode on the tag attached to the eyelet.
Though they may look similar to real boots at first glance, knockoff shoes are often made from poor-quality materials and lack the detailing and craftsmanship Timberland is known for
While barcodes on tags may be a common detail for other shoe brands, this is not the case for Timberland, which never prints barcodes on eyelet tags.
This is one of the easiest ways to know if your Timberlands are genuine and not knock-offs.
3. Check the logo
While fake Timberlands will normally still have the logo printed at the tongue or at the outer heel side of the shoes, you will notice discrepancies and slight differences in their shape, spacing, and color.
Genuine Timberland boots display a faultless and high-quality logo, carrying the brand name and logo on the outsoles.
4. Inspect the stitching
Genuine Timberland boots flaunt high-quality stitching that is evenly spaced and in four rows throughout the boots. The thread color used also matches the color of the shoe for a cleaner finish.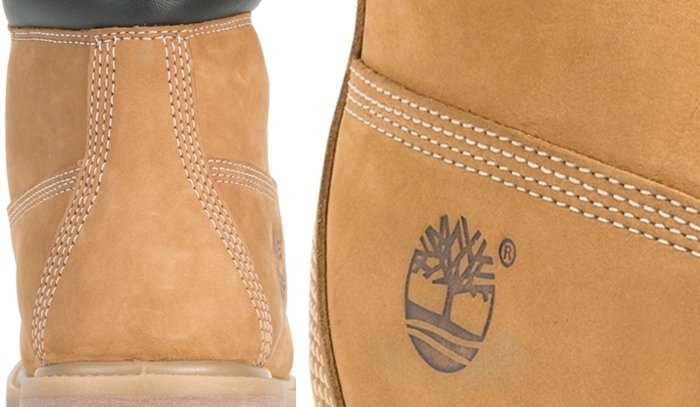 Counterfeit shoes often have uneven stitches with too light or too dark threads.
5. Feel the shoes' texture and weight
All genuine Timberland boots do not just look good; they also feel good. If you can actually hold the shoes and inspect them before purchasing, do so.
Being made of leather, suede, and high-grade rubber, these boots should feel a little weighty. It could indicate poor materials used if it feels light on your hand.
6. Verify the style
Most counterfeit manufacturers copy the most popular styles, but several imitators also produce unique styles they come up with independently.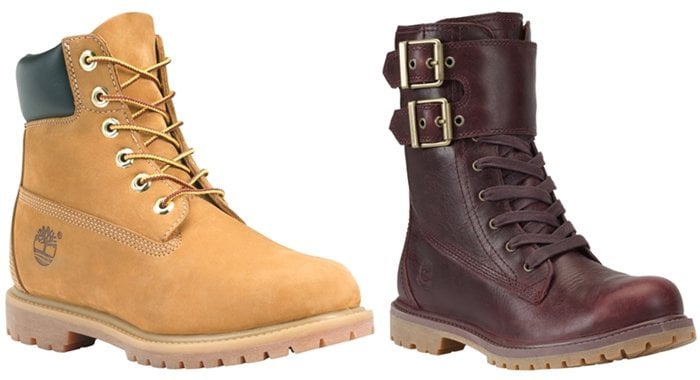 Inspect the style number (usually printed under the tongue or along the inner lining), and check online if it matches the shoes. Familiarity with the shoe/boot styles will also help easily determine fake Timberlands.
7. Check if the store is an authorized retailer
The official Timberland website has a "store locator" tool that allows you to search for authorized Timberland retailers in your area.
If you're buying shoes from a brick-and-mortar retailer, this is an easy way to check whether you're getting the real deal.
When shopping online, it's best to stick to established retailers, such as Amazon, Nordstrom, Zappos, and the official Timberland website.
While buying Timberland products on eBay is possible, look at our eBay shopping guide to ensure you don't get scammed. For other retailers like AliExpress, see our tips on determining whether a website is trustworthy.
Timberland Questions & Answers
Are Timberland boots waterproof?
Most boots are waterproof, but not all. Normally, the shoe description will tell you whether or not the style is protected with TimberDry waterproof membranes, which are made from 50% recycled plastic.
What does Timberland stand for?
It means "land that is covered with trees and shrubs", which is why the company uses a branchy tree on a field as its logo.
Does Timberland use real leather?
Yes, the company uses animal‐derived materials from U.S. cattle that are raised for food and processed according to USDA guidelines.
Are Timberlands made in the USA?
The company has more than 300 factories in 30 countries around the world, including some located in the United States. The American Craft collection is crafted entirely in the USA using American leather.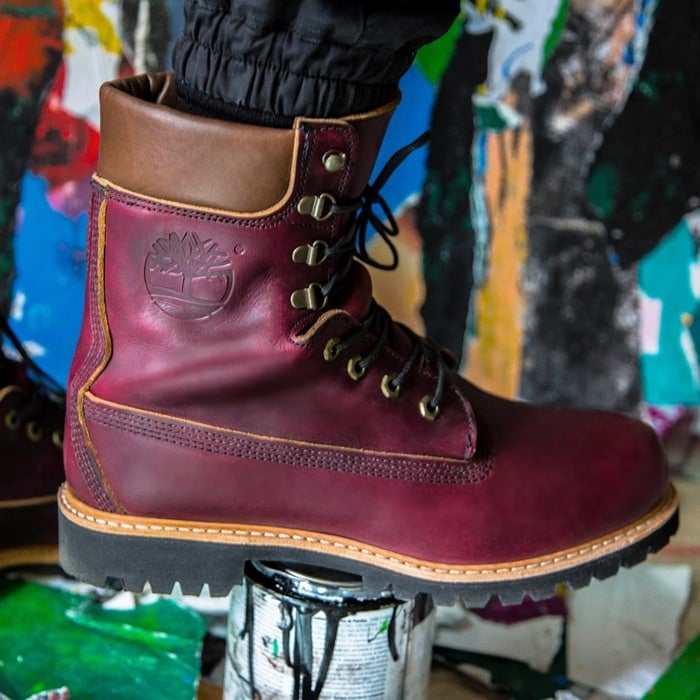 Timberland's American-made boots are crafted entirely in the USA using genuine Horween Chromexcel leather
Other factories are located in Argentina, Bangladesh, Brazil, Cambodia, China, Dominican Republic, El Salvador, France, Germany, Guatemala, Hungary, India, Indonesia, Italy, Japan, Jordan, Korea, Mauritius, Mexico, Republic of Moldova, Pakistan, Romania, Slovakia, Spain, Taiwan, Thailand, Turkey, and Vietnam.
What's the difference between Timberland and Timberland PRO?
Timberland PRO is the brand's collection of durable, attractive, and protective work boots for men and women. Assessing the unmet needs of people who work in the most demanding environments, the products are normally waterproof.
Timberland PRO boots typically feature a composite safety toe powered by CarbonShield technology, an Anti-Fatigue polyurethane footbed that absorbs shock and returns energy, and an anti-microbial lining that is breathable and moisture-wicking.
The Timberland PRO line of work boots was introduced in 1999.
Celebrities Wearing Timberland Boots
Hollywood stars are definitely among the many fans who make these boots part of their regular wardrobe.
Ariel Winter wears pink Timberland boots while leaving Petco with her boyfriend Levi Meaden in Studio City on May 10, 2018 (Credit: WENN)
Famous fans of the popular footwear brand include Khloe Kardashian, Kim Kardashian, Kendall Jenner, and Amber Rose.
Pharrell Williams receiving a star on the Hollywood Walk of Fame in Los Angeles on December 4, 2014 (Credit: WENN)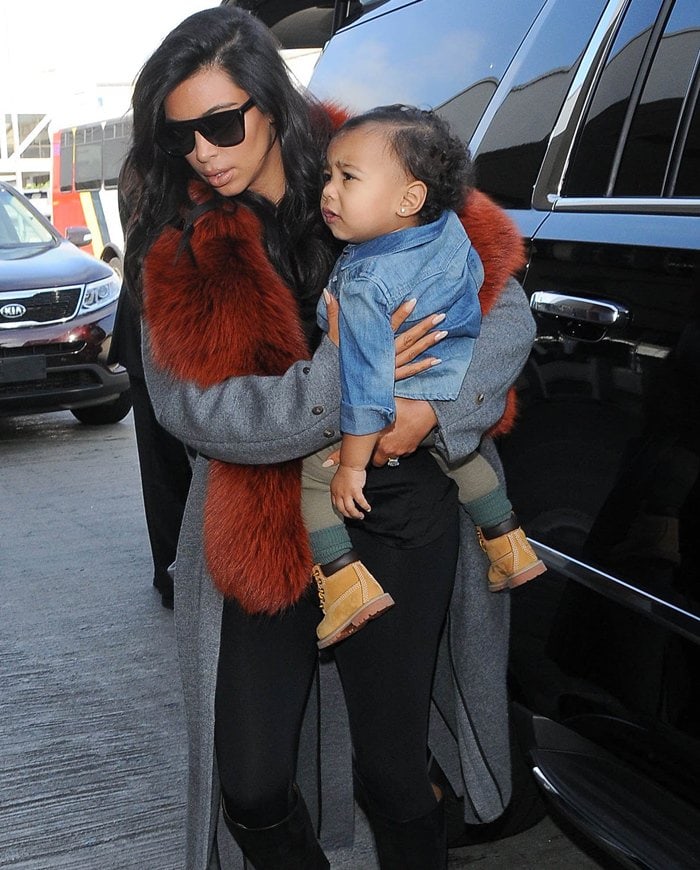 Kim Kardashian and North West (in Timberland toddler boots) at LAX on September 22, 2014 (Credit: WENN)
Watch the following video to help you better spot counterfeit Timberland boots. Also, don't miss our guide showing how to clean Timberlands!