Baby's first word, baby's first step, and baby's first … fashion show? That milestone is expected when you're the offspring of Kanye West and Kim Kardashian.
Fifteen-month-old North West tagged along with mommy and daddy to the Balenciaga Spring/Summer 2015 fashion presentation on Wednesday during Paris Fashion Week, where she naturally took her place right in the front row.
Kanye West and Kim Kardashian with North West heading to the Balenciaga runway show as part of Paris Fashion Week Womenswear Spring/Summer 2015 in Paris, France, on September 24, 2014
Kim revealed to Yahoo! Style that North West's first fashion show appearance was actually a last-minute decision. "She started to cry when we were walking out the door," Kim said of North. "And we couldn't leave her. So, it was a spur-of-the-moment thing."
For an unplanned outing, Kanye, Kim, and North's all-black outfits were very coordinated. Mr. West wore a black velour sweatshirt and a pair of ripped jeans; Mrs. West was in a Balenciaga turtleneck, peplum pants, and pointy pumps; and Nori was in a daddy-approved Yeezus tour sweatshirt, a leather skirt, leather leggings, and Timberland boots.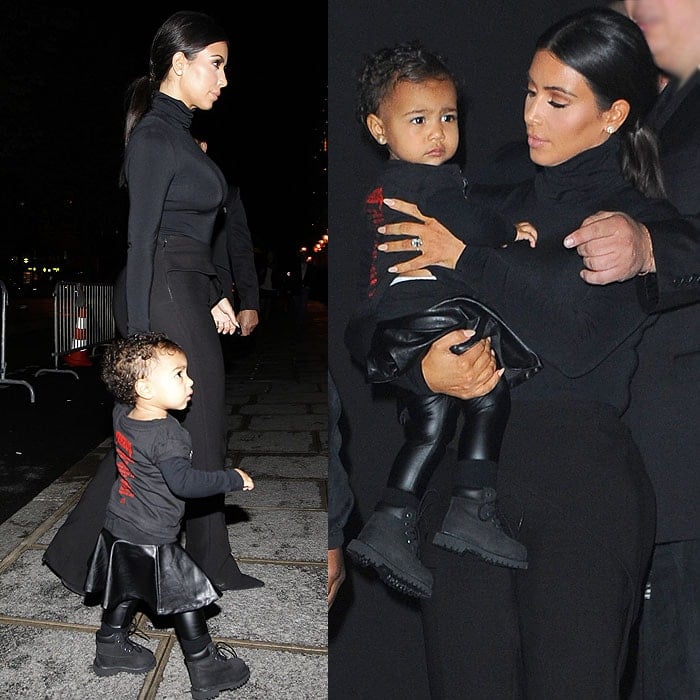 Kim Kardashian and North West in matching all-black outfits
Baby North West in a Yeezus tour sweatshirt, a black leather skirt, black leather leggings, and black Timberland boots
Closeup of North West's and Kim Kardashian's shoes at the Balenciaga Spring/Summer 2015 fashion show
Kim's shoes look to be the same Jimmy Choo "Anouk" pumps she wore to attend another fashion show. We don't know why she didn't wear her favorite Balenciaga pumps; it would have been more appropriate to wear them to a Balenciaga fashion show.
Baby Nori, on the other hand, rocked her new pair of baby Timberland boots. They look similar to this five-eye style that is waterproof and scuff-proof:
Baby/Toddler Waterproof and Scuff-Proof 6-Inch Premium Boots, $79.95 at Amazon
Credit: WENN