Balenciaga is one of the hottest designers of the moment. While the brand was once famous for its motorcycle-inspired bags, its shoes are now its best seller.
Balenciaga shoes are a favorite amongst A-list celebrities. Kim Kardashian, Rihanna, Salma Hayek, and Kylie Jenner are all known for their love of Balenciaga shoes.
Balenciaga has become famous not only for its motorcycle-inspired bags but also for its chunky shoe designs (Credit: Andersphoto / Shutterstock)
The rise of 'super fakes' means it's becoming ever more difficult to tell real vs. fake Balenciaga shoes apart. If you're buying your shoes pre-loved, you need to know how to spot fake Balenciaga shoes.
Whether you're starting your designer shoe collection or want to splurge on a new pair, Balenciaga has something for everyone.
Where are Balenciaga Shoes Made?
Balenciaga shoes are made in Italy, France, and China – depending on the style. Before 2018, most Balenciaga shoes were manufactured in Italy, with only a small number produced in France.
Since 2018, Balenciaga has switched part of its manufacturing to China. Sneakers from the 'Speed' collection, along with Balenciaga boots, are still made in Italy. The Triple S sneaker, Balenciaga's most popular style, is made in China.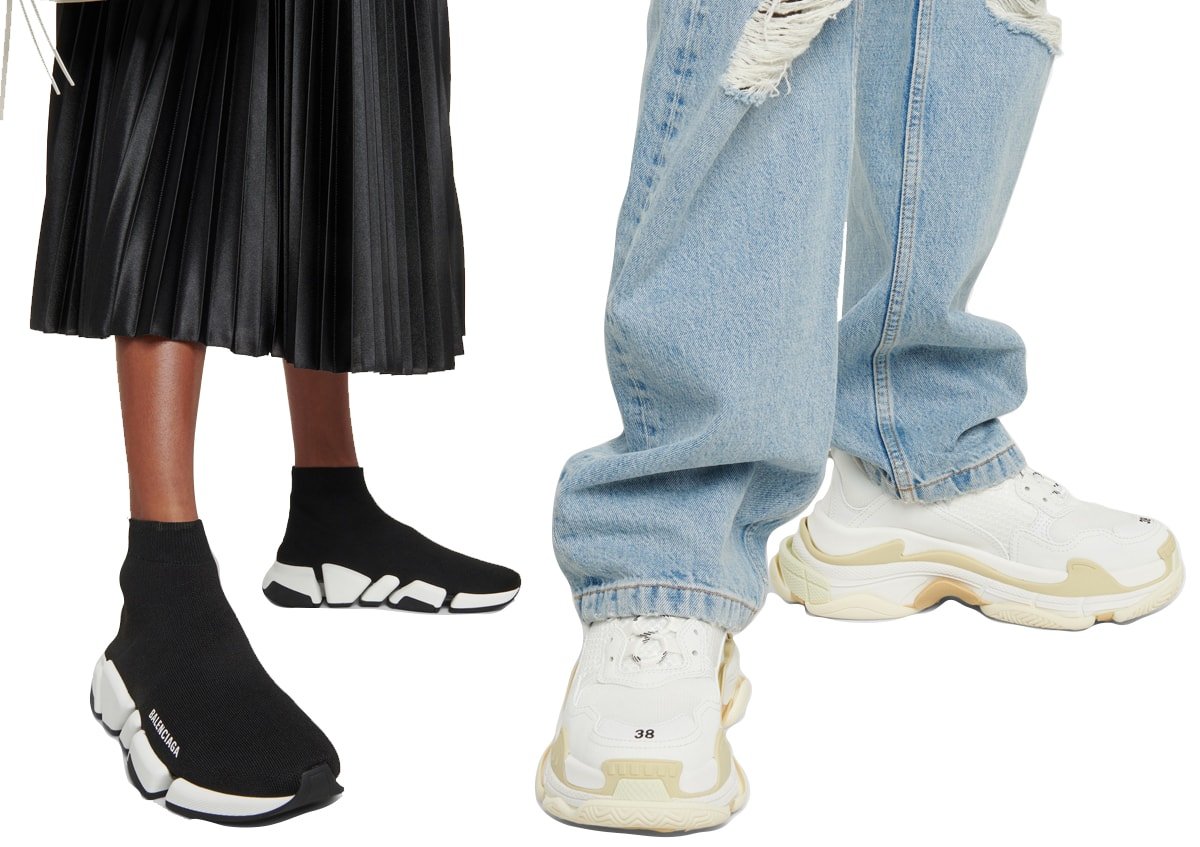 The Balenciaga Speed collection is manufactured in Italy, while the popular Triple S style is made in China
The different manufacturing locations can make it harder to spot real vs. fake Balenciaga shoes. You want to check where your specific shoes are manufactured to help you authenticate them.
While a 'Made in China' label is usually a sign of a fake, this isn't the case with Balenciaga shoes. More designers are choosing to export their manufacturing to China, particularly for sneakers.
How much are Balenciaga Shoes?
Balenciaga shoes are some of the most expensive on the luxury market. You can expect to pay between $565 and $2,150 for Balenciaga shoes.
The most popular Balenciaga sneakers retail between $995 and $1,150. Balenciaga's website now allows you to pay for some of their shoes using crypto payment.
Secondhand markets typically sell Balenciaga shoes for at least 75% of the retail price (Credit: Sozon / Shutterstock)
The cost of Balenciaga shoes on the resale market will vary depending on the condition and style.
Current styles, particularly the Triple S, hold their value better than most designer shoes. You can still expect to pay at least 75% of the retail price for pre-loved Balenciaga shoes.
How to Spot Fake vs. Real Balenciaga Shoes
The rise of 'super fakes' means it's difficult to tell the difference between fake vs. real Balenciaga shoes. The best way to guarantee that you're getting authentic Balenciaga shoes is to purchase directly from Balenciaga or an authorized stockist.
There are a few things to look out for when determining whether Balenciaga sneakers are fake or genuine.
1. Balenciaga Logo Font
One of the easiest ways to spot fake Balenciaga shoes is by looking at the embroidery and embossing of the logo. You'll typically find the Balenciaga logo on the side of the shoe.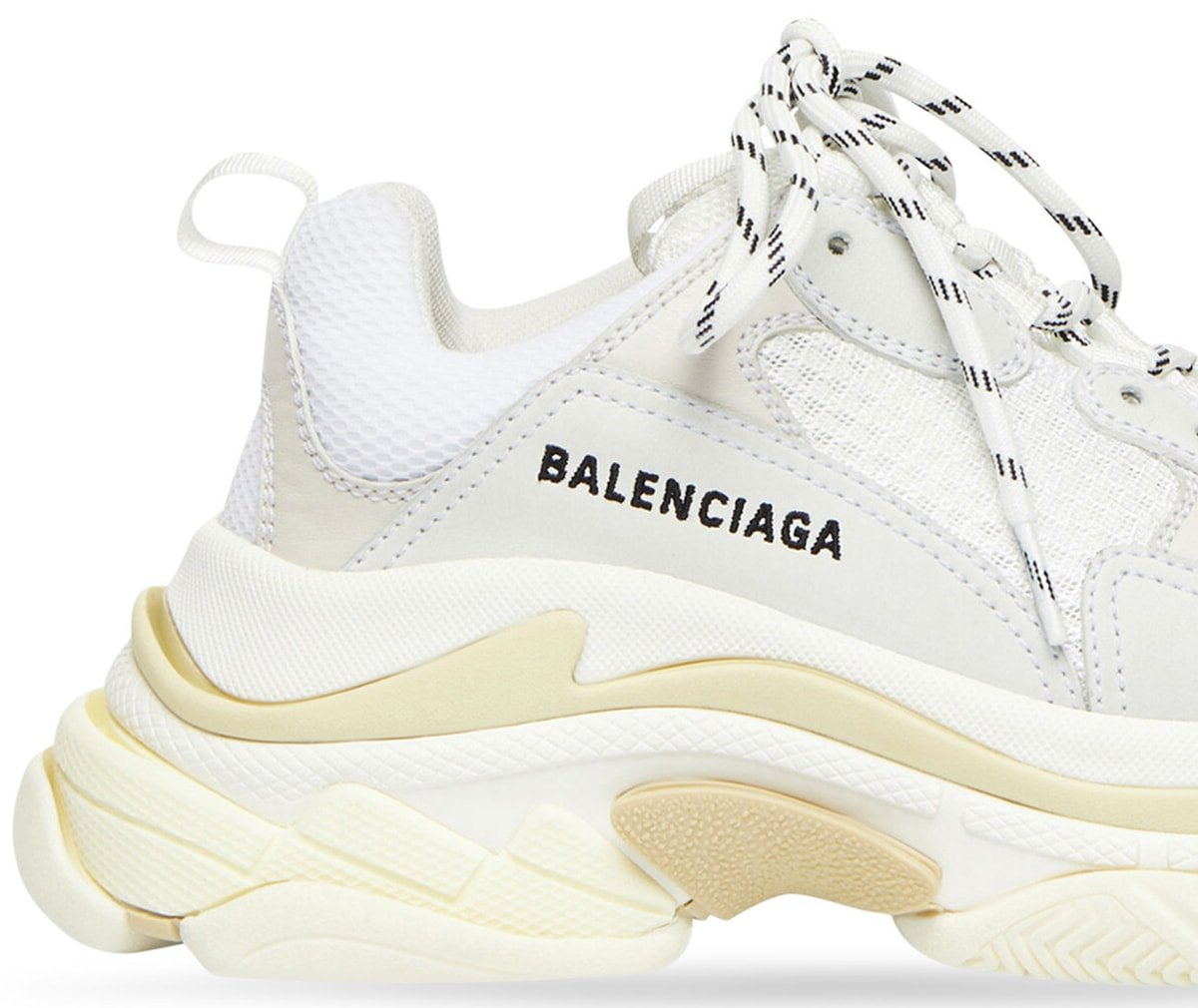 Balenciaga shoes usually have logo embroidery/embossing on the side
Pay attention to the font used. It should be consistent with each letter in line. The A, C, and G are often tell-tale signs of sneakers being fake.
The Balenciaga logo should have neat, consistent, and properly aligned lettering
2. Toe Box
Look at the detailing on the toe box of your shoes. Balenciaga is known for its luxury quality. You shouldn't be able to see a stitch out of place. Check the density of the mesh on the toe box and whether it should feature the size on the toe box.
Several styles, including the Triple S Sneakers, should feature the European size on the toe box. This number should be consistent with that on the box and interior label.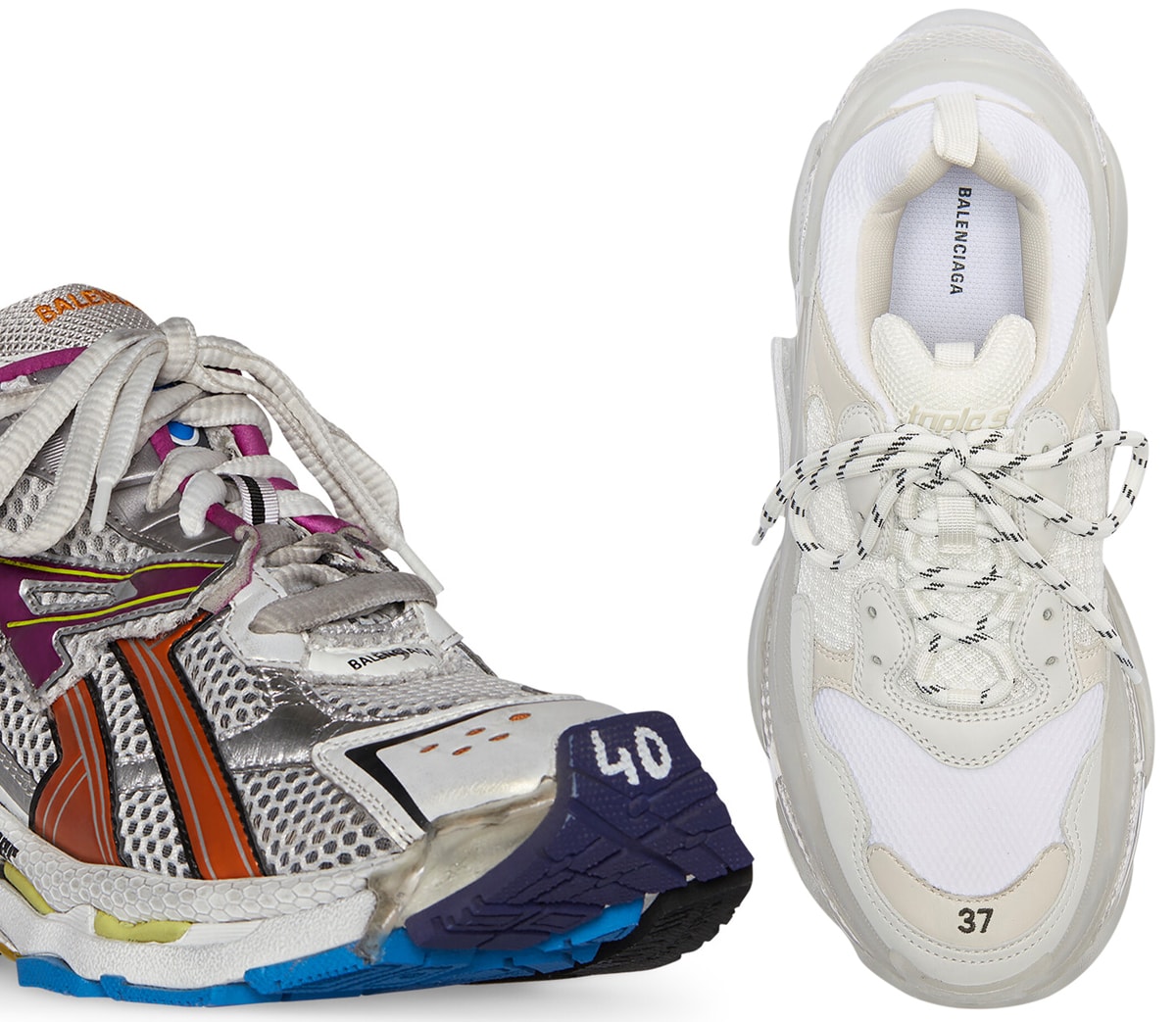 Aside from the stitches, also check whether the shoe style should have the European size on the toe box
3. Size Tag
The size tag inside the tongue of the shoe is one of the best ways to determine fake vs. real Balenciaga sneakers. The label should clearly state where the shoes are made.
It's worth noting that many Balenciaga sneakers are made in China. You can double-check the manufacturing country on Balenciaga's website.
The label inside the tongue of the shoe should include the size and manufacturing country
4. Quality
Quality is what will set fake vs. real Balenciaga shoes apart. Take the time to examine as many of the shoes as possible.
The stitching should be consistent, clean, and smooth. The font used should be small and clear for the tongue label. If anything feels poorly made, it's a red flag.
Check the overall quality and feel of the shoes, including the font, labels, stitching, and soles
The 4 Most Popular Balenciaga Shoes
While Balenciaga is one of the most popular designer footwear brands, its range is relatively limited compared to other brands. We're rounding up the most popular Balenciaga shoes you can buy right now.
1. Speed 2.0 Recycled Knit Sneaker, $995 at Saks Fifth Avenue
Are you looking for Balenciaga sneakers under $1000? Check out the Speed 2.0 sneakers. These shoes are made using a recycled knit with contrasting white and black soles. The 'Speed' shoes are currently still made in Italy.

Made from recycled technical 3D knit fabric, the Speed 2.0 features a sock-like upper and a "No Memory" sole technology monocolor sole unit
This silhouette is famous for its 'sneakers meet socks' look. They feature a 'no memory' sole technology with an extra lightweight feel. These sustainable sneakers are a must-have for every Balenciaga fan.
2. Defender Sneaker, $1,150 at Mytheresa and Farfetch
The Defender is a sneaker that makes a statement. These leather-free sneakers feature mesh and nylon with a worn-out effect. You can instantly recognize these sneakers from their oversized platform with extreme tire tread sole.
The Balenciaga Defender is defined by the oversized platforms and tire tread soles
These shoes aren't for the faint of heart. They're a streetwear staple but have divided the fashion community. The distressed style of these Balenciaga shoes means they're not for everyone. These shoes are for you if you're a fan of a laidback LA-inspired look.
3. Triple S Sneaker Clear Sole, $1,150 at Mytheresa and Farfetch
If you're buying your first pair of Balenciaga shoes, choose the Triple S sneaker. These shoes have quickly gained a celebrity following and offer an activewear look without the distressed feel of the Defender sneakers. You could style the Triple S with bicycle shorts, leather pants, or a floral dress.

The Balenciaga Triple S Clear Sole is a chunky sneaker that boasts transparent namesake 6.5cm sole units found on running, track and basketball shoes
The Triple S sneakers feature an embroidered Balenciaga logo on the side with a washed effect to create a 'well-worn' look. These Balenciaga shoes are made in China.
4. Track Sneaker, $895 – $1,050 at Nordstrom and Farfetch
Upgrade your walking shoes to the Track Sneaker. These non-leather sneakers are made using nylon and mesh with a BB embossing on the outsole. They feature a subtle logo printing on the shoe's exterior with a dynamic sole design for extra support.
The Balenciaga Track sneakers are made in China and available in an array of neutral color options.
The Track sneakers are made of nylon and mesh and feature high-performance craftsmanship similar to those found in hiking and running gear
Balenciaga shoes deserve a spot in every collection. The brand is the driving force behind the revival of designer sneakers and is leading the way with streetwear looks. The popularity of Balenciaga shows no sign of slowing down. Want to splurge on designer sneakers? It's got to be Balenciaga.