A new year brings with it new goals. For some of us, it's about our wellness routines, career goals, or life experiences. For others, it's about making investment purchases into our closet.
Designer shoes are a closet staple that can elevate any outfit and add a personal touch to your look. Whether it's your first or twenty-first pair of designer shoes, you want to make sure you're investing your money wisely.
With most designer shoes setting you back several hundred dollars (at least), they're not usually an impulse purchase. When a pair of designer shoes go viral, you might find yourself clutching at your credit card.
We're breaking down the best designer shoes to invest in for 2022, sharing what makes them each a cult classic and why the style is trending.
2022 is a perfect time to start investing in your footwear – using this guide as your shopping list. You'll want to bookmark this page to refer to the next time you're in the market for new designer shoes.
1. Balenciaga Triple S Sneakers, $995 at Farfetch
We're kickstarting our list of 2022 designer shoes with a modern classic – the Balenciaga Triple S sneakers. These white sneakers are one of the best investments you can make into your closet for their versatility.
They are the sneakers you can wear for brunch out with your girlfriends or with a pantsuit for a streetwear look.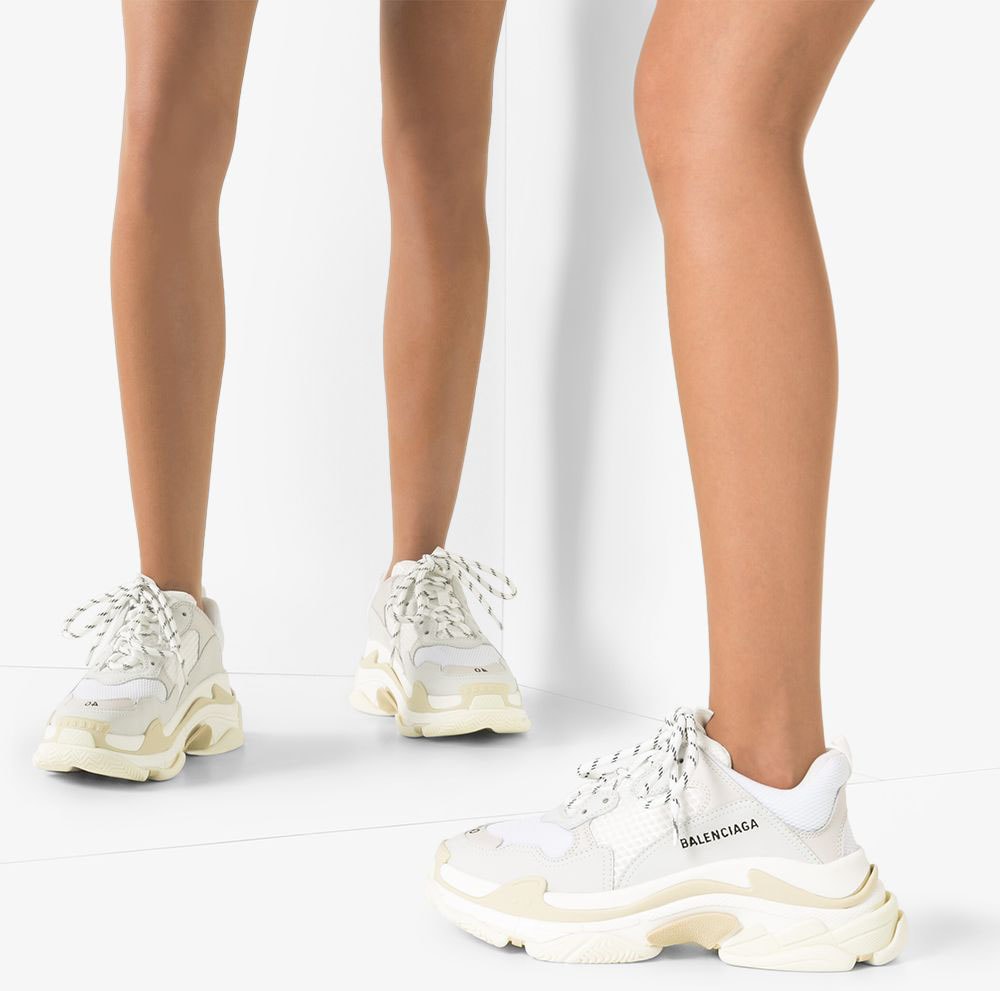 Offering triple comfort and coolness, the Triple S sneakers have breathable mesh paneling and chunky heels with ridged rubber soles
The Balenciaga sneakers are instantly recognizable for their ridged rubber sole and mesh paneling, complete with the subtle Balenciaga logo.
If 2022 is the year you plan on adding designer sneakers to your closet, don't overlook this style. While they're simple, they're an everyday essential.
2. Off-White Odsy 1000 Sneakers, $850 at Farfetch
One streetwear brand that isn't slowing down in 2022 is Off-White. If you're a follower of influencer and celebrity style, you've likely spotted these sneakers making an appearance on your social media feed.
The 'Odsy 1000' sneakers are inspired by the industrial aesthetic that is at the heart of the brand's identity.
The Odsy is a key brand silhouette that boasts Off-White's industrial aesthetic with a paneled design, the brand's signature Zip Tie, and signature arrow motif
What makes these chunky sneakers unique is the signature Zip Tie that adds a unique Off-White twist to the minimalistic design.
3. Prada Crystal-Embellished Slingback Pumps, $1,400 at Nordstrom
For years we associated Prada with its iconic nylon collection. Since the launch of their iconic crystal-embellished bag, we've been seeing Prada through a new lens.
With all the craze over their crystal embellishments, it's no surprise that the trend is popping up in their footwear.
A glimmering modern Cinderella shoe with a comfy comma heel made of rubber shell
If you want a modern Cinderella shoe with the comfort of a comma heel, then these are the designer shoes for you. The iconic triangle Prada logo contrasts the classic black detailing for a subtle logomania moment.
4. Jimmy Choo Bing 100 Stiletto Mules, $1,095 at Mytheresa
Are you looking for a modern classic? Meet Jimmy Choo's 'Bing' heels. They're amongst the brand's best-selling styles and are guaranteed to elevate any outfit.
As classic mules, these shoes offer timeless elegance with a contemporary twist. We're loving this style for its shiny neon transparent vinyl – a breakaway from Jimmy Choo's usual choice of patent leather.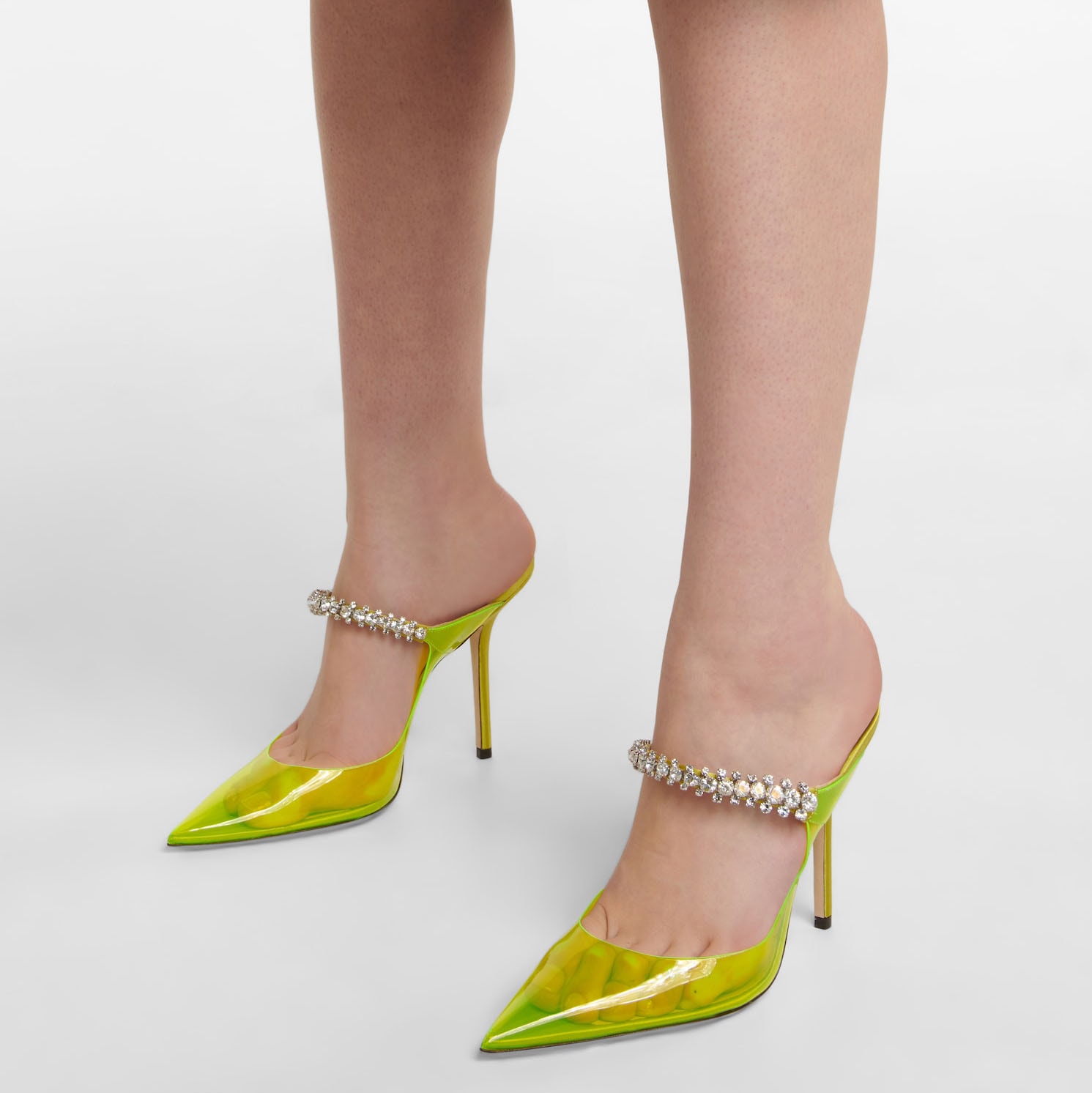 Providing timeless elegance with a contemporary twist, the Bing mules are designed from neon yellow PVC elevated with a crystal-embellished strap
These neon yellow heels with their distinctive crystal-embellished ankle strap are guaranteed to land you a spot on the best-dressed list. The 'Bing' heels are the perfect choice for a Dancing Queen or the birthday girl.
5. Saint Laurent Opyum 110mm Leather Pumps, $1,095 at Saks Fifth Avenue
When we're looking at designer shoes, it's not often that the heel is what catches our eye.
These Saint Laurent leather pumps are everywhere we look on social media. What makes them unique is that the heel replicates the structure of the brand's heritage 'YSL' logo.
A classic pair of open-toe patent pumps adorned with a sculpted monogram YSL heel
These shoes have an otherwise simple design, while the YSL heel makes sure that everyone knows you have amazing taste in shoes. The 110mm heel creates a statement moment that any fan of Saint Laurent will appreciate.
6. Mach + Mach Double Bow 100mm Pumps, $1,035 at Farfetch
You know a shoe has become iconic when you start to see mainstream brands replicating it. These double bow Mach & Mach heels are the perfect choice for the Carrie Bradshaw wannabe.
If Sex and the City were set today, these would have taken the place of Carrie's classic Manolos.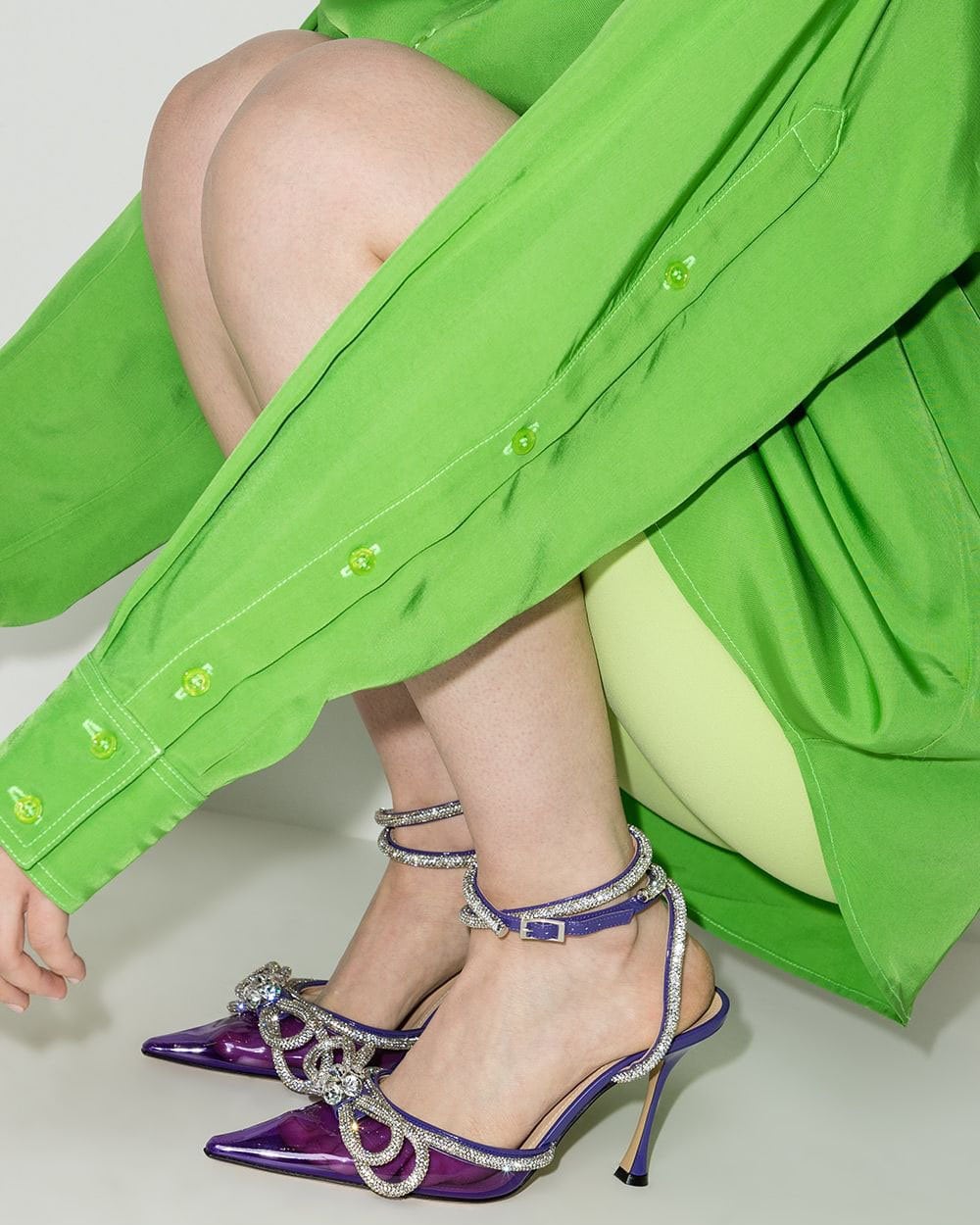 Playful and feminine, the Mach & Mach Double Bow pump is crafted from purple PVC with leather trims and features a crystal-embellished ankle strap and a double bow applique
The eye-catching silhouette is unapologetically feminine with a playful and flirty feel that focuses on the sparkle of the crystal embellishments.
These heels are the plus one that you'll want to take to your next black-tie event. They also make a statement stiletto for a birthday bash, engagement party, or wedding guest look.
7. Gucci Web-stripe Low-Top Sneakers, $850 at Farfetch
When it comes to footwear, Gucci is synonymous with its sneakers. When the designer sneaker craze kicked off a few years ago, Gucci led the way with their web-stripe shoes.
These sneakers incorporate all the key elements of Gucci – from its web-stripe to the interlocking G logo.
Featuring Gucci's key elements, these versatile white sneakers boast the fashion house's web-stripe and interlocking G logos
The flatform sole and perforated panels offer a more contemporary twist to these sneakers, making them a more wearable alternative to the Balenciaga Triple S sneakers.
8. Prada Monolith Pouch Detail Boots, $1,990 at Farfetch
If you're on the streetwear side of TikTok, you'll have seen these Prada boots. They're the fashion house's interpretation of the utility trend, giving the classic combat boots an update with a distinctive Prada twist.
Prada redefines utilitarian combat boots with the Monolith boots, built with branded pouches and chunky ridged rubber soles
These boots capture the current essence of the Prada brand. The two branded pouches are detachable, giving you a versatile accessory to use on the go. You'll find the classic enamel triangle logo on the boots, along with the ridged rubber sole and low block heel.
9. Golden Goose Star-Patch Lace-Up Sneakers, $655 at Farfetch
Another sneaker brand that had to make an appearance on this list is Golden Goose. This brand has cult-following amongst celebrities and influencers alike.
If you're a fan of designer sneakers, your collection won't be complete without a pair of Golden Goose shoes.
Inspired by 'perfect imperfections' alongside traditional craftsmanship, these multi-paneled Golden Goose sneakers feature the signature distressed-effect and star-patch detailing
These star-patch sneakers are from the brand's most recent collection. What makes all Golden Goose sneakers unique is that they're handmade, giving them 'perfect imperfections' that come from traditional craftsmanship.
These sneakers are effortlessly chic and give you the unlimited laidback look.
10. Gucci x The North Face Ankle Boots, $1,490 at Farfetch
One of the most exciting brand collaborations of 2022 is Gucci x The North Face. These two brands may feel like an unlikely pairing, but they reflect the growing trend of athleisure and outdoor living.
You get the classic Italian luxury with an adventurous look that is equally Gucci while maintaining the feel of The North Face.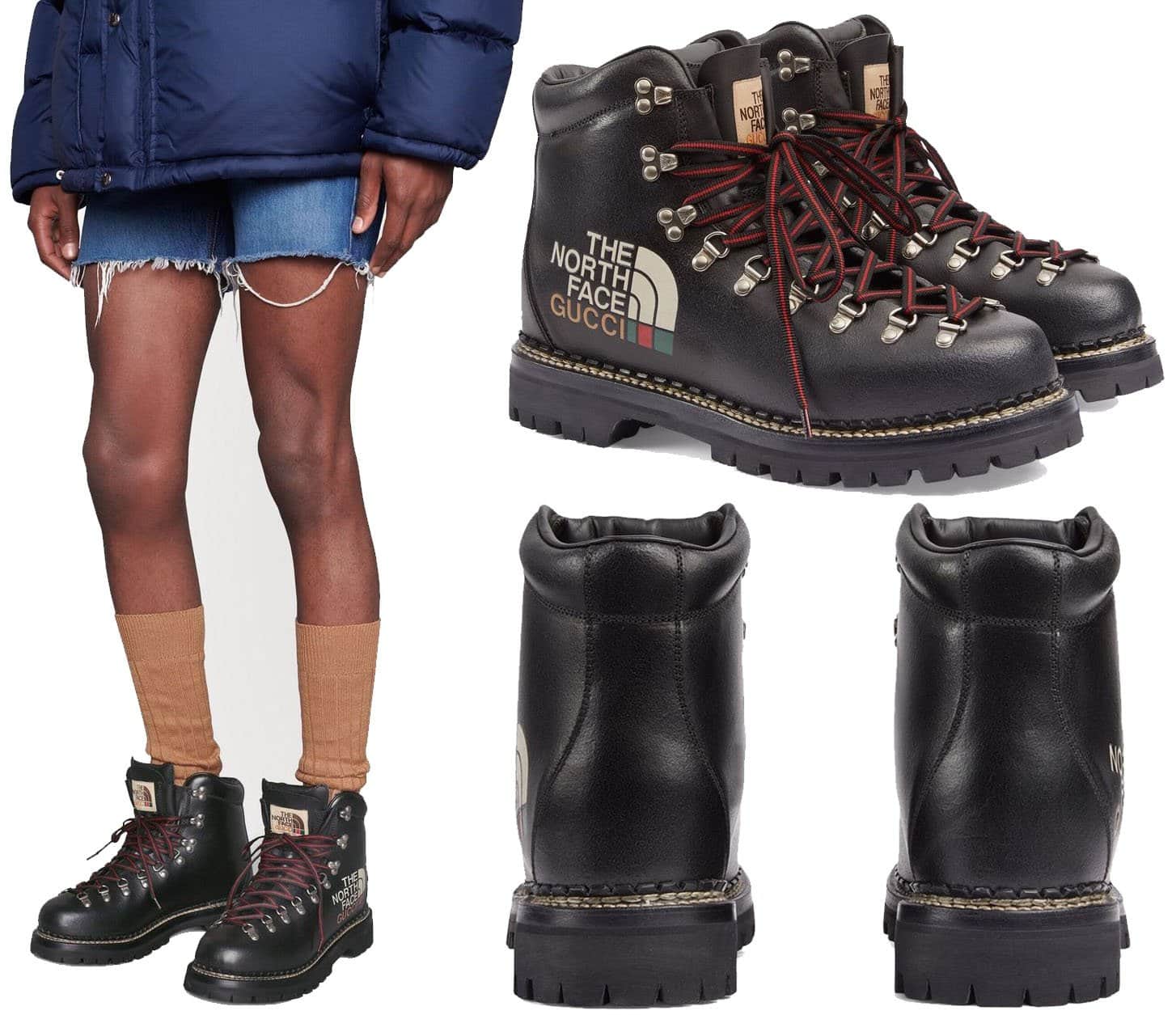 Combining Gucci's Italian craftsmanship with North Face's adventurous spirit, these hiker-inspired ankle boots are crafted from leather and detailed with logo prints
If you're a fan of ankle boots, these hiker-inspired shoes will be right at home in your closet. This collaboration has been selling out fast. If you're lucky enough to get your hands on them during a restock, grab them right away.
11. Saint Laurent Leopard Print Leather Espadrilles, $425 at Farfetch
Espadrilles have become a staple shoe for spring and summer. While Chanel has a claim to the most recognizable espadrilles, the price of their footwear continues to skyrocket.
These Saint Laurent espadrilles sit at a more attainable price point and incorporate the classic leopard print on the uppers.
Saint Laurent continues its affinity for bold and timeless prints with these leopard-printed leather espadrilles, embroidered with the iconic YSL logo on the heel
The classic YSL logo – which has been used since the 1960s – appears on the heel in a contrasting black embroidery that adds a vintage-inspired look to the shoe.
12. Amina Muaddi Giorgia 105mm Crystal Embellished Sandals, $1,335 at Farfetch
Amina Muaddi is quickly becoming this generation's Christian Louboutin. Her styles are an instant hit as soon as they hit the shelves.
These 'Giorgia' heels offer a minimalistic silhouette that is elevated by the crystal embellishments on the ankle straps.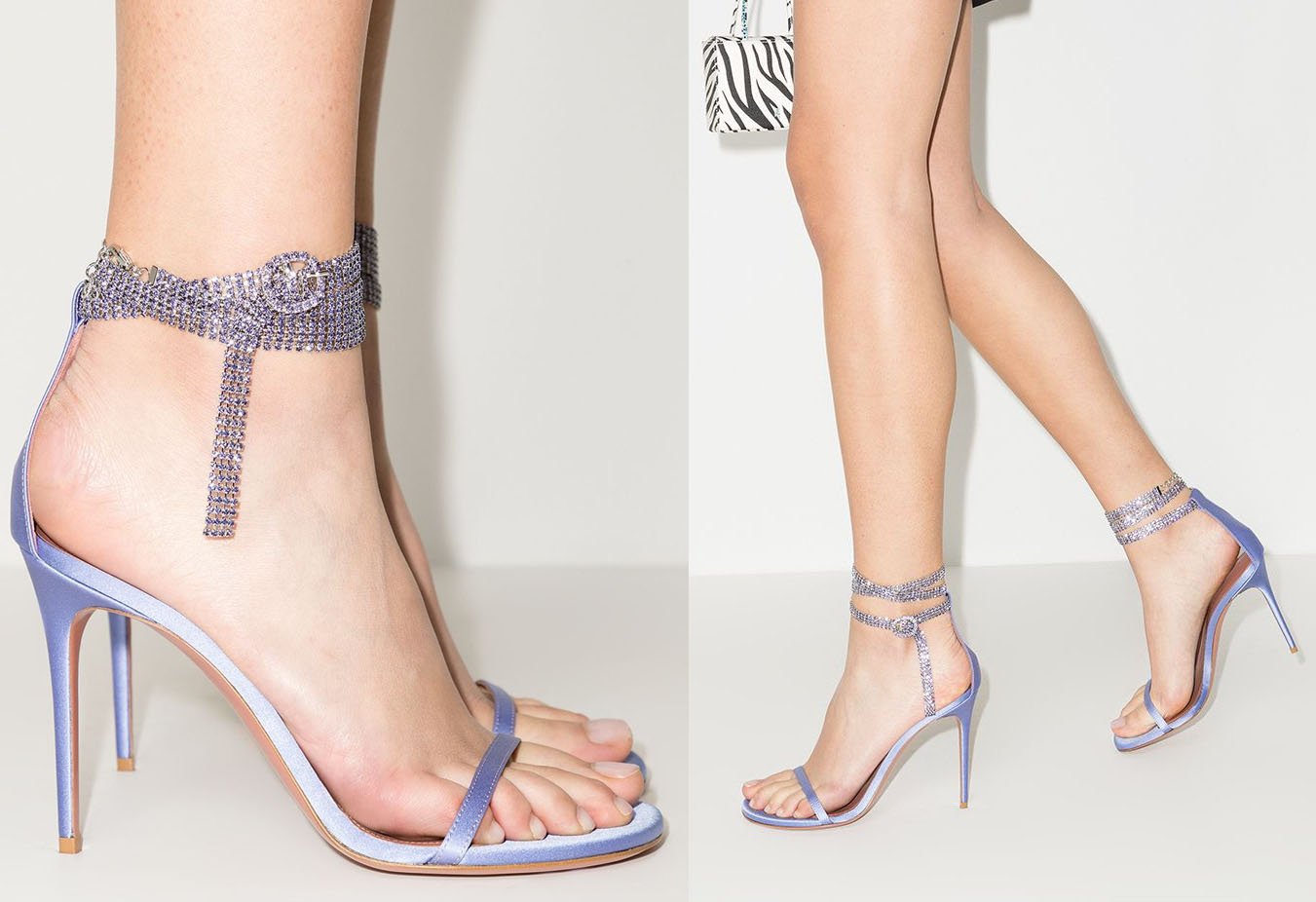 The Amina Muaddi Giorgia offers a minimalist silhouette elevated by sparkling crystal-embellished straps
They're a slightly more subtle alternative to the Mach & Mach double bow heels but are just as stylish.
13. Salvatore Ferragamo Glitter Detail Pumps, $775 at Farfetch
Have you ever wished you could have a real-life glass slipper? These Salvatore Ferragamo pumps are the nearest you'll get.
They're perfect for the girl who considers herself a real-life princess. They take the classic Ferragamo Vara shoes and give them a sparkly update.
Salvatore Ferragamo's classic Vara shoes updated with sparkling silver glitters all over
14. Chloe Woody Logo Slides, $375 at Mytheresa
Slides are an athleisure style that has become a contemporary classic. These shoes come back every spring and summer.
We now consider them to be essential for everyone's closet. The Chloe style is amongst the more attainable priced designer styles and has a classic look.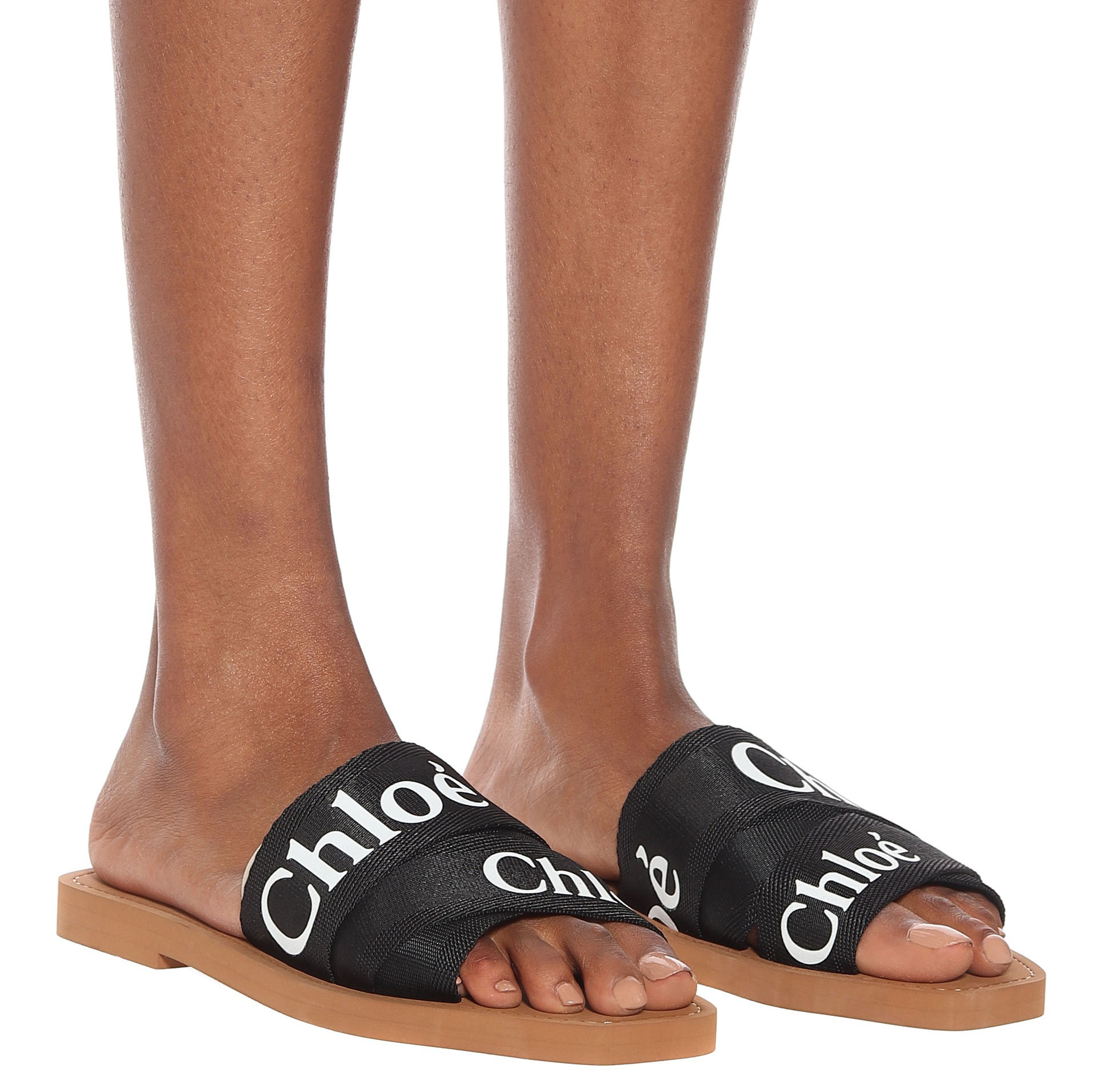 A summer essential, the Woody slide is crafted in Italy from black cotton canvas with logo prints in high-contrast white and a brown rubber sole
These slides feature the signature printed Chloe logo that is effortlessly chic. You'll live in these shoes for all spring and summer, whether you're hitting the beach or hanging out with friends.
15. Manolo Blahnik Hangisi 70mm Crystal Embellished Pumps, $995 at Farfetch
When it comes to designer shoes, the Hangisi heels by Manolo Blahnik are a pop culture icon. They have their place in history after being the shoes worn by Carrie Bradshaw in Sex and the City movie.
These signature heels are available in a rainbow of colors – whether you're looking for bridal white or a muted black.
Known as Carrie Bradshaw's shoes, the Hangisi pumps have a luxurious satin finish and crystal-embellished buckle at the almond toes
The Hangisi shoes have a satin finish and almond toe silhouette, complete with crystal embellishment and a high stiletto heel. No designer shoe collection is complete without at least one pair of Manolo Blahniks.
16. Givenchy Raised Logo Slides, $295 at Mytheresa
Do you want designer slides that have a more casual look? The Givenchy slides are amongst the most affordable designer shoes on this list.
These slip-on shoes incorporate the printed Givenchy logo on the front with a flat rubber sole that makes them ideal for wearing day-to-day in warmer weather.
These affordable and comfy Givenchy slides are perfect for day-to-day wear
Whether you're a fan of wearing slides with socks or think it's a crime, it's clear that slides are not going anywhere anytime fast. If you want to buy designer shoes that won't break the bank, these Givenchy slides are the perfect place to start.
17. Sophia Webster Fly-By Low-Top Sneakers, $270 at Farfetch
If you prefer a more feminine look to your athleisure, we've got just the designer sneakers for you. This style by popular British designer Sophia Webster incorporates the designer's signature butterfly motif into the design.
Sporty but feminine, Sophia Webster's Fly-By sneakers feature the label's signature butterfly motif with a touch of fierce leopard print
These sneakers offer a playful alternative to more expensive styles by brands like Balenciaga, Gucci, and Golden Goose.
The matching leopard print adds a timeless feel to these otherwise quirky sneakers that are guaranteed to become a signature piece in your closet.
18. Sophia Website Evangeline 100mm Butterfly Ankle Sandals, $520 at Farfetch
Earn your angel wings with Sophia Webster's signature shoes. The 'Evangeline' style gives the classic open-toe stilettos a feminine twist with 3D butterfly wings that add a whimsical feel. These heels will help you take flight with every step.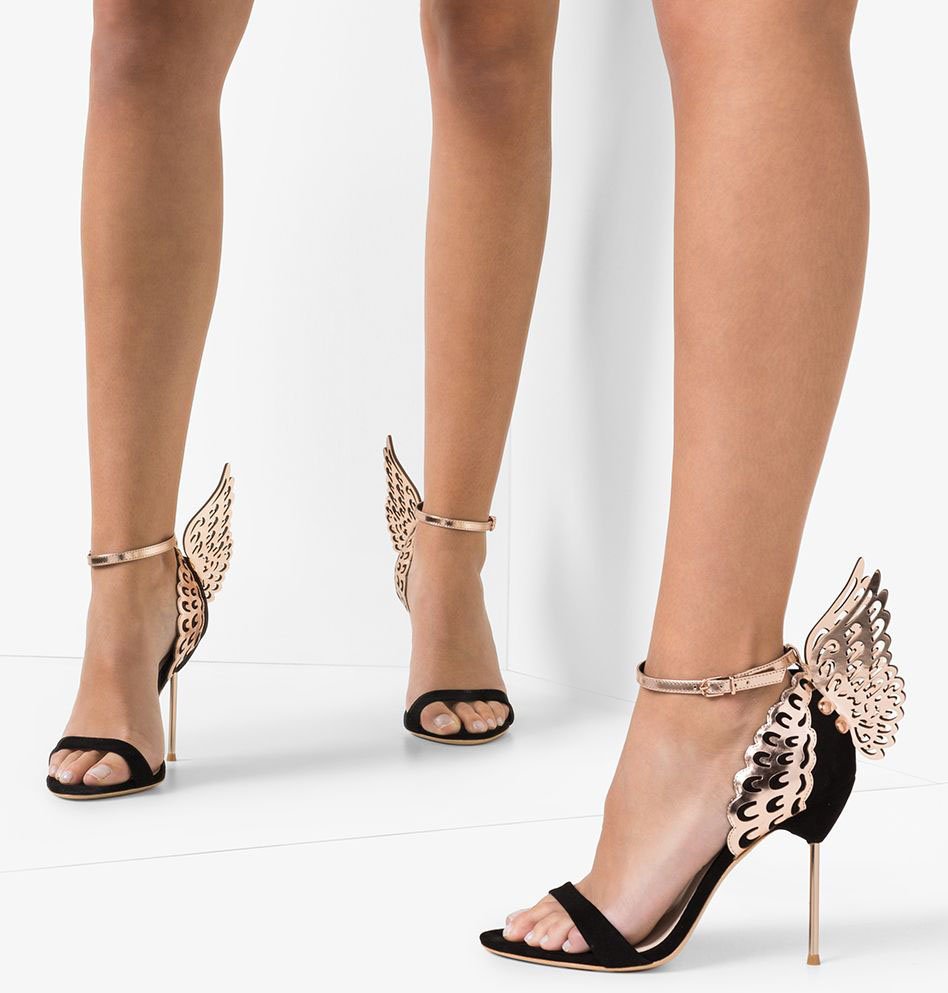 A sexy pair of open-toe stiletto heels with whimsical 3D butterfly wings from Sophia Webster
The high stiletto heel, butterfly wings, open-toe silhouette, and ankle strap make them a modern interpretation of a classic style. If you want a shoe that's guaranteed to turn heads and make a statement, look no further than Sophia Webster.
The Evangeline style is available in several colors and prints that give you a different aesthetic, depending on your personal style.
19. Golden Goose Super Star Low-Top Sneakers, $545 at Farfetch
We couldn't not add another pair of Golden Goose sneakers to this list. These Super Star sneakers have a more minimalistic aesthetic than the style we featured previously.
It has the signature distressed aesthetic of Golden Goose with distinctive star patches that are instantly recognizable.
A classic celebrity-favorite, these Super Star sneakers are easily recognizable with Golden Goose's signature distressed aesthetic and star patches
The contrasting heel counter offers a pop of color that elevates the otherwise all-white sneakers. If you're looking for your first pair of Golden Goose sneakers, this style is the perfect way to get started with the brand.
20. Jimmy Choo Love 100mm Glitter Pumps, $750 at Farfetch
No round-up of designer shoes is complete without having at least one style of bridal footwear. While these Jimmy Choo heels aren't part of their bridal collection, they can add a sparkly touch to your big day.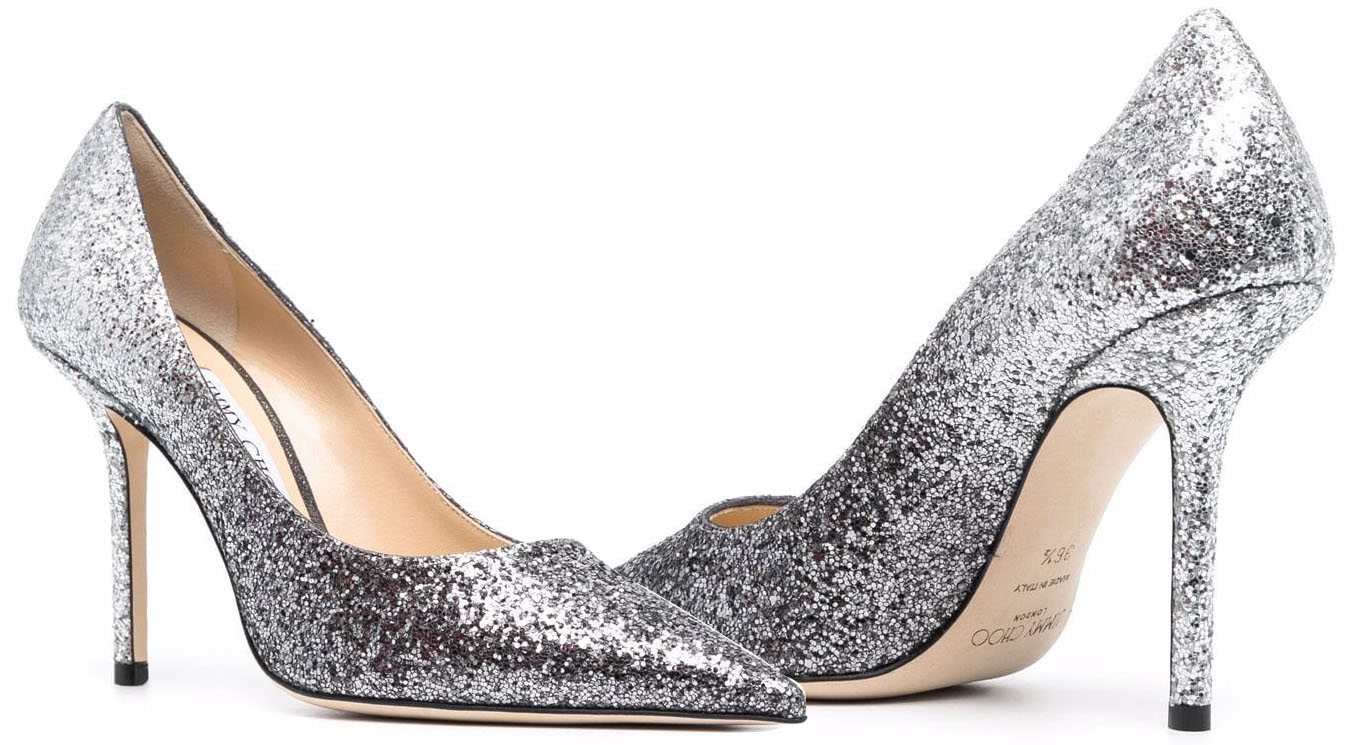 Playful but elegant, Jimmy Choo's Love pumps are decorated with glitters in a striking gradient effect
The 'Love' stilettos are playful and elegant, combining the classic pointed-toe silhouette with the glitter embellishments. These shoes are an instant showstopper and can be styled with anything, from jeans to a little black dress or a pantsuit.
These 20 designer shoes represent some of the must-have styles for 2022. Whether you're buying your first pair or your twenty-first pair, you want to choose a style that you'll get the best cost per wear on.
With designer shoes, you want to focus more on shoes you'll wear for years to come instead of just trends.
Which of these designer shoes will you be adding to your closet in 2022?