Chunky sneakers are one staple you need in your closet. They jumped back into the fashion scene in 2017 and have gone from gym essentials to year-round casual shoes.
These shoes give you the versatility of sneakers with the on-trend oversized silhouette we're seeing across the board for footwear.
Everywhere you look, you'll find women rocking their chunky sneakers with everything from pantsuits to summer dresses. Celebrities, influencers, and social media users are flooding the internet with chunky sneaker pictures.
Vanessa Hudgens, Billie Eilish, Hailey Bieber, Bella Hadid, and Kendall Jenner wearing chunky sneakers (Credit: BauerGriffin / INSTARimages / Avalon / TNYF / WENN)
After several years at the top of our staple shoe list, the chunky sneaker shows no sign of slowing down. These shoes are one style where the hype is real. From where did the trend appear?
You can thank Balenciaga's Demna Gvasalia for kickstarting the chunky sneaker trend with the Triple-S sneakers in the brand's Fall/Winter 2017 collection.
Chunky sneakers have become the shoe trend for four years running because they perfectly encapsulate the 90s aesthetic. After all, the era gave us the name dad shoes. What we love about chunky sneakers is their comfort.
The elevated sole makes walking more manageable and gives you an extra bit of height without having to commit to a traditional heel.
If you're thinking of pulling the trigger and adding these shoes to your closet, you're in the right place. We're rounding up the best of the best to help you decide which style of chunky sneakers is for you.
These shoes are transitional staples that you can wear all year round. Their seasonless nature makes them the perfect choice for an investment piece.
Grab your credit card. You're going to need it!
1. Balenciaga Sneakers
Balenciaga is our go-to brand for chunky sneakers. Whether you want the ultimate chunky sole or a more streamlined silhouette, Balenciaga has something to offer everyone.
You can opt for the OG with the triple-S sneakers and join the likes of Kylie Jenner in rocking these shoes with everything from workout gear to jeans and a t-shirt.
The beauty of these shoes is that they blend the best of popular athleisure styles to give you a chunky sneaker that has become just as iconic as Gucci's slides.
1: Balenciaga Pink Allover Logo Triple S Sneakers, $1,050 / 2: Balenciaga Yellow Triple S Clear Sole Sneakers, $1,150 / 3: Balenciaga Silver Triple S Sneakers, $1,190
Keep an eye out for new versions and colorways of the Balenciaga Triple S. The success of this style means that you can find it in every shade, from pastel pink to acid yellow.
2. Prada Sneakers
If there's anything Prada is good at, it's jumping on a trend and putting its own twist on it. It's no surprise that Prada has jumped on the chunky sneaker trend with styles that blend maximalism with minimalism for a balanced look.
The Cloudbust Thunder sneakers are the most popular style of chunky sneakers by the Italian fashion house. These shoes are available in all the neutral shades you want for your closet.
1: Prada Desert Beige Double Wheel Nylon Gabardine Sneakers, $850 / 2: Prada White Cloudbust Thunder Sneakers, $1,260 / 3: Prada Cornflower Blue Double Wheel Nylon Gabardine Sneakers, $850
Not everyone wants the divided platform sole, so Prada has more simplistic options.
The Prada Double Wheel Nylon Gabardine sneakers are right on-trend with the logomania aesthetic, incorporating the triangle name logo just below the laces.
Unlike the Cloudbust Thunder sneakers, this style is more inventive with its color options incorporating some of the year's hottest trends.
3. Nike Sneakers
Keep it classic with some Nike chunky sneakers. This brand is the OG of the cult-favorite sneakers after their infamous Air Jordan collaboration.
You're not a sneaker collector until you have at least one pair of Nike sneakers in your closet.
1: Nike Pure Platinum Air Force 1 Crater, $110 / 2: Nike Crater Impact Low-top Sneakers, $127 / 3: Nike Crater Impact Panelled Sneakers, $127
Our top pick for chunky sneakers from Nike is the Crater Impact shoes. They give you sustainability without compromising on style.
These shoes are made using 25% recycled materials with a foam sole that gives the shoes a one-of-a-kind silhouette.
You'll want to add these shoes to your closet if you're someone who is always on their way to the gym.
4. Puma Sneakers
Puma is an athleisure brand that is quickly making its comeback in the world of mainstream fashion.
You're always guaranteed to find something from the brand that tickles your fancy – whether you want a casual look or make a statement with eye-catching color.
Like other activewear brands, the attraction to Puma's chunky sneakers is their versatility and practicality. These are the sneakers you'll reach for while shopping in the city or hiking up a mountain.
The Cruise Rider is our top pick and is available in five colorways. These sneakers will add a playful kick to your step with a color-blocking twist. The stacked outsole will be right up the street for any streetwear fan.
1: Puma Lady Pink Cruise Rider Silk Road Trainers, $124 / 2: Puma White-Nimbus Cloud Cruise Rider Silk Road Trainers, $85 / 3: Puma Aquamarine Cruise Rider Silk Road Trainers, $76
If you see a style that grabs your eye, it's worth hunting around a promo code to see if you can save yourself a little money off the total for your order. When you're on a budget, these heritage athleisure brands give you the look without breaking the bank.
5. Dior Sneakers
Another luxury fashion house that is quickly jumping on the chunky sneaker trend is Dior. The brand has been known for decades for its ladylike looks but has recently transitioned to adopt a more street-style look.
For your chic chunky sneakers, look no further than the D-connect sneakers by Dior. They have a similar aesthetic to the classic Balenciaga style but with a more understated appearance.
1: Dior-ID Black Calfskin and Rubber, $1,150 / 2: Dior-ID White Calfskin and Rubber, $1,150 / 3: Dior-ID Beige Calfskin and Rubber, $1,150
If you want everyone to know that you're wearing a Dior sneaker, there's another chunky sneaker option available for you.
The Dior-ID sneaker will make a statement wherever you go. It has a contemporary look with 'Christian Dior Paris' embroidered onto the rear and the 'DIOR-ID' signature.
6. Alexander McQueen Sneakers
Only a few years ago, Alexander McQueen's most famous product was their skull-printed scarves. Flash forward to the present, and it's all about their oversized chunky sneaker.
They're perhaps one of the most famous styles in this category. The silhouette is fuss-free, with a platform sole and a subtle suede ankle tab.
If you're a fan of minimalistic styles or like to have a pop of color to your look, these sneakers are for you. The most common color for these sneakers is white, with various colors appearing on the tab.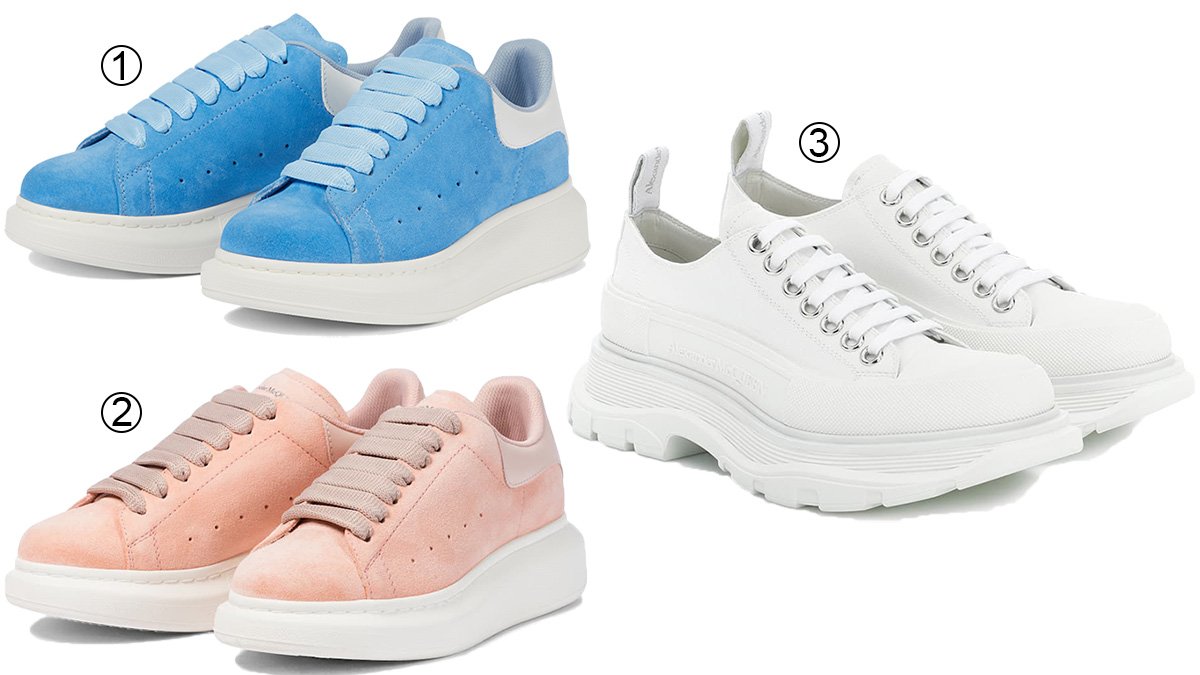 1: Alexander McQueen Blue Oversized Suede Sneakers, $580 / 2: Alexander McQueen Pink Oversized Suede Sneakers, $543 / 3: Alexander McQueen White Leather Sneakers, $610
If you want to save a penny but still get your designer sneakers, the Alexander McQueen style occasionally goes on sale. They're around half the price of some of the top-end luxury sneakers on this list.
You'll struggle to scroll through your Instagram explore page without seeing at least one person wearing these shoes.
7. Fila Sneakers
When it comes to ugly sneakers, Fila has always been ahead of the game. Their styles give you elevation (in height!) and the always-on-trend '90s aesthetic.
The popularity of the chunky sneaker means there are dozens of styles for you to choose from. You can be creative and experiment with color through the Oakmont Tr style or keep it minimalistic with the Disruptor 2.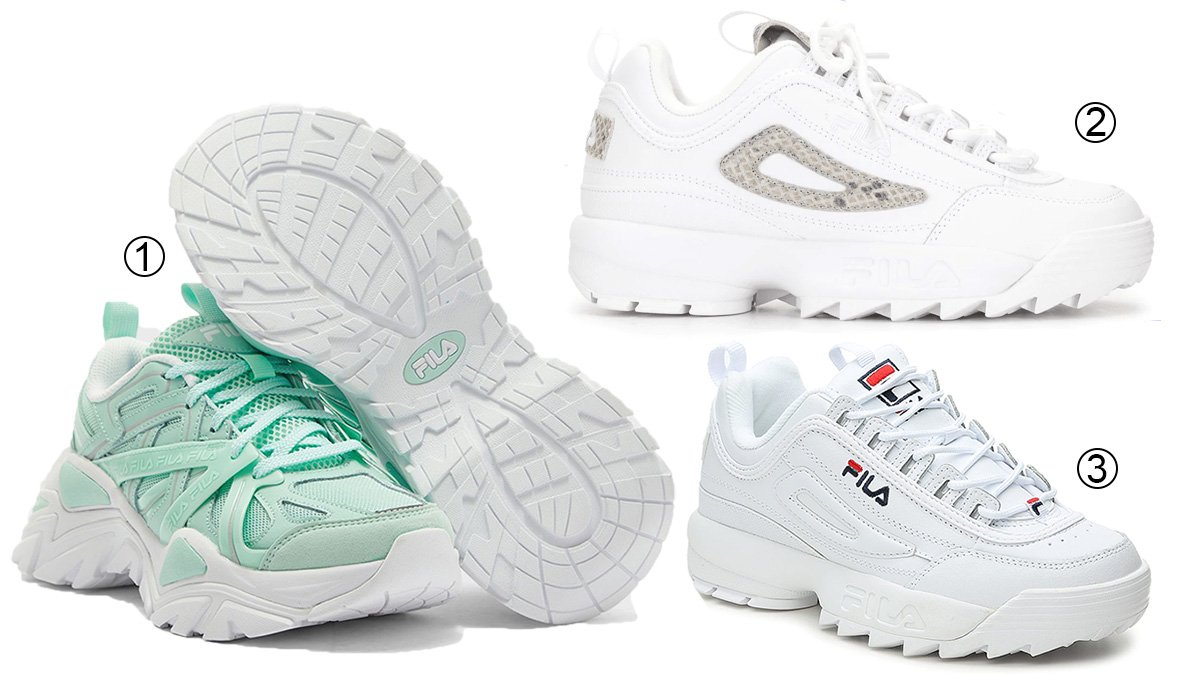 1: Fila Teal Electrove 2 Sneakers, $144 / 2: Fila White Disruptor 2 Women's, $102 / 3: Fila White Disruptor 2 Premium, $65
If you're hunting for chunky sneakers with a personality, why not check out the Electrove 2 style? They are vibrant with embroidered logos and a rainbow of colors.
Fila is another budget-friendly option that won't break the bank but will ensure you're right on trend for the season.
8. New Balance Sneakers
Another classic athleisure brand that you don't want to overlook is New Balance. This American heritage brand can do no wrong.
It's been given its athleisure crown back in recent years, thanks to influencers and celebrities stepping out in the brand's shoes.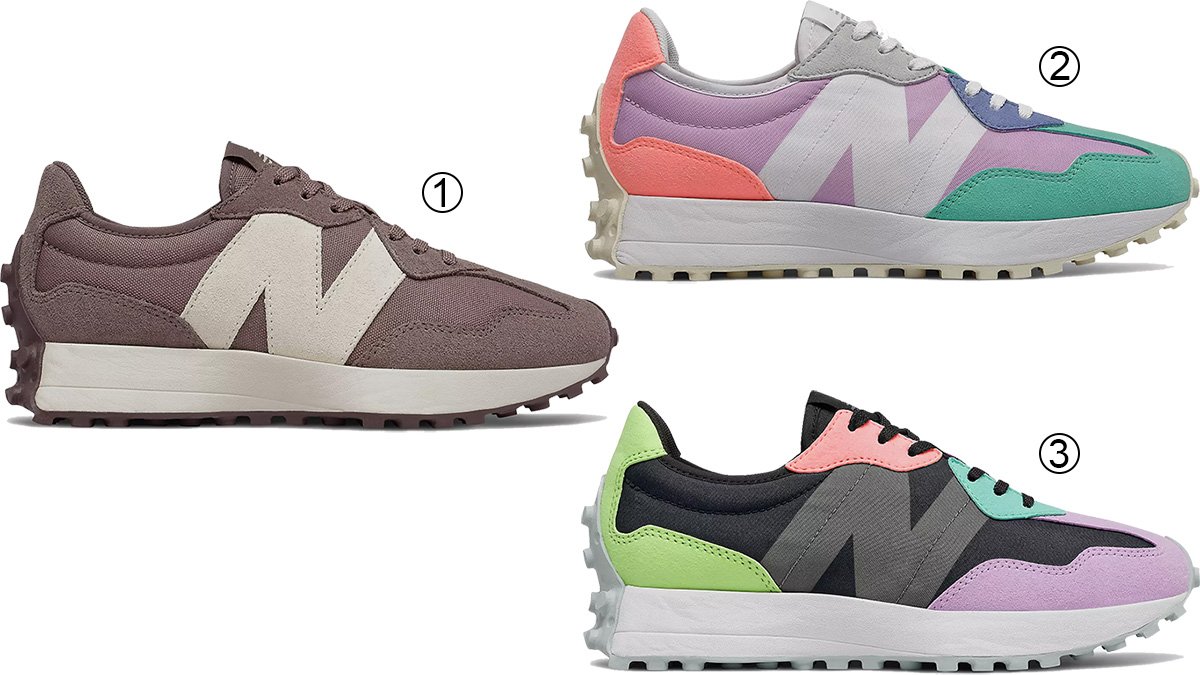 1: New Balance 327 Black Fig with Sea Salt Sneakers, $90 / 2: New Balance 327 Dark Violet with Summer Jade Sneakers, $90 / 3: New Balance 327 Black with Dark Violet, $90
These sneakers have a minimalistic and 90s-inspired look that puts them right on-trend. You get style without compromising on comfort. We love the 327 low-top sneakers for their textured sole and oversized 'N' logo that gives the shoes a vintage feel.
9. Adidas Sneakers
Adidas is amongst our go-to activewear brands. If you're looking for budget-friendly chunky sneakers, it's these signature brands that you want to be looking at.
They give you the classic athleisure look from an authentic brand. You will often find that these shoes are more practical than other styles – especially if you lead an active lifestyle.
1: Adidas Choigo Colorblock Chunky Sneakers, $95 / 2: Adidas Ozweego Celox Chunky Sneakers, $132 / 3: Adidas Scarlet Torsion TRDC, $90
If you're someone who grabs their morning coffee in their workout gear, these are the sneakers you want to look out for. These chunky sneakers are the ones you want to throw into your work bag to change into before your commute home.
You're spoilt for choice with Adidas sneakers – whatever your favorite color palette is.
10. Chanel Sneakers
Nothing is a trend until it gets the Chanel stamp of approval. In recent years, Chanel has mastered the art of the 'dad shoe' – with chunky sneakers being no exception.
The beauty of these shoes is that they give you the trend with the classic Parisian chic of a signature Chanel piece. If you want to add the interlocking CC logo to your look, these sneakers will be right up your street.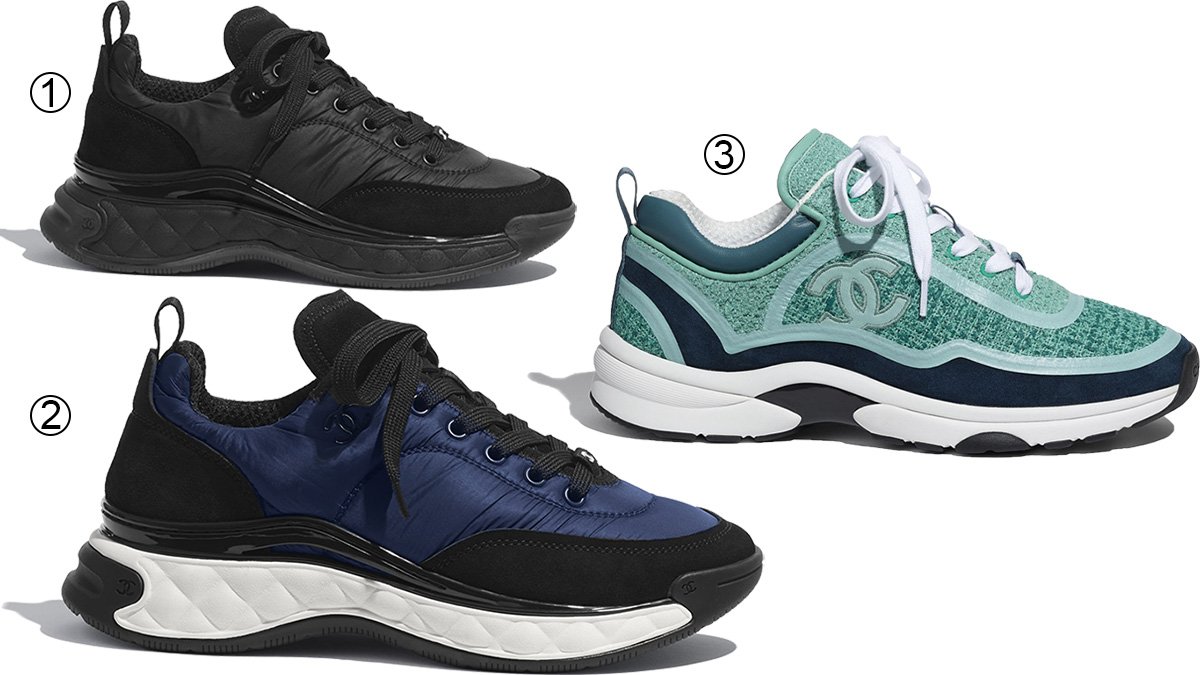 1: Chanel Black Nylon & Suede Calfskin Sneakers, $1,050 / 2: Chanel Navy Blue Nylon & Suede Calfskin Sneakers, $1,050 / 3: Chanel Green & Turquoise Tweed & Suede Calfskin, $1,300
While they'll set you back a pretty penny (anything around $1000+), they're the perfect investment into your closet. There are new styles of these sneakers being released every season, meaning you're guaranteed to find a style that works for your aesthetic.
When choosing your Chanel sneakers, you want to pay extra attention to the material – which can make or break the practicality of your shoes
11. Louis Vuitton Sneakers
With the likes of Prada and Chanel on this list, it's no surprise that Louis Vuitton also finds its way on our list of chunky sneakers. With the brand going stronger than ever, they're at the front of this trend.
While the Parisian family house is automatically linked to its sneaker range, they offer a unique look that differentiates them from the rest of the luxury market.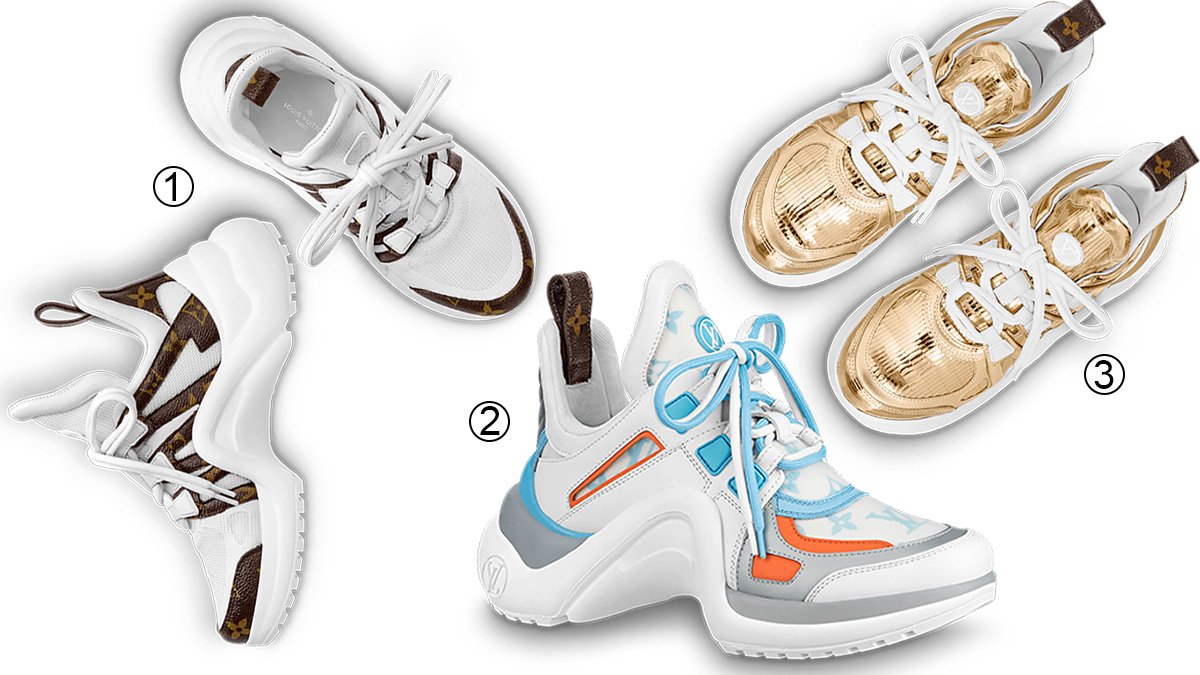 1: White LV Archlight Sneakers, $1,170 / 2: Blue LV Archlight, $1,280 / 3: Gold LV Archlight Sneakers, $1,210
The LV Archlight Sneaker has a structural sole and is available in minimalistic and neutral colors.
While these shoes will set you back around $1,100 (before any price increases), they're a keen collectible that made its debut at the spring/summer 2018 fashion show.
12. Gucci Sneakers
One European fashion house that is known for its sneakers is Gucci. While your mind might instantly go towards their classic flat-sole sneakers, they've released several chunky sneaker styles.
You can thank Alessandro Michele for adopting an approach to fashion that views even chunky sneakers as an art form.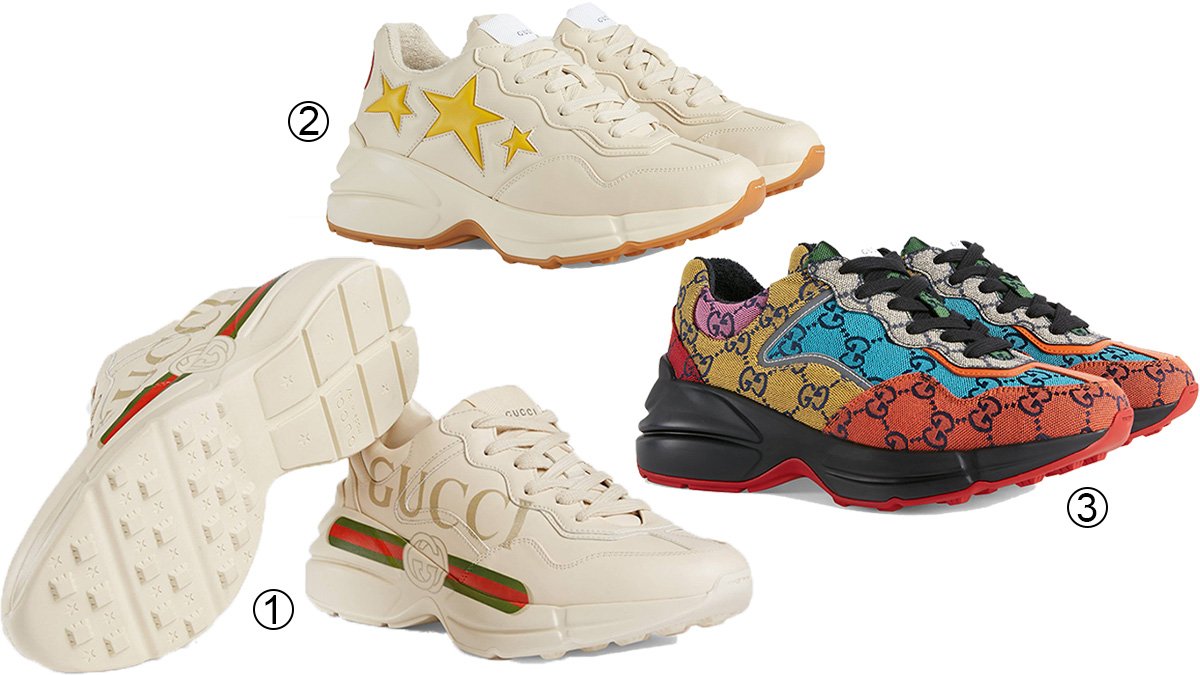 1: Gucci Rhyton Off-white Sneakers, $890 / 2: Gucci Rhyton Sneakers with Stars, $790 / 3: Gucci Rhyton Multicolor Canvas Sneakers, $790
The most popular chunky silhouette from Gucci is the Rhyton sneakers. They come in at a more attainable price point than their Chanel and Louis Vuitton counterparts. This style is re-released each season with new colorways and styles to match the current collection.
Which of these chunky sneakers has caught your eye?