Louis Vuitton is one of the most recognizable luxury brands in the world. Every woman has dreamed of owning one of the brand's elusive bags. While Louis Vuitton is infamous for its luggage and handbags, its footwear is just as sought-after.
Although often confused with Christian Louboutin, Louis Vuitton's seasonal footwear puts a Parisian twist on the latest contemporary trends.
Unlike other fashion houses, Louis Vuitton focuses primarily on seasonal collections instead of classic heritage styles for footwear.
Aside from its leather goods, Louis Vuitton also offers a selection of footwear that can be worn year-round (Credit: Sorbis / Shutterstock)
Never fear! There are style dozens of popular Louis Vuitton shoes that are guaranteed to stick around for a few seasons. You've probably spotted them being worn by Emma Watson, Alicia Vikander, and Cate Blanchett.
We're sharing everything you need to know about Louis Vuitton shoes and how to spot fakes if you're buying on the pre-loved market.
The 8 Most Popular Louis Vuitton Shoes
While Louis Vuitton offers a full range of footwear designs, the brand is most known for its sneakers and boots. They typically re-release popular styles in new color options as part of seasonal collections.
1. Run 55 Sneakers, $1,170
Louis Vuitton recently released a feminine version of its popular 'Run 55' sneakers. This contemporary silhouette blends mesh and laminated leather with a transparent toe cap. The subtle Louis Vuitton monogram elevates these athleisure staples.
Made of mesh and laminated pink leather, the Run 55 is designed for comfort with its elevated outsoles
2. Revival Mules, $990
Mules are once again making a comeback. These classic '90s style shoes have been reimagined in soft lambskin with a monogram pattern embossing.

The Revival mules are crafted from soft lambskin leather embossed with Louis Vuitton's signature monogram pattern
The slender stiletto and padded insole make these heels the perfect investment for weddings, parties, and special occasions.
3. Run Away Sneakers, $1,040
Give your sneaker collection a streetwear twist. The 'Run Away' sneakers are Louis Vuitton's reinterpretation of iconic running shoes.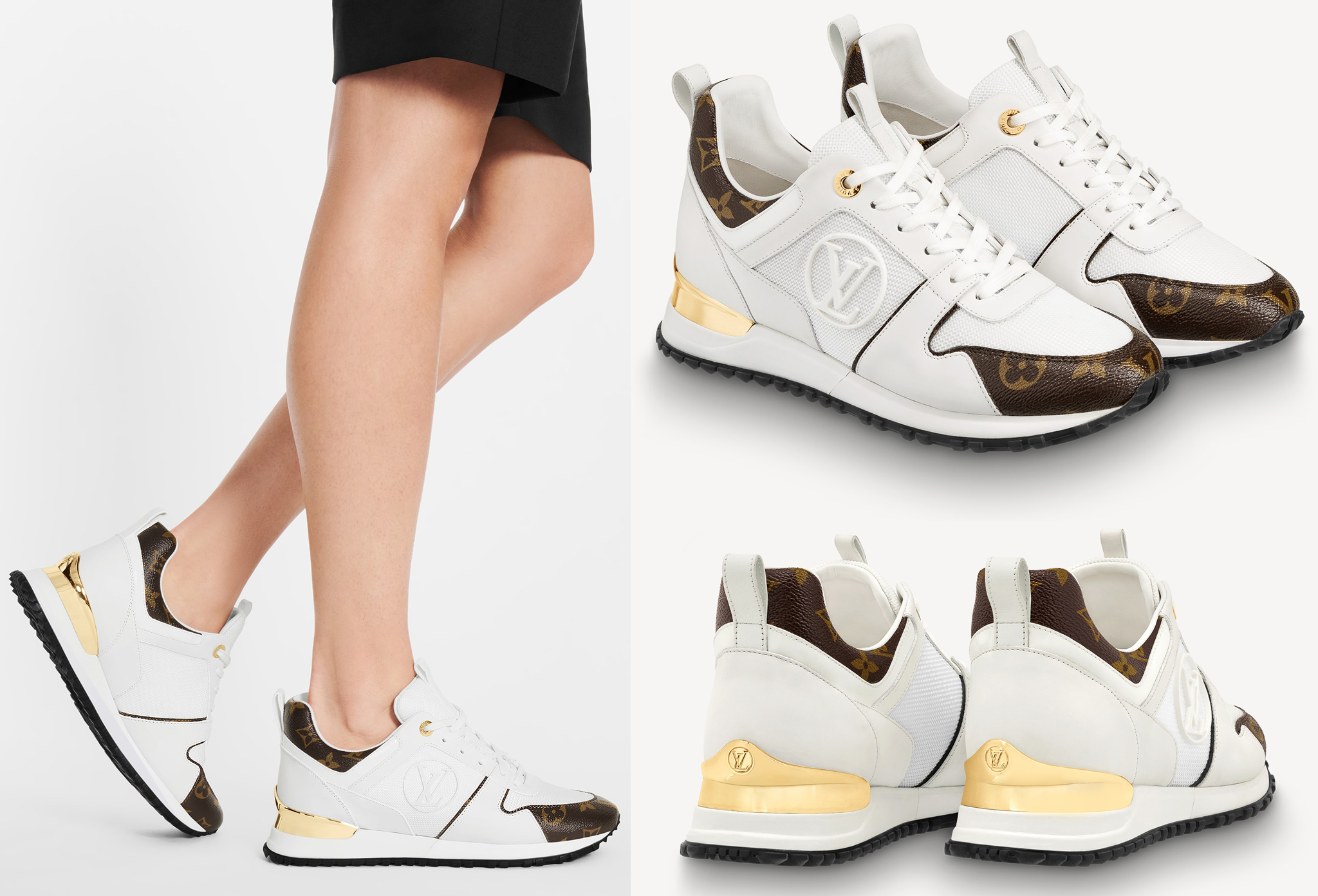 The Run Away is the luxury fashion house's version of a classic running shoe, with patent monogram canvas, metal plaque, an LV Circle, and wedge outsoles
These sneakers have an elevated look with their gold-tone metal plaque and muted LV circle logo. You'll love the wedge-shaped outsole for a few extra inches of height.
4. Charlie Sneakers, $1,130
Another pair of sneakers from Louis Vuitton is the 'Charlie' style. These sneakers are made using 90% sustainable materials and are Louis Vuitton's first eco-designed shoe.

Louis Vuitton's first eco-designed shoes, the Charlie sneakers are made from a mix of recycled and bio-based sustainable materials with recycled laces, recycled polyester monogram textile, and upcycled logo on the tongue
We love the pastel colors that add a feminine flare to these white sneakers. They're an ideal investment as an everyday style to take you from the office to after-work drinks.
5. Archlight Slingback Pump, $1,180
Slingback heels are another best-selling style for Louis Vuitton. The 'Archlight' pumps are similar to the iconic Dior slingbacks. They take the signature style motifs of the Archlight sneaker and transform them into a high stiletto heel.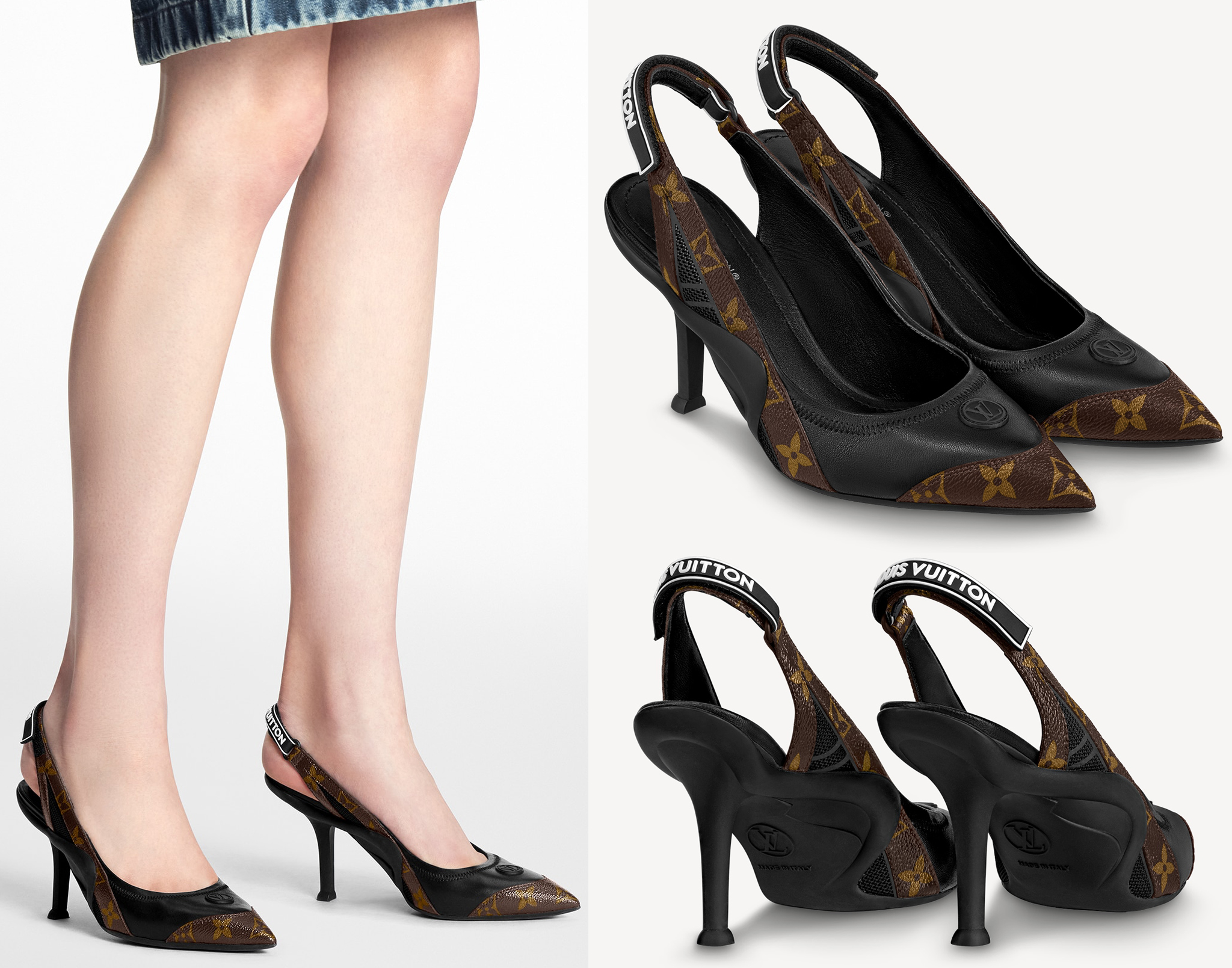 A reinterpretation of LV's Archlight sneakers, the Archlight slingback pumps combine lambskin and monogram canvas with sporty mesh inserts
These heels are quirky with their mesh inserts, rubber Louis Vuitton backer, and contrasting monogram print.
6. Lock It Flat Mules, $925
Slides are a footwear style that shows no sign of disappearing. The Louis Vuitton 'Lock It' slides retail for under $1000 and are a must-have for those who want to invest in their summer wardrobe.
Done in summery denim, the Lock It mules boast a striped jacquard ribbon embroidered with the LV Circle logo
These shoes reinterpret the Louis Vuitton logo with a circular style. We love the denim 'Lock It' flat mules for a chic laidback look.
7. Laureate Platform Desert Boots, $1,450
One of Louis Vuitton's most popular footwear categories is its boots. These boots are what you'll see celebrities wear all autumn and winter long.
Louis Vuitton's Laureate boots are instantly recognizable with the monogram canvas, wrap-around leather laces, platform construction, and treaded rubber outsole
The Laureate platform boots have been updated with soft suede calf leather and the brand's iconic Monogram canvas. These boots will take you anywhere, from a ski trip to the Alpes to a trip to your favorite Parisian café.
8. LV Beaubourg Ankle Boots, $1,660
Most Louis Vuitton shoes focus heavily on the iconic Monogram canvas. If you want a more understated look, check out the LV Beaubourg Ankle Boot. These shoes blend masculine and feminine features with a Chelsea boot silhouette.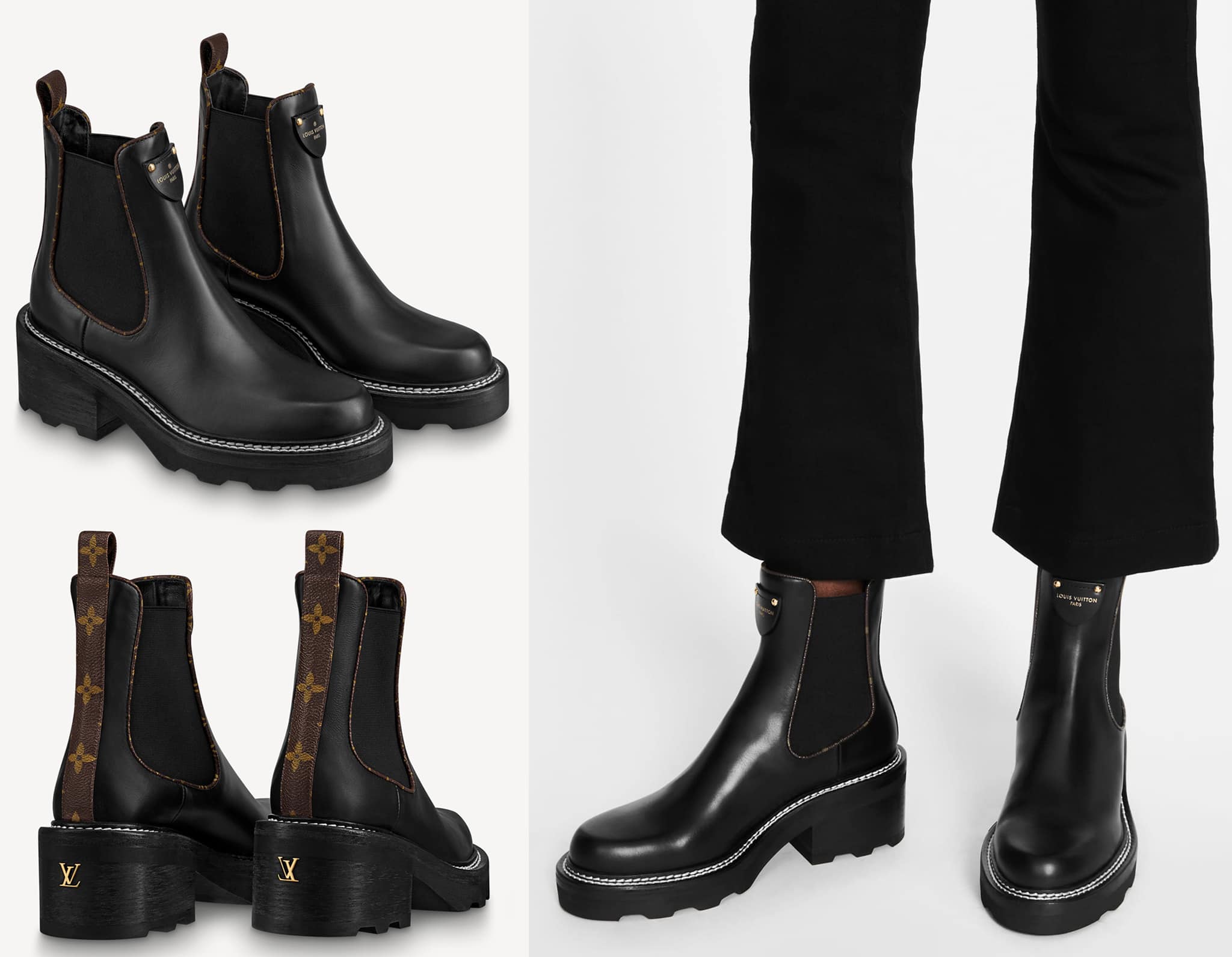 A blend of masculine and feminine aesthetics, the Beaubourg is inspired by Chelsea-style boots with chunky outsoles
The Beaubourg ankle boots are the most timeless design in the current Louis Vuitton footwear range and the ideal investment for any collection.
How Much Do Louis Vuitton Shoes Cost?
Louis Vuitton shoes typically retail between $800 and $2000. This price range put them firmly at the top of the luxury price bracket, comparable to Manolo Blahnik and Dior.
It's worth noting that Louis Vuitton doesn't hold annual sales or offer discounts. You can find Louis Vuitton shoes at a more affordable price point on the pre-loved market. However, this depends on the style and condition of the shoes.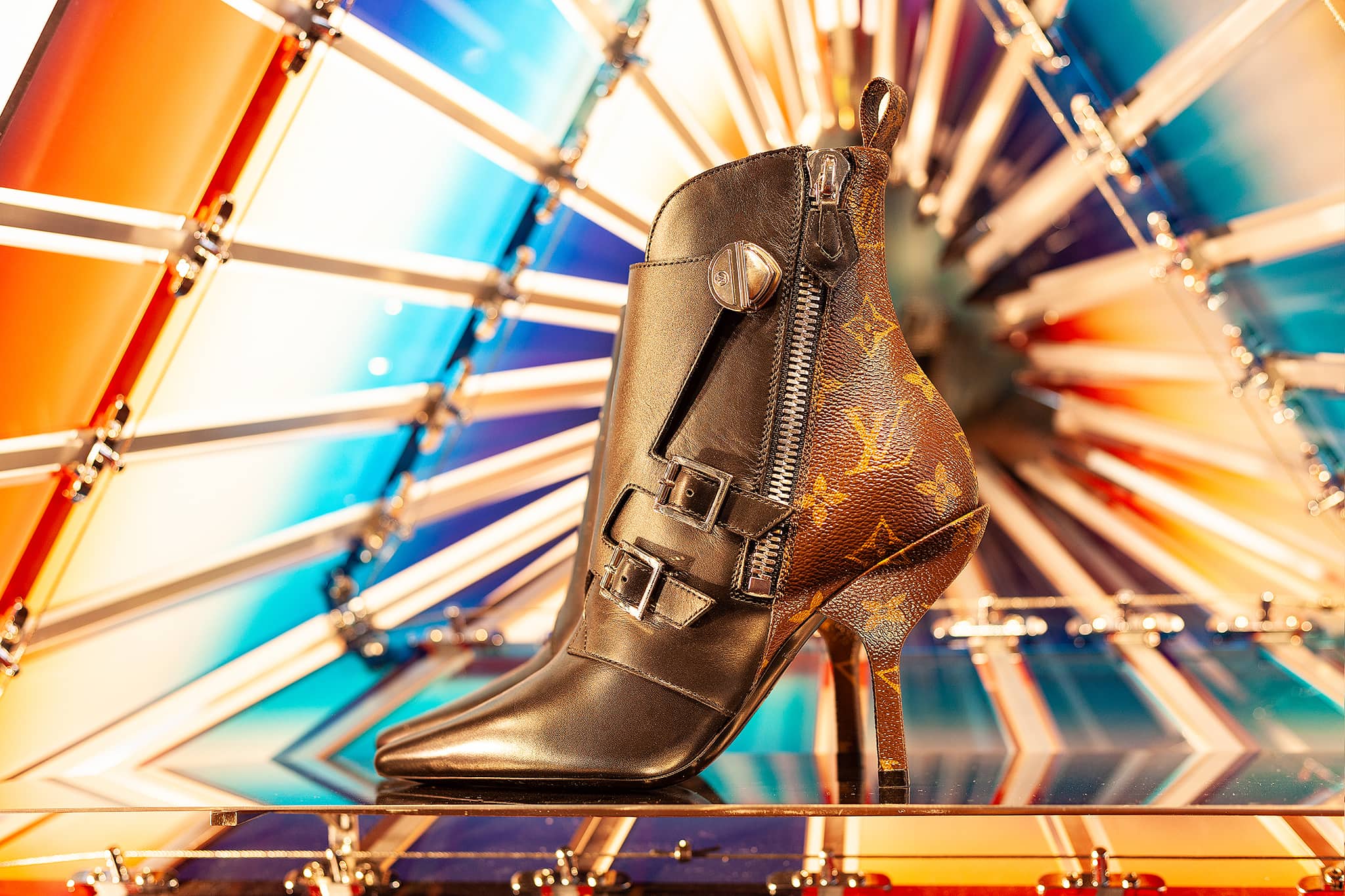 Louis Vuitton shoes are considered luxury shoes, with prices ranging from $800 to $2000 (Credit: Papin Lab / Shutterstock)
Louis Vuitton typically holds its value extremely well. Shoes will usually depreciate in value on the pre-loved market, depending on the wear and condition.
While you may find Louis Vuitton shoes at a cheaper price point on the pre-loved market, you want to look out for fake styles.
How to Spot Fake Louis Vuitton Shoes
It's becoming increasingly difficult to spot fake Louis Vuitton shoes. The rise of websites like DHGate has taken 'super fakes' to the next level. Gone are the days when you can rely on the receipt or box as proof of authenticity.
If you're buying Louis Vuitton shoes pre-loved, you want to know what warning signs to look for. The stitching is the easiest way to spot fake Louis Vuitton shoes. There should be no missing stitches or crossed lines.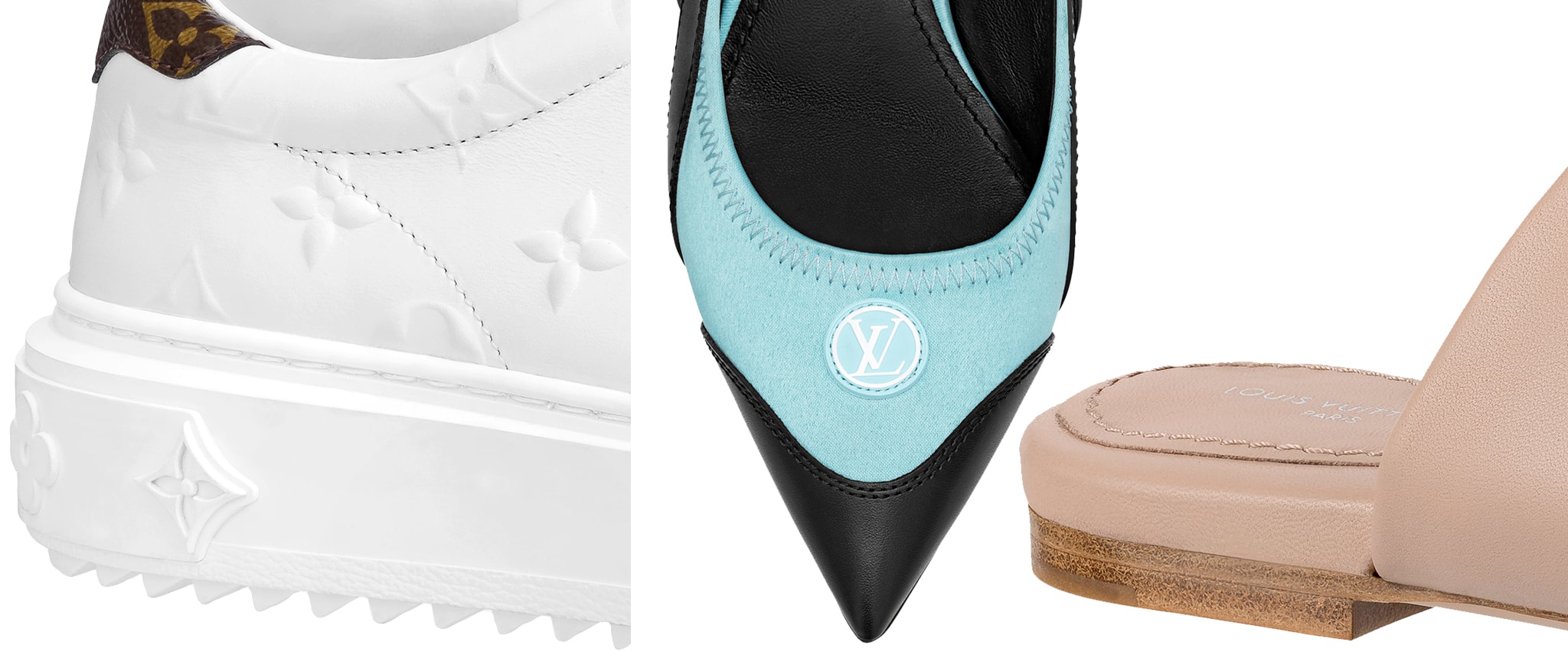 Authentic Louis Vuitton shoes should have clean, flawless stitching, not uneven or loose
You also want to compare the detailing to the official photos. Fake Louis Vuitton sneakers will often have the wrong sole or be too arched.
The third thing to check is the Louis Vuitton branding on the shoes. The font and print should be consistent with a natural shine.

Fonts and logo prints on real Louis Vuitton shoes should be consistent
Do Louis Vuitton Shoes Have Red Bottom Soles?
Louis Vuitton shoes do not have red bottom soles. They're often confused with Christian Louboutin shoes. Louboutins have the iconic red bottoms, while Louis Vuitton shoes do not.

Louis Vuitton shoes (left) don't have red bottom soles like Christian Louboutin shoes (right)
Where are Louis Vuitton Shoes Made?
It's a common misconception that Louis Vuitton only makes its products in France. The company now uses factories throughout Europe and the United States.
It's rare to find a Louis Vuitton product with 'Made in France' – although they're still the most sought-after by collectors.
Most Louis Vuitton shoes are made in Italy
While bags can vary between being made in Spain, France, and the United States, Louis Vuitton shoes are made in Italy.
Occasionally, styles can be produced in France. You can double-check where your Louis Vuitton shoes are made by visiting the product page on the official website.
Where to Buy Louis Vuitton Shoes
The best place to buy Louis Vuitton shoes is from the brand's official website. You can also purchase Louis Vuitton shoes from Saks Fifth Avenue, Harrods, and Nordstrom stores with a Louis Vuitton boutique.
If you're buying Louis Vuitton shoes pre-loved, we recommend using online consignment stores like Fashionphile, Farfetch, and Vestiaire Collective that can authenticate the shoes.