Christian Louboutin, the French-Egyptian fashion designer from Paris, France, is a name synonymous with luxury footwear.
While the famous red-bottom soles were originally created by accident, there is no accident in the success of this fashion empire.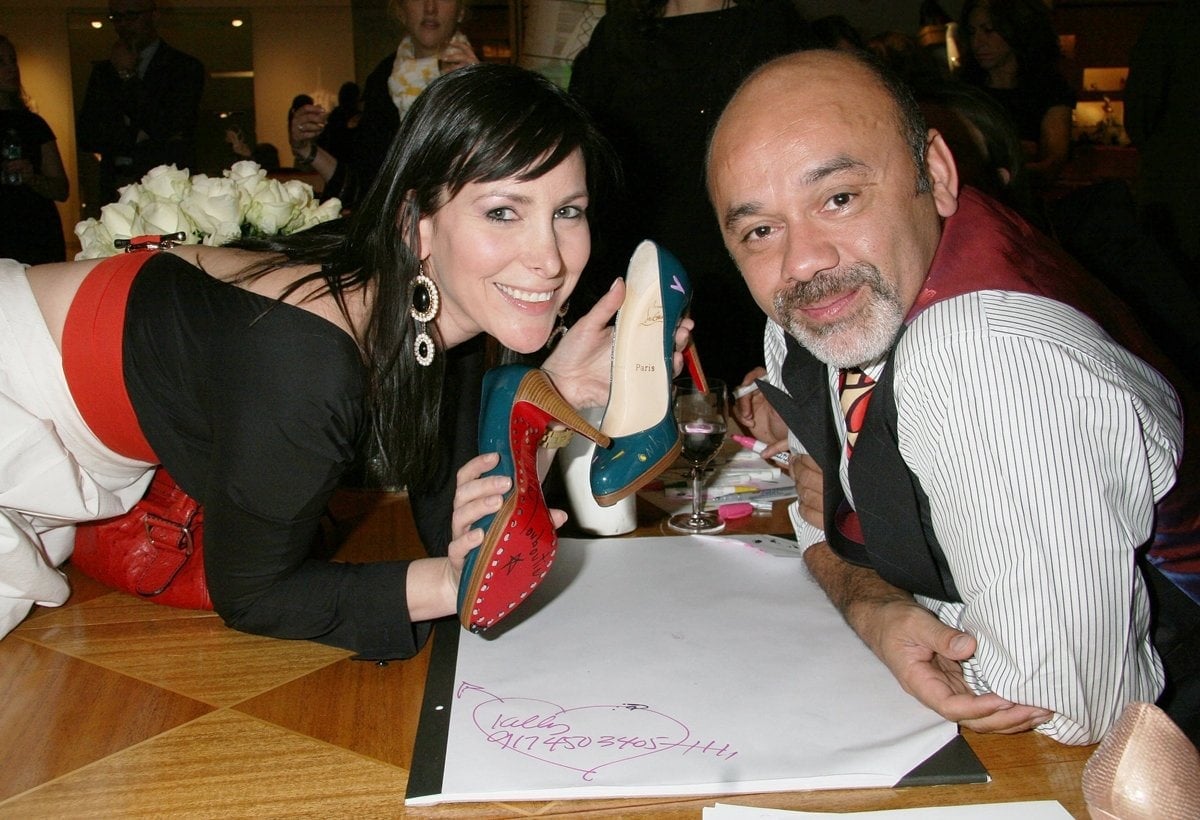 Shoe designer Christian Louboutin signs his famous red sole shoes for fans at Barneys New York in New York City on May 1, 2008, in New York City (Credit: Michael Carpenter / WENN)
Today, the man behind this brand is as popular as ever, as he and his team continue to evolve the shoe, bag, and accessory company into its next phase for both their male and female customers.
Christian Louboutin's Early Years
In his early teens, Christian Louboutin began sketching shoes, as he did not care much for academia. According to Louboutin, his interest and fascination with footwear began in 1976 when he visited the National Museum of Arts of Africa and Oceania in Paris, France.
There was a sign in the museum that forbid women from wearing sharp stilettos in the building due to fear of them damaging the wood floors. This stayed with Louboutin, and he would later tap into that sign's image for design inspiration.
"I wanted to defy that. I wanted to create something that broke rules and made women feel confident and empowered," he said.
Christian Louboutin is one of the world's most well-known shoe designers (Michael Carpenter / WENN)
Louboutin is a born rebel and uses that attitude in his designs. Look at his collections today. He has his classic silhouettes and also many designs with adornments like jewels and spikes, as well as a range of materials, patterns, and bold colors.
After running away to Egypt and India in his teens, he returned to Paris in 1981 with a portfolio of drawings of his high heels. He met the man who claims to have invited the stiletto, Roger Vivier, and became his apprentice.
Later, Louboutin would work in a freelance capacity, designing women's shoes for Yves Saint Laurent, Chanel, and Maud Frizon. In 1991, with funding support from two parties, Christian Louboutin started his own company.
Sabrina Dhowre Elba and Christian Louboutin attend the 2021 InStyle Awards at The Getty Center on November 15, 2021, in Los Angeles, California (Credit: MEGA / WENN)
His first customer was Princess Caroline of Monaco. Diana von Furstenberg would soon become a client.
Other celebrities who love his shoes include Gwyneth Paltrow, Blake Lively, Jennifer Lopez, Madonna, Tina Turner, Christina Aguilera, Nicki Minaj, Britney Spears, and Sarah Jessica Parker.
SJP wore a pair of his heels for her wedding to her husband, Matthew Broderick, on May 19, 1997.
The Beginning of the Red Bottom
The iconic red-lacquered sole has become this brand's identity. But how did that red bottom come to be?
After two years of designing luxury shoes, Louboutin wanted to change the current design.
He was inspired by Andy Warhol's "Flowers," but his prototype left him wanting more. Thankfully that day in his studio, an assistant was sitting nearby and painting her nails red.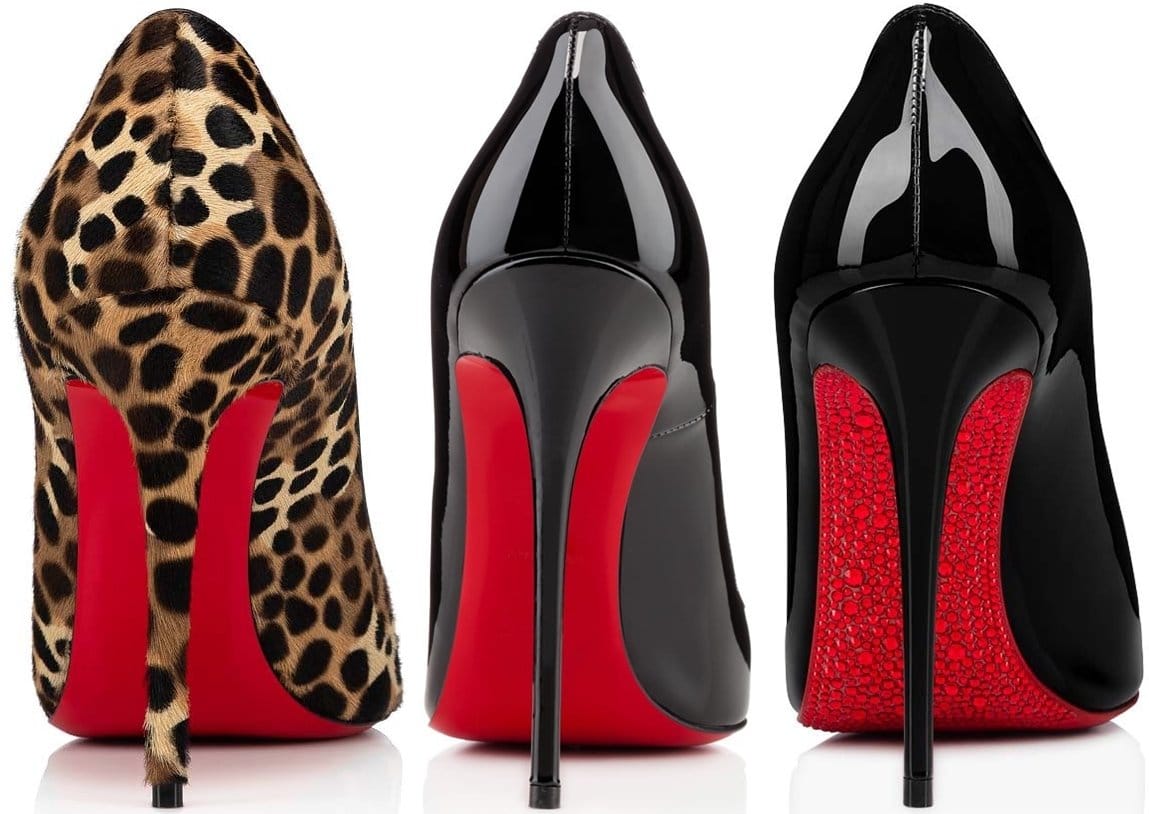 Christian Louboutin's shiny, red-lacquered soles have become his signature
"There was this big black sole, and then, thank God, there was this girl painting her nails at the time," said Louboutin.
With a stroke of genius, he decided he would paint the bottom of his shoes red. That simple moment changed the path of his brand forever. The exact color of the "Chinese red" sole is Pantone 18-1663 TPX.
Louboutin has commented about the obvious sex appeal of his chosen color, "Men are like bulls. They cannot resist the red sole."
Bloody Shoes
The pop-culture references to Louboutin's are endless. Rapper and Grammy Award-winning artist, Cardi B, incorporated a shoutout to Louboutin in the opening lines and chorus of her breakout single, Bodak Yellow.
In the song, she refers to the heels, as some do, as "bloody shoes."
"Said little b*tch, you can't f*ck with me
If you wanted to
These expensive, these is red bottoms
These is bloody shoes
Hit the store, I can get 'em both
I don't wanna choose"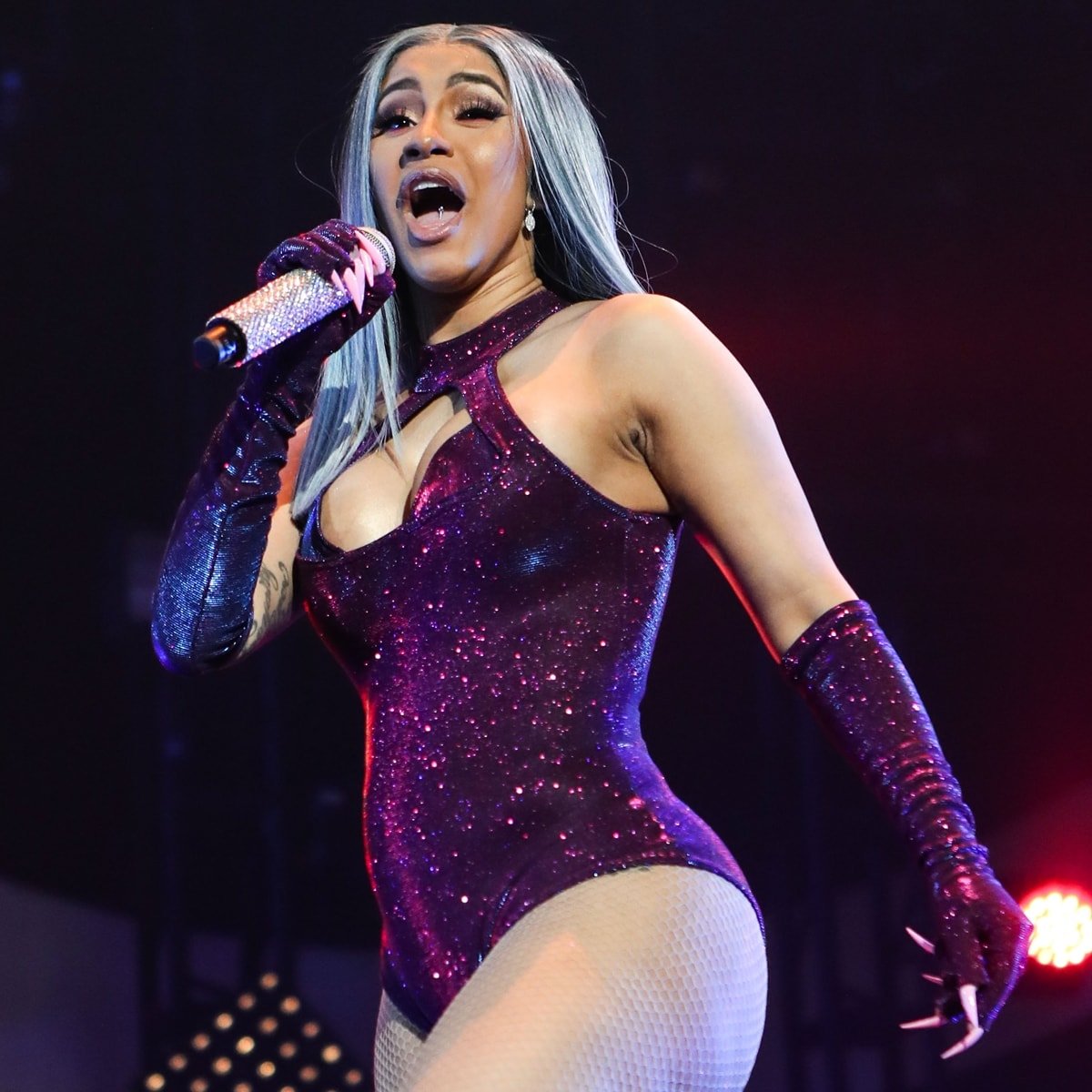 Cardi B sings about Christian Louboutin's red sole shoes in her breakout hit "Bodak Yellow" (Credit: WENN / Avalon)
In another Grammy Award-winning artist's song, these iconic red bottoms show up again.
In the song "7 rings" by Ariana Grande, the musician sings about spoiling her six best friends while interpolating the melody of The Sound of Music's "My Favorite Things."
"Whoever said money can't solve your problems
Must not have had enough money to solve 'em
They say, "Which one?" I say, "Nah, I want all of 'em"
Happiness is the same price as red bottoms"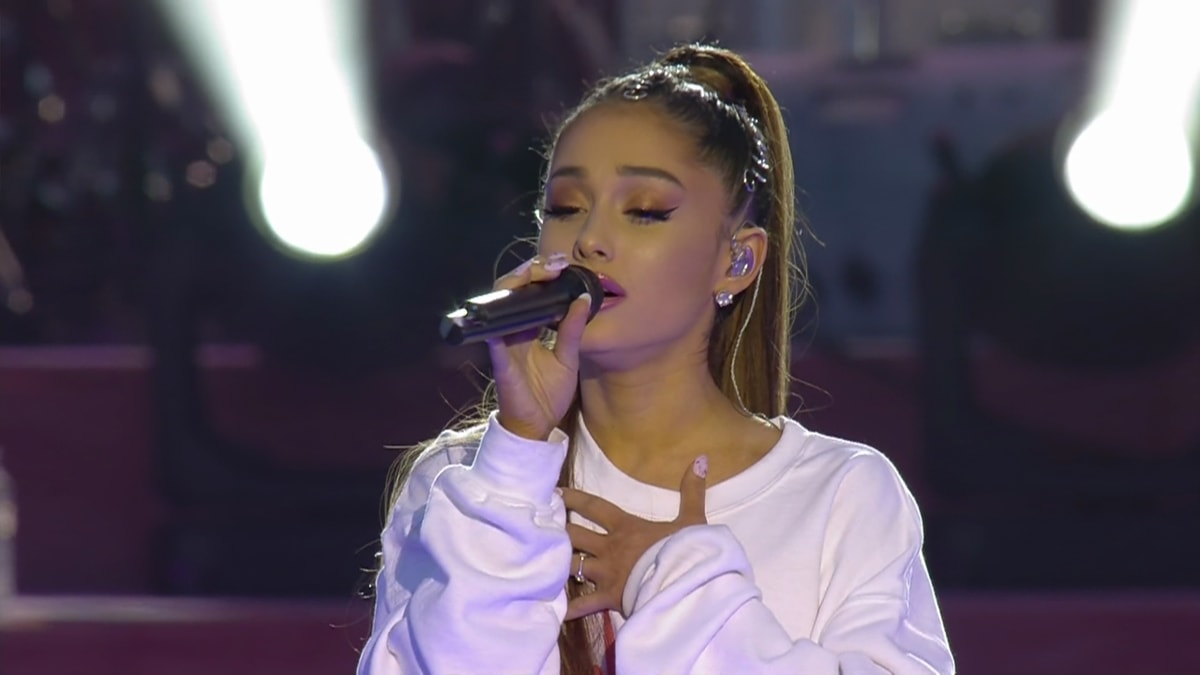 Ariana Grande sings about Christian Louboutin's red sole shoes in her song "7 Rings" (Credit: WENN / Avalon)
These shoes are beloved by celebrity clientele of all ages and backgrounds. You will also see these shoes on any red carpet and adorning the feet of many social media influencers.
Nothing says wealth quite like a pair of $1,000+ shoes. The shoes start at $695, and most are under $3,000.
American romance fiction author Danielle Fernandes Dominique Schuelein-Steel is one of Louboutin's biggest fans. She reportedly owns over 6,000 pairs and legend has it that she purchased 80 pairs at one time while visiting one of his stores.
How Louboutin Protects his Trademark
The red bottom shoes are a symbol of status. They're unmistakable. The footwear is both sexy and memorable. Two key ingredients of its success.
It's no wonder other brands have tried to copy Louboutin's mastery of this statement shoe. In 2012, a major fashion house, Yves Saint Laurent (YSL), featured a shoe that looked a little too familiar to Louboutin.
His legal team filed a lawsuit in New York federal court based on trademark infringement. Louboutin has held his trademark since January 2008.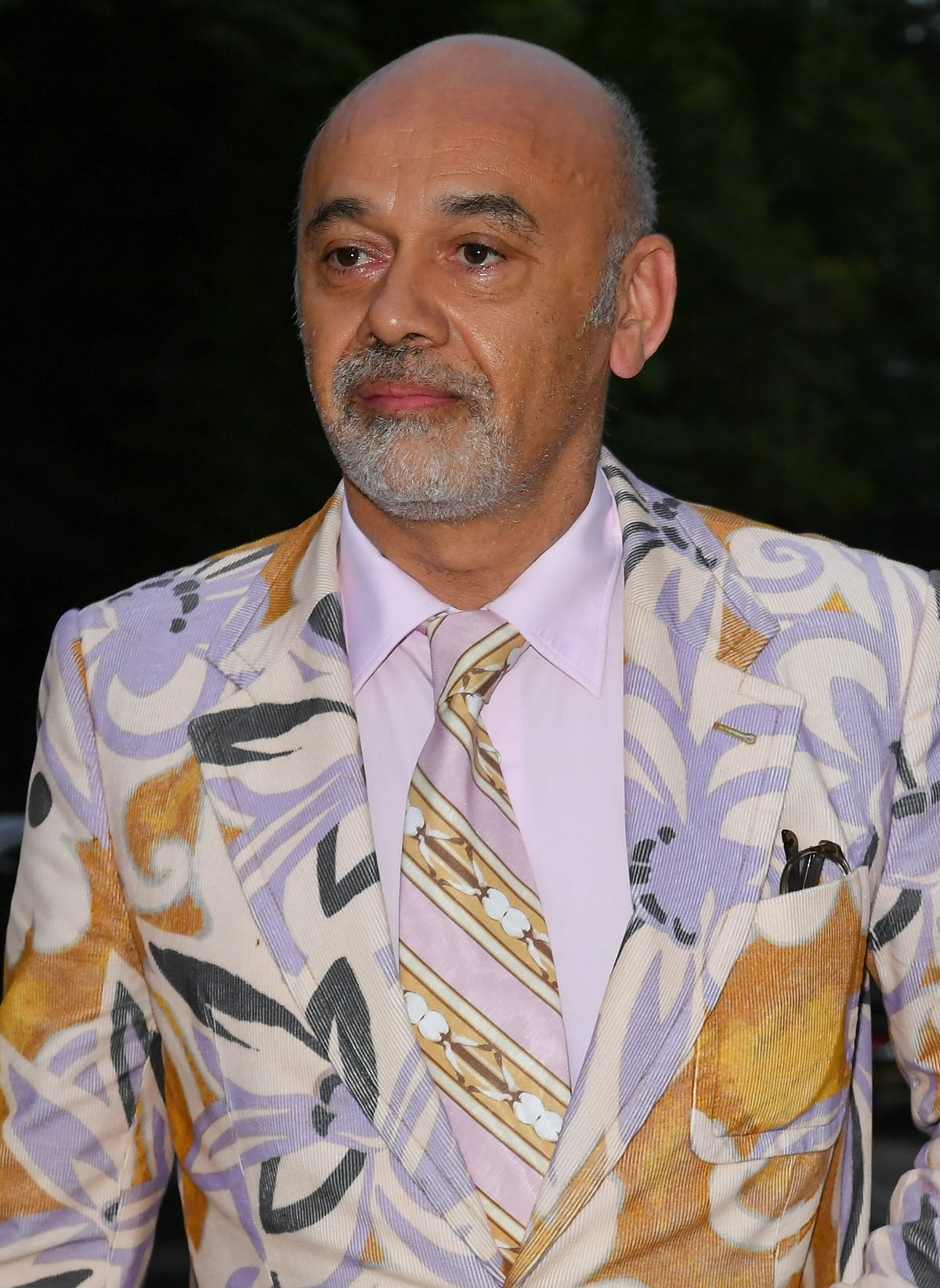 Christian Louboutin sued Yves Saint Laurent for copying his signature red soles (Credit: MEGA / WENN)
The lawsuit claimed that YSL was aiming to confuse and "take unfair advantage of the enormous goodwill and brand recognition in the red sole trademark that [Louboutin] has developed over the past two decades."
And, that the sale of "identical and/or highly similar" shoes by YSL actively impaired Louboutin's "ability to control its reputation, and the quality and careful distribution of Louboutin footwear."
Ultimately, the case was about consumer perception. And thankfully for Louboutin, he has been able to continually protect his trademark in courts over the years.
Christian Louboutin is working hard to stop other footwear designers from copying his signature red soles (Credit: MEGA / WENN)
The intellectual property attorney who represented Louboutin on the YSL case was Harley Lewin.
He told The Fashion Law that the case was "one of the most interesting cases in my career because it crossed over from the law and business side to the consumer side. Not only did lawyers follow it, or business leaders and CEOs, but it caught the eye of the consumers. It was all over digital media, as well as the print media and television and radio around the world, whether it was because it was a dispute between two French designers, whether it was because it was a legal dispute, or because it involved high fashion with some salacious content like people calling each other names."
"On Propose, Tu Dispose"
Louboutin admitted that sometimes he is "vaguely horrified" by how he sees his creations in the wild. But this designer also sees the other side, which is that he is always happy to see his designs in the world. He recognizes that he should be, and is, grateful for the support.
He uses the French phrase "On propose, tu dispose," to say that a designer offers up his creations to the people, and it is to each person to do what they desire with those creations.
Red sole Christian Louboutin shoes on display at one of his boutiques (Credit: WENN)
And on the flip side, he shares that sometimes he feels "happily surprised" with how his designs are worn.
While Louboutin has no interest in designing clothing, he will stick to shoes for the foreseeable future. He shared, "I will never design clothes. I'm really happy with my objects."